Song Jae-rim to romance Lee Hana in KBS's Unkind Women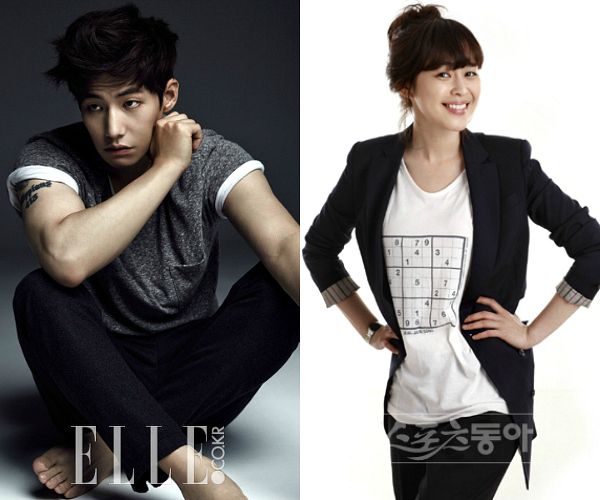 Song Jae-rim (Surplus Princess, Age of Feeling) finally gets the girl? It looks like someone's movin' on up in dramaland. Though judging by the title, it looks like he won't be getting a nice girl. Song Jae-rim has scored his first leading role in a drama in KBS's upcoming Wednesday-Thursday series Unkind Women, opposite Lee Hana (High School King of Savvy) who is currently in talks to headline. They're both a little odd, so maybe it'll be a surprising match?
Unkind Women is the new miniseries from PD Yoo Hyun-ki of My Daughter Seo-young and Brain, and writer Kim In-young of Equator Man and Women of the Sun. If she signs on (which is looking highly likely), Lee Hana will be reuniting with the writer for the third time, after starring in both Women of the Sun and Battle of Mary and Dae-gu. Moon Sori (Law of Attraction) and Kim Hye-ja (I Live in Cheongdam-dong) have already been cast, and one more spot needs to be filled in the family of four women.
The drama is about four women spanning three generations in one household, who share the same hot-blooded temperament. Kim Hye-ja is Grandma, a sharp-tongued cooking instructor, and Moon Sori plays one of two daughters, a successful anchorwoman who's really hard on herself and the people around her. Lee Hana will play the granddaughter, a 29-year-old straight-laced bookworm who went to all the right schools and grad schools, who knows nothing but how to study well. She comes across a few students who need help getting into Seoul University, so she begins a tutoring group, through which she learns how to be a real teacher.
Song Jae-rim plays a fencing instructor who's also a grad school classmate of Lee Hana's. He's not really interested in women and is prickly to most people, and he's especially cold to women with lots of aegyo who try too hard to look good in front of him. Well that's a strangely specific character description. Maybe it's a roundabout way to explain how the jock will fall for the bookworm? Let's just hope there's some chemistry there.
Unkind Women follows current Wednesday-Thursday drama King's Face in February. High School King of Savvy baton pass!
RELATED POSTS
Tags: Lee Hana, Song Jae-rim, Unkind Women