Stocking stuffers for the drama addict [Year in Review, Part 2]
If you're anything like me, then you're probably wondering to yourself, How is it December already? It really does feel like this year flew past in the blink of an eye, and I'm already up to my eyes in holiday cards that have yet to be sent out. So if you've been procrastinating on that Christmas shopping like I do every year, and have found yourself in a rut about what to get for that special someone, then don't you worry—I've got you covered this year.
You see, I've compiled a list of stocking stuffer ideas for all the different genres in dramaland, so I'm sure you'll find something on this list that will be perfect for any kind of drama-loving recipient. See, I did all the hard work for you!

SONG OF THE DAY
Lee Tae-min – "발걸음 (Footsteps)" for the Prime Minister and I OST [ Download ]
Audio clip: Adobe Flash Player (version 9 or above) is required to play this audio clip. Download the latest version here. You also need to have JavaScript enabled in your browser.
FOR THE ROMANTIC
Prime Minister and I
There's no better way to start off the year than with a man experienced in love—why he has three kids to show for it. Being married to the second most powerful man in the country is bound to come with its own struggles and expectations to portray oneself as a dignified wife. But that would be the furthest thing to describe Da-jung, who came and rocked this ship.
Prime Minister and I taught us that it was possible to revive old-school drama tropes, injecting new life into contract marriages and cohabitation hijinks. As for the coupling, I'd initially worried that the real-life age gap would be an issue, and one that would leave me feeling uncomfortable (a twenty-year difference), but the show managed to prove me wrong right from the get-go. And once the romance got started, boy did it—who knew that reading from a book would be so sexy?
I'll admit that the raw appeal had everything to do with Lee Beom-soo, who carried Yul off the page and into my heart. His character development alone is what makes this show a worthy watch, starting from his strict parenting ways to simply learning how to be a father to his kids. Indeed, it was the family aspect in this show with three adorable kids (and their patriotic names) that made this show an even more delightful gem. Keeping a familial focus was ultimately what made this drama shine, because what good is political success when your kids don't ever get to see you and know you as Dad?
And that change had everything to do with the new member of the household. This was the first project that left me with the impression that Yoon-ah could hold her own and next to a veteran actor. What I loved most about our leading couple was that their love story was one bred of mutual respect, consideration, and gratitude for one another, qualities you don't often get to see in dramaland.
It's a pity then that what started off as a sizzling-hot and meaningful romance quickly spiraled downwards when the dramatic contractions of the Past stepped into the picture. Not only did our leading couple suffer, but so did the newish family unit, much to my grumbling. But despite the lukewarm ending, Yul remains as one character who warms my heart and makes it aflutter at the same time.
Stocking Stuffer: A copy of One Thousand and One Nights to fall asleep to every night with one's Scheherazade.
You From Another Star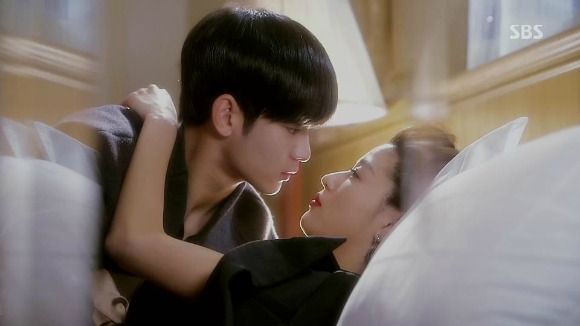 It just occurred to me that by the time of this writing, You From Another Star would have premiered just over a year ago. How time surely flies. For a show that sparked buzz well into 2014, inspired numerous catchphrases, and revived Jeon Ji-hyun's career, I actually recall very little of it. I do, however, vividly remember that I enjoyed watching it at the time and followed along with the easter eggs of meta-humor.
I admit that I was skeptical of the paranormal take prior to the show's premiere, but as it turns out, the alien falling in love characterization is no different than any other story of a supernatural falling for a human. I thoroughly enjoyed his stubbornness in tradition which made the ageless extra-terrestrial speak like a cranky old coot. His decades-long friendship with a colleague was one of the most heart-warming moments of the show, as well as the small but hilarious E.T. exchanges with the movie star's little brother.
I'm sure I'm not the only when I say that I'd been looking forward to seeing Kim Soo-hyun and Jeon Ji-hyun paired together onscreen ever since they both appeared in the movie The Thieves. So it should come as no surprise that their chemistry here is electrifying and entertaining, if that screencap above didn't tell you that already. Nothing screams sexual tension like the health risk of swapping spit for our resident Do Manager, and nothing is quite as satisfying to see him think to himself, Augh, the hell with it, and kiss the one he loves anyway.
Stocking Stuffer: A telescope to stargaze at night together along with some chocolate milk. Only one blanket, though. Sawwry.
Fated To Love You
If politicians and aliens aren't your type of suitor, then never fear—there's always your standard rom-com chaebol who touts a long lineage of men who are all spitting images of one another. So you'll never have to worry about what your son will look like when he gets older. Just watch out for the genetic disease that could claim his life at a relatively early age, as it did with his ancestors.
The best way to approach Fated To Love You would be to draw a line right down the middle—while the first half is what the best rom-com fairytales are made of, the second half is like a lethargic snail dragging itself to the finish line. You can blame Gun for setting the unbelievably high bar for suitors everywhere when it comes to the wooing and romance department. Because how can you not love a man who tells a woman he barely knows that she's worth something and has something to offer in this world?
In a way, Fated is Jang Hyuk's one-man show, and his full commitment to the over-the-top absurdity in Gun's character is what made me love him all the more. It was evident that the actor was having so much fun with the role, and his enjoyment became our amusement. But that isn't to say that his leading lady faded into the background. Jang Nara breathed life into our meek heroine and made us want to root for her as she built up her self-confidence and identity. And let me tell you that when these two were together, you could practically see sparks fly before your eyes, and I ate up every cavity-inducing sweet second of it.
It's practically criminal that the second half fell into such a deep and dark melancholy well it had so much trouble recovering from. Because there was so much emphasis on our main couple, it was as if nothing else mattered when they weren't together. And while every couple goes through bumps in the road, none were as head-scratching and frustrating to sit through than with this show. When we were once again rewarded with happy unicorns and rainbows, the scar may have disappeared but the inner pain still remained like crazy glue.
Stocking Stuffer: A care package filled with a Post-It, a heart-shaped lollipop, and a lucky chip. Romantic suitor not included.
Marriage Not Dating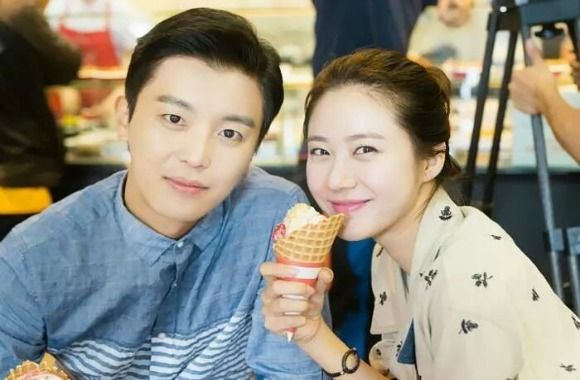 Even though I finished Marriage Not Dating not too long ago, my brain still associates its bright, vivid colors, silly characters, and a refreshingly breezy tone with summer.
I initially tuned in to watch Yeon Woo-jin spearhead his first drama as the romantic hero—for years, I'd wondered why such a talented actor would be relegated to second lead roles (Arang and the Magistrate, When A Man Loves), but better late than never I say. And for the next sixteen hours, we watched him as the young, successful doctor who defied his family's wishes (well, his mother's) of him getting hitched by introducing them to a woman they would surely dislike.
Little did he know that no one would be more well-suited for him than our heroine (Han Groo), a loud and nosy, yet well-meaning woman who wanted nothing more than to get married. I enjoyed watching these two on my screen, as their bickering relationship blossomed into romance. Then second lead Jung Jin-woon was also a worthy contender for her heart in his own right as someone who could make a girl feel pretty special.
As cute as these three were, other character relationships on the secondary and tertiary levels were far more difficult to sit through—some were silly, yet entertaining whereas others were wildly unreasonable. As for the show itself, I initially welcomed the expectation of the cold open vs. reality within the hour format, but that clever directing and use of writing quickly turned into wariness and irritation when the opening deceived our eyes.
Still, it's the overall humor within Marriage Not Dating that will have me reach for this show on a rainy day. I can always count on this rom-com to make me giggle and uplift my spirits, which puts it in good standing in my book.
Stocking Stuffer: 10 boxes of fried chicken each time to catch a glimpse of your crush.
FOR THE HISTORY BUFF
Empress Ki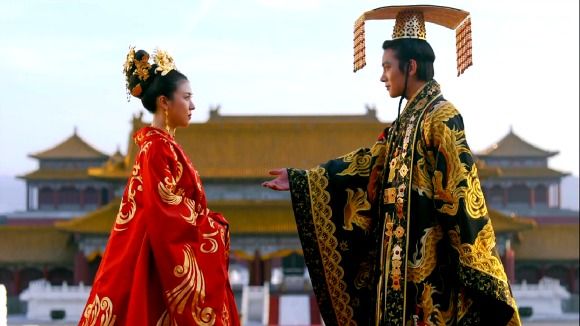 Empress Ki will always remain in my memory as the first 50 (or so) episode sageuk I've ever watched from start to finish. My previously track record is riddled with lengthy historicals I eventually dropped somewhere by the midway point, mostly due to a show's long-running broadcast period (Dong Yi) or losing a maliciously evil character I loved to watch onscreen (Queen Seon-deok). So for all of you who watch those 100+ episode daily dramas, I tip my hat to you. That's serious commitment right there.
So what pulled me into this show was the backdrop of a rich and fantastical world filled with intriguing characters dressed in colorful attire and regalia. My eyes were initially drawn in, and soon I found myself immersed in a story of one Goryeo-born woman (Ha Ji-won) ascending to power and kicking a few butts along the way. Fearless, cunning, and ambitious, Seung-nyang could command the attention of a few good man or the entire court. Oh, and she'd leave a few of your rulers in the dust with her accurate shot.
One quality I was pleasantly surprised by was just how funny this series was; its tiny notes of humor often had me in stitches. What's more is that the laughs stuck around for a good long while, so when the drama pushed its narrative to the extreme when the young and playful emperor who feared power spiraled into madness (and… still feared power) and we were left to guess what member of court wanted to oust Seung-nyang out of the palace this week, the show fell into the compulsive watch category. I kept pushing that "Play Next" button, because hell if this show was crazy, I needed to know what happened next, goddamnit.
While the romance between our heroine and her two men was prominent, I found myself more invested in the allies she built around her, the loyal men who would do practically anything in the name of their allegiance to her. Furthermore, I enjoyed watching Seung-nyang outsmart her enemies, left impressed by the reveal each and every time. And half the fun was following the behind-the-scenes Instagram posts taken from the drama set. So while Ki could be outlandish and outrageous at times, particularly in the latter course of its run, I can't deny that it was one helluva ride.
Stocking Stuffer: A quiver of baby arrows to take out any enemy in your path to badassery.
Three Musketeers
No matter how many times the tale of the Three Musketeers is retold, I always seem to enjoy the end product. So when tvN sought to turn this classic Dumas tale into a fusion sageuk set in Joseon times, my first thought was, Why hadn't anyone thought of this before?
We were promised a swashbuckling adventure, but what I didn't expect was its cheeky humor, usually delivered in a droll tone by Lee Jin-wook. I can't say that I always caught the joke, since, like the other characters in this dramaverse, I often had no idea whether he was being serious or not. Thankfully, there were plenty of other kinds of comic relief moments and meta-references (like the modern day Kpop songs as background music played on the gayageum) to keep us entertained as well.
As for the story itself, Three Musketeers is a respectable example of an adaptation while incorporating unique elements to set itself apart. There were times when certain plot points were recycled or didn't accurately reflect palace customs for the times—the former resulted in a few characters that long overstayed their welcome and the latter in character decisions and behavior that wouldn't readily happen in court. Yet there were more details that the show sought to get right than be wrong, like actors speaking in the Manchu language or making action sequences look pretty darn cool.
For a show that touted a high production value, the Three Musketeers world felt surprisingly constrained, especially in the latter course of the show's run. Perhaps the lack of bombastic success cable network tvN ultimately had a hand in cutting the show's budget. It's also a pity that while I liked all of our Musketeers in turn, they spent so little time together that it almost felt like the Musketeers title was merely nominal. But let's look on the bright side: Jung Yong-hwa can handle historicals shows now. I'd say that's a win.
Stocking Stuffer: A new horse that will cut your travel time to Hanyang in half.
FOR THE REVENGE-SEEKER
Full Sun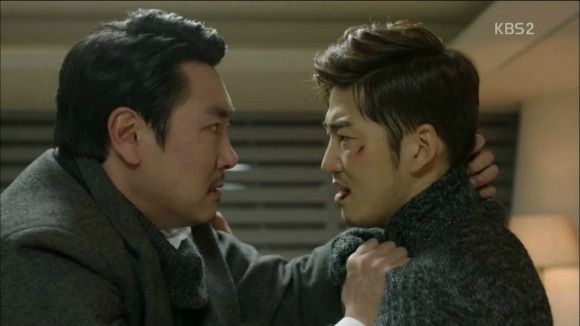 Full Sun OST – "죄 (Sin)" sung by V.O.S. [ Download ]
Audio clip: Adobe Flash Player (version 9 or above) is required to play this audio clip. Download the latest version here. You also need to have JavaScript enabled in your browser.
To be quite honest, I still hold fond memories of Full Sun, a traditional melodrama of one wronged hero seeking vengeance against those who framed him and ruined his life, only to fall prey to one thing: love. What can I say? The heart wants it wants.
Our hero in Se-ro is the very definition of an average guy who found himself at the wrong place at the wrong time. And while what follows may be similar to your everyday revenge drama, it's the acting that sets this one apart from the others. Be it playfulness, restraint, rage, or sorrow, Yoon Kye-sang kept knocking it out of the park in each episode; I daresay the actor has one of the most expressive eyes in all of dramaland. Not to say his fellow actors didn't pull their weight—in truth, his hyung and frenemy in Kang-jae (Jo Jin-woong) may be one of my favorite characters this year. A constant enigma for the majority of the series, you never quite knew where his loyalties lay, and his confrontations with our hero was both heart-tugging and heart-wrenching at the same time.
As for the romance, I recall that because of numerous tragic and awful events in our hero's life, I ardently wished for his happiness. Thus I ended up paying far more attention to their growing love story rather than watching a convoluted revenge plan unfold against a baddie who somehow could destroy entire corporations by opening up his secret vault, but couldn't track down the one guy he framed. I also enjoyed that our heroine in Young-won (Han Ji-hye) wasn't a wallflower once the truth came to light.
Even when the show hit abysmal ratings and even set records in that camp (think in the 2-3% range), I appreciated that the actors never let up in their performances to the very bitter end. And if the ending is any indication, there really can be a silver lining beyond the clouds.
Stocking Stuffer: A silver bracelet from your first love or a revolver for when things go south or a whistle to confess your feelings. I recommend the whistle.
Golden Cross
When I heard the premise for Golden Cross—a hero seeking justice and revenge against a hush-hush organization that destroyed his family only to stumble upon a larger conspiracy at play—I was all in. Kim Kang-woo in a story that sounds dramatic, suspenseful, and venge-tastic? Yes, please, and thank you.
There was promise at the start, because there was something so human about our hero desperately trying to break through an intangible brick wall of corruption and elite power. His sense of righteousness seemed to hold little weight in a world where money talks, and I so wanted to see him beat his enemies and ultimately have justice prevail. Although the small developments each week kept me engaged at the time, I quickly found myself getting impatient waiting for the World's Slowest Revenge to finally get rarin' to go.
It wouldn't be until the show's third act that Golden Cross would pick up the pace. The opinion on the narrative twist is split depending on who you ask, but you can count me among those in favor. It was at that point that we could see the full range in our cast's acting capabilities, and also the moment when it became evident that perhaps the show didn't have enough story to occupy 20 episodes after all.
What a pity then for the resident baddies in this dramaverse as well. I'd never been so unafraid of a secret organization that controls so much of the nation's trade and economy and yet does so little. Their presence remained mostly elusive, and the two members we actually did see were unimpressive and ineffectual, although oddly amusing in the times they would run around like headless chickens. One would think that an elusive organization would pick better recruits to carry out their evildoings.
But what Golden Cross never forgot was to drive home the influence of power, greed, and corruption in the nature of man. The conviction in these desires can test and sometimes change one's character, or simply expose their weak willpower and resolve.
Stocking Stuffer: A Golden Cross entry card because it gives you access up a restricted elevator, and… er, yeah, that's about it.
Triangle
Every time I think of Triangle, the first thing that pops into my mind is how I wished to put this show out of its own misery while it was still on the airwaves. There was never a need for this show to be 24 episodes, let alone the 26 it ended up getting.
You can say that I have a lot of pity for Triangle because while the narrative was a slow burn in the first dozen or so episodes, the drama was certainly building up and exploring the lives of our three Jang brothers. Each of them had an objective, be it a dream to become a world poker champion or to achieve vengeance or just to win a girl's heart. I waited in angst at how the brothers would target and attack one another without knowing the truth about the literal shared blood flowing in their veins. The drama called for much patience, and I was willing to give it—as long as it meant getting a meaningful brotherly reunion and perhaps a joint effort in a revenge scheme later on.
The thinly-stretched narrative that could barely tell its own story suffered even more once the two-episode extension was announced. Both story arcs and characters were altered to fit the change—sometimes allowing some actors like Jaejoong to triumphantly rise to the occasion and keep the show afloat, along with his no-nonsense love interest Baek Jin-hee (the two shared a delightful, everyday kind of romance). Conversely, it also flattened the performances of veteran actors like Lee Beom-soo and his love interest, the new Doctors Without Borders Shin-hye (Oh Yeon-seo), with whom he shared the oddest, lifeless kind of relationship.
And for a show that was originally intended to be three brothers hell-bent on revenge, we were shown different groups of characters in countless conference room sequences vocalizing each step of the scamming process instead. Even our ineffectual baddies were too lazy to deal with the brothers themselves, outsourcing their constant death threats to whomever they wished to off in the moment.
In retrospect, it's a bit sad to hear that the production team had different intentions for the show and its character developments at the outset, only to later change its narrative course mostly due to external factors. Indeed Triangle wasn't without its compelling moments, and yet, it could have been such an epic tale if it was able to tell the story it wanted to tell.
Stocking Stuffer: A copy of the DSM-V for the psychiatrist/girlfriend/drinking buddy/hypnotherapist/detective-for-a-day you know.
FOR THE WANNABE DOCTOR
Doctor Stranger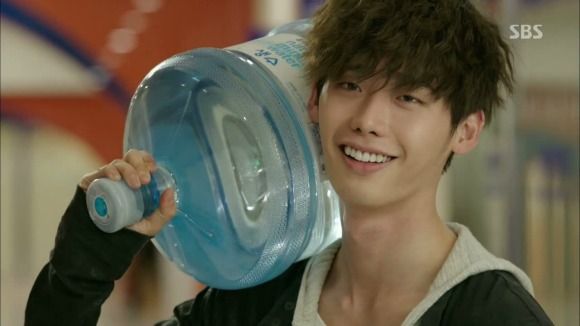 Even over half a year later, no show this year has been a bizarre a watch as Doctor Stranger. Its attempt at every-genre-but-the-kitchen-sink should have been my first clue, but surely a spy-medical-melodrama-romance-action-political could stand its own ground if executed well, right?
And by all counts, the series certainly achieved that at first, successfully making us question the already blurred boundaries of medical ethics when it came to saving a life. Our hero was dragged into the darkest of places, caught in a virtually impossible moral dilemma. His life in the North hinted at the horrific reality that would make anyone go mad, let alone jaded about life. So it was jarring to jump to a time where he was already well-adjusted to life south of the 38th parallel and working at the nation's best hospital, where he clearly knew more than any of the medical professionals there.
His genius, however, turned out to be at-will at best, as our hero tapped into his almost-superpower whenever the script called to save whichever patient was on the table. I wouldn't be able to name all the maddening medical and ethical decisions that were made over the course of the show, but in the times when the medical component was done right, they were compelling and noteworthy.
It was evident that our hero had a one-track mindset when it came to finding the love of his life, which was both romantic and exasperating. Everything else faded from view when it came to Jae-hee, be it food and sleep to dying patients. The suspicious circumstances of her disappearance was a big mystery, especially when a doppelganger drove our hero (and myself) completely batty. It was enough for our hero to engage in a never-ending hamster wheel of an all-too important surgical competition against his metaphor-loving rival orchestrated by big wigs who changed the rules at their whim.
Still, I could see that Lee Jong-seok invested himself into Hoon's character at all times, frizzy perm notwithstanding. His performance was a standout, but perhaps that's also because it often felt like he was the only one in the bunch with a human heart and a working brain. And while they say that history tends to repeat itself, it's honestly a totally surreal experience to watch past events play out in the present the exact same way. Maybe the show wanted to remind us of what we might have forgotten. Or maybe it was its version of literally book-ending an absurdly ridiculous watch. And I, for one, am okay with never knowing that answer.
Stocking Stuffer: A 500 won coin to pay for the surgery to erase this drama from memory.
It's Okay, It's Love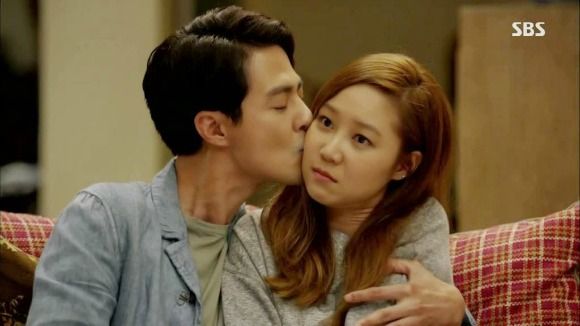 If I were to describe It's Okay, It's Love to someone who has never seen it before (which, chances are, might be very slim by now), I'd tell them this: that this show was the attempt at romantic comedy that also sought to shed light upon a controversial topic wrapped up in very pretty packaging.
And it is so very pretty. We probably have PD Kim Kyu-tae to thank for that, since the camera flattered anyone on the other end of the lens. So you can say that It's Okay, It's Love is a treat for the eyes. Furthermore, the show offered more lighthearted fare compared to the director and writer duo's previous melodramatic projects (That Winter, The Wind Blows, Padam, Padam)—whenever it wasn't tackling more serious issues of mental health, that is.
Speaking of which, I know that it would be difficult for any one show to fully break down the stigma that surrounds psychological issues and mental illnesses in Korea. And yet, I can say that It's Okay, It's Love did an effective job of having its characters speak openly about each other's emotional and psychological struggles rather than ignoring them like an elephant in the room. To that end, I wish that the show explored a wider range of psychological subject matter rather than just restricting itself to a Freudian school of thought, since the scope of psychological topics is so varied.
As for the show itself, I felt more like a voyeur than a viewer, watching characters engage in behaviors and habits I couldn't find a connection with. Between our leading couple, the writing made it far easier to resonate with our writer hero Jae-yeol, whose raw vulnerability could be felt through a commanding performance by Jo In-sung. I wish I could say the same of our heroine in Hae-soo, who to her credit, is a better psychiatrist than Triangle's Shin-hye. Writer Noh Hee-kyung's heroines are usually the weaker link in a pairing when it comes to fleshed-out characters, and I'd probably like Hae-soo's character a lot less if it was anyone else but Gong Hyo-jin, who did her best to try and make her likable, bless her heart.
If I had one last wish for this show, it's that I wish that It's Okay had fully committed to its more serious scenes, rather than pull back at the last moment. I understood that the show didn't want to be serious and dreary all the time, and yet it came across as the show being too fearful of going all the way. There are those who didn't mind the cheerful insertions, but I always found the drama to be a better watch whenever it fully committed to its poignant and undoubtedly compelling moments.
But if I have to watch another hero battling multiple personalities again and come thhhiiiss close to dating his shrink again, it'll be too soon— … wait a minute.
Stocking Stuffer: A handful of tomatoes to throw at each other because it's fun. Or something.
FOR THE GOOD OL' FISTICUFFS
Age of Feeling
Age of Feeling OST – "길 (The Road) " sung by Rhosy [ Download ]
Audio clip: Adobe Flash Player (version 9 or above) is required to play this audio clip. Download the latest version here. You also need to have JavaScript enabled in your browser.
I can only remember Age of Feeling in broad strokes, in that I recall a hero who jumped trains, got into brawls for money (or love or brotherhood or sometimes just plain bad luck), but I had no idea what he actually wanted out of life. You might be wondering to yourself how someone could watch 24 episodes of a show questioning what Jung-tae's goals in life are, and let me tell you that twenty-four hours later, I still don't know what those are.
In truth, the drama had a promising start, pulling its viewers into a dark and turbulent time period that was simply fascinating. Yet I should have known that the drama was coming apart at the seams when some of my favorite characters mysteriously disappeared off-screen (and sometimes re-appeared) and this end goal of leading a gang and overtaking a city dwindled into a hero being dragged around like a rag doll between various gangs who all wanted a piece of him. And somehow everyone in this dramaverse knew more about our hero's father than Jung-tae himself.
At its best, this drama gave us some awesome fighting sequences and tension-filled character relationships; even with the writer switch midway through the series, there was a short-lived upswing in the narrative. And yet at its worst, getting through the hour felt like grinding teeth, in constant frustration and confusion at the ever-looming question of what, and more importantly, why anything anyone wanted was important. That main concern superseded other logical details, which seemed minor in comparison—like how people could magically cross country borders in seemingly short periods of time or how quickly people could master new fighting skills.
Not all was lost, however, because while the show cut down its cast list significantly, Age of Feeling still introduced us to awesome characters who were literally too cool for school (see: Aoki (Yoon Hyun-min), Mo Il-hwa (Song Jae-rim), and Jae-hwa (Kim Sung-oh). Their appearances often outweighed the negatives, and their minor roles are still memorable to this day—these were the guys that inspired a generation.
Stocking Stuffer: A hat you might only wear once. For the poster shoot. And maybe the finale.
Bad Guys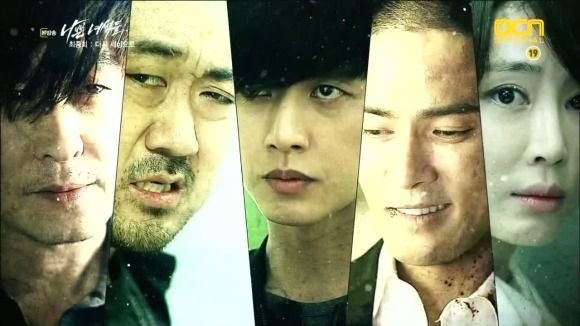 It's a great feeling when a show you looked forward to for months delivers on your expectations and more. Bad Guys had my heart from the start, because how much more badass can you get than a rugged detective that recruits three jailbirds to take on even more dangerous criminals out there?
Let me start by saying that this show is not for the squeamish—the violence and gore factor are sometimes on par with other OCN shows of similar genres. Still, I wouldn't let that deter you from watching this show because Bad Guys is rooted in a dark world, filled with flawed characters you'll want to root for each week. Each of these guys have their own dark stories to tell, and have their own skillsets to bring to the table. And if you can believe it, they make a pretty good team… whenever they're not at each other's throats.
With just 11 episodes at its disposal, what this show never wasted was time, as it kept the story moving steadily with each passing episode. In fact, I was impressed at how much ground would be covered in just one episode, and at how there always seemed to be more to discover. It was apparent that the overall mystery had to be well-thought-out or risk sacrificing the execution, not that the drama had anything to worry about with weeks or months of buffer time between filming and airdate. And yet for a narrative that incorporated so many minuscule details so cleverly into the case of the week, the integral clues for the overarching mystery felt clunky and misleading in comparison. I began to doubt what I was being shown on my screen, second-guessing myself on things that I believed to be true.
But Bad Guys was never afraid to take on mature content in its crime cases, and have its characters seriously question the integrity of the law they supposedly abide by. If there's anything that this show has taught me is that I should never judge a book by its cover. Trying to make the world a better place is a lot easier said than done, and here's to hoping that this show gets future chances to take a stab at it.
Stocking Stuffer: Gold brass knuckles, because that's the only thing missing from this fighter's utility belt.
FOR THE THRILL-SEEKER
God's Gift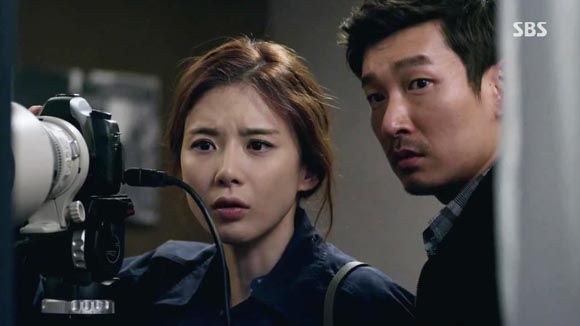 Oh God's Gift, what you could've been. If there's one lesson that this drama has taught me is that even the best of shows can ultimately disappoint. Even now, I mourn at the loss of my sixteen hours I devoted to this show.
But before this review turns into a gloomfest, God's Gift did manage to do a lot of things right: a riveting murder mystery at the start, along with a desperate mother who would do anything to recover her child and hunt down the one who ripped little Saet-byul away from her family forever. Once the paranormal elements came into the picture and the story grew more complex, it quickly became apparent that not everything was what they seemed. And while Fate can be a bitch sometimes, the series drilled in the lesson that human interference can only go so far—that some events in life that are meant to take place will find a way to happen.
That truth was both intriguing and frustrating at times, because then the twists had you thinking that perhaps humans did have control over their own fates, only to learn that that wasn't always the case. Still, the hellish experience also proved to be an eye-opening one for Saet-byul's mother, from which she learned truths not only about her family but also about herself. She and the best damn ajusshi out there (Jo Seung-woo) made a pitch-perfect team together, and their synchronous partnership is what still makes me pump my fist into the air to this day.
It's a real damn shame that all it took was the final spurt to kick God's Gift from its high pedestal. While it doesn't take away from Lee Bo-young's chilling performance in this role and the awesomeness that is Jo Seung-woo, AND that I sort-of-maybe understand the logic behind the ending in my head, there's still a bitter aftertaste in my mouth. Bah humbug.
Stocking Stuffer: Take this lump of coal and think about what you've done.
Liar Game
Ooh, Liar Game. How you defied my expectations of what an adaptation could be, and have set a high bar for adaptations to come. I was fortunate enough to have seen the Japanese version years ago, but I still wanted to come in with fresh eyes and treat this drama as a separate entity.
It would be easy to sift through the differences between the two live-action shows, but I'm of the belief that whether a drama is an original tale or an adaptation, it still needs to be an effective standalone show. Because if not, what would be the point? So in the case of Liar Game, I hoped that it would both preserve core elements that made fans love it in the first place as well as provide a fresh take that would best appease its current target demographic. And to that end, the show certainly succeeded in both objectives, though the opinion on the degree of the execution is divided depending on the viewer.
For myself, there was much more to appreciate than to voice complaint about. I loved that the setting of the Game was a reality show, which allowed the opportunity to scrutinize the behind-the-scenes machinations of the industry. Effective writing was what made the characters that inhabited this world so dark and alluring, like our human lie detector (and watchdog) Ha Woo-jin and the best damn villain this year in Kang Do-young.
Yet at the same time, it was the writing itself that exposed its own weaknesses. The games came with confusing rules that weren't properly explained in a backdrop of even longer expositions. A part of me wish I could say that this was what allowed loopholes in the rounds, and yet I wouldn't be entirely sure if something was a loophole or not because the rules were lost on me half the time.
Even then, the directing drew back to let the story play out, enhancing rather than obstructing the narrative to allow for a suspenseful and hella entertaining experience. Rarely does a show effectively tie up its loose ends and leave things open-ended for the unknown future, but that's exactly what Liar Game did. Bravo, and encore.
Stocking Stuffer: Chestnuts roasted on a hellish spitfire.
CURRENTLY AIRING
Modern Farmer
Aww, I really adore Modern Farmer. I'll admit that I was highly skeptical at first because the show could really go either way—super zany and fun or highly irritating and obnoxious. And boy am I glad it's the former.
It almost seems like the show's mantra on humor is: Go big or go home. Admittedly, some of the crude toilet humor gets a pained expression out of me, but the overall silliness of the drama usually keeps me laughing throughout the hour. As a show that I can watch with half a brain, it's plenty entertaining even if the story doesn't develop that much from week to week. The reference humor is fun to point out, although as of now, nothing quite beats the callback to Age of Feeling for me.
What you may not expect from a wacky show like Modern Farmer is the heart it carries for such a small town. Each of our former idol boys hold different kinds of relationships with the villagers who take great pride in what they sow and reap; just watching how much work it takes to grow food makes me that more appreciative of the food we eat every day.
There are still a few more episodes until Modern Farmer wraps up at the time of this writing, but if it continues to deliver the emotional beats that stir my heart like they do now, then this drama really can become the Little Show That Could.
Stocking Stuffer: Cabbages… wait a minute. Okay, I got it—a cookbook of cabbage-related recipes. Hold the almonds, please.
Mr. Back
There's something both familiar and charming about Mr. Back that has me looking forward to it every week. With so much talk and even more drama title switcharoos prior to its premiere, I was optimistically wary, and I'm so glad to chalk this show up as a pleasant surprise.
The show truly has Shin Ha-kyun to thank for becoming a hit in Korea; he does a superb job here of portraying both a Scrooge-like old man and an enthusiastic, youthful hero whose speech mannerisms and preferences are well beyond his years (looks-wise, anyway). The mythology behind the age-reversal is believable with set rules, even if those same rules are mostly shrouded in mystery. Furthermore, the paranormal element is adorably tied to the romance—let's say it involves a meteorite and the only way for our hero to feel better is if the heroine is around.
While the story is fairly straightforward and the conflicts are conventional, it's the character relationships that truly reign supreme. Even though our leading couple is pretty damn adorable together, it's the estranged father-son relationship that tugs at my heart each week. Lee Joon does a fantastic job of playing a misunderstood rebellious child who just wanted to spend more time with Dad and make him proud. His character can be dim at times, but his well-meaning heart speaks volumes, and I get this urge to reach into my screen and give him a hug.
Not to say that our heroine doesn't pull her weight. As always Jang Nara brings an extra lovable sweetness to a character that could be easily dull on paper. I love that Ha-soo wears her heart on her sleeve and isn't afraid to tell her old-fashioned boyfriend that she's upset because he didn't text her back quickly enough. But then smiles when his messages are full of typos, anyway. What man would travel the Milky Way to get to the brightest star in his sky?
Stocking Stuffer: An analogue watch with a trade-in coupon for the latest PPL smartphone on the market.
♥ ♦ ♥ ♦ ♥ ♦ ♥ ♦ ♥ ♦ ♥ ♦ ♥
THANKS TO:
First and foremost, to javabeans and girlfriday, who, for some reason, still let me ramble on year to year and feed my obsession for all things Korean entertainment-related. I'm grateful each and every day to be a part of this community, and I never forget that it's all because they gave me a chance three years ago. Here's to all the sleepless nights and the dark circles to prove it!
Also to HeadsNo2, who provides continuous encouragement and unconditional friendship. We survived another year together, and I'm sure that there will be plenty more joyous and wonderful years to come!
Last but not least, to each and every one of the Dramabeans readers, because believe you me when I say that I wouldn't have made it to the end of 2014 if it weren't for your dedication, patience, and the words you leave in the comment threads, or the tweets you send. This year has been a wild and fun ride with you all, and let's make the next one count!

RELATED POSTS
Tags: 1 show to rule them all, Age of Feeling, Bad Guys, Doctor Stranger, Fated To Love You, featured, Full Sun, God's Gift – 14 Days, Golden Cross, It's Okay It's Love, Liar Game, Marriage Not Dating, Modern Farmer, Prime Minister and I, Three Musketeers, Triangle, year in review, year in review 2014, You From Another Star