Couple hearts and thumbs-up for Ho-gu's Love press conference
The first word that comes to mind whenever I see anything about this drama is cute, and all its attendant synonyms. For our sake I hope Ho-gu's Love, tvN's latest rom-com set to premiere in another two weeks, is as peppy and fun as it appears, because it seems like a quirky and upbeat show that'll lead us into the year on a sunny note.
The drama held its production press conference on the 29th, and the cast was full of smiles (and promises for what they'd do if ratings were good), led by UEE as the "swimming goddess" lead and Choi Woo-shik as the Ho-gu/Fool in love with "zero game." Aw. Poor Ho-gu.
Choi Woo-shik said that when he'd first met PD Pyo Min-soo, he didn't know he was being considered for the lead role. PD Pyo described thinking then that Choi was already 90 percent like the character, which is why he cast him. Meanwhile, Choi just went in thinking he wanted to work with the director and promised to work hard no matter how small the part was. Ha, little did he know he'd be getting his first leading role out of the deal.
Choi did agree with that he's very much like Ho-gu, and said that when he's in front of love, he becomes "timid, pathetic, and petty" too. Haha, I'm sure he's exaggerating about himself, but that just makes me look forward to all the antics Ho-gu will get caught up in. (His co-stars countered his comment by saying that despite that funny side, Choi Woo-shik also has quite the masculine, confident side as well. Which I can see, based on how he's managed to pepper in a number of serious, darker parts alongside his cheery ones.)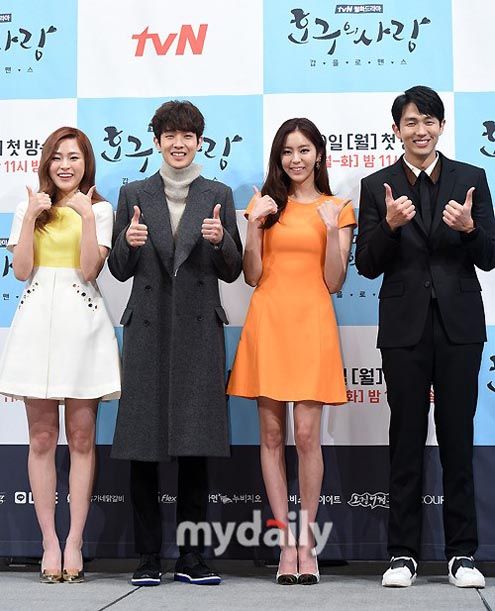 I'm looking forward to seeing UEE play off the difference between her polished looks and her character's unexpected coarse side, what with the foul mouth and hot temper (which we saw in the teasers). She said she'd never cursed so much in her life, and some of it called for saturi diction, which had the side effect of twisting her normal speech at times. But on the upside, she added that all that swearing is a huge stress-reliever. Yes, I swear for my health too! Only for that!
UEE shares a swimming background with her character, and said that she'd always wanted to do a project that involved swimming. She was glad to have this role come across her path, and felt particularly like it was fit for her, so she didn't want to let it slip away.
As for the ratings promises: Expectations for cable drama numbers have leveled off a bit, and I'd generally look to 1% as the benchmark for a minimum goal—you definitely want to hit at least 1%, though you'd have to get to at least 2% or 3% to be considered successful. (That is, unless you're Na PD or part of his network, in which case expectations are much higher. That's just what you get for being excellent all the time.) So the cast of Ho-gu's Love has fixed their hopes on the 3% mark, with second lead Im Seul-ong (playing a perfect lawyer with a dorky side) offering to take an icy winter dip in the sea with Choi Woo-shik if they hit that point.
UEE one-upped that promise by offering herself up and co-star Lee Soo-kyung (playing Ho-gu's quirky sister) to dance in front of the CJ E&M building: "And I'll prepare Soo-kyung's outfit myself." Apparently this was news to Soo-kyung, but she gamely went along the proposal.
Ho-gu's Love will follow Valid Love on Mondays and Tuesdays. Its first episode airs on February 9.
Via Joins, TV Report, Ten Asia, Star News, TV Daily
RELATED POSTS
Tags: Choi Woo-shik, Ho-gu's Love, Im Seul-ong, press conferences, UEE