Grandpas Over Flowers plans next season in Jordan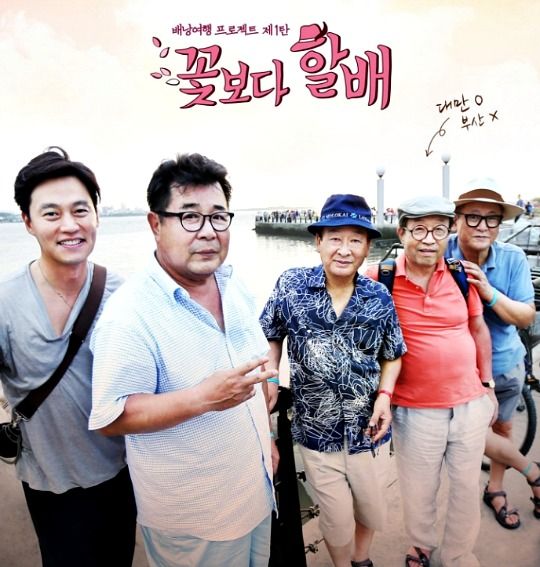 Yay, the halbaes are coming back! It's been nearly a year since travel variety show Grandpas Over Flowers aired its last trip in March 2014, but rumblings are afoot for a Season 3 headed to tvN this spring. Technically it would be their fourth trip after Paris, Taiwan, and Spain, and though producers are being careful to leave all options open, rumors are that Jordan is the next destination. I wonder if Misaeng had anything to do with that; they did make it look adventurous and exotic. Or is it that even halbaes think they're Jang Geu-rae too?
Naturally, the original cast will return (otherwise they'd have an uproar on their hands). Halbaes Lee Soon-jae, Shin Gu, Park Geun-hyung, and Baek Il-sub, along with Luggage Boy Lee Seo-jin will be reuniting, with tentative plans to head out for a trip sometime in February.
PD Na Young-seok released a statement that Grandpas is still in early planning stages, and that Three Meals a Day: Fishing Village is his current priority. That's putting it mildly, given the recent change-up that took Jang Geun-seok away and brought Sohn Ho-joon in to replace him, leading to a week's delay in premiering the show to edit Jang Geun-seok out.
Given that Seo-jinnie has to eventually return to the farm for the spring season of Three Meals a Day, I don't know how they're going to squeeze in another Grandpas trip. It cracks me up that Na PD has managed to book Lee Seo-jin pretty much year-round for variety shows, when all he does is complain that he doesn't want to be there.
Lucky for us, Seo-jinnie's grumpy protests never stopped Na PD from getting him on a plane (or anyone else for that matter). The plan is to shoot a new season of Grandpas Over Flowers in February and air by the spring.
RELATED POSTS
Tags: Grandpas Over Flowers