Healer: Episode 12
One of these days, I'm going to run out of words for this show, because I will have used them all already to tell you that it's worked its weird witchcraft yet again to deliver yet another compulsively watchable episode. I find the recent explosion of interest and excitement to be at once totally understandable and yet also surprising. Girlfriday and I joke about wondering, "Why THIS show? Why Healer?" because when you break it down, it's not a show I would specifically single out for exceptional directing or action or plot or whatnot. It's good, yes, but the power of Healer, for me, is something bigger than its parts, which come together in a kind of alchemical reaction, a combustion of chemistry. You have good actors and a good story and a good director and a (better-than-)good writer, but then you crank them through the Healer-o-matic and boom! It becomes some kind of magic.
SONG OF THE DAY
Lucia – "녹여줘" (Melt Me) [ Download ]
Audio clip: Adobe Flash Player (version 9 or above) is required to play this audio clip. Download the latest version here. You also need to have JavaScript enabled in your browser.

EPISODE 12 RECAP
At the police station, Jung-hoo acts clueless as he's escorted to an interrogation room, while his narration tells us, "Teacher once told me that when fishing, the best bait is myself."
With Moon-shik dropping in unannounced at the Someday office, the staff is abuzz with curiosity. The natural assumption is that he's here to see his brother, so Young-shin offers him tea while waiting. He's staring at her so intently that it's a bit odd, as is his comment about how nicely she grew up. She laughs awkwardly and wonders what he's about, while he falls into flashback:
After finding Ji-an at the orphanage, Moon-shik drives them home while Ji-an clutches his sleeve. She waits in the car when he steps aside to buy her a drink, but a lady walking by makes her cry out, "Mommy!" When Moon-shik returns, her seat is empty. He runs through the neighborhood looking for her… until he just stops. Stands there. Considers the alternative.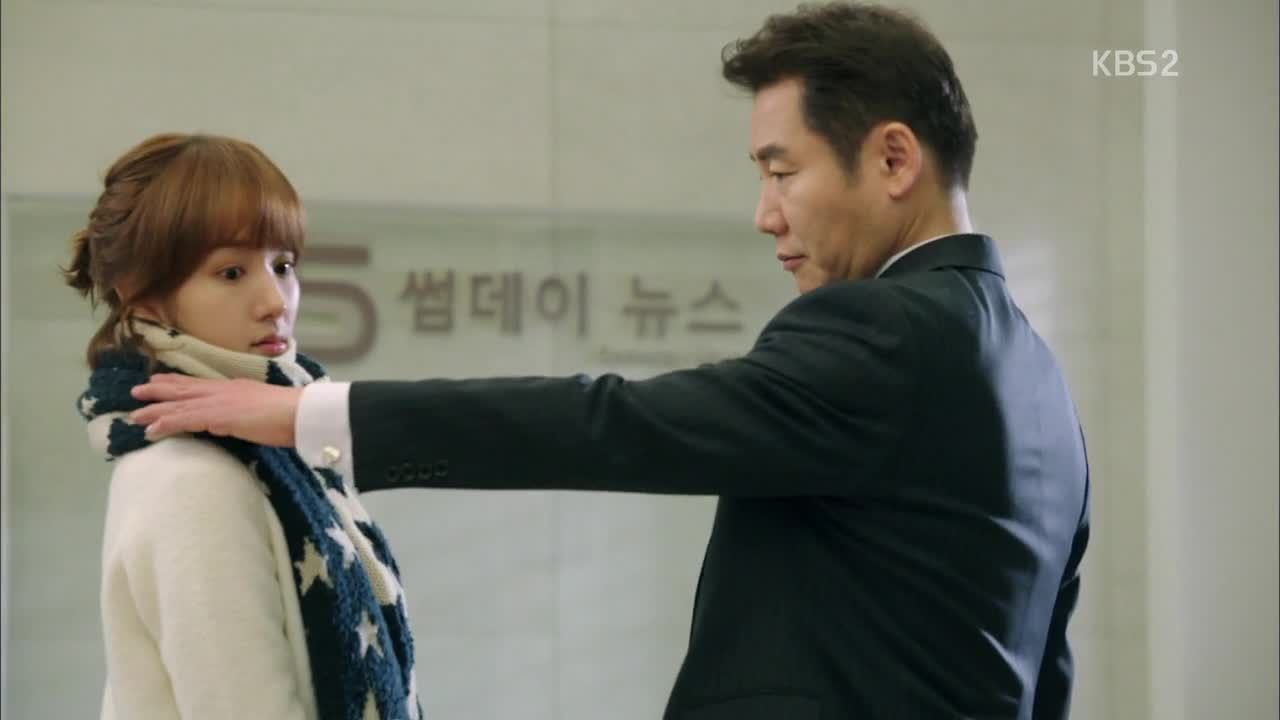 In the present, he compliments Young-shin on the press conference, which is a normal thing to say, then looks her up and down and asks about her height, which is not. He holds his arm out to her shoulder and notes, "You're similar. Or are you smaller?"
Moon-ho bursts into the room and shoves that arm aside, ordering Young-shin out. He glares at his brother for having the audacity to see Young-shin, "without even trembling, or kneeling down before her!" Moon-shik says that Moon-ho's the reason for putting Young-shin in danger, which is such a backward way of looking at the issue that Moon-ho growls that there would be zero danger at all if hyung just stepped the hell out of it.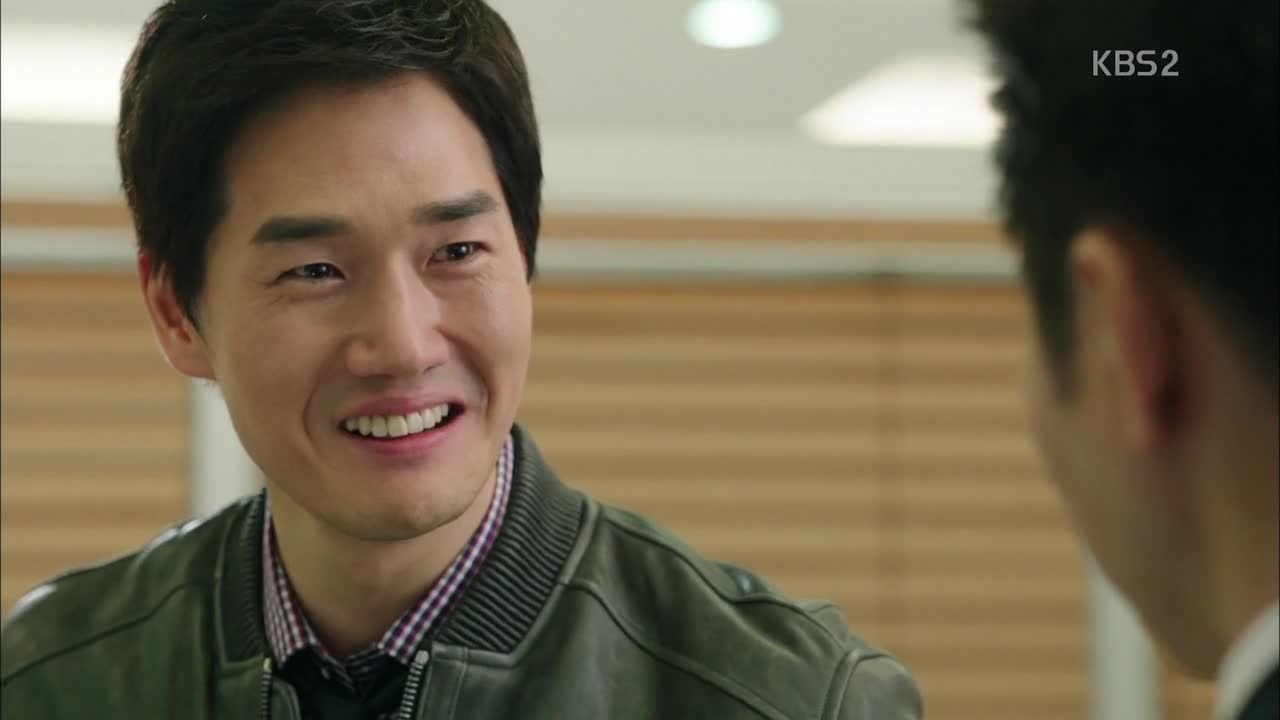 Moon-shik explains how he's being pushed into the mayoral race against his own intentions, blaming Moon-ho for making the news broadcast that took down Assemblyman Kim. Moon-shik sure has a way of twisting truth to absolve himself of responsibility, and I do believe that's one of the things that infuriates Moon-ho most.
Since the Elder considers Ji-an to be Moon-shik's weakness, he wants to get rid of her. Therefore, Moon-shik has decided that he must protect Ji-an by keeping her close. Which is such a laughable notion that Moon-ho sneers at hyung's twisted idea of protection. Is he going to break her legs, or put her into a cage? "That's how you protect," he says.
Moon-shik counters that Moon-ho's no better off, taking in these "kids" who know nothing. He asks if Moon-ho sought out Seo Jung-hoo, and while hearing the name is surprising, Moon-ho plays it cool and feigns ignorance. Oh, did hyung find Seo Jung-hoo? Is he going to "take care of him" like he did Ji-an? (I love this shot, and the look on the Moon-bros' faces, which tells you everything about their relationship.)
Moon-shik replies that somebody dropped by the house recently, and he had a feeling it might be Jung-hoo.
Speaking of whom, Jung-hoo is left to wait at the police station for seemingly hours. He keeps up his happy-go-lucky act the entire time, until Secretary Oh arrives to announce that his father's friend would like to meet him.
In the car ride, Jung-hoo makes a conspicuous display of yawning and acting sleepy, commenting on his jet lag while he lies down and slips a bug under the car seat. Then when they arrive at Moon-shik's estate, he oohs and ahhs over the grounds and snaps photos like a tourist, which he'll use later to take note of all the security cameras on the premises.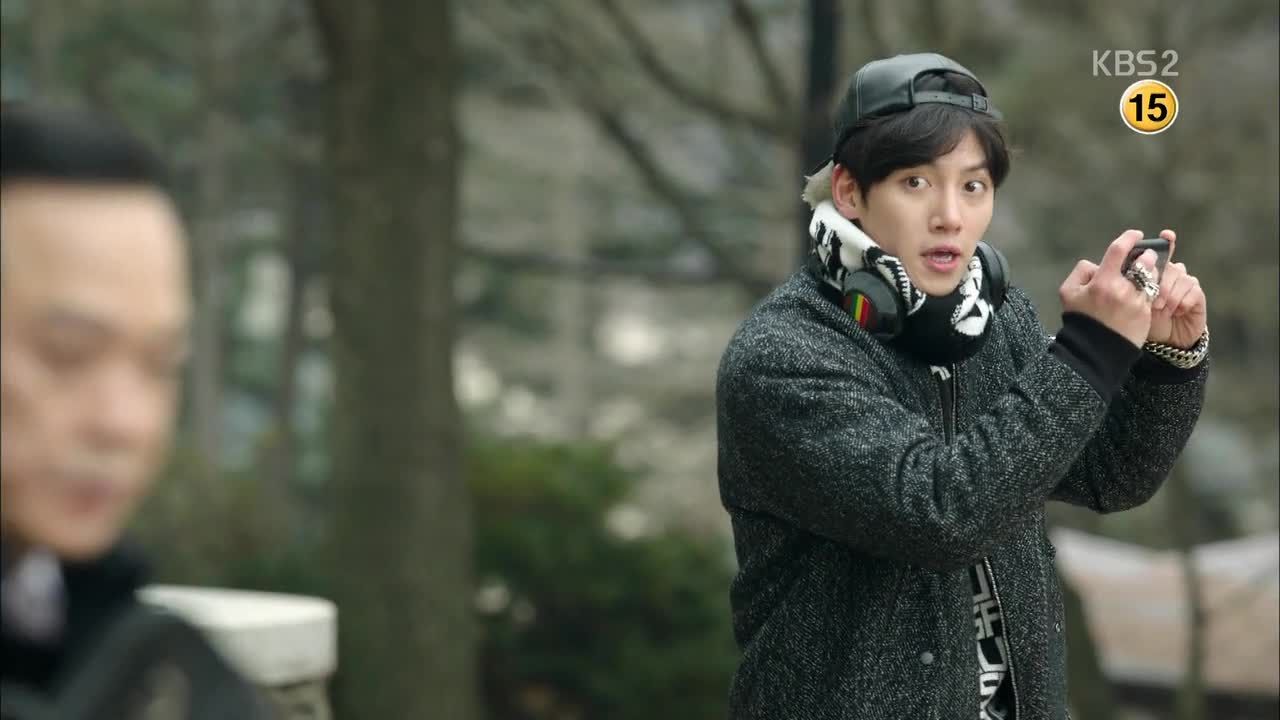 Moon-shik welcomes him familiarly, asking whether he remembers him. Jung-hoo doesn't, but returns the greetings and explains that he only recently arrived in Korea, having studied in Russia.
He guesses that Moon-shik's connections got him released from custody so quickly, but wonders why he was detained in the first place and how Moon-shik knew to get him out. Moon-shik tells him of the alert placed on his father's file, saying that he helped because his father was such a good friend.
Moon-shik has Myung-hee brought in without informing her why, and waits for her reaction when he introduces their guest. But she has no reaction at all, remaining calm as she says he doesn't resemble Joon-seok in the least. Ah, so now she's closing herself off from her husband. I'm both relieved and nervous about this.
But Myung-hee can't contain her genuine emotion as she speaks to Jung-hoo, holding his face in her hands and taking in the adult he's grown into.
At Someday, Young-shin presents Moon-ho with a story pitch to reinvestigate President Hwang's suicide—the detective's suggestions about its convenient conclusion have gotten her thinking. She proposes revisiting the story from the angle that somebody arranged the suicide to make Hwang the fall guy.
Moon-ho reminds her that she hated Hwang, to which she replies that a reporter's job is to seek out truth and justice regardless of her personal feelings.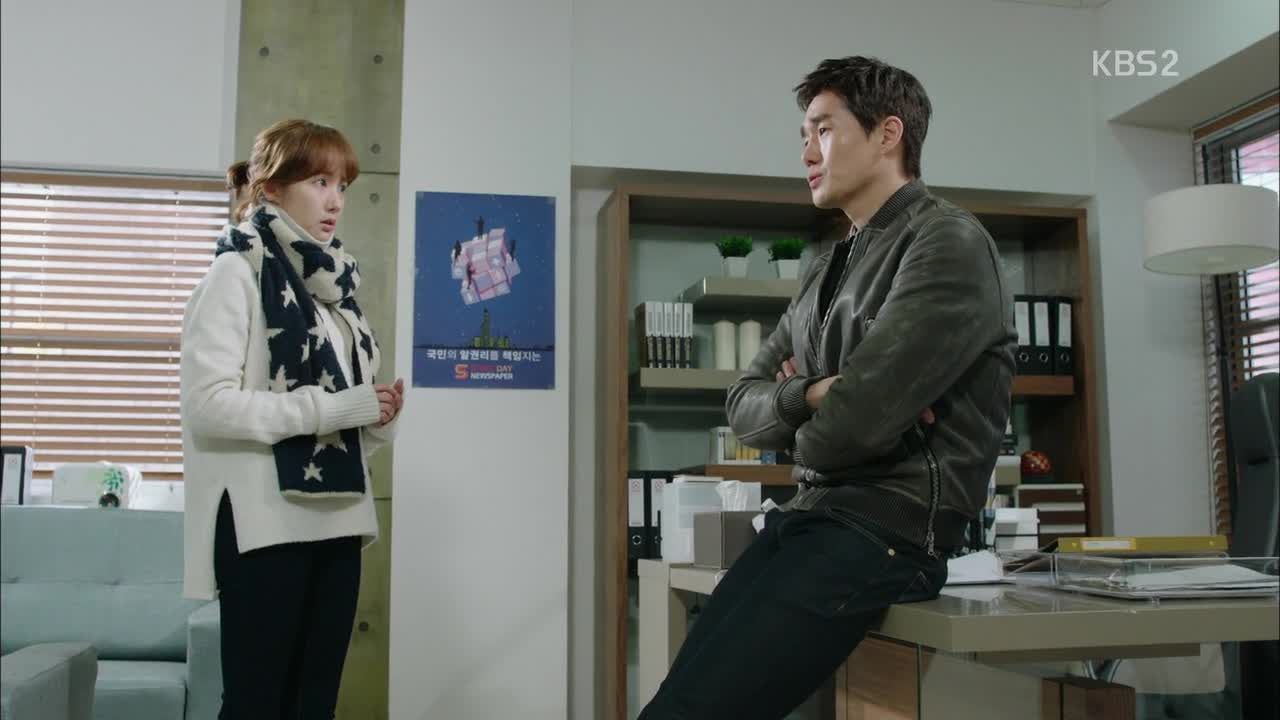 Moon-ho shrewdly points out that when someone uses the words truth and justice, they're often covering for ulterior motives, asking what hers are. So she tells him of Detective Yoon's visit, and his suspicion that Healer is the killer. She wants to find out the truth (read: clear Healer).
Moon-shik puts in a request to check flight records to confirm Jung-hoo's story. That info won't come in till tomorrow, so Jung-hoo's safe for a day at least. But even more troubling to Moon-shik is the niggling feeling that Myung-hee's lying—something she's never been good at hiding. "Why would she lie to me?" he asks.
Jung-hoo wheels Myung-hee to her room, where she warmly invites him to sit and shows him that old photograph. Jung-hoo gets right to the point, saying that he heard someone say that his father killed his friend, and Myung-hee's face clouds over.
Jung-hoo asks, "Then… did my father kill your husband?" Moon-shik steps forward to intervene, but Myung-hee ignores him to tell Jung-hoo that the information is wrong, that his father didn't kill anybody. Then when Moon-shik tries to get Myung-hee to rest, she pulls her hand from his, offering it to Jung-hoo instead. He takes it, and she calls him brave for confronting this when he could have ignored it.
Jung-hoo tells her honestly, "There's somebody I've come to care for. So I had to find out what kind of father I was son to, and if it would be okay for me to like her." Myung-hee nods and tells him yes. Then she talks to Ji-an's photo to tell her that Jung-hoo's grown up well… and that name triggers a memory. Jung-hoo hears Ji-an's giggly voice, and then a man calling out frantically, "Ji-an-ah!"
Omg. It's Moon-ho's voice after her elevator accident. Jung-hoo asks Myung-hee for the name again, and the confirmation gives him a shock. But it's worse for her, as another panic attack starts to set in.
This time Jung-hoo complies when Moon-shik ushers him aside, struggling to make sense of this staggering information.
Min-ja looks at the photos Jung-hoo snapped at the house and wonders where she's seen Secretary Oh before. It takes her a while to place it, but she recalls seeing him lurking near the building where Young-shin had her elevator accident, and all but confirms that he's the one who tried to kill her.
Jung-hoo leaves the house with his head buzzing with all this information, starting with Moon-ho's particular interest in Young-shin. He takes off at a run.
He catches up to Moon-ho in his apartment parking garage and launches himself at him, decking him several times, ready to unleash all his anger. Moon-ho registers his fury and raises his hands, and Jung-hoo gets a hold of his anger, barely.
Moon-shin asks how much he knows. (A rather damning question in itself.) Jung-hoo demands to know why he hid Young-shin's identity and said she'd died. Moon-ho says Ji-an was in danger and offers to explain, but Jung-hoo scoffs at Moon-ho's way of explaining things—only enough to explain the situation at hand, mixed in with lies.
He yells that they all lie to him, so he can't believe when they say his father wasn't a killer. Seeing Ji-an every day and saying nothing, knowing that her mother is alive—how is that protecting her?
But Moon-ho says earnestly, "If that child and her mother find out, the girl will truly lose her mother!"
Jung-hoo asks, "What the hell have you guys done to us? What have you done?!" And all Moon-ho can do is say that he's sorry.
Jung-hoo tells him that he and Young-shin have grown up fine without them, and will continue to live well without them: "So don't concern yourself with us anymore."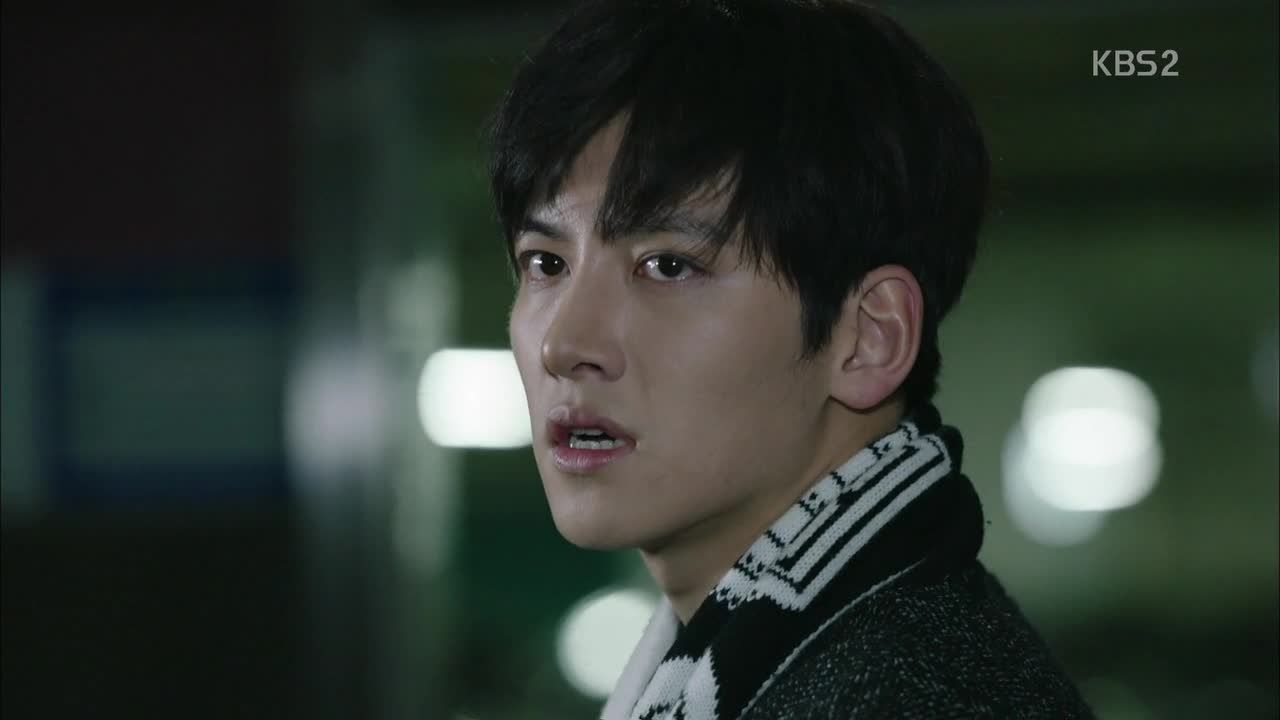 Moon-ho starts to explain that there's still a lot Jung-hoo doesn't know yet, about what kind of people they're dealing with, but Jung-hoo isn't interested. He tells Moon-ho to stick to his people, and he and Young-shin will stick to themselves.
Moon-ho asks what he means to do about his father. Jung-hoo replies that it's between himself and his father—ergo, none of his business. He walks off.
Jung-hoo shows up at the cafe that evening to see Young-shin, who wonders if he's still mad at her. He tells her he's struggling right now and asks for her help, and as soon as she agrees, he grabs her in a hug. Surprised at first, she lets him hold her—and even closes her eyes for a moment before snapping back to attention.
She wriggles from the embrace and says that should be enough, but Jung-hoo just shakes his head and says, "Not yet." He goes in for another hug, and that sparks her annoyance and she kicks him. Haha.
Armed with a bug-infestation excuse, he asks her to put him up for the night. She seems skeptical of his reasons and says he could go to a hotel or crash with family, but when he tells her he lives alone, she looks at him in surprise. He explains that his mother remarried and his father died young, and she looks at him with newly sympathetic eyes.
And when she leans in to wipe stray whipped cream from his lip, there's this… moment, when she stares at him. I love it.
She recovers and says she'll ask her father, and catches him staring at her thoughtfully. He reminds her that she likes somebody, and asks if it's okay for her to put up a guy so easily. HA. Are you actually cockblocking yourself? Whose side are you on, Jung-hoo? Is there even a sense-making answer to that question?
Young-shin just retorts that he's not a man, teasing him for his fear of everything.
Moon-ho hears of Myung-hee's episode and hurries to her side. She's been treated by the doctor and is asleep, and Moon-shik tells him of Jung-hoo's visit and asks whether Moon-ho supplied him with his information. What does Ji-an know?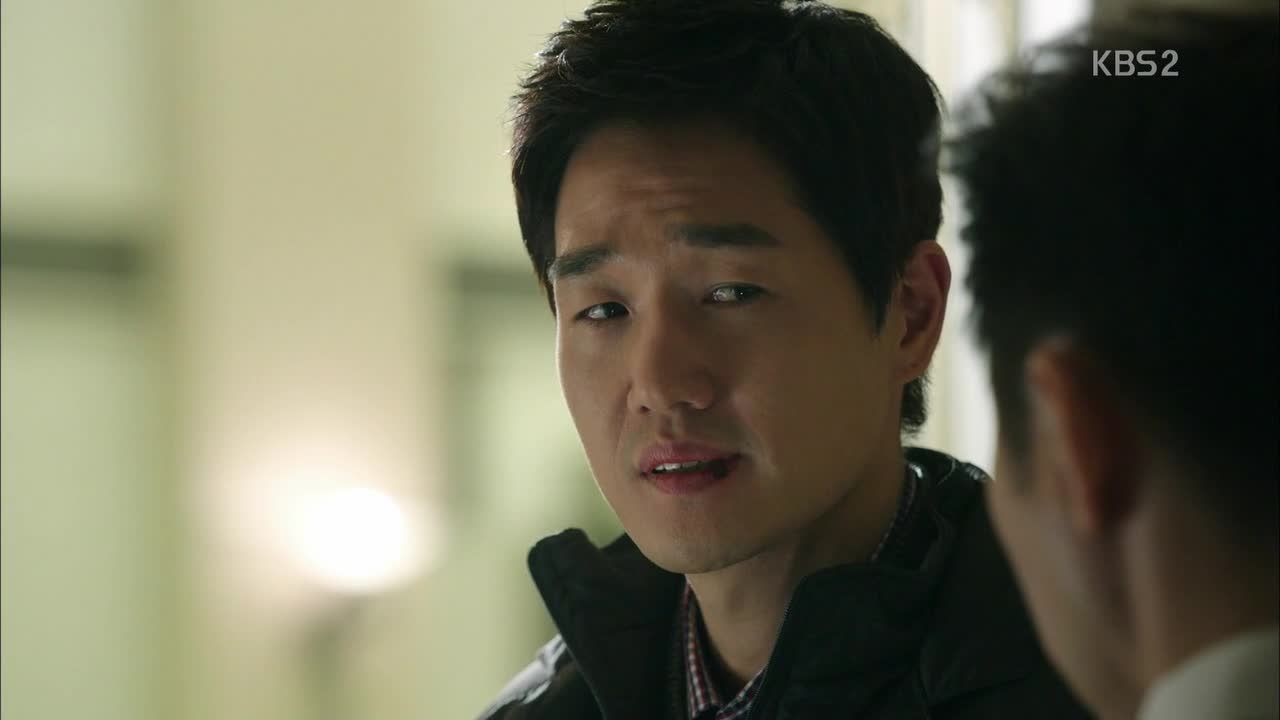 Moon-ho says heavily that he's always thought he was a better person than his brother, but now realizes that he's only ever had his brother to learn from: "I'm becoming just like you." And therefore, he can come to the conclusion, "If something's dirty, wipe it with a rag. A white towel is too much of a waste."
Moon-shik's concern now is that the Healer has the Elder's incriminating video, and may be working with Moon-ho. Secretary Oh has made a new request offering gobs of money, but received no response. So Moon-shik concludes that they'll have to force the Healer out of hiding: "I didn't want to go this far," he says. "It's too bad."
Over at the Chae household, Young-shin directs Jung-hoo to help prep dinner, only he has no idea what to do with the vegetables she sets before him. He tries to peel potatoes with the wrong part of the peeler, then tries to peel an onion like it's an apple. It's hilarious; I'd almost think it was part of the helpless Bong-soo act, except we've seen his piles of takeout containers. Young-shin even tricks him into touching his eye with an onion-soaked finger, then laughs her head off at his reaction.
Still, they manage to make dinner for two, and she watches for his reaction as he takes a bite. He grimaces and tricks her into thinking it's terrible, laughing when she falls for it.
She hands him her father's pajamas to change into, and when she drops them on the floor, they both reach for it at the same time, their hands brushing together inadvertently. They freeze, and her mind immediately flashes to her Healer date.
Jung-hoo quickly moves his hand aside, but the idea is too strong in her mind. She grabs his hand back, then aligns their fingers, about to intertwine them. Omg omg. My heart can't take this anticipation.
Jung-hoo can't do anything but stand there with his heart in his throat, but Young-shin brings herself back to the moment, seeing his reaction and dropping his hand. She apologizes and excuses herself quickly.
Jung-hoo asks ajumma t to look into Myung-hee's medical records, wanting to know if Moon-ho's fear is warranted that meeting Ji-an might send her into a dangerous condition.
Min-ja offers up her own analysis on his condition, telling him he's a robot whose artificial intelligence has gone haywire. She reminds him of that Superman dude she once compared him to, and says that Jung-hoo's kryptonite is a person.
Jung-hoo's feeling warmhearted tonight and tells ajumma he knows she cares about him. He guesses that Min-ja knew about his father supposedly killing Young-shin's father, which is why she kept trying to pull him away from her: "Because you didn't want me to get hurt."
She admits nothing, just asking, "Did you get hurt?" Jung-hoo replies that he can't even remember his father's face, so what does it matter what he did twenty years ago? "As long as my father didn't kill the woman I care about," he says. "I like Chae Young-shin," he declares. (Ajumma mocks, "Did you figure that out now?")
"So be prepared," he continues. "Even if I'm hurt, I can't do anything about it. It's okay if she doesn't know, I still have to be next to her. Don't tell me to run away. I don't know how to run away."
The Someday staff watches the news in satisfaction as Assemblyman Kim is summoned by police, signaling the beginning of his end. Moon-ho announces that their next order of business will be to report on the next Seoul mayoral candidate, who has yet to be announced—but since he has an inside line, he shares the name with his staff.
Everyone's jaws drop to hear that Moon-shik will be announcing his candidacy, and Editor Jang goes off on a tirade. He says that he had been proud and impressed when Moon-ho went after Assemblyman Kim with such success, but now he assumes that Moon-ho is standing by his brother, which means Moon-ho only took over Someday to make it Moon-shik's mouthpiece.
Editor Jang expresses his deep disappointment in the boss and resigns his post on the spot. Everyone else looks equally bummed, and Moon-ho enjoys his reaction, because he's about to prove them all wrong. He declares that rather than promoting his brother, his intention is to prove why he's unfit to be mayor. Jung-hoo looks taken aback, and Young-shin's smile returns.
Jung-hoo's mother lights up at a text from her son asking to lunch together… but we see that she's being photographed from afar. Uh-oh. Is this a trap?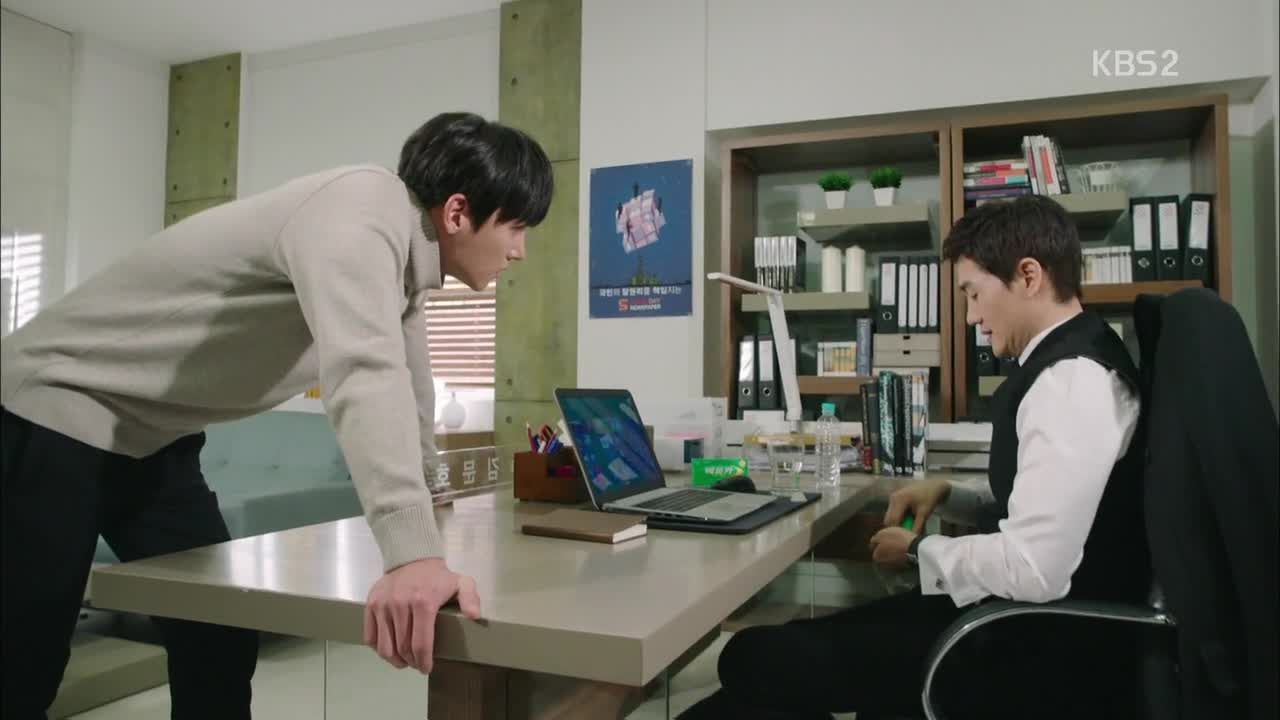 Moon-ho agrees to Young-shin's pitch for the Hwang story, advising her that following the money trail is always the fastest way to the truth. He assigns Bong-soo to work with her, and Young-shin takes the lead.
Once they're alone, Jung-hoo challenges the decision—if Young-shin is in such danger, how can Moon-ho have her just poking her nose around in trouble? Moon-ho replies, "You said you'd protect her." It's too late to hide or run, he says, so they have to counterattack.
Jung-hoo asks if he's going to leave Young-shin in the dark. Moon-ho answers that he's waiting "until Ji-an comes to me of her own accord." He's prepared to take a hit (literally) from her when that time comes.
While staking out the Do(u)ble S guards, Detective Yoon receives Young-shin's text requesting a meeting. Just then there's a sudden flurry of activity as Sang-soo leads a team of goons out, and Detective Yoon hastens to follow.
Aw, Jung-hoo's mother looks so happy as she shops for a gift before her seeing Jung-hoo. By now it's becoming apparent that it's no regular lunch date, and the photos of her get sent to Min-ja in an email titled "I am looking for Seo Jung-hoo." Definitely a threat.
Jung-hoo's driving with Young-shin on their way to cover the story when she gets a call from Detective Yoon, and he checks in with Min-ja. She sends him the email, and he grabs his glasses to take a look—and one glance at his mother has him pulling over with a screech. He talks aloud to Min-ja despite Young-shin being right there, but thankfully she just assumes he's talking to her about directions to meet the cop, while he's after directions to his mother.
Min-ja warns that this is an obvious trap, and that going would be tantamount to admitting his identity as the Healer. Furthermore, she sees from the tracker Jung-hoo planted that Secretary Oh is heading toward his mother.
Mom arrives at the restaurant, and is shortly joined by Secretary Oh—a sight that makes her shrink back fearfully. Moreover, she recognizes him and calls him by a different name: Lawyer Baek.
A snapshot of their meeting gets emailed to the Healer, and seeing Mom with the murderous secretary prompts Jung-hoo to pour on the speed. And Mom's fears grow as Secretary Oh asks after her son, recalling his name as Jung-hoo. She doesn't know what to expect, but she knows it can't be good.
Detective Yoon follows the SS goons to a parking lot, where he logs onto the network to do some hacking of his own. He taps into the security camera feed, which informs him where the guards are stationed.
Jung-hoo arrives and pulls the car over, grabbing a bag and telling a bewildered Young-shin that he has to take care of an emergency. He darts into some kind of lobby bathroom… and whooshes back out in full costume change. Pwahaha.
Dressed in full Healer gear, he races to the restaurant. Hearing that his mother left through the back exit, Jung-hoo takes off running. Min-ja confirms that Mom is heading toward Secretary Oh's car, hacking into security to look for a visual.
Parked across the street, Young-shin's curiosity is piqued by a man taking photos outside the restaurant… of somebody inside dressed in black. She can't see him clearly, but it's enough to get her out of the car to see for herself. The waitress assumes she's here to meet Mom, and informs her that she already left.
Detective Yoon's hacked security feed gets blocked—ha, ajumma superseded his hack. Ajumma reports that Mom is now in Secretary Oh's car, just as her hack gets hacked—argh, it's snoopy Detective Yoon, hacking right back!
Ajumma scrambles to counter and cuts power, throwing Detective Yoon back out. But now she's cut off Jung-hoo too, who's left hanging. He knows this is a trap, but he'll have to charge in blind anyway, since not going after his mother isn't an option.
He slips into the parking garage and spots Secretary Oh in his car, surrounded by SS guards. He quickly takes down the guards and reaches for the car door, locking eyes with Secretary Oh, but the locked door keeps him out.
And then Yo-Yo pops up and darts him in the leg. Ohhhhh shit.
Jung-hoo runs off, and the guards scatter in pursuit. He manages to outsmart them (what, like that's hard?) by hiding under a car, and makes it back to the stairwell safely.
But that dart was drugged, and his vision blurs as Yo-Yo finds him and attacks. Jung-hoo puts up a good fight, but Yo-Yo gets in a few good licks, including a particularly nasty injury as his yo-yo cord cuts through clothing and draws blood.
Jung-hoo manages to get a head start on his getaway, but he leaves a telltale trail of blood. Right before he makes it to the roof door, Jung-hoo is attacked from behind, his cap whipped off his head, and shoved onto the roof. Bleeding, woozy, and unsteady on his feet, Jung-hoo slumps against the wall.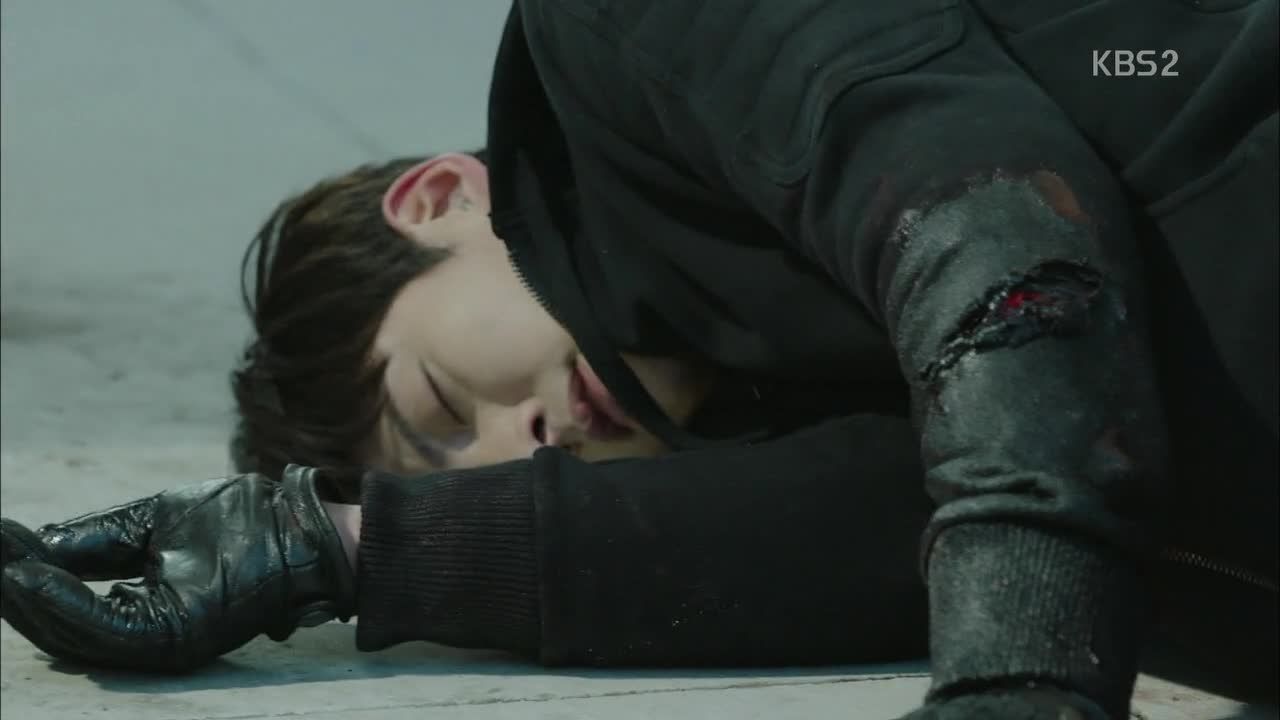 The SS guards charge up the stairs, and Yo-Yo smirks, "Too bad, the door's locked, Healer." He addresses the figure standing there in black leather and a cap—ooh, is this who I think it is? The man starts to turn around…
Ajumma regains power. She sees that Jung-hoo's vitals are in the danger zone, and none of her calls go answered, as he is currently unconscious in a pool of his own blood.
So when Young-shin picks up a phone call, it's Min-ja's voice that comes on the line. She mentions Bong-soo's name and asks for Young-shin's help finding him: "He's in a lot of danger."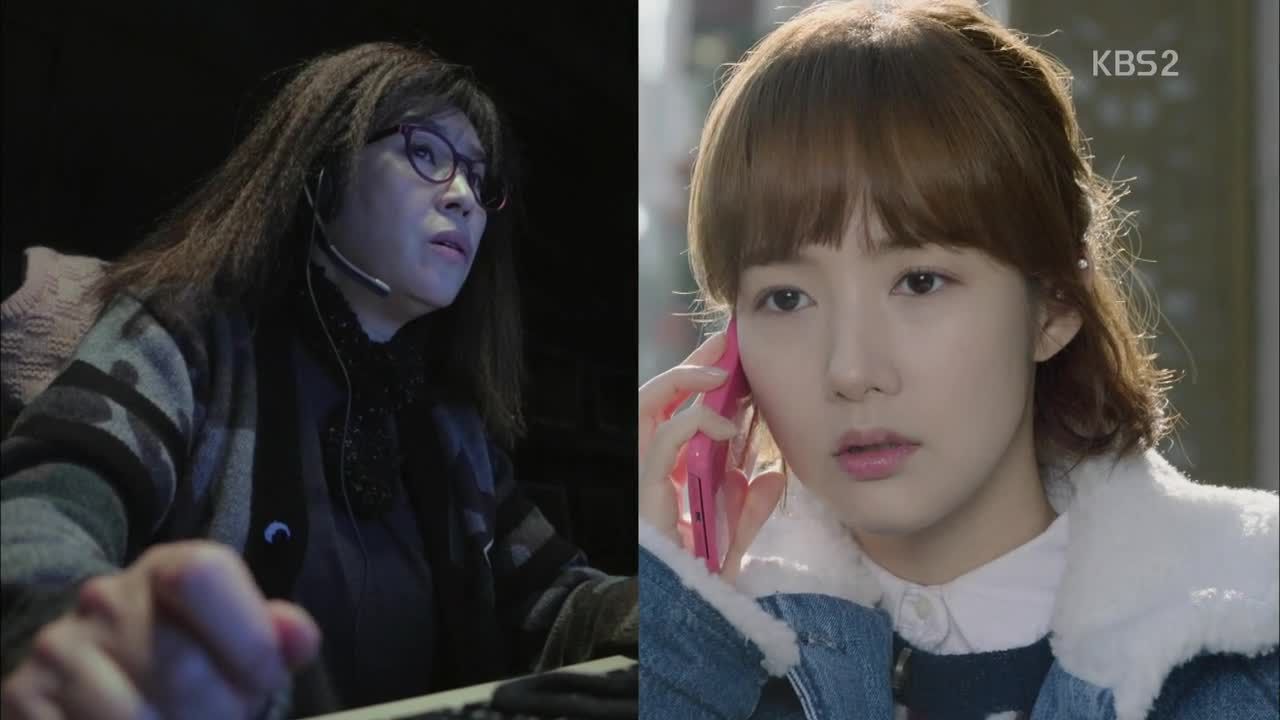 COMMENTS
Oh ajumma, in Healerspeak, does this mean you've just given your consent? How great is it that after all that worry about Young-shin finding out of her own accord (and the drama did a great job toying with that will-she-won't-she conflict), it's ajumma who actively pushes her in Healer's direction?
I guess that discovery is mitigated by the fact that Young-shin seems well on her way to putting the pieces together, even if I do think it would be fun to draw it out just a bit longer. As much as I'm itching for Young-shin to find out (and nearly gave myself a heart attack waiting for her to intertwine their fingers and confirm her hunch), we know she has to find out eventually—so can't we enjoy her confusion a bit longer, as she deals with these weird feelings she's starting to have for Bong-soo?
Because how great was all that Bong-soo-directed confusion? It's one thing when she's prompted by an external provocation—say, Moon-ho claiming all of Bong-soo's attention, or him being the one to initiate a hug. But when it's Young-shin wiping his lip and grabbing his hand and Feeling Things, that's all her. I was actually relieved when she pulled back from the almost-handhold, because she isn't ready yet to confront her suspicions, and she needs time to work through the information—and I want to enjoy watching that process.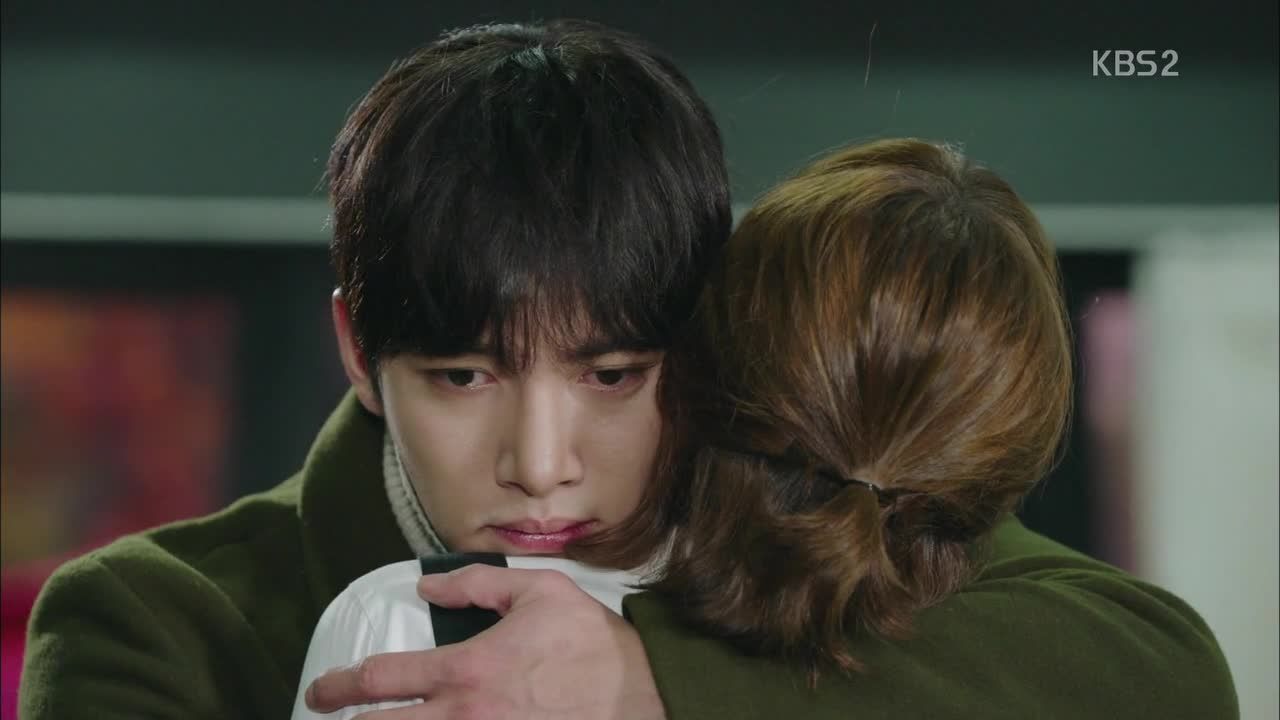 I'm surprised to have Jung-hoo revealing himself to most of the main players at this stage, given that there are plenty of episodes left, but I'm always happy to have a story get to a point quicker than I expected. That twists the question away from "When will XYZ happen?" to "Now that XYZ is out in the open, where do we go from here?" That is the best way for a drama to approach its execution, in my book, because it's impossible to create a story that's entirely fresh and never been done before—the way to keep us on our toes is to address the obvious points quicker, and take its time exploring the aftermath.
So I love that Jung-hoo found out about Moon-ho's lie—both the lie of omission about his interest in Young-shin, and his explicit lie about her death. I'd wondered at Moon-ho's motives behind keeping that, and Jung-hoo's reaction mirrors ours when he says that Moon-ho owed it to him to reveal the truth about her, at the very least. It makes sense that Jung-hoo now eyes Moon-ho as even more of the "other"—he and Young-shin have been pawns and victims, while those other big important people use information as strategy and weaponry, playing god over who gets to know things and who doesn't.
It's one of Moon-ho's tragic flaws, that he is such a well-meaning, caring, justice-minded person, and yet he's just as guilty of stripping his loved ones of agency. We see it very obviously in Moon-shik's treatment of Myung-hee, and Moon-ho charges him explicitly with keeping her captive in a cage under the excuse of protection. But Moon-ho's done the same thing, perhaps to a lesser degree, in depriving Young-shin and Jung-hoo of critical information.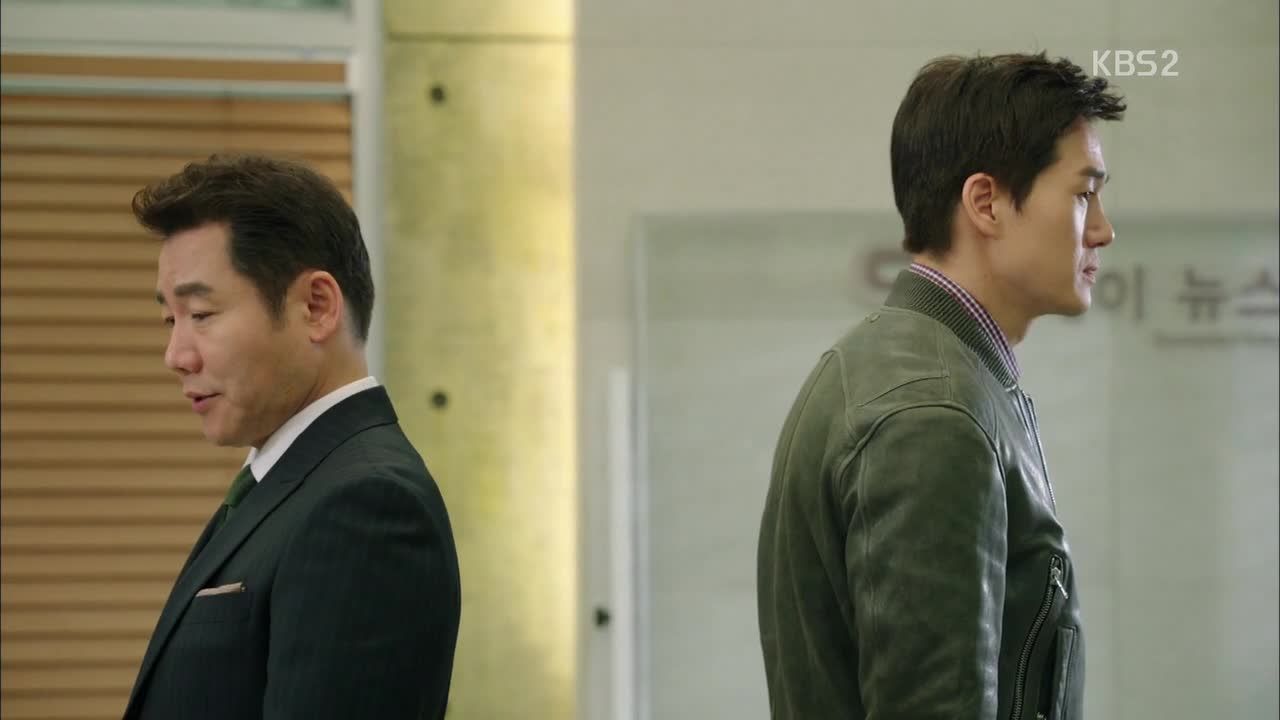 It's information that shapes their very identities and lives, and in withholding it "for their own good," he's robbing them of their agency. They can't make informed decisions about their futures, and I want Moon-ho to realize this so that he can let go and start fresh—I still see hope for a brighter future for him, whereas Moon-shik is too far gone. I suspect losing Myung-hee's faith would crush him entirely, whereas I want Moon-ho to dig deep and be able to rebuild himself.
But right now, all that is secondary to the big question looming on the horizon: Does she find out does she does she does she??? I'm preparing for the drama to throw in a twist and divert Jung-hoo before Young-shin finds him (especially if that's Teacher stepping in as faux Healer, as I suspect), but Young-shin is so close that it could happen. And the fact that ajumma makes the overture is enough of a step forward for me. Perhaps a clueless Young-shin might buy a cockamamie excuse about Bong-soo being in danger, but her brain is quietly collecting clues and connecting dots, even if she's too spooked to voice them aloud. Yet.
Gah, I can't believe that's the scene they left us on, because that's a surefire way to drive me crazy thinking about it for the next week. I love/hate great cliffhangers, because they are so painful/gratifying, in a perverse way. Welcome to the Healer club, everyone.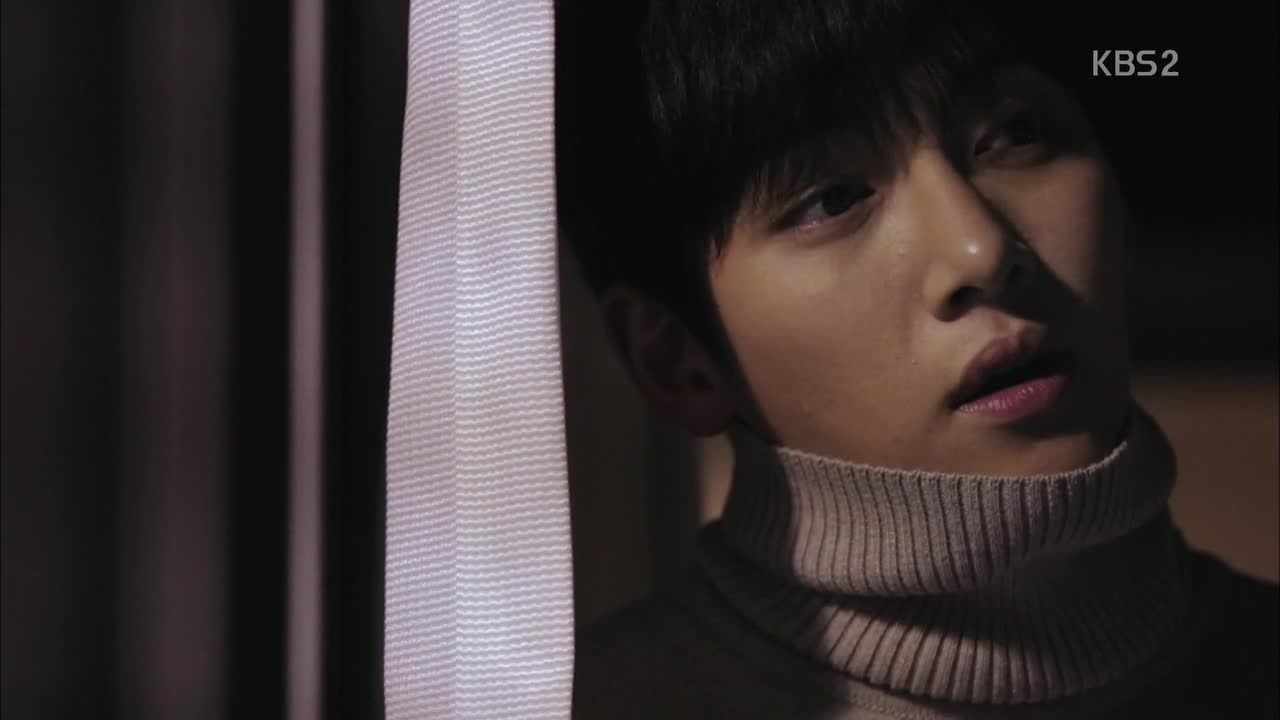 RELATED POSTS
Tags: featured, Healer, Ji Chang-wook, Park Min-young, Yoo Ji-tae