Healer: Episode 16
Is that the "oh shit" face you're wearing right now? Because it's mountain after mountain for our Healer, whose every step forward is dogged by setbacks that land him in some new kind of peril at every turn. On the upside, the Scooby gang is solidifying and gaining members, and I absolutely love that. On the downside, all that new peril I just mentioned.
SONG OF THE DAY
Royal Pirates – "See What I See" [ Download ]
Audio clip: Adobe Flash Player (version 9 or above) is required to play this audio clip. Download the latest version here. You also need to have JavaScript enabled in your browser.

EPISODE 16 RECAP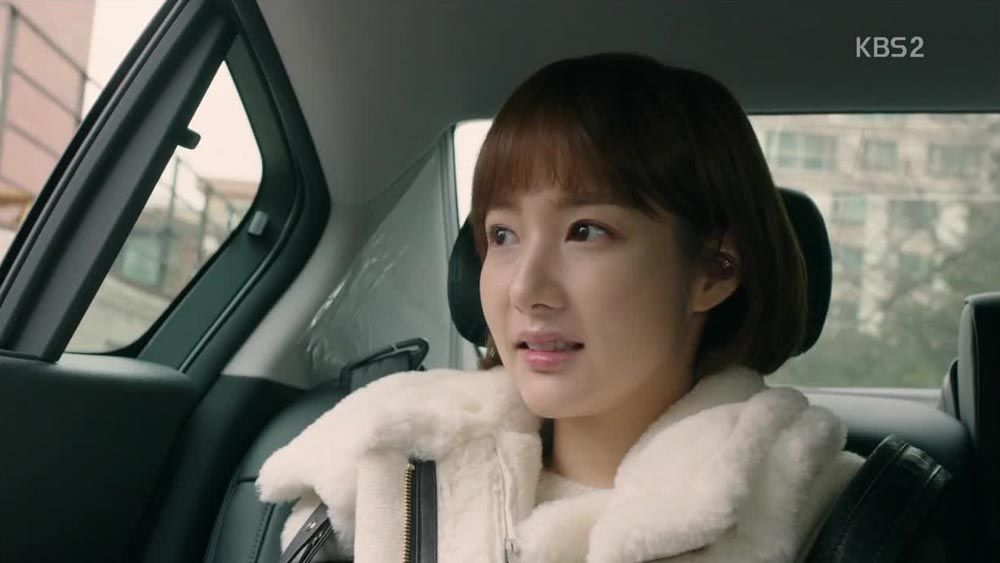 Young-shin gets picked up by Moon-shik, thinking he's taking her to meet his wife for an interview. She seems uneasy, but there's no reason for her to refuse, so off she goes.
Jung-hoo locates the home of an ex-detective, intent on tracking down what happened to his father's missing police statement. The man seems locked inside his head as he plays cards alone, and his daughter explains that he doesn't speak. Jung-hoo sits down anyway and tries to ask questions about the 1992 case.
He finally gets his attention by playing a turn in the card game, which gets a reaction from the ex-officer, and Jung-hoo presses him to talk about the old case. Particularly the statement he took from the suspect named Seo Joon-seok.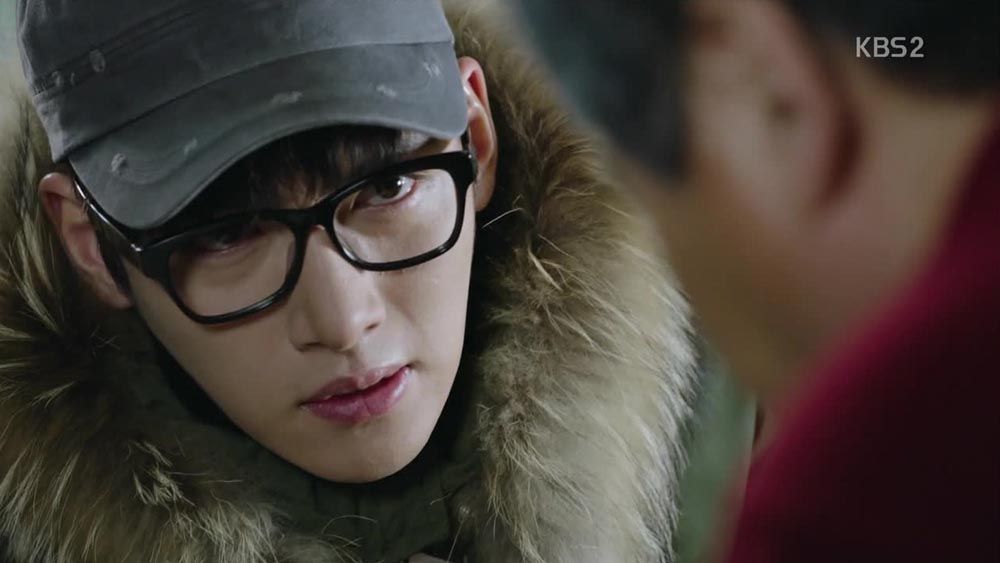 The officer repeats that name, then says that "we" had to quit the force because of him. The daughter confirms, remembering being evicted from home in 1992, and provides the name of the other officer who met a similar fate: Park Dong-chul.
Jung-hoo gives the name to Min-ja to track down. She grumps that she's not a machine who just spits out answers, to which he retorts that she pretty much is. Then she spots something on her map that sets her on alert.
She calls Moon-ho just as he arrives at the newspaper and hears that Young-shin scored the interview with Myung-hee after all. Ajumma informs him that Young-shin's cell phone is being tracked, and she's just arrived "at a place I don't much care for." She decided against informing Jung-hoo first, predicting that he'd go charging in.
Moon-shik takes Young-shin to Jeil Newspaper, and his string of praise for her recent work is puzzling, since her recent work stained his name and all. She explains having an interview scheduled, but Moon-shik says that he has already informed his wife of its cancellation. Over at the house, Myung-hee prepares freshly baked cookies and deflates when her housekeeper gives her the message.
He asks Young-shin not to meet his wife just yet, and explains that he has heard that there are dangerous people in Young-shin's orbit. Well technically that's not a lie if he's talking about himself, but he specifically drops the name Seo Jung-hoo. When she pretends not to understand, he muses that "maybe only Moon-ho knows the relationship."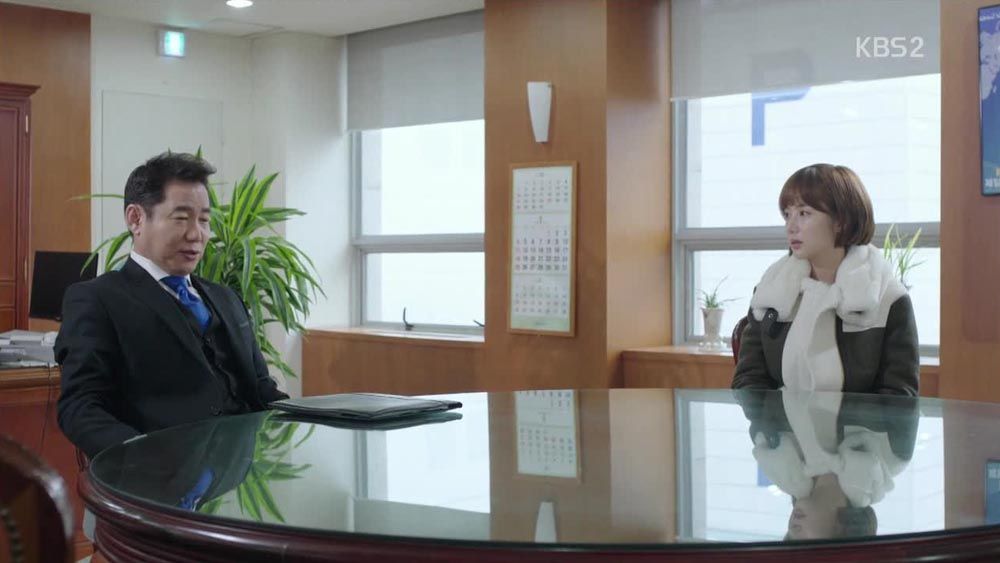 Moon-shik takes out that old photo and identifies himself and his wife, and watches her reaction carefully as he points out Seo Joon-seok. He also points to Teacher and says he recently died, which is enough for Young-shin to start connecting dots in her head, though she does a good job of keeping a poker face.
Moon-shik describes meeting Teacher recently, who'd said he'd turned Jung-hoo into the Healer. Teacher at least stopped at reasonable limits, but Jung-hoo, that kid… well, he's "started to cross the line."
Young-shin asks plainly what she's doing here. Moon-shik replies that his brother has joined forces with the Healer to oppose him, and he's been told that Young-shin is quite close with Moon-ho. So he asks for her help in stopping them, "before they commit even bigger crimes."
He calls in a certain Manager Ahn to brief her, saying she has to know the full story in order to join their side. Manager Ahn handles special investigations for Jeil Newspaper and introduces her to the Healer investigation team, and while she doesn't place a great deal of stock in their accounting of Healer's crimes, for now she has to sit through it.
Moon-ho charges into his brother's office and warns Moon-shik to mess with him, not the kids. Moon-shik replies that he's going to help the kids: He'll turn Young-shin into a good reporter, and get Jung-hoo a good lawyer so he can turn himself in and be reintroduced to society. He has the gall to say he's doing it "because I am their fathers' friend." You mean like Teacher said before you had him killed?
It's so absurd that Moon-ho can only laugh incredulously in his face.
Young-shin practically rolls her eyes while the Jeil team presents the Healer as a loose cannon and cold-blooded killer. She fidgets impatiently, knowing the full story, but her old panic response starts to kick in—her breathing grows labored and her vision blurs. Is it from seeing Jung-ho's photograph on he board?
The Jeil team gets a phone call from the ex-officer's daughter, reporting dutifully that somebody came by asking after Seo Joon-seok. As instructed, she supplied the name Park Dong-chul. The Jeil employee informs Manager Ahn that their bait was taken.
Young-shin approaches the board and reaches a shaking hand out to the (mostly obscured) photo of Jung-hoo. She's still rattled when she leaves the meeting, which is when Moon-ho finds her.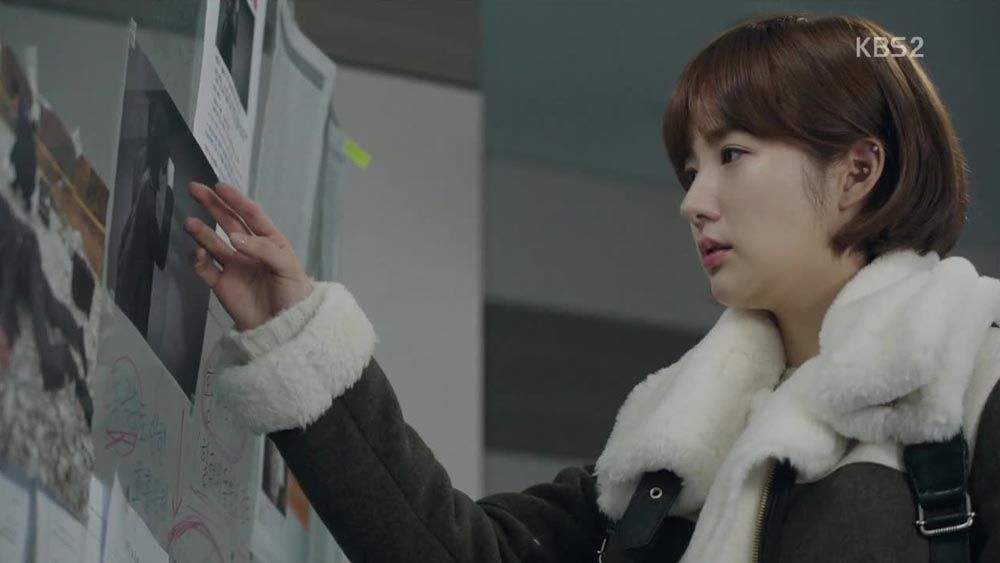 As they head to the car, Young-shin fills Moon-ho in on what his brother said about Jung-hoo being the Healer and working against him. Moon-ho readily confirms that he's working with Jung-hoo.
But the strange meeting has made her start questioning things that don't make sense—like why such an important person as Moon-shik would personally come to give her a ride, and why Moon-ho would do the same. It's suspicious enough that when he approaches, she involuntarily steps back. He clocks her reaction and stops, while she asks him about the piece of fingernail he hired Healer to take from her. Why?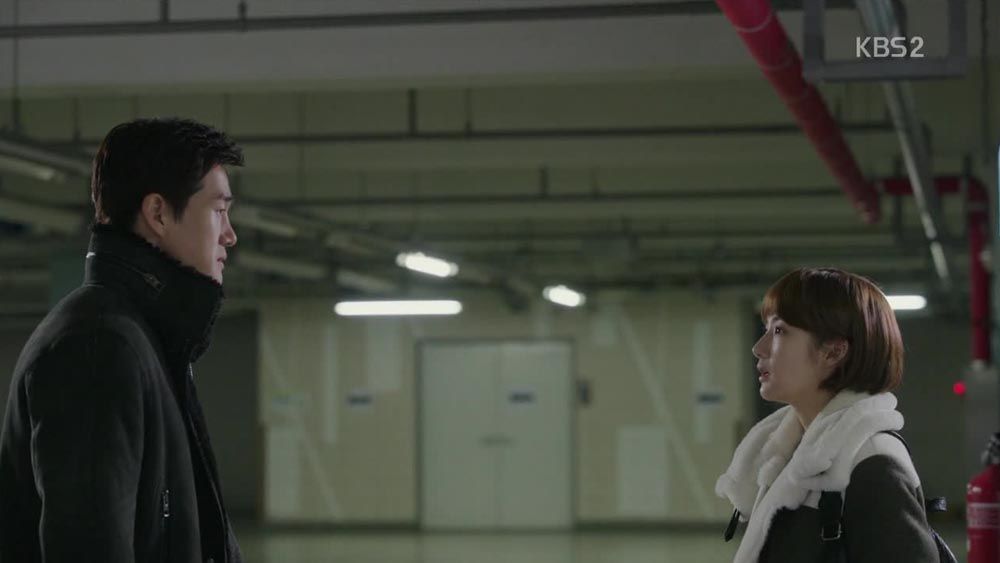 Moon-ho sees that there's no more delaying and says that the time has come to tell her. Without further ado, he reveals, "Your biological mother is alive." Oh phew. I was so nervous that he'd find yet more excuses to prolong the discovery.
Her first reaction is to laugh, but it soon becomes clear that he's not joking as he explains that Myung-hee is her birth mother. "And your name is Oh Ji-an."
He apologizes for not saying so earlier, admitting, "I was afraid, so I kept pushing it back."
Young-shin struggles to take this in, blinking back tears. When Moon-ho steps toward her, again she backs away instinctively.
Ajumma traces ex-cop Park Dong-chul to a seedy club, and the whole thing leaves both her and Jung-hoo with an uneasy feeling. She thinks it's too easy, and while he agrees, he decides to see the lead through: "I'll have to turn a trap into a road."
Jung-hoo steps inside and asks for Park Dong-chul, which prompts the employee and the club manager to whisper and stare at Jung-hoo. She quietly makes a phone call and Jung-hoo is told to wait. This could not look more suspicious if they tried.
At home, Dad casts worried looks at Young-shin's bedroom, not sure how to approach her. In the aftermath of all this news exploding in her face, she has retreated to a corner of her room, huddling under a curtain. She reaches for her phone.
Jung-hoo lounges around the club until two thugs arrive to take care of him. Before they can get down to it, Young-shin calls, and he carries on a normal conversation with her while taking down his two attackers, barely even paying them any heed.
At first he doesn't catch on to her strange mood when she tells him of meeting Moon-shik, who knows he's the Healer. But gradually he clues in that something's wrong; her voice is dull and her gaze vacant as recounts Moon-shik's warnings that Jung-hoo is dangerous.
Then she mentions hearing from Moon-ho about her birth mother, surprising Jung-hoo so much that a thug sneaks in a punch to the face. He tells her he'll call back, then quickly takes down his attacker and demands Park Dong-chul's information from the scared club manager.
Jung-hoo slips outside just before the thug's reinforcements arrive. He sticks a tracker on the vehicle, then tells ajumma to find out who these guys are—they're not Double S guards.
That question gets answered for us when Jeil's Manager Ahn issues instructions to bring Jung-hoo in on the Elder's orders.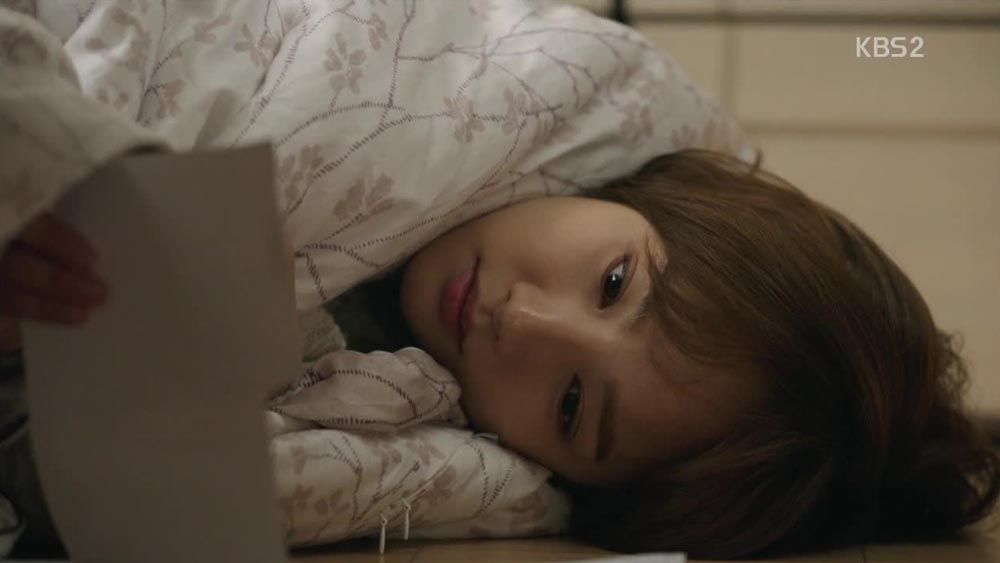 When Jung-hoo returns Young-shin's call, however, she ignores the phone. Slumping to the ground listlessly, she picks up a photo of herself as a child with her mother. In flashback, we see Moon-ho providing her with documents and an explanation:
In contrast with her current condition, Young-shin is brusque and calm as she listens to Moon-ho describe the accident in 1992. He hands over Myung-hee's hospital records, which list epileptic fits, brain injury, and depression; stress is a particular trigger. Moon-ho describes possible further damage if the oxygen supply is cut off to her brain, or even death.
Despite improvements over the years, Myung-hee can't control her reactions to mention of Ji-an: "Your death memorial and your birthday—it's like she lives just for those two days a year."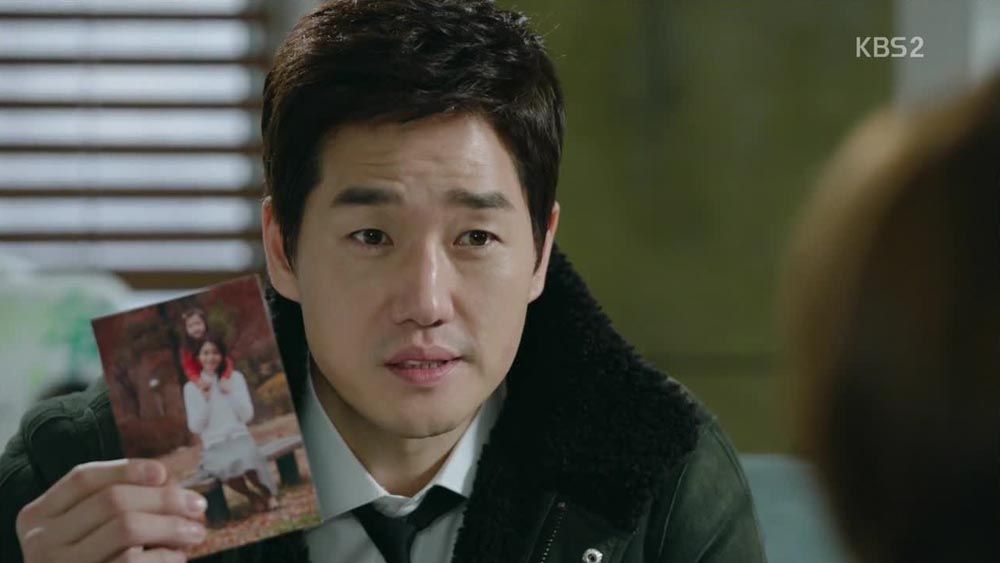 He asks if she remembers anything, but she says dully that the only childhood memories she has are of standing by the highway with cars whizzing by.
Moon-ho asks her to understand that he didn't tell her because he wanted to keep her mother alive. She replies that it's easy to understand that she can't tell Myung-hee she's her daughter, but asks why he didn't at least tell her.
In the present, Dad enters Young-shin's room and sees her lying on the ground, ignoring the phone. Locked in flashback, Young-shin asks Moon-ho why she was abandoned. He says she was lost, then supposedly dead. Then when he admits to preventing Jung-hoo from telling her, she says with a bitter smile, "He wasn't on my side then, Seo Jung-hoo."
He has more to explain, but she shuts him down here, saying she'll handle it herself. "Because you can't trust me?" he asks. She says yes, then tells him that her name is Chae Young-shin, not that other one.
Now in her bedroom, Young-shin seems like she's ready to burrow into bed forever, brooding—until suddenly she's not. She shakes her head clear, gets out of bed, and starts picking up the mess. Aw, she's back. Way to go, you.
Then one document catches her eye, and the name crashes into her brain: Oh Gil-han. The friend killed by Jung-hoo's father. She rears back in horror.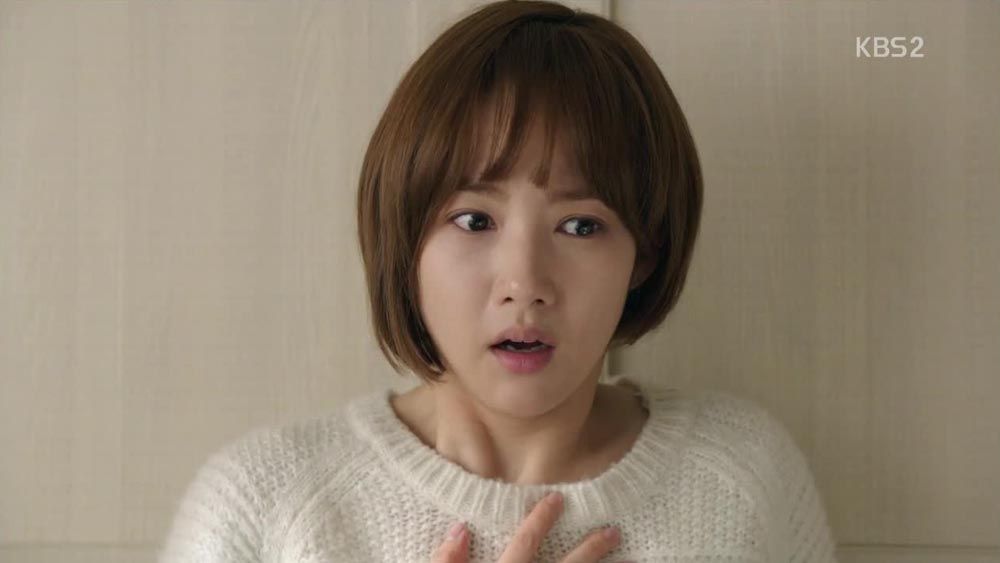 At the bustling Someday office, the constant ringing of the phone has Reporter Yeo so on edge that he hilariously snaps that Chae Young-shin has disappeared on her beleaguered team and probably got dumped. HA. But since it was Myung-hee calling, she hangs up in disappointment.
She calls Moon-ho to ask about Young-shin, wondering about the interview. Moon-ho tamps down his own emotion as he says that Young-shin is dealing with a difficult personal issue, so asking to meet her would be "cruel." Myung-hee scoffs at his exaggeration, but she gets the point.
Jung-hoo charges into the cafe to see Young-shin, slipping past Dad when he tries to insist on a talk. Upon his entrance, Young-shin freezes up to see him, but he just envelops her in a relieved hug, saying he was worried. She starts to return the hug, but drops her hand at the last moment.
He picks up on her strange mood, asking if she's upset because he didn't tell her about her mother. When she shakes her head no, he encourages her to get angry with him. She says that he did nothing wrong, which isn't convincing to his ears, and he asks why she won't look at him.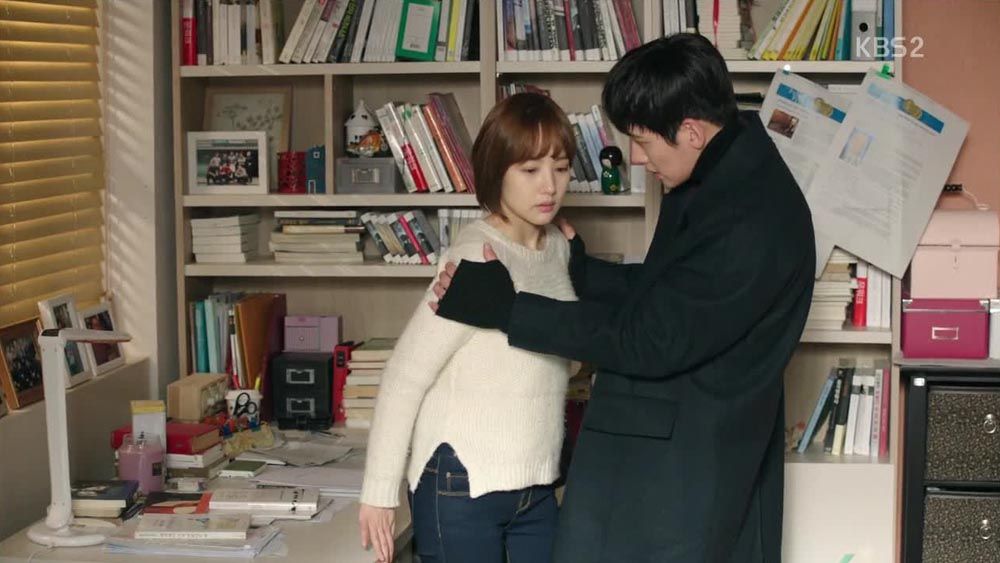 Then she starts crying, and he looks for something to say, mentioning how Moon-ho's not such a bad guy for accepting the beating he delivered for lying. When he says he met Myung-hee, she asks, "She met you, and she was okay?" It's a weird thing to say, and now Jung-hoo is sure something's up. Grabbing the papers from her, he sees her father's name and realizes, "It was this? It was about my father and your father?"
He admits that he knew but couldn't tell her, "Because I was afraid you'd be like this." She says that it doesn't matter, but he points out that her reaction says otherwise. And when he steps toward her, she backs away. Ah, that hurts. You can see that she's conflicted with herself for reacting this way, but she can't help it.
He steps back to give her space and explains that he was looking for evidence to clear his father of the crime, and that he was going to tell her after he'd found it. With that, he quietly exits.
But moments later, Young-shin flies downstairs to stop him before he leaves. She entreats, "You have to find it and come back." Oh thank goodness she isn't giving up so easily. He nods with a small smile, "Okay."
And then she adds, "Even if you don't find it, come back." He agrees.
She promises to look for that evidence too, and tells him, "You're not a bad person." Full of emotion, they embrace, while Dad and ajusshi drop their utensils in shock.
Jung-hoo wipes her tears from her face and leaves, since they've got an audience and all… and then he turns back, Dads be damned, for that goodbye kiss.
That night, Manager Ahn's minions follow ex-detective Park Dong-chul and slip a tracker on him. The club lady provided Jung-hoo with this address, so now they'll wait for the "target" to show up.
Thus Jung-hoo's arrival at the scene gets spotted by the team. Thankfully he notices them, and more thankfully still, they don't notice that he noticed. He manages to whirl Park Dong-chul into an alley unseen, and when Ahn's team follows his tracker, they're just led to the other half of their team, and find the tracker stuck to their car. Outsmarted!
From hacker central, Min-ja mutters at their stupidity and starts singing "I Am the Best." Yes, we know, ajumma.
Jung-hoo takes Park Dong-chul to an empty church, and the man has already guessed that he's Seo Joon-seok's son, because "they" warned him that he'd come. They offered payment in exchange for being alerted to Jung-hoo's actions.
Park Dong-chul says that it was Jung-hoo's father's fault that his life went down the drain. Jung-hoo remarks that all he wants is his father's statement, but it sure is curious how violently the opposition is reacting.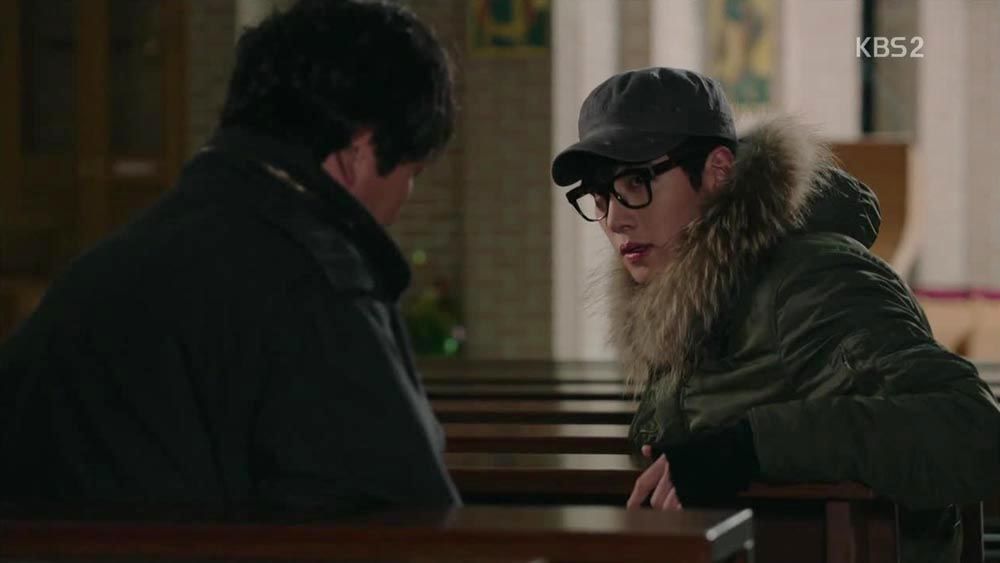 He explains how the statement went missing, so he decided to track down the man who took it: Park Dong-chul.
Park scoffs that finding the statement is pointless, because it was falsified from the start: The one Dad gave is not the one that got recorded. Park Dong-chul and his colleague reported the offense internally and suffered for it. And now, I suppose it's easier for the man to blame the dead Seo Joon-seok rather than some nameless, faceless evil.
Jung-hoo asks what his father said in his statement, and whether he admitted to killing anybody. Park realizes, "You… really don't know anything, do you?" So tell us!
Late at the office, Moon-ho finds a pleasant surprise when Young-shin drops by bearing snacks and smiles. She admits to being unable to stay angry for long, and has a lot of things to ask him.
She starts by asking if they knew each other when she was young. I love how happy he looks as he confirms how super-tight they were, and he tells her about the parents working together and being incredibly close. Young-shin asks if she knew Jung-hoo back then, and Moon-ho says that they cried every time they met. "Because we fought?" she asks. "No," Moon-ho answers. "Because you didn't want to split up."
Young-shin laughs, and decides that Jung-hoo must've cried first. "It'd be nice if I remembered," she says wistfully.
She laughs more when Moon-ho informs her that Jung-hoo's her oppa—by one month. (LOL. This was briefly mentioned before, that Jung-hoo was born in December and Ji-an in January, so technically he was a "year" older and therefore oppa, since Koreans count their age by birth year.)
Then Moon-ho tells her that her birthday is tomorrow, for which Myung-hee's probably already busily preparing a bunch of food (which explains all the cookies and cakes). It sparks an emotional response in Young-shin, to finally know when her birthday is. Then she mentions the bad blood between Moon-ho and his brother, and his mood grows heavy as she asks why.
Back to Jung-hoo. Park Dong-chul drops a bomb when he admits to safeguarding a tape recording of Dad's statement all these twenty years—and he told the other guys about it too, angling for a price. Jung-hoo immediately quadruples the offer, desperate to have the tape.
Park senses the chance to wring even more money out of the deal and tries to play Jung-hoo against the Elder. Jung-hoo tries to impress upon him just how very much he does not want to mess around with these bad guys, who would think nothing of killing him for it.
Jung-hoo begs the man to take his money and hand over the tape, and to save his life in the process. But Park fishes around in his pocket for something…
Moon-shik checks on Myung-hee that night, tucking her into bed before heading to his office. He smiles down at a photograph of himself and Myung-hee, not noticing that there's a tiny device mounted to the underside.
He answers a call from Manager Ahn, who reports that the target just now turned on the cell phone. Crap, that was the thing in the pocket, wasn't it? But on the upside, Myung-hee is totally listening to the call—she must have planted that bug! Go you, awesome lady.
Myung-hee listens to her husband ordering Ahn to mobilize everyone: "If that kid is the Healer as I suspect, he'll be particularly skilled." Ahn asks for a list of priorities to dictate how they respond in a worst-case scenario: Is it more important to get Seo Joon-seok's recorded statement, or to get rid of Jung-hoo?
Myung-hee contains her gasp of shock as Moon-shik replies that the Elder cannot have such a tape leaking. At least Jung-hoo's hit takes the backseat for now.
Moon-ho and Young-shin are heading out when he receives a call from Myung-hee, who hurriedly tips him off about Jung-hoo being in danger.
As she and Moon-ho head out, Young-shin calls Jung-hoo right away, warning him of the situation and urging him to run. Ajumma's linked in too, issuing directions to the church and planning to send police at the right moment.
Jung-hoo turns sharp eyes on Park Dong-chul, who realizes he's been sniffed out and tries to run. Jung-hoo grabs him, and Park makes excuses about how he had to do this. Jung-hoo turns the phone off, cutting the tracking signal, but the henchmen are already on the way.
Desperate and feeling time slipping away, Jung-hoo says that his father's tape is the most important thing. He tries to usher Park away for the time being, but the man resists, naively thinking of all the money that's been promised him. Jung-hoo bursts out that those thugs aren't going to let him live, but the man doesn't see that.
So Jung-hoo begs for just one thing, needing confirmation that his father didn't actually kill anybody. Park Dong-chul promises to tell him when the others arrive, just as the screech of tires sounds outside. As henchmen storm the church, Jung-hoo grabs Park whether he likes it or not and pulls him along.
But Jung-hoo has to stop to fight the men who come at him, alternately running away and then running after Park to keep him from running away.
They escape the church, and again get stopped when the men surround them and charge Jung-hoo with fists and feet flying. He holds his own despite being vastly outnumbered… and then a car pulls up and a man steps out wielding a heavy metal pipe.
Jung-hoo freezes in alarm, and watches as that pipe swings straight into the back of Park's head.
Park starts to go down, and the world goes silent (in a frankly weird edit) as he falls in slow motion.
Jung-hoo lurches forward to catch his fall, but gets knocked aside. Park's head slams into the sharp brick staircase with a sickening thud.
Jung-hoo stares in horror. Police sirens sound in the distance and Moon-ho's car arrives, but the army of goons retreats swiftly. They're gone before you know it.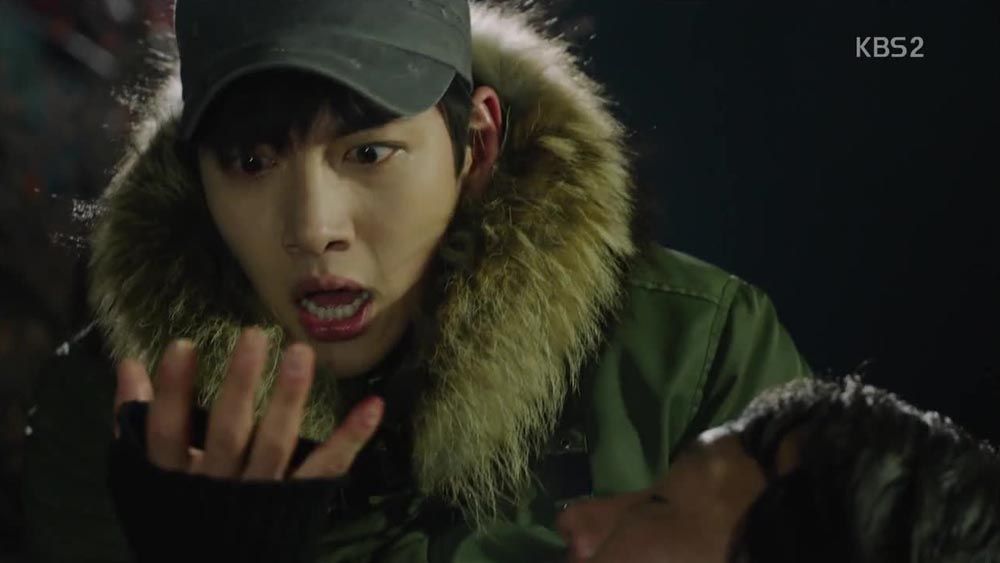 Jung-hoo rushes to Park's side and begs him to answer his question, but comes away with bloodied hands. Park makes a wheezing sound and struggles to open his eyes, not quite dead yet, and Jung-hoo leans in close to hear his words.
Young-shin runs up and takes in the scene: Jung-hoo kneeling before the man, the bloody pipe on the ground.
Jung-hoo rises to his feet and meets her eye with literal blood on his hands. Moon-ho joins her a second later, followed by police… and Jung-hoo runs.

COMMENTS
Ohhhh no, this doesn't look good any way you slice it. It's bad that he ran, but it's also not like he should have stuck around to get arrested, especially when he's already in murky waters with the law.
Even so, while I find this scenario itself highly angst-stirring, I'm not too worried about Young-shin's reaction to the incriminating tableau. In a different drama I probably would be concerned, but this writer doesn't pace her major plot points haphazardly; there's always a certain thematic cohesion and direction, and not for nothing was this hour the Trust Episode.
For plot reasons it was important to see Young-shin's reaction to learning the truth of her past, and I appreciated that we were shown the layers of conflict in the moment. It hurt to see her pushing both Moon-ho and Jung-hoo away, but I liked that I could see Young-shin disliking that about her own reaction—she doesn't want to be suspicious, but she can't just will herself into ignoring the doubts.
It was important to watch her work through her response, and I wouldn't have wanted the drama to gloss it over—but given that it was such angsty material, I'm also relieved that this wasn't belabored. I'll attribute this to the writer's skill, which isn't in necessarily crafting wildly original stories (as we've noted, Healer has a lot of conventional elements, pulled from familiar stories), but in knowing what to draw out, and how much.
It's one of those almost invisible skills, because there's less of an obvious wow factor when your writer is gifted at finessing a scene for emotional impact and teasing out beats that make us squeal—or cry, or hurt—rather than, say, dropping amazing new twists. I think that may be part of why Healer has sparked a particularly fervent response amongst its fanbase, leaving even the fans wondering what exactly its pull is rooted in. Maybe Song Ji-nah is just a master puppeteer of heartstring-pulling. Like I said, that's a gift.
Another thing that Song is deft at, which is something I particularly noticed and loved about Story of a Man, is the way she draws conflict out of people being weak and human, instead of purely evil. Okay, sometimes there's pure evil in there, but many of the antagonizing forces are problems because they are weak, such as Park Dong-chul.
Granted he made me want to reach into my screen to beat some sense into him, refusing to see that he was playing with fire, but I found it so compelling the way he was half-talking to himself instead of Jung-hoo, trying to justify his reasons for betraying Jung-hoo—almost like he was asking for Jung-hoo's understanding, or even blessing. He'd clung to his identity as a righteous cop whose life was ruined for sticking to his morals, and now he just wants to cash that in a little bit to make his difficult life a little easier. It's too bad you can't only sell a little bit of soul and keep the rest; it's sort of an all-or-nothing deal when you're talking about core integrity. That makes Park's last-ditch effort woebegone and pathetic, and because it's so desperate, it only deepens Jung-hoo's own desperation.
You see this trait in other characters too, with various people creating complications because they're just living out their own lives and doing their jobs, like Detective Yoon. I love these worlds that Writer Song creates, where everybody's the hero of their own story, and there are lives being lived beyond the screen's confines.
So back to the trust issue: Yes, Jung-hoo's up a creek at the moment, but I don't believe the writer gave us that awesome "come back to me" scene only to yank it out from under our feet in the same episode. My favorite moment was when Young-shin asked him to find the truth, and then asked him to come back even if he hadn't found it. She trusts him anyway, and her faith isn't contingent upon the existence of decades-old evidence. Which may in fact be just the thing Jung-hoo needs to hear, actually, if his last hope of having certainty is now dead and gone. He's so desperate to hear the words telling him his father wasn't a killer, even though he believes (mostly, almost entirely!) that Dad wasn't—and maybe Young-shin's display of faith is the example he needs to have faith himself.
(One last reminder: Please don't live-watch the next episode in the post for a previous episode, because that makes every recap post a minefield of spoilers. I know not everybody harbors as much hatred of spoilers as I do, but those are the house rules. Don't make me go over there and delete you!)
RELATED POSTS
Tags: featured, Healer, Ji Chang-wook, Park Min-young, Yoo Ji-tae