Kill Me, Heal Me: Episode 6
It's time for Ri-jin to make big choices (none of them involve kisses, sorry), but is it really up to her? It's her big question this episode as strings get pulled in all senses. Both of our main characters have to take a stand, but the threats loom big for Do-hyun, who not only has to protect his peeps, but also himself. Despite the danger, we can still enjoy the family moments and the promise of friendship…eventually? Maybe?
EPISODE 6 RECAP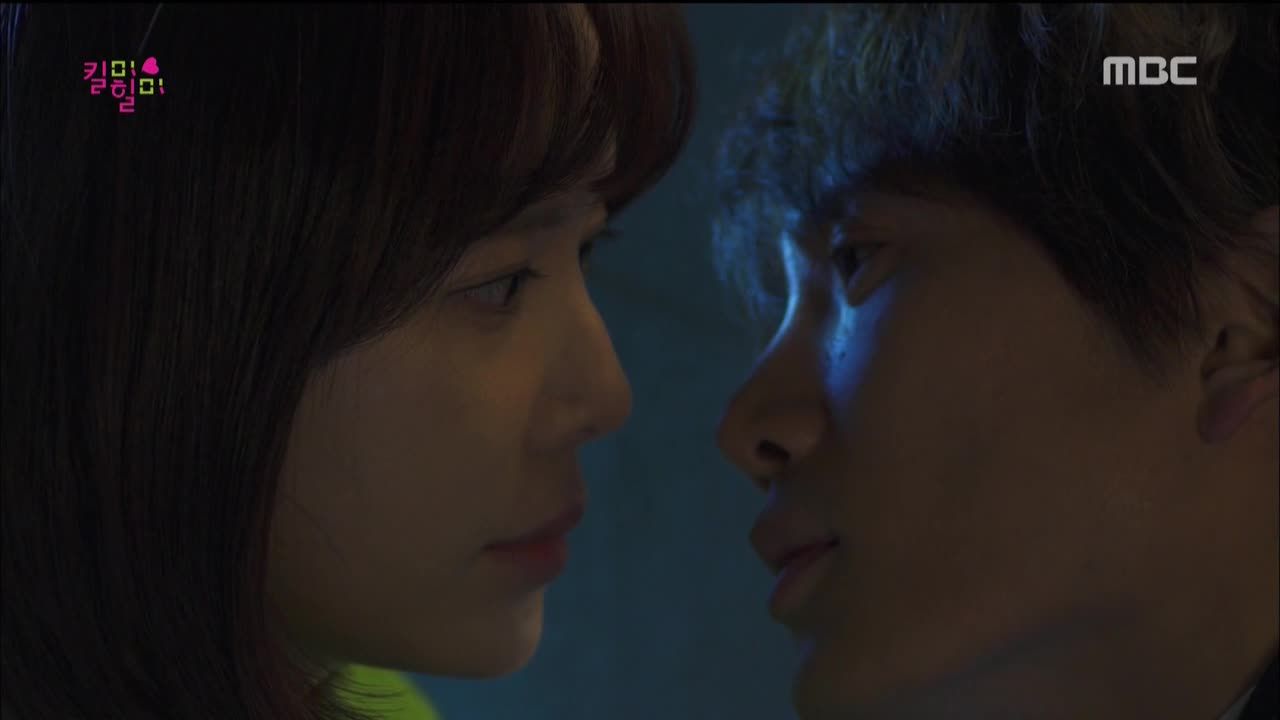 Do-hyun and Ri-jin's faces are inches apart, and both wonder to themselves why their hearts are pounding — or in Ri-jin's case, for whom. She tentatively asks, "Shin Se-gi?"
Do-hyun grips her shoulders and asks her if she's still confused between them. "Shall I make it so that you're not confused?" he offers. Agonizingly slowly, he leans in towards her, and she closes her eyes. Their pounding hearts get louder, and the moment before their lips fiiiinally touch, Do-hyun flops, breaking it up. Lol.
A beat later, Ri-jin snaps out of it and grabs his collar, face furious. He hastily apologizes. Since he shares his one heart with the other alters, he didn't know who was reacting to her so he wanted to check —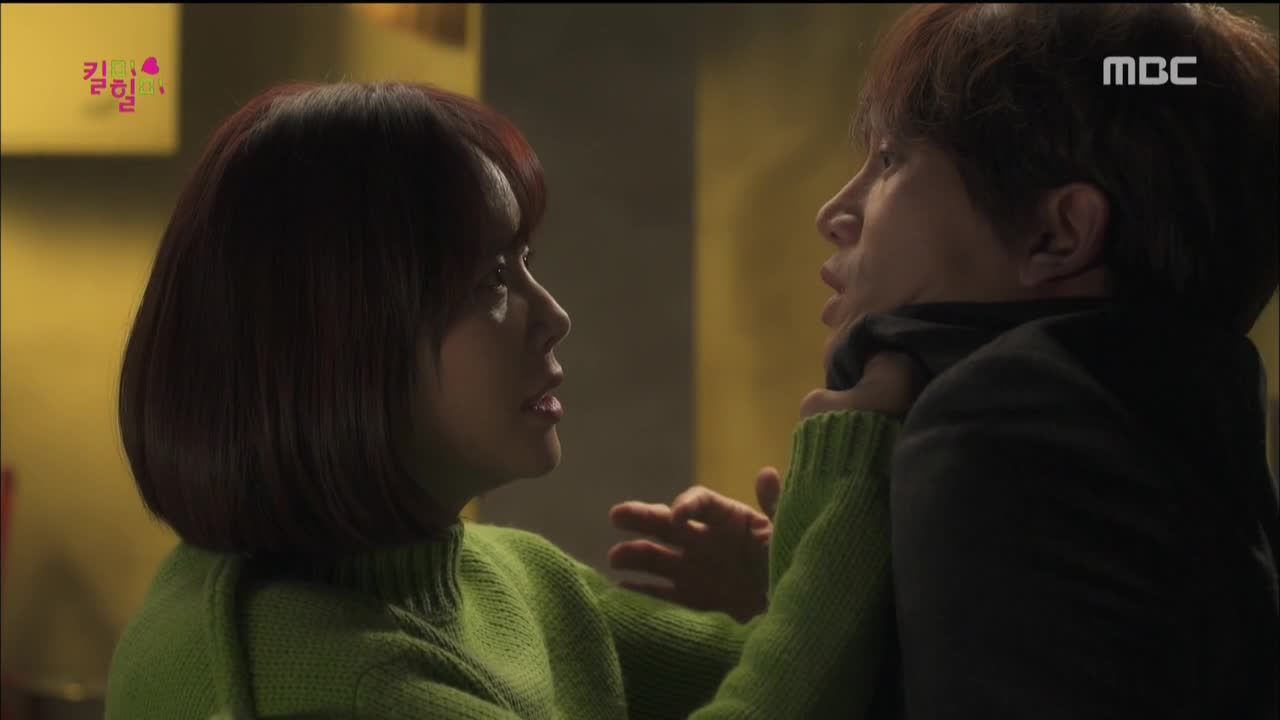 "Why did you stop?!" She yells at him, and tells him to finish what he was doing because there's something she needs to confirm too. He tries to backtrack, but she argues, "Even though I'm using my heart alone, it's become confused!"
He's utterly taken aback, and she carries on raging about him getting into her head. To finish things, she puckers up and goes for him. He pulls back and they end up on the floor…and enter Ri-on.
Seeing his sister wriggling on top of Do-hyun, he bawls for Mom.
Next thing we know, the family packs Do-hyun's car full of food. Ri-jin hangs back, totally soused, while their guest is sent off. It's uncomfortable, and the moment he's out, the smiles turn to frowns and the family rounds on her.
Mom thinks she locked herself in the cellar on purpose to have her way with Do-hyun and chastises her for being unclassy, while Dad chides her falling for a pretty face too quickly. Ri-on's parting shot is that she must be pretty embarrassed now the drink's subsided. Her protestations of innocence go unheard.
Not far away, Do-hyun stops his car and tries to shake off what just happened. In the dog-house (ha), clinging to the family dog, Ri-jin wails in self-reproach.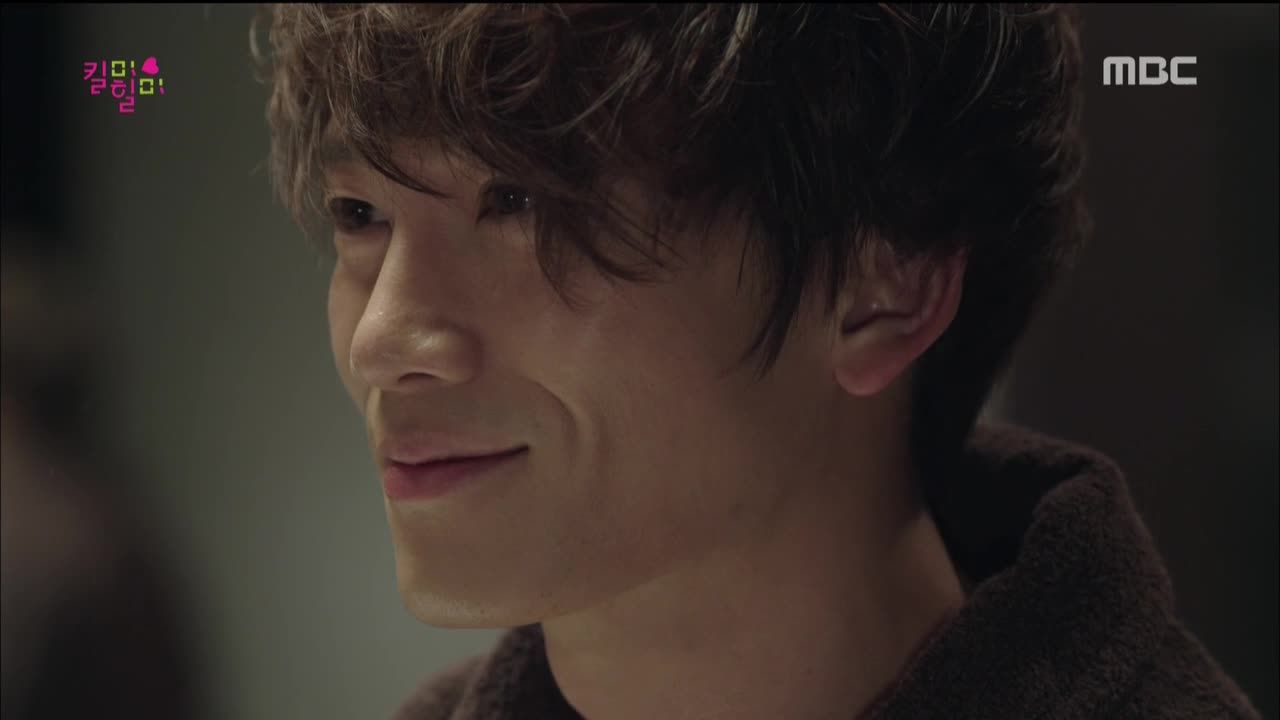 Now home, Do-hyun ponders Ri-jin's confession of her confused feelings. He faces his reflection and a growing smile takes hold. Aww. He heads out of the bathroom.
After he's gone, the lights flicker and the room darkens. With that look in his eyes, the man now in front of the mirror is Se-gi.
The next morning, Do-hyun jolts awake in his bed. Relieved to still be himself, he sits up — and is immediately shocked by the words "KILL YOU" spray-painted on the facing wall. Getting out of bed, he's met by a mess of empty liquor bottles and cigarettes all over the floor. The whole house is an angry wreck of broken furniture, the CCTV ripped to pieces. He's spooked.
A voice greets him from behind — Se-gi's. "While I wasn't here, you turned the house into a prison." From a video, Se-gi faces Do-hyun. He's angry that Do-hyun stole away his happiest time. For someone who's such a coward, how did Do-hyun dare to kiss his girl? Se-gi issues a warning: If Do-hyun messes with his girl, Se-gi will mess with Do-hyun's. He holds a photo of Chae-yeon to the camera.
Chae-yeon's phone rings while she sleeps, waking up Ki-joon, next to her. He checks her phone, and seeing it's Do-hyun, takes it out of the room. Before he can say anything, Do-hyun launches into worried questions about her safety, but is relieved once he hears hyung was with her last night. He thanks Ki-joon profusely, and asks for a favor.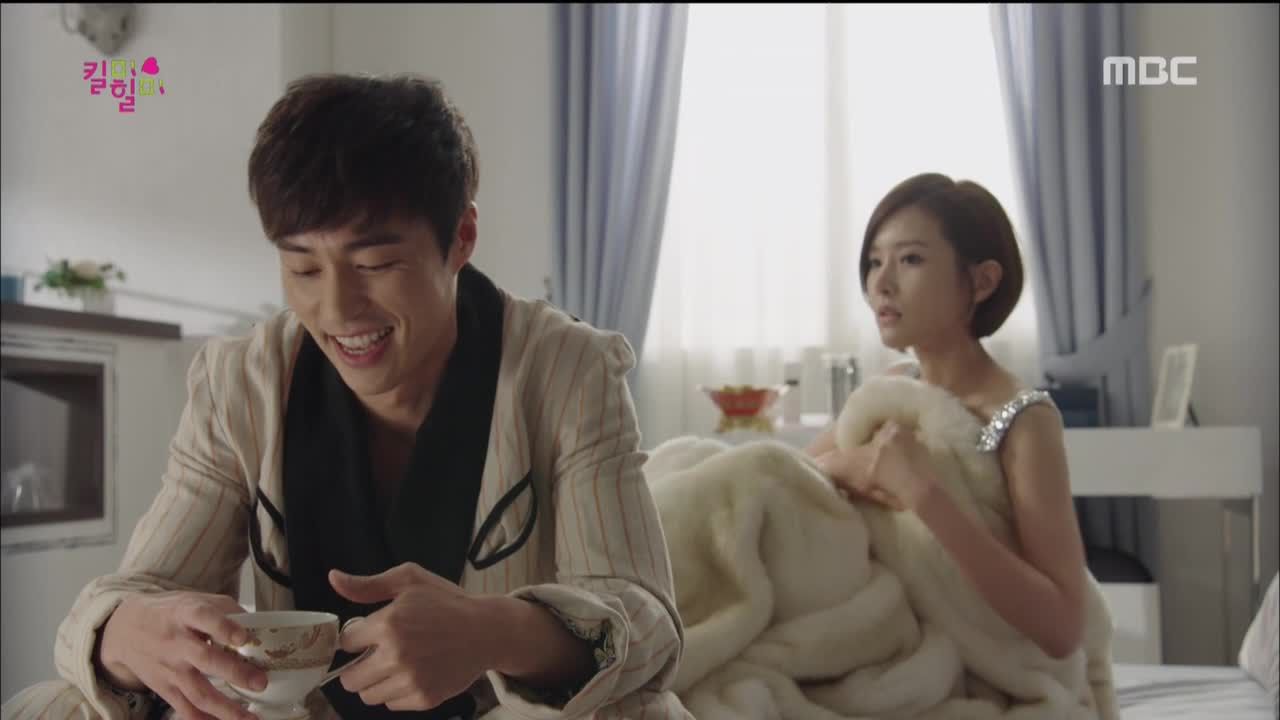 Now awake, Chae-yeon asks who it was. When she's anxious for more about his cousin, he tells her Do-hyun asked him never to leave her alone. "I almost cried," he adds dryly. She gets pettish at Do-hyun's brotherly concern.
In his video, Se-gi rightly predicts everything Do-hyun probably just did, including calling Chae-yeon to confirm her safety. He reiterates his warning: Se-gi's girl had better remain safe, if Do-hyun wants his girl to remain safe too.
Do-hyun tears down the screen in a rage, and Chief Ahn arrives just in time to hold him back from worse. Do-hyun says he's thinking of taking a gamble.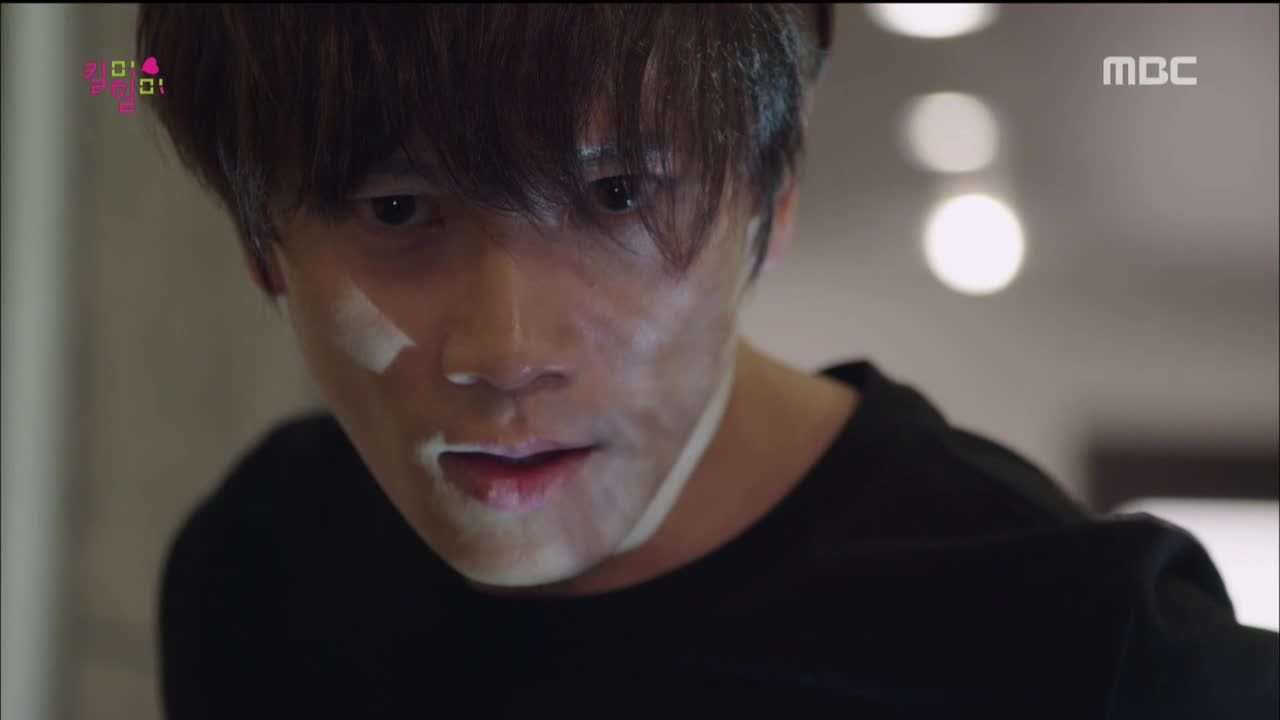 Ri-jin lies in bed thinking about the near-kiss, which makes her writhe in humiliation. She's interrupted by a call from Dr. Park (saved in her phone as as "Take a deep breath before answering"), who tells her to get her butt to the hospital.
Once there, Dr. Park tells her a VIP wants a home visit and specifically requested her. He shoves a confidentiality agreement at her, and the name at the bottom is… Shin Se-gi. She begs Dr. Park to assign someone else, but he doesn't budge and bodily throws her out of his office.
Ri-jin is dropped off in front of his house. The red Ferrari in the driveway gives her flashbacks to her last trip in it, as well as other memories of that evening: the toys, Se-gi telling her to choose between them. The kiss. Him asking her to put Do-hyun to sleep. She's about to turn tail when Dr. Seok's words come back to her, telling her that avoiding Se-gi isn't the answer.
With a sigh, she goes in.
She gasps at the state of his house. His back turned to her, she rants at him and asks if he's going to ask her to put Do-hyun to sleep again. This gets his attention.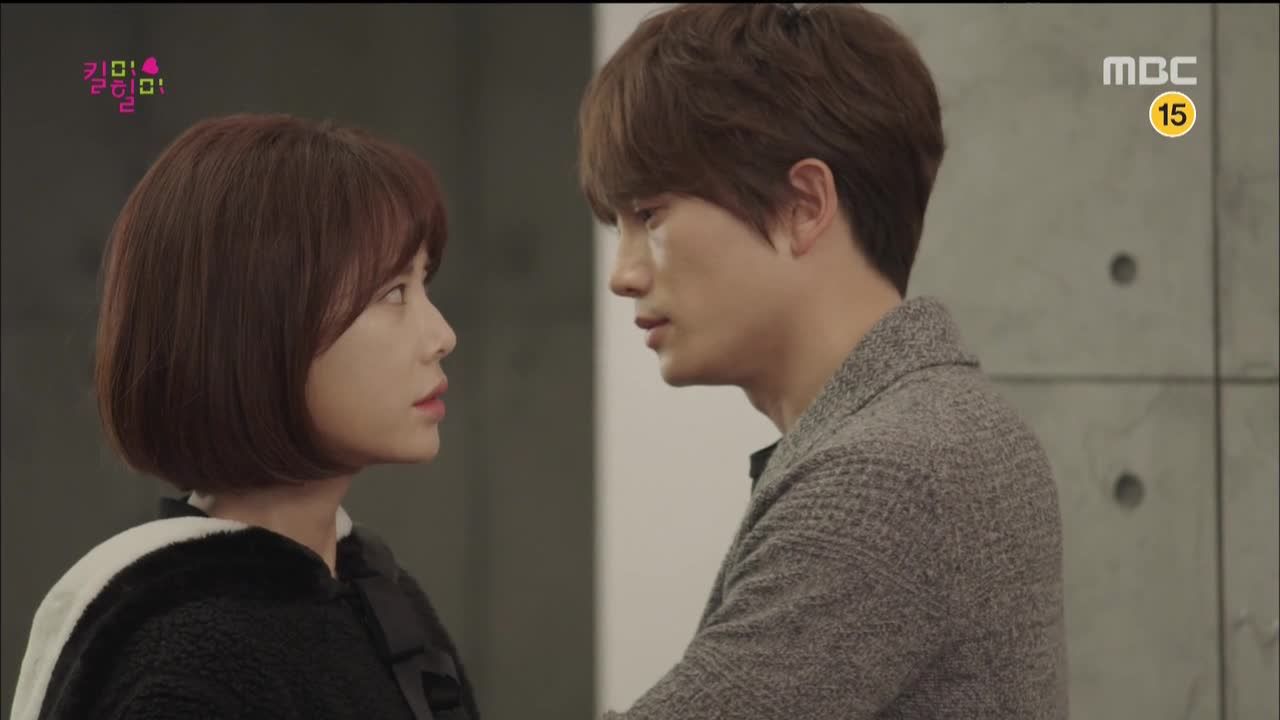 He faces her and remarks that she lied to him about Se-gi not asking that of her. Realizing now that he's Do-hyun, she clarifies that Se-gi only asked that after she met Do-hyun. But why did he call her here under Se-gi's name?
Do-hyun explains his test to see if she responded to Se-gi's summons. Since the two of them seem to be closer than he thought, what if they worked together to put him to sleep? So he's decided to get her on his side instead, and asks her to be his secret doctor.
Ri-jin tells Do-hyun she's not qualified or experienced enough to treat him. The reason she is best qualified, Do-hyun counters, is because she's the only person Se-gi has cooperated with. He wants her to persuade Se-gi to enter reintegration therapy in three months' time, and guarantee Do-hyun's safety until then.
She asks about the timeline, and he tells her he plans to go back to the U.S. then, after finishing what he has to do. She's frustrated about being put into this position by the two of them and refuses.
Do-hyun's answer to this setback is to call her boss and get him to process her leave. Problem solved, he informs her. She's now unemployed, and he offers her a really good, well-paid job. She's spitting mad.
Troubled by Ki-joon's theory that Do-hyun must have a girlfriend, Chae-yeon arrives at his house in time to see Ri-jin leaving.
Alone, Do-hyun is lost in his memories of meeting Ri-jin, kissing her, her asking his name. His reverie is broken by Chief Ahn emerging from the control room (so he was there the whole time? Lol). He asks if Do-hyun's strategy is to use Se-gi's woman to get rid of him. No, says Do-hyun — it's to protect her from him.
Chief Ahn also worries about Chae-yeon, but Do-hyun assures him that Ki-joon's got her back. But Ri-jin's situation is different. Even if Do-hyun avoids her, there's nothing to stop Se-gi seeking her out. To protect both women and himself, he needs to keep her close enough — but not too close.
Chae-yeon phones Do-hyun demanding to be let in. He pretends he's not home, but she calls him out on the lie.
So they head to a cafe, where Do-hyun sits opposite Chae-yeon, not meeting her eye. She asks if he's struggling because he found out she and Ki-joon are engaged. Way to make it about you, lady. Do-hyun is rightly confused about why that should upset him, and she answers that it's because she's his first love. With a heart-tugging little smile, he muses that she knew, then. He reminds her of her contempt for him.
He allows that she was his first love, but he gave up as soon as he found out she had feelings for Ki-joon. Chae-yeon reminisces that he treasured a picture he once took of her secretly, and that he's someone who cherishes her. Do-hyun, however, cuts her off. He points out that she doesn't want to claim him, but also doesn't want him to be with anyone else, so she's just keeping him dangling. Without animosity, he tells her, "Stop doing that. It's not fun anymore." Agreed. He tells her not to come to him about this again.
Ri-jin and Dr. Seok dine together and she complains about Do-hyun's high-handed tactics. He placates her that it's just a break, not a firing. But her point is she didn't choose it: "A selfish bastard is controlling my life!"
Who the hell is he, she asks — some kind of second-generation chaebol? Third, the doc tells her. Haha. That silences her for a second, and he expands on his Seungjin background and the group's financial support of the hospital. But it doesn't change her stand.
But Dr. Seok has something different in mind. Johns Hopkins offered a slot for one of his doctors to study there for a while, and he suggests she goes. He advises her to turn down Do-hyun's proposal — and not to hate him too much.
Dr. Seok's words follow her home, about how Do-hyun isn't one to be suddenly selfish or unreasonable, and how he always takes responsibility. And how he's afraid people will get hurt because of him, which makes Do-hyun worry and fight every single moment of his life. So if he's asking for help, it's because it's the only way.
Ri-on works away at his manuscript, on a passage that sounds very much like it describes Ri-jin and Do-hyun: Two people are poised to unlock a Pandora's box of memories that mustn't be opened, which whispers at them to remember "that day, what happened between you and her."
Ki-joon's mom's mind is on Min Seo-yeon's alleged child. She asks her husband, what if that child was a boy? That would shake up the Seungjin succession and might hurt Ki-joon, but unperturbed Dad says they'll find him first, then, and win him to their side.
Out of his window, Ri-on thinks he sees a specter. He starts sobbing with fear, "I think I killed too many people!" Ohmylols, Ri-on — how do you write frightening books when you're such a scaredy cat? His specter is a zombie-like Ri-jin, and when he bumps into her inside, he practically wets himself. I think screaming runs in this family.
Over breakfast, Ri-jin tells the family she's going to study abroad for six months. But if that's good news, why did she wander around like a ghost, Dad asks. She's forced to explain her chaebol job offer and Ri-on sums up her dilemma as having a rice cake in each hand and not knowing which to eat.
Ri-jin snaps that she wants to throw them both away and live freely, like she has so far. She asks for their opinions and they sweetly tell her it's her choice to make.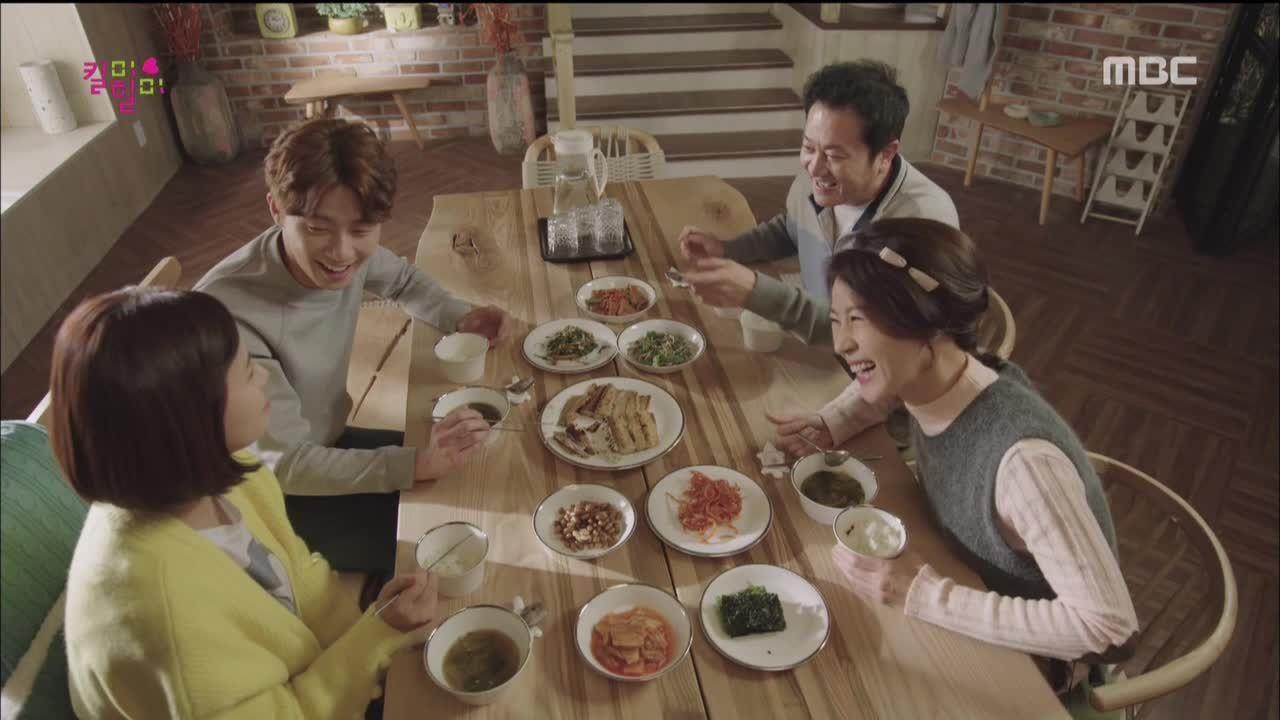 It's undercut later as each parent seeks her out to tell her what they really think: Mom wants her to stay and take the chaebol job, and Dad thinks she should go abroad. When Ri-on finds her, she jumps on him first: "I thought you all respect my decision!" Ri-on whimpers that he just wanted to take the dog out.
On their walk, Ri-on assumes the chaebol is an old man, and wonders aloud what he must want from her. For someone who doesn't want treatment and has to keep his condition secret, it must be a lonely struggle. A doctor isn't all a mentally ill person needs, he says. What he needs most is a friend — he probably doesn't have anyone by his side right now, and doesn't know how to ask for help or admit he's struggling.
Ri-jin digests this and wonders if she should help him, then. Her choice, her brother says. Whichever it is, he's proud of her and tells her to choose confidently. To himself, he adds that he'll be behind her, ready with winged shoes to help her make an elegant escape should things get too hard.
Ki-joon has a staff meeting to discuss the making of an Omega-3 film. He wants to see the original manuscript, and tasks Do-hyun with tracking down the hidden writer. Do-hyun points out that he's on a different job, but hyung doesn't yield. It seems like he's being set up to fail.
After the meeting, Ki-joon tells Do-hyun not to take it personally. Changing subject, he asks for Do-hyun's opinion on hiring a company doctor from Kanghan, significantly adding that they're renowned for their psychiatry unit — who was that doctor? Seok-something, was it?
Do-hyun retches in the bathroom, hyung's words ringing in his head like a threat and mingling with Se-gi's. He downs his meds.
Grandma Seo waits for him in his office. She has a picture of another chaebol group's second daughter, and her intentions are clear. She scorns him for not understanding the political implications of inter-company marriages, and asks if he has any idea how much Seungjin stock Chae-yeon's parents own. Since they announced their engagement, her side has to counter or be in a weaker position against Ki-joon's parents.
Do-hyun apologizes and promises to do his best to consolidate her power, but he plans to return to the U.S. in three months. She asks if he has a woman there. He says nothing but his fingers twitch. She tells him not to even dream of it: "Your mother is enough disgrace for our family." Nice.
Down in the wine cellar of Cha manor, the housekeeper ajumma urges Do-hyun's mom to stop drinking. Mom spots a large teddy bear in a corner, and the ajumma tells her Do-hyun brought it. She wonders why her son would be there when he doesn't drink, but when she hears it was the day Ki-joon's mom came for dinner, she chases the woman away to clear up alone.
She picks up the teddy bear and sees the chalked picture below. In a quirk of memory, she sees the same drawing, this time on a bare concrete floor. Eyes wide, she's afraid Do-hyun remembers "that child." Mom knows?
Do-hyun still looks peaky and has had no word from Ri-jin. He asks Chief Ahn to set up a meeting with Omega's main editor and also get him the novels. Then he heads off to rest.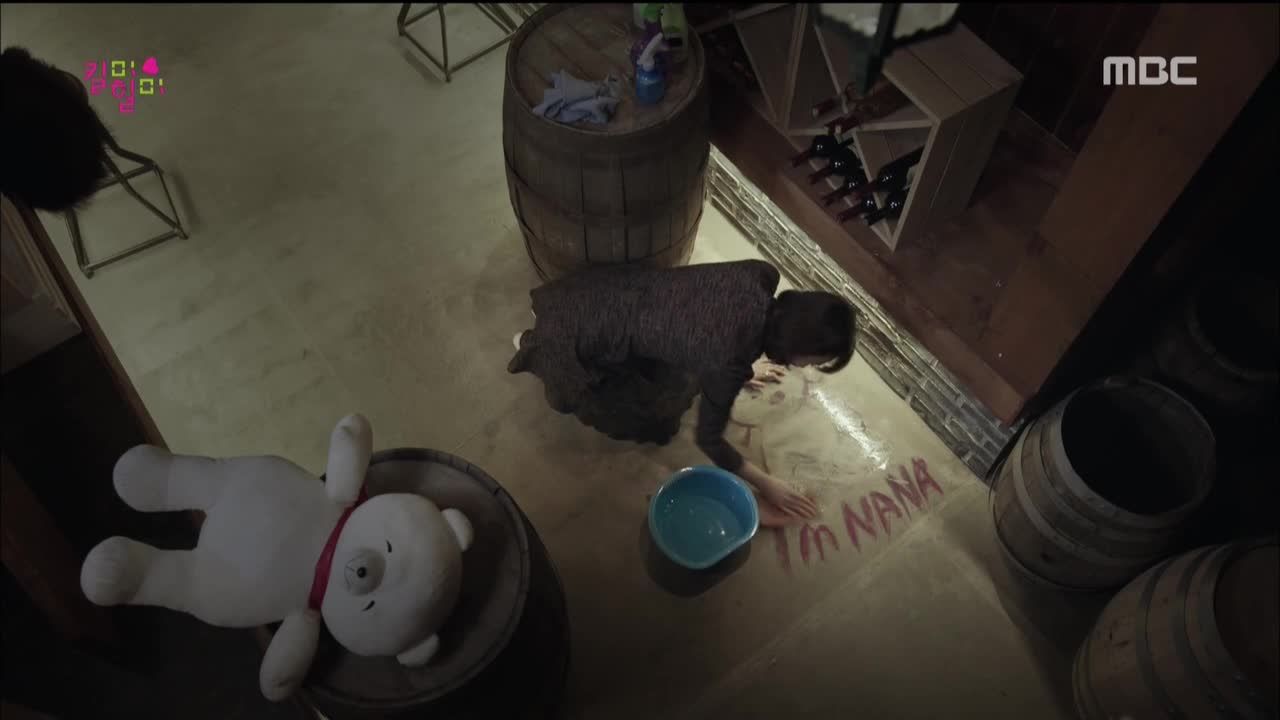 On her hands and knees, Mom scrubs the chalk drawing off the floor, praying desperately that Do-hyun doesn't remember — he must never remember that child.
Do-hyun sleeps. His memories, recent and older, warp and mix into a disturbed dream. Voices and faces fade in and out — Se-gi and Ri-jin, Chae-yeon and Ki-joon. In the scary playroom again, child Do-hyun is suddenly not alone: Ri-jin is there. She's afraid of fire and basements, "But if I'm together with you, I think it won't be scary." They smile at each other.
Her dream-voice jolts him awake and his eyes change — green, this time. Someone new?
On her way to the hospital, Ri-jin tells Dr. Seok she's decided to take up the study post. She dials Do-hyun next, to say goodbye. She turns down his job offer and tells him about going abroad. She thanks him and says meeting him wasn't bad. When he doesn't respond, she pauses to ask if he's listening.
His voice floats out, "You're running away, anyway, noona. In the end, Do-hyun hyung was abandoned by you, wasn't he?" Ohhh interesting. She asks who he is.
"Me? Ahn Yo-sub. Age 17." In glasses and plaid shirt, with a pair of headphones around his neck, he says Dr. Seok dubbed him "the suicidal one." Ri-jin stops her car in a panic and demands his location.
Somewhere very high up, he's busy spray-painting his dying message. "There's no point living anymore. I'm fed up of being treated like a monster or a mutant," he tells her. "Perhaps this sky will become my grave." I know it's not funny, but… the emo.
Ri-jin says he must have something to say if he's leaving a message. She begs him to tell her where he is, and promises to listen to everything. He challenges her to guess, and gives her an hour to find him. "If you're late by even one second, we will already have disappeared." He hangs up.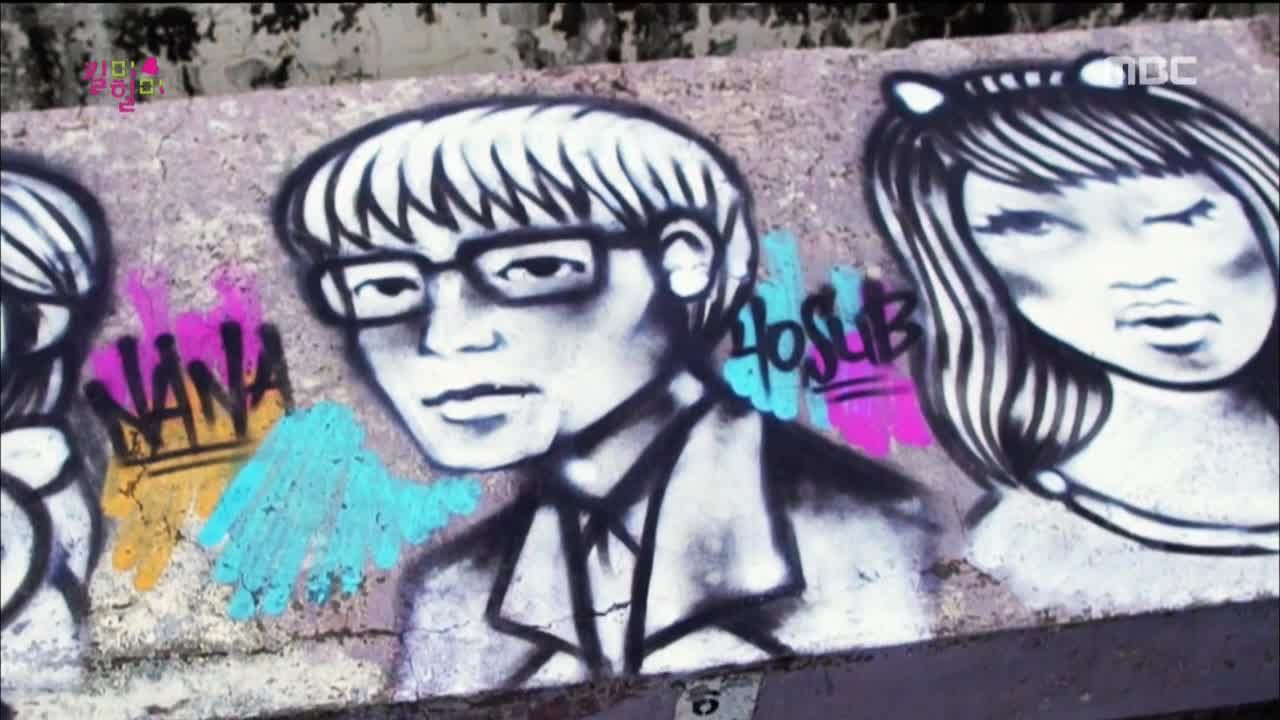 His dying message is, literally, a work of art. Stylized portraits of each alter span a ledge, which Yo-sub walks across. Do-hyun, Se-gi, Perry, little Nana, himself. His twin sister, Yo-na, who hasn't appeared yet — all feature.
The camera pans out behind him, revealing more portraits, and in big red letters across the rooftop, "KILL ME!!"
Yo-sub stands on the edge, and looks down. Putting his headphones on, he spreads out his arms, as if to fly. He extends one foot over the edge, and leans forward.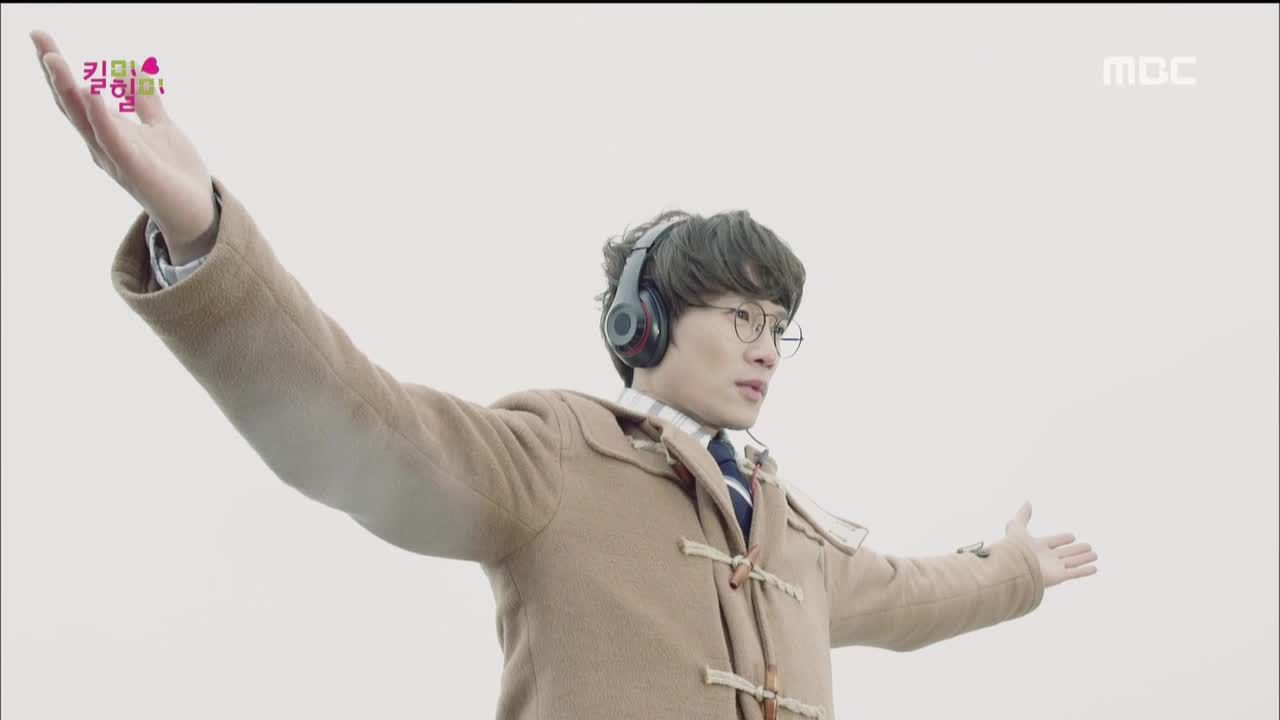 COMMENTS
I refuse to worry. Because it's only Episode 6 and nobody can possibly die yet, especially not any incarnation of Ji Sung.
There's so much Ji Sung to go around, so I want to start with Ri-jin. When Do-hyun forced her leave, I really dig how she refused to see his high-handed manipulations as anything other than outrageous. Even better was how the show made a point with Dr. Seok's counteroffer to deliberately return her agency to her. So when she does become his secret doctor (which of course she must), it's because she chose to herself. I also love that she's aware of that agency, and it's so precious to her — more so than money and status.
There contrast between Do-hyun's unwelcome interference versus how she actively solicits each family member for their thoughts was meaningful. She was willing to take their advice because of their claim on her, but because they're awesome, they (mostly) don't exert that influence. But on the other hand, it would be unfair to think Do-hyun was messing with her out of caprice (although it would help if Ri-jin knew that). He genuinely tries to protect "his people," and even the seemingly unkind things he did this episode were towards his greater end. He's not necessarily right, but his morals at least are in the right place. The fact that he's absorbed Ri-jin into that small circle of people he cares about is telling: He already sees her as someone he has to protect. Ri-jin hasn't yet gone that last step of claiming him as well, but I think she's on the brink right now. Yo-sub is the catalyst, especially since his appearance puts their collective life at risk.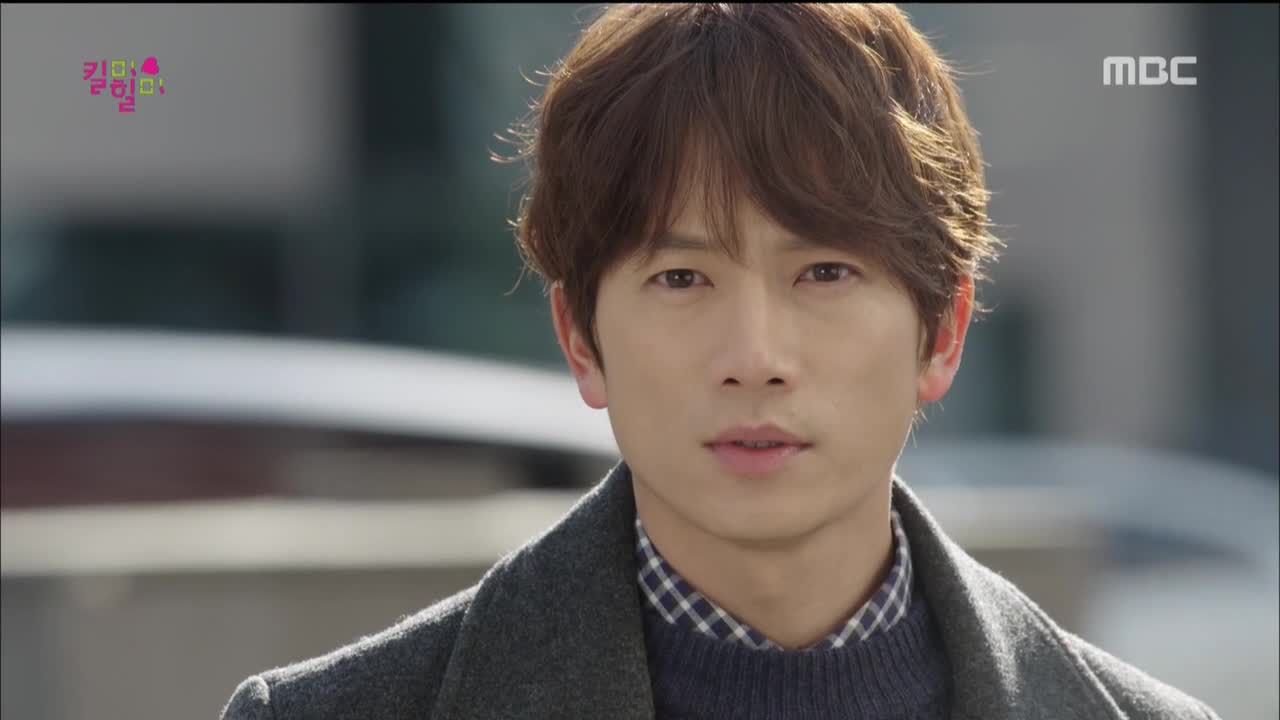 What Do-hyun's test really proved was that Ri-jin is invested in both him and Se-gi. While before, Se-gi called her out under Do-hyun's name, this time it was the reverse. It's much more interesting for him to abandon the "You must run away from me" line because now there's room for more interaction and development between Ri-jin and Do-hyun et al. Because did you notice how they actually didn't have that much screen time together? More, please.
I've been trying to predict who she'll fall for first — I was actually surprised at last episode's developments with Se-gi (= adorable and weird), because I thought she emotionally connected more with Do-hyun. I know! I'm naive! I forgot about the supernatural magnetism of bad boys! Nevertheless, that connection continues to hold, as is evident in their conversation at his house. Although they both threw out fighting words, the actual tone and undercurrent were lighter and playful. Their chemistry is quiet, but strong. It might not be overtly romantic (yet…), but it's better than that right now, because they're learning how to be friends. And friends don't force friends into their employ.
There's one memory Do-hyun keeps replaying, again and again: Ri-jin asking his name. It's a critical and precious moment for him, because he's both recognized for himself, and asked to define it in his own terms. It's also part of what makes Ri-jin special to him in such a short time. With integration treatment on the table, and his step towards Se-gi (however sideways), it's a sign that he wants to start stitching his split selves together. Maybe that question IS the Pandora's Box. After all, to know who he is, he has to know what he's been through. The locked memories are already leaking out into his dreams, and I'm also beginning to wonder if both Mom and Grandma know all about Do-hyun's condition already — they certainly seem to know what happened to him back then.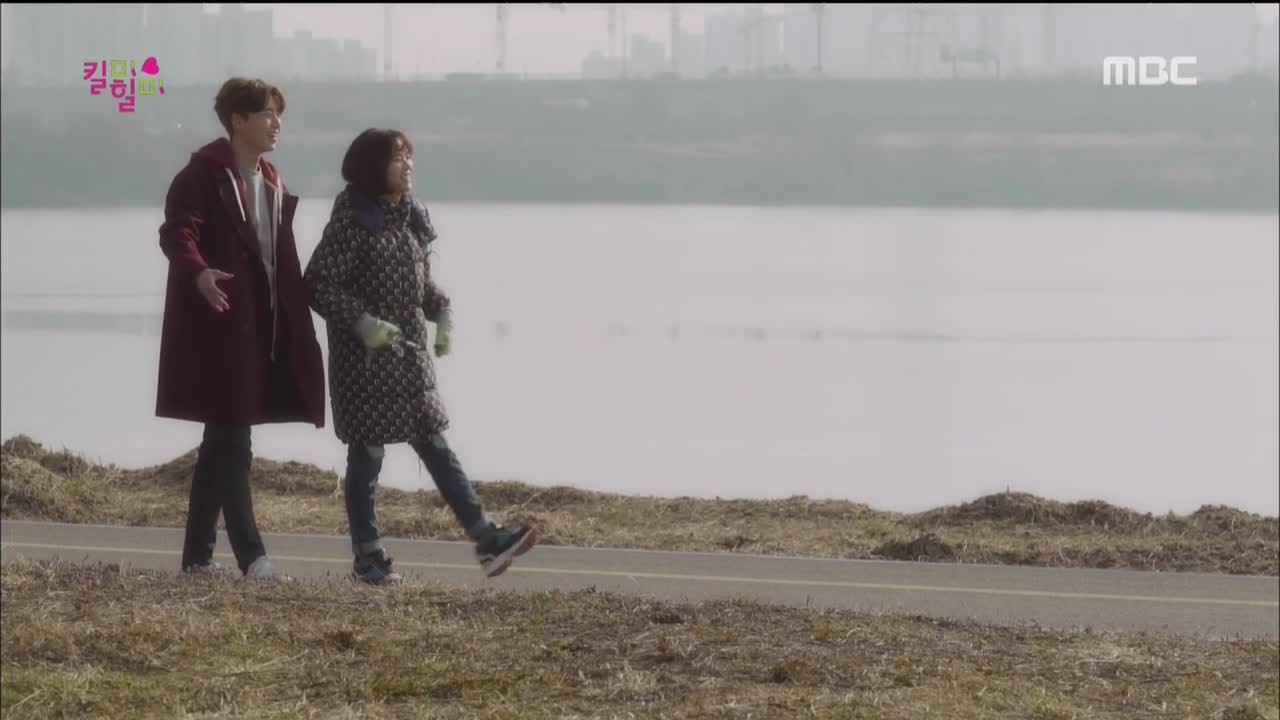 It's obviously no accident that Ri-on and Ri-jin are writer and psychiatrist. Ri-on giving his sister insight on her job has become a recurring theme that works really well with the story, because it highlights her occupational hazard of seeing the illness rather than the patient. The two of them are very similar (which, lol), but he frames people in a more emotional context rather than diagnostic, which lets him get to the heart of the unspoken things more quickly. This doesn't mean Ri-jin isn't good at her job — if anything, maybe she's too good, and Ri-on reminds her that the answers might be simpler than that.
Chae-yeon hasn't really done anything for the story so far, but I think she deserved Do-hyun's criticism. As a character archetype, she's one of my pet hates, but I want to trust the show to make her more than a set piece. Right now, she wants to be pined after, and her transparent attempt to evoke Do-hyun's sentiments made her pathetic. Because she comes from an ultimately selfish place, even her arguments center around her own gratification, her desire to be adored and admired. He refuses to be part of her man-harem and his frank advice to her is brotherly, which would be a better turn for their relationship. Plus, she and Ki-joon pretty much deserve each other.
The show continues its handy balance of tone, but I did have a moment of doubt towards the end, because Yo-sub… made me laugh. Was he meant to? Suicidal teens do not normally make me laugh (I'm not evil!), but Yo-sub does. Ji Sung's face makes Yo-sub's angst more emo and over-dramatic, which in a way serves the character, because that's part of his existential dilemma. He's frozen as a 17-year-old no matter how much older Do-hyun gets. But on a serious note, I wonder how he came to be, and how he differs from Se-gi. They seem like opposites — Se-gi is the survivor where Yo-sub wants to die, but are the same pain and memories at the root of both of their existences?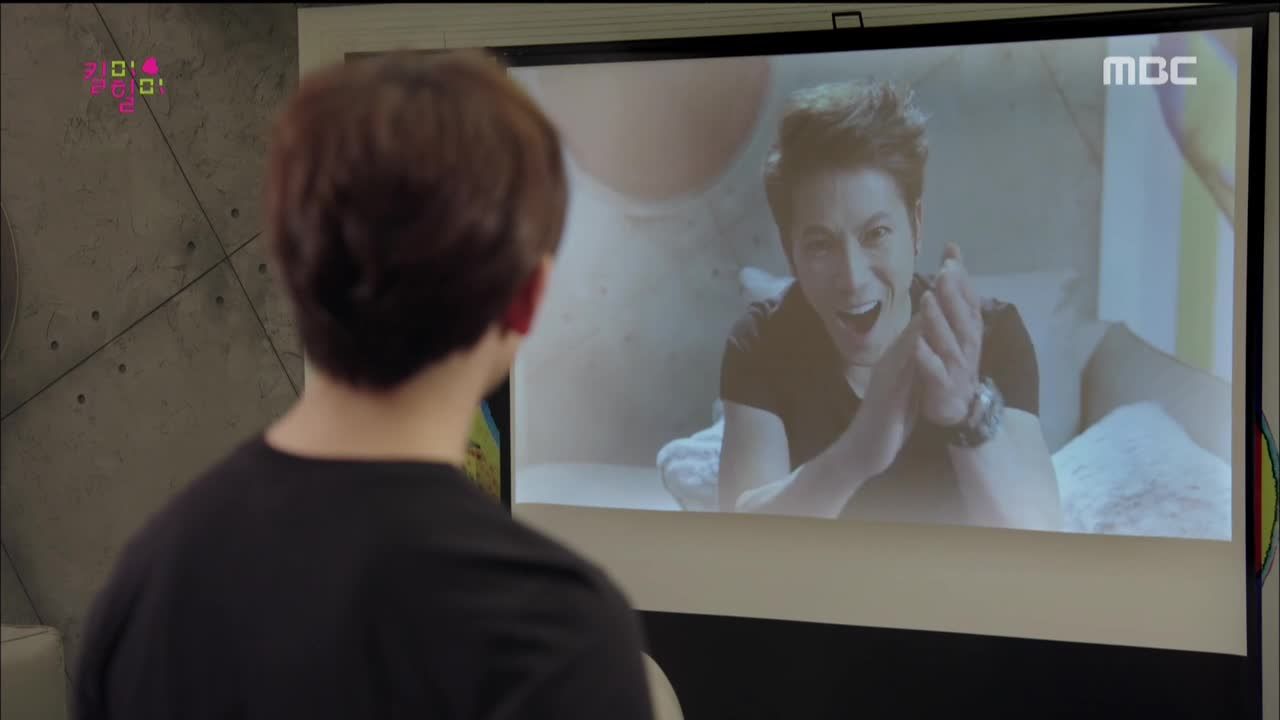 RELATED POSTS
Tags: featured, Hwang Jung-eum, Ji Sung, Kill Me Heal Me, Park Seo-joon