Kolorful Palette: Riches to rags [Maids]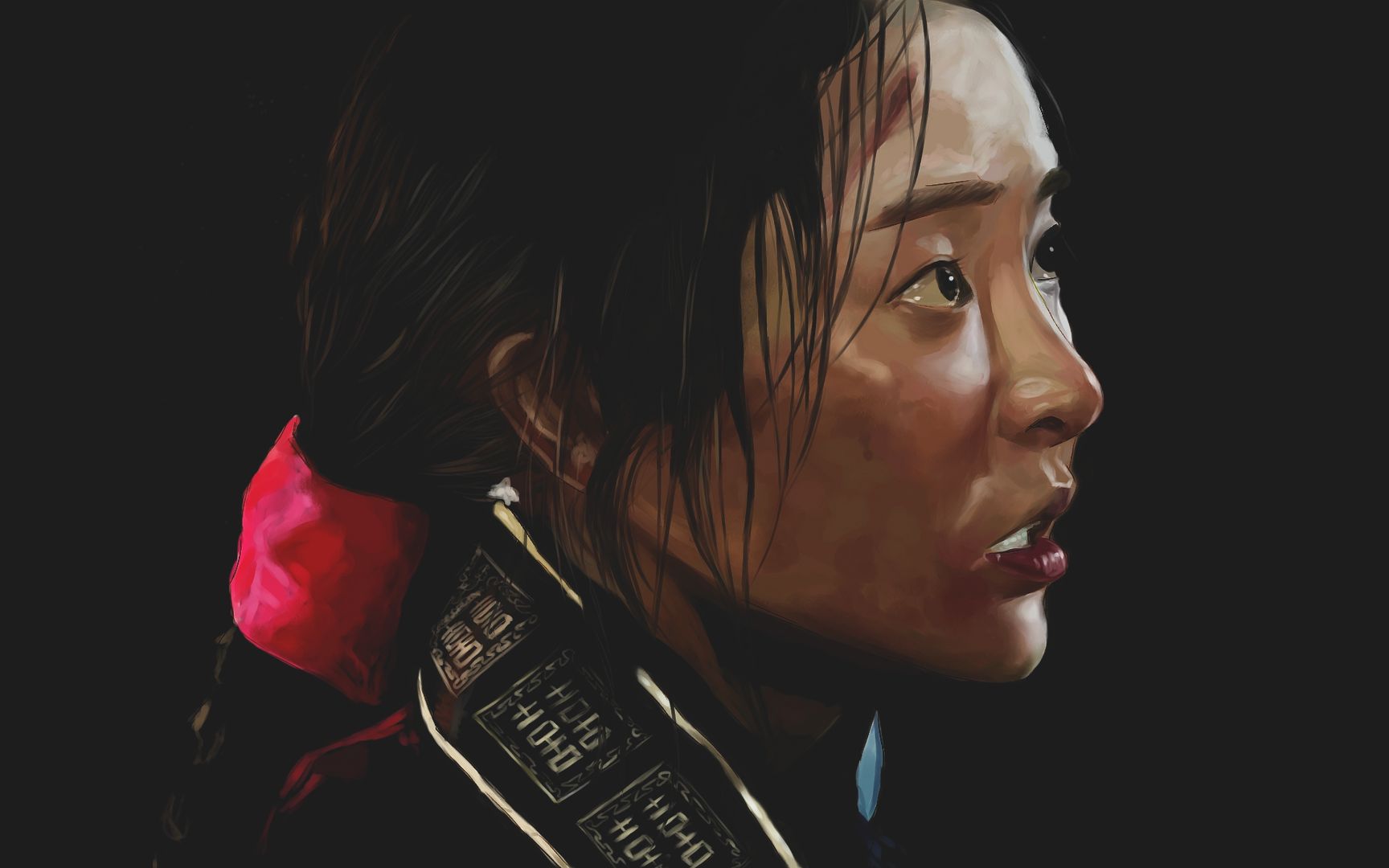 Initially I was hesitant to feature this drama due to the recent fire and the tragic loss of a staff member. I thought it might be disrespectful to discuss the show itself, but after some thought I realized that if it were me, I would never want someone to ignore a project I had worked on, and instead would hope that as many people as possible had a chance to enjoy it. It's possible that the script coordinator herself would feel differently (I hope not) but I did very much enjoy the first episode and the importance of her contribution isn't lost on me. Particularly with a sageuk, organizing a script and ensuring continuity would be no easy task, and that's the sort of thing that can make or break a drama.
Production on Maids is scheduled to continue, although it will be some weeks before we see another episode, in the very least. In the meantime, I thought I'd give a quick overview. Our heroine In-yeop, played by Jung Yumi, is a noblewoman who is forced into a life of servitude when her father is labeled a traitor. We see her trying to run a household without her parents and desperately trying to discover any news of her father (whom she hasn't heard from in months). She is snobbish and not particularly likable, but she is also easy to empathize with (largely due to Jung Yumi's excellent acting). She has been raised in a life of privilege but her world is crumbling around her; it's not surprising that she lashes out. I can't imagine that she'll transition to life as a servant very well, but I think her tenacity will ultimately serve her well. Our hero Moo-myeong, played by Oh Ji-ho, is a head servant, and they'll have a loveline.
What has me really excited about this drama is the split focus between both sides of the class equation. Although the tone of Maids is different, it intrigues me in the way that Downton Abbey does. It's fascinating how different the various perspectives among classes can be, and the interplay between servant and master can be surprisingly intricate. So many sageuks focus on kings or key political characters, so it's also a nice change of pace to enjoy a story that is primarily about characters and their comparatively normal lives.
This scene that I drew is right from the beginning of the episode when In-yeop is being quite literally dragged to a life of servitude, and reality is sinking in. Jung Yumi does a great job of selling In-yeop's desperation, and although I wasn't super keen on her playing the lead initially, I've completely changed my tune. I think a lot of mainstream Korean actresses are almost too likable for this part, and their fall from nobility wouldn't be as dramatic. She doesn't come across as despicable, but she does come across as proud and stubborn and in need of some personality rehab. In-yeop is the type of person I want to see grow because it's clear that she's conflicted about her bad decisions and that she ultimately has a good heart. I'm actually looking forward to her downfall because I can't wait to see how she develops.
The heroine's reaction to becoming a servant felt very realistic, but I always think that such scenes offer up an interesting perspective on human nature. She's acting like she's been given a death sentence, and yet she's spent her entire life surrounded by servants without feeling much sympathy for them. If she truly felt servants' lives were worse than death, she's kind enough that she should have been more empathetic. Is her fear actually of living such a life, or is it simply the humiliation that's too much to face?
Thinking such thoughts is a big part of what makes me enjoy dramas like this, although I also never tire of pretty scenes, tangled relationships, and excellent scoring. Despite the horrible circumstances I can't say I'm disappointed to see Maids continue (it also feels like the right thing for everyone involved, at least to me). I don't know when we'll end up seeing Episode 2, but I for one will be patiently yet eagerly waiting.
RELATED POSTS
Tags: Jung Yumi (2), Kolorful Palette, Maids