Na PD ships out cast for Three Meals a Day: Fishing Village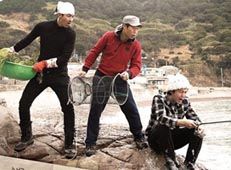 The Three Meals a Day spinoff seems to have just settled on Three Meals a Day: Fishing Village as its title, and you can't argue with that since it's literally that: Na PD taking three actors, plonking them down in a far-off fishing village, and making them work for their three square meals a day.
If the first Three Meals a Day was about farming for your food, this one will focus on catching it. The first couple teasers have been released, and it looks like we've got a good mix of personalities with Cha Seung-won (You're All Surrounded), Yoo Hae-jin (Tazza 2, The Pirates), and Jang Geun-seok (Pretty Man) onboard for their round in Na PD's variety torture chamber.
In the first teaser, we see the cast and crew at a pre-show meeting where they work out the details of the shoot. What does it say that I was actually shocked that Na PD told his cast where they were headed instead of lying through his teeth or kidnapping them without warning? Instead, he's up-front about the fishing theme (and says he cast Jang Geun-seok for one reason, in that he's a fisherman's son)… although in true Na PD fashion, he does maybe talk about the "beautiful, truly paradise-like" island in words that are at best a colorful reinterpretation of the facts, given the stark, snowy footage of the village. The island is literally the farthest place from the peninsula by boat, requiring a six-hour ride over, and you can see from the map below just how isolated it is.
Na PD also admits that one problem is that in winter, the boat schedules are erratic, and Cha Seung-won asks if there's a chance they'll get stuck on the island and not return for Christmas. Na PD replies that of course they'll be back by then, since his daughter's birthday is the 23rd, and Cha one-ups him by saying that his father's memorial is on the 22nd. Na PD half-laughs and half-apologizes, "I'm sorry."
The second teaser gives us a glimpse of the actual trip to the island, and has a hilariously tongue-in-cheek tone as it shows us the actors suffering while the captions describe things in much sunnier terms. For instance, Cha Seung-won lugs a tub of cabbage to the shore wearing a weary expression, but Na PD the editing elf proclaims that this island is a place "where a housewife can live out all her dreams," like using seawater to salt cabbage is some ideal of wholesome living. Yoo Hae-jin throws a fishing net into the water and picks up seaweed from the sand, but Na PD's captions proclaim that you "don't even have to leave your village" to find food in your nets and on the ground in this "snowy white paradise."
Cut to: Actors, freezing their butts off in the chill. Then the caption adds: "Here, they turn into this [pitiful] sight." The wind blows, interviews are interrupted by rattling of walls and houses, and at one point Cha Seung-won wonders worriedly, "What are we going to eat?" That turns to outrage at the sea for not giving them any fish, like it's purposely keeping them hungry. He complains, "What's the point of the ocean? Why is it so big then? Please, I just want one or two fish!"
Sitting in a room while the wind rages outside, Yoo Hae-jin wonders, "Is it better to be a pig with a full stomach, or a hungry Socrates?" Ha, is the hunger turning them existential? Cha replies, "A full… pig? Why, do you want to be hungry?" Hae-jin: "I'll be Pigcrates!"
Their luck starts to turn when they finally catch something in their net, and literally just slice it up right there for some sashimi. Cue sunshine and dancing (literally), and the show wonders, "Will these guys be able to become Socrates with full stomachs?"
We stopped recapping the first Three Meals a Day because we found it to be a show that was fun to watch but not that fun to read about, because nothing really funny happened—the entertainment comes from the little moments between the grumpy Seo-jin and the eager Taecyeon, and also the parade of guest stars that dropped in on the farmhouse. It also felt like the show made it too easy for the cast to feed themselves, after presenting the whole three-meals-a-day concept like a grand challenge, so at worst the cast was eating untasty food—but at least they always had food. So I watched a little here and there, but mostly tuned out because it all kind of felt the same after a while.
But Fishing Village seems a lot more like what I was hoping Three Meals a Day would be, and gives a little more room for narrative to develop because of the hardships inherent in this premise. Plus, it seems like the guys get along and have a good rapport each other, so I'll be checking this one out for sure.
Three Meals a Day: Fishing Village will air on Friday nights and premieres on January 16.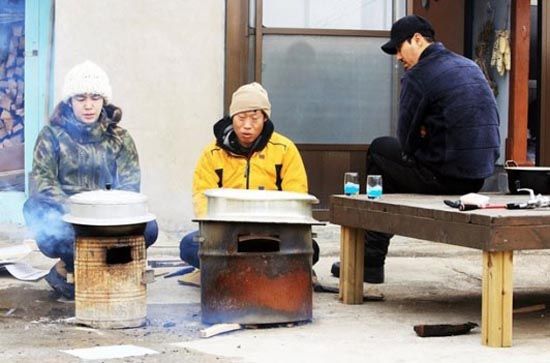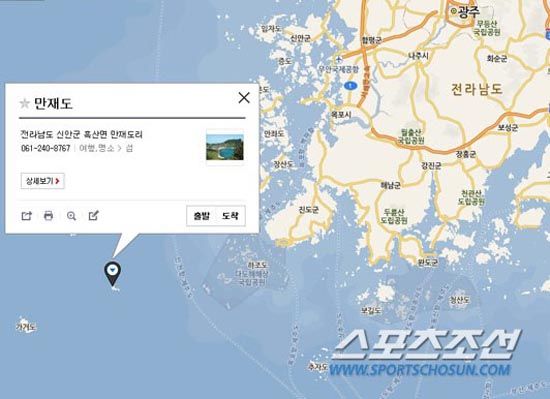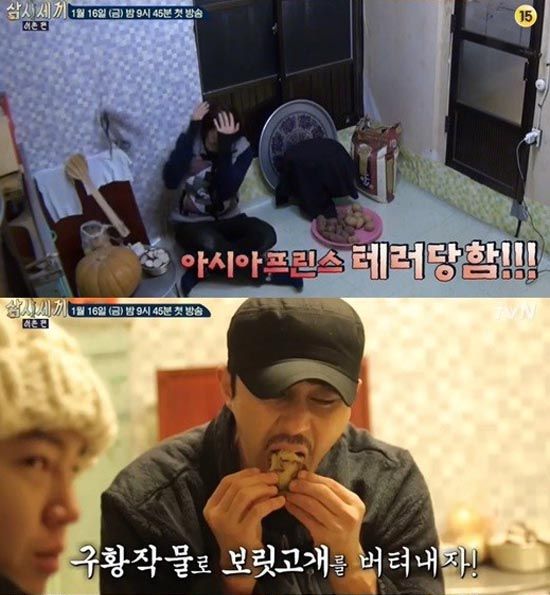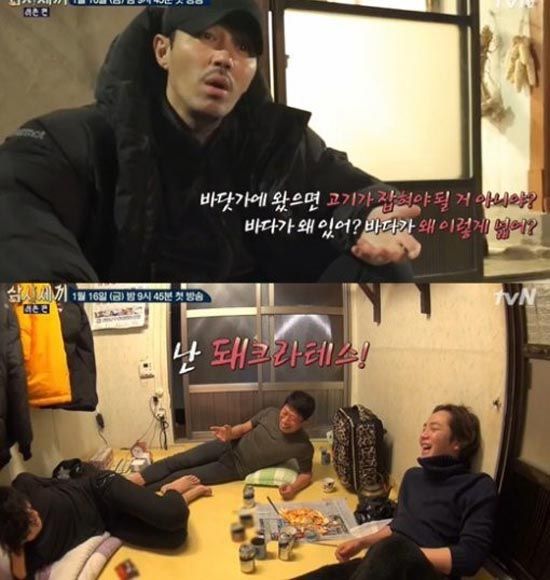 Via Sports Chosun
RELATED POSTS
Tags: cable programs, Cha Seung-won, Jang Geun-seok, Na Young-seok, Three Meals a Day, Yoo Hae-jin