Odds and Ends: Fishing for reality
girlfriday: So how about that premiere of Three Meals a Day: Fishing Village?
javabeans: It's crazy that it hit nearly 10% ratings in the first episode. That's NUTS.
girlfriday: Yeah it's kind of crazy, but that series is one of the most successful shows on tvN (I mean, starting with the original on the farm). But the thing that surprised me the most was that Jang Geun-seok was cut out of it so completely.
javabeans: I expected them to cut around him as much as possible, like on a variety show when an actor gets in a drunk driving accident or something — where you can't re-shoot but you want to show him as little as possible, and they just become this figure you see in the background. But in this case, they went a step further.
girlfriday: Yeah the normal practice is to reduce the footage to a minimum, knowing that everyone knows why so-and-so isn't in 90% of the show. But in this case, Na PD actually managed to cut completely around Jang Geun-seok, so that if you never read any entertainment news and just turned on the show, you'd think that Cha Seung-won and Yoo Hae-jin were the only two cast members to go to the island.
javabeans: I was looking for a glimpse of him and could only make out brief flashes of a hand, or the back of his head. On one hand, that's impressive editing. I knew Na PD was good, but that is like god-level good.
girlfriday: Yes, it's totally creepy, actually.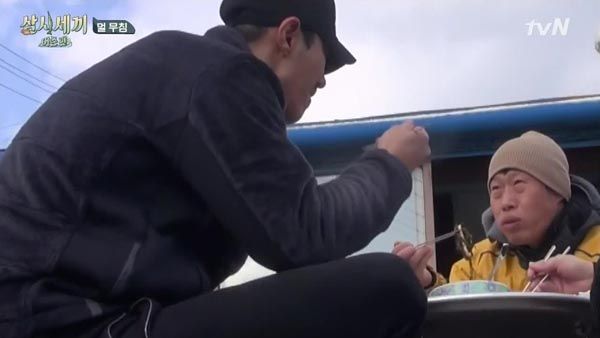 javabeans: On the other hand, I actually don't know if I like that. Variety storytelling is all about good editing… but I don't like this idea that you could create an entirely false narrative just with the editing. It reveals something about reality television in a really stark way that I'm not sure is a good thing.
girlfriday: That it has nothing to do with reality? Yup.
javabeans: We all know this about television and entertainment, but it's a really bald example of just how manufactured it is. How can you just pretend that things happened a way that they didn't?
girlfriday: I don't know, especially when everyone already knows about Jang Geun-seok being on the island with them.
javabeans: Yeah, I honestly don't think anybody would have had a problem with presenting him there, and then gradually phasing him out. We'd all know why, and Na PD has such goodwill among the viewership that everyone would have given him that understanding. Nobody would have blamed him for awkwardly trying to minimize Jang Geun-seok's scandal.
girlfriday: But this is the thing about Korean media. It's so skittish about scandal, even though the press is totally fanning the flames. Television is held to this bizarre standard, where they're afraid to offend anyone in any way.
javabeans: Regardless of whether or not you even like Jang Geun-seok, I just feel like pretending he didn't exist is a crappy thing to do.
girlfriday: It's strange how in this one instance, the agility with which Na PD has edited Jang Geun-seok out makes it worse.
javabeans: My problem with it is with the principle of the matter, I think. It just feels wrong. Even if you were dealing with the most hated person on the planet (and Jang is far from that), you asked him on the show, so it feels like you should show him on the show. Just a little.
girlfriday: I know it's terrible timing with the scandal breaking just before the show premiered, but it's like bending the truth if we all pretend that he was never there to begin with.
javabeans: One thing that really shocked me about this scandal was seeing just how much netizens in Korea hate Jang Geun-seok. I knew that he wasn't universally liked, and that he even admitted to not being very popular… but that's worlds away from the active vitriol I saw spewed at him over this. People were actually blaming him for ruining the show and daring to stain Na PD's career, like he had done it on purpose!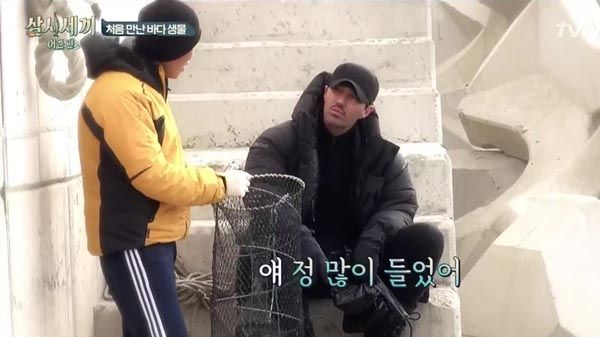 girlfriday: It was really shocking, to say the least, because for one thing, it's a TAX scandal. He didn't beat anybody, he didn't drive drunk, and he didn't take drugs. He even paid his taxes later, or so we're told. But it seemed like people were just looking for an excuse to dump on him.
javabeans: Yes. Blame him for the thing he did wrong, sure. But the kind of commentary this garnered was really nasty in irrelevant ways; it was really interesting. I wonder if it's because those other offenses are seen as "crimes of passion," so to speak, where you have a lapse of judgment and do something dumb. But tax evasion could be seen as a sort of "rich people taking advantage of being rich" thing, which is a hot-button issue. It stokes the whole rise-up-against-the-one-percent sentiment.
girlfriday: I can see that, and I agree that people seem extra critical of chaebols and celebrities getting special treatment for anything, say army duty, or whatever.
javabeans: Good god, the only way Jang Geun-seok could have garnered more hate is if he evaded taxes in order to get out of army duty, or something.
girlfriday: Well then he'd have to move to Japan.
javabeans: On the upside, I guess we could thank him for giving us Sohn Ho-joon as the third babo (c'mon, he's always gonna be the babo, right?) later when he joins the two hyungs. Way to turn that ship around, Na PD.
girlfriday: And OPPA-YA! Jung Woo went along on the trip, apparently. It was a mini Answer Me 1994 reunion, since he was too busy to go on the Youths Over Flowers trip with the boys.
javabeans: I loved Jung Woo's response when interviewing about this Fishing Village trip, which was basically, "It was really touching and meaningful and I learned a lot. Would I go back? HAHAHA." I wonder if it still pains him that he missed the Youths chance, because he seemed really disappointed that he had to film a movie while they got kidnapped on their trip of a lifetime.
girlfriday: It pains US, that's for sure. Just think of all the wounds it would heal if we got to see Oppa and Chilbongie being bros!
javabeans: GASP. I didn't even think about that particular aspect! Now I wish we could go back in time and make it happen. Can Grandpas in Jordan just be Oppa and Chilbongie in Jordan?
girlfriday: C'mon, Na PD. You totally owe us.
javabeans: It's not like you don't have the skills to make reality bend to your will. We know better now.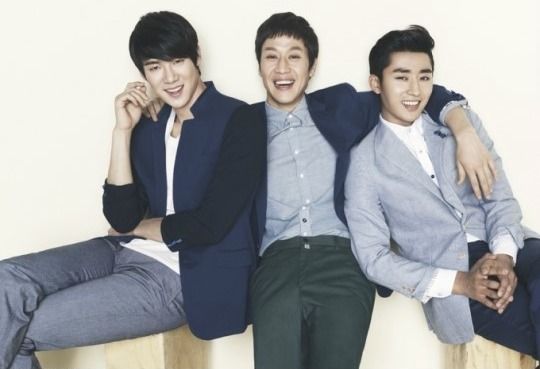 RELATED POSTS