Pinocchio: Episode 20 (Final)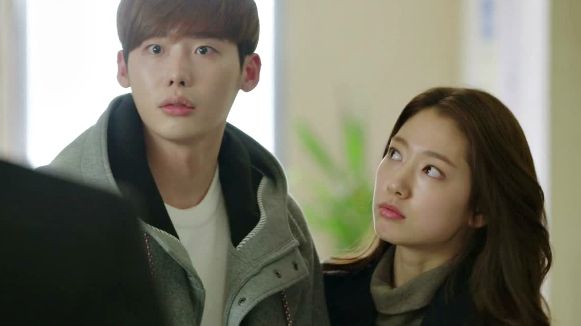 Aw, it's time to say farewell to our band of reporters, who based on this drama, are pretty much defenders of truth, justice, and guardians of the galaxy. With great media exposure comes great responsibility… The finale delivers exactly what we've come to expect from this show—a sweetly satisfying, heartwarming sendoff for everyone and their mothers. And fathers. Don't forget the dads!

SONG OF THE DAY
Noel – "See You in NeverLand" [ Download ]
Audio clip: Adobe Flash Player (version 9 or above) is required to play this audio clip. Download the latest version here. You also need to have JavaScript enabled in your browser.

EPISODE 20: "Peter Pan"
In the wake of Beom-jo's confession (falsely, to his mother's crimes), it's a mad dash to the police precinct. Reporters flood in and line up to get an interview with Beom-jo, but he refuses to see anyone.
In-ha and Dal-po corner the chief detective and argue that Beom-jo isn't a criminal mastermind and they all know it, but the detective says that until they can prove he's lying or someone else confesses, his hands are tied.
But almost immediately, word spreads of Chaebol Mommy's plans to come to the precinct that night, and every station scrambles to get reporters and camera crews ready. In-ha goes to see Mom, who tells her that this is their chance to ask questions on camera.
Mom knows that Chaebol Mommy's only weakness is her son, and that Beom-jo must've turned himself in knowing she'd come for him. She says that this is the opportunity he created for In-ha and Dal-po to ask the right questions. Mom plans to be there as well, because this is what she risked everything to accomplish.
Meanwhile, Chaebol Mommy is at her wit's end, and no amount of coaxing from her staff can get her to change her mind about going to the police station. She can't stand that her precious Beom-jo is spending even a minute inside a jail cell, and demands to go onward.
The reporters are lined up at the precinct's entrance, and Mom arrives to nitpick some more at In-ha's inane prepared questions (to be fair, she knows they're lame because they're from Il-joo, who's busy kissing Chaebol Mommy's ass). She tells them that their job is to make Chaebol Mommy say something other than the two standard lawyerspeak lines, which we see her repeat over and over in the car on the way there.
Mom turns to Dal-po and says that she'll be standing there too, so this is his chance to ask everything he's ever wanted. That makes his thoughts drift back to the day he and Hyung took their picture.
The photographer tries to coax a smile out of Dal-po, but Hyung's impending arrest hangs over him like a dark cloud. Hyung turns Dal-po's face toward him and tries to lighten the mood, and Dal-po just promises to do whatever it takes to bring Song Cha-ok down. Dal-po asks Hyung what he wants to say to her if given the chance, and promises to say it all in Hyung's place.
Chaebol Mommy arrives at the precinct and repeats her two standard-issue statements about complying with the investigation and being sorry for causing trouble, and it looks like she might make it inside without caving to the reporters' questions.
Dal-po's face twists up as he thinks back to Hyung's answer to his question: His request was for Dal-po not to ask the things they're curious about, but to do his job as a reporter and ask what it is the people want to know. Right now all Dal-po can see think about are his mother and father, and the only question floating in his head is: "Why did you slander my family?" But he shakes the thought out of his head and keeps his promise to Hyung, focusing on getting Chaebol Mommy to break from her rehearsed lines.
Dal-po asks if she thinks Beom-jo is innocent, and at that, Chaebol Mommy answers eagerly that her son is innocent. Hooked. He keeps going and asks what she thought when she saw reporters slandering Beom-jo's name. She says it's wrong, and that it has to be made right.
Her lawyer's prodding for her to stick to the script just makes her snap right then and there: "Trouble? What trouble have I caused to feel sorry about?!" Dal-po knows he's got her, and asks her to correct them then, and she rants over and over that Beom-jo is innocent.
They keep insisting that he confessed, and the other reporters join in to ask if this means she's in on it, and if he's taking the blame alone. It builds and builds, and she finally breaks: "My son is innocent! My son is so kind that he took the fall and went to jail just to protect his mother!" Yahtzee.
The crowd jumps on her statement to ask if she just admitted to attempted murder. She doesn't answer any more questions, but the damage is done, and she stares numbly at Dal-po as her lawyers lead her inside.
Most of the reporters clear out, and In-ha asks Dal-po why he didn't ask all the things he wanted to say about his family. He just lets her wonder and doesn't say, but shares a little bow with Song Cha-ok, who muses to herself that he really has a talent for making her feel embarrassed.
In-ha thinks that Beom-jo must regret sharing those incriminating text messages with her, because then his mother might still be a sweet angel in his eyes. Dal-po says the truth has a way of coming out eventually, so he would've found out a different way, and she isn't to blame.
Chan-soo watches the news and answers a call from Dal-po, wondering if he called to brag about being the top story on every channel. But Dal-po surprises him by asking him to drop the charges against Song Cha-ok. Chan-soo asks if he got his apology, and Dal-po says that he did. That's big of you to consider that silent bow an apology.
At YGN, Yoo-rae boasts to her sidekick that she's got a great story to pitch in today's meeting, and Gyo-dong walks by to tell her he's looking forward to it. Yoo-rae finally decides that he likes her and flits off to the meeting twirling her hair.
But her big pitch turns out to be a breakdown of Chaebol Mommy's I'm-going-to-prison fashion, which is embarrassing for everyone in the room. Gyo-dong yells at her in front of everyone to focus on what's important, and Yoo-rae sits stunned in her chair long after the meeting is over, deciding that she was wrong about Gyo-dong's feelings. Orrr, he lurves you so much that he's disappointed in you!
For a while now, Hyun-kyu has been coaxing her to become his protégé, and Yoo-rae finally says yes. There is a literal passing of the headband like it's a crown, and Hyun-kyu pun-sings his nickname into H.O.T.'s "Candy," just to make my day.
The latest news reports tell us that Chaebol Mommy's various companies are breaking off and voting in new presidents, including MSC. The employees are banding together to petition shareholders to vote her out, and leading the charge is our very own Princess.
Once Chaebol Mommy confesses to everything, Beom-jo is released from jail, and Dal-po is there to pick him up and call him a crazy bastard again. Beom-jo saw the news and wonders why Dal-po didn't ask about his family, but he says he's a reporter so he just did his job.
Dal-po thanks him and asks what he can do in return, promising to do whatever Beom-jo asks. In-ha runs up to them out of breath, relieved to hear that it's all over and Beom-jo is okay. Beom-jo makes sure that Dal-po meant it when he said he'd agree to whatever he asked for, and looks at In-ha with a smile: "Then lemme borrow In-ha for half and hour."
Dal-po's eyes widen and he instinctively pulls In-ha behind his back, stammering in protest. But when Beom-jo says it's to say his final goodbyes, they can't argue.
He takes her back to the convenience store where they first met in person, and tells her that this is the place where he had his biggest regret—it was only thirty seconds, but he let this one moment pass.
He reminds her of the birthday she had when Mom came to see her about the MSC internship, and how disappointed she was that it wasn't a visit to wish her happy birthday. In-ha remembers that nobody remembered her birthday that day, but Beom-jo says that he did—he came here to give her a present but chickened out at the last minute, and he regrets it to this day.
He takes that present out now and hands it to her, and says the things he wanted to say then: "Happy birthday, Choi In-ha. I missed you, Choi In-ha. I'm glad we met, Choi In-ha." She asks if he still means it, and is grateful that he does. He turns to go but decides at the last minute to get a hug, and then says goodbye.
Song Cha-ok receives notice that the charges against her have been dropped. Princess comes by with good news that their director will be fired in no time, but she just asks him to hand in her resignation. He doesn't see why she's quitting when everything could change in a few days, but she seems determined to leave MSC.
Beom-jo visits his mother in prison, and though she's without her makeup and her designer clothes, she's still exactly the same. She's the one in jail but all she does is worry about the time Beom-jo spent in there, sleeping on the floor and suffering.
Despite confessing to her crimes, it's clear that Mommy feels no actual remorse—she reassures Beom-jo that she'll be out of here in no time, and in a few years they can start over. She suggests that he study business in the meantime. He just swallows back his tears and says there's something else he'd like to do.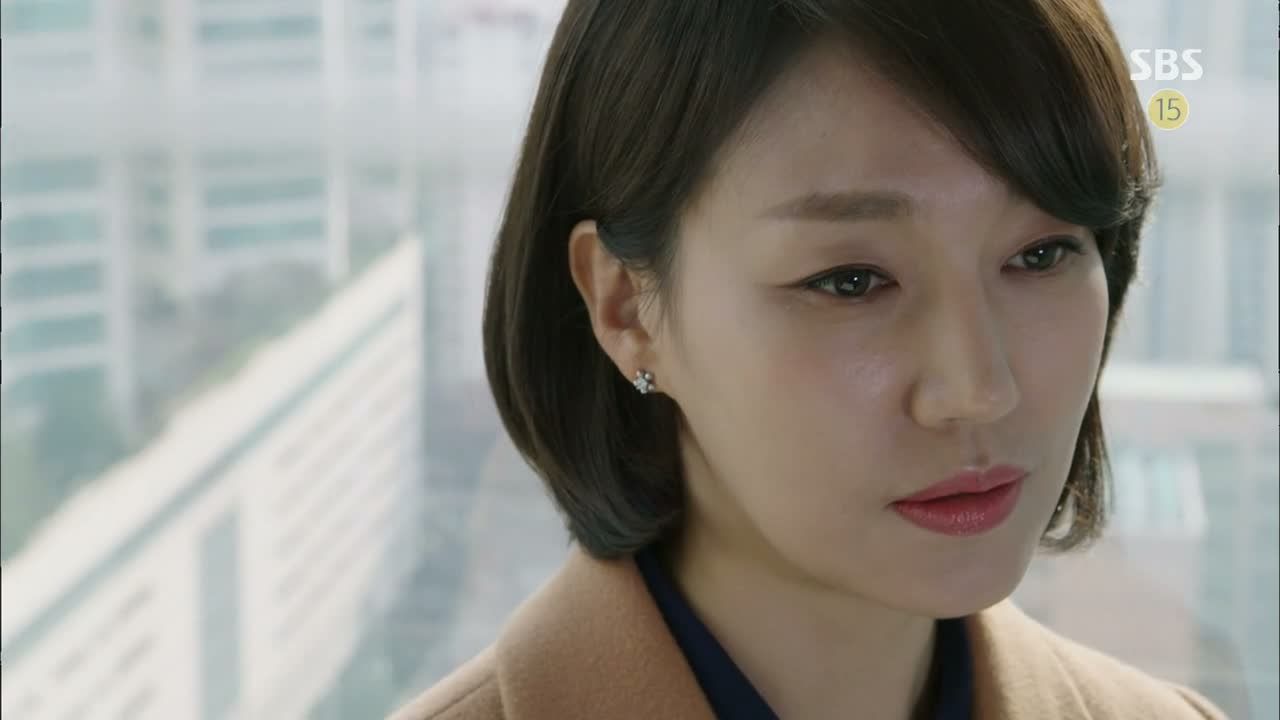 MSC's director comes charging up to Song Cha-ok to ask what she told the police about him, and she answers matter-of-factly that she told them everything. She remembers that she forgot about the latest bribe and decides she'll have to go back and tell them about that, and he rails at her to shut up. She gets in the elevator to leave the building for the last time and says back to him in banmal, "No, you shut up." Ha.
As she rides the elevator down, she remembers Dal-po's questions to her long ago, when he asked why no one believed her words, and if she was a real reporter. She answers to herself now that it's because she was a liar, and no, she isn't a reporter.
Dal-po and In-ha fold laundry at home, and he asks oh-so-casually where she went with Beom-jo the other day, and why she took so long. She doesn't remember being gone longer than thirty minutes, but he gripes that it was forty-two minutes. Heh.
She calls him petty but then they get distracted by pictures from Chan-soo's housewarming party, and suddenly the picture of them holding the baby and looking very much like parents makes them feel awkward.
Dad chooses that moment of all moments to look over their shoulders, and pulls them aside for a chat. They launch into this long-winded excuse about the picture and how it's not what it looks like (lol, it's not even like he caught you kissing!), but Dad has more serious concerns on his mind.
He tells them about bringing up their relationship to Grandpa (as a hypothetical dream), and how he reacted badly. Dad understands Grandpa's reasoning—he refuses to lose his son a second time, which is why he'll never agree to un-adopt Dal-po, and a relationship like theirs could end, while family doesn't.
In-ha can't believe he's asking them to break up, but Dad's idea is just to lie to Grandpa instead, because he's worried that telling him the truth could lead to some kind of breakdown. In-ha vehemently opposes the idea, but Dal-po agrees to think about it, which upsets her.
Dal-po lies awake that night deep in thought, remembering his promises to Dad that he would never do anything to jeopardize the family, and how he had asked to lie to Grandpa about being his son back when he was desperate and needed a father.
In-ha cries alone while leaning against Dal-po's door that night, but then the moment of angst gets undercut when he opens it and she tumbles backward right into his arms. He says he has something to tell her, but she runs away to the bathroom, mortified.
Princess gets reinstated at MSC, and everyone welcomes him back at the city news desk, even Gyo-dong. Princess complains about the lock code on the door changing in his absence, but Gyo-dong reminds him that it changes on rotation all the time. That just makes Princess wonder how Yoo-rae got in here every time she was drunk, and Gyo-dong stays conspicuously silent.
Yoo-rae gets drunk again, this time wailing at Gyo-dong for leading her on and then rejecting her. She ends up at the gate of the precinct demanding to see him, and the officers roll their eyes and call him out to fetch her. Ha, is this what he did every time?
He carries her into the reporters' room and puts her on the couch, and tucks her in with newspapers. When she sneezes and shivers from the cold, he throws his jacket over her too. She mutters in her sleep at Gyo-dong for leading her on, and he cracks a tiny smile.
In-ha finds Yoo-rae looking hungover and reeking of booze the next morning, and again Yoo-rae has no memory of how she ended up sleeping on the couch. Dal-po finds them and asks In-ha to talk, but she lies that she's on her way out and runs away.
He can hear her hiccupping down the hall and chases her down, and she lies again, desperate to run away before he breaks up with her. She asks how he can give up so easily when they went through so much to get here, but Dal-po finally gets a word in and says that he has no intention of giving up.
He's going to tell Grandpa the truth and do whatever it takes to get permission, because he's learned from Beom-jo and Hyung that no matter how much people might seem happier not knowing the truth, in the end not knowing doesn't keep truth from being true.
She agrees that it's the only way, but then asks what happens if Grandpa doesn't give them his blessing. Dal-po says he'll try everything, but if in the end nothing works, the only thing they can do is accept it.
She cries just to hear him say the words, but he wipes away her tears and tells her, "Father is the person who saved me, raised me, and let me meet you. Even if the entire world gave us permission, if Father says no, I can't disobey." He holds her tight and they agree to tell Grandpa together.
They head home and brace themselves for the moment of truth, and kneel before Grandpa, who wonders why they came together. Dal-po begins, "We have something to tell you…"
Fast-forward to January 2015.
We've finally caught up to the present day, and Hyun-kyu stands in front of the YGN building looking very much the same—suit on top, sweats on bottom—to announce the newest rookie reporter selection process.
Camerawoman Jae-hwan nitpicks at him like always, but when Il-joo comes by to ask if she isn't tired of bickering with a manchild, she answers by pulling Hyun-kyu in for a big kiss and says that's why she married him. They're so cute. Il-joo grumbles, still dying of jealousy.
Dal-po is back in Hyung's apartment, and as he gets dressed in his snazzy suit, he talks to In-ha over the phone (she's still saved as "Niece In-ha," so I gather that Grandpa said no). Both their stations have rookie interviews today, and they chitchat as he drives over to pick her up for work, and she waits with two coffees in hand.
Dal-po says he met with Beom-jo recently and he plans to apply at MSC as a rookie, and In-ha thinks it's crazy because he'd have to go live at the police precinct all over again from the start. Dal-po shudders at the thought and says that's worse than going to army twice.
He picks her up, and she comments on him dressing up now that he's on the courthouse team (she's on economy coverage at MSC). She jokes that she's dressed up because there are lots of good-looking guys interviewing today, and he scowls.
At YGN, Dal-po calls the next group of interviewees in, but stops short when he notices that one of them looks eerily like Hyung (it's the same actor who played Hyung as a teenager). And then in the group interview, when Gyo-dong asks about news you want to hear versus news you need to hear, Mini-Hyung starts giving a hypothetical example about tickets to an idol concert. Everyone in the room raises an eyebrow and they ask if cancer news is next, and Dal-po is properly weirded out that Mini-Hyung is quoting him. But he says it's a story he was taught in a special lecture series, and the lesson stuck with him.
We see that Song Cha-ok is the teacher he's talking about—she's doing what she does best, teaching new reporter hopefuls how to do the job. But now she's imparting a very different kind of philosophy about the news that needs to be told, which she picked up from Dal-po.
Over at MSC, In-ha is wrangling the interviewees as well, and one of them recognizes her as the face of MSC's news and the world's first Pinocchio reporter. Pwaha, I love In-ha's deadpan response to the compliment that she's prettier in person: "Of course. I think my looks are wasted on journalism too."
But she overhears that same girl telling the others that In-ha was just chosen as a publicity stunt, and she heard that her recent journalism award was yet another PR move. In-ha loses her patience and screams back that yes, she was chosen for publicity, but challenges the girl to confirm her source about the award. When she says she just heard it somewhere but it fits, In-ha makes a point of her assuming something without confirming the facts. Princess tells the girl to just go home now. In-ha gets back to calling out the next group of interviewees, and Beom-jo comes up when she calls his number.
He greets her with a big smile and says it's been about a year, and she pouts that he always hangs out with Dal-po but never with her. Beom-jo corrects her and swears that he tells Dal-po to bring her along every time, but he never does. Ha. She raises her hand for a high-five just like old times, and Beom-jo gulps nervously before offering up his hand for one of her jumping high-fives of pain. Yay, the band is back together!
Dad and Grandpa stop by Dal-po's empty apartment to fill his fridge like always, and Grandpa notices that Dal-po left his wallet at home. He finds the picture of him and In-ha with Chan-soo's baby tucked inside, and though Grandpa is taken aback at first, the image of them as happy parents gives him pause and he wonders if maybe their relationship isn't as wrong as he once thought.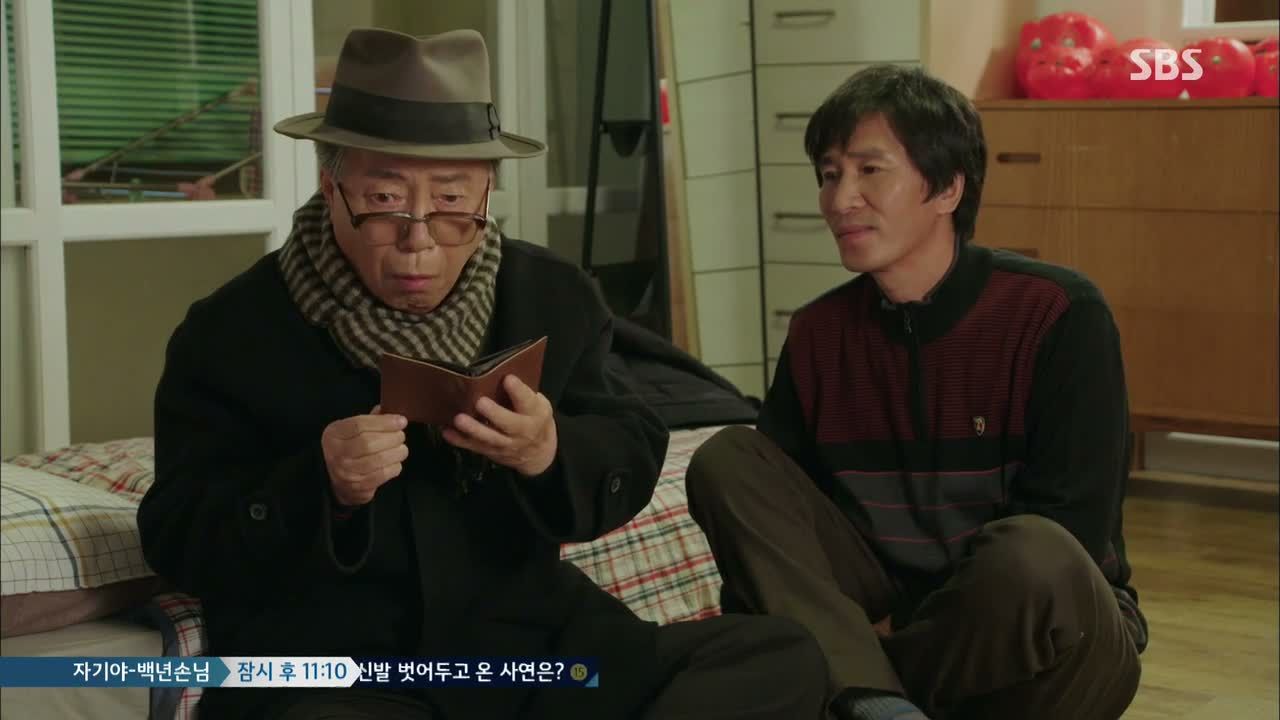 Dad carefully broaches the subject and says that he thought it was absurd at first too, but the more you think about it, the less weird it gets, and the more he sees them together, he starts to find them cute at times. Aw, Dad.
He says that Dal-po has liked In-ha for over ten years, but the fact that they're living as uncle and niece because Grandpa wants it that way makes Dad proud of them, but also sorry too. Grandpa puts the wallet back with a deep sigh.
It's time for the new rookies to get their start at YGN, and now Yoo-rae is the new Hyun-kyu, dressed exactly the way he was on her first day, with the exact same speech and headband to boot. I love it. Hyun-kyu just watches her, beaming with pride at the monster he's created.
Dal-po gets ready to do a report outside the courthouse and is surprised to see Grandpa there. Grandpa says he came to the courthouse to submit paperwork to cancel Dal-po's adoption. Awwww.
Grandpa says it's time he help Dal-po reclaim his real name, and says he's sorry—he loved Dal-po so much that he was too stubborn for too long. Ugh, it still breaks my heart when he tells Dal-po that he can throw away that name now.
Dal-po cries, and Grandpa tells him, "You just take good care of our In-ha now." Dal-po nods, "I will, Father." Grandpa hugs him close: "Thank you for living as my son," and Dal-po answers, "Thank you for raising me, Father."
Grandpa sits by with a proud smile as Dal-po begins his report, announcing Chaebol Mommy's three-year sentence. In-ha follows with a report of Beomjo Group's recovery after voting on a new CEO, and Yoo-rae follows with reports on the various assemblymen who are being investigated for their involvement in corruption.
Then we fade into a wedding dress shop, where Dad and Grandpa read the latest wedding-wear trends right out of a magazine, the same way Grandpa did when he took Dal-po in for his makeover.
The curtain opens and In-ha and Dal-po model their wedding dress and tux, and Dad and Grandpa fawn over them. Dad snaps pictures of In-ha and Grandpa is still very much all about Dal-po, which just gets me right here.
They order them to try on every outfit in the store, and the curtains close again. In-ha turns to Dal-po and says she's curious about something—why did he go on that quiz show back in high school?
He answers with a kiss, and then: "Because I liked you." He finally told her! He goes in for another kiss. And another. And another.

COMMENTS
I could do this all day. Don't stop on my account! Pretty brave with two parents sitting just on the other side of that curtain, but I guess they're not afraid of much anymore. I love that it ends with In-ha finally learning how long Dal-po's been in love with her, since he's never once confessed to it outright. All in all the finale was a solid wrap-up, and in exchange for dealing with the height of our main conflicts before the final episode, we got resolutions and futures and time to focus on the family, which made me happy.
As a series, Pinocchio felt very much like a retread of themes that the writer and director had already explored in I Hear Your Voice, and for that reason it admittedly doesn't feel as fresh the second time around. The extra episodes didn't help much for the pace of the story either, which hurtled through its best material in the first half and suffered through a languid latter half. Going from the emotional stakes in Hyung's story to the moms and their war was a sharp downturn in speed and emotional investment, and I can't help but wonder how much better it would have been to watch it play out in the reverse, with Hyung's story getting the bigger buildup for the finale. In hindsight the drop-off in tension after Hyung gets jailed marks the show's biggest mistake, because it's akin to killing Min Joon-gook off halfway through I Hear Your Voice—where would we have been then? It might've been a miscalculation on how good Hyung's story would be, but hell, isn't this what the liveshoot is for?
The plotular missteps might've been helped by a more conflicted romance, but this one, while being buckets of cute, wasn't actually all that conflicted. I didn't mind in the grand scheme of things because I found Lee Jong-seok and Park Shin-hye to be SO. FRIGGIN. CUTE together, but it didn't help the sagging pace in the second half when their feelings had been confirmed but they kept trying to invent reasons why they couldn't be together. The only reason I ever bought was this last one, involving Grandpa's blessing, so I feel like much of the breaking up and angsting we did in the middle did the show no favors. Compared to the early conflict—Dal-po trying to hide his feelings because he thought they were wrong, or In-ha asking him to ignore her repeated confessions—the later stuff didn't move me nearly as much.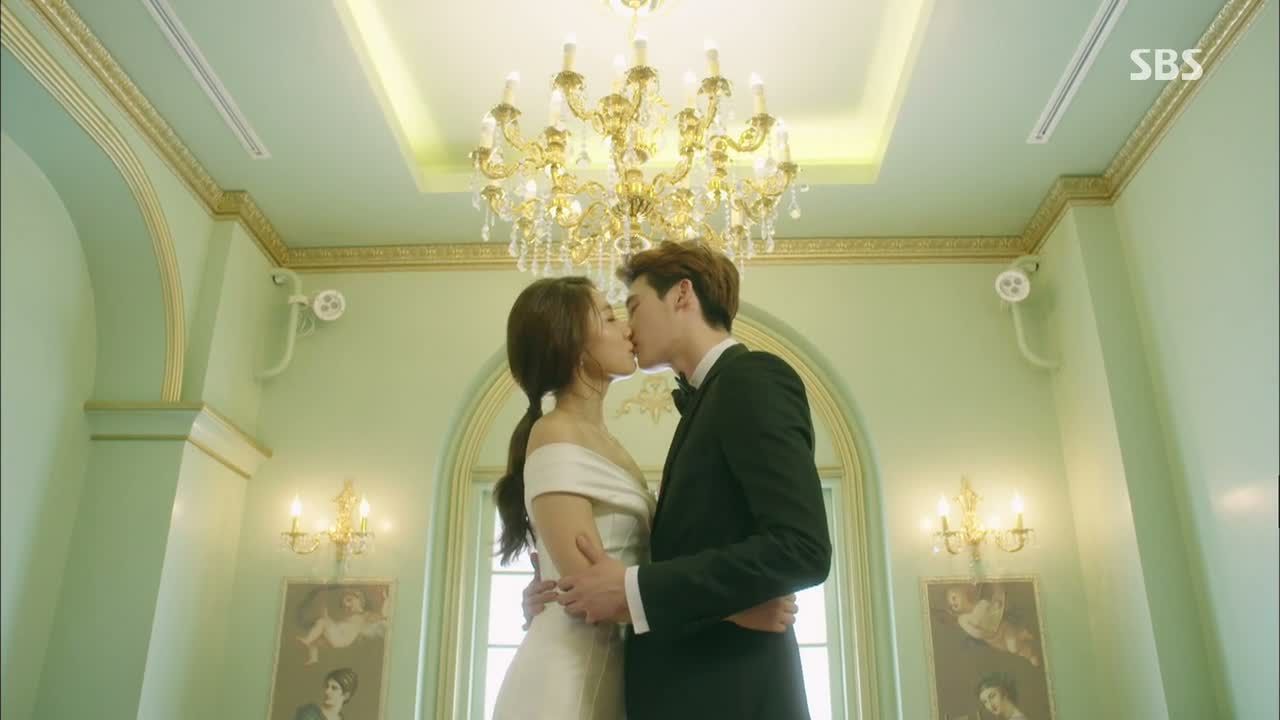 This writer is far from subtle in her themes (though honestly, she did a better job with reporters than lawyers, because omg, the law in Voice was seriously funny), but I do appreciate that she wears her heart on her sleeve when it comes to idealism and writing heroes and heroines who fight to right wrongs in their own way. In Pinocchio it was driven by the idea of eternal youth, not living forever, but as in Peter Pan—the title of the final episode and the symbol of unending youth. The older generation of characters (the moms and Hyung included) had each lost their way at some point, because they lost their innocence and their idealism, and eventually their sense of right and wrong. But In-ha, Dal-po, and Beom-jo are Peter Pans, because they refuse to cave to the jaded grown-up acceptance that this is just the way things are, and set out to find a way to make their naïve view of the world a reality.
They learn along the way just how naïve they really were, but they also hold on to the core of their idealism, and that's what changes the people around them. (Well, it doesn't change Chaebol Mommy so much as gets her caught, but she's a bit of a nutjob, so we'll call that a mitigated success. And I actually liked that she didn't suddenly feel remorse, because that would've been out of character.) We get the sense that our central characters will stay young forever in the way that matters—in heart. In that way it's much more about Peter Pan than it is about Pinocchio, though it was fun to get a rom-com heroine who was forced to be honest at all times, on top of being vain and shameless.
Though her character didn't get nearly as much development as the hero did, Park Shin-hye's performance was the one that stood out in this drama, if only to serve as a great big reminder of how much I like her in comedies. She does funny in an effortless way, and made In-ha so lovable that I forgot all about the sad girl who used to get dragged around by rich assholes (man, what I wouldn't give to wipe Heirs from my memory). It's so nice to have her playing a strong female character, and so charmingly at that. Lee Jong-seok is best when working with this production team, though I can't help but wonder if casting someone else would've been the distance from I Hear Your Voice that we needed. But I loved Dal-po all the same, so I can't argue that it was a bad choice, because he carried the emotion of the show.
Part of Pinocchio's winning charm is that every side character is played by someone great, which makes all the newsroom scenes entertaining on their own. Kim Hae-sook and Jin Kyung were especially great as the two moms, as was Yoon Kyun-sang as Hyung, and pretty much everyone on the two news teams was fun to watch. I was frankly a little disappointed with Lee Yubi's character, both in the actress's portrayal and in the character's arc, because she was so broad that I couldn't take her seriously. I feel like her romance with Gyo-dong saved her (almost nonexistent) storyline towards the end, because she was wasted for a good portion of the drama. Kim Young-kwang got his chance to shine, but it would've been nice to give the boys' friendship a little more heft by building it in early on. It feels mostly like the second leads got punted in favor of developing Hyung and Mom, which I understand given the way their conflicts drove much of the plot, but it would've been nice to tilt the balance a little more evenly.
But what I did love unabashedly about Pinocchio was the family. Even its fluid definition of family was moving, from Dad and Grandpa's acceptance of Dal-po, to In-ha's tenuous relationship with her mother, to Dal-po's heartbreaking one with Hyung. And of course Dal-po and In-ha's struggle to define what their love was, when protecting their family was so important to them. That stuff was aces, and I'll never tire of watching uplifting stories about found families that go to the ends of the earth to love one another. Grandpa's refusal to let go of Dal-po as a son feels like the farthest thing from a roadblock there is, because it comes from such pure-hearted love. And it was so fitting that Dal-po decided that he couldn't betray that love.
Even though I knew we'd get a happy ending, I found the finale's conflict compelling because I love this family, and it matters a great deal that they respect Grandpa and search for a way to earn his blessing the right way. I'm so glad we didn't rush through that acceptance or get some kind of comical version where they go through all that angst and he just tells them he knows; instead, we get another highlight father-son moment. Dal-po and Grandpa's scenes were among my favorites throughout the show (as were In-ha's scenes with Dad), and I got to send the show off with a feeling of satisfaction and lots of warm fuzzies to spare. Thanks for the feel-good times, Pinocchio. You were the best love story between an uncle, a niece, a grandpa, and a dad ever. Strangely, not as weird as it sounds!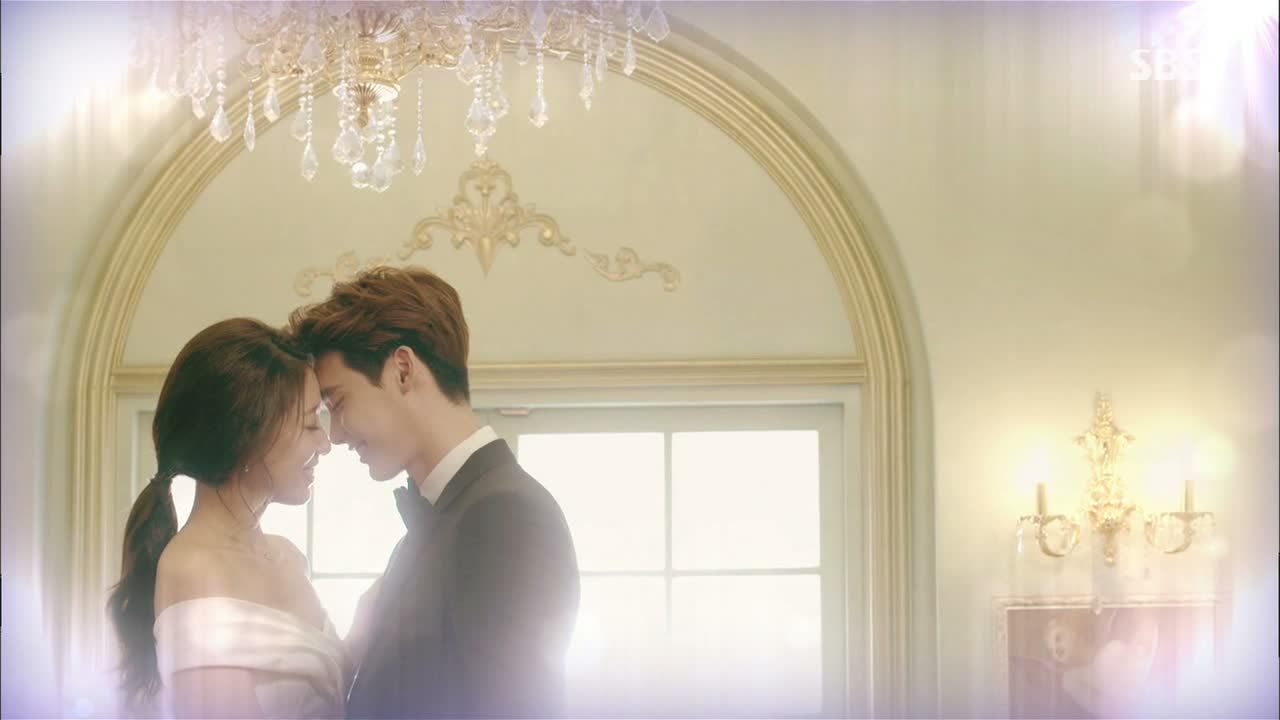 RELATED POSTS
Tags: featured, Kim Young-kwang, Lee Jong-seok, Lee Yubi, Park Shin-hye, Pinocchio