Punch: Episode 10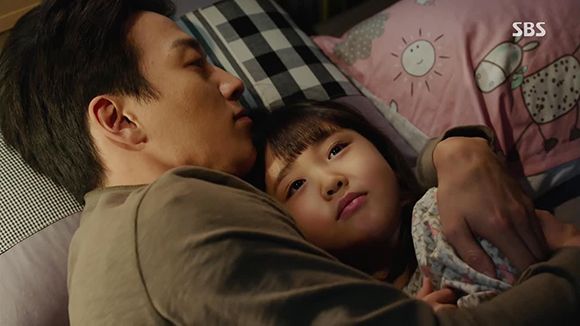 It's an hour of moves and countermoves, with everyone trying to gain an edge that'll make their opponents kneel before them. Jung-hwan comes to realize how useless a dying man is perceived in the eyes of society, and sets out to prove them wrong even if he's having to go at it alone—but I guess that's what you get when you use your illness to steal evidence from your gullible spouse. Now who's gonna believe Jung-hwan when he's really sick?
SONG OF THE DAY
Primary feat. Mad Soul Child & Gary – "Happy Ending" [ Download ]
Audio clip: Adobe Flash Player (version 9 or above) is required to play this audio clip. Download the latest version here. You also need to have JavaScript enabled in your browser.

EPISODE 10 RECAP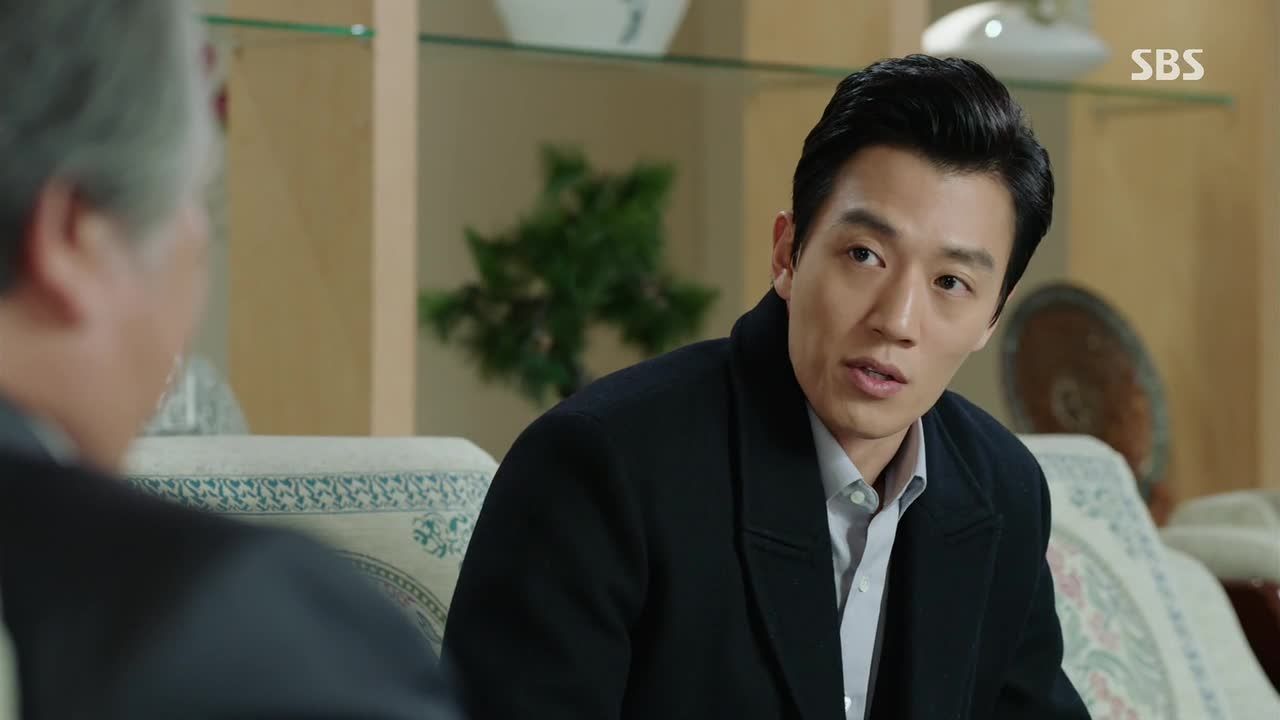 Just as Ho-sung finds out about Chairman Kim's college lecture video, Jung-hwan shows the same one to representatives from the National Assembly as proof that Chairman Kim has very deep ties to Ocean Capital.
When asked what he wants in return, Jung-hwan uses brown sugar and white sugar as a stand-in for Tae-joon and Minister Yoon, saying that he wants both of them put in prison with him.
An emergency meeting is called between Minister Yoon and Tae-joon, though he grows infuriated when she displays her unwillingness to pressure politicians in the National Assembly just to curry favor for themselves.
He orders Kang-jae to take the NIS chip from his desk and release it to the media, which shocks Minister Yoon—they'd promised not to make the chip's contents public. "I only keep the promises that are advantageous for me," Tae-joon bites back.
Ho-sung calls Minister Yoon from the university where Jung-hwan got Chairman Kim's lecture video, meaning that Team Yoon now has the same weapon as Jung-hwan. Tae-joon wants to exploit that fact, and wants Minister Yoon to exert what he calls a "lawful" amount of pressure on the National Assembly.
Just as Jung-hwan's about to make a deal, a secretary rushes in to turn on the TV—Team Yoon beat Jung-hwan to the punch by releasing the Chairman Kim video, and stole his thunder by claiming that the prosecutor's office had been the one investigating the case. Kang-jae takes the most credit, like it was their idea all along. Douche.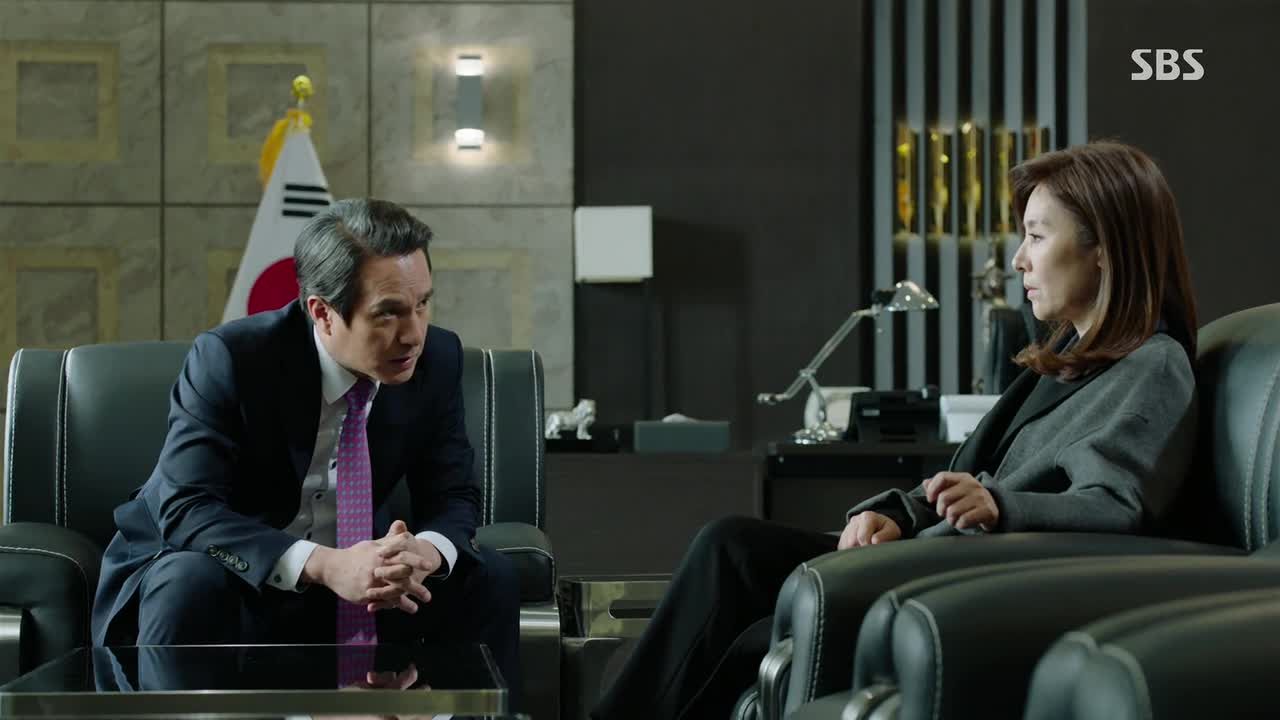 In order to save their own skin, Minister Yoon and Tae-joon change their tune with the president's chief secretary, now asking that the independent counsel be cancelled so the prosecutor's office can resume control over the case. That way, they can take the only playing card Jung-hwan had—using the independent counsel they proposed against them—away from him.
The order comes down from the Blue House to cancel the National Assembly's involvement in the case, leaving Jung-hwan with nothing. Hatred and disgust seeps from his every pore as he watches Kang-jae pontificating on TV about how they'll give all the back taxes Ocean Capital owes back to the national treasury, and therefore the people.
After ten days of silence from Dr. Mechanic, Hyun-sun finally tracks him down to demand answers—what could her brother have possibly said to scare him away like that?
Turns out he'd leveled with his sister's boyfriend about his terminal condition in an attempt to make him leave out of guilt, since Hyun-sun and his mother would need a capable son-in-law to take care of them once he's gone.
Now that Hyun-sun knows about her brother's lie, she can only look across their modest dinner table at him pityingly. Mom remains oblivious and tells jokes about mundane things, causing Jung-hwan to laugh—not at her stories, but at the paper headlines lauding Kang-jae and Tae-joon for their successful (but stolen) investigation into Ocean Capital.
Kang-jae is like a kid on Christmas morning when Jung-hwan walks into the office, since he's all-too-happy to rub his newfound popularity and success in his longtime rival's face.
He also wants Jung-hwan to pack his stuff and leave, promising that he'll still get paid for not attending work and receive a promotion that'll aid his family's pension when he dies. But with all the success that he's been enjoying lately he muses purposefully, "It's worthwhile to live a long life."
Yeon-jin seems to be regretting the side she chose now, since she's been reassigned to a branch office because Kang-jae and Tae-joon are practically heroes in the public's eye now. Jung-hwan agrees with her in a half-defeated tone, knowing that Kang-jae is on his way to becoming the next prosecutor general while Tae-joon will likely rise to a minister position like Yoon's.
But he's not completely out of ideas yet—they may not be able to get near Tae-joon now, but there's still Jo Kang-jae. If they can't bring down the beast, they can at least cut off his right hand.
Jung-hwan's next move is to approach Prosecutor Jung and Ha-kyung to ask for a deal: In return for clearing the bogus charges he made up about Jung's son in the states, he wants Jung to ensure that he and Yeon-jin can continue to work in the supreme prosecutor's office.
Prosecutor Jung asks if Ha-kyung thinks this'll give Jung-hwan to prove himself as a righteous prosecutor, to which she says no: "Prosecutor Park Jung-hwan will continue with illegal, under-the-table dealings and investigations."
However, since she's the only one who can handle him, she volunteers to do so. Prosecutor Jung puts in the call to Tae-joon appointing Yeon-jin and Jung-hwan as his aides, thus giving them a job that will keep them in the office.
When Kang-jae asks if Tae-joon's just going to leave Jung-hwan be, Tae-joon replies by saying he's not going to continue blowing on a candle that's about to go out. Furthermore, he has a job for Kang-jae that'll thrust him even more favorably into the public limelight: the enlistment fraud case.
Only this time, he's to omit Minister Yoon's son from the list, as well as a few other names at Tae-joon's discretion.
Watching Kang-jae go off to his next press conference, Jung-hwan tells Ha-kyung that they'll exploit Kang-jae's lavish living style as proof he's being sponsored—none of the things he currently owns would be affordable on a regular prosecutor's salary.
But he scoffs when Ha-kyung says she'll go about getting the warrant her way, since her way will take time he doesn't have. Ha-kyung actually has a fair argument on her side: "Your methods failed to convince Chairman Kim and caused you to come out of the National Assembly empty-handed."
At the same time, Jung-hwan keeps to his point that he'd be dead before she'd see any results. "I don't have time," he stresses. "With all the time we had… why did we spend it like we did?" she asks sadly. "If only we could go back to when we were rookie prosecutors."
Jung-hwan's vision of her begins to blur as he thinks back to Doctor Jang asking him what point in life he'd like to return to. He flashes back to three years ago, when Ha-kyung had given him two documents to choose to sign: the first being an internal investigation on Tae-joon, the second being a divorce document.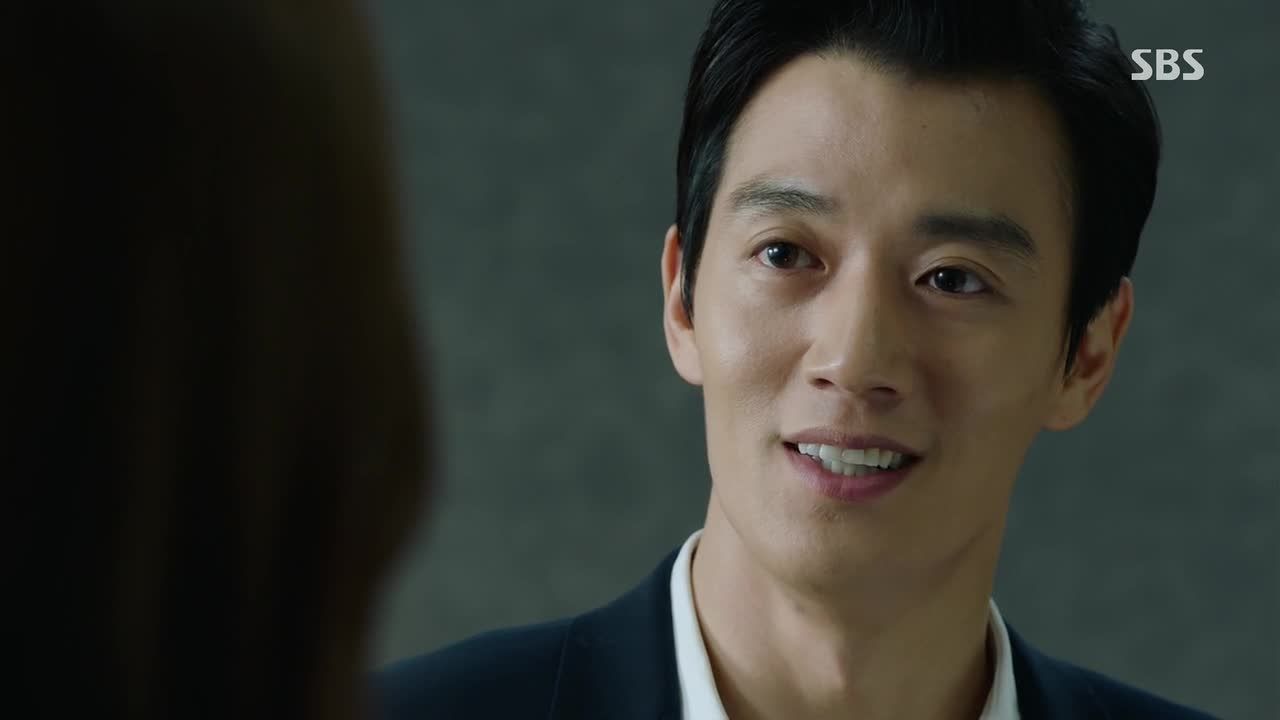 She'd given him the choice between her and Tae-joon, and just when he was about to choose her, that was when he'd been arrested by Prosecutor Jung in order to get to Tae-joon. And Tae-joon, at that time, had stood up for him…
…So he'd ended up giving Ha-kyung the divorce document instead. "I lost to Lee Tae-joon," she'd said with tears in her eyes.
"I lost, Ha-kyung," Jung-hwan now says in the present. Only he's not in the present—at least mentally. He's relapsed like he did at Tae-sub's funeral, acting like it's still three years ago and he's made the choice to help her investigation with Tae-joon.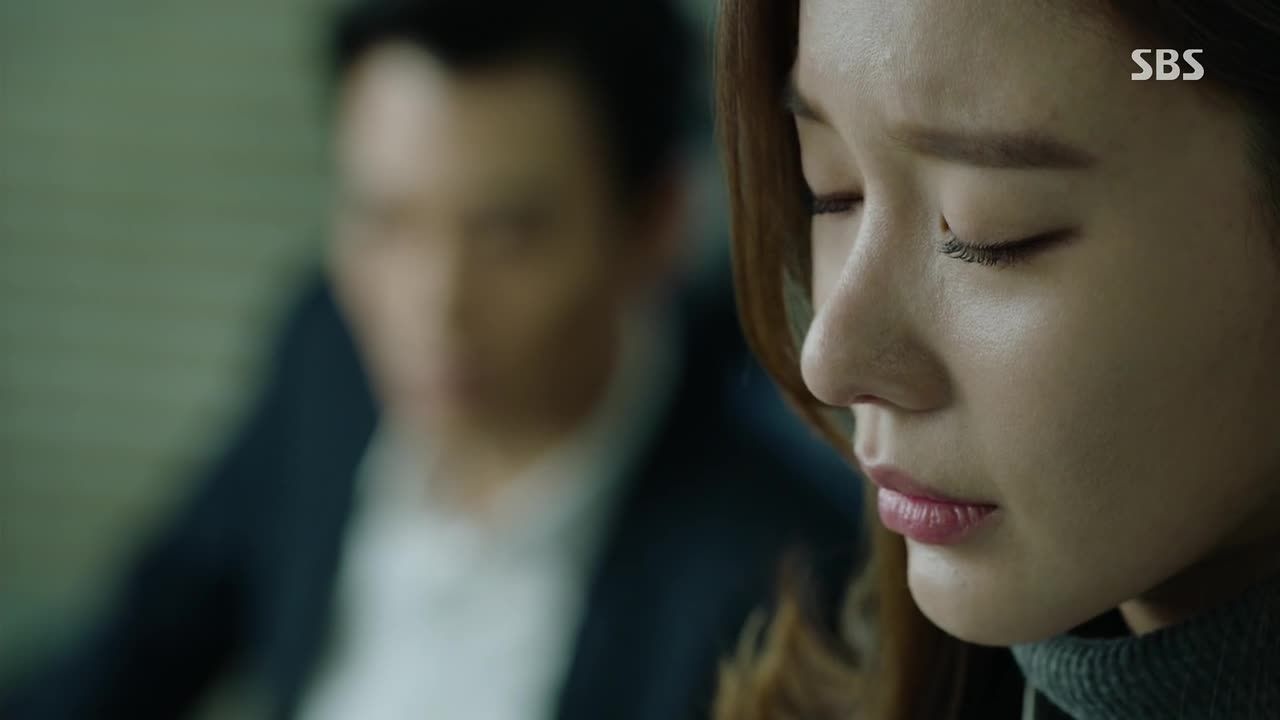 Ha-kyung looks heartbroken as she realizes what's happening, but Jung-hwan snaps out of it the second Yeon-jin enters, obviously not remembering what he just said or did.
Now that Kang-jae's released the enlistment fraud case to the public and promised retribution, his popularity is soaring more than ever, and so is the president's by extension. His chief secretary thanks Tae-joon for that, but the wily fox uses the opportunity to gain permission for another investigation into politicians who took bribes.
Only when they're outside does Tae-joon reveal to Minister Yoon his reasons for asking: Now that Ocean Capital's money has been returned to the national treasury instead of to his brother's family, he's set his sights on the presidency. He'll use the investigation to take down any possible contenders against him.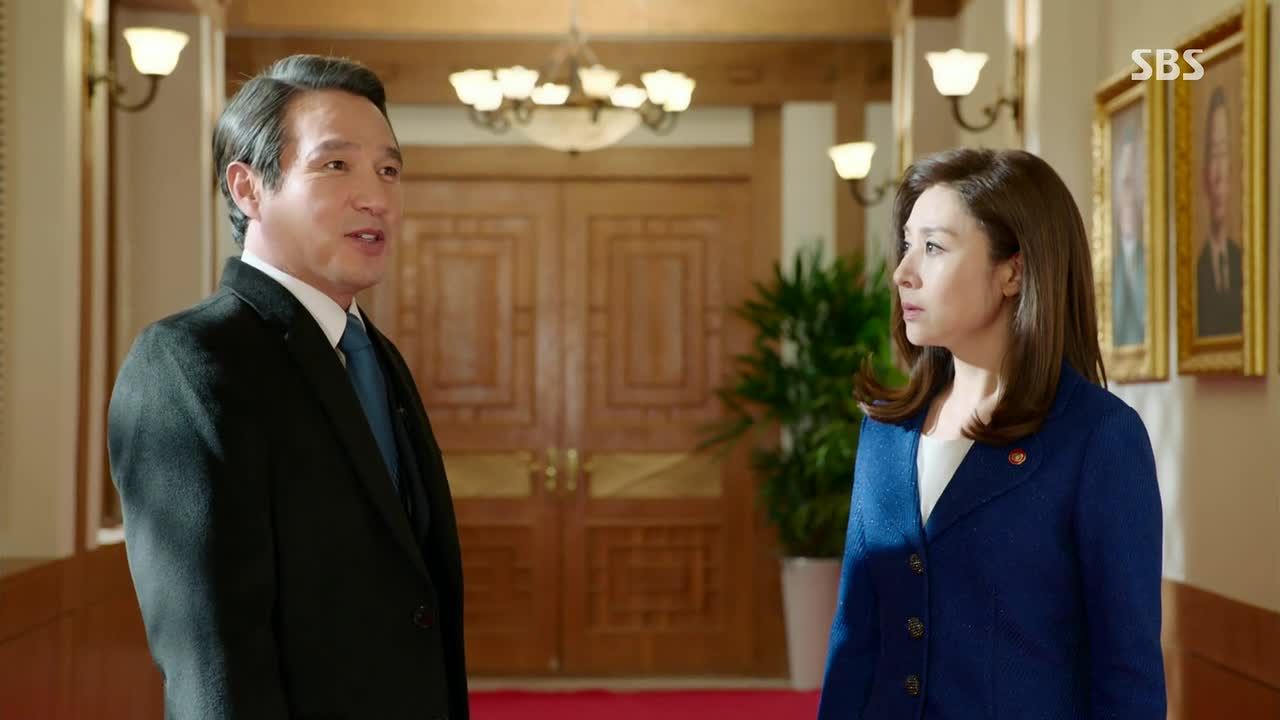 Minister Yoon is horrified as expected, but admits to Ho-sung later that Tae-joon might actually have a fighting chance despite his relative inexperience—by publicly solving the enlistment fraud case as well as the Ocean Capital case, the people have come to love him.
"He's the monster that you created," Ho-sung says accusingly. Minister Yoon doesn't deny it, but that's not the issue right now—stopping Tae-joon is.
In order to do that, Minister Yoon appoints Ho-sung as Prosecution Investigation Section Chief, which Jung-hwan sees as a betrayal when he meets with him and Kang-jae. "You said you'd become a good prosecutor," he tells Ho-sung. "So did you?"
Ho-sung doesn't think he's acting any worse than Jung-hwan, but Kang-jae's got them both beat when he gleefully rubs Jung-hwan's upcoming death into his face even more than usual. Luckily, that's when Jung-hwan gets a call from Ha-kyung—she found proof that Kang-jae was sponsored.
She shows Jung-hwan the evidence showing that Kang-jae received a thirty million won stipend each month from his sponsor Myungho Construction, but she wants to take care of this internally. Jung-hwan asks that she relinquish the case to him, but she refuses, wanting him to rest.
Suddenly, Jung-hwan is stricken with a headache that all but brings him to his knees. Ha-kyung asks where his Demerol is, but Jung-hwan grits out that he's saving it for when he really needs it. "Leave, Ha-kyung," he growls. "Leave! Or should I?"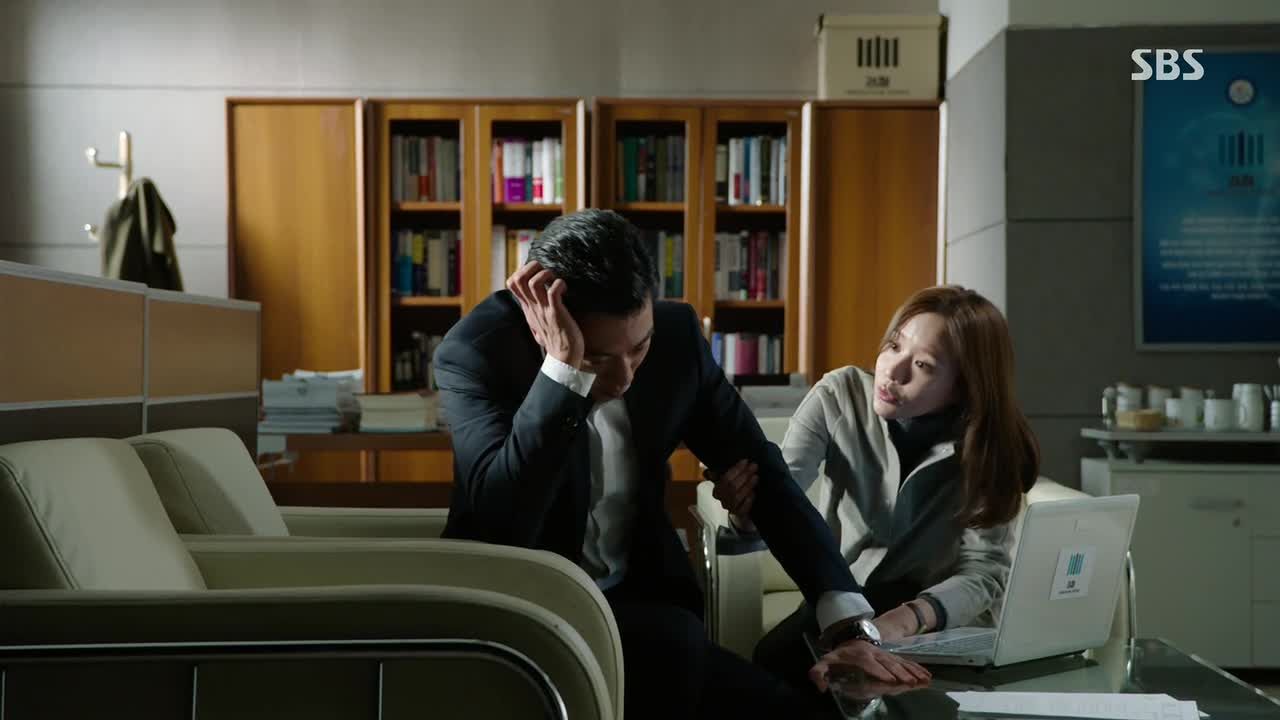 He doesn't want her to see him in pain, and Ha-kyung waffles in frightened indecision before leaving. No sooner does the door close that Jung-hwan snap out of his headache… wait, that was all an ACT?!
Yes, yes it was. Jung-hwan makes a copy of the evidence Ha-kyung gathered and takes her framed picture of all three of them together at Ye-rin's birthday, leaving her a note saying so.
Jung-hwan interrupts an interview Kang-jae is giving to his little daughter and friends, all of them looking up to him like he's some sort of hero. But Jung-hwan has no problem crashing that party, as he reports that he found a slush fund belonging to Myungho Construction and calls him "Sponsor Prosecutor."
Kang-jae sends his miniature audience out before they can hear more, and asks Jung-hwan what it is that he wants. Jung-hwan answers that before he shuffles off this mortal coil, he wants to put Tae-joon and Minister Yoon on trial. Or rather, he wants Kang-jae to.
He knows there's a link tying the two together, and asks Kang-jae to find it. That's when Kang-jae remembers the chip Tae-joon threatened Minister Yoon with, before Jung-hwan threatens him in the present with exposing him as a "Sponsor Prosecutor." What would his daughter think of him?
Since the key to the chip is kept in Tae-joon's pocket, Jung-hwan suggests Kang-jae use the prosecutor general's weekly trip to the sauna to retrieve it without him knowing. He does, and makes a copy of the key.
Though Yeon-jin worries that Kang-jae might not choose his daughter over Tae-joon, Jung-hwan knows he will: "The most frightening thing in the world are my daughter's eyes," he explains. "'How would she look at me?' Jo Kang-jae will think the same since he's a father."
Jung-hwan then doubles over in pain—for real this time—leaving Yeon-jin wide-eyed and worried.
Kang-jae sneaks into Tae-joon's office that night and unlocks the drawer containing the chip. What stops him from taking it is the kudzu root there that Tae-sub gave him, causing Kang-jae to flash back to when he told Tae-sub that the investigation against him would end if he were to die.
Wow. So Kang-jae is the one who planted the suicide idea into Tae-joon's brother's head, which Tae-joon would probably kill him for if he found out.
But what Kang-jae remembers most is promising Tae-sub that he'd stay by Tae-joon's side after he was gone, and that stops him from taking the chip. Ruh roh.
Tae-joon purposefully ignores all of Minister Yoon's warnings on how to proceed on his investigation into possible threats to his candidacy, preferring to just steamroll over her and do things his way. Worst of all, there's not much she can do to stop him.
Kang-jae is an active participant in all this, and suggests adding Yeon-jin's father to the list of politicians to be investigated. Even though she was born out of wedlock, it'll still have an affect on her (and Jung-hwan, by extension).
The excuse that Kang-jae hasn't gotten the chip because Tae-joon's been in his office doesn't work on Jung-hwan, who has Tae-joon's schedule in hand. He asks for a few more days to think it over, but Jung-hwan doesn't budge.
"Just listen to me," Kang-jae pleads. "I've listened to you for seven years," Jung-hwan replies. "I'll give you two hours." Kang-jae then immediately orders the arrest of Yeon-jin's father, and takes her to the interrogation room where he's being held.
Unfortunately for him, the blackmail threat has absolutely no effect on Yeon-jin, since she holds zero affection for the man she's never even called "Father."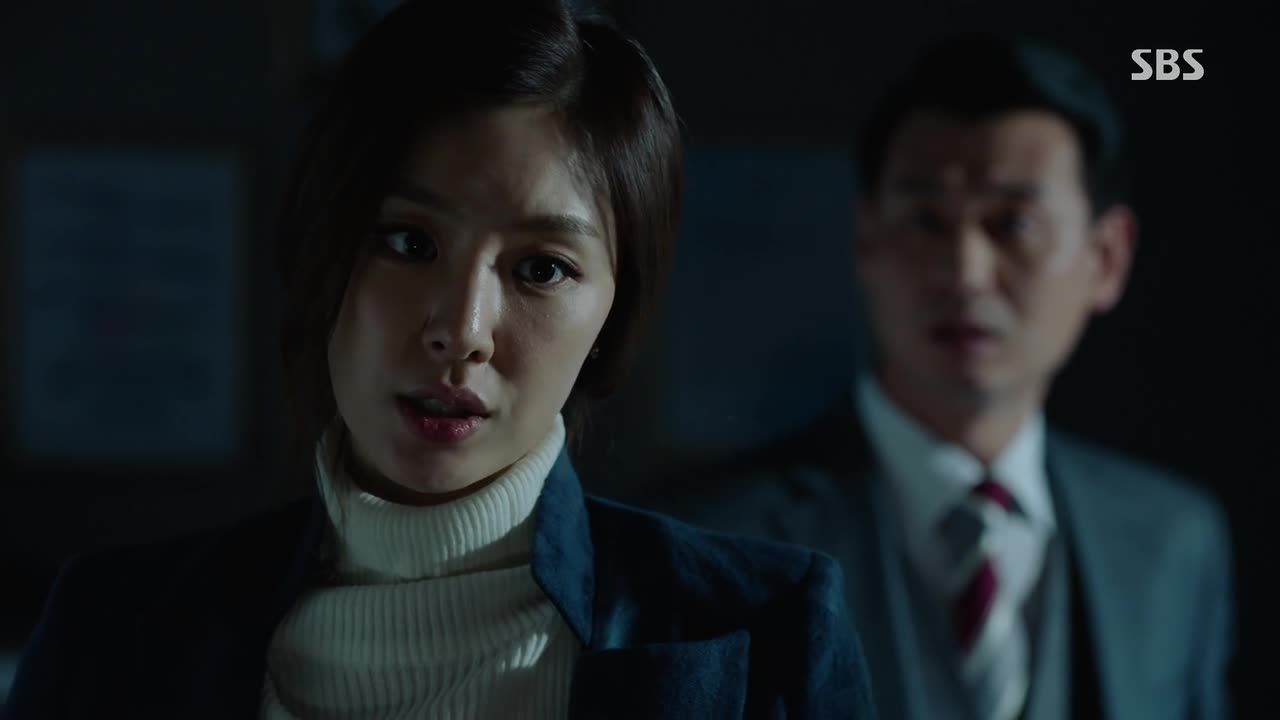 She was planning to expose him before the next general election, but now thanks Kang-jae for doing her work for her. He's left completely stunned, and his time is swiftly running out.
Ho-sung presents a plan to Minister Yoon to separate Kang-jae and Tae-joon so that the latter will be left more vulnerable. Minister Yoon acknowledges his smarts while admitting that she always thought the same of Ha-kyung and Jung-hwan.
Speaking of, Minister Yoon asks if Ho-sung feels uncomfortable around Jung-hwan these days. "I won't apologize to him," Ho-sung says by way of defense. "Apologies are only for wrongs you can be forgiven for." Slow your roll there, Ho-sung. It's not like you murdered the guy's family and ate his sandwich.
When Kang-jae's time is up, he returns to Jung-hwan in the hopes of bribing him with two hundred million won (roughly two hundred thousand dollars). Jung-hwan throws it back at him and equates his offer to an attempt to give food to a thirsty man. No dice.
Their conversation turns into a threatathon, with both men trying to get the other to back down using promises of retribution. Jung-hwan isn't cowed and orders Yeon-jin to prepare a press release with all of Kang-jae's sponsorship details, and when Kang-jae realizes he can't stop him, he threatens to use his media connections to slow things down.
In a country where each week is filled with new scandals, Kang-jae is sure that his will get buried if he holds out long enough. "By then, Jung-hwan, you won't be around anymore," he says. Yeon-jin seems to mull this over as she remembers Jung-hwan doubling over in pain—is she thinking of jumping ship?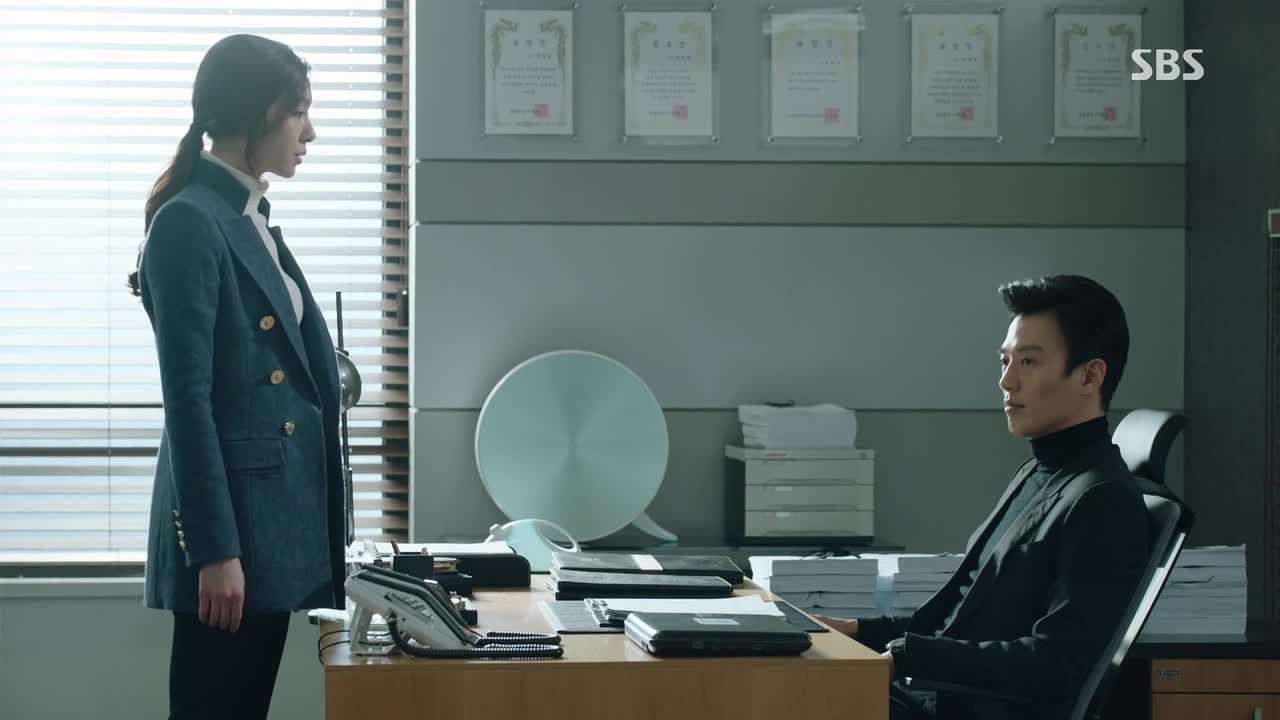 Kang-jae makes a last-ditch attempt at bribing Jung-hwan with more money, but when that doesn't work, he arranges a preemptive meeting with his media connections to stave off Jung-hwan's press release.
Jung-hwan knows they'll have a tough time going against Kang-jae's connections even with their evidence, and Yeon-jin offers—perhaps a bit too eagerly—to take the file and spread it on social media…
But she ends up taking it straight to Kang-jae instead. She doesn't want her father released for it, she wants to make sure he'll be ineligible to run for office for the next decade. And she wants Kang-jae to get his son involved too, so that he can't run either.
Kang-jae agrees, and she hands over the file. Jung-hwan somehow hasn't seen this whole exchange even though their walls are made of glass, and focuses on Kang-jae only when he calls to say that he's welcoming Yeon-jin to the dark side, and waves the USB she gave him with a thumbs up for good measure.
Jung-hwan tries enlisting the help of another prosecutor, only to be denied—all of them have been told not to help him on cases, since he'll die before finishing any of them. Ouch.
All of a sudden, Jung-hwan realizes how alone he truly is as everyone nervously avoids eye contact with him. Even Ho-sung closes his blinds.
At least he finds solace at home with Ye-rin there waiting, having been dropped off by Ha-kyung. They curl up in bed and discuss weight, since Ye-rin has been worried enough about her father losing weight that she's tested some of the fattiest foods in order to recommend them to him. Aww.
Jung-hwan pulls her into a tight embrace as he readies to sleep, with little Ye-rin piping up that Ha-kyung told her to make sure to sleep in her daddy's arms because she knew he had a tough day. "Cheer up, Dad."
He flashes back to a snippet of conversation we didn't see, before he'd handed Yeon-jin the USB file. He knew she'd take it to Kang-jae and warned her not to trust him, but gave it to her anyway. In that way, he'd have her still working for him while Tae-joon would think she betrayed him.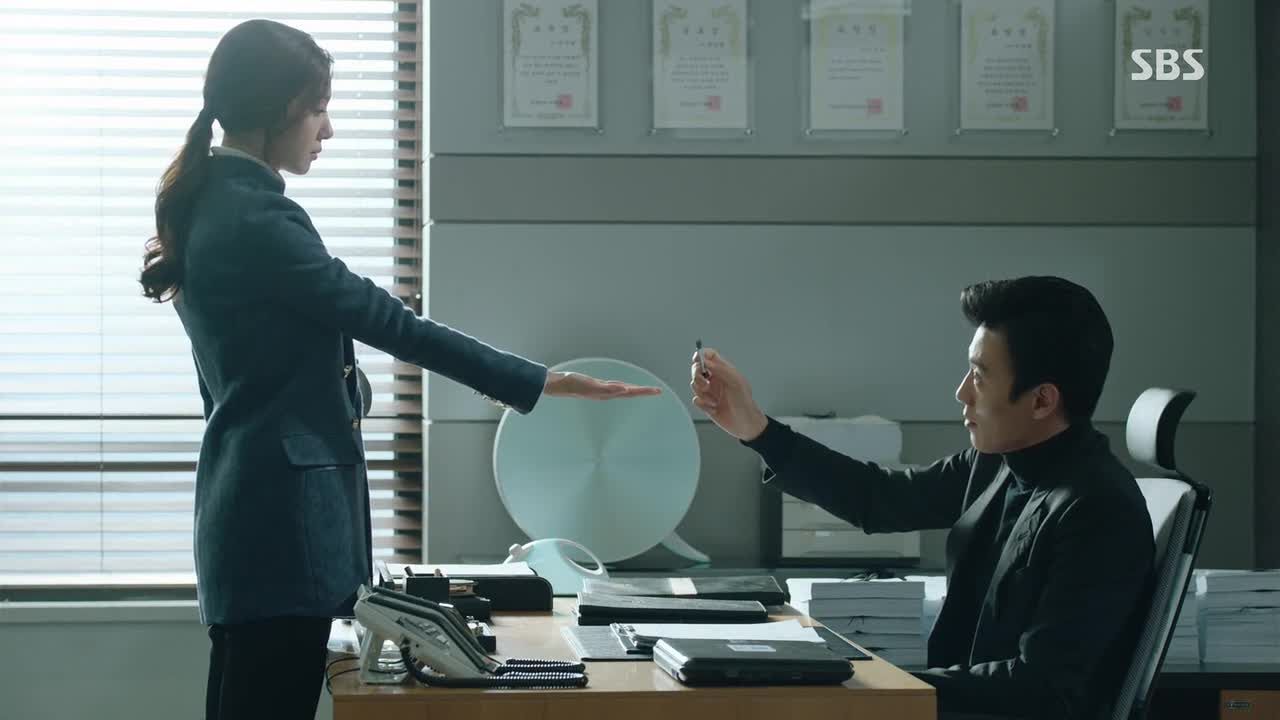 Even Yeon-jin wondered if Jung-hwan would trust her that much, to which Jung-hwan replied that he trusts his judgment—it's a win-win situation for her either way. If Jung-hwan were to win the battle, she'll become the prosecutor who exposed Tae-joon and Minister Yoon for corruption.
And if he were to lose, she'd get to keep pretending she works for Tae-joon so he could help her run for office.
Thanks to Minister Yoon, Kang-jae received a special honor from the president to commemorate the good he's been doing, though the promotion he's now up for would make him chief prosecutor of a district office. Preferably on Jeju Island, which is nice and far.
Tae-joon knows this is her way of trying to separate them, and tells Kang-jae that he'll only take the promotion to chief prosecutor if it's for the Seoul Central District Office, which is the highest seat. Otherwise, he makes it clear that Kang-jae isn't going anywhere.
Yeon-jin is present at Kang-jae's side now, and has her phone hidden with Jung-hwan on the line so he can hear the entire meeting—especially when Minister Yoon asks if Tae-joon really plans on running for president.
She doesn't see how when he has so much metaphorical dirt smeared on him, to which Tae-joon replies that he'll rub it all off on Jung-hwan. Specifically on the day of his burial. Jung-hwan may be cunning, but how could he clear his name after his death?
The pre-decided title for the case is "Park Jung-hwan Gate," which I guess is supposed to be like Watergate. Original.
Tae-joon tells the minister to go ahead and ready the Blue House for his presidential portrait, while Jung-hwan lowers the phone and crushes a newspaper picture of Tae-joon in his fist.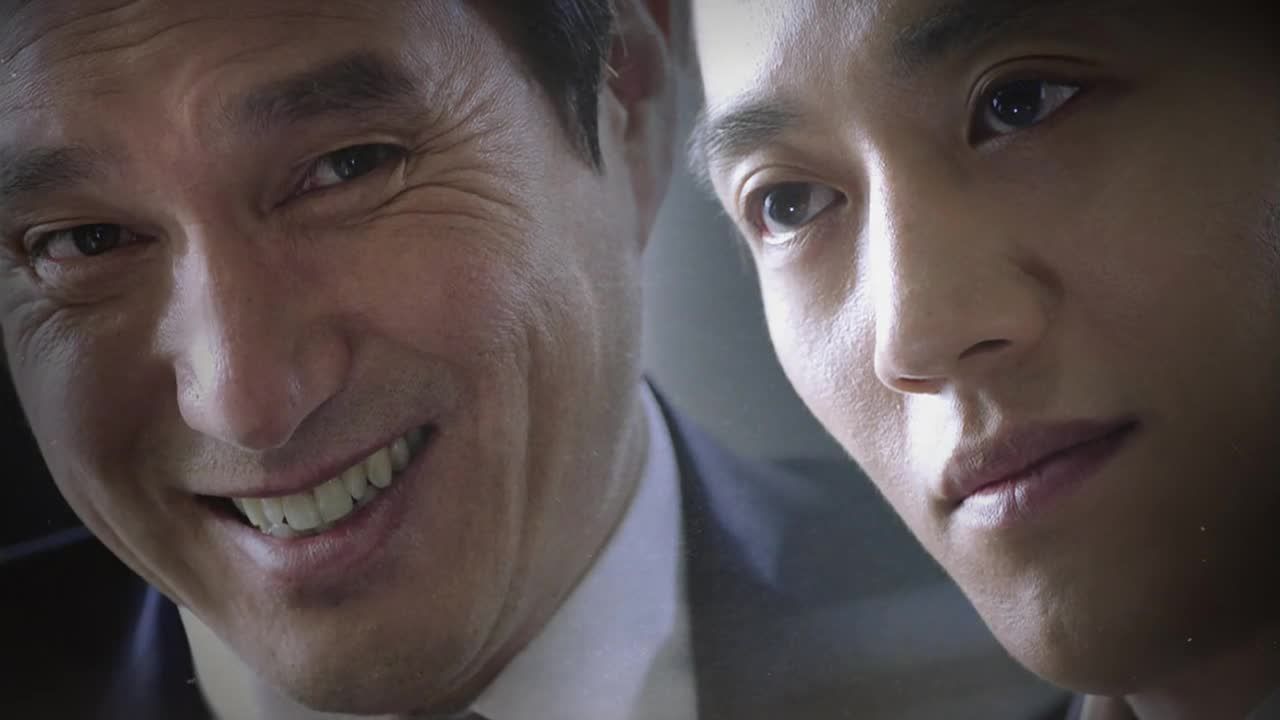 COMMENTS
First of all, where did Ha-kyung go? Second, if this is the best Minister Yoon can do to try and stop Tae-joon, then I hope she realizes how sorely outmatched she is. Did she think that maneuver to send Kang-jae off to Jeju Island was actually going to work? So far she hasn't been able to one-up Tae-joon at anything since they became an unwilling team, even when she thought she was evening the odds with the indestructible chips.
Yeon-jin's been a pretty interesting character to have around, and I was happy to see her get a bit more of the limelight this episode. She's been struggling with her conscience and her loyalty since news of Jung-hwan's illness broke, and it's been made clear that she's not the type to let sentimentality get in the way of her ambitions too much. Whether there are some lingering feelings left on her end is up for debate, but I'd assume that she would've ditched Jung-hwan long ago if there weren't.
However, she's smart enough to play for the winning team, and Jung-hwan knows a fickle ally when he sees one. That's why it was a brilliant move on his part to give her free choice in the matter and to put her in a situation where she could only come out on top regardless of who wins or loses the ultimate battle, because she would've likely just betrayed him otherwise. And it also saved him from having to make good on his promise to help her when he doesn't have the resources, kind of like making a purchase with a line of credit—only he won't be around long enough to worry about paying it off.
As devious and ruthless as Jung-hwan continues to be, I can't help but feel sorry for him when he's constantly pelted with threats, jabs, and all-around general reminders that he's dying, and soon. But I'm glad he got to hear that meeting between the Axis of Evil, because if nothing else, it reaffirmed his need to take Tae-joon down before he goes, because the alternative would not only affect him posthumously, but could also affect his family.
And if we all know how Jung-hwan feels about that, then his opponents better think twice before assuming it'll be an easy task to take advantage of a dying man. He's not dead yet, people. (And he doesn't want to go on the cart!)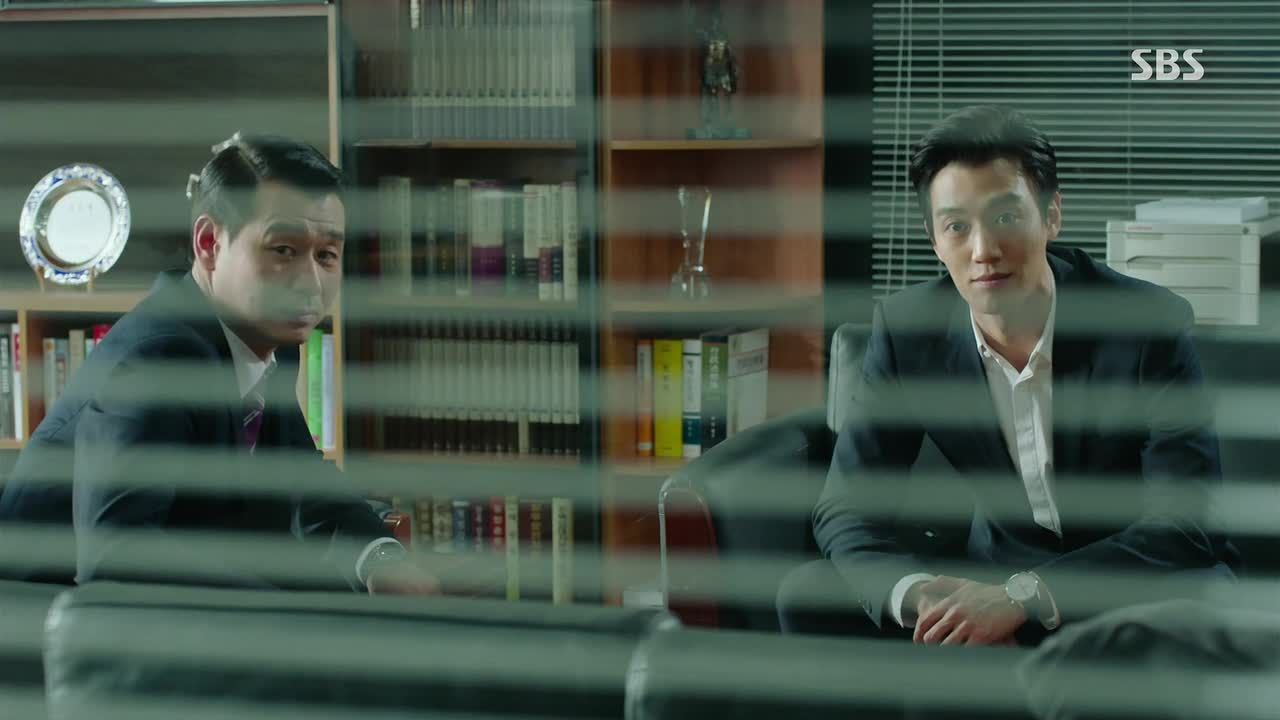 RELATED POSTS
Tags: featured, Jo Jae-hyun, Kim Ah-joong, Kim Rae-won, Punch