Punch: Episode 12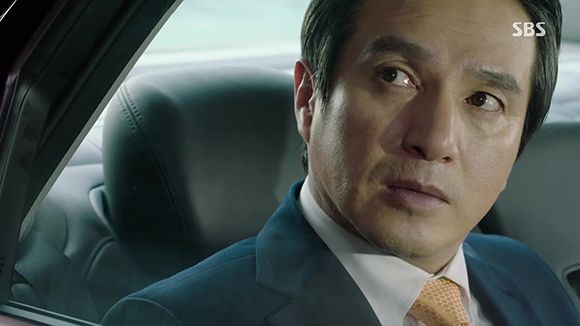 There's a noticeable power shift this hour, forcing our resident baddie (no, not that one, the other one—no no, the other one) to choose between giving up his dream or giving up everything he's ever worked for in exchange for keeping a semblance of power. Similarly, our anti-hero faces some major roadblocks in his quest to rain fire upon his enemies who somehow always manage to put out the flame. Poor Jung-hwan's got a lot to do and a swiftly dwindling amount of time to do it in, but knowing him, he'll find a way. He just has to.
SONG OF THE DAY
4minute – "추운 비 (Cold Rain)" [ Download ]
Audio clip: Adobe Flash Player (version 9 or above) is required to play this audio clip. Download the latest version here. You also need to have JavaScript enabled in your browser.

EPISODE 12 RECAP
Ho-sung thinks he has big news for Jung-hwan when he reveals that he's been suspended from looking into Professor Noh Young-jin's accounts, only for Jung-hwan to admit that he called it off.
Our novice prosecutor doesn't understand, especially since Tae-joon is out there actively winning over the media to prevent them from thinking he had political motives in targeting the Chief of Staff. Their goal should be to make Noh Young-jin's word untrustworthy…
…But Jung-hwan tells him to cool his heels, since they'll wait to pull out the big guns and get them all in one fell swoop. This sort of cavalier attitude unnerves Ho-sung, and he finally asks what card Jung-hwan is hiding that's putting him so at ease.
Jung-hwan puts him in his place by mentioning that the last time he did that with the enlistment fraud case seven years ago, Ho-sung betrayed him by ratting him out to Minister Yoon. He won't make the same mistake again, so it's up to Ho-sung to choose whether to trust his plan or not.
After Jung-hwan listens in on Tae-joon's plans to officially summon the Chief of Staff as a witness (thanks to Yeon-jin), he gives Minister Yoon a call, since she's already heard about the plan as well as the public's response—which can best be summed up as sharks who've smelled blood in the water.
He wants her to arrange a meeting between him and the Chief of Staff, which she says will be difficult given the constant media presence around his case right now.
But she's forced to acquiesce when he insinuates that by helping him, she'll also be helping the Chief of Staff, which is in her best interests right now.
The arrangement is brilliant—while the president takes a media tour through a shantytown for the elderly, the Chief of Staff ducks into a home to find Jung-hwan sitting with an old woman whose broken hearing aid renders her completely deaf to their conversation. (Don't worry, he's getting her a new one.)
The first thing the Chief of Staff does is ask whether Jung-hwan has something to discredit Noh Young-jin, since he's the chief witness being used against his daughter's case. Jung-hwan holds up a folder, but in return, he wants the Chief of Staff to use the legal power he has to force Tae-joon to resign.
He agrees, on the condition that Jung-hwan provide not only the evidence against Noh Young-jin, but also evidence that Tae-joon was the one forcing Noh to talk. Jung-hwan smiles as he hands the folder over, which contains testimonies from women at the university claiming that Noh sexually assaulted them.
Coincidentally, Tae-joon finds out about these allegations breaking in the media while meeting with women's rights groups about enacting harsher punishments for sex offenders. Awkward.
When Yeon-jin brings up how the story is being spun—that Noh Young-jin spoke out against the Chief of Staff's daughter to cover up his own crimes—she also mentions that there are articles tangentially tying him and Noh together. "Noh Young-jin?" Tae-joon replies nonchalantly. "Who is he?"
Jung-hwan enters at just that moment to remind Tae-joon that he and Noh Young-jin were high school classmates, and hands over a resignation speech he's already prepared.
Tae-joon doesn't seem to take him seriously until the Chief of Staff calls to tell him to prepare for his resignation. It's also what the President himself wants.
Next thing we know, Jung-hwan is confronting Tae-joon with a warrant for his arrest, on charges of taking bribes while serving his term. In shock, Tae-joon shakily asserts, "I am the Prosecutor General."
Jung-hwan looks over to his official portrait hanging on the wall, then back at him. "You were at one point in time," he replies through a giant grin. Tae-joon's bloodshot eyes stare him down as his portrait goes crashing to the ground. Waitaminute…
Tae-joon suddenly wakes in his car—it was all a dream. It's only then that Yeon-jin tells him that the politician they were on the way to meet has just cancelled their appointment.
He can't help but think about how many people he saved in situations like this, and how there's no one there to help him now that he needs the same favor. When Yeon-jin interrupts to ask where they should drive now, Tae-joon muses with this lost look in his eye, "There's nowhere to go."
Dinner at Jung-hwan's house is a sad affair, since little Ye-rin is the only one who doesn't know about her father and everyone's trying to keep it that way for now. But that doesn't stop Mom and Hyun-sun from not looking like they're already at a funeral.
But Jung-hwan's plan has already been set in motion, or it's just coincidence when LEE SANG-YOON, Minister Yoon's son and a Central Court District Judge, tells her that he's been assigned to oversee the enlistment fraud case.
Since he dodged his service he wants to dodge the case since he has no right to lead it, still possessing some sense of moral integrity, but it's his mother that convinces him otherwise. It'll be too suspicious if he doesn't take on the case, she argues, so he must do it and follow the law to the letter.
He raises an exception to this since it'd call for him to become the very definition of a hypocrite, but Minister Yoon convinces him that he can pay back this itsy bitsy infraction now by spending the rest of his life and tenure as a judge fighting for the oppressed… just as long as he doesn't join them.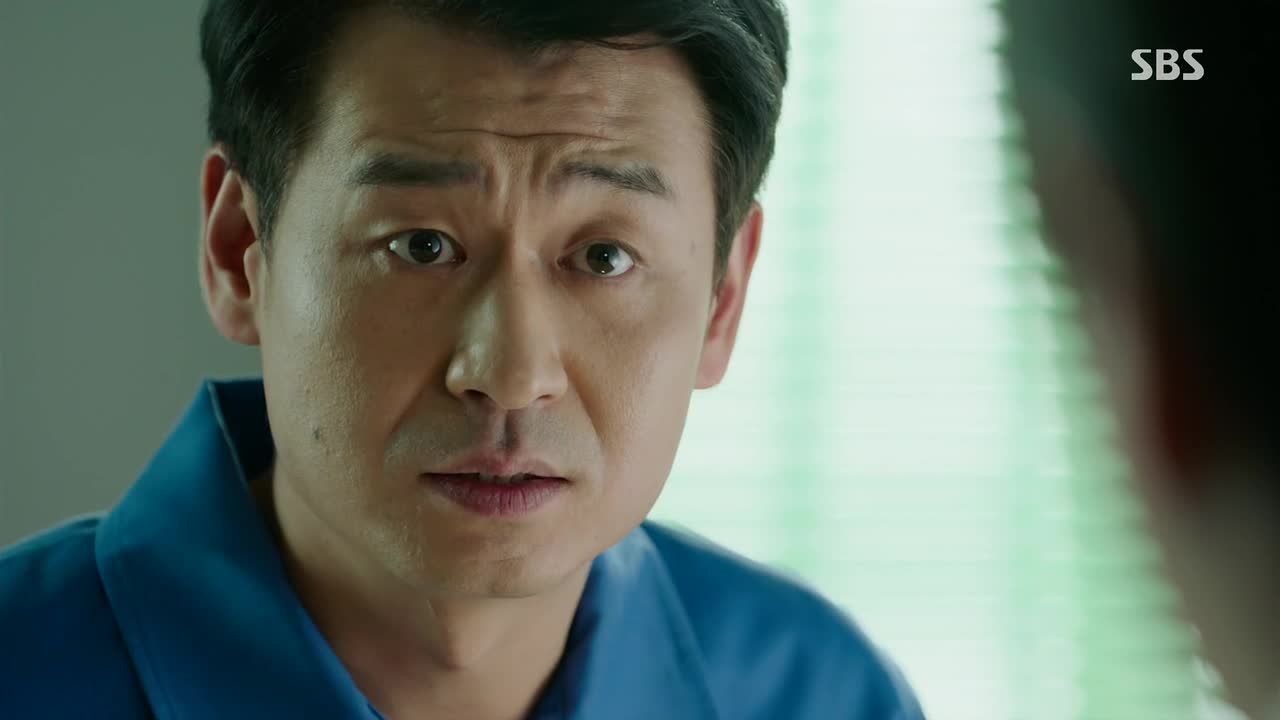 Feeling lonely, Tae-joon pays a visit to Kang-jae in prison, admitting that he can't forget their twenty years of friendship despite hating him for trying to betray him. He even apologizes after Kang-jae does, adding that he won't be able to take care of his family like he promised now that Jung-hwan's caught him in a trap.
Even after everything, Kang-jae offers advice by telling Tae-joon to go to Minister Yoon for help. Tae-joon knows that she would rather see him fall than help him up because he's competition, to which Kang-jae says for him to cede that competition to her. Let her fulfill his dream of becoming president.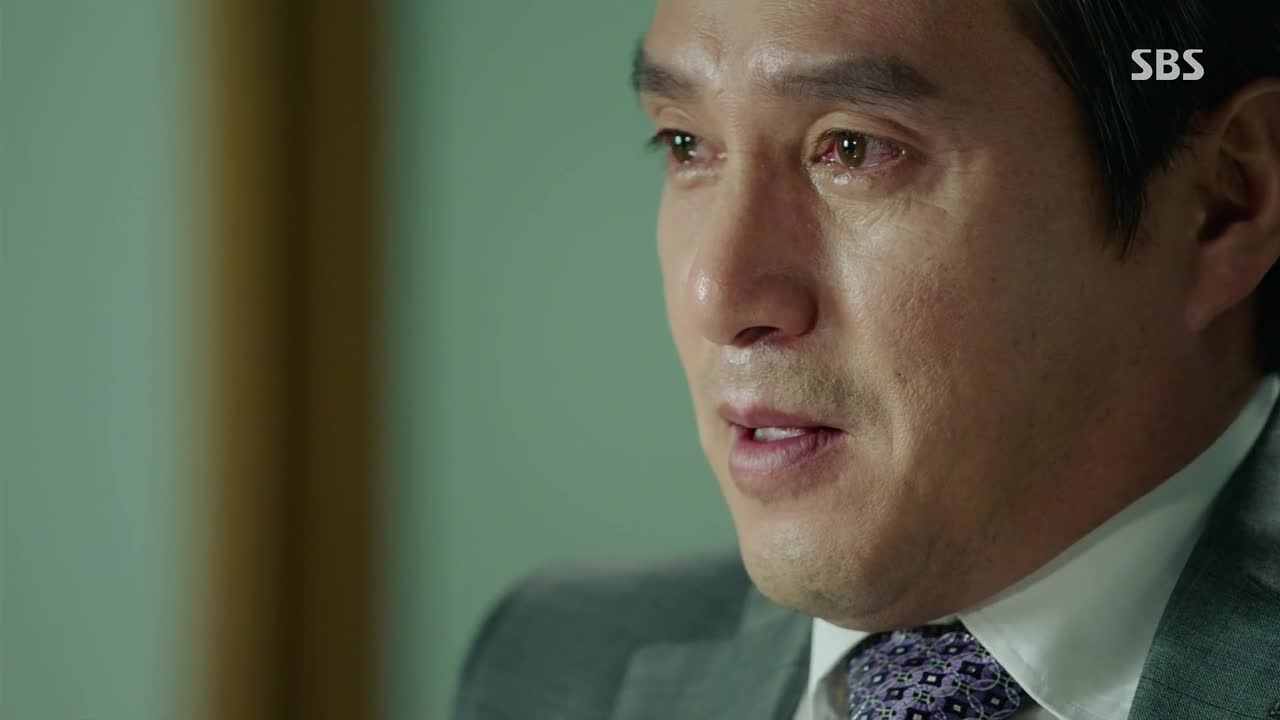 Tae-joon finds the idea of serving under Minister Yoon distasteful, but Kang-jae assures him that it won't last forever—if an opportunity doesn't present itself, he'll make sure one does. Shocked, Tae-joon asks, "Don't you hate me?"
"I do," Kang-jae admits. "But I've shared too many meals, drinks, and dreams with you for twenty years." A long moment passes between them, and Tae-joon can't help the tears that fall from his eyes. He's that touched. Aw. (I can't help it!)
Tae-joon manages to catch Minister Yoon just minutes before she's set to leave for the Blue House, where she plans to discuss her recommendations for the prosecutor general seat. Tae-joon is there to recommend himself for the office, or rather to stay in office, explaining that he bit off more than he could chew when he tried to take on the administration.
Pulling out the NIS chip that's their mutually assured destruction insurance certainly catches Minister Yoon's attention, since she thinks he's threatening her with exposing what's on it. But it's quite the opposite, as Tae-joon makes his offer to help Yoon on her way to the Blue House, even though he'd once dreamed that she was the one to escort him there.
To prove his point, Tae-joon fills a glass with hydrochloric acid as he tells her he'll give all he's accomplished over the years to her and clear the way…
…Before he drops the chip into the acid. As it fizzles into nothingness, Tae-joon locks eyes with Minister Yoon as he gives her his solemn vow to become as loyal as a dog to her. Now that he's given up the dirt he could use to bury her with, he's given her his leash.
Ho-sung's heart breaks when Minister Yoon suddenly loses interest in forcing Tae-joon to resign, even though that's what he thought they were both in this for. "What would change just because Lee Tae-joon steps down?" she asks candidly, singing a whole new tune.
But she's back to justifying her actions for the greater good, since she's able to excuse leaving Tae-joon alone since it'll help put her in the Blue House where she'll really be able to enact some change and help the people. She'll just pay this little indiscretion forward.
As for convincing the Chief of Staff to call off the President's order regarding Tae-joon's resignation, Minister Yoon has a way with sweetening the pot: Now that Tae-joon lost to him in their little spat, he'll be under his thumb, which means the Chief of Staff can use him to control the prosecutor's office.
All of the bigwigs in the supreme prosecutor's office, which includes Jung-hwan and Ho-sung, are called to a meeting between the Chief of Staff, Minister Yoon, and Tae-joon.
There, Tae-joon apologizes demurely for causing the Blue House trouble while the Chief of Staff waves it off as him just doing his job. He also dispels the rumors that Tae-joon will be resigning, citing the two-year term of office mandated by law. (But one they were totally willing to bypass when it suited them.)
Ho-sung just looks at Minister Yoon with a mixture of sadness and disgust, knowing full well what had to go on behind the scenes for this little dog and pony show to happen.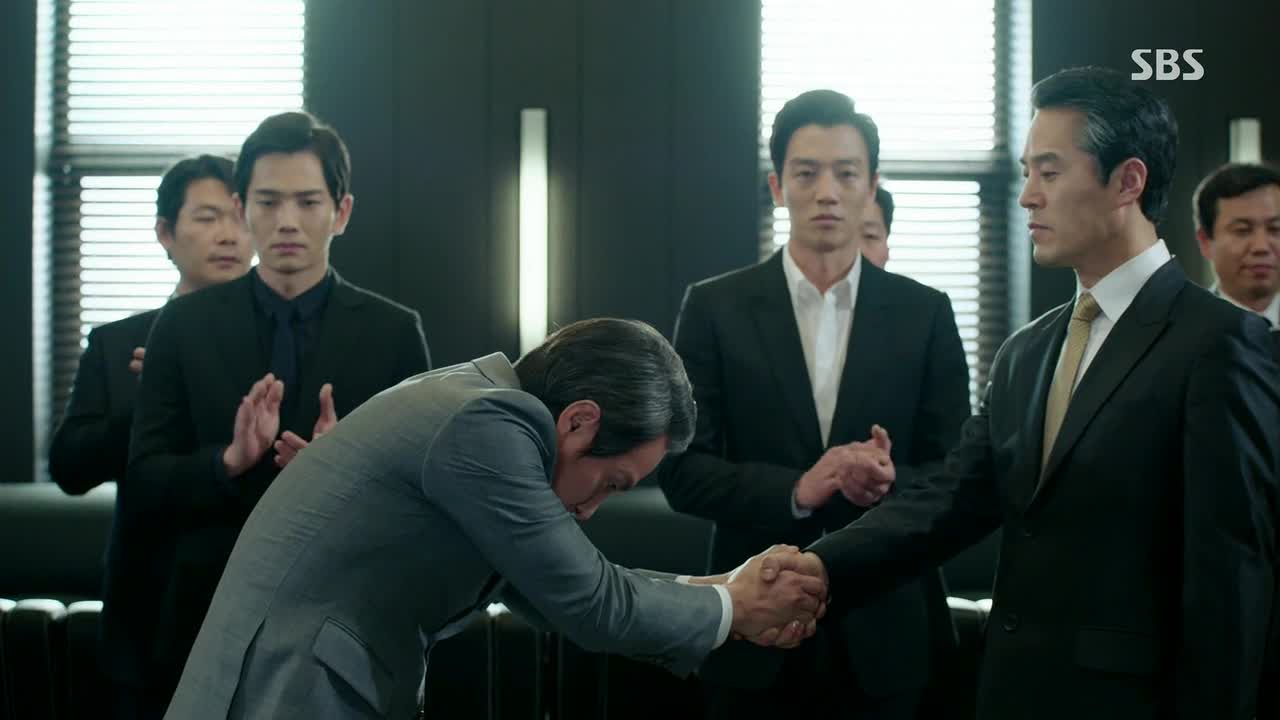 Jung-hwan just keeps his poker face on as the Chief of Staff and Tae-joon officially make up, leading Tae-joon to eagerly bow and shake the man's hand in gratitude for allowing him to keep his job… but there's more than that in his expression, which he hides from everyone else.
A separate office meeting is immediately called by Jung-hwan, where he instructs the prosecutors to start over with the investigation into the Chief of Staff's daughter. Ho-sung stands up to contradict that order and close the case—this coming from Minister Yoon and Tae-joon.
Once all the others have scurried out, Jung-hwan asks Ho-sung how many times he's heard Minister Yoon's excuses, since he's clearly back on her team despite the about-face she did with Tae-joon.
Ho-sung compares his situation now with the one Jung-hwan faced seven years ago, when he took Tae-joon's hand: "I'm going to the end with Minister Yoon Ji-sook."
Jung-hwan responds by punching Ho-sung square in the face—and Ho-sung, in keeping with his personality, just takes it.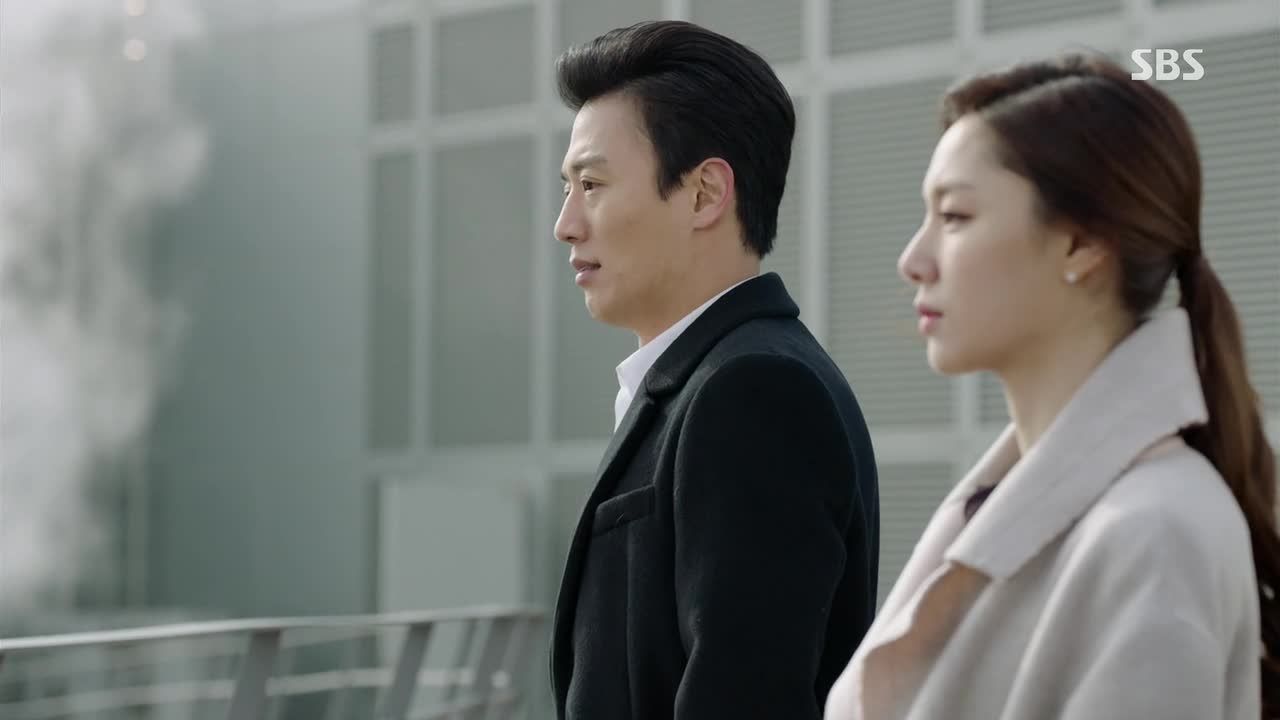 Yeon-jin knows what a blow this has all been to Jung-hwan, and has to be the bearer of bad news when she shoots down every avenue he brings up to possibly take Tae-joon down, since those in power have already predicted his moves and taken care of things.
They're out of clues to investigate Tae-joon and/or Minister Yoon, she says. "If it were anyone else, I would have told them to give up. But I know you," she adds.
Even though she's never seen him blocked in like this, she'll wait for his call when he figures out a way like she knows he will. But before she leaves, she has one more thing to say: "Happy birthday." It's his birthday?
Ha-kyung hasn't forgotten, she's just trying to prepare the enlistment fraud case for Jung-hwan as a birthday present. Meanwhile, Ye-rin presents her dad with a birthday cake while offhandedly mentioning how many vitamins her grandmother bought because she wants to live a hundred years.
This brings tears to Jung-hwan's eyes, since he'd told Mom to live that long so she could witness Ye-rin's life and relate it to him in the afterworld. "You have to live to be one hundred too," Ye-rin adds. Sadface.
But when she bids her father to blow out the candles, he asks if they can watch them burn for just a little longer. This is the last birthday cake he'll ever see, after all.
Ha-kyung presents her gift to him in the form of a presentation showcasing Minister Yoon's son, and his being assigned to the enlistment fraud case. Jung-hwan may be feeling defeated but she won't let him linger there, knowing that this is their only way to get to Minister Yoon now.
Contrary to what he thinks, she wants to take her former idol and Tae-joon down for herself—because after Minister Yoon had Jung-hwan arrested seven years ago, Ha-kyung had tried pleading her husband's case to her only to be reminded that the law gives no special treatment.
Now that she knows Minister Yoon said that through a hypocrite's mouth even then, she's determined to sink the metaphorical ship Minister Yoon is now sailing on. And because Tae-joon boarded with her, he'll go down too.
"I want to show that to you before you leave this world," Ha-kyung says. "That's my gift to you."
Jung-hwan is interrupted when Yeon-jin calls from a meeting between Tae-joon and Minister Yoon so he can listen in. There, she tells Tae-joon of her plans to show the people her leadership skills by becoming the prime minister, which she can then use as a jumping-off point to become president.
He still doesn't see where Ha-kyung can go with the investigation since the broker is long gone, but she's found the connection that ties them all together—the doctor the broker used to write men out of military service.
There's just one problem: he's suffering from late-stage dementia and has only days to live. Jung-hwan visits in the hopes that he'll be able to catch him in that brief period of lucidity dementia patients can have before their hour is up, but notices something much more troubling when he glances at the doctor's family portrait…
…He's Dr. Mechanic's father. Jung-hwan pays him a visit not to talk about his involvement with his sister (which has ceased since their last chat), but because he knows now that Dr. Mechanic stepped down in the face of a malpractice suit so as not to become like his father.
That certainly makes Dr. Mechanic's sacrifice that much more admirable, and Jung-hwan calls on that trait within him when he gives him his card—if his father regains consciousness enough to speak, he wants to be notified.
Now that the prime minister's seat is open thanks to a debilitating illness, Minister Yoon throws her hat into the list of nominees, and is among the final three to be presented to the president.
She's just waiting for the phone to ring appointing her to the position, but another nominee is called instead… and Tae-joon is there when he receives the call. Is he screwing her over?!
No, as it turns out—he's helping her by coercing the nominee into declining the position. But he doesn't have to like it, as evidenced later by his violent outburst on an unsuspecting plant.
After taking a look at Jung-hwan's most recent medical report, Hyun-sun all but begs her brother to consider hospitalization, that way he has a fighting chance of at least making it to Ye-rin's first day of school.
But as usual, he refuses to lie in a bed until he shuffles off this mortal coil, though he fully plans to tough it out long enough to see his daughter's first school day.
He then asks Hyun-sun about the seon (marriage date) he set her up on, adding, "I hope you can stand in a place where others can't dismiss you, and live your life without dismissing other people. You and Ye-rin both."
Minister Yoon takes Tae-joon to task when the only other nominee gets featured in the press, and is further incensed when he's already considering the race lost on her end.
She has to remind him that he still has his title because of her, and wants him to take the nominee down by exposing his son for enlistment fraud. Even Tae-joon has some scruples with sending the man's son to be tried by her son when he committed the same exact crime.
Plus, the nominee helped him when he was running for office, and he doesn't want to rock that boat. But he's not given much of a choice when Minister Yoon makes it an order.
Tae-joon relates this whole exchange to Kang-jae in prison cordially, but his true feelings become known after he mentions Minister Yoon's long and impressive lineage of lawmakers and politicians: "I didn't live my life to become a butler for a rich family's daughter."
He takes Kang-jae's advice against making a rash move on Minister Yoon while simultaneously reminding him of the promise he once made that he'd forgive him once if Kang-jae ever betrayed him.
Now he wants Kang-jae to keep his promise to create an opportunity for him to bite back at Minister Yoon, but knows that he has to be a free man in order to do it. He'll have him out in less than a week.
Because of Tae-joon's intervention with the other nominee, Minister Yoon finally gets the call asking if she accepts the official nomination to become prime minister. She plays the innocent and overcome flower by asking for some time to think about it all while grinning madly to herself.
Just when they're about to give up on their near-comatose break in the case, Dr. Mechanic calls Jung-hwan to tell him that his father's regained consciousness and has less than an hour left. He wants his father to repent before he dies.
Unaware that Ho-sung has followed him to the hospital, Jung-hwan heads for their room, only for an ill-timed and piercing headache to bring him to his knees. That's some Dr. Jin brain fetus-esque timing right there.
The doctor, knowing he's running out of time, expresses his hope that the prosecutor comes in time for him to confess his sins…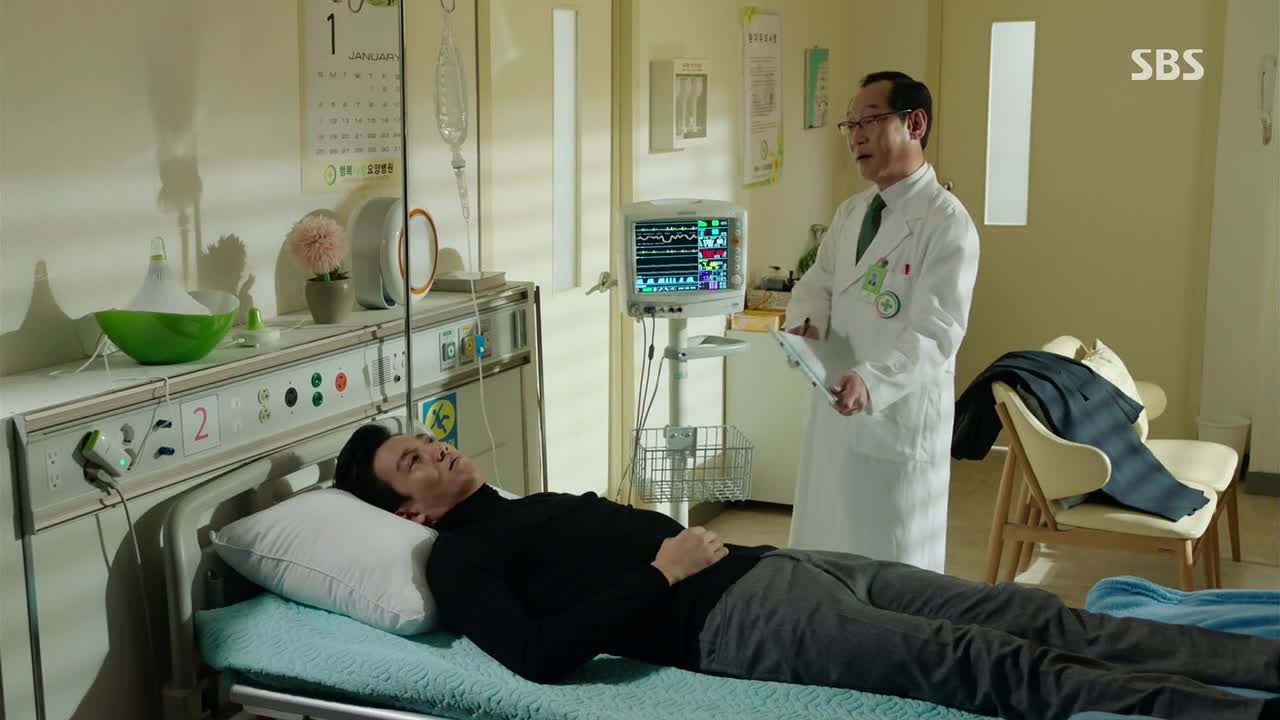 …But he dies ten minutes before Jung-hwan regains consciousness in another hospital room. Ho-sung, meanwhile, pieces together what Jung-hwan was hoping to accomplish.
Jung-hwan escorts himself out of the hospital, and in doing so passes by a television blaring news about Minister Yoon accepting the position of Prime Minister. He responds by punching(!) the screen.

COMMENTS
This really wasn't Jung-hwan's episode, was it? I'm more impressed with his poker face than ever before, because he really got the metaphorical crap beaten out of him by the competition this time around—and he tried so hard, too. What's worse about the losses he sustained in his fight for (some kind of) justice this hour is that they backfired so badly that they made his ultimate goal seem unattainable in this lifetime, much less the meager month he has left.
I legitimately felt dread when Tae-joon promised he'd spring Kang-jae out of prison, since that'd just be it for Jung-hwan. Game over. The end. But I also couldn't help feeling sorry for Tae-joon either, which is always such an odd and interesting place to be with him. Yes, his prison is of his own making, but there was something relatable in the way Tae-joon found himself adrift and alone in his hour of need—maybe it was because he recognized exactly what was happening to him and why every single step of the way.
Tae-joon knows the way the world works by now, but running to his only friend that he himself put in prison only served to prove what a sad and sorry little man he is underneath all that ambition. And that, at his core, he shares in the universal desire for companionship despite his tendency to use his friends as human shields. I absolutely loved his prison chats with Kang-jae for showing Tae-joon's honest surprise at Kang-jae's enduring loyalty despite everything—he's so in tune with the kind of snake he is that he knows better than to expect kindness to come his way, which is why receiving it was enough to bring him to tears.
It's that kind of innate understanding when it comes to people and relationships that makes Punch one of those shows to watch closely, especially when the acting performances are as nuanced as they are here. I admit to initially discounting Kang-jae after he was shipped off to prison, but found that it made more sense for him and Tae-joon to still have residual bromantic feelings for each other after twenty years of being each other's confidantes. Sure they've both tried to ruin each other's lives, but a friendship like that doesn't just dissolve into a puff of smoke at will. It's not enough to make me like Kang-jae, but for now I like what he provides for Tae-joon. Even if neither of them deserve a kind word for the rest of their lives.
And as much as I can't stand Ho-sung of late (or ever), I wonder if he had a point in comparing himself to the Jung-hwan of seven years ago, and whether Jung-hwan realizes and accepts that comparison as fair or rejects it outright. Because this is the same sort of nonsense Jung-hwan would've been pulling several weeks ago, only with more finesse and less resting sadface, and it would be interesting if Tae-joon is the only one of the bunch with the ability to self-reflect. Then again, just having that ability means very little when he very willingly doesn't do anything to change it, so I suppose Jung-hwan would still win in the morality department if the two had to measure their pogo sticks. But that would preclude Tae-joon giving a frying chip about morality in the first place, which isn't so much a far-off concept to him as it is an unwelcome pest.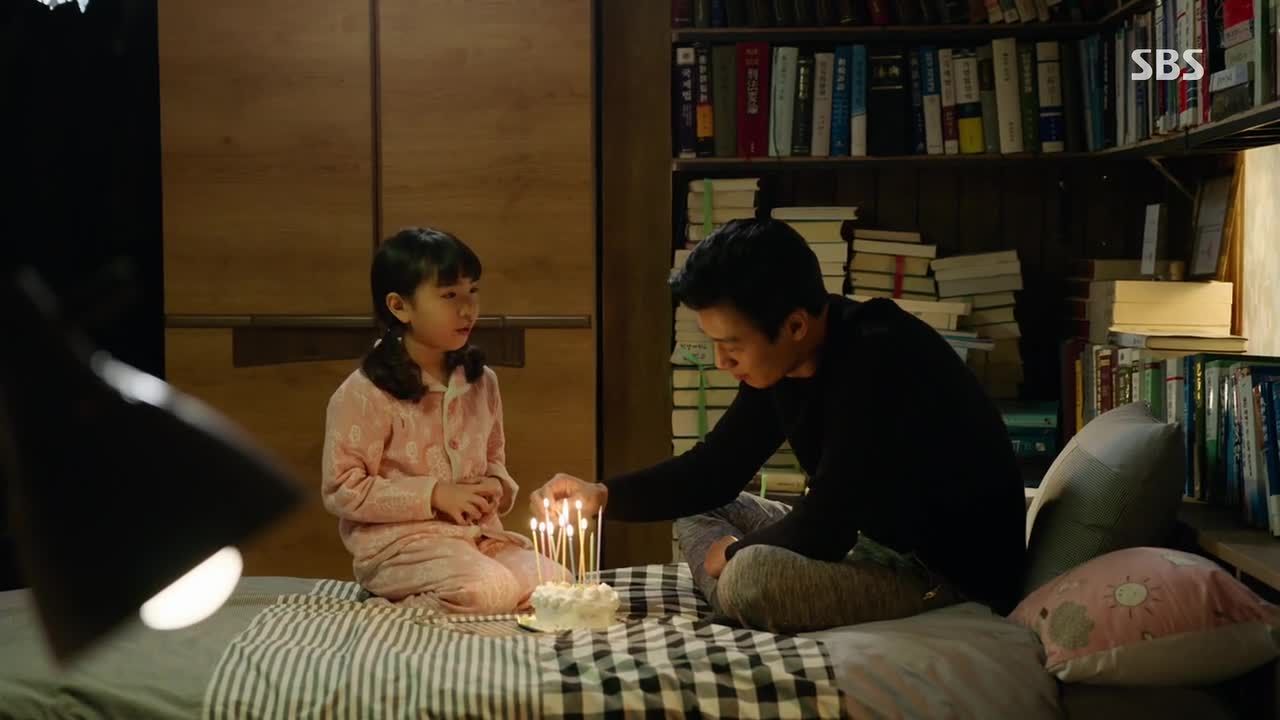 RELATED POSTS
Tags: featured, Jo Jae-hyun, Kim Ah-joong, Kim Rae-won, Punch