Running Man: Episode 230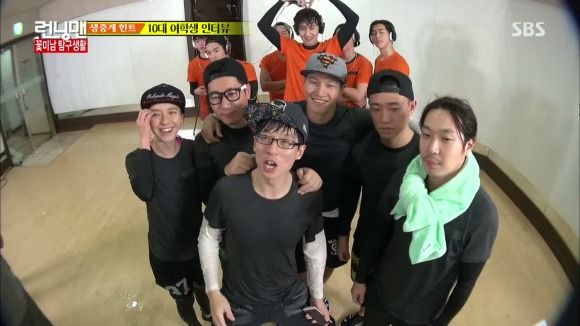 Life as a teenager is hard enough, even without the pains and sufferings that come with unrequited young love. So it's back to school for our cast and guests to sympathize with the hearts of teenage girls everywhere in their heartache. Harboring a secret crush is never easy, but everyone's been through at least one in their own lives—these guys just need to figure out which one of these seven answers are the one this generation seems to be struggling with the most. And don't worry Leader Kwang-soo, we love you, too.
EPISODE 230. Broadcast on January 18, 2015.
Welcome back to Running Man High, where we introduce our newest students: Seo Kang-joon (What's With This Family), Hong Jong-hyun (Dating Agency Cyrano), Choi Tae-joon (Mother's Garden), Nam Joo-hyuk (Surplus Princess), and Seo Ha-joon (Only Love).
Their leader is none other than our Asia Prince Kwang-soo, who soaks in the morning sun reading fanmail. When one fan asks him to relay her love for Jae-suk, he crumples the letter angrily.
Our other six cast members aka sunbaes are taken aback by the flower boy hoobaes, and both the writers and Ji-hyo can't help but blush with happiness. Our rookie actors introduce themselves, and Haha shouts that he hates baby-faced models like Joo-hyuk the most.
So it almost goes without saying that today's teams are split between Sunbaes vs. Hoobaes. Kwang-soo immediately orders his boys to give their New Year's greetings to their sunbaes, then Taek PD briefs them on today's race of investigating the lives of male students.
The teams will battle it out in today's games to acquire hints, and ultimately answering the question of what male students are most curious about. Jong-kook: "Aren't they most curious about female students?" Today's victors will be the team that correctly guesses the number one answer to a survey question asked of teenage girls.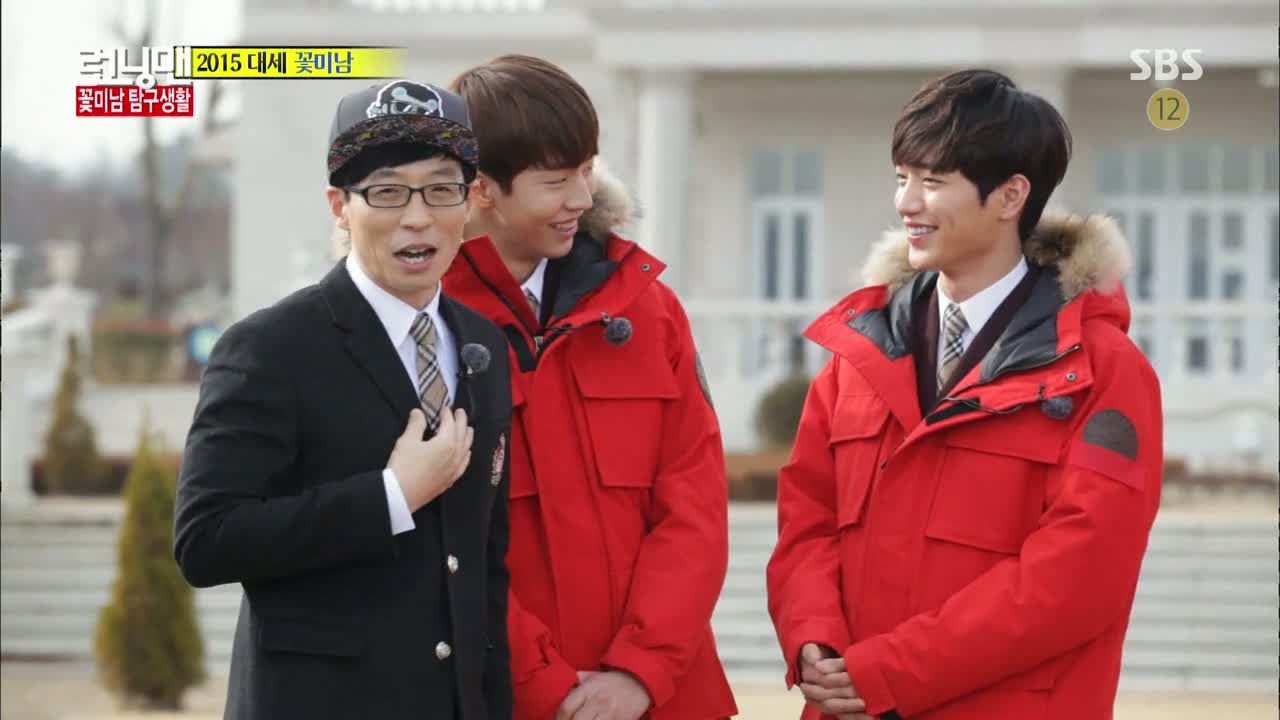 After deciding to review some questions about the topic of dating, Jae-suk turns to his guests, saying that some of them must be dating. Joo-hyuk catches onto that hook with an involuntary "Yes" (that he was listening). And when Kang-joon is asked who he's referring to when he replies that he sometimes questions his interest in a girl when she smile, he adds that it was back in his school days. Smooth.
You'd think the boys would learn that it's wiser to remain quiet instead of giving an answer that could potentially drive them into a corner. Like when Ha-joon says when girls have a maternal vibe and the others tease him for preferring older women. And being the variety newbie that he is, he honestly answers yes, he's dated an older woman before. Welcome to variety—it ain't easy.
Still, I'm sure the rookie actors will learn that despite being teased, a funny or memorable moment can increase their chances of airtime exposure. Tae-joon guesses the top answer ("When a girl shows skinship unthinkingly"), which means Kwang-soo gets ignored since the answer is out now.
Not letting the moment pass, the cast publicly announce that Kwang-soo's Achilles' heel is a girl who slightly ignores him, then caresses his hair (Kwang-soo fans, take note). The teams are briefed on the question that they will need to answer today: What was the most difficult moment you've experienced in unrequited love?
Everyone believes the answer's pretty obvious, but it's multiple choice with seven choices in all. I love that the show has visual examples to all of these various choices, like the pseudo love-triangle between the Monday Couple and Shin Mina.
Jae-suk asks the guests if they've ever encountered any of these situations, only to retract his question, all, These flower boys would never have had to go through this kind of pain!
In the van, Jong-kook shares of how he liked a girl from another school who rode on the same bus as he did for three years. Mention of that naturally leads to when singer Chae Yeon confessed on X-man that she used to crush on Jong-kook yearrrss ago (in the Dangyunhaji "Of Course" game).
Ji-hyo says that chivalrous behavior usually makes girls' heart aflutter; she acknowledges that Jong-kook falls into that category, which sparks Suk-jin to say that Jong-kook's the coquettish, flirtatious one when it comes to girls. Ha, you're talking about the man who clams up in front of beautiful women?
In the other van, Jong-hyun thinks that one answer ("When that person draws the line at friendship, 'You're a good friend,'") ultimately saves one from prolonged heartache by setting clear boundaries. A few others think that they'd be greatly shocked if their teenage crush like their good friend instead of them, and Jong-hyun adds that their crush seeking out love advice from them would hurt, too.
Maknae Joo-hyuk says that teens don't know what it means to give up, and when he refers to a childhood unrequited love in elementary school, Kwang-soo retorts, "Do you wanna get hit?" In Joo-hyuk's case, they ended up dating after three long years of his one-sided love.
Kang-joon's unrequited love never came to fruition since he couldn't ever confess his feelings. Kwang-soo, however, is certain that they allll would have succeeded if they confessed their feelings to the other person.
So when Kwang-soo shares that all of their flower boy guests have unrequited love stories to tell, most of them end up nodding that yes, it still worked out in the end. That gives the cast more reason to believe that their guests' good-looks work in their favor. Remember that story about Joo-hyuk's successful three-year-long one-sided crush? Yeah, they "dated" for a grand total of 50 days. Hahaha.
Haha swoops in to support their guest, adding that he also "liked" Park Kyung-lim for some time (another reference to the X-man days). Anyway back to the game: It's a water relay race where a member from each team will run towards the platform in staggered times and try to push off the other team. The team with the most members standing in the end, wins.
Kwang-soo's leadership skills surprise his hyungs, who teases him for looking far older than his younger teammates. He and the other hoobaes start stretching only after the Sunbaes do, and then it's time to start.
This game starts off with a bang when Jong-kook is sent out to face Ha-joon, the latter of whom gets eventually thrown off. After another hoobae goes flying, maknae Joo-hyuk practically runs right off the platform.
The Sunbaes are leading 4:0 after Kang-joon twirls off the platform, and Jong-hyuk manages to push Haha off before he falls in, too. So it's down to Kwang-soo… who runs straight into the pool.
The Sunbaes win the first round (the first to win three rounds win), so Kwang-soo leads his boys to beg their sunbaes to reset the game to 0:0. They grant it, as well as sending weakest link Suk-jin out first. Insults to his team incites Kwang-soo to push Jae-suk into the water, only to be pushed in himself.
The Hoobaes gather together to strategize how to take on Jong-kook, and the boys object to sending their ace player Kwang-soo out first. Kwang-soo doesn't know what to do with himself at the adoration and praise, and Tae-joon keeps feeding him with compliments.
So it's Round 1 Redux, and as it turns out, Suk-jin is a stronger opponent than the Hoobaes expected. Both Big Nose Hyung and Ha-joon fall into the water, and a few opponents later, Kang-joon helps turn the tables over for his team.
Jong-kook pushes off his opponent right away, only to fall into the pool himself. So does Kang-joon, which leaves Joo-hyuk and Kwang-soo to take on Ji-hyo. She goes straight for the butt and clamps down with her teeth.
Ji-hyo also gives a little kick to Kwang-soo's family jewels (owww), and then all three of them end up in the water with Kwang-soo falling in last. That's how the Hoobaes win the first round, and the Sunbaes win the second round (the picture-in-picture shows us that there was some serious biting going on).
The Hoobaes hold another strategy session before their next round. Joo-hyuk runs out a few seconds too late, but pulls Gary into the pool with him. Tae-joon manages to hold off Jong-kook until more help arrives, and once Spartakooks is in the water, the hoobaes use the slippery surface to their advantage.
By the time Kwang-soo and Ji-hyo join in on the 3:3 brawl, there's a mountain of struggling bodies. A little later, Jae-suk and Suk-jin are fighting off the hoobaes, and a good long fight later, it's Ha-joon who stands in victory.
Feeling humiliated, the Sunbaes ask for another round, to which Kwang-soo agrees to… only if the Sunbaes give up their seniority if they win. When Jae-suk agrees, Kwang-soo tries out his possibly new authority by pretending to slap Jae-suk. Reminding him that the seniority sunbae status only comes after a victory, Jae-suk returns the favor in kind under the guise of checking Kwang-soo's mic.
However the deal remains that the Hoobaes will take the seniority status only if they win. In the spirit of petty rivalry, the teams try to one-up one another in their cheers. Jong-kook is sent out first and pushes his opponent off easily. The next hoobae doesn't stand a chance either, so all the hoobaes get down on their knees apologetically.
Ha-joon does the smart thing of aiming for Jong-kook's legs so he trips, and when he falls, he makes sure to bring down Kookie with him. Ji-hyo briefly falls into Jong-hyun's arms, then he and Kwang-soo take on the rest of their opponents.
After Haha and Kwang-soo are eliminated, Jong-hyun is fighting a losing 3:1 battle. Try as he might, he gets pushed off, giving the Sunbaes the win.
The Sunbaes' first hint allow them to ask two different groups of teenage girls and women in their 30s the overarching question they're hoping to answer. The Hoobaes, on the other hand, are only allowed to speak with the women in their 30s.
Ha, the girls are more excited to see the pretty Oppas than the cast. One of the girls replies that she gets upset when her crush updates his Facebook while ignoring her text, which falls into one of the answers ("When that person purposely treats me like I'm invisible."). Another girl's crush asked her to draw him and his girlfriend, and there's a lot of rage building amongst the girls.
The Hoobaes have headphones on (since they're not allowed to eavesdrop) but they try and step forward to listen in anyway. The girls are asked to pick their number one answer, and they chime that it's when the guy tells them that he just wants to have a friendly oppa-dongsaeng relationship.
Everyone gets to speak with the women in their 30s, whose answers fall more into thinking of their crush all day or when their crush likes one of their friends. The Hoobaes try asking if those are similar answers to the teenage girls, but the Sunbaes don't fall for it.
Kwang-soo praises Tae-joon and Ha-joon in the car, telling Joo-hyuk that he looked as light as a feather flying off that platform. Ha-joon thinks that thinking about the person you like 24/7 also happens when you're in love, and Jong-hyun thinks it's either being treated like you're invisible or when the crush seeks you out for love advice.
The Sunbaes share their past experiences of crushes telling them that they just want to be friends. Haha says he was rejected once, then played it off by saying that was a lie. Aw, but Jae-suk was told to "get lost" when he confessed his feelings to someone in his 20s.
Our teams gather again in front of a hill that winds up to the top. Here they'll be running a relay race where one must succeed the mission at the top to win. The failing team, however, will run the course again from the beginning. At least they don't have to climb 22 stories (or more)?
The flower boys are determined to turn the tables in this race, and the teams get into position. It's cute how Jong-hyun and Jong-kook reminisce about how strong Jong-kook was earlier. Gary and Kwang-soo start things off, and dannnggg they're all fast.
Ha-joon pulls ahead of Suk-jin, but it isn't long before Jong-kook closes in on that gap. Up and up they go, winding up the hill, and it's Kang-joon who arrives first. The mission here is to throw and catch five gonggi (think: jacks) successfully. And while Jae-suk fails, Kang-joon catches it the wrong way and drops a couple. Haven't you ever played with gonggi before, Kang-joon?
So it means they all have to run again, and Suk-jin says he'll be anchor so that he doesn't have to run as much. All this talk has me thinking that it'll be a different mission at the top, and I'll find it hilarious if all this talk of strategy is for naught.
Seeing everyone dash at top speed has Jong-hyun in awe of the Running Man cast's stamina. Suk-jin tells him that their improved health comes with the program when they've been running for four and a half years.
Ha, so it is a different mission at the top, where they'll need to flip two coins on a textbook. Suk-jin flips one while Jong-hyun's still preparing, then they both flip their second coin simultaneously…
… and we hear Suk-jin cry out in victory. Furious, Kwang-soo asks where the baton is (since he said the guy who lets the ball drop will get scolded). The teams get a chance to enter the Answer Box, basically a container with 10,000 notes plastered inside its walls.
The note whose contents appear the most is their number one answer, and there's also one lucky eraser sticky note that will get rid of one answer. The Sunbaes use up their allotted 60 seconds in a flash, and when the Hoobaes head inside, it's Kwang-soo that finds that one lucky sticky note.
The Sunbaes all have different possible answers in the car, and to the Hoobaes' luck, they run into a few teenage girls. One of them says she finds it most difficult when her crush is super popular, to Ha-joon's surprise. The others give different answers too, adding to the confusion.
We cut away to the final mission station where both teams are busy looking for something. It turns out they're looking for beachballs that have the seven answers written on them. Throwing the right answer into the basket will give their team the win—getting it wrong means elimination.
Tae-joon ends up falling for the hyungs' trap of passively telling them a hint, and Kwang-soo has to tell him to keep quiet. While his hyungs don't even know where to begin, maknae Joo-hyuk surveys his surroundings before grabbing his first ball. He almost walks into a dead end and matter-of-factly says that trying to look cool on TV doesn't always work out. Aw, but you're adorable.
Jae-suk is cornered soon after he finds his ball, then Ha-joon takes off with it. He only checks it once he's in the clear ("When my crush asks me to set them up with my friend,") which is the one answer they told isn't number one.
Now they have to make sure to give it away without drawing too much suspicion, but then Tae-joon takes off with the ball, looking for a basketball hoop. Oh no, don't get yourself eliminated!
He seems so confident about it, only for his own name to be announced. So that's Mistake Number Two for the poor fellow, and Kwang-soo comes flying down in a rage.
Elsewhere, Jong-kook thinks that the answer "waiting for that person to call when I don't have to the courage to" might be the most likely answer. And that's the ball Jong-hyun finds. Gary finds the one where it says "when that person seeks me out for love advice" that also seems like the answer.
So Haha takes one for the team by trying that one out, and his name is announced moments later. Haha: "What's crueler than this?"
When Kwang-soo's certain that the "when I think about that person 24/7" isn't the one they're looking for, his dongsaengs encourage him to try it out. Kwang-soo tries to pull rank, only for them to say that his days as a leader are over.
HAHAHA, so they do the next best thing by dragging Gary towards the basket, forcing his hand to place the ball in the basket. Gary's elimination dwindles the Sunbae's numbers to four, and Jae-suk says having to wait for a call is the worst, sharing how he was told the details of a commercial shoot but was never contacted again.
Joo-hyuk runs to try out his "when that person treats me like I'm invisible" ball, the answer Kwang-soo thinks is right. It isn't, and Jong-hyun has the "waiting around for a call" ball in his hands.
He takes off running, and then slam dunks the ball into the basket. And this time it's right, giving the Hoobaes the win and shiny gold rings to show for it.
RELATED POSTS
Tags: featured, Haha, Ji Suk-jin, Kang Gary, Kim Jong-kook, Lee Kwang-soo, Running Man, Song Ji-hyo, Yoo Jae-suk