Sequels pushed for TEN, Vampire Prosecutor, but look to spinoff series instead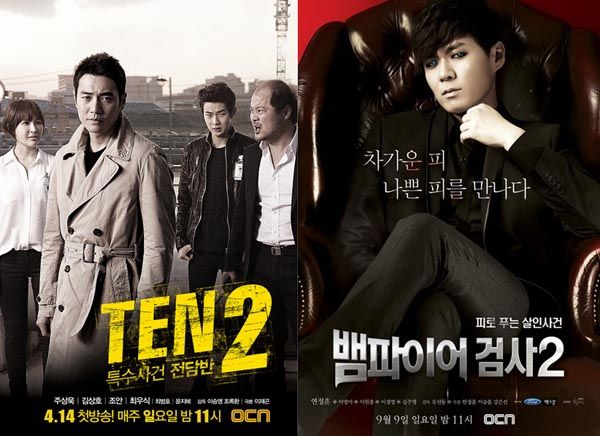 So, good news and bad news about two of OCN's highly anticipated sequels. In light of the movement on OCN's upcoming thriller Special Missing Persons Task Force M (or just M), with casting proceeding with Kim Kang-woo, Park Hee-soon, and Jo Boa, the cable station has announced that Special Affairs Team TEN won't get its third season this year. And neither will Vampire Prosecutor.
Both dark, stylish crime thrillers have been hinting at sequel seasons ever since they went off the air, and fans have been hoping for positive news ever since Vampire Prosecutor 2 wrapped in late 2012 and TEN 2 in mid-2013. To look for a silver lining, however, both sequels are still on the table, according to an OCN rep's statement on the 28th, and that's frankly more hope than I had for a Vampire Prosecutor 3 (even though that ending! It's just screaming for a follow-up!).
I'd say TEN 3 looks likelier of the two at this point, but we're looking at 2016 at the earliest, since its director will be tied up working on M. I'd sort of given up any expectation of getting a VP3, but on the upside, that franchise's producers are currently working on a spinoff series titled Vampire Private Investigator. No word yet on what that's about… but lemme guess. There's this vampire. Who investigates stuff. I'm gonna say he's hot and broody. It's OCN, so there'll be blood, flashy action, and a whole lotta style. Sign me up.
M will premiere in March as a 10-episode mystery thriller. Vampire Private Investigator will come later in the year.
Via Osen
RELATED POSTS
Tags: cable programs, sequels, Special Affairs Team TEN, Vampire Prosecutor, Vampire Prosecutor 2