Spy: Episode 4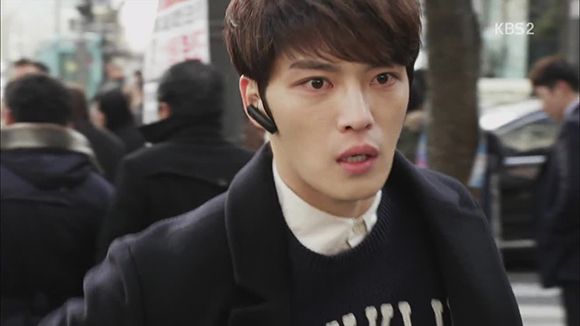 What a tragic family situation, but at least it's one born out of love. Mom has to do the unthinkable in spying on her son, but soon finds that her foe is a more formidable opponent than she'd initially given him credit for. Her dilemma is still the same, only much more pronounced this hour—in the act of protecting her son, could she be harming him as well?
Ratings-wise, KBS knew it was taking a chance with its experimental format, though the steady downward trend in ratings might not be the feedback it wanted. Still, it's not like Spy is tanking at 5.9%, even if it has fallen from the 8.5% netted during its premiere.
SONG OF THE DAY
Gummy – "갈 곳이 없어 (Nowhere to Go)" from the OST [ Download ]
Audio clip: Adobe Flash Player (version 9 or above) is required to play this audio clip. Download the latest version here. You also need to have JavaScript enabled in your browser.

EPISODE 4 RECAP
After Ki-chul agrees to let Mom do the spying in her son's stead, he gives her a few tasks to complete as a way to test her loyalty. They all involve Sun-woo, as she's to report to Ki-chul everything her son does or says—especially when at work.
Mom would rather get straight to the point, and asks Ki-chul what he wants from her son. "We don't want anything from Sun-woo," he explains cryptically, insinuating that he's too low in the rung for them to care about just him.
Ki-chul seems to take offense when Mom says that there must be some greater plan at work here, since the North wouldn't send a monster like Ki-chul down just to collect intel. "People change," Ki-chul replies. Just look at her—a North Korean spy turned South Korean housewife.
She's hesitant at first to take bugs meant for Sun-woo's computer and phone, at least until she hears Ki-chul's reassurance that nothing that bad will come from it.
But she's firm about refusing a trip down memory lane with Ki-chul, and shuts him down when he says they used to be close before Dad came onto the scene by admitting, "You've always disgusted me." She proves she's a force to be reckoned with when she deftly cuts a minion's cigarette in half while it hangs from his mouth.
Poor Dad can't even focus at work until he hears his wife is okay, while elsewhere, Chief Song calls a meeting after watching the footage of Sun-woo promising his help to Soo-yeon in exchange for information about the scarred man (via a hidden camera Sun-woo wasn't aware of).
Hyun-tae and Eun-ah are at the meeting as well, and it's hard to ignore the eagle-eyed stare Hyun-tae keeps sending Chief song's way, almost as though he's suspicious of him.
But they all listen to Sun-woo's plan to turn Soo-yeon into a double agent and send her back out into the field so they can learn the whereabouts and motives of the recent influx of North Korean spies, and then capture them.
Chief Song is suspiciously dodgy about all this, and insistent that they keep this whole matter within their tiny analytics team. When Eun-ah raises the point that this is a job for field agents, Song gestures to Sun-woo, an expert field agent (though recently demoted). He'll lend him some spare field agents if he needs help.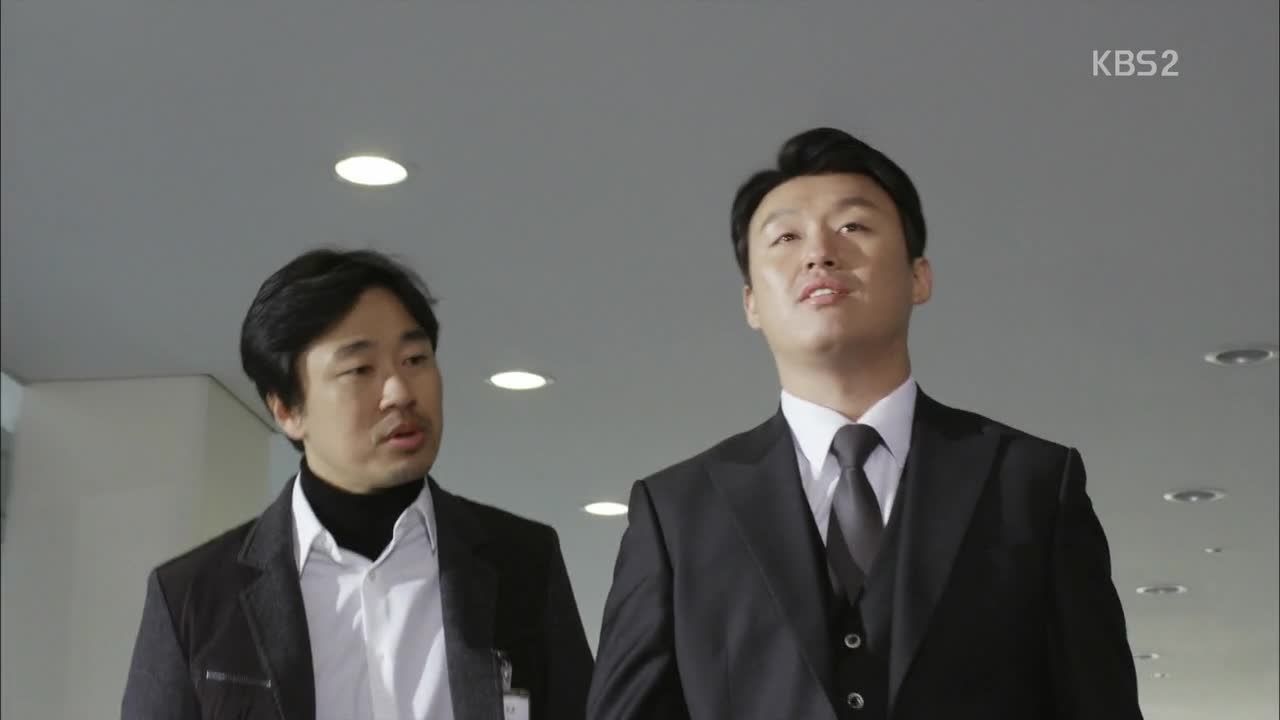 Now that Chief Song has left all the planning to Sun-woo, Hyun-tae brings up some concerns with him only to get yelled at in banmal. Hyun-tae's place isn't to think, it's to do what he's told until he's told to do otherwise.
While Sun-woo makes some sort of deal with someone in Chinese, Mom is flooded with guilt as she places bugs in his room. Staring at a picture of their whole family together, Mom cries, "I really tried my best. I thought… it was all over."
With Hyun-tae in the control room, Sun-woo broaches the double agent idea to Soo-yeon, who agrees as long as she can get enough money to resettle herself and her family abroad when it's all over.
Even though Hyun-tae is in his ear telling him not to promise anything, Sun-woo removes the earpiece and does the opposite by assuring her that they'll make sure she reunites with her family, unharmed. Soo-yeon's eyes are wide but trusting as she says, "I believe you, Kim Sun-woo."
She puts a call in to Ki-chul, making up a story about her absence before claiming that she has the money he requested and some intel about the Supervisor he'll want to hear. Ki-chul says he'll call her back with a time and place to meet.
When Hyun-tae asks Sun-woo why he added the Supervisor bit, Sun-woo answers that it was because his sunbae was curious about the man's whereabouts.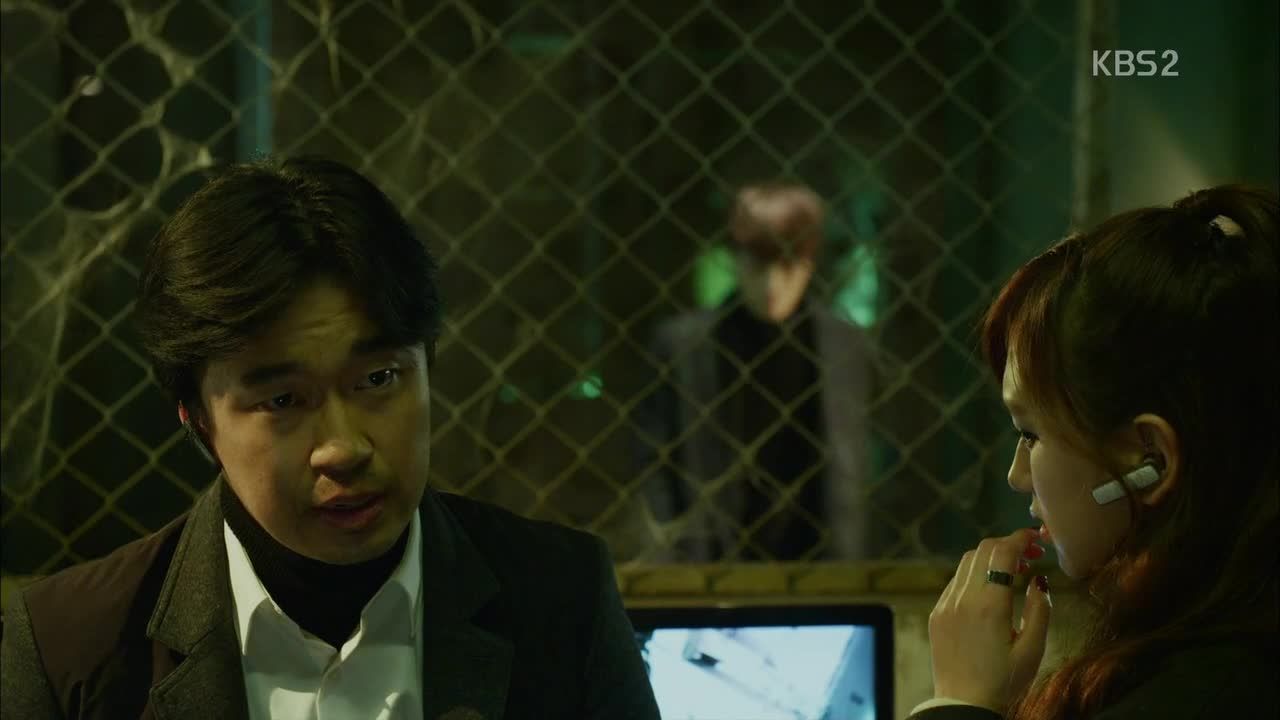 If Hyun-tae's secretly happy with him, he hides it behind a gruff exterior as he takes him to task for making promises to Soo-yeon he won't be able to keep. "I'm going to keep that promise," Sun-woo replies matter-of-factly.
Mom and Dad are nervous wrecks when Sun-woo comes home, knowing what they have to do. Sun-woo claims he's only stopped by because he had a break, but that he'll be returning straight to work. Mom works quickly to hack his phone and computer…
…While we get a shower interlude with Sun-woo. Go on, enjoy.
Dad stops Sun-woo from going back into his room before Mom is through with a bogus excuse, so that by the time he does go back, Mom looks as though she just came in to offer him a drink. I love their marital spy team.
The minute Sun-woo leaves, Mom and Dad follow in a rented car he won't recognize as theirs, using the tracker she put in his bag. They're kind of funny as nervous spies, especially Dad, who still seems to be getting a grip on this whole not-looking-conspicuous thing.
Of course, Mom's a little huffy when they follow Sun-woo not to work, but to Yoon-jin's house. Dad is the one who knows more about turning on the microphone placed in his bag, with the concession to Mom that it's been a while since she's had to use this stuff. (Shouldn't he be in the same rusty boat, though?)
What's even more surprising is that Yoon-jin's served Sun-woo curry, which Mom thought he hated. Dad tries to ease her frustrations by saying that people's tastes change, only for Mom to cross her arms over her chest: "Then he should have said so."
When things start to get a little steamy between the couple inside, Mom is quick to turn off the microphone. But then she decides that they have to listen because it's their mission… only to turn it right back off again when only kissing noises can be heard. Dad jumps out of the car for some fresh air. Awwwkward.
They're back to listening again when Sun-woo gets a call from Hyun-tae—apparently Ki-chul's named a time and location to meet Soo-yeon. Yoon-jin doesn't know the specifics, only that he has to go back to work, and laments the fact that he could get hurt when he was supposed to take a desk job.
This comes as a surprise to Mom, since it means Yoon-jin knew all about Sun-woo's job when she was kept in the dark. Meanwhile, Yoon-jin asks Sun-woo if he can refuse the job, but he can't when he made a promise.
She still doesn't want him to go, prompting Sun-woo to ask her if she trusts him. Since she claims she does, he promises her that he won't get hurt and that he'll call her when he's done with work.
Mom is concerned about whatever Sun-woo said was going down tomorrow, since she knows her son will be in danger if it involves Ki-chul. After Sun-woo calls her to tell her not to wait up, Mom turns to her husband with conviction as she says that she'll erase the bit where he talks about tomorrow before handing the recording to Ki-chul. She won't let what she does put her son in danger.
For whatever reason, Chief Song is against taking extra precautions for Soo-yeon's meeting, despite Sun-woo's insistence that making a mistake could put the girl in severe danger. Has no one but Hyun-tae noticed how shady this guy is being? (And who keeps moving the light back and forth? Is the key grip drunk?)
But in case we weren't sure about Chief Song's shadiness, we get proof when he holds a secret car meeting with Deputy Director of the National Intelligence Service JUNG KYU-YONG (Lee Dae-yeon) about his plans.
We don't know exactly what's going to go down, only that Chief Song is counting on making someone—likely Sun-woo—take the fall if tomorrow's plans go south. Man, everyone's got it out for poor Sun-woo, don't they?
Sun-woo's team accompanies Soo-yeon to a cafe they've taken over, preparing the fake money she's to give with a tracker as well as outfitting her with a GPS locater on her clothing.
Turns out that the man Sun-woo was talking to in Chinese and promising money to is a smuggler he charged with finding Soo-yeon's parents. Having done so, Sun-woo hands the phone over to her so she can talk to her mother.
Soo-yeon is overwhelmed with emotion, even though her mother tells her not to worry about them and worry about herself instead. Her mother doesn't know of her plans to get her out of the country, and when the call is cut off, Soo-yeon can only cry as she thanks Sun-woo.
He tries reassuring her that she won't get hurt because he'll be watching, and at the slightest hint of danger, he'll get her out of dodge. "Promise me you'll save my family," she asks, to which Sun-woo's response is the same: "I promise."
She makes him repeat himself multiple times to allay her concerns, even going so far as to say that she doesn't care what happens to her—she just wants him to save her family. Sun-woo promises to do so.
Soo-yeon is sent out to the public street where she's been told to wait, while Sun-woo monitors all the cameras set up as well as the field agents they've placed near her. He stresses to all of them that Soo-yeon's safety is their first priority, the mission second.
They've got a bug in Soo-yeon's phone that allows them to listen when Ki-chul calls her. He frightens her when he mentions the whereabouts of her remaining family, right before a conspicuous motorcyclist causes a car crash right in front of Soo-yeon.
In the ensuing chaos, Ki-chul appears before her as he asks, "Are they also going to pay the price for betraying a comrade?" Oh no. Oh no.
Sun-woo runs through the crowd and toward Soo-yeon, stopping dead when he reaches her and sees the pained expression on her face. He's able to catch her when her knees buckle beneath her…
Mom gasps in shock from her unseen vantage point nearby, receiving an angry call from Ki-chul just then: "I just killed your son's informant. Do you remember my promise? Your son is mine!"
Sun-woo calls for an ambulance as Soo-yeon coughs blood in his arms. "My family… my family…" she ekes out.
His eyes fill with tears as he watches her slip away, while Mom remains nearby, paralyzed.

COMMENTS
What did Mom think was going to happen when Ki-chul found out she wasn't doing as she promised? Then again, we'd be here questioning Mom if she had told him everything and put her own son in danger by doing so. There is no right or best answer in this scenario, so I feel Mom's pain at her own inadequacy, but at the same time I don't quite understand why Ki-chul is so dead set on getting his talons on Sun-woo either.
It seems like a foregone conclusion in dramaland that promises just don't keep when made by well-meaning characters, so the more Sun-woo assured Soo-yeon of her safety, the more assured her fate became. I'm still holding out hope that she somehow survives this since she's been a neat character to have around thus far. I'd even had hopes that she'd join Sun-woo's team somehow, since their ragged little bunch is starting to really grow on me. I wish they'd get more screen time together as a unit though, and without Chief Song looking like the lazy, uninterested uncle at the family meeting.
As we've seen with Soo-yeon, four episodes is enough time to establish a character as being relevant, so I'm left scratching my head a little as to why that hasn't happened yet with Yoon-jin. On paper there's nothing wrong with being the supportive girlfriend, but she's been the only character thus far to have the least impact on the plot. Which is to say, almost none. Aside from allowing for some funny scenes between Mom and Dad, Yoon-jin's part here could have been taken out and the episode would've been no worse off for it.
Speaking of, Mom and Dad continue to be adorable together, and the fact that they compliment each other in their team makes it all the better. Dad certainly is a bit mysterious himself, since we know little about how he and Mom came to fall in love despite her previous alliances, but it was cute how he knew how to do some of the things she'd forgotten. Methinks his former life wasn't spent languishing in an office like he is now, even though his bumbling nature doesn't seem to allow for the possibility that he was ever a super spy like Mom.
If Mom's afraid of what Sun-woo might think if she reveals her past, I hope she'll soon get over it, because imagining the three of them working together on the same team seems like a comedic goldmine just waiting to happen. Though we may not know why everyone and their mother wants a piece of Sun-woo yet, or even why his own superiors seek to destroy him, at least we know his mother has the skill set to kick some ass and take some names to protect him. If that cigarette-cutting trick was the appetizer, then count me hungry for the main course.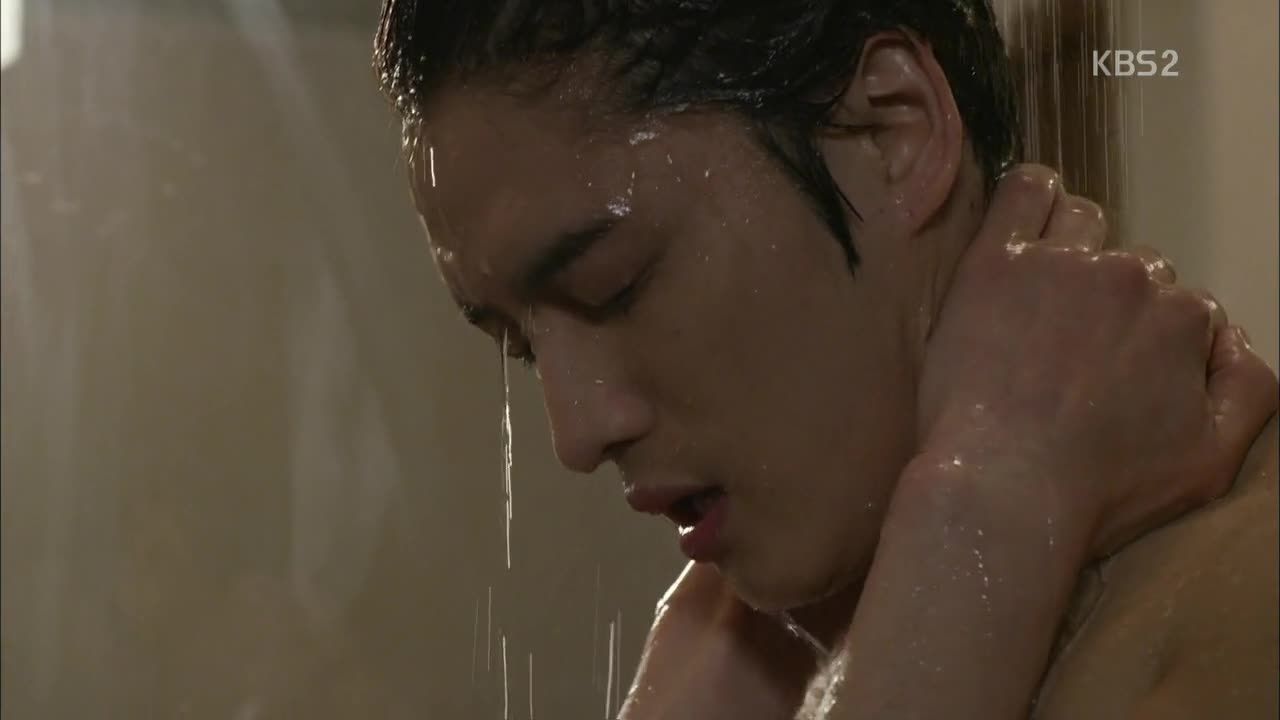 RELATED POSTS
Tags: Bae Jong-ok, featured, Go Sung-hee, Jaejoong, Spy