Spy: Episode 6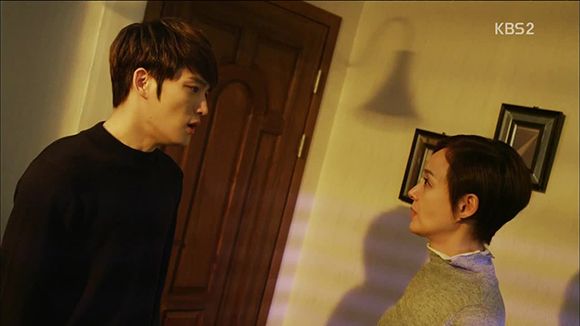 The relationship between mother and son comes to a head this episode, though surprisingly it's not just about Mom disliking Sun-woo's girlfriend over a silly thing like financial status. In this world of spies and espionage, Mom actually finds some solid reasoning to reject her son's true love—I'd give you a hint as to why, but if you've seen even one episode of this show, you already know. Hopefully it'll be Sun-woo's turn to find out soon; it's not like his whole job revolves around finding stuff out or anything.
SONG OF THE DAY
Jaejoong – "Just Another Girl" [ Download ]
Audio clip: Adobe Flash Player (version 9 or above) is required to play this audio clip. Download the latest version here. You also need to have JavaScript enabled in your browser.

EPISODE 6 RECAP
By the time Yoon-jin enters her apartment, Mom's gone, having escaped through the bathroom window. But that doesn't stop Yoon-jin from being extra careful and suspicious as she checks around, all while being on the phone with a mysterious caller.
Chief Song is singing a much different tune with Sun-woo than he was before, back when he was more than ready to throw him under the bus without reason.
But now that he needs something from Sun-woo's dad, he's all congeniality and fake niceties, claiming that he'll consider Sun-woo's request to help the late Soo-yeon's family—they have to help their informants if they want to keep getting information in the future, right?
So now that they're proper chums, Chief Song asks Sun-woo if he can contact his father about a hard drive he's got. Nothing serious, of course. Sun-woo, just wanting someone to ensure Soo-yeon's family's safety, agrees.
After a bout of friendly bickering between Hyun-tae and Eun-ah, they're able to comb through the CCTV around the time of Soo-yeon's murder to find a suspicious figure (who they can't tell is Ki-chul) entering an equally suspicious van.
Before he did though, they can see him throwing something away in a dumpster. Hyun-tae heads out immediately to find it with Sun-woo in tow, and they find the murder weapon—a poison pen.
Dad is heading into a meeting when he gets a call from Chief Song, who introduces himself as a coworker of Sun-woo's in need of some help. Some secret, unofficial help with cracking his super secret hard drive.
What he doesn't know is that Dad knows who he is, so of course Dad is more than happy to offer his help. After they hang up, Dad all but cheers, since this will provide them the perfect opportunity to fulfill Ki-chul's request and bug Chief Song's phone.
Even though Ki-chul is just a human-shaped shadow on the CCTV footage, Sun-woo can't help but think back to the scarred man who confronted him directly after the accident.
Eun-ah tries telling him it's no use and that identifying the man will be a slow process, but Sun-woo claims to have met the mysterious person before and asks her to check the car's license plate.
She whines, unwilling to go that extra mile for work, while Sun-woo proves to be no help when he even takes her coffee. But who can say no to that face?
Dad tells Mom about how their job just got easier now that Chief Song contacted him first, though she wonders if he'd even bring his phone with him to the meeting.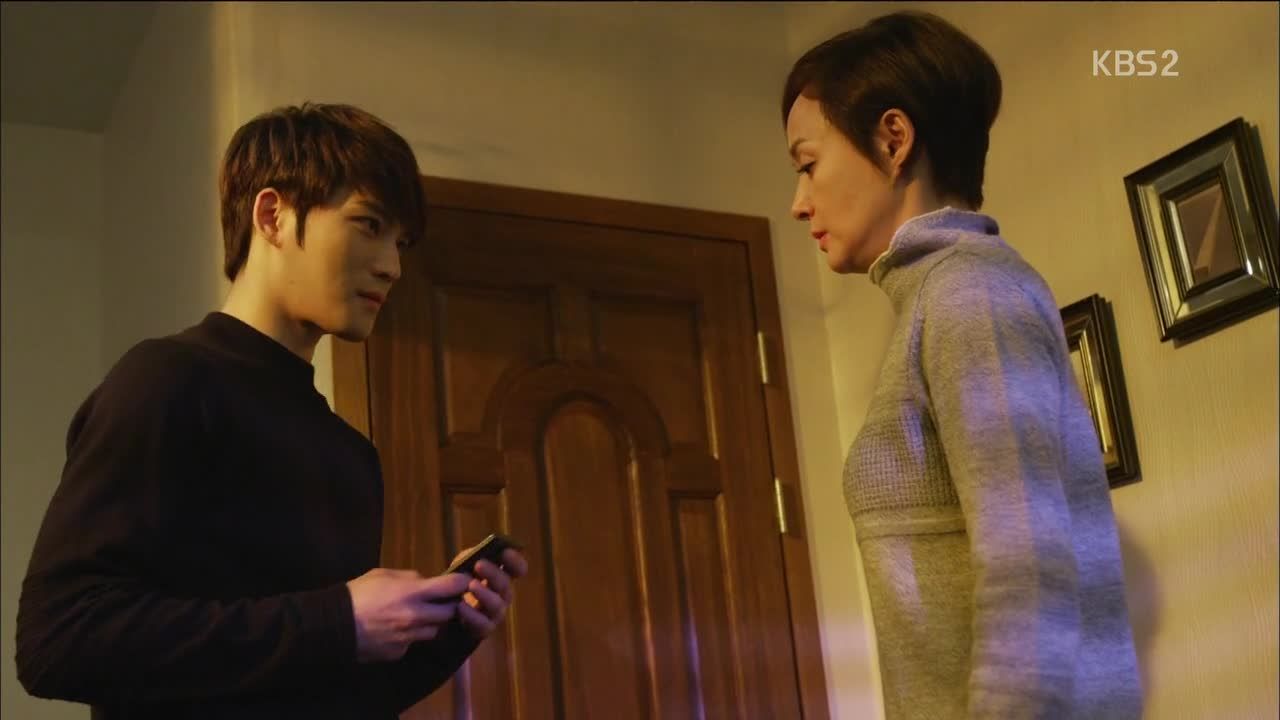 Sun-woo comes home while Dad mulls over where to set the meeting place, and seems mildly surprised to hear that his father is meeting with his sunbae, despite Chief Song making his intentions on that front clear.
Mom puts Sun-woo's things away and decides to go through his bag, coming across pictures of Ki-chul's surveillance footage. But when Sun-woo catches her in the act, Mom hurriedly stuffs the papers back in and claims she was just looking to see if he had any trash to throw out. (And she used to be a super spy?)
Sun-woo is just a teensy bit coarse in telling her not to do it again, and no sooner does Mom finally find the courage to tell her son she has something to say does his phone ring. It's Yoon-jin, who either always calls at a hint of trouble and/or is just always calling, and Mom holds onto the phone to prevent him from answering.
He finds her behavior strange, to which Mom tries explaining why she finds Yoon-jin so suspicious and unsettling—especially that bit about her birthplace and her parents. Sun-woo asks, half-jokingly, if Mom would feel better seeing Yoon-jin's registration card, but loses his temper when Mom takes him seriously and says yes.
Mom wants him to just hold off on talking to Yoon-jin for a little while, even if she can't exactly explain why he needs to trust her. "Do you think you know everything about Yoon-jin?" she asks. Sun-woo's taken aback for a moment before he replies that no, he may not know everything, but he knows that Yoon-jin is very much like her.
"We are nothing alike!" Mom yells, the sudden escalation seeming to take them both by surprise. Sun-woo fights back by asking if she thinks she knows everything about him, to which Mom replies by asking him to listen to her just this once—…
Sun-woo parrots that phrase back to her exasperatingly, tired of hearing her use that line with him. "I'm not a child," says the son living in his mother's house, as he opens the door for her to leave. "Whatever I do or whoever I date, it's my business."
Dad tries to play mediator after the fight, interrupting Mom from making a call to the number Yoon-jin had listed under "Mom." She tries to defend her side without explaining how she found Yoon-jin's secret cellphone with her mother's number, but to anyone else, it just sounds like overprotective mom talk.
But as for his meeting with Chief Song, Mom proposes that he invite him over to their house. Between the two of them, they'll find a way to bug his phone.
Later that night, Yoon-jin waits for a scheduled call to come in from "Mom," only for it to be a man's authoritative voice on the other end. He cuts the conversation short because they're under surveillance, and warns Yoon-jin against calling first—something she didn't do, but Mom did.
Sun-woo debates whether to send an apology text to Mom, but ends up calling his contact instead. Getting Soo-yeon's family out of the North is going to be more difficult than they thought, so Sun-woo asks Dad to call Chief Song about their impending meeting with enough time for him to mention Soo-yeon's family to his sunbae before the call comes in.
Ki-chul calls Mom while she's scoping out Yoon-jin's place of work to make sure she's doing what she's supposed to. She tells him that she's got it handled now that Chief Song contacted her husband first, even though she doesn't know why, and that she'll get the job done.
She's quick to hang up on her daughter next when she sees Yoon-jin suddenly leave her office, and trails her taxi from a safe distance to the nearest mall.
Mom follows her inside and watches her every move, turning extra suspicious when Yoon-jin starts flipping through books in a bookstore. She checks all of them for secret messages afterward and finds nothing, eventually ending up back in her car to stake out Yoon-jin's spot at a small restaurant.
It's only then that she thinks her husband's words about her being overreactive might be true, though no sooner does she ready to throw in the towel that she sees Ki-chul sitting in the same restaurant. His minions then close the shop and draw the curtains, preventing Mom from seeing more.
Yoon-jin reveals herself to be a North Korean spy through her familiarity with Ki-chul (who calls her "Comrade"), and called for the meeting to ask to be reassigned. She's grown soft through her fake relationship with Sun-woo, and doesn't want to make reports on his every movement anymore.
Ki-chul sarcastically asks if she thinks she's in an actual relationship with Sun-woo, but Yoon-jin does a poor job at covering her tracks when she refers to Mom the familiar way a prospective daughter-in-law would rather than by name.
She knows Mom is now working on their side and thinks that should be enough to cover Sun-woo's movements, only to be brought to tears when Ki-chul reminds her that it was her intel that got her fellow comrade—Soo-yeon—killed.
Even though she offers to break up with Sun-woo to prevent him from chasing her around the globe should she up and disappear on him, it's not enough. Her pleas and tears don't move Ki-chul, who instructs her to continue the mission as planned.
A meeting of the analytics team and Chief Song shows nothing that they didn't already know before—though Sun-woo has tried to track down the van the suspect disappeared into, they've hit a dead end.
He's pulled up some info that could link the suspect to the nameless scarred man they know is an agent of the North, even though they don't have a name yet. Chief Song tells them to keep doing what they're doing before he receives a call bearing good news for Sun-woo: Soo-yeon's family has arrived safely.
Sun-woo all but flies to the processing area where Soo-yeon's mother and two siblings are being kept, and unlike the harsh interrogator he replaced, he's happy to tell her that everything's going to be okay now—he's here because Soo-yeon asked for a favor.
Her mother excitedly asks where her daughter is, only for Sun-woo's face to fall. We don't hear what he tells her mother, but we see her devastated reaction as she finds out the daughter who saved her and got her into this country is dead.
Mom watches Sun-woo leave from her stakeout car nearby, and just then receives the text he'd meant to send earlier saying he's sorry. "Your mom is sorry," she says in response—though she's not just sorry for their fight, but for spying on him.
Yoon-jin talks to Sun-woo on the phone like nothing's wrong, acting the part of the sweet and loving girlfriend as she tells him she'll make him dinner if he comes over.
The first thing she does when she gets into her apartment is go for her Secret Spy Phone, only to find it missing from her drawer. She hears it ringing from a different part of the room and turns…
…Just as Mom flips on the lights. "Are you looking for this?" she asks, holding the ringing phone in front of her.

COMMENTS
Ah, so Mom was actually apologizing for what she was about to do on top of all of the things she's been doing to invade her son's privacy. I thought it was kind of funny when Dad saw her actions as being that of an over-obsessive mother when that literally IS what she is… it's just that she gets to actually act on her dislike and suspicion, because she now has proof that Yoon-jin is worthy of all the shade she's been throwing her way.
If this weren't a show with Too Many Spies, Mom's actions would be fodder for a makjang—but luckily that isn't the case. Though I do wonder if, somewhere deep down, she felt at least a little vindicated as a mother hating her prospective daughter-in-law, because not every mother gets to do much more than throw the occasional glass of water or slide an envelope of money across the table. I can't help but hope for Yoon-jin's situation with Mom to escalate into a full-on spy fight, since it'd maybe make Yoon-jin's character more fun to watch. And also because this show could do with a little more action.
I liked seeing Sun-woo's follow-through when it came to his promise to Soo-yeon, because we know how much her death weighed on him. No doubt he felt responsible for what happened to her, so holding himself to her dying wish was his way of atoning for what he failed to do for her in life. We also got to see a bit of his slightly less principled side in his willingness to manipulate the timing of events to make things more advantageous for his needs, as seen with the way he handled the previously inflexible Chief Song when it came to his meeting with Dad. It was subtle, but effective—'cause in the end it wasn't Sun-woo's life savings that saved Soo-yeon's family, but Chief Song.
And that says a lot more about Chief Song than it does about Sun-woo, namely, that Chief Song would choose to do nothing and let people die rather than exert the energy of a simple phone call. He's been Shady McGee since the beginning though, and there's no telling what's on that hard drive he needs cracked, or who it actually belongs to. At least we know there's someone above Ki-chul that he has to answer to, but it seems likely that Chief Song will be revealed to have something to do with him in the near future. Because the espionage world in this show is just that tiny.
But that doesn't mean Sun-woo's part in it has to be—he's got a lot on his plate with his mother being a former and recently reactivated North Korean spy and his wilting flower of a girlfriend being an active North Korean spy who made him her mission. I'm excited for all of those reveals to start happening, that's for sure. It's time to man up, Sun-woo, and be the spy you were born to be. We'll be cheering you on from here.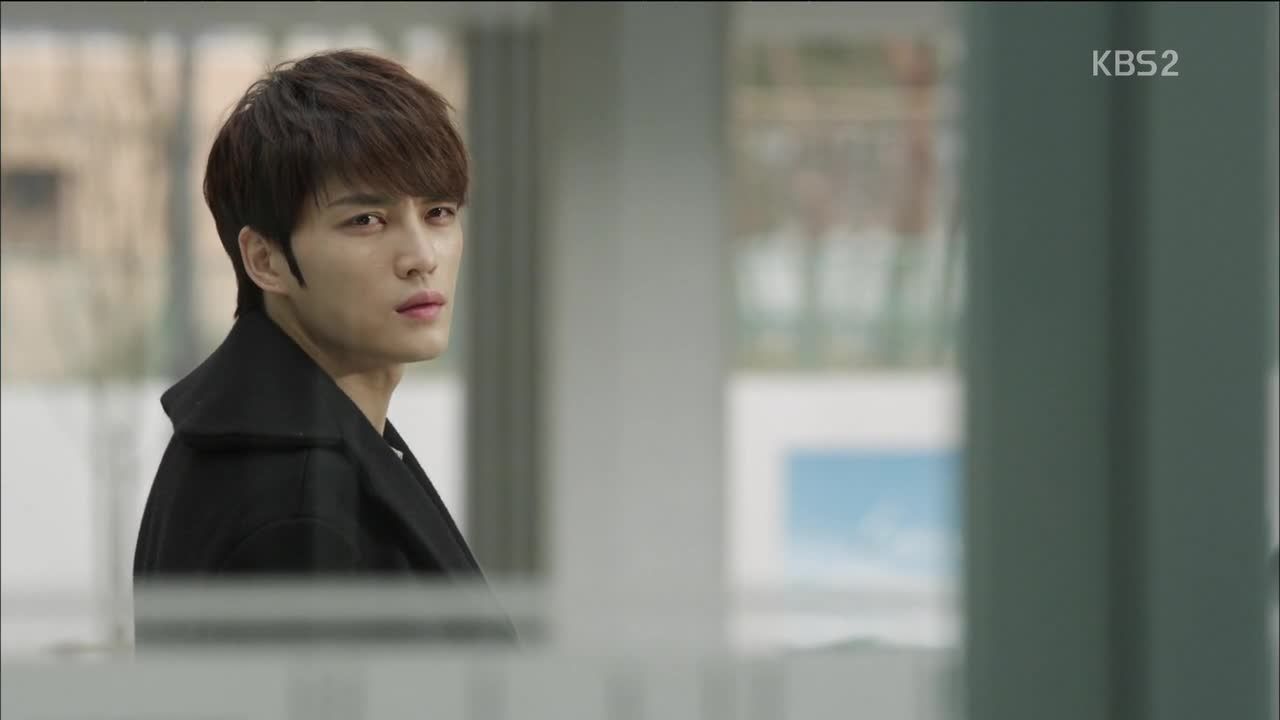 RELATED POSTS
Tags: Bae Jong-ok, featured, Go Sung-hee, Jaejoong, Spy