Yoo Ah-in to bring Dr. Frankenstein back to life?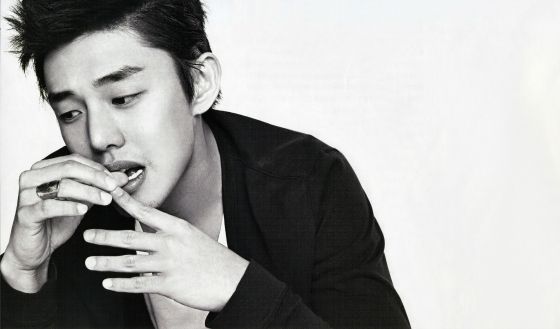 Oh, well I was sad about Kim Soo-hyun turning down the new drama Dr. Frankenstein, which seemed to leave the production dead in the water without a broadcaster. But now news is stirring that Yoo Ah-in (Secret Love Affair) is up for the leading role. It's only an early offer, but if he takes it, he'd be reuniting with the writer of Sungkyunkwan Scandal, in which case I just might let myself get excited again. I mean, there's Yoo Ah-in, and then there's Sungkyunkwan Yoo Ah-in. Did it just get hot in here?
Dr. Frankentstein is the new project from the production house behind Sungkyunkwan Scandal (and Records of a Night Watchman), which has recently secured a spot on KBS's spring schedule. It is, of course (OF COURSE), another split-personality drama, though they're pretty vague about the details of the split personalities in this one. You'd think calling it Dr. Frankenstein would give us more clues — are we talking literal sad-scary monster creation, monster-as-second-persona a la Jekyll and Hyde, or just a metaphor for inner demons?
The plot description just tells us that the hero is a doctor with a split-personality, who is normally very cold and standoffish, guarding himself from others so that his emotions don't show. He meets a woman and falls in love with her, and slowly begins to change. Um, that is the description of every drama ever, minus the split-personality part. I guess we'll have to wait to be enlightened.
As always, Yoo Ah-in's camp was quick to say that it's just one of a bajillion possible projects; besides his movies Veteran and Sado, he's also due to enlist in the army sometime this year. Obviously with army duty on the horizon, it'd be nice to have him fit another drama in if it's reasonable. I'm not exactly thrilled that all the heroes populating dramaland this year have second (or seventh) personalities to contend with, but I guess this show has the advantage of improving upon the formula and finding a new angle. Let's hope it's a good one.
Dr. Frankenstein is slated to follow Unkind Women (which comes after King's Face), on Wednesdays and Thursdays beginning in May.
Via Newsen
RELATED POSTS
Tags: Beautiful Mind, Yoo Ah-in