Healer: Episode 20 (Final)
It's oooooooover! Are we all still alive? And satisfied? And coherent?
Healer wraps up its run in the spirit of the rest of the series, with one more tightly planned mission characterized by twists that are fun and feel-good… and maybe also a twist or two that'll take a year off your life. But while there are a few hairy moments, I can report that I'm still standing, still (mostly) coherent, and still happy. Thanks for a fun ride, Healer-ya! K, let's do this.
SONG OF THE DAY
흔적 (Trace) – "시작" (Beginning) [ Download ]
Audio clip: Adobe Flash Player (version 9 or above) is required to play this audio clip. Download the latest version here. You also need to have JavaScript enabled in your browser.

FINAL EPISODE RECAP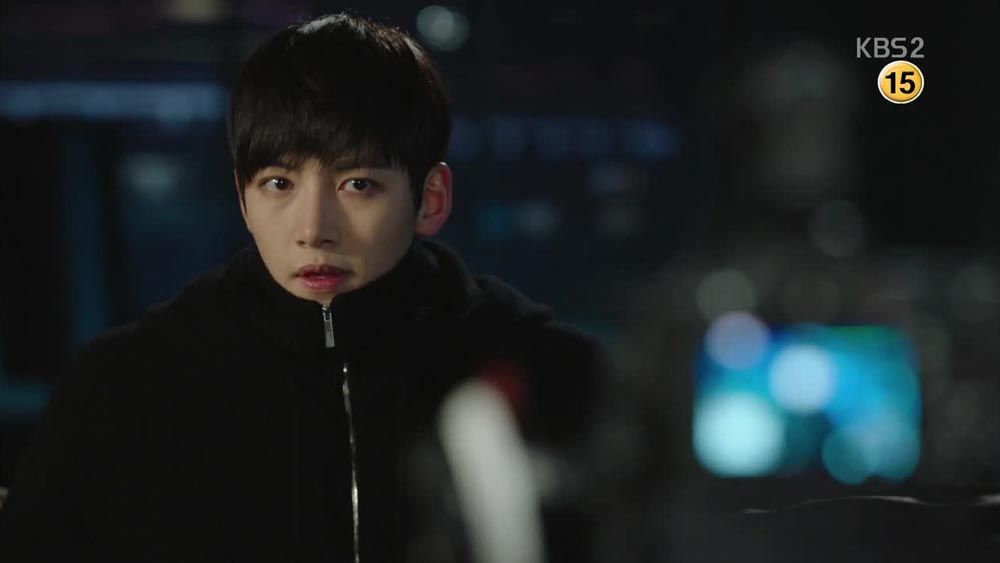 At the Healer lair, Jung-hoo sits down before a camera, answering questions from a list. One, he's the Healer, and two, his job is nighttime courier. Three: Was this job his dream? Jung-hoo scoffs, and says that his initial dream was to buy an uninhabited island. But then he met this woman—and he can't hide his smile—and the dream changed. Like his Teacher said, "I thought I should live with my woman, have kids, and live like other people."
He thought it would be easy, but "they" won't leave him alone, coming at him with jabs and attacks. And the most infuriating part of it: "Messing with my people."
Manager Ahn leads the Double S team to Min-ja's abandoned hacker den, ransacking her shelves. She's taken all the important stuff, though, and the guards kick things in anger, which is satisfying.
Jong-soo drives Young-shin home after work and angles for an invitation, but gets sent home instead. Ha, will Jong-soo ever catch a break? She wonders why the cafe's closed early, and finds her father and ajusshi bound and gagged inside.
Goons walk in, and one reaches for her. He gets kicked aside by a newcomer, whom she tries to thwack before realizing that it's Jung-hoo. I love the brief cut to Dad and ajusshi's faces when she calls his name. In between whirling combat maneuvers, Jung-hoo introduces himself to Dad, apologizing for not revealing his true name earlier. It's cute how he makes sure to warn Young-shin to close her eyes just as he's about to hit someone, and soon the attackers are knocked out on the floor.
He binds them and instructs Dad and ajusshi to call the cops, report a robbery, and leave out mention of him. Dad tries to wrap his head around everything and demands an explanation. Jung-hoo explains how they're in danger from people who killed his father and teacher, but his story is so stripped-down that it doesn't actually clear anything up for Dad.
Young-shin takes over with a much more comprehensive (and comprehensible) explanation, and Jung-hoo just chimes in with "Yes" and "She's right" and "That's true." Lessons for life, man.
Jung-hoo informs them that he will be taking Young-shin away to a safehouse for her protection. But to Dad's ears, this sounds outrageous and he isn't having it. So Jung-hoo touches his earpiece and says over the line that Dad won't agree, and the dads just gape in shock. HAHA. Now this is how you mix rom-com with spy thriller.
Jung-hoo switches to Plan B, saying that they'll make the cafe the safehouse then, excusing himself for the night while Dad's still sputtering. Then he turns back to hug Young-shin, "Just for five seconds." You'd better believe Dad's counting.
They say goodbye and Jung-hoo leaves… and then whirls right back and moves in for a kiss. Ajusshi has to hold Dad back, and Jung-hoo actually stops himself (awww) and pretends he was just going to remind her to eat all her meals.
Myung-hee is installed in Moon-ho's apartment, and he asks to have dinner together, since he has something to tell her.
He answers a tipster call while heading out, and finds his informant sitting in a car in the garage. She's a scared student in school uniform, and she opens her hand to show the message written on it: "Help me."
Then she slumps over, and Moon-ho jumps into the car to catch her… just as a camera snaps pictures. Gah! It looks terrible—star reporter Kim Moon-ho in the backseat of a car with a high schooler.
Moon-ho sees the photographer snapping away, and then both he and the "informant" run. Just then, Dae-yong jumps in and gives the photographer a sound beating, yesssss, then swipes the camera's memory card.
That's when Min-ja presents herself and warns Moon-ho that as a public figure, he's vulnerable to cheap tricks like this. He recognizes her voice as she hands over a drive containing the "LA video" and advises that he stay away from Someday for a while.
That's because it's currently the target of angry protests accusing it of broadcasting false and distorted news. Protesters demand its dissolution, harassing staffers on their way in.
Inside, the staff eyes "Bong-soo" in confusion, because he seems odd today, mostly ignoring them to talk into his earset. I just love all the reaction shots in this episode. Jung-hoo finds that recording from the informant and plays it for his team over the line: The caller identifies herself as Kim Jae-yoon, a biochemist doing research in Russia.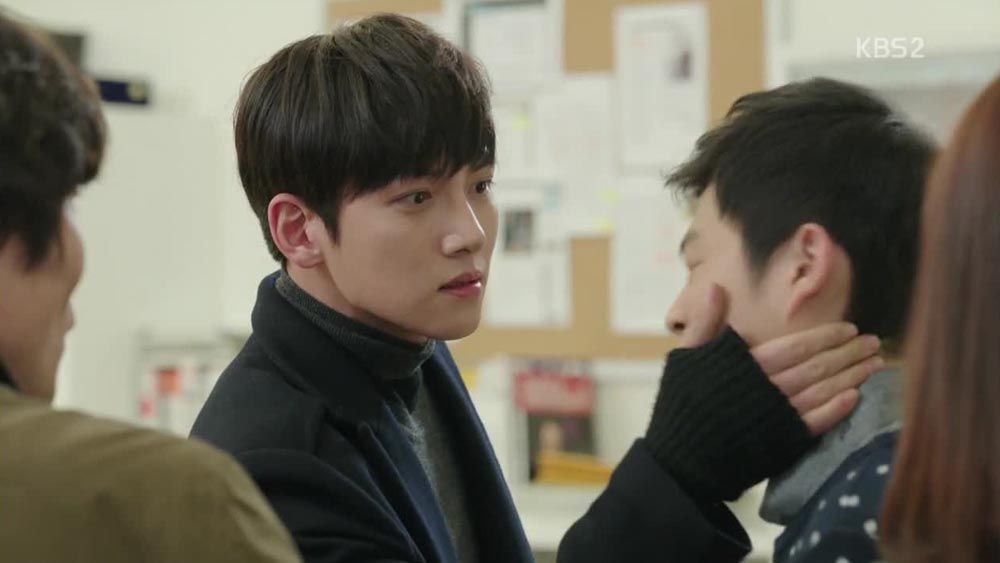 The bewildered staff wonders what's different about Jung-hoo today as he shakes their hands (and pinches Jong-soo's cheek), then makes his exit from an area where there aren't any doors.
Back to Jung-hoo's interview video, where question four asks about people he remembers from his job assignments. Jung-hoo replies that he doesn't bother learning names, and that each job entails that he take on a false name that gets erased at the end.
Next question: What was the most difficult thing he's encountered in his line of work? He smiles to himself and answers, "It was a job to find this woman… When I first met her I didn't remember her face, because I had no interest. But this woman chased after me, fearlessly." He chuckles at the memory of Young-shin confronting him in the bathroom.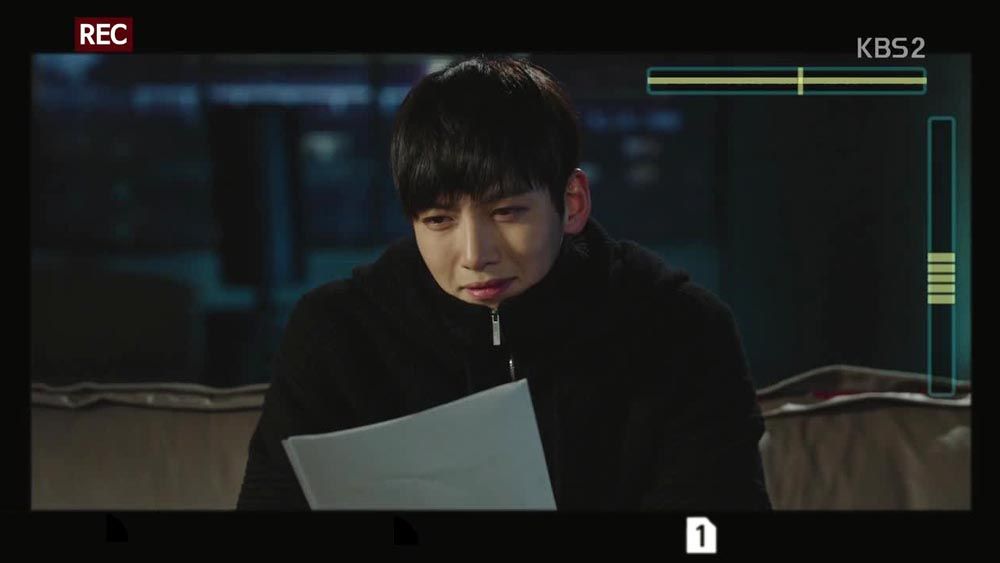 He continues, "But from the start, I brought her pain. She can't breathe at the mere thought of violence, but I didn't know that. Thinking about it, after she met me, her life really got tangled up. She got hurt all the time, and even almost died. She's someone who smiles easily too. Don't forget that—fundamentally you're a person who smiles a lot."
Oh no, this is for Young-shin. Why does everything sound like goodbye now?
Back to Team Healer in the cafe. Moon-ho and ajumma tell Young-shin that the LA video she's holding has taken a lot of lives: the reporter who took the footage died, and Go Sung-chul tried to sell it and died. Then President Hwang died to cover up Go's murder. Young-shin uneasily puts the drive down, not wanting to hold it after all.
She wonders why Jung-hoo isn't here yet, and ajumma informs her that he can't come yet because he's waiting for good news.
He's waiting from a rooftop, snapping to attention when Detective Yoon calls ajumma… but the news is bad: That pipe was clean. No prints, and not even any blood.
Just then, Detective Yoon gets an alert that a file was submitted to the police station: a video confession regarding Park Dong-chul's murder. Gah, things just went from bad to worse. Ajumma slams the laptop shut angrily, and the detective asks curiously what her relationship to Jung-hoo is. She says fiercely, "We're citizens in the same country."
But Young-shin has seen the brief snippet of the video, which rattles her composure. Ajumma tells Jung-hoo that soon a nationwide search will unfold now, and he sighs that things were too easy. Time for Plan B. When asked what that is, he says, "We have to make one."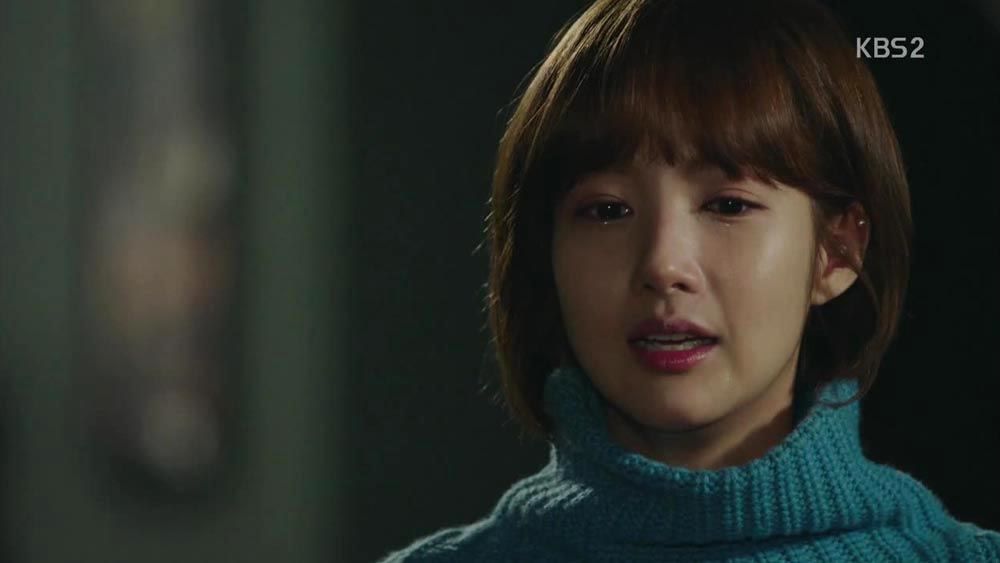 Ajumma tells him that Young-shin's right here and heard the video. But despite her stricken nerves, Young-shin bucks up and says that they should catch Crazy Old Man before he gets caught: "If… just on the off chance… if catching him doesn't work, then let's run away together."
He reminds her that she has a mother and father she'd have to leave behind. Young-shin tries to sound confident as she assures him that there are lots of places to hide, and that her father will understand, and that her mother doesn't know who she is. Oh no, is this why Jung-hoo's making that goodbye video? So she doesn't have to give up her life?
He narrates, "What man in the world would turn his woman into a fugitive? Chae Young-shin really doesn't know anything."
Moon-ho wheels Myung-hee into the cafe, and Young-shin lights up to see her. From the look on Myung-hee's face, it appears Moon-ho already told her the full story; she just holds out her hands to Young-shin, looking at her with full eyes.
Dad comes upon Myung-hee looking at a photo of Young-shin as a child with her adoptive parents, and she can't hold back the tears. She tells him he raised Young-shin to be a bright, warm person, and he proudly shows her Young-shin's childhood photo album.
Young-shin comes upon the sight and realizes, "My mother must know. I must take after her. You know how when I'm scared, I can't speak, and I smile more. When you're scared, you go off alone, don't you? Is it because you don't want to show that you're afraid? Jung-hoo-ya, where are you, off on your own, and what are you doing?"
Jung-hoo sits in his car and opens the package he picked up from the Someday office—it's from Russia. Inside he finds a black cell phone, which he compares to a white phone just like it. The black one lights up with a text message to Moon-ho.
Next he slips into Moon-shik's house and barges into his study. But Moon-shik's busy talking drunkenly to himself—or rather, the empty seat across from him, as though addressing his old friend: "You've loved for, what, ten years? Look at me, it's been over twenty years, almost thirty."
Through Moon-shik's eyes, we see young Gil-han replying that you don't measure love by time, but by sincerity and depth. Then Moon-shik looks up and sees Jung-hoo there, and invites him to join them for a drink, introducing him to "Uncle Moon-shik" in the empty seat. Jung-hoo corrects him, saying that he's Moon-shik, but Moon-shik chides youngsters for getting names wrong: "I'm Oh Gil-han." Well that's twisted.
Secretary Oh tells him that Moon-shik isn't like this constantly; he gets this way when he drinks after dinner. Jung-hoo supposes he'll have to deal with the secretary today and distracts Secretary Oh with a phone while slipping a tiny device into his pocket. That accomplished, he lets Secretary Oh have his phone back.
Jung-hoo wants a meeting with the Elder, and holds out the return label from the package, informing him that he got a delivery from Russia. So make the call.
That gets him taken to the Elder's bar, where he's first stripped of all his devices. At the last second, he grabs Secretary Oh threateningly—and takes back that device before being pulled off. Haha, so sneaky and simple. He sticks the device under the bar counter.
Elder asks about the Russian package, and Jung-hoo asks if his arrest and confession will be rescinded if he hands it over. The Elder assures him that working for him would protect him from everything.
Jung-hoo holds up a cell phone—the white one—and says that it contains a video of people in a village collapsed and vomiting. He says that things are getting tough for him, because the only thing he wants is to live in peace with his woman, but they're being terrorized at every turn. So he hands over the cell phone, and Manager Ahn checks that the video is on it. Jung-hoo confirms that he intercepted this phone, which was sent from the informant to Moon-ho, and the Elder congratulates him on a job well done.
This has got to be part of Plan B, and sure enough, Dae-yong drops off the black cell phone with Team Healer. On it is the video from the informant (cameo by Jeon Hye-bin).
Young-shin heads up to her room and finds Jung-hoo perched in the windowsill. She reminds him that she told him to use doors, but agrees to his suggestion to go for a drive. In the car, he holds out his hand for her to take, and as she does, she thinks, "When I take his hand, the feeling of It'll all be okay now begins to spread out from his hand, through my whole body. It's a marvelous, one-of-a-kind hand that tells me everything's okay."
As they cuddle on a rooftop together, Jung-hoo's voiceover returns to his list of questions. What does he like? "High places, first snow, small hands, white blankets, those strands of hair." All things that speak of Young-shin. As for his dislikes: "Everything that keeps me from being with those things."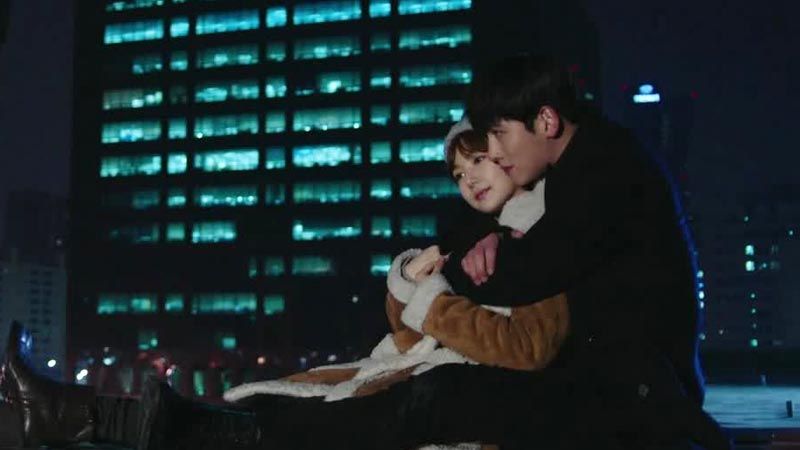 In the cafe, the Russia-sent cell phone starts to ring with an international call. Moon-ho answers the call from researcher Kim Jae-yoon, calling from China, who plans to go to Korea soon. She asks to meet at the airport, intending to fly back right after seeing him, since she has no visa to stay. But the call cuts out before she can say more.
Over at Double S, Manager Ahn has also identified Kim Jae-yoon, and now Jung-hoo is a part of the team as they strategize. The Russia research team was hired by the Elder to develop new bacteria, but Kim Jae-yoon destroyed everything recently, minus a few samples that she intends to bring to Korea. Ah, she's a whistleblower.
I love that smug little smile Jung-hoo sends at Sang-soo and Yo-Yo, who now have to work with him. Sang-soo fumes, thinking of how much he suffered at the hands of the Healer, and raises his hand to slap his face… which Jung-hoo easily avoids, making Sang-soo slap Yo-Yo instead. Bwahaha. Let's watch that again. Jung-hoo notes, "Nice teamwork."
Manager Ahn also figures out Kim Jae-yoon's movements and reports to the Elder, who replies that he only needs the samples. Not the woman.
Dae-yong hears this via Jung-hoo's bug, which also informs us that the Elder is on thin ice within his own corporation. Stockholders will be discussing whether to keep him as CEO at the upcoming general meeting, and he is advised to present a case for himself. The Elder seethes at the idea of being ousted in a coup.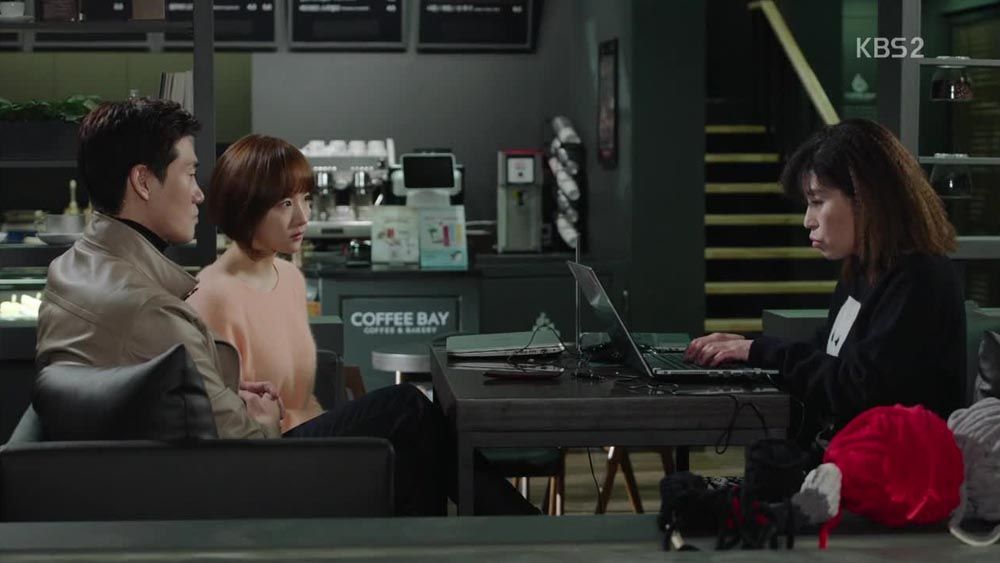 With the details they heard before disconnecting with Kim Jae-yoon, Team Healer manages to narrow down the airport she's flying into. Young-shin is excited when Moon-ho assigns her to interview her, but ajumma points out that they're missing the complication where Crazy Old Man will be sending his army of goons too.
And so, Moon-ho decides, "We'll live broadcast." After all, there are few people who would dare commit a crime on the air in real time.
Detective Yoon is surprised at the urinal by ajumma, who strolls right into the men's room and tricks him into checking his fly. Lol.
She takes him to a cafe to show him the informant's video, which makes him sputter in outrage—who'd be crazy enough to conduct these experiments on their own people? Ajumma tells Detective Yoon to participate in the mission, and dodges his repeated inquiries into Jung-hoo's identity. Yoon guesses he's the Healer and she's the partner, but she won't indulge him with a confirmation. He adds that there are people whose survival helps the world, and those whose deaths would help it. Which one is Jung-hoo?
On to the airport. Double S's team arrives in full force, and Manager Ahn instructs Jung-hoo to stick close to Moon-ho, who doesn't know he's switched sides (or has he) and will still trust him. After Jung-hoo confirms the samples, she can die. Jung-hoo looks startled, but Ahn says he can leave the killing to the others.
Jung-hoo heads inside with Sang-soo's guys, and from a distance, Detective Yoon watches the movement. It sure looks like Jung-hoo's working with Double S…
So now we're back at the end of the previous episode, where Team Healer joins up at the airport and struts in formation along the terminal. Ajumma hands out earsets, and the other three insert them in one synchronized motion. Then they split up to set up the mission, pretending not to see the Double S guards monitoring the perimeter.
Moon-ho sits down at a gate and indicates that Jung-hoo should join him, then says with an edge of nervousness to his voice, that things could get seriously dangerous. They should rethink the plan.
Jung-hoo says that this is already Plan B, not wanting to fail and need a Plan C. He asks if it's Moon-ho's habit to only think about things, and fail the real scenario because he's only done simulations. Moon-ho cutely complains that Jung-hoo never loses an argument, but Jung-hoo calls out, "Uncle." Aw, who's tearing up?
Startled, Moon-ho asks what he said, and Jung-hoo quips that he won't say it again.
Young-shin cordons off the ladies' room and prepares her camera and interview station inside. Ajumma reports that the flight has arrived and passengers will be arriving soon, so they're on standby for Kim Jae-yoon's call.
Then Moon-ho gets the call. Both teams snap to alert and Manager Ahn instructs Jung-hoo closer to hear the call, warning him to keep his earpiece in. He listens in as Moon-ho introduces himself and says he's waiting at the gate.
…And then we see Young-shin in the bathroom, answering another call and directing the caller to ignore Moon-ho and find her at this bathroom.
Kim Jae-yoon steps into view, and Moon-ho silently signals at her to move on. Then he greets a different passenger, pulling her along while the Double S guards quickly close in on them. The woman protests in bewilderment, and it takes several moments before the guards realize this is the wrong person. Moon-ho just pretends it was an honest mistake. Whoopsie.
That allows the real Kim Jae-yoon to slip away and find Young-shin in the bathroom. She hands over the last remaining bacteria samples as well as a flash drive containing her research materials.
Young-shin asks if she'd consent to an interview, though she doesn't press when the researcher hesitates. But Kim Jae-yoon says that she's in the middle of applying for asylum, and perhaps this interview would help.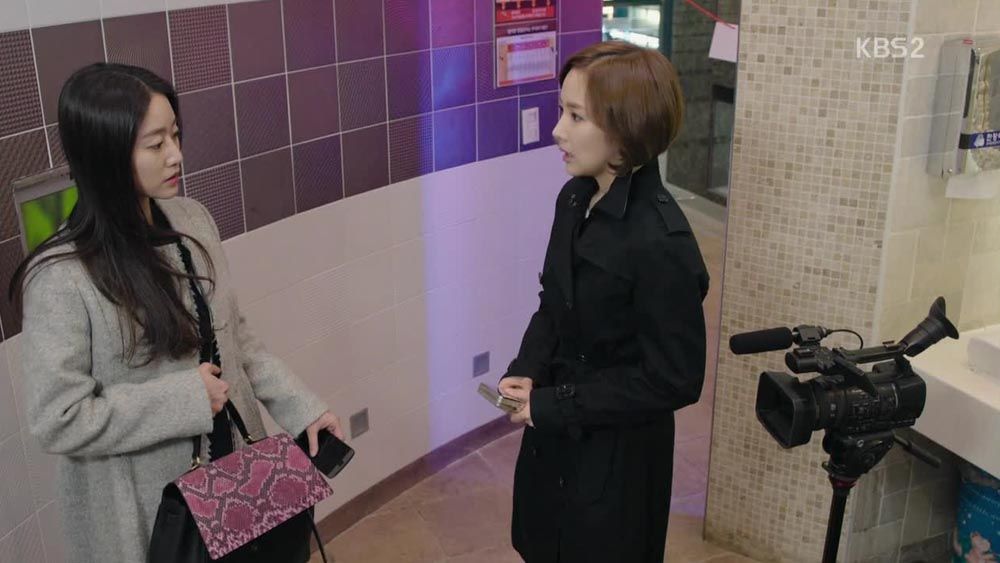 At the gate, Moon-ho gets on his laptop and tells his team at the office to go. The Someday team launches the live broadcast feed. Ajumma keeps watch from above while the guards search for the researcher, and tells their backup to wait a little longer.
Jung-hoo, meanwhile, makes a quick change of clothing in the men's room. He's back in Healer mode, though I notice he still has his Double S earpiece in.
On air, Moon-ho introduces the topic of the day, kicking off with the shocking video footage of a village in health crisis. It made headlines last year, but nobody knew the cause of the epidemic—but now they have the proof that this was an intentional experiment.
The broadcast cuts over to Kim Jae-yoon, interviewing about her team's secret research in discovering a bacteria, then working to intensify its poisonous effects. It would then be used to pollute water supplies, which would spur public outcry over the need for regulation—and private companies could then step in to profit.
Manager Ahn sees the broadcast and orders his team to search all the women's restrooms. He also orders Jung-hoo into action—if they don't stop the broadcast, he's toast.
Jung-hoo barges into the bathroom, interrupting the interview, and locates the samples. Looking worried, Young-shin urges, "Let's stop here." He just shoots her a look indicating that she should continue as planned, which puts a look of dismay on her face.
Kim Jae-yoon panics and darts for the exit. Jung-hoo grabs her, then urges Young-shin again to keep going with the plan. She mouths a complaint at him, but complies.
Then Jung-hoo drags the researcher out, and Young-shin chases them out with the camera, filming Jung-hoo as he hands over the stuff to Manager Ahn.
That's when the cops join the scene, and Moon-ho arrives to take over filming. In the chaos, Jung-hoo spies the scared researcher limping away, unaware that one last murderous thug is heading for her, reaching out with a syringe…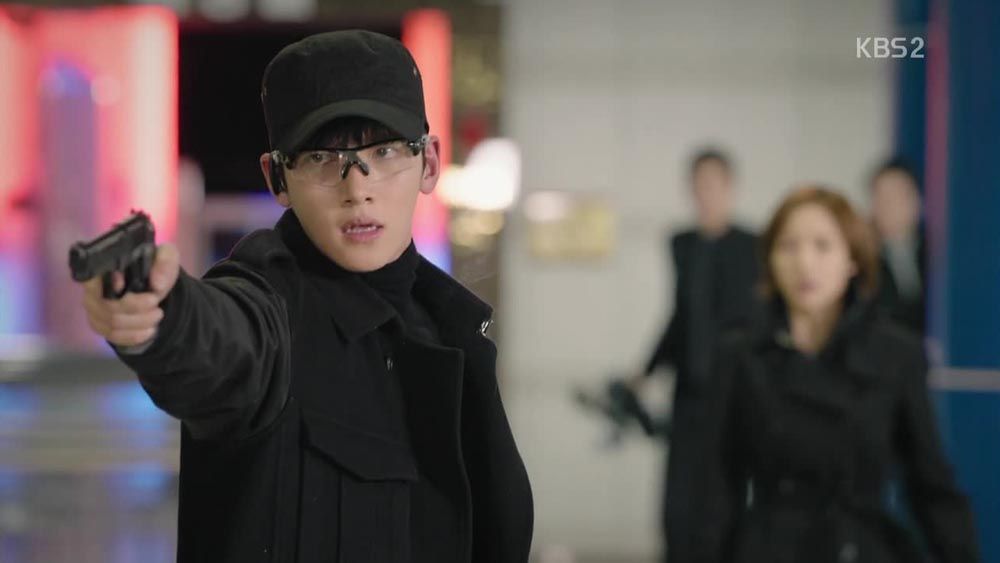 Jung-hoo races after them and grabs a cop's gun, yelling for them to stop as he aims at the assassin. Everyone freezes—and then a shot rings out. But the assassin doesn't fall. Shit shit shit.
It's Jung-hoo who gets shot. Detective Yoon holds the smoking gun. Fu-uuuuck.
Jung-hoo lowers his gun, stunned. Young-shin and Moon-ho watch in horrified silence as he falls. Blood pools around him.
On the evening news, it's Min-jae who delivers the report of a gunfight at the airport, which ended in one death. On the upside, all of the Double S guards are apprehended, including Manager Ahn. On the downside… well, you know. Jung-hoo-ya!
The official interpretation of events is that Jung-hoo was dispatched to kill the informant, and was aiming at her, not the (real) assassin. He was employed by Omega Holdings' CEO (aka Elder), and now the LA video is finally explained: The Elder meets with a Russian scientist, which connects him to these experiments.
The slain gunman is identified as Park Bong-soo, but the photo is of the real Bong-soo, not Jung-hoo. For that, we can thank ajumma.
And then… we back up to the airport, when Jung-hoo changed clothes and slipped a blood pack into his jacket. I KNEW IT! You faking faker, earning your freedom the sneaky way! He practices his "I've been shot" acting in the mirror, heading off with a smirk.
Then after he falls and Moon-ho races to his side shouting his name, Jung-hoo breaks the moment by looking around—and Moon-ho keeps acting while shoving Jung-hoo's face with his hand. HAHA. He winks at Detective Yoon, who didn't kill Jung-hoo after all and may therefore continue to live.
Moon-ho shows up at the station to see Min-jae, offering her a coffee and a friendly smile. She takes it, and they walk off together. There's hope for them yet.
Next, we check in with Young-shin, who's driving a car (aw, she learned!) and wearing nerdy glasses while talking to Jung-hoo. He counts down, and when she holds a camera out her car window, he takes it from a passing motorcycle. Slick.
She pulls up in front of a house in time to catch a man walking out to his car. She bursts into interview mode, asking how he healed so quickly after being wheelchair-bound at court yesterday. Her interview request goes ignored, but at least she has her cameraman handy to record the exchange.
She turns to the camera in a flirty mood, and Jung-hoo snaps shots as he walks to her. Then they meet for a kiss, and Young-shin narrates her own list of favorite things. "What I like: The sound of his shutter, large hands, smiling eyes, large embrace."
They sit on a rooftop at night, and she tells us her dislikes: "Everything that keeps me from being with those things."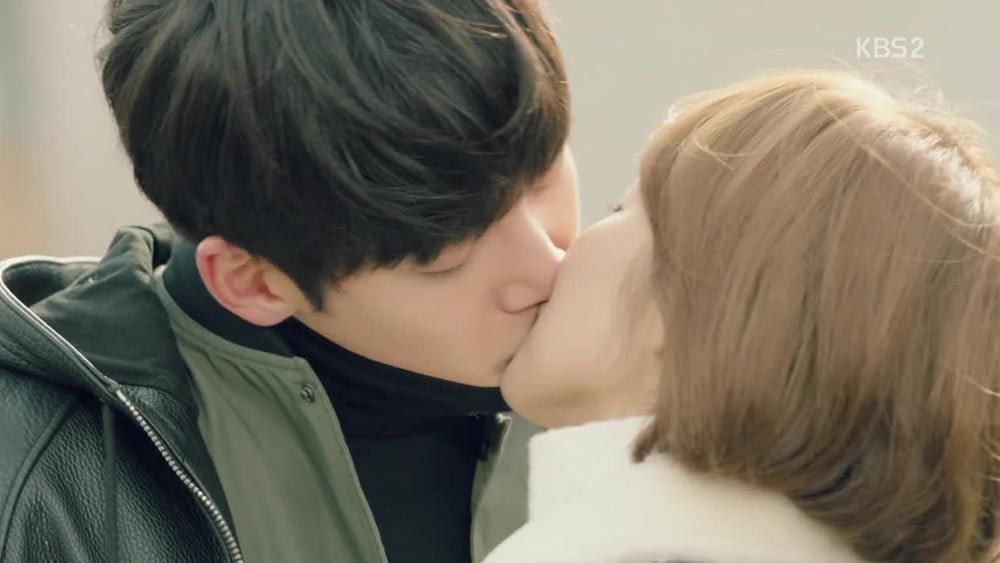 COMMENTS
Ahhh, what a lovely way to wrap up a perfectly lovely drama! Anyone who's lived in dramaland for a while probably knows by now that you can't count on anything until the show's actually over—it's rare enough to get a drama that's consistently good, but even when you have one, nineteen great episodes are never a guarantee that the last won't stab you in the heart or betray your trust. We've all been burned before. And yet, Healer delivered a truly satisfying finale that gave me everything I wanted, and for that I'm grateful and happy, and left basking in a warm afterglow.
The final episode had its moments of suspense and unease, but also tons of warmth and resolution that left me feeling full of hope for what the future holds for these people once the camera stops rolling. That's the beauty of the show, in that I feel like there's a fully fleshed-out world here that will keep existing after we've left it, and that we were just lucky enough to get to witness one of the more exciting episodes. In fact, if we all pause to wonder what Jung-hoo and Young-shin are doing now, I'm pretty sure we could all draw rich tableaus of possible scenarios, whether it's working as an intrepid reporting duo (like their fathers! I love that they got to retain their Healer skills, but in a productive real-world way), or bickering about little things, or being unbearably cute. Oh what am I saying, they'll be unbearably cute no matter what they're doing. Preferably makin' babies?
I loved all the characterizations, and felt that nobody was wasted. There were some characters I wanted a bit more time with, but that's because the snippets we got were endearing, or maybe the actors are unexpectedly charming (Jong-soo, you'll get your happy ending someday! Hopefully in a bright rom-com with a heroine who loves dopey heroes and physical comedy!). Narratively, they were well-employed, and I felt like they all fulfilled their functions well.
I did wonder how the finale was going to wrap up all the storylines in one short hour, and perhaps the only answer was that the threads couldn't be tied tightly with a bow and tons of fanservice. (Then again, fanservicey finales always disappoint me, because they feel like an extra hour where nothing happens dramatically, and we're just watching people being cute. I prefer finales that are actually crucial to wrapping up the story, cresting in the right places to deliver payoff.) But it was a nice touch, I thought, to show us flashes of the resolutions without playing them out wholesale onscreen, like Myung-hee finding out about Young-shin or meeting her father. I'd thought I wanted the full emotional display, but when we didn't get it, I found I wasn't disappointed. Sure, it would have been powerful to see Myung-hee hear the words, but as I said before, the characters have been drawn richly enough that I already know how that scene went, and drawing it out too much could have felt indulgent.
For instance, I didn't want to waste screentime on characters I didn't care about, so I'm happy to assume that the Elder goes down without needing to see that scenario. And Moon-shik's short scene was a powerful way to leave him, in that hell of his own making. It's grimly satisfying to know that he suffers in his own mind, and that he's so far gone as to think himself as Gil-han confirms that he is aware of his crimes—that's better than if he convinced himself he wasn't actually guilty. The fact that he's lucid for most of the day is extra haunting for him, because it's not like he can escape into a fantasy and ignore reality. He's literally living out his guilt every day and night, and that makes him pathetic enough that I find that a fitting punishment.
I suppose Healer wasn't a perfect drama, although honestly right now I can't come up with many things to complain about—I'm sure flaws exist somewhere, but in the overall scheme of things they aren't things that linger; they don't register as significant. The show worked on all the points that mattered to me, and more impressively, it never let me down. How awesome and rare is that? Even the best dramas can misstep in places or let you down in little ways—because frankly how could you avoid it in a 20-episode live-shoot schedule?—but Healer had a consistency and narrative integrity that remained constant at a high level. One strong episode, anybody can make. Twenty consecutive strong episodes that don't flag in energy or tempo, which swell into crescendo and end on an uplifting, satisfying note? That's a much more amazing feat. I kept waiting for that mid-season lull or that two-thirds-of-the-way needless angst, and it didn't come.
So while it may not necessarily be perfect, it was, to me, a perfect drama-watching experience, striking that perfect balance point between fun and substance. And honestly, the experience was made richer by having you guys all here to squeal and thrill with, and doing so with a level of thoughtfulness, respect, and warmth that isn't always a given, sadly. It's never fun having your own fun marred by flies in the ointment, so I certainly don't take it for granted and hope that it becomes the norm amongst our fandom! I thank you all for keeping the Healer craze positive, fervent, and full of love!
RELATED POSTS
Tags: featured, Healer, Ji Chang-wook, Park Min-young, Yoo Ji-tae