Heart to Heart: Episode 7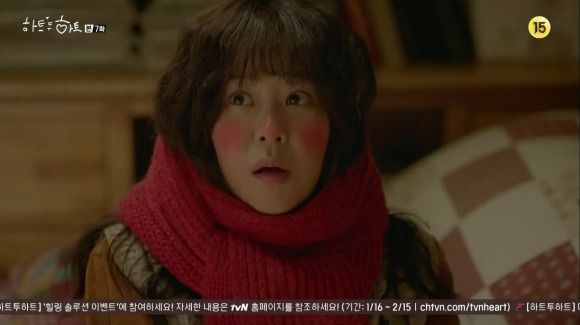 Having made his decision to pursue Hong-do, Doo-soo ups his game, and I gotta tell ya – as it turns out, he's got some pretty good game. If you don't have Second Lead Syndrome yet, you will after this episode! But while Doo-soo makes his intentions crystal-clear, problems at home have Yi-seok pulling away, and Hong-do faces a pretty important question: Does she still want the fantasy, or did reality sneak in and take up residence in her heart while she wasn't paying attention?
EPISODE 7 RECAP
An adorable tiny Hong-do reads the story of Rapunzel from the safety of her closet-fort, relating to the princess who was locked away without any friends. Years later, Adult Rapunzel Hong-do complains that she's been waiting in her tower for years, but no prince has shown up…
… until Prince Doo-soo knocks on her tower/closet, and gallantly invites her to come out. Ha, then Prince Yi-seok's annoyed voice orders her to come out, or else. She opens the door to see Prince Doo-soo all dressed up looking gorgeous, and Prince Yi-seok lounging impatiently in his slouchy clothes.
Prince Doo-soo gets a soft carpet for her bare feet, but Prince Yi-seok just tells her to stay in that closet if that's what she wants, and he storms off. Prince Doo-soo holds out his hand to Rapunzel Hong-do, but she ignores it and jumps out of her safe tower to follow surly Prince Yi-seok.
Back in reality, Hong-do exits the smoking hospital worried to death for Yi-seok, only to see him cockily waving at her from the safety of the parking lot. He teases that she must like him to be that worried, but she just lunges at his throat, furious.
When Hong-do screams at him and runs to her scooter, Yi-seok seems to realize she's really upset and goes after her yelling that it was just a joke. She calls him a psychotic bastard, and also dog shit, and drives away.
Luckily Doo-soo is still waiting, and the way his face lights up when he sees her is just lovely. He's just so happy, he doesn't even care that she's late, and he invites her someplace quiet so she can be comfortable.
He leads her to a restaurant where he knows the owner, getting him to open the place just for them. Hong-do actually manages to ask him how he's been, and he tells her about his broken engagement and his grandfather's death. He admits that he ran to her house because he missed her, and that it made him feel better just to see her light on.
Even with all his guilt for disappointing his grandfather, he says he feels better just seeing her. Doo-soo laughs at himself for blurting all this out, but says he thinks he'll be able to do it more in the future, which is practically a declaration that he wants to date her. Overwhelmed, Hong-do stammers out an apology and flees.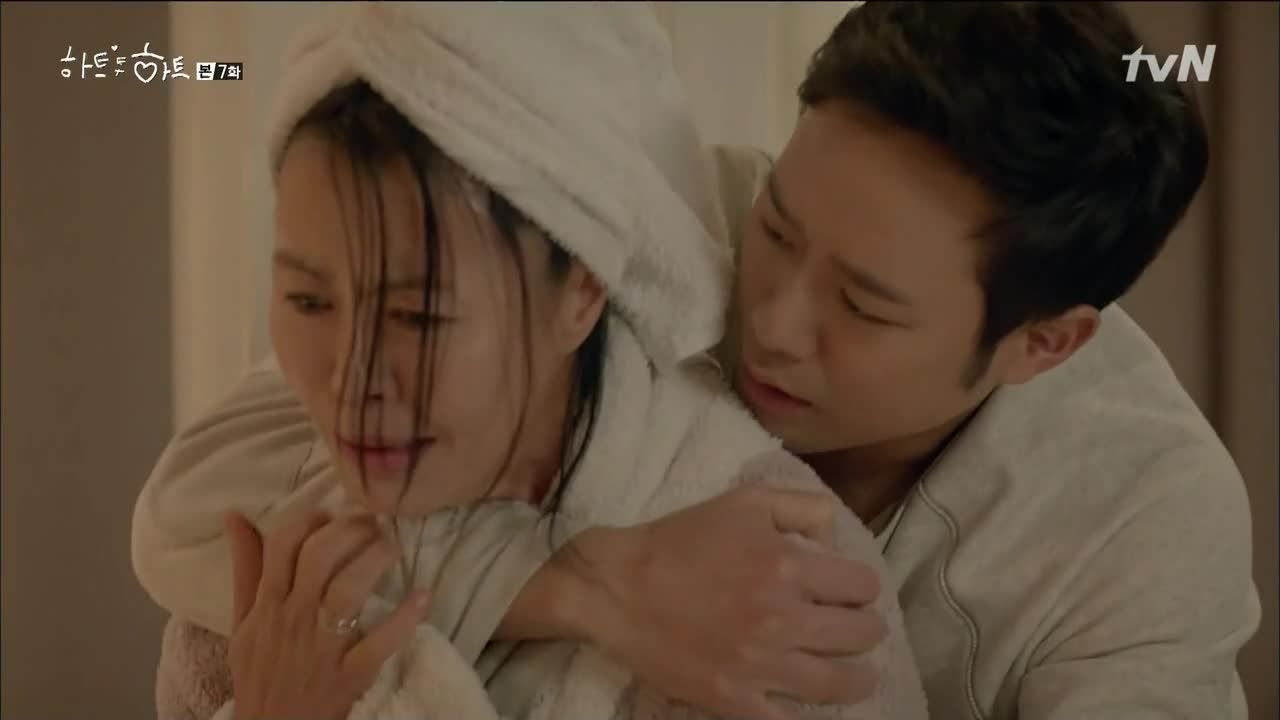 Yi-seok goes looking for his mother, but when she's not in her room he checks her sleeping pills and notices some are missing. Is that smart, letting someone with her uncontrolled bipolar disorder have access to an entire bottle of pills?
Mom catches him and he asks for her promise never to take more than two at once, and she lashes out that he must think she's pathetic. She assumes he's judging her for sleeping with her husband (when she was left in the hotel room) and letting it spiral her into a depression. He denies it and assumes the fault for not insisting she take her medications.
Of course, in her condition, she can't hear her son's kindness, and starts to beat herself up for not being a proper mother. Yi-seok says she should get a divorce but she wails that she can't, because her oldest son is here. Then she starts to panic that her husband is planning to divorce her, and Yi-seok has to physically restrain her.
Hong-do goes home and wonders if Doo-soo canceled his wedding because of her, then declares it impossible. Yi-seok calls and she answers with insane laughter, crowing that Doo-soo canceled his wedding, and happily accepts Yi-seok's apology (that he hasn't made yet) for his stupid prank. Maybe it's me, but she seems more excited about being able to rub it in Yi-seok's face, than the actual fact that Doo-soo just practically confessed.
Hong-do says that she only accepted Yi-seok's call so she could tell him all this, but he reminds her that Doo-soo knows they slept together and thus can't possibly be interested in her, trying to undermine her excitement. She assumes he called to apologize for his terrible prank, but he denies it and even threatens to kill her if she forgives him. Hee, I love Yi-seok when he's peevish.
Yi-seok hangs up, griping that she infuriates him, and Hong-do tells the empty room that she knows Doo-soo only feels sympathy for her. Still, she's happy that he missed her.
Doo-soo's guard goes up when he sees Se-ro waiting for him at the station, but she's here to repay him for the gas used to take her home the night she was drunk. She tries to tell him why she was drinking that day — how she was auditioning and was asked to cry about her brother dying — but he cuts her off, uninterested.
Se-ro stops him one more time, since she's also looking for a missing earring from that night. They go to search his car, and Se-ro recalls the few memories she has of that night. Doo-soo had deposited her in the car only to have her climb right back out, and she'd slurred that she hadn't been able to cry at the audition. There had been a man near the car, peeing on a tree and singing.
Back in the present, Doo-soo finds her earring but Se-ro is more interested in remembering that song. She sings a few lines of it to him, misremembering that Doo-soo had been the one singing, and says dreamily that he's the first man to ever sing for her.
Hong-do journals about her eventful day, excited that she spent a whole ten minutes with Doo-soo. She wonders if it would be okay for her to cook for him again now that he's not engaged anymore.
The next day Yi-seok arrives at his office to find the student, Eun-ho, waiting for him, but today she's subdued and wears a new, more conservative hairstyle. He tells her to go somewhere else if she just wants to kill time, but Hong-do tells him this is not Eun-ho. Eun-ho herself bursts in to tell them that this is her elder twin, Jin-ho.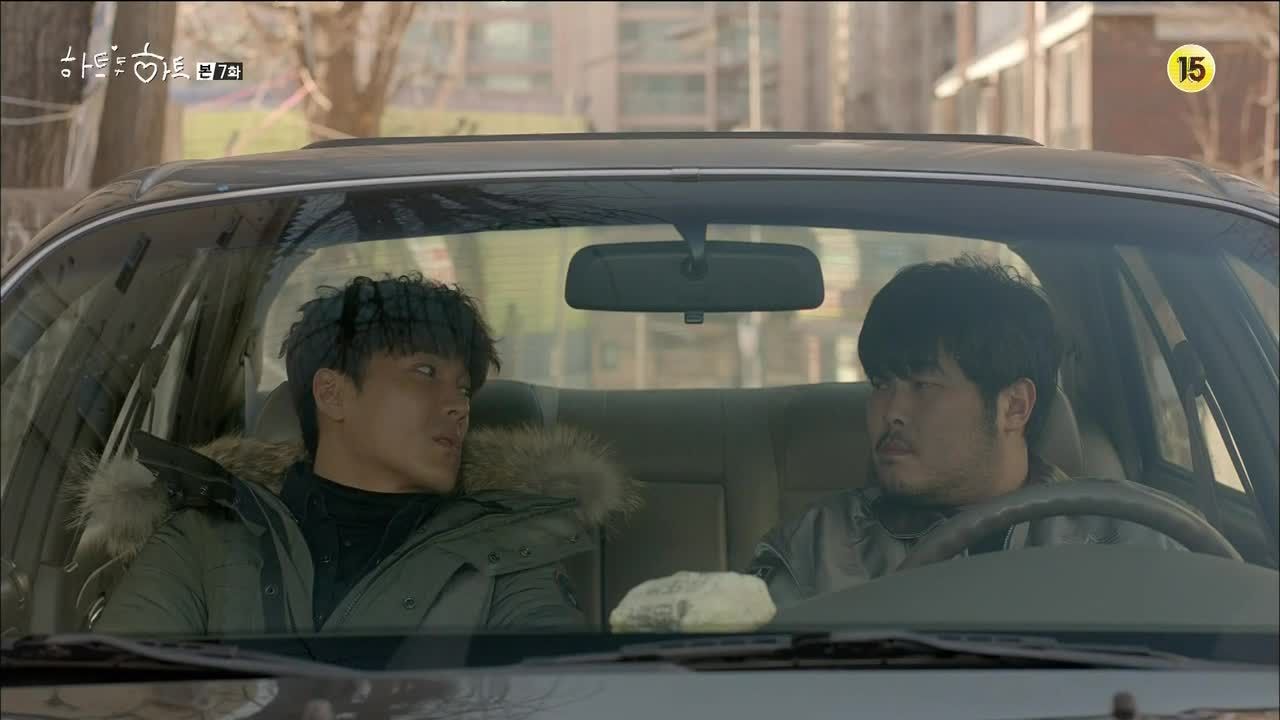 Doo-soo asks Yang if he would want to be the eldest daughter-in-law in a big family, getting a resounding "No." He wonders out loud if his elders would accept Hong-do (oh, so it's like that?), and takes offense when Yang points out all of her faults. Yang laughs at him for showing his feelings (and notes that he never rose to his ex-fiancee's defense this way), and says he should just do what he wants and be with her then.
At the office, Yi-seok reads Hong-do's journal entry about her mini-date, scoffing that she got so excited about spending only ten minutes with Doo-soo. She says that's about all she can handle because of her red face, so Yi-seok's advice then is to not spend any time with people who do that to her. Ha.
To make a point, he tells her to think of him as Doo-soo and gets right in her face (rawr), holding locks of her hair to keep her focused on him. He tells her to look him in the eyes for ten seconds, but it backfires on him when he can't stop looking at her lips, and his own face turns bright red. Hee!
Hong-do isn't unaffected either, noticing Yi-seok's lips and intense eyes. He breaks contact and fusses at her for looking at "Doo-soo" that way. Yi-seok admits that he can't fix her blushing, because it's just part of who she is. The problem isn't the blushing, it's that she's too conscious of it.
He grins impishly that she didn't blush like that when she was with him, and invites her over to his place again… just to sleep, you know. Riiiight. Still with that silly smile, he grabs her face and starts to say they could do more if she wanted, but she calls him crazy and runs out.
Hong-do stands outside the hospital hurling insults at Yi-seok, which is how Doo-soo finds her. He gives her a scarf he bought for her and wraps it around her neck, even covering her face so she'll be more comfortable. He tells her that he's always worried about her being cold riding on her scooter, and that he wants to do things like this for her now since he didn't know his heart back then.
Yi-seok joins them to make fun of Hong-do's red face in the red scarf, making Doo-soo bristle. He barges right between them to go to his car and sits there glaring at them as they say their goodbyes. Once Hong-do leaves he calls out to Doo-soo that even though he broke off his engagement, he can't have her because Yi-seok intends to win her. Gauntlet. Thrown.
Hong-do checks out her new scarf in the mirror, and wonders why she's not feeling happier. Doo-soo calls her to make sure she got home okay, and asks if she'd like to carpool with him in his warm car. She declines, and he admits that he feels a bit hurt, because he wants to do nice things for her but she's pushing him away.
Hong-do can only stammer that that's not it, and he accepts it for now. Just to make sure she understands, he tells her flat-out that earlier today in the restaurant, he was confessing to her, making Hong-do's face blink instantly red. He further clarifies that it's not pity, and adorably does the "I don't want to hang up first" thing like a teenager.
Yi-seok is still growling over Hong-do when he gets home, where Se-ro is studying. She wants to ask him about being independent, but he says she can't move out until she's married and even then, living in the family home would be better. Se-ro points out that their mother isn't much of a mother so it doesn't matter where she lives, but Yi-seok is a good brother and tells her to try being a better daughter.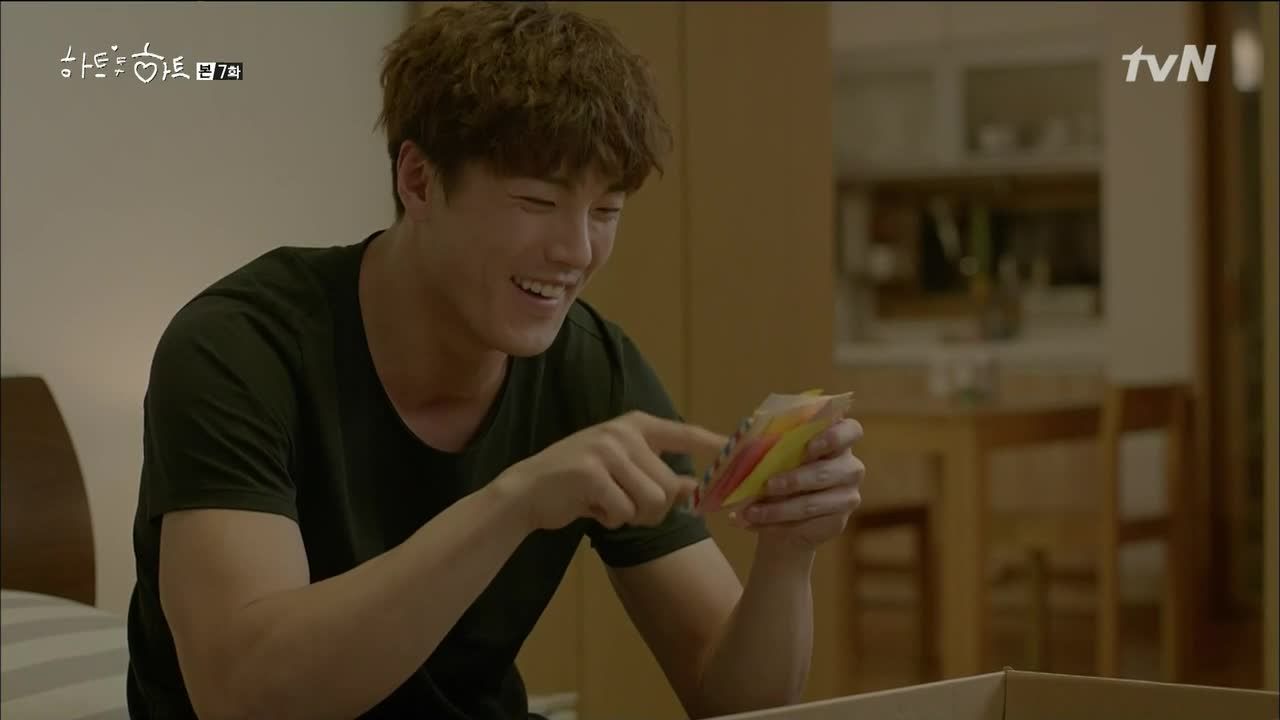 Doo-soo sits on his bed going through a large box, in which he's stored everything Hong-do has ever knitted for him (as a knitter myself, it's huge when a guy you like appreciates your hand-knit gifts!), along with all of the notes she's left with her food gifts. He looks through the notes like a giddy schoolgirl, laughing and commenting on each one. This is killing me.
He's interrupted by a call from his aunt with more marriage prospects, but he tells her he's not interested. He says he already found someone, and that he'll introduce her to them later. He goes right back to his treasure trove of gifts, especially loving the mittens that Hong-do knit.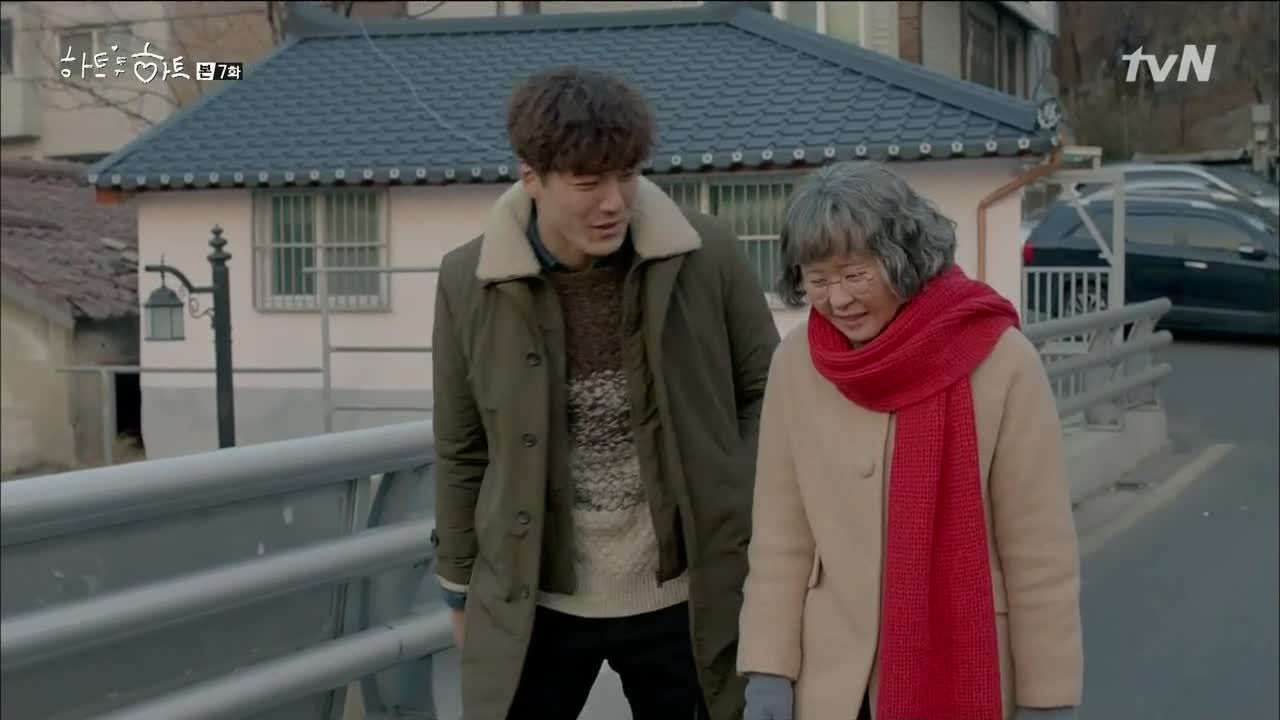 In the morning, Hong-do's landlord bangs on her door looking for the rent while Hong-do is in the middle of her grandma transformation. Hong-do pretends not to be home, but she listens as Doo-soo arrives and talks to the landlord, who tells him that the rent is due this week or she's selling the house.
When Hong-do comes out later in full disguise, Doo-soo is still waiting, and it's sweet how her old lady appearance doesn't even faze him. He offers to give her a ride to work but she declines again. He wants to at least walk her to the bus stop but when he takes her by the shoulders, the closeness frazzles her and she goes on ahead.
Totally twitterpated, Doo-soo just grins after her and follows her all the way to the bus stop. Hong-do mutters to herself that she must be crazy to not accept his offer of a ride, wondering why she ran away from him.
When she arrives at the Go home, there's a panic in progress as Yi-seok pounds on his mother's locked bedroom door and screams for her. He finally gets in and piggybacks his unconscious mother out of the house, running right past Hong-do without even seeing her.
Hong-do enters Mom's room and sees the bottle of sleeping pills on her nightstand, next to a suicide note. Oh no. I was worried this would happen. The note apologizes to her family and says she wants to go be with her deceased son, Il-seok.
Hong-do finds the chairman in his library and he shows her old photos of Il-seok with Yi-seok, telling her that they were twins. She notices that Yi-seok was smaller, and Chairman Go says that he was always timid, and that Il-seok was the strong one, which is why their mother favored him. He admits that he did too, but Hong-do is lost in studying the picture of little Yi-seok.
Yi-seok gazes at his sleeping mother in the hospital, and tells her in this sad voice that he hates her. Dr. Uhm arrives, but before she can even say anything, he refuses to admit his mom to the hospital permanently. She agrees, saying they'll give it time.
Yi-seok finds his father drinking with a friend, and tells him that his mother tried to kill herself after sleeping with Dad, saying that he can't just abandon them all then show back up and expect them all back. He begs him to show sincerity, if he really wants them back.
Doo-soo and Yang wander through a department store (Doo-soo is wearing his knitted mittens indoors, cute) where they notice everyone is coupled up. Doo-soo says he'd just like to be able to look in someone's eyes or hold hands, and he drifts into a daydream of being married to Hong-do. In his dream she's not shy or nervous, and they even have an adorable baby son.
Yang snaps him out of it to ask what comes after the hand-holding… you know, after. Doo-soo deflects and asks what Yang wants most, and Yang giggles at his own dirty thoughts. Such boys, these two.
Hong-do is near-frantic after a whole day of being unable to reach Yi-seok, finally bundling up to go find him. But as soon as she gets outside she's met by a bouncy Doo-soo, excited to have caught her without her helmet. She holds her hand over her face, but he asks if he can just look at her a minute then he'll go.
She slowly lowers her hand, and it's so cute how he's all dramatic ("Now I can live!") just to see her eyes. He says he's missed her all day, and wishes that she'd see him enough that she could become used to him. She meets his eyes for a second but her knees give out, and he just joins her on the ground and sits there beaming at her. He's killing me.
Eventually he takes Hong-do back to the same restaurant, and convinces his friend to let them have it to themselves. After they sit down, Doo-soo tells Hong-do that he paid her rent so she wouldn't have to worry about losing her home. He asks her to consider it repayment for all the food she's made for him over the years, or even a loan she can pay back if she wants.
He gets serious and says that he really hates her being around Yi-seok, which makes her eyes go wide. Doo-soo says he thought of her all day, seeing her everywhere, and promises that even though he's late, he wants to cherish and love her.
Hong-do's phone rings before she can even formulate a response, and it's finally Yi-seok calling. Doo-soo can see her struggling, so he takes the phone and answers it. Yi-seok is at his own apartment and has made quite a dent into the beer and liquor, so Doo-soo tells him not to drunk-dial Hong-do anymore and hangs up.
Doo-soo tells her to just turn her phone off and she agrees. It's still off when she gets home, and she's worried sick but she resists the urge to turn it on and check. Just to be sure, she takes the battery out and hides the pieces in the couch.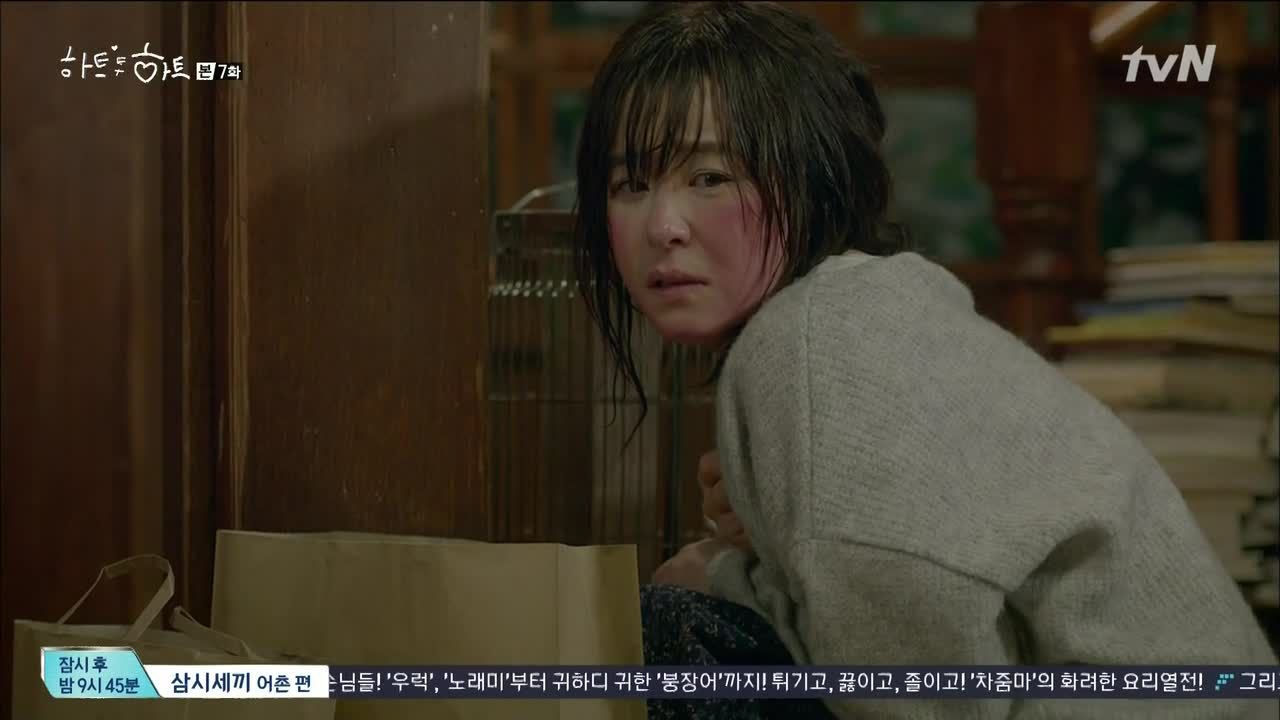 Hong-do spends the evening grumbling to herself that it's the best day of her life, so why would she do things that Doo-soo hates like talk to Yi-seok? She stays up the whole night making mountains of side dishes for Doo-soo, working almost desperately, but she can't stop herself from staring at the couch cushions every now and then. By morning she's literally sweating with the effort not to check her phone, and barely keeps herself from bursting into tears.
While Hong-do cleans up she rationalizes that Doo-soo wouldn't mind if she turned her phone back on now, since it's morning. Actually, she's turning it on so he can call to thank her for the food! Okay, sweetie. But when she turns it on and there's no message from Yi-seok, she's disappointed, and actually visibly wilts when Doo-soo does call to thank her.
He gently admonishes her for staying up all night to cook, and mentions again that he doesn't like that she's going to see Yi-seok today. But he says he'll overlook it since she's being treated by him, and promises to call her later. As soon as he hangs up, Hong-do's smile vanishes, and she goes right back to worrying about Yi-seok.
Yi-seok wakes up in his car (since he still can't sleep in his bed) with a mother of a hangover. He remembers Doo-soo answering Hong-do's phone and complains that that's the first thing he thought of on waking.
Hong-do realizes she's sick and goes to bed, whining about the timing on such a happy day. She says over and over that she won't do things Doo-soo doesn't like, but she pulls a piece of paper out of her pocket even as she's saying it, to read it again. It's Yi-seok's mother's suicide note, which she took to avoid Yi-seok seeing it. Awww.
Exhausted, worried, and sad, Hong-do bursts into great sobs as she reads the note again. She cries as she asks her grandmother why she's feeling this way, torn between getting what she's wanted for so long and not being able to be happy about it.
Yi-seok finally calls Hong-do to find out why she's not at work, and she's hugely relieved that he's okay. He hears her voice and guesses that she's sick, but she denies it and says she's coming in. He tells her to stay home and rest and he hangs up, but she's frantic to see him and quickly rushes to the hospital.
She stops in front of Yi-seok's car as he's pulling out, and he's worried to see her face so pale and flushed at the same time. He notices that she's looking boldly at him, and shyly asks if she looks at Doo-soo that way now. She's nearly crying as she says she thinks she's crazy, because she likes Doo-soo but she can't stop thinking about Yi-seok.
Hong-do says that she wants to hug Yi-seok so badly right now, and he just looks at her with those eyes and holds his arms out, inviting her in. She takes off her helmet and goes to him, finally letting her tears fall, and Yi-seok's face takes on this look of utter contentment.
He pulls back and cups her face, and asks why she's so hot. Hong-do says she's sick, but Yi-seok just smiles, says she can't get him sick, and kisses her.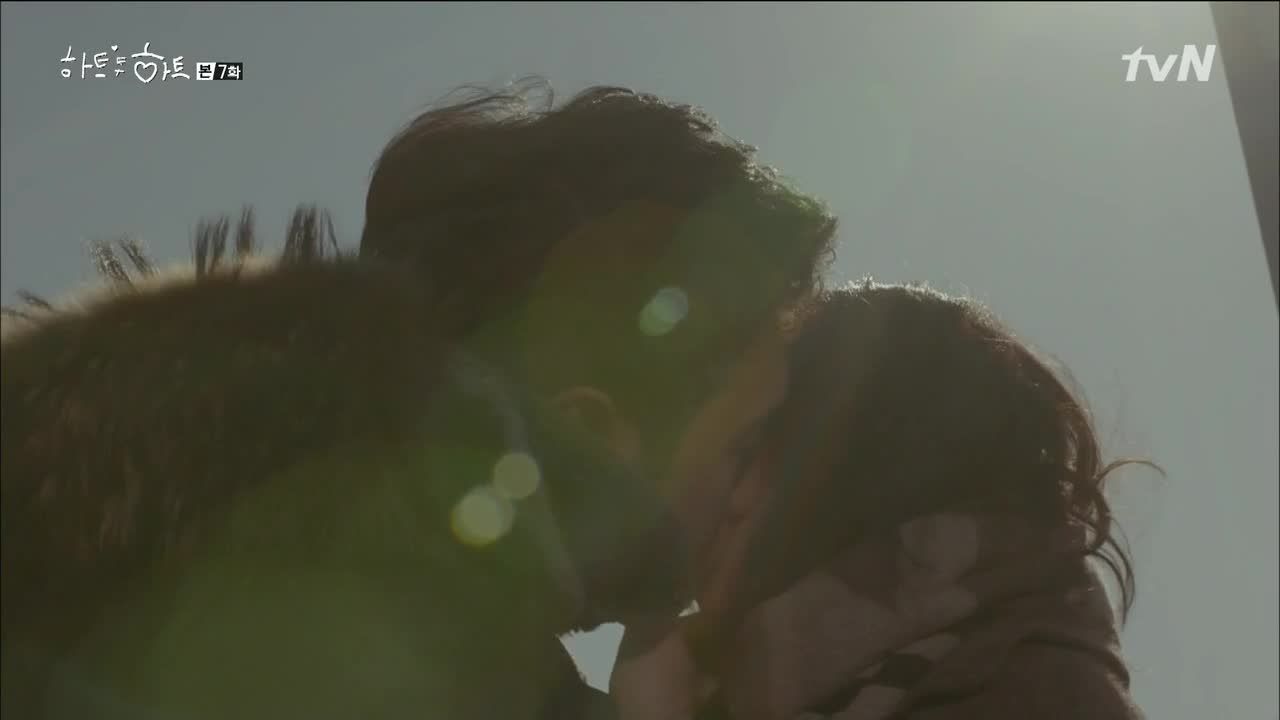 COMMENTS
It's so true, that timing is everything. If Doo-soo had realized that he liked Hong-do sooner, things might have been different, but then they also might not have because she wouldn't have been ready to come out of her shell. But her being ready now is also bad timing, because the person she found to help her is turning out to be someone she cares for a lot more deeply than she thought. And even if she'd gotten someone else to help her, that may not have changed anything, because what's pushed Doo-soo to realize his own feelings was his jealousy to see Hong-do with Yi-seok. So if any one of these things had happened differently or with different timing, I think things still would never have worked out with Doo-soo and Hong-do. The very thing that's finally pushed them together, is also the thing that's pulling them apart.
I have to say, I'm of two minds about Doo-soo's sudden pursuing of Hong-do. While he's obviously thrilled to death to have a chance to see her and talk to her now, and I like that he realized that he's liked her all along and not just now because there's competition, I also think he's making a lot of assumptions about their relationship. He's never asked her what she wants now (and he should at least ask if she still feels the same about him, knowing she's been intimate with Yi-seok) and he's just working on the assumption that her world still revolves around him. He's doing all the right things by still giving her respect and space but pushing her just a little, but I think he should be asking her if this is still what she wants.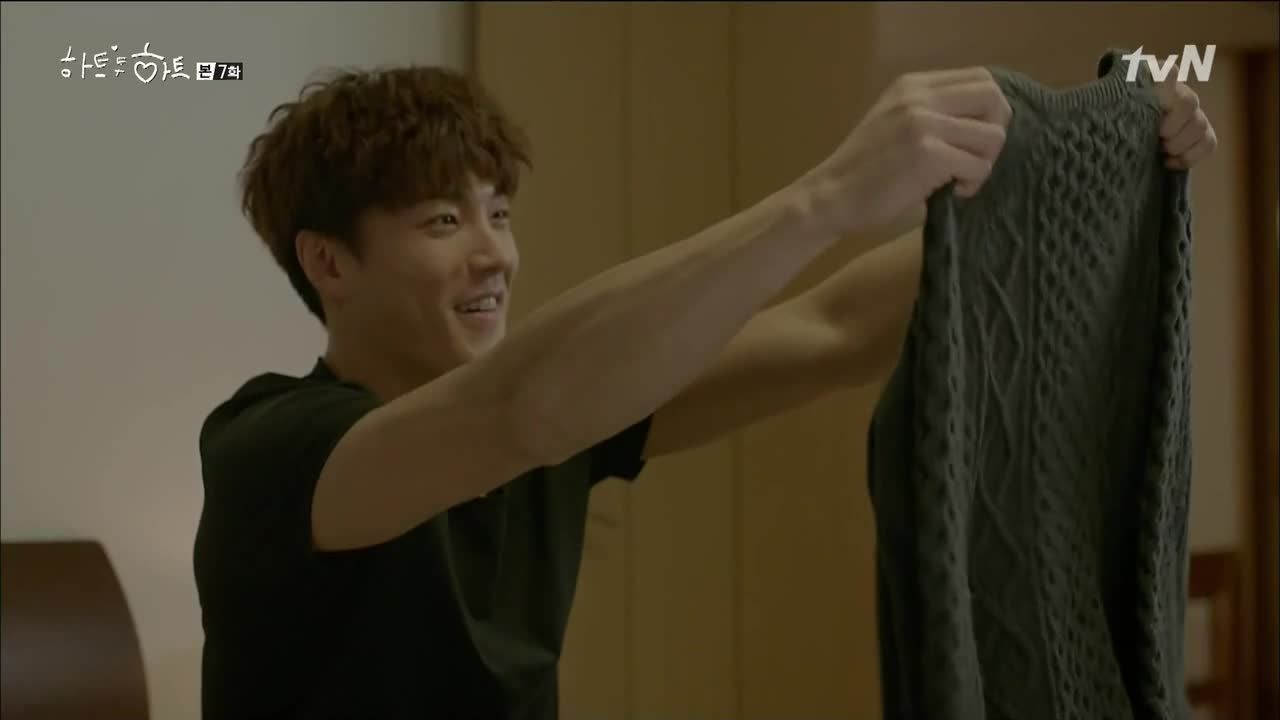 But I have some major concerns with the way he's acting now, too. I absolutely do not like that as soon as he paid her rent, he started telling her what to do. As in, immediately in the very next sentence. That smacks of him thinking of her as something he owns now, whether it's conscious or subconscious, and that he has the right to tell her who to talk to and who to avoid. As sweet of a teddy bear as he seems, I am also seeing flashes of some pretty intense jealousy issues, and the way he keeps saying that he wants to beat up Yi-seok with that happy smile on his face worries me a lot. It feels like he's got a lot of potential to become violent if he doesn't get his way, and he's used to having Hong-do all to himself.
I also worry about Hong-do staying up all night cooking, because it was almost as if she was trying desperately to recapture the feelings she used to feel when doing things for Doo-soo. But she couldn't help her thoughts, which were telling her that Yi-seok needed her, and being pulled in two directions made her exhaust herself and make herself sick. I do respect that Hong-do wants everything to stay the way it was, and has been honest about that from the beginning, even saying one last time to Yi-seok that she likes Doo-soo. But it feels like a hollow statement now, like she's been saying it for so long that she doesn't even know if it's true anymore — she just says it because it's what she's always said.
But I love that the show didn't drag out her realization that she cares for Yi-seok for too long, because there's so much more emotional gold to be mined from her knowing that her feelings are changing, and struggling with the choice she's now got to make. And it won't be an easy choice, because giving up a dream you've had for most of your adult life for a reality that's often grouchy, sometimes mean, and always takes you way out of your comfort zone would be hard for anyone, much less with someone who has very little experience with people. But I love seeing the Hong-do that emerges around Yi-seok, the Hong-do that's honest and outspoken and looks him right in the eye with confidence. It's clear which man is the one who brings out the best in her, and I can't wait to watch her realize it. Especially if he keeps being so willing to bring out her best with hugs and kisses.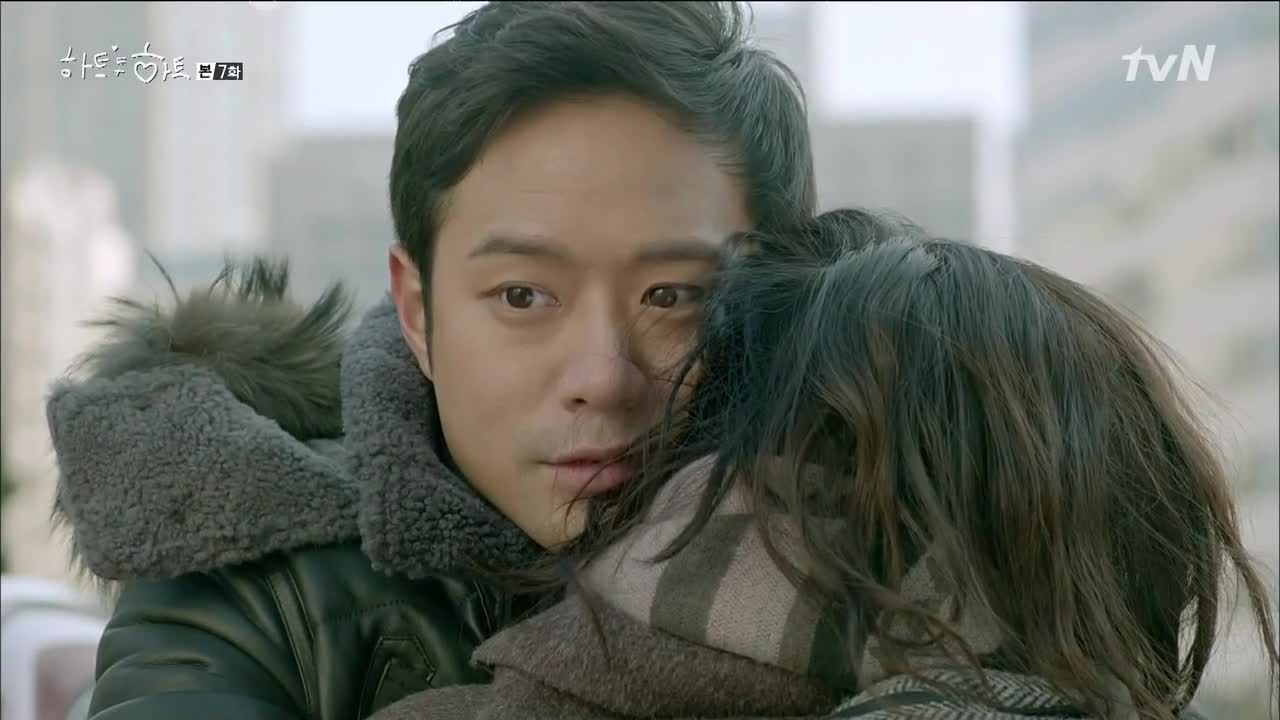 RELATED POSTS
Tags: Choi Kang-hee, Chun Jung-myung, featured, Heart to Heart