Ho-gu's Love: Episode 1
How. Freaking. Adorable. Ho-gu's Love (or Fool's Love, named for our main character Ho-gu, a pun on "fool") premiered on tvN today and is already off to a zippy start. I expected comic-book-style hilarity from the writer of Flower Boy Ramyun Shop, and I wasn't disappointed—the show is chock full of quippy lines, crazy situations, and a whole lot of underdogs to root for.
It's zany comedy, but I think it's going to be a relatable look at contemporary relationships (and all the confusing labels that we put on it these days). And Choi Woo-shik is fantastic as the ultimate loser. It's only the first episode, so the jury's still out on the romance or the story, but Ho-gu is love. He just might be the cutest sad sack ever.

SONG OF THE DAY
Eniac – "너를 기억해" (I Remember You) [ Download ]
Audio clip: Adobe Flash Player (version 9 or above) is required to play this audio clip. Download the latest version here. You also need to have JavaScript enabled in your browser.

First Fool's Errand: Let's throw trash in the trash bin
We begin at the 2014 Asia Games, where the women's 100-meter breaststroke is about to begin. Among the athletes is our heroine, national swimmer DO DO-HEE (UEE), who's got the attention of the sportscasters commenting on the games. (Of course they pun-named her after do do for "haughty.")
The race begins, and Do-hee keeps a good pace, but is edged out by her teammate (is that Lawyer Oh from Let's Eat?), giving Korea both gold and silver medals. But Do-hee is pissed about the silver, and makes it known in front of all the cameras as she huffs out of the swimming pool and stomps off to the locker room, steam practically coming out of her ears. She doesn't say anything but her bad sportsmanship is obvious to everyone watching, and old news to her coach, who sighs and runs after her.
Coach catches up to Do-hee in her room, where he asks what's so hard about being gracious about the silver medal. But she's tired of always coming in second, and scoffs bitterly at the idea that the public would suddenly pat her on the back for being gracious when she's bringing home yet another silver. She storms out with her bag in tow, and only when she's gone does she text Coach to tell him that she's going home early.
Back in Seoul, a young couple heads out to the park for an afternoon picnic, looking adorably shy and sweet together. The girl holds the guy's thumb, and that touch alone puts the biggest grin on his face. This is our hero, KANG HO-GU (Choi Woo-shik), whose name means "pushover" or "fool."
The girl sweetly calls him "oppa" and tells him that she's going on a work trip next week, and when he asks how long she'll be away, she says as if it's no big deal: "Mmm, six months?" His jaw drops. He doesn't even have a chance to ask her anything else before she gets a text and says she has to go, and he starts looking for the nearest subway stop.
But she says that her oppa is coming to get her, and Ho-gu gapes at the expensive-looking car that pulls up nearby. When she says that oppa is a lawyer, he's surprised because she mentioned before that her oppa owned a chicken feet restaurant. She shakes her head, "No, that's my biological oppa. This is my oppa."
He blinks back and forth between them, until she finally explains, "Boyfriend." Huh, and here I was thinking that the guy whose thumb you were holding was your boyfriend. And aw, from the look on Ho-gu's face, he thought so too.
The girl leaves him stunned speechless, and then she turns back to ask if they're okay (the nerve!), only to find him long gone. Ho-gu has drawn a crowd nearby, where he's chucking their picnic lunch at oppa's car, screaming like a crazy person: "If a boyfriend is an oppa, and a biological brother is an oppa, and I'M an oppa, it should've been taught in the language section of the college entrance exam!" LOL.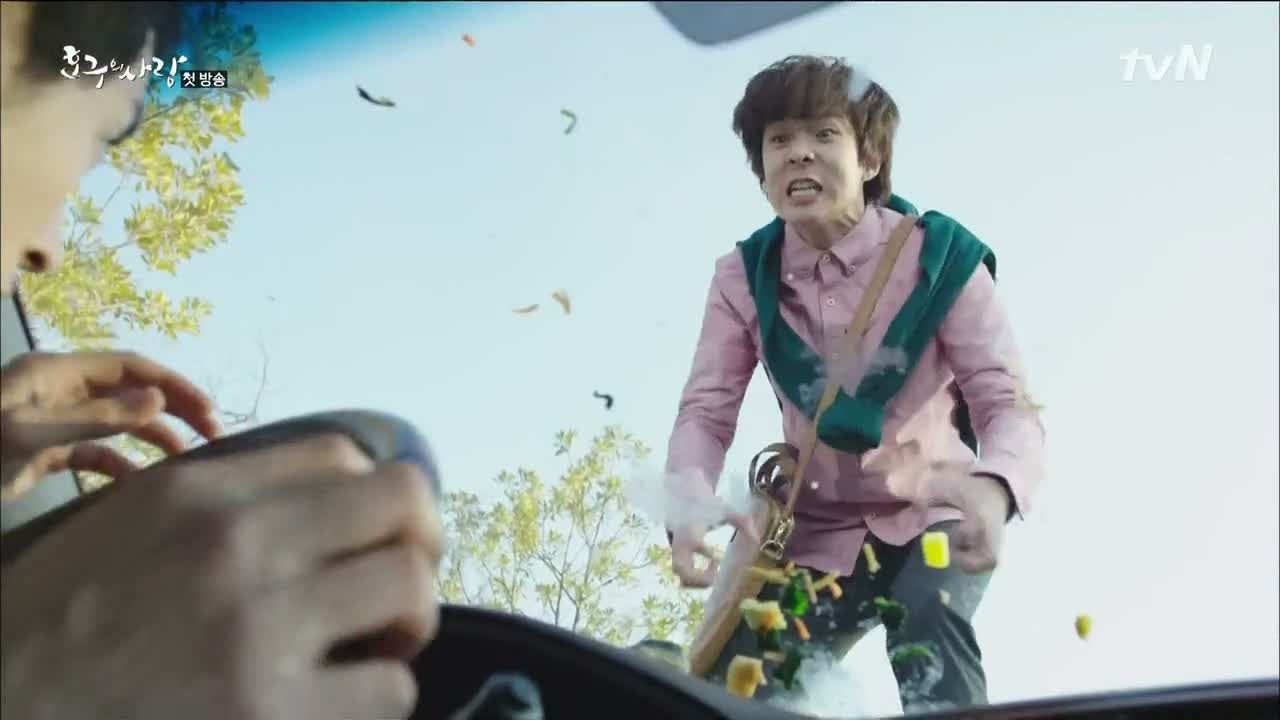 He jumps on the hood of the car, making raptor-hands and growling, "Why did you text me every day for three years? Why did you use heart-shaped emoticons?! Why did you hold my hand?!" He comes down and starts tapping on the driver's side window, asking for "My Oppa-sshi" to come out, introducing himself as "Just Oppa." Ha, this breakdown is hilarious.
The window lowers, revealing a well-dressed older man, and suddenly Ho-gu is bowing contritely and My Oppa-sshi is thanking him for being like a brother to his girlfriend. Aw man, that awesomely embarrassing breakdown was all in his head, wasn't it? That's even sadder. All Ho-gu can manage to do is meekly offer her the picnic lunch to take, and she tells him to keep it, promising to text when she's back.
Ho-gu narrates that this time it wasn't dating either. It's always like this for him—they eat together, drink together, text, watch movies, but he's never the boyfriend. As he eats his picnic lunch alone, he crumples up the love letter he wrote and leaves it behind in his milk carton.
The one thing that bugs Ho-gu is why she held his hand then, if he wasn't her boyfriend. He asks his buddies about it over drinks that night, and when he replicates the thumb-hold for them, his buddy starts mock-quoting "Some," and calls him an oppa that's like a friend, but not a friend… The third buddy finishes with: "You're just a hogu [fool]."
They remind him about how much money he's poured into this girl, but Ho-gu swears he wasn't expecting anything in return. As he walks home that night, he wonders what he did want then. He takes out his camera and snaps pictures of all the couples waiting to cross the street, and he wonders if they're in relationships or in that in-between "some" stage, figuring he wouldn't really know the difference since he's never experienced it.
As he takes pictures, something makes him do a double take—it's Do-hee, standing across the street, seemingly looking right at him. He snaps a picture and then quickly looks away, trying not to get caught staring at her.
The light turns green and they walk towards each other, but she just keeps going past him. Right in the middle of the crosswalk, Ho-gu turns and stops her with a nervous, "Uh…" She turns around, but before he can come up with something else to say, his phone rings and he scrambles to the other side of the street as he answers.
He watches Do-hee go, absently answering the telemarketer on the phone with, "Yes, I'm Kang Ho-gu." He narrates that Ho-gu really is his name.
In the morning, Do-hee struts through the airport and slings her silver medal around her neck, which seems like an odd thing to do. But we see that the rest of the national team has just arrived home from the Asia Games and is posing for the press line.
In a practiced move, Do-hee shimmies through the crowd and takes her spot right next to the gold medalist, acting as if it's no big deal.
Ho-gu swoons when he sees Do-hee on TV, and when he takes home the pictures he had developed, he spends a while just staring at hers. His two buddies, KIM TAE-HEE (Choi Jae-hwan) and SHIN CHUNG-JAE (Lee Shi-un) come back to their shared studio office space and immediately discover the pictures Ho-gu was trying to hide when they entered.
He tries to run but Chung-jae holds him down while Tae-hee squeezes the truth out of him, literally—he squeezes Ho-gu's face until he's squeaking out nothing but a serious of indecipherable peeps, which Tae-hee expertly translates.
Chung-jae can't believe he let Do-hee go without getting an autograph, but Ho-gu says getting an autograph from a friend would be weird. Chung-jae scoffs at the friend bit, thinking it absurd: "What are you, [national athletes] Park Ji-sung? Park Tae-hwan?" But Tae-hee says it's true—they both went to high school with Do-hee.
We flash back to high school, where Ho-gu is napping peacefully in his classroom until the boys announce that Kim Tae-hee is transferring to their school. Ha, they're in for a shocker. They hoot and holler expecting, well, Kim Tae-hee… and their faces fall when their Tae-hee walks into the classroom.
But as he's introducing himself, Do-hee walks past the class, and all heads turn in her direction. Ha, all she sees is a classroom full of drooling cartoon lemmings (or some other mole-ish animal).
Back in the present, Tae-hee says that he and Do-hee transferred to the school on the same day, like it was fate. Chung-jae holds up all the Do-hee paraphernalia he has around his desk and asks them challengingly if Do-hee knows that they're friends, and Ho-gu can't exactly meet his eyes.
Coach comes by Do-hee's photo shoot to ask why she really came back early from the games, knowing that she lied about a death in a friend's family: "You don't have any friends." She can't even argue with that. He asks if she's got a boyfriend stashed somewhere, and she glares even harder. But later that day, Do-hee puts a baseball cap on and heads to a law firm, where she asks to meet with a lawyer and introduces herself as his ex-girlfriend.
Ho-gu waves when he passes by a cardboard cutout of Do-hee outside a sporting goods store, and spends twice as long coming up with an excuse about swatting away flies to cover up his embarrassment. Dad calls, and Ho-gu rushes home to help clean out the return box for Dad's comic book store.
Dad asks why Ho-gu keeps awkwardly switching to jondae halfway through his sentences, and he says he's trying to be manlier, and a man supposedly doesn't talk to elders in banmal. But Dad calls that silly and insists that if they're close, they speak comfortably.
Ho-gu notices that Dad seems upset and asks about it, and Dad's voice starts shaking like he's going to cry: "People… keep… stealing the comic books!" Haha, I think I know where Ho-gu gets his sweet pushover tendencies.
Ho-gu mans the manhwa store counter for a while, when—EEP—Chief Oh (Misaeng's Lee Sung-min) walks in and points to the stack of Misaeng manhwas displayed on the counter. He asks if they sell copies too, and shakes his head at the price, deciding he'll just borrow them instead.
Ho-gu insists that it's a great series, and at that, Chief Oh tosses him his familiar "bewitch me" line, and asks Ho-gu to try and bewitch him into buying it. Ho-gu stands there tongue-tied for a moment and says that it's a really good story with fantastic characters, and Chief Oh nods, then only pays for the rental. HA.
While they're talking, Do-hee walks into the store still wearing her baseball cap, and seems to linger purposefully in Ho-gu's line of sight. He turns around and starts to say something in her direction… but it's directed at a thief sneaking out the door behind her.
Ho-gu zooms past her and runs after the manhwa thief, suddenly turning into rooftop-leaping Jang Geu-rae. But when he leaps at the culprit in mid-air, they freeze as we rewind and see the real version of the chase—a little less Healer, and a little more like two nerds huffing and puffing down the street and pawing at each other.
Ho-gu manages to get the manhwa back, though he's scared enough of retaliation that he runs back to the store like a wimp and locks the door behind him. He asks Dad if they had any more rentals while he was gone, and checks the computer. He gapes at Do-hee's name listed there. (Lol, Chief Oh's rental record consists of five volumes of a series called Boy Detective Jang Geu-rae.)
Ho-gu berates himself for not noticing Do-hee earlier, and at home he's still pitching a fit about missing his chance. The sound of voices arguing outside his window sends him scrambling closer to listen in, and he rolls his eyes as the man complains that a year abroad means that she's trying to break up with him, and the woman asks innocently when they ever dated.
It's a familiar line to Ho-gu, and he even interjects to tell the guy that he's wasted on a girl like that. But moments later, that same girl walks through his door and lands on his bed. She kicks off her socks onto her face, takes a whiff, and declares them still good for tomorrow. Ew.
Ho-gu sighs and tells us that this is his little sister, KANG HO-KYUNG (Lee Soo-kyung). And minutes later, the same girl looks totally different without her makeup, plopping down in a tracksuit to pick her nose and teach her brother more lessons on dating.
They walk through the neighborhood, and at a crosswalk, Ho-kyung tells him that dating is a lot like having to cross the street hundreds of times throughout your life. You have to mate in that short time that it takes to get to the other side (he stares, taking her a little too literally), and you have to read the other person's signals to make sure they match, green light for green light.
Ho-gu wonders if that's really all that dating is, and asks if a real relationship wouldn't be something different. He thinks back to the moment he ran into Do-hee in the street, and describes it as two people's eyes meeting from across the street, instant recognition, and being too busy looking into each other's eyes to notice what color the crosswalk sign has turned.
He asks if that isn't the kind of love that makes a relationship real… and we cut to Ho-kyung and his two buddies cackling in his face, like that's the stupidest thing they've ever heard. An ajumma from a nearby table interrupts them to defend Ho-gu, calling them no better, and that quiets them down.
Then she stops to ask for their plate of peppers if they're not going to eat them, and then asks Ho-gu for his ("pepper" is also what you call a dick) with the jab: "Since you're not using it." They all bust up laughing—all except for Ho-gu, that is—and he narrates that this is his mother. Oh no.
Ho-gu wakes up to find a notice from Mom asking for rent money for his basement apartment below the family house, and a letter from his high school classmates about the next reunion dinner.
He's still contemplating the invitation at work, where it appears that he does manhwa-related artwork with his two buddies. He asks Tae-hee about possibly going to the reunion, but they both shudder at the thought that the class bully could be there. Tae-hee sees right through Ho-gu and knows this is about seeing Do-hee again, but he doubts she'd be there.
Chung-jae is tired of hearing about it and tells them to just go and get her autograph, tearing off his shirt for them to get it signed. Suddenly all three boys are giddy with excitement, and they make Ho-gu try on outfits, each more hideous than the last.
When they're done, he looks like he's IN high school, not going back for his reunion, but thankfully Ho-kyung is on her way home and catches the knuckleheads before they leave. She dresses her brother properly and even gives him a pep talk, and he leaves feeling like he owns the world.
That is, until he gets to the dinner, where everyone ignores him and he's wearing the same shirt as the entire wait staff. He tries to sneak out early, but then the class bully arrives and drags him back to the table, where he makes fun of Ho-gu for even thinking that Do-hee considers a wimpy nobody like him a friend. The class bully grew up to be an insurance salesman, and he now bullies his old classmates into signing up for policies, go figure.
Ho-gu caves and signs up for an insurance policy just to keep a fight from erupting, drags a drunk Tae-hee into a taxi, and the night is a total bust. He heads back in to grab his bag, when he finds Do-hee sitting at the table all alone.
He braces himself and heads over there, but then a woman at a nearby table stops and asks for something, mistaking him for a waiter. Ho-gu is too nice to correct her, and then Do-hee calls him over to ask if the reunion dinner has already ended. He hangs his head, realizing that even Do-hee thinks he's just a waiter here and has no idea who he is.
Ho-gu decides that he has to say something, and screws up all his nerve and blurts, "Would you like more rice crisps?" Aaack, no. She absently says yes, so he delivers more bar snacks to her table as if he really works there.
He deflates, convinced that she really doesn't remember him, and then decides to at least tell her where the rest of the classmates have gone for the second round. But Do-hee says she isn't interested, since she didn't come to see them.
She reaches down and pulls out the comic book from Ho-gu's bag—the missing volume from the set that she borrowed, which he recovered from the thief. Do-hee: "I came to get a comic book." She switches to banmal and calls him Kang Ho-gu, and his eyes grow wide. Aw, she totally remembers you!
Chung-jae hangs out with Ho-kyung that night since his buddies are out at the reunion, and he asks if a date at the Han River isn't a sign that the girl wants something more. She tells him for the millionth time that that's a stupid rule and it's just a river with zero meaning attached, and he cries, "But it says so in Maxim!" Hahahaha.
Cut to: Ho-gu and Do-hee walking along the Han River. Ho-gu's mind is racing, trying to figure out what this means. He apologizes for not noticing her at the manhwa store the other day, and she asks if he caught the thief. That boosts his confidence, so he tries his luck and asks if they didn't maybe, possibly run into each other while crossing the street.
She says no, so he hurriedly agrees that it didn't happen. He tells her about being an assistant artist to Chung-jae, and she interrupts when she notices the ferry passing by in the river. They both say they've never been on it before, and Ho-gu gets all worked up, thinking that this is one of the signs, and that Do-hee is giving him the green light.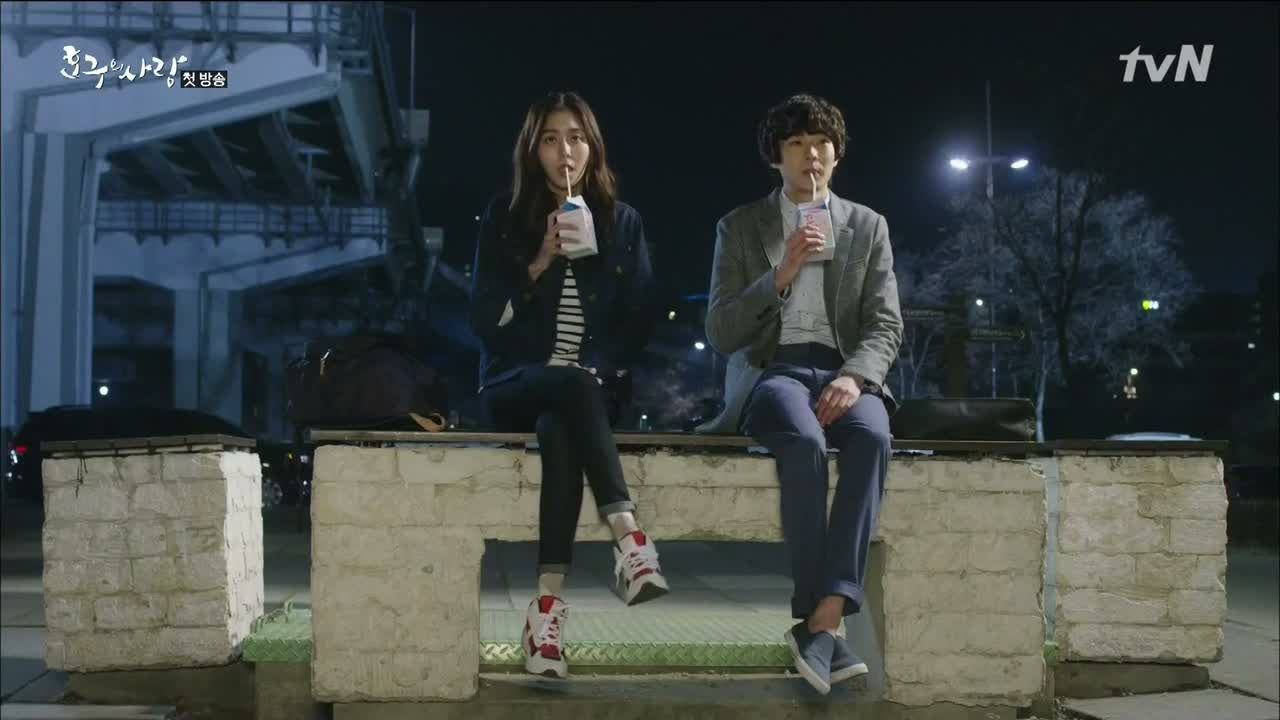 He asks if she wants to go for a boat ride, but she shoots him down flat. He sips the rest of his milk quietly, then opens up the empty carton out of habit. She asks why and he explains that he does this whenever there's something he needs to lose: "You know, like something you don't want to take home with you, but you can't really throw it away, and you don't want to keep remembering it."
He says he folds it up into the carton and leaves it behind (like he did at the park when he was dumped), and then says aloud, "Oh no, I left it behind." When he says that, it helps him believe that he really did just forget the bad memory and left it behind.
Do-hee contemplates him for a beat, then says he never grew up. Embarrassed, he scurries off to the restroom, and Do-hee opens up his carton to find the insurance contract that he was bullied into signing earlier that night. She seems to get it now, and looks down at her own carton, repeating his words with a faraway look in her eye.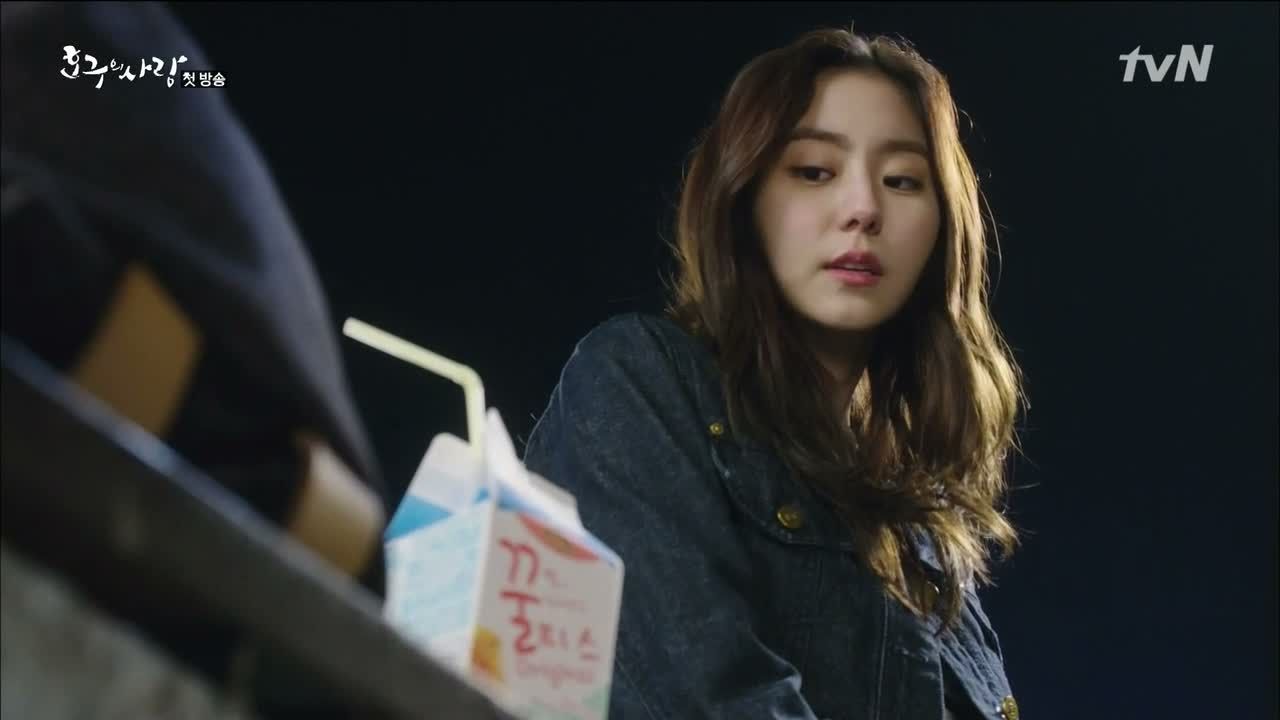 Afterwards, Ho-gu takes her to the sporting goods store where her cardboard cutout stands outside, and she grouses that she told them to Photoshop her shoulders better. He insists that she looks pretty, and she argues that of course she would in his eyes, because he used to like her back in high school.
The matter-of-fact way that she says it startles him, and he stammers shyly that he did like her. She notably doesn't remember Tae-hee's name, even though Ho-gu tells her that Tae-hee liked her too. And then he starts naming all of the other guys with crushes on her, which amounts to listing every boy they went to school with. She doesn't bat an eyelash, like she's heard it a thousand times before.
Back at home, Chung-jae demands to know what a real green light is then, if Maxim led him so astray. Ho-kyung finally relents and gives him a real dating tip, and he eagerly opens up his notebook to jot it down. She says that girls give boys opportunities by saying things like, "I'm hungry," or "I want to see the ocean." Then it's up to the guy to pick up on that signal and make it happen.
The ocean one is the greenest green light there is, in her opinion. Chung-jae writes all this down, but then asks what if it's late at night and you have to work the next morning, and you have to call your mom and let her know where you are, and wouldn't it be better to go the next day? Ho-kyung sighs in exasperation, "Then just live like this for the rest of your life!"
Do-hee and Ho-gu reach the crosswalk where they'll have to part ways, and Do-hee suddenly asks if it would be cold to swim in the ocean right now. She sighs that she really wants to see the ocean, but Ho-gu misses all of the signals and tells her it would be way too cold and way too dark to enjoy it at this time of night. D'oh.
She looks a little disappointed and reaches out a hand for a shake goodbye. At the same time, we cut back to the bench at the Han River where they left their milk cartons behind. The trash collector mutters in annoyance and picks them up, stopping to open Do-hee's because he hears rattling inside. He takes out… a pregnancy test. Omo. It's positive.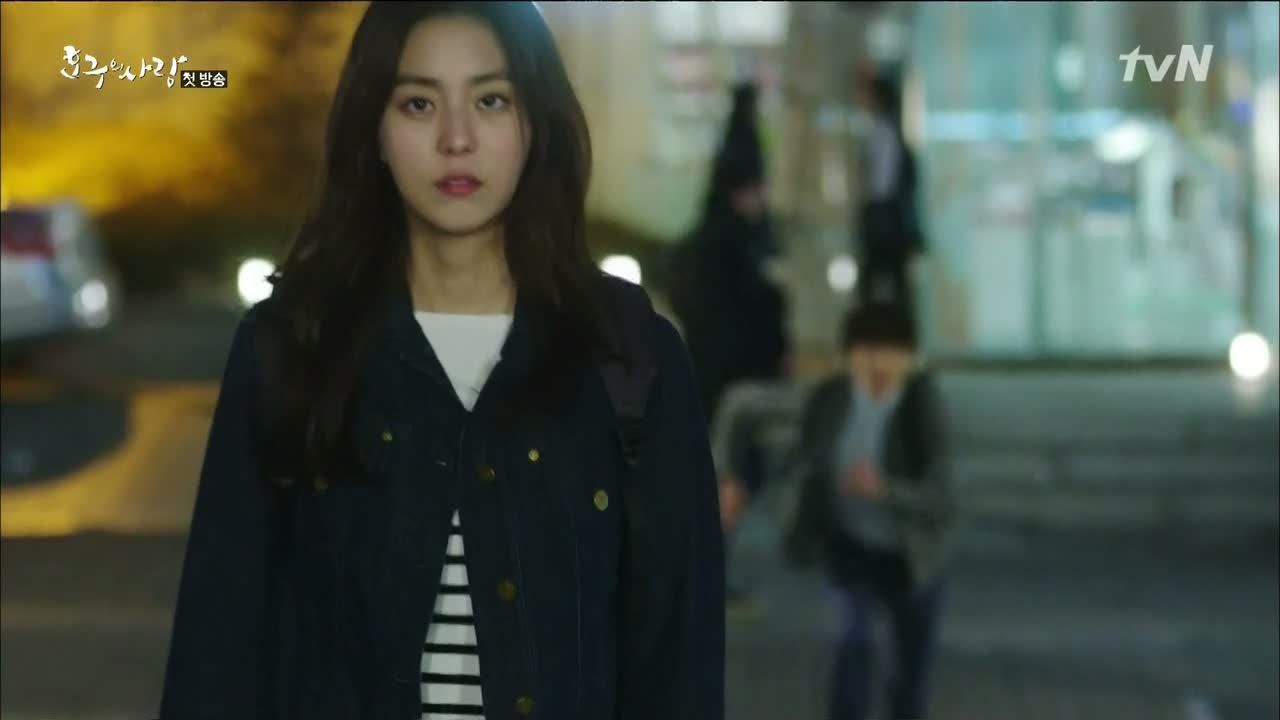 Back at the crosswalk, Ho-gu asks hesitantly if they'll see each other again, and Do-hee just answers in a way that's even more non-committal than "maybe," and starts to walk across the street. Ho-gu watches her go, and narrates that he still doesn't know why he did what he did that night.
Suddenly he tears across the street after her, as he says in voiceover, "But all I know is, I'm positive that my very first time committing a traffic signal violation was the best decision I ever made."
He catches up to her in the middle of the street and whirls her around, out of breath but buzzing with excitement as he says, "Let's go. To the ocean." At that, Do-hee looks at him and says as if an afterthought, "Oh no, I left it behind," referring to the milk carton, just like he taught her to do.

COMMENTS
Except I don't think you can just sweep a pregnancy under the rug. It's not exactly a painful memory you can deny like a breakup with a non-girlfriend. I do worry about the pregnancy aspect of the story, since even on a good day, I might worry that Do-hee is using Ho-gu to boost her self-esteem or stave off loneliness, or be her everything-but, like he has been for every other non-relationship he's ever been in. So I already find myself worried about her leaning on him for all the wrong reasons. I was expecting My Sassy Girl, but this certainly takes the conflict into deeper and murkier waters. It's not necessarily a bad thing, but we'll have to see how it's handled.
Still, I'm going to try and give Do-hee the benefit of the doubt, because it would suck to be her, and she seems genuinely lonely. It helps that I like UEE to begin with, because Do-hee hasn't shown any warmth thus far. She does have some key cracks in her armor though, like her complex about always coming in second, her need for public approval, and her obvious lack of friends. I felt like she redeemed herself when she clearly remembered Ho-gu and even that he liked her in high school, so I'm hoping for some more flashback memories to back that up, and to give her a little more dimension.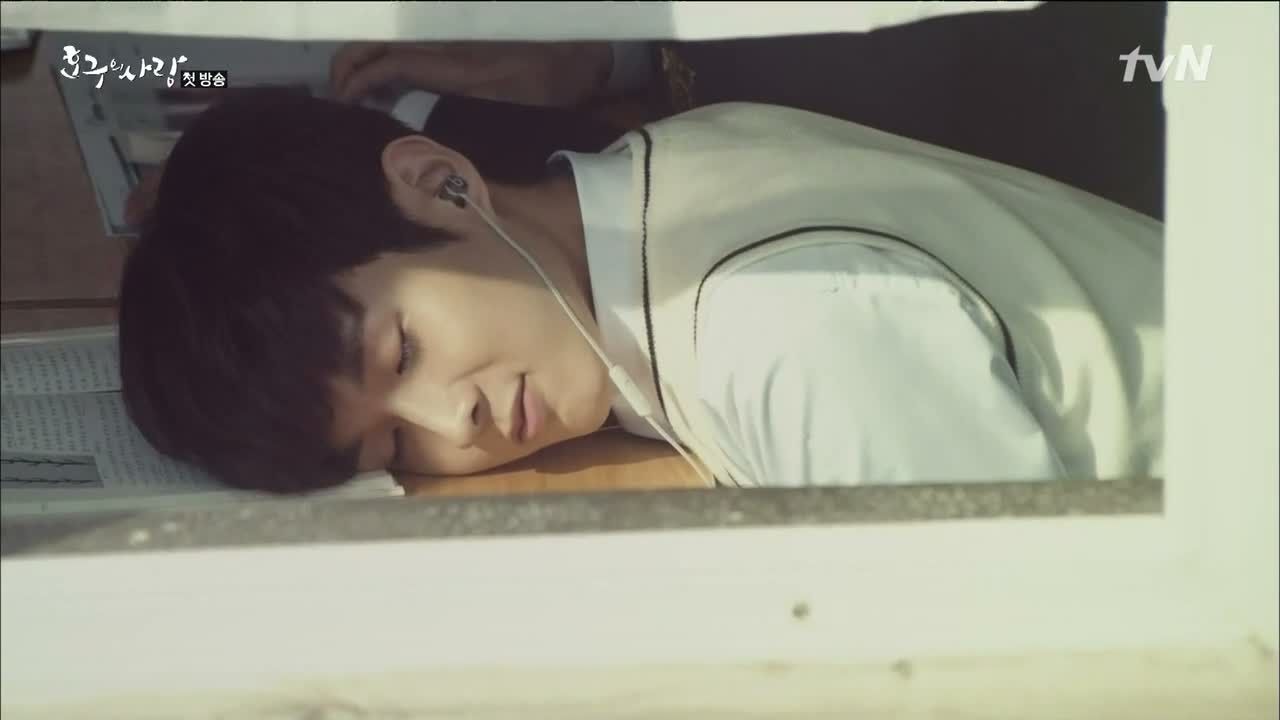 The first episode was a well-paced and lighthearted introduction into the world, grounded by a great leading character. I have such a soft spot for this kind of hero—he has zero confidence and zero game, but so much heart, and I'm already rooting for Ho-gu to figure out how great he is. His kind of shyness feels so familiar, because everything about him is so average. He's the quiet guy who's too nice to say anything mean, too scared to ruffle anyone's feathers to say no, too self-conscious to ask a girl to define what they are. And his fantasy outbursts just make him all the more pathetic, for having things to say but not the confidence to say them. He feels like a real person, complete with embarrassing foot-in-mouth syndrome, idiot friends who give him terrible advice, and a tendency to overthink things into the ground.
I like everything about him, even the cringey embarrassing stuff, because Choi Woo-shik has instant vulnerability the second he's onscreen. It's scientifically impossible not to feel empathy for him, like some kind of biological imperative to cuddle baby animals. I'm sure he's in for a world of pain, but already he's got the better head on his shoulders when it comes to his philosophy on love and relationships, and we're seeing some points of connection with Do-hee, who's not quite as unreachable as he thought. I know that he's a pushover and needs a boost of confidence, but I hope he doesn't change completely—there's something to be said for a drama that proves that nice guys don't always finish last.

RELATED POSTS
Tags: Choi Woo-shik, featured, first episodes, Ho-gu's Love, UEE