Kill Me, Heal Me: Episode 11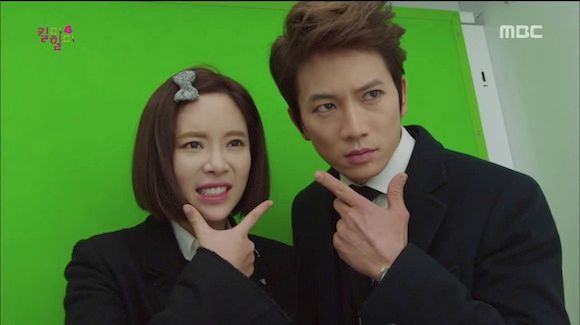 They say people don't change, but does that hold true for someone with six other people living inside of him? Se-gi goes to extreme lengths this episode to become the man Ri-jin wants him to be, straining his own limits along with Ri-jin's patience. The results are both hilarious and heartwarming, but Do-hyun's continued absence and the stirrings of Do-hyun's enemies cast an ominous cloud over Se-gi's sincere attempts to charm the love of his life.

EPISODE 11 RECAP
After hearing Se-gi's ultimatum, Grandma Seo sends her henchmen to check on her son. Se-gi got to him first, however, and kidnapped him after disabling the surrounding cameras. Grandma Seo orders her men to continue the search discreetly, so the police don't get wind of what happened.
Ri-jin is back at the family restaurant, after Ri-on took her away from Do-hyun's apartment. She shares a cup of tea with Dr. Seok and asks if Do-hyun was ever a victim of abuse. She remembers Se-gi accusing Do-hyun's mother of being a complicit witness to abuse, and thinks that Do-hyun's personalities must have evolved to deal with that trauma.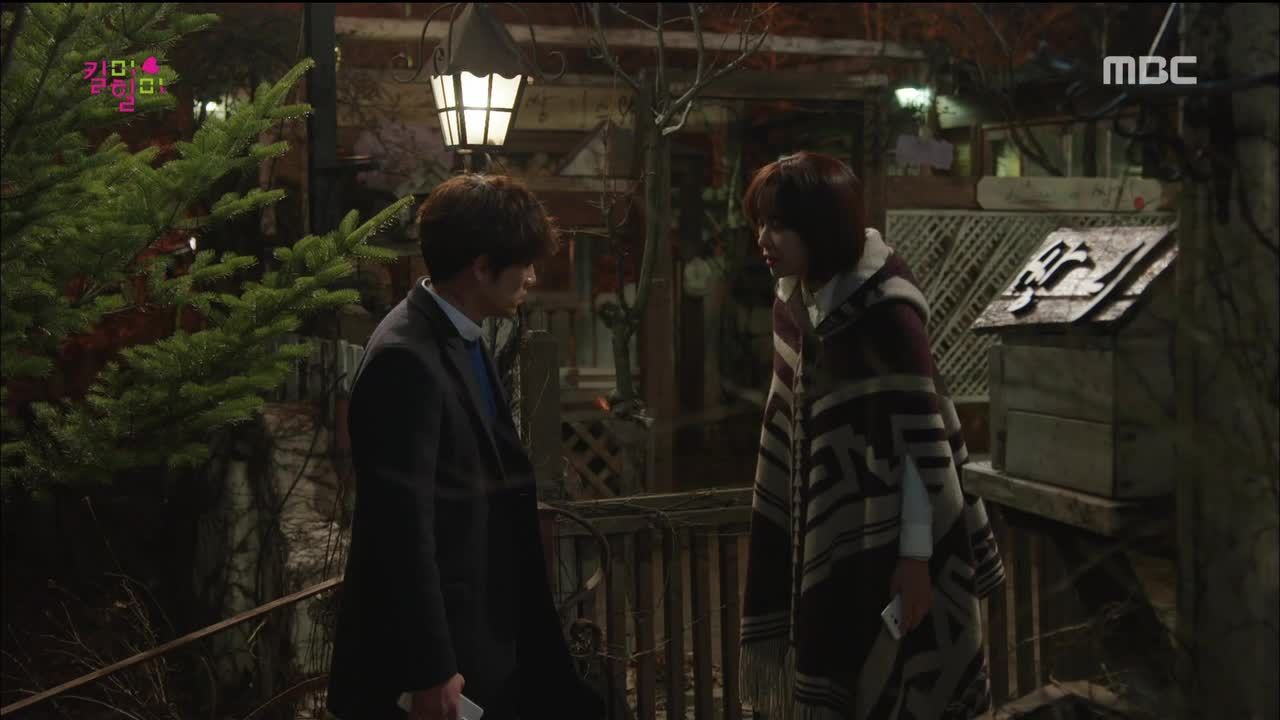 Se-gi calls Ri-jin, and they meet on the steps outside the restaurant. "Should I steal Seungjin Group?" he asks. If Ri-jin wants the company, he'll give it to her. If not, he'll take it and destroy it.
"So don't kill me," he pleads. "Even if it means being Cha Do-hyun's false image, let me stay by your side." A tear falls down Ri-jin's face. Se-gi extends his hand to Ri-jin: "Come with me."
Ri-jin reaches for his hand, but Ri-on arrives and stops her in her tracks. "Don't make this worse than it already is," he warns Se-gi. Se-gi remembers Ri-on's earlier words, about him having no right to meet Ri-jin because he is a son of Seungjin Group, and he takes his hand away. Ri-on leads Ri-jin back inside, leaving Se-gi behind in the cold.
Ri-jin stops Ri-on at the doorway to her room and asks why he has changed lately. "You were always on my side," she says. Ri-on swears that he is still on her side, and that what he's doing now is for her own good.
"So trust me," he pleads. "Stop asking me to trust you and trust me for once." There may come a day when she's grateful for it.
In her study, Grandma Seo reviews CCTV footage from the hospital where Se-gi found his father. As she watches, Se-gi strolls through the lobby and, seeing the camera, backs up to wave knowingly. Grandma stands up, trembling. She moves to get a drink, then collapses to the floor.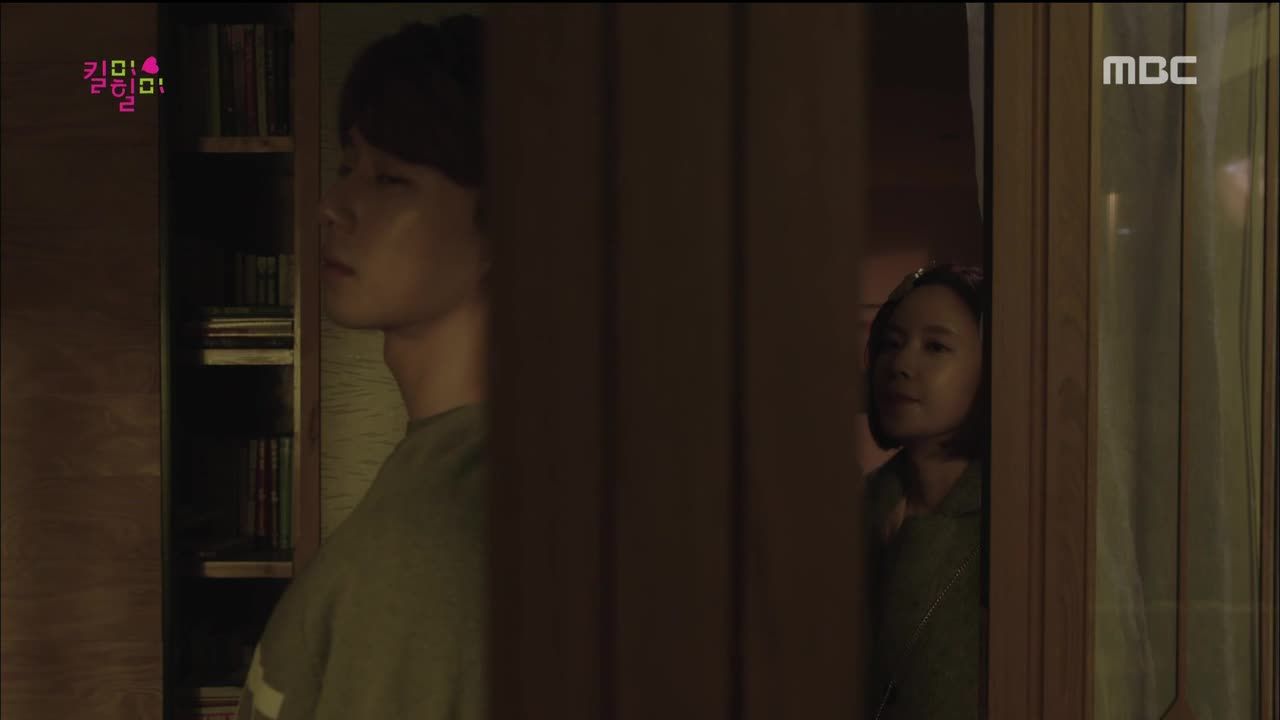 Ri-jin speaks to Ri-on through his closed door. She has decided to go with Se-gi, with or without her family's approval. "I think I'm a part of this game," she says, "and I have to play it to the end. I want to take responsibility." Ri-on's anguished expression is heartbreaking, as he listens silently with his back against the door.
Ri-jin walks away from the restaurant, when Ri-on comes running after her and whacks her on the head. He says with composure that he'll drive her. Ri-jin's face breaks into the biggest smile, and she jumps on Ri-on's back gleefully. Aww, I was hoping Ri-on wouldn't stay away for long!
The car pulls up in front of Do-hyun's apartment. Before Ri-on leaves, Ri-jin asks if he wants to do "that thing we used to do so well when we were children." Ri-on: "Are you crazy?! We're too old for that!" But a second later he's back by her side.
Ri-on: If you ask who we are…
Ri-jin: It is human nature to answer!
Ri-on: To prevent the destruction of this world!
Ri-jin: To protect the peace of this world!
Ri-on: To carry out the evils of truth and love!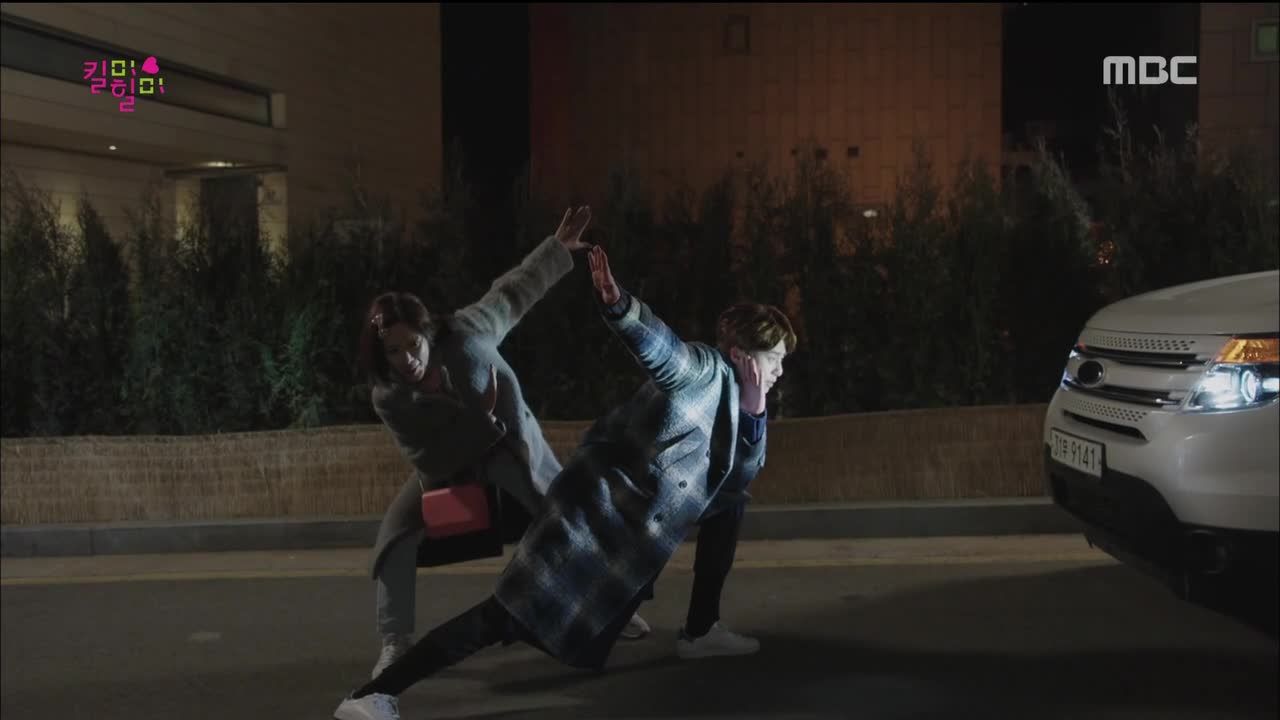 Ri-jin: Pokémon Experts! Super-cute villains!
Ri-on: I'm Ri-on!
Ri-jin: I'm Ri-jin!
Ri-on: For Team Rocket running around the universe!
Ri-jin: We are waiting for the beautiful world of tomorrow!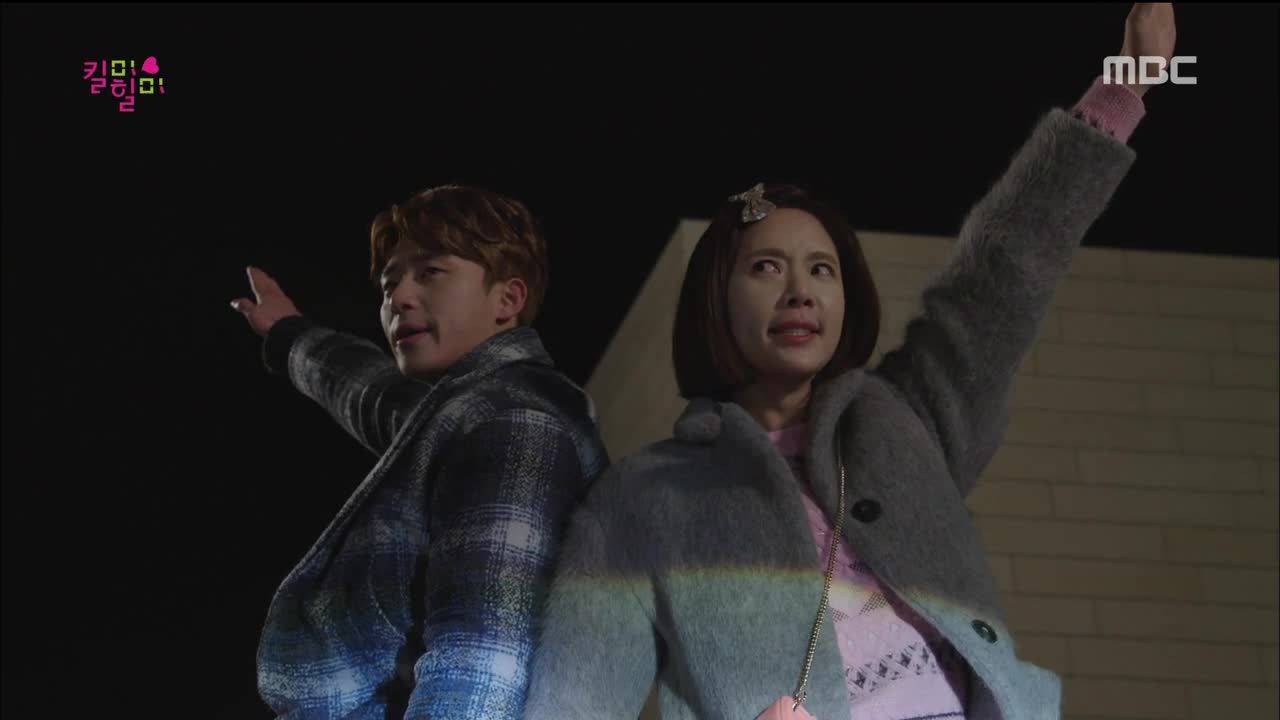 The twins end their Team Rocket chant with a triumphant pose, and then… "I'm going," Ri-on says. "Bye," Ri-jin replies. They walk away without a single word acknowledging the awesomeness that just happened. Ri-on turns around to watch Ri-jin enter the apartment, however, and his lips curve upward in a sad smile.
Ri-jin finds Se-gi in the living room, hunched over with his head buried in his arms. When she asks why he isn't sleeping, Se-gi replies: "Because I might disappear." Ri-jin thinks back to a conversation with Dr. Seok, when he asked if she ever gets confused about her relationships with Do-hyun or Se-gi. But Ri-jin believes that they are different sides of the same person, and each time she finds a similarity between them, she hopes that they can be reconciled.
Ri-jin offers to lend Se-gi her shoulder so he can sleep. "A man doesn't borrow a woman's shoulder," he scoffs, but the vulnerability in his eyes as he turns away undercuts his tough words.
Se-gi and Ri-jin spend the night in the living room, close to each other but not touching. Se-gi watches Ri-jin as the sunlight wakes her up, and smiles sweetly. Ri-jin wonders if Do-hyun really isn't coming back.
Ki-joon and his father discuss the chairwoman's collapse and how it could be an opportunity for them. His father urges Ki-joon to find Do-hyun's weakness, and to consolidate power for the fast-approaching leadership struggle.
Chief Ahn calls Ri-jin, who lets him know that Se-gi is still in control of Do-hyun's body. Lurking behind the door, Ki-joon overhears Chief Ahn say that Do-hyun still hasn't returned, and interprets that to mean that he is playing hooky. He orders Chief Ahn to tell Do-hyun to get his ass to work.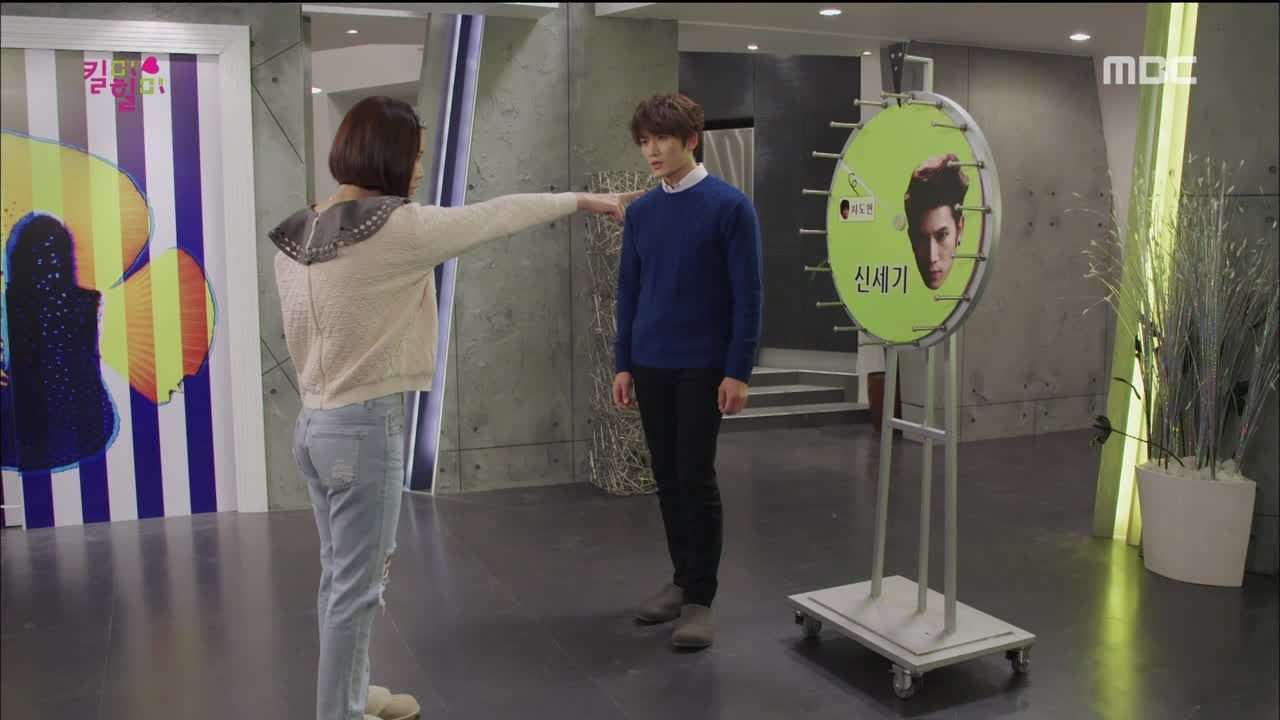 Since Ri-jin hasn't officially chosen between Se-gi and Do-hyun, Se-gi decides to leave it to the gods of chance… sort of. He's built a spinwheel with two sections, one for him and one for Do-hyun, but the Do-hyun section is approximately one percent of the entire wheel. He and Ri-jin spin the wheel, and to their mutual astonishment it lands on Do-hyun's tiny sliver of a section.
Se-gi roars in dismay, while Ri-jin goes into damage control mode. She assures him that it's invalid, then brings him to the living room to cool down. Se-gi pouts there like a spoiled child, insisting they invalidate that roll. Ri-jin offers to forget about the wheel results if Se-gi works a little harder to appeal to her.
Affronted, Se-gi declares: "My very existence is a lump of appeal!" Pfft. But Ri-jin insists that Do-hyun has a lot of positive qualities that Se-gi lacks (I'll say), and if Se-gi wants Ri-jin's affection, he'd better shape up.
Se-gi accuses Ri-jin of being unfair, since she's asking him not to destroy Do-hyun's world when Do-hyun already ruined his world by stealing Ri-jin. Ri-jin's cajoling mask slips as she yells, "I'm not yours yet!" Se-gi hilariously shrinks backward, and Ri-jin resumes her sugary-sweet tone.
Ri-jin asks Se-gi to follow three rules. First, he must not get angry ("Is that even possible?" Se-gi snorts). Second, even if he does get angry he must not use violence ("I asked, is that even possible?!"). Third, he must not ruin anyone else's reputation.
Se-gi balks at first, but he comes around once Ri-jin threatens to treat the Wheel of Fate as binding and choose Do-hyun. Ri-jin asks if it's a deal. Se-gi struggles mightily, but in the end he chokes out his agreement.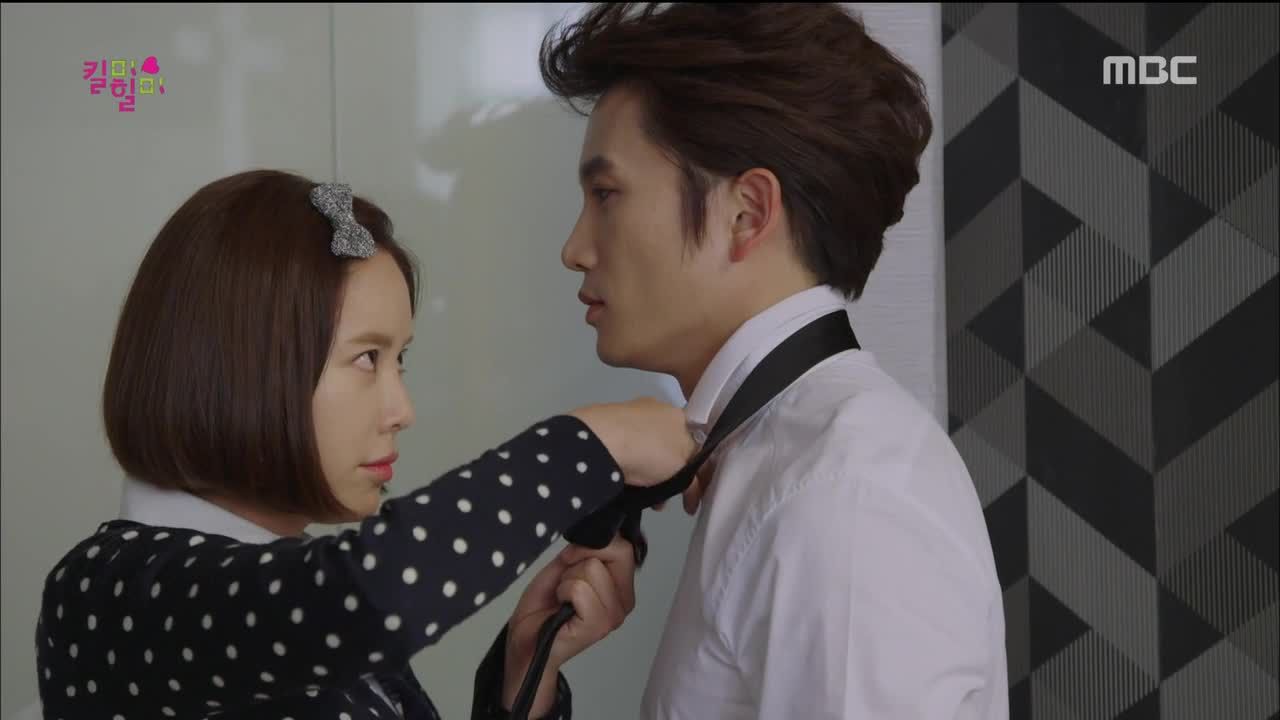 Ri-jin helps Se-gi prepare for work, though she has to convince him not to wear a blindingly bright shirt. She lends a helping hand when he struggles with his tie, already dressed in her secretary outfit.
Ri-jin tries to change Se-gi's hair, which is gelled to perfection, but Se-gi finally draws the line: "This is all that remains of my pride. Touch it, and our compromise is over." Good work, Se-gi—protect the 'do at all costs!
Meanwhile, Chae-yeon meets with her mother and Ki-joon's mother for a bridal gown fitting. She looks breathtaking, but her fiancé is not there to see. Ki-joon's mother directs the proceedings, ordering alterations and additional dresses. Chae-yeon spaces out briefly, then asks for a moment alone to check her makeup.
In the bathroom, Chae-yeon thinks back to the night when Se-gi came to her apartment. He said that he knows she doesn't have the courage to leave Ki-joon, and he doesn't have the courage to hold on to her. But he offers her the choice to keep meeting after she gets married, without Ki-joon knowing.
Se-gi and Ri-jin arrive at the office, and Se-gi is already struggling with his good-guy act. He loosens his tie, only for Ri-jin to chide him for acting like a high school bully. He tells her to get rid of the purse that Do-hyun's mother gave her as a bribe, and Ri-jin observes that he probably dislikes the person who gave the gift more than the gift itself. When she refuses to ditch the purse, Se-gi takes off his tie and throws it on the ground.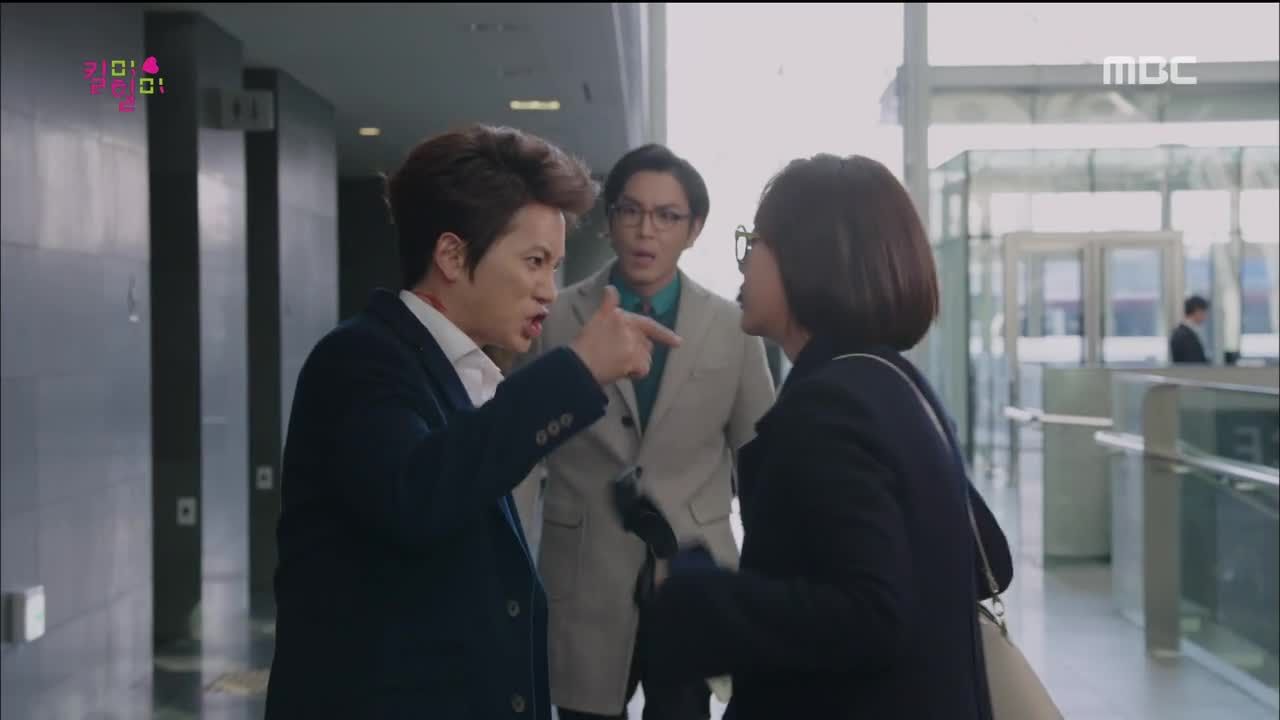 "I won't wear it," Se-gi declares. "Throw [the purse] away." Ri-jin doesn't miss a beat as she replies: "I won't throw it away. Wear [the tie]." Their exchange has a catchy rhythm, and their petty argument flows naturally into a rap battle (yes, you read that right). Chief Ahn hurries over to remind them that they're in public, which is a shame because they were just hitting their groove.
Chief Ahn tells Se-gi to report to Ki-joon's office for a one-on-one meeting. Before he goes, Se-gi recites Ri-jin's three rules like a mantra: "Must not get angry. Must not use violence. Must not ruin others' reputations." Chief Ahn is understandably impressed with Ri-jin, wondering how she tamed Se-gi.
Ki-joon brings Se-gi up to speed on his next task, which involves convincing the leader of an idol group to renew his contract. The idol group in question brings in over 80 billion won a year (around 80 million dollars), and you may remember them as the idols we met when Yo-na went into fangirl mode. Oh, this is going to be good.
The twist is that the idol leader, JI, is a horrible actor who nevertheless wants the lead in an upcoming ID Entertainment movie. If he doesn't get the role he won't renew his contract. Ki-joon challenges Se-gi to use the skills that landed the Omega writer and extend JI's contract without casting him in the movie.
Se-gi doesn't take the order well, and Ki-joon tells him there's a limit to the disrespect he's willing to tolerate. "Do you want to die?" he asks. "No," Se-gi replies, treating the threat literally. "I want to live more than anyone else." Ri-jin's reminder not to use violence echoes in his mind. "Which is why your head is still attached to your neck."
Se-gi and his entourage arrive to meet JI and his manager. JI immediately remembers the crazy duo from the fan meeting, and sneers that the vice president faked acting like a fan to get him to renew his contract. He walks out of the room in a huff.
In the hallway, Se-gi pins the idol to the wall and demands that he renew his contract. Ri-jin comes outside, only to see Se-gi clutching JI's arm in an attempt to show how very non-violent he's being.
Se-gi asks JI if he really wants to leave the company, and the idol replies that he doesn't, but he also doesn't want to give up his chance to act. Se-gi asks if giving him the role would get him to sign and says, "Let's see your acting."
JI performs snippets of scenes from famous movies (Gwanghae, Ajusshi), each one worse than the last. Following a cringe-worthy interpretation of a critical moment in Roaring Currents, Se-gi roars back: "It'll woooooooork!!!" He offers JI the movie contract, saying that his crappy acting matches recent trends perfectly—HA!
Ri-jin chases after Se-gi in the hallway to scold him for doing things his own way. Se-gi wants Ki-joon to feel what it's like to be screwed over, but Ri-jin says that Do-hyun will once again have to clean up Se-gi's mess. Offended, Se-gi points out that he did everything she asked: He held in his anger, didn't use violence, and did his best to carry out Do-hyun's responsibilities. Ri-jin knows he's got a point, and apologizes for bringing up Do-hyun when Se-gi is trying so hard.
Mollified, Se-gi takes Ri-jin's hand. He leads her down the hallway towards the exit, saying that it's time they had fun—he's tired of cosplaying as Do-hyun.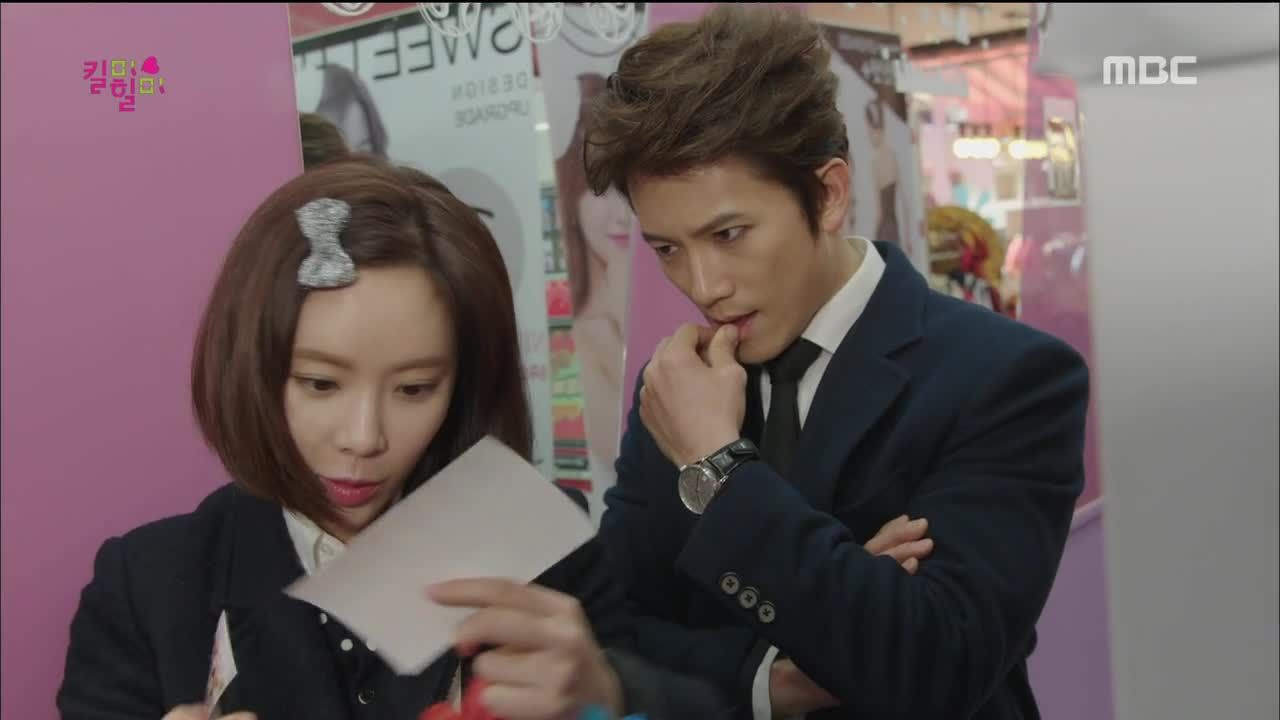 Se-gi takes Ri-jin on a romantic adventure, starting with the video arcades, and then a photo booth where they succeed in being all kinds of adorable.
Next stop is a boutique, since Se-gi thinks that Ri-jin is too old-fashioned in her choice of makeup. He asks the attendant to transform Ri-jin, and buys every product in sight. At first Ri-jin declines because it's Do-hyun's money, but she reverses her position when Se-gi shows the characteristic signs of an impending tantrum. She only insists on buying one product herself, as a gift for someone else.
Ri-jin wanders outside until she reaches the open courtyard where Do-hyun first kissed her. She experiences once again the memories of her encounters with Do-hyun's personalities, from Yo-sub's suicide attempt to Yo-na's bunny pajamas and everything in between.
When Se-gi joins her, Ri-jin asks him whether he can't share some of his pain with Cha Do-hyun by revealing his hidden memories. "Share with that weakling?" Se-gi scoffs.
But Ri-jin replies that Do-hyun isn't weak at all; he takes over when every other personality disappears, cleaning up after them and protecting everyone else. That proves his strength. Se-gi doesn't respond to Ri-jin's request, instead complaining that even though it's just the two of them, it feels like Do-hyun is tagging along on their date.
Back at the company parking garage, Ri-jin apologizes for sticking her nose needlessly in Se-gi's relationship with Do-hyun. Chief Ahn arrives, telling Se-gi that Grandma Seo is looking for him—Se-gi mutters that her response is slower than he'd hoped. Se-gi drives off with Chief Ahn after asking Ri-jin to stay at the office. Just as they leave, however, Ri-jin receives a call from her mother.
At the family restaurant, Mom tells Ri-jin that she's only forgiving her this once because of Dad's intercession. If she tries to trick them again, she'll be in deep trouble. Ri-jin pours on the aegyo now that she's been forgiven, and Mom cooks up a storm so Ri-jin will have familiar food at Do-hyun's apartment.
Ri-jin gives Mom the makeup that she bought with Se-gi, and mother and daughter hilariously compliment each other on their good looks. Mom asks where Ri-jin is living, and the ominous music starts to play. Ri-jin leans in to whisper: "I… can never tell you." Whew… that's one disaster averted, at least for the moment.
Chief Ahn interrogates Se-gi in the car, guessing that he was responsible for Grandma Seo's collapse. He warns Se-gi to keep Do-hyun's secret, because Se-gi won't gain anything if the world finds out. Se-gi wonders, however, who would really suffer more if the truth came out: him, or Do-hyun?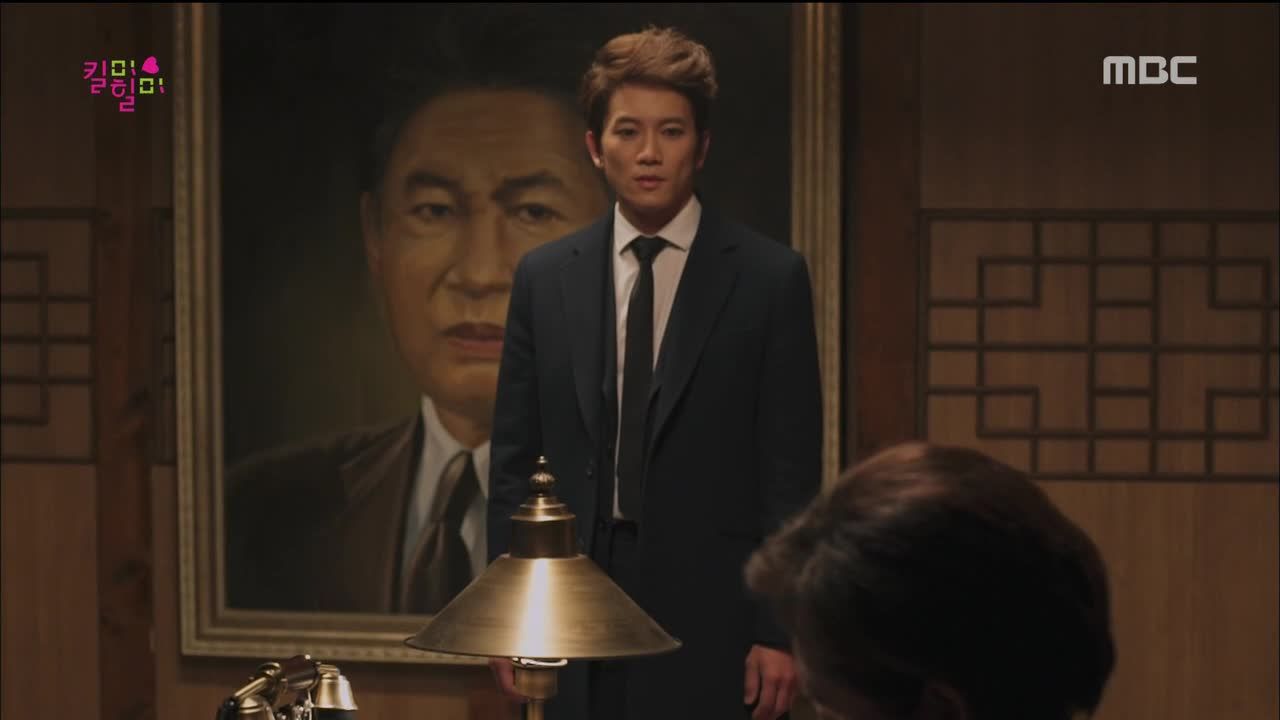 Grandma Seo enters a private room with a safe, from which she takes out a Non-Disclosure agreement and 5 billion won. Chief Ahn and Se-gi arrive at the house, and Se-gi sends the chief away before heading in to his grandmother's study. The portrait of his grandfather watches over his back as Se-gi advances towards Grandma Seo.
Se-gi opens with his ultimatum: If Grandma Seo wants her son back, she must hand over the company. When she asks how a son can possibly act against his own father, Se-gi says that he remembers all too well what kind of father Dad was. Grandma insists that no matter what Se-gi remembers, Dad was the one who saved him from the fire.
Se-gi roars with anger, grabbing Grandma by the shoulders, saying that he never once asked to be saved. "Instead of me, he should have saved the other child! That's the human thing to do!"
He vows to take control of Seungjin Group and give it to the other child—as atonement. Grandma Seo spits back that if that's the case, she will never give him the company.
Se-gi says he gave her a chance, and that she's the one who chose the company over her son. After Se-gi leaves the office, Grandma calls her henchmen and orders them to follow Se-gi.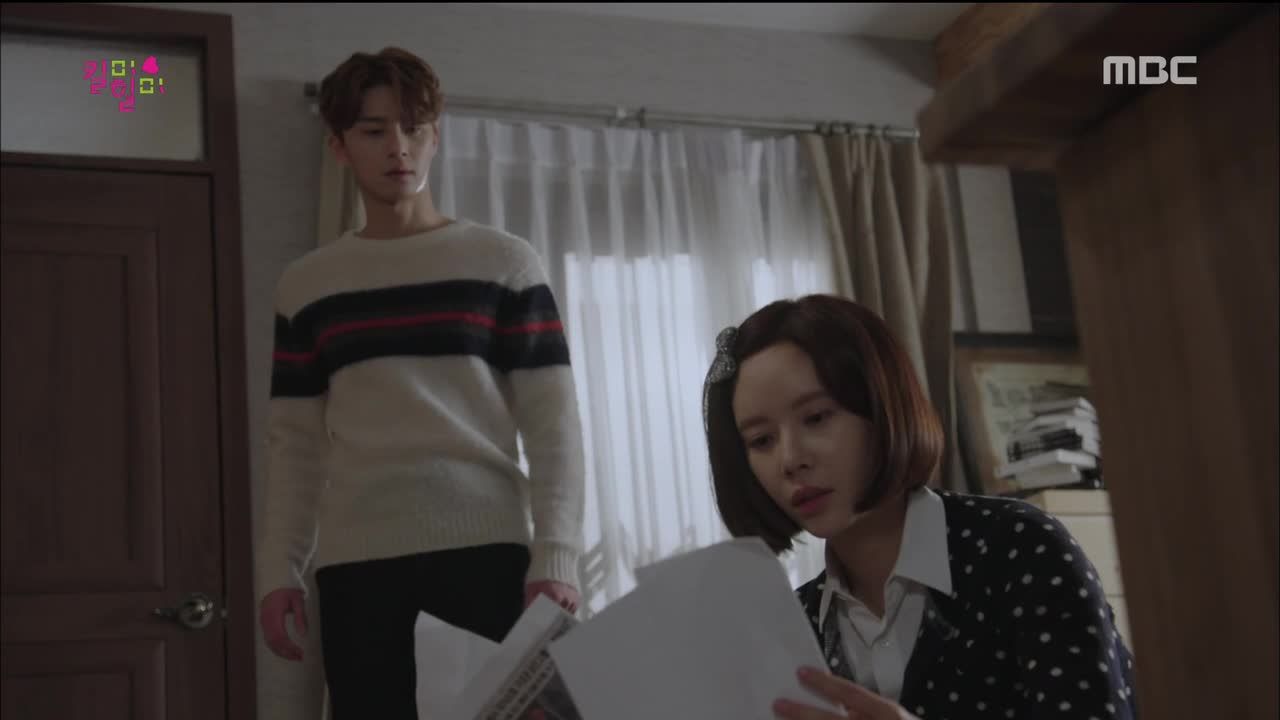 Ri-jin goes looking for Ri-on in his room, and comments that its messy appearance reflects its owner's state of mind. As she begins to tidy up, she accidentally jostles a box full of papers. These are the details of Ri-on's investigation into Seungjin Group, including newspapers dating back long before Ri-jin ever met Do-hyun. As Ri-jin looks through the papers, Ri-on walks into his room.
The puzzle pieces are fitting together in Ri-jin's mind, and she confronts Ri-on about how much he knew. She deduces that the newspaper articles have something to do with why Ri-on didn't want her talking about Do-hyun or the Seungjin Group to their parents, and asks him to explain.
As Se-gi drives to where he's hidden his father, he is tormented by his memories. "He should have saved the other child!" he mutters, while clutching his head in reaction to the shooting pain. As his memories of the basement rage, Cha Do-hyun awakens somewhere in his subconscious mind.
The nightmare of the basement repeats, but this time Do-hyun remembers that there was another child trapped with him. The shadowy figure approaches, and Do-hyun sees that it is his own father, hand raised in a threatening gesture.
Do-hyun opens his eyes, back in control of his body, and the first thing he sees is his father's comatose figure lying in front of him. Dad's fingers twitch, and Do-hyun's arms rise instinctively to protect his face. "I'm sorry, Father," he whimpers. "I was wrong." The haunting tune from the child's music box plays in the background, and then Dad's fingers move. Do-hyun falls back, cowering before his father.

COMMENTS
Well… Holy sh*t. Two thumbs up! Tens across the board! As many positive superlatives as I can think of and a rousing cheer for Kill Me, Heal Me, which rounds the halfway point with a full head of steam, edging ahead of the competition and barreling like a bat out of hell (or maybe blasting off at the speed of light). Look at me—I'm so excited, my metaphors are mixing.
There's so much to love about this episode and I want to talk about it all at once, but thanks to the limitations of language I'm going to have to settle for one thing at a time. First off, we have our first solid insight into the central mystery of Do-hyun's past, and it was handled with flair. I'm sure many of us already guessed the identity of Do-hyun's abuser, but now we know for sure that it was his father, and that Do-hyun and Ri-jin were together in the basement.
Se-gi shows us the core of his being this episode, the driving force of his motivation, which is to make up for the suffering his family put Ri-jin through. Apparently he was saved instead of Ri-jin (I think we can assume, based on Se-gi's love for Ri-jin, that she was indeed the "other child" in the basement), and his sense of justice is what is ultimately behind his bid for the company. There are many questions remaining, not least of which is how Ri-jin survived when she wasn't supposed to, but for now we can enjoy knowing that we have finally figured out what makes Se-gi tick. He is both nobler and far more tragic than I first imagined.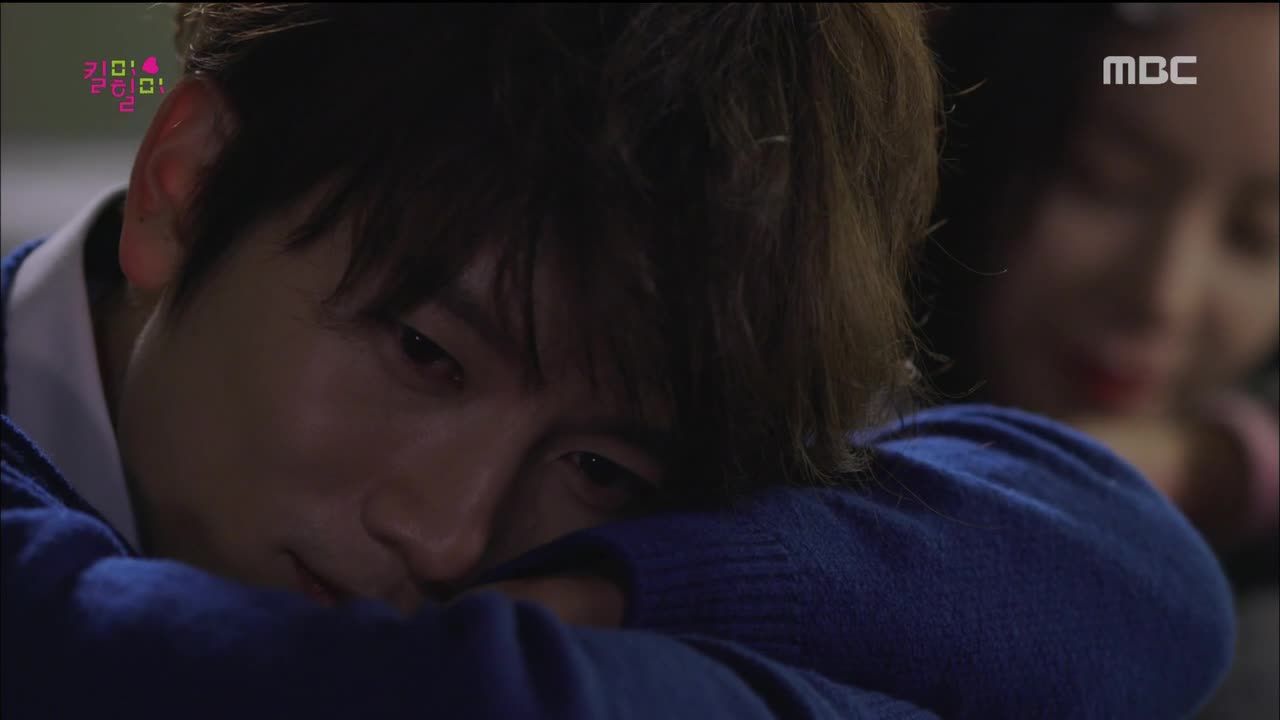 Even though we weren't completely certain yet of Se-gi's motivation, his confession to Ri-jin about not wanting to disappear was both touching and sincere. That simple declaration had tremendous power, and even if it means sharing his time with Do-hyun, Se-gi will do whatever he has to in order to stay by Ri-jin's side.
If that means changing, Se-gi will change—but when it comes to his future, there is little to hope for. As far as Se-gi is concerned, healing Do-hyun means only one thing: The end of his existence as a unique personality. Nothing is more relatable than the fear of nothingness, of ceasing to exist, no matter how confident or arrogant Se-gi is normally. Ji Sung does a tremendous job of bringing forth Se-gi's fear and vulnerability, especially in the scene where Ri-jin returns to the apartment to find Se-gi hunched over in the living room, not willing to sleep for fear he might not wake.
It is the particular genius of this show to take such compelling and tragic moments and make us feel the full weight of their pathos, then spin us around (like a spinwheel, if you will) and have us busting a gut laughing a moment later. I'm talking, of course, about Se-gi's Wheel of Fate, and the one-in-a-hundred chance that paired Ri-jin with Do-hyun. There were a dozen other little moments that had me in stitches in the first half of the episode, crowned by Se-gi's argument-turned-rap-battle with Ri-jin in the middle of the office. My hat is off once again to the writer, who always seems to know exactly when to shift gears, when to go for the joke or bizarre situation, and when to hit the serious notes.
I felt even more for Ri-on this episode, as he struggles to keep his sister safe while also honoring her wishes. Ri-jin reminded him of his promise to support her decisions, and in the end Ri-on overcame his toughest personal hurdle yet by allowing Ri-jin to make her own choice. He puts a smile on his face even when it's tearing him up inside, donning the carefree mask that he's always worn around Ri-jin. That's exactly what she needs, even though we see how much it costs Ri-on to continue that façade.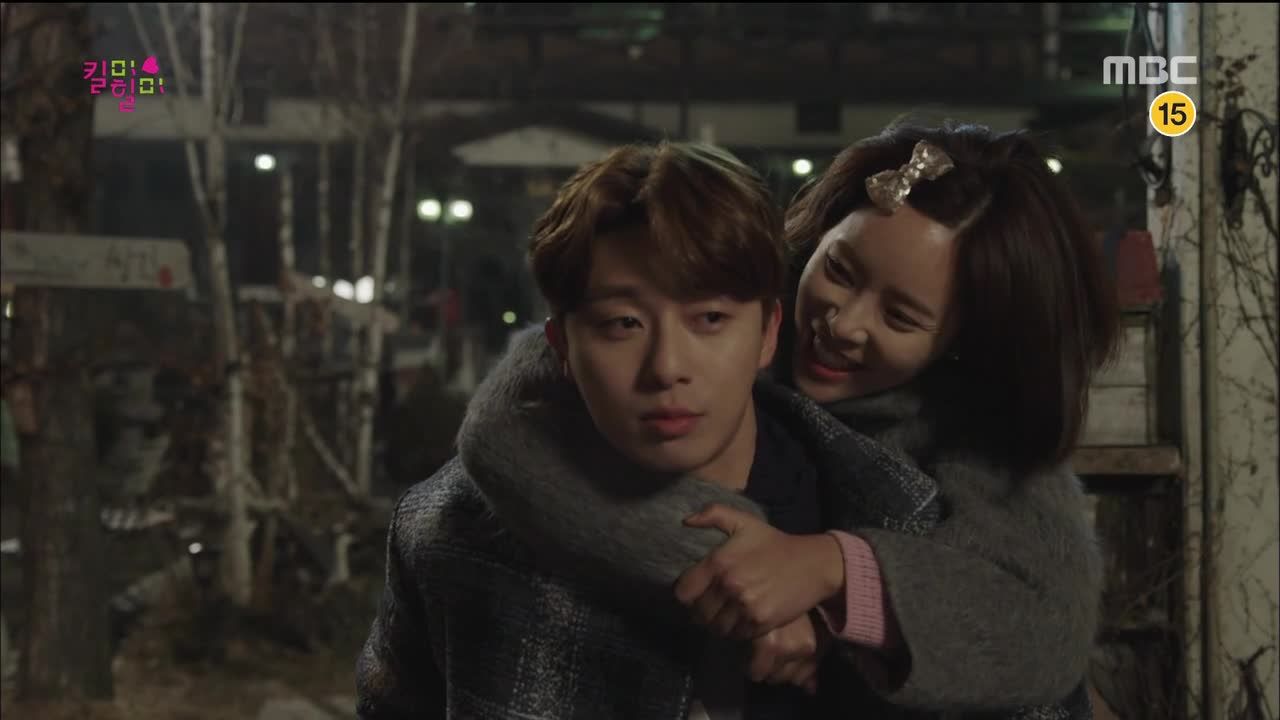 I can't wait to see Ri-on to get further involved in the tangled affairs of Seungjin Group, and even more than that I want Do-hyun and Ri-on to team up against all the people currently mobilizing against Do-hyun. Whether they're related by blood or not, these two could become great friends—and heaven knows they could both use another ally.
I'm going to take a second to talk about Chae-yeon, because I feel like someone ought to give the poor girl the time of day. She barely had a full scene this episode, yet I find myself liking her quite a bit more than her actions so far seem to justify. It's true that in the past she treated Do-hyun poorly, but it's also true that she's been on the receiving end of some crappy treatment herself. Her boyfriend is a power-hungry playboy, and her future in-laws only see her as a bundle of stock options.
Then Do-hyun comes back on her radar, both warning her off and treating her with disdain that she's never experienced from him before. She feels betrayed by the way he's changed, yet intrigued by that very change. Se-gi's late-night visit was positively crackling with sexual tension (although shame on him for playing around with somebody's heart like that), and his proposition has Chae-yeon all mixed up. If you were to combine Do-hyun's kindness with Se-gi's sensuality, you'd get one heck of a boyfriend; Chae-yeon is experiencing that attraction plus all of the allure of the mystery of Do-hyun's shifting personality. I'm intrigued by Chae-yeon's character, and I like how the show is developing her as a source of conflict but also as a victim in her own right. I feel genuinely sorry for her—though I'll probably still cheer every time Ri-jin gets the better of her.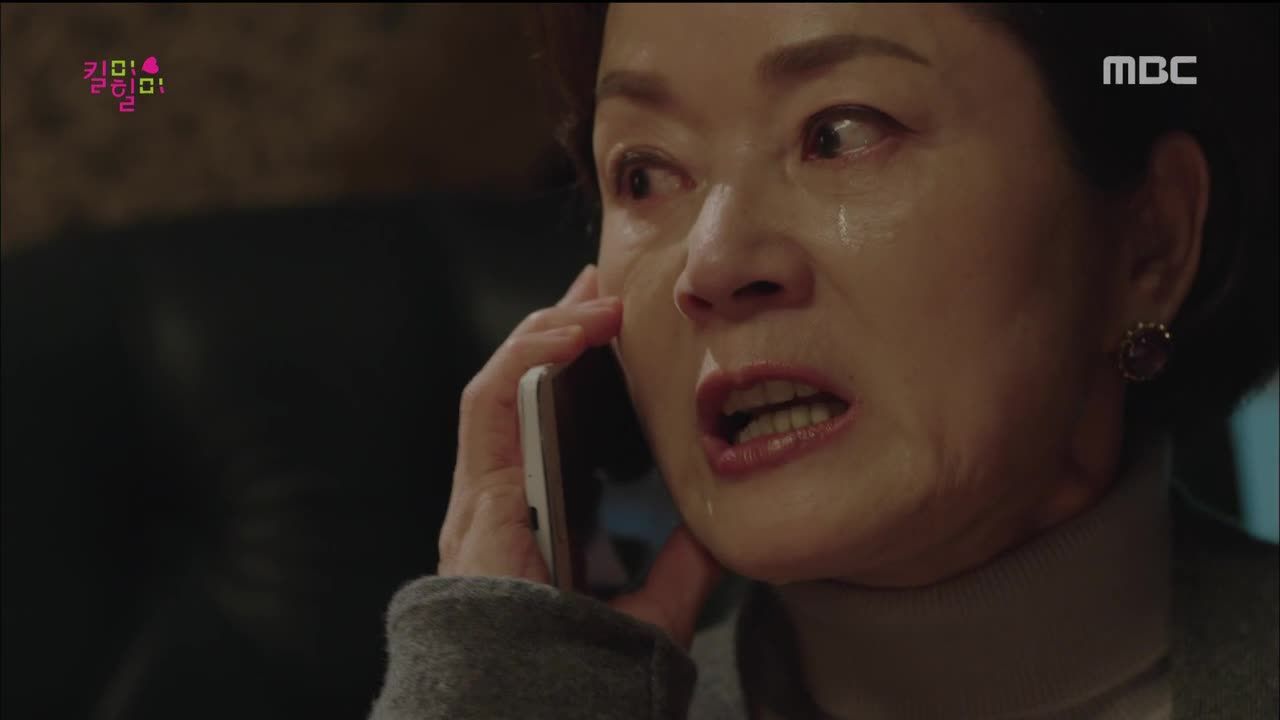 We've had ample opportunity in the past to see that Grandma Seo is—for lack of a better term—batsh*t crazy. But Se-gi matched her shout for shout without backing down, which was incredibly satisfying to watch. I'm of the opinion that Grandma Seo deserves to suffer a little (or a lot), and Se-gi's rage this episode felt like some seriously overdue karma.
But now things are starting to get out of hand, thanks in large part to Se-gi's, ah… unique approach to conflict management. He's like a freight train on a greased rail with no brakes transporting barrels of gasoline, and the conductor keeps tossing lit cigarettes back into the storage car while approaching a sheer cliff that… what's that? You say my simile is out of control? Maybe. But then, so is Se-gi, and it's Do-hyun who is going to have to deal with the fallout.
Though the pace of events is accelerating quickly, Kill Me, Heal Me has always had a keen awareness of its own momentum, and it is precisely the moments when events seem to be spiraling out of the characters' control that the show is at its most measured, its most focused. This episode is no exception, with an ending that resolves some of our biggest questions even as it sets up a series of new conflicts just waiting to come crashing down on our heroes.
Grandma Seo now views Do-hyun as an implacable enemy, while Do-hyun has just learned a secret that will rock his entire world. Will he be able to come to grips with his painful past, even as his enemies in the present assemble to come gunning for him? And will he be able to protect the people closest to him when they do?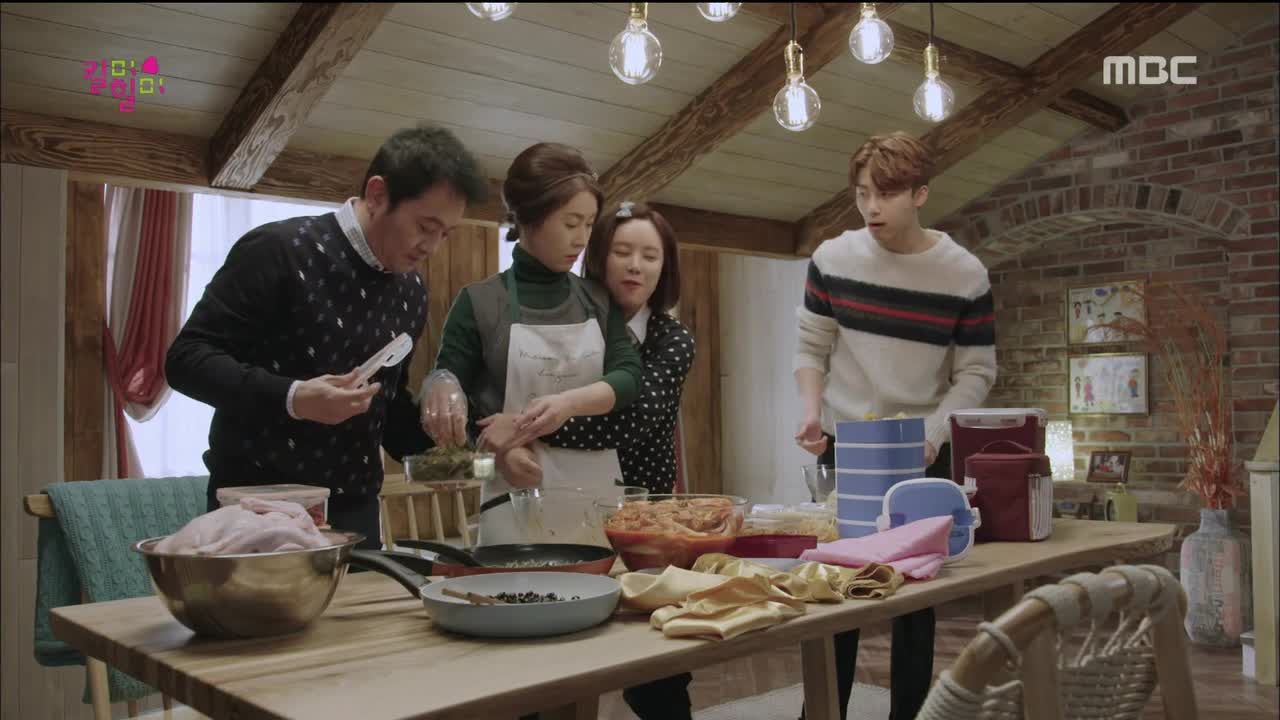 RELATED POSTS
Tags: featured, Hwang Jung-eum, Ji Sung, Kill Me Heal Me, Park Seo-joon