Kill Me, Heal Me: Episode 14
This was an episode of things I've been wanting to happen for a long, long time. It starts light (and bromantic!) for the Lunar New Year, but we pick up momentum as the show gets ready to enter its last quarter. The puzzle pieces fit together, one after the other, and the mystery of the basement is unlocked once and for all. I think. But that only leaves us with a whole new set of questions, the most pressing of which is: How will we wait until Wednesday?
EPISODE 14 RECAP
Ri-on comes out to look for Do-hyun, and overhears him asking Ri-jin to see him as a man. She cites the contract to Do-hyun, which forbids her from falling in love with him or any of the alters. He counters that he will pay for the breach of contract.
He steps closer and reaches for her hand, when he notices the charred photo of Min Seo-yeon in the trash can. In surprise, he tells Ri-jin that the woman is his mother on the family registry. Why is it here? Ri-on announces himself by saying the photo is his.
Do-hyun's mom shouts at her investigator for not finding that child yet. He says they've found out who took the child away on the night of the fire.
Grandma Seo turns over Do-hyun's declaration to find out the secrets of his past. Mom finds her in her study, and Grandma orders her to go to the U.S. with Do-hyun and live how she wants.
Mom comments that it would have been nice if Grandma had shown Do-hyun even a little warmth as her grandson; then he wouldn't have become a person who threatened his parents. She says that Grandma's indebted to her — it's thanks to her that Do-hyun's dad is alive. She points out that no matter how much Grandma dislikes it, Do-hyun is his father's only bloodline. Getting increasingly worked up, she demands that Grandma bring Do-hyun back immediately.
Do-hyun asks Ri-on why he had the picture. Ri-on tells him he was planning to write a mystery novel based on the Seungjin family, but abandoned it after being caught by Ri-jin. Do-hyun isn't convinced by the glib explanation and they take off to talk privately. Ri-on warns his sister not to follow, so of course, she does.
Ensconced in a car, Do-hyun asks with quiet anger what Ri-on's interest is in his family history. Ri-on says he was investigating what happened with Do-hyun's father, Min Seo-yeon, and Do-hyun's biological mother. Since he's already stopped, though, he tells Do-hyun to drop it. Apologizing, he gets out.
Do-hyun chases him to finish their talk, but Dad catches both of them. Seizing each by an ear, he sets them to work because the restaurant is so busy, and sends Ri-jin inside to help Mom.
While they do Dad's chores, Do-hyun tells Ri-on about his own fear of basements. He knows Ri-jin has the same fear, and asks if "The Child in the Basement" is based on the siblings' story. Ri-on admits it is, although he doesn't explain if there's a connection to Seungjin. Recalling that the reason for the boy's fear was because he loved the girl, Do-hyun surmises that they must not be biological siblings.
Dad is so exasperated by the boys' intense gaze-offs every time he comes by that he bangs their heads together, accusing them of acting out their own melo, and they cry in pain.
Undeterred, Do-hyun wants to know if Ri-on found out the reason for Ri-jin's fear. But at this point, Ri-on can't deal with any more Do-hyun in his face, when he's still scarred from Yo-na.
The family and Do-hyun enjoy celebratory drinks together to see in the new year. They even break the fourth wall for a moment and wish us a happy new year, aww.
Dad thanks "Perry" for his hard work, and gives him allowance money. Do-hyun is startled and turns it down, but Dad and Ri-on encourage him to, so he accepts.
Next, it's selca time, and Dad and Ri-on bicker. Do-hyun watches, part bewildered and part amused by this display of family, so unlike his own. They take lots of pictures, and Do-hyun — who has to be reminded to smile — is in the center of all of them.
The worse for drink now, Dad urges Do-hyun/Perry to enjoy more of his brew, but Do-hyun makes the excuse that he's not a good drinker. Mom and Ri-on add to the pressure, and all of a sudden, drunk Ri-jin springs up and yells at them (with her eyes closed, lol) to leave him alone: "My man doesn't want to drink!" She invokes freedom and democracy, and girl you are going to be so mortified in the morning, ha.
Mom and Dad are shocked by her confession, and Ri-on commences a brotherly telling-off. She just leans right over him to Do-hyun and declares that she'll be his black knight (substitute drinker). But she only gets about halfway through his glass before she passes out and clatters to the floor, squishing Ri-on.
Both boys dive to help her up. Each of them grasp an arm and they tug the limp Ri-jin back and forth, arguing about who gets to tuck her in, until Mom yells that she'll rip her in half. Dad adds the observation that they've been like this all day, filming their own little drama. Haha.
Ri-on wins and piggybacks her to her room, but is quickly made redundant by Do-hyun's super-fast tucking-in skills. Do-hyun grins like crazy thinking of her calling him her man, and Ri-on just watches him slack-jawed.
Mom's made up a bed for Do-hyun in Ri-on's room, and they settle down to sleep. Do-hyun thanks Ri-on for being a good friend, and letting him meet good people. Ri-on contradicts him — he's not a good friend. But if Do-hyun is okay with a bad friend, he'll give it a shot. Seriously, aww. My feels. That's enough for Do-hyun, and he grins in the dark.
Ri-jin falls off her bed and wakes up to the memory of her last words before she passed out. She wails with shame, and Ri-on finds her outside, communing with the family dog. He throws her some hangover relief and says it's her own fault for trying to keep up with Dad's drinking.
Do-hyun wakes up to find Ri-on gone. He finds both siblings on the veranda, their backs to him. He listens to Ri-on parse her dream of playing with a little boy and then being approached by a dark shadow.
Ri-on tells her that the boy was him, and as for the shadow, he mimes an advertising dancing balloon. There used to be one at the supermarket when they were kids, and she used to be so scared of it, he reminds her. She accepts his explanation, happy that talking things out with him is so comfortable.
Mom finds Do-hyun watching them, and quietly takes him in for soup. Do-hyun laps up both soup and Mom's warmth. They chat about how he quit his job in a fit of anger, and Mom asks his opinion of Ri-jin from a man's point of view. She's cute, he admits shyly. Mom is thrilled by the assessment, and rattles off more of her virtues.
He's envious of the twins' close bond, and Mom says she had a hard time raising the little firebrands because they were always so full of fight and energy. She offers to show Do-hyun their childhood pictures.
Ri-jin wonders why Ri-on has such clear childhood memories, when she has so few, despite their same age. Ri-on reminds her of Mom's explanation, that during a big house-fire when they were children, only she inhaled the toxic fumes which affected her memories.
It makes her understand Do-hyun more, she tells him. Because her family were filling the empty parts of her memory every day, she was able to heal. But Do-hyun's family covered up the past and hid it, which left Do-hyun with unhealed wounds.
But she remembers some things, she tells Ri-on: "The day you and I became twin brother and sister." He looks at her in surprise. We return to the memory of the day little Ri-on pushed her, when he told her to hit him back — he wants a sister with guts, not a wimp.
"You…knew?" present Ri-on asks in shock. She sniffs back tears, then catches the scent of Mom's soup. Breaking the moment, she follows her nose inside.
Mom and Do-hyun look through her old photo albums and she shows him a birthday photo. She gets a little nervous when Do-hyun remarks that of course being twins, they had the same birthday. Do-hyun's head rings in reaction to one photo — the one of Ri-jin taken the day she and Ri-on became siblings. In his memory, a child's voice asks him, "What is your name?"
Mom asks him his Korean name, but luckily, Ri-jin's arrival and demands for soup interrupt. Ri-jin stops short when she sees Do-hyun, ha, and hides behind Ri-on in mortification. When she peeks around him, Do-hyun grins at her. Hahaha.
The siblings playfully cajole Mom for soup, and follow behind her like baby ducks. While they're gone, Do-hyun quietly pockets the photo.
Do-hyun tells Chief Ahn on the phone that he's at Ri-jin's. The chief is worried (especially when he hears about Yo-na), but Do-hyun reassures him that he's more than comfortable, and proudly tells him that he even received allowance. But Chief Ahn has news — they've found a witness for the fire, a catering employee. Do-hyun tells him to investigate further.
Do-hyun calls Ri-jin out for lurking. He catches her by the hand and takes her to the basement, wedging the door open this time, so they don't get locked in. She apologizes for her drunken behavior earlier, but he gently interrupts. He asks her if he can't be the first person she goes to when she's having a hard time, or wants to talk.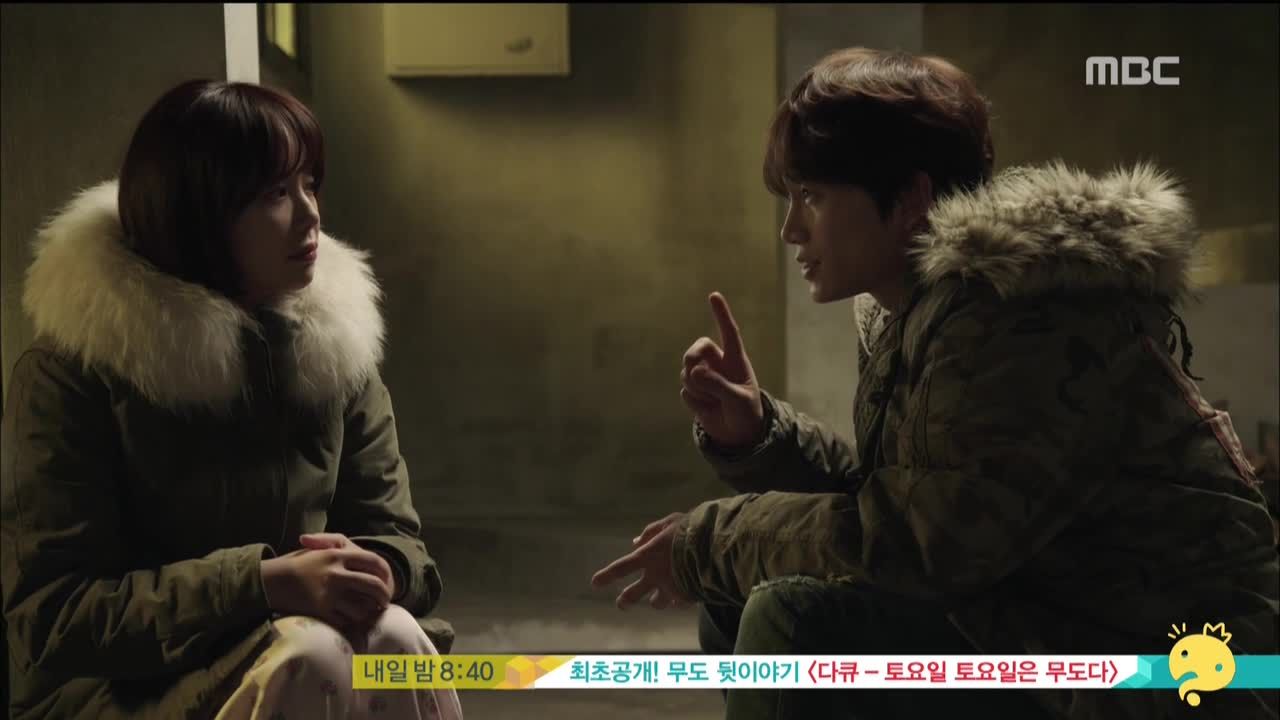 He tells her that he's also afraid of basements, and has two bad memories of them — one from his childhood, and the other more recent. Her embarrassment about the aborted kiss the last time they were here makes him smile.
He continues, "Whatever it is, I want to overcome everything together with you. I want to erase my bad memories, too, with good memories with you. So…"
"So…" Ri-jin replies, "I'll do it with you." Do-hyun closes the distance between them to kiss her. They break to smile at each other, and Ri-jin initiates the second kiss.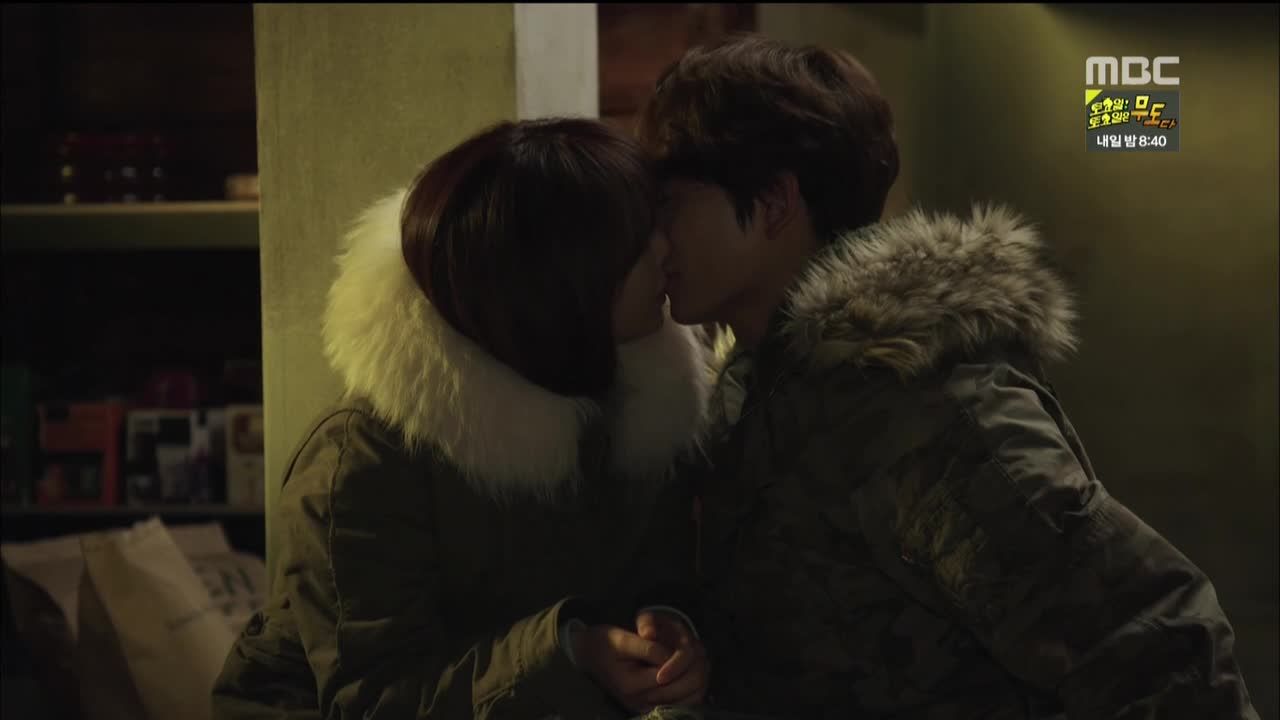 But it wakes up another childhood memory for Do-hyun. In the basement of doom, a clock strikes. A hand holds onto little Do-hyun, and adult Do-hyun realizes it's a girl.
"Don't go. Play with me," she says, her face still shadowed. She shows him a locket with a picture of her mom, and adult Do-hyun is astonished to recognize Min Seo-yeon. Little Do-hyun breaks it to her that her mom is dead.
Do-hyun wakes up in the wine cellar of Grandma's house with a teddy bear in his arms. Confused and disorientated, he's pulled into a vision of the little girl, who takes the bear and hides in the corner. The bear's name is Nana, she tells him, and shows him her drawing.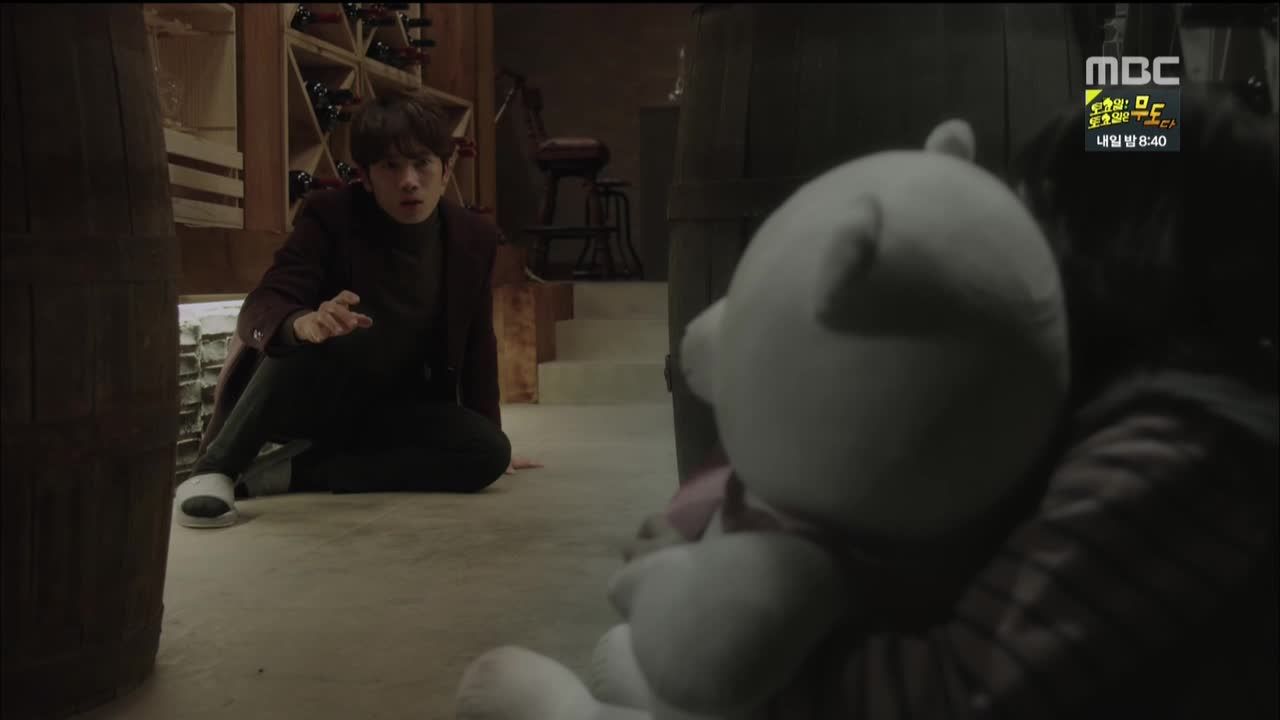 The vision gives way to a memory. Evil Dad discovers Do-hyun's clandestine visits to the girl, and he advances on her. Little Do-hyun begs Dad to hit him instead. Both children sob, and adult Do-hyun sobs with them.
Ri-jin goes to wake the boys and finds Do-hyun already gone. But Dr. Seok joins their breakfast party, and is surprised that "Perry" was there. The mood is merry, but Ri-on notices how quiet his sister is.
Grandma takes her New Year's breakfast alone. Do-hyun's mom drops by with the observation that their usual visitors must be paying their respects somewhere more worthwhile. She tells Grandma again that bringing Do-hyun back in is her only option if she wants to keep the company safe.
Ki-joon's family including Chae-yeon visit, ostensibly to pay their respects to Grandma, but Mom calls them out on their real intent. Ki-joon's mom wants to flaunt her bride, while his dad is checking that Do-hyun really is properly cut off. She excuses herself to get them wine, and throws a gibe at Ki-joon's mom. She doesn't want to waste good wine on a dirty face, yo.
She's dismayed to find Do-hyun slumped in the cellar. Coming up to her, he asks if the child she's searching for is Min Seo-yeon's daughter. Near tears, Do-hyun asks, "Was the abused child not me, but that child?" Rattled by his insistent questioning, Mom yells at him for being absurd, but he roars back that Mom saw everything and used the knowledge to her advantage. Why did she lie?
"My father the assailant and my mother the bystander turned me into an assailant and bystander. I can no longer be a victim," he cries. He promises to find the child first, and atone by any means necessary, even if he has to sell Seungjin whole. "I will no longer trust your words," he vows. "I will only believe the truth I find myself, and the memories I remember."
He leaves her there, and she falls to her knees.
True to Mom's words, Ki-joon's dad is feeling out where Do-hyun stands with Grandma. She confirms that he's returning to the U.S., and says it was a mistake to have brought him in now.
Do-hyun enters abruptly, and without preamble asks Grandma if she was aware of the goings-on in this house 21 years ago. The family watches intently as Grandma, fearful, tries to shut him up. Ignoring it, he tells her he will find out everything that happened and her role in it, and then he'll reveal it all.
On the drive home, Ki-joon's parents speculate on Grandma's unspeakable secret. Mom wonders if it's to do with the fire or Min Seo-yeon's child, and Dad chuckles that either way, it'll be interesting.
Do-hyun's mom numbly replays Do-hyun's threat to sell Seungjin to compensate that child. She decides that she can't allow him to undo everything she's suffered for. She calls her investigator and he tells her that they've found the child, and to check her phone for the photo.
She opens the file and her jaw drops, because of course, it's Ri-jin. She now sees her presence beside Do-hyun and her inquiries into his childhood in a menacing light. She's stricken that Ri-jin's gotten her teeth into her son already, and calls her man back with the order to capture and bring her to her using all necessary force.
Ri-jin tells Dr. Seok about the strange flashback she experienced in the cellar of the Seungjin house, and describes feeling like she used to draw on a basement wall. But she wonders if she's mixing up Do-hyun's memories with hers. Dr. Seok asks if the shock was what caused her to faint, and Ri-jin explains her fear of basements.
She also tells him that her childhood memories were always incomplete, but this is the first time something like this has appeared. Dr. Seok thinks there must be a reason why it's surfacing now. The distress of those memories is a symptom of something unresolved, he tells her — perhaps the time is right to examine past wounds.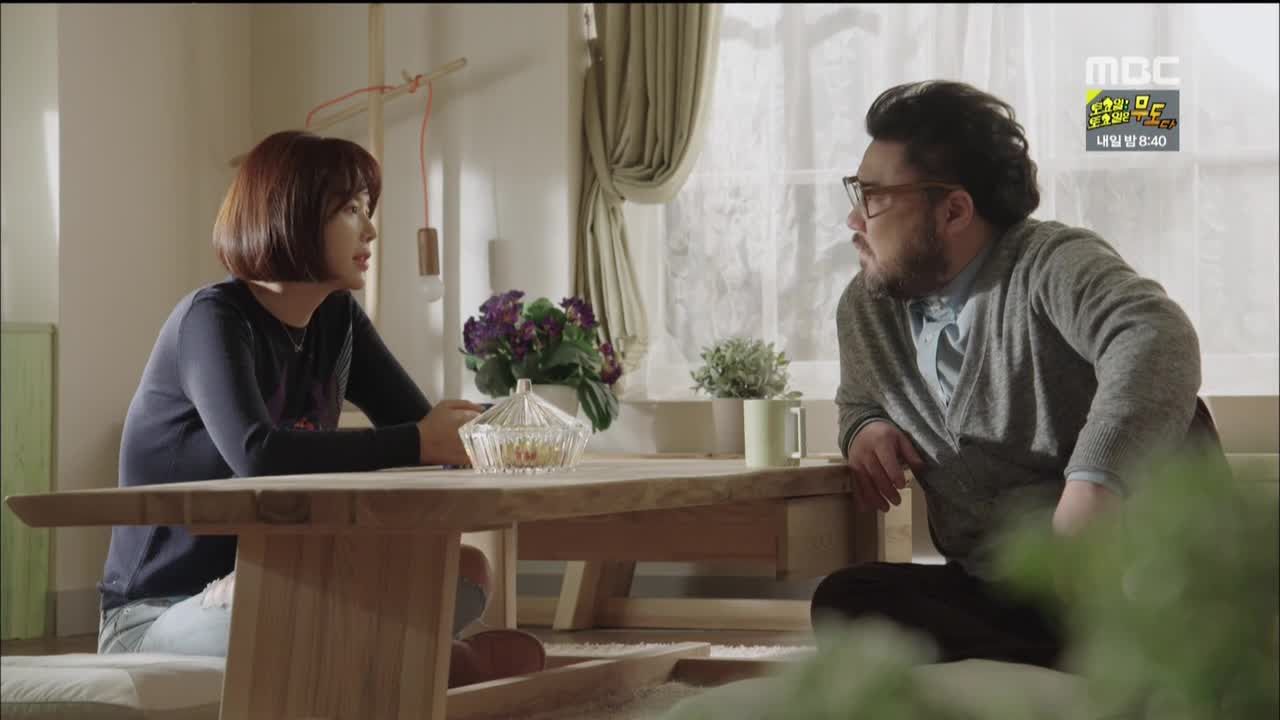 She comes out to see Dr. Seok off, and he recommends that she and Do-hyun visit his office together for a session. He makes his getaway before her mom can give him any more food.
Another car pulls up and several men get out. One of them calls Ri-jin by name and tells her someone wants to see her. She asks who it is, but his silence sets off alarm bells. When she tries to back away, they seize her.
Ri-on comes out to walk the dog and sees them stuff her into their car. Frantic, he leaps into his car and peels after them. They notice the tail and dammit Ri-on, is this the time to stop at traffic lights?!
Do-hyun stares off with his reflection, and his bathroom looks different in daylight. Ri-on phones and tells him that Ri-jin was kidnapped — does Do-hyun know anything? He has no idea, but he's as frantic with worry as Ri-on. Luckily, Chief Ahn previously installed a tracker on her phone, and Do-hyun follows the signal.
Meanwhile, the kidnappers report their successful capture and confirm that they weren't followed. Ri-jin lies unconscious in what looks like another basement.
Do-hyun's car barrels right through their perimeter guard and men leap out of the way. The kidnappers try to block him, three on one, but he fights back. He takes a few hits, and before long, he's clutching his head at the telltale ringing that signals a shift.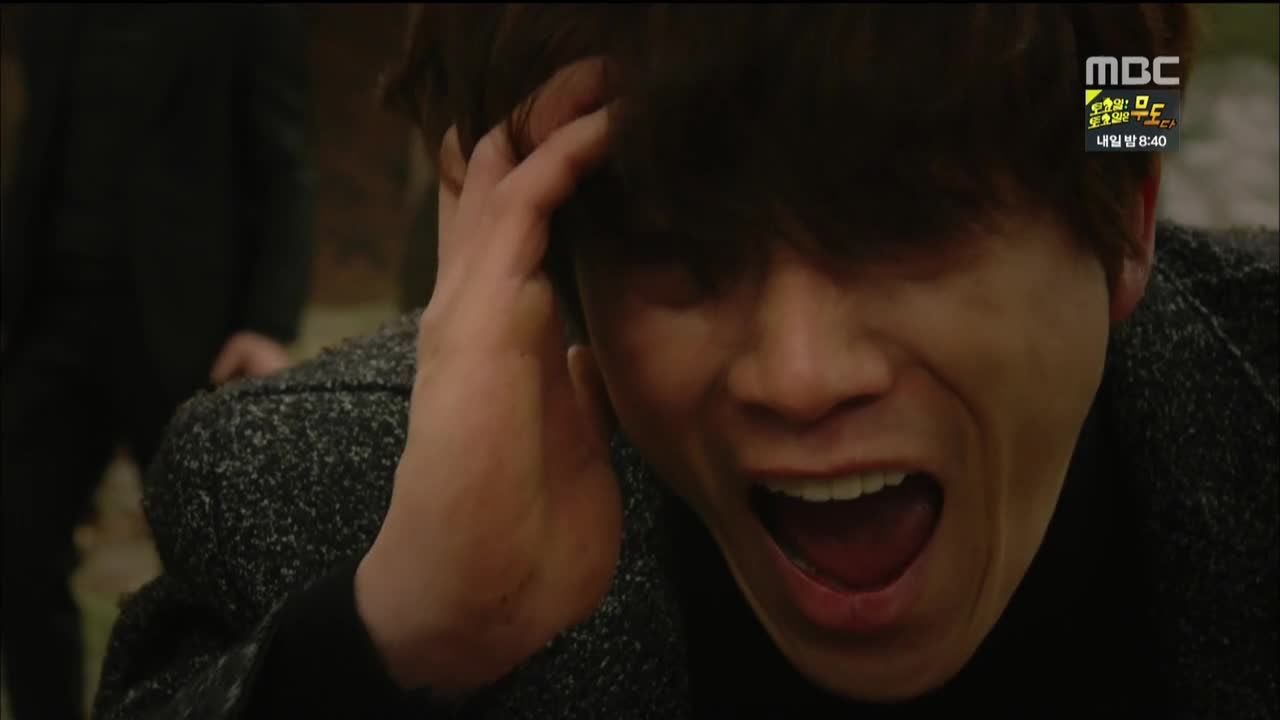 His assailants stand back and a new fight starts. Se-gi's tattoo creeps up his neck, and in his head, Se-gi tells him to move aside — he can't handle it. Do-hyun resists, and roars that he will do it, it's his fight. The tattoo fades away, but a thug clocks him a blow to the head that brings him to his knees.
It seems to have broken something — the wall of memory between him and Se-gi. And now, Se-gi's memories pour into Do-hyun's mind, mixing with his own. Se-gi tells Ri-jin she called him a long time ago. The little girl asks him to stay and play with her.
Transported into the playroom of memory, he hears Ri-jin's question to Se-gi: Is she in the missing memories that Do-hyun can't remember? For the first time, he sees the little girl's face unshadowed, and recognition hits him: The girl is Ri-jin.
The scenario plays out again — the clock strikes, and she asks him not to go. She's afraid of basements, but if he's there, she feels better. Adult Ri-jin echoing her younger self mixes into the memories. Little Do-hyun promises to come back, every night at 10 o'clock. Se-gi says similar words about falling for Ri-jin at 10 pm. Evil Dad approaches the children. He plucks away little Do-hyun, who's shielding Ri-jin, and the memory fades to black as Do-hyun returns, screaming, to the present.
But the memory-spill from Se-gi continues with more recent encounters: Se-gi kissing Ri-jin. The confrontation with Grandma and his conversation at Dad's bedside. "I became a monster because of you," he'd told Dad. Se-gi telling him that he took on the pain Do-hyun couldn't.
And at the end of it all, Ri-jin pleading to Do-hyun, "Don't go."
COMMENTS
At last. I've been waiting for everything that happened this episode, but two things especially: for Do-hyun to find out the girl in the basement was Ri-jin, and for the wall between him and Se-gi to be smashed.
I almost don't want to talk about any of it, because I feel like it hit that delicate line of anguish and payoff just right. If I talk about it, the magic might vanish.
So let's start light and talk bromance and all together now: awwwww! Ri-on's been a decent chap (and an excellent brother) all along, and I love that he likes and respects Do-hyun despite himself. Contrary to some interpretations, I don't think he sees Do-hyun as a romantic rival, nor does he have romantic intentions towards Ri-jin. I think he's mainly struggling with the feeling of displacement, which is why he's jealous of Do-hyun. He's used to — and cherishes — being the "first person" in Ri-jin's life. That's why Do-hyun's request to her in their basement-date is meaningful, and worded that way. But it's practically a rite of passage for close siblings or friends to have to make room for that other person, and it's normal to experience a sense of loss of grief while it happens. But you adjust to the new reality — or in Ri-on's case, make friends with the enemy (in the heartwarmingest way possible) and lend him your most favorite clothes.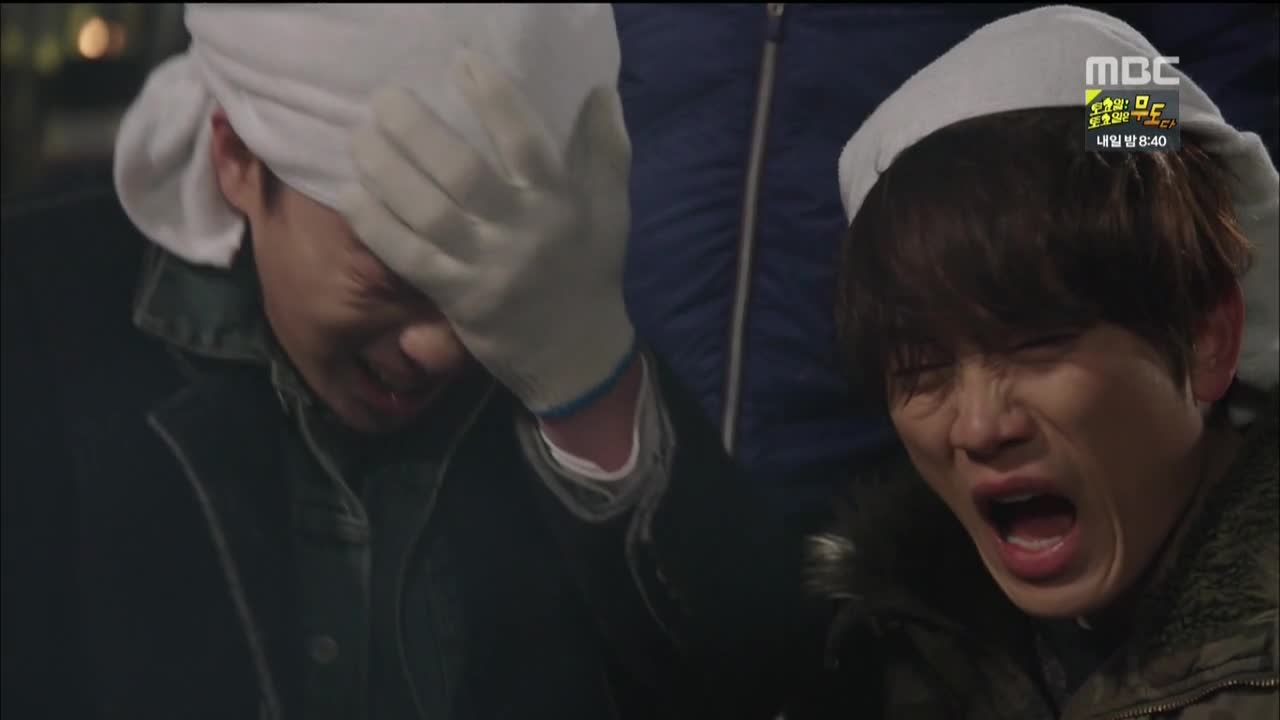 Let me rewind to last week's foreshadowing for a second, to when Do-hyun said, "You will soon be me," and purposely conflated it with, "I will soon be you." It was a striking first, as he took full ownership of Se-gi as part of himself, not an impostor. But the signs of their essential sameness have been steadily increasing for a while. His confrontation with his mother in the cellar, where he swears to atone and give Seungjin to that child, is practically verbatim what Se-gi said to Grandma previously. So that's the backdrop to their battle at the end of this episode. This time, when Se-gi tries to take control, we witness the exchange. Is Se-gi's respect new? There's a sense that they're finally meeting as equals, and that Se-gi's motivation for taking over really is to protect Do-hyun.
I have no doubt that Se-gi would make short work of the kidnap situation — he's efficient at that kind of thing — but the battle of wills was a significant test. Do-hyun can only prove to him that he can fight their bigger battles if he can fight Se-gi away first. When Se-gi cedes, it's at once permission to remain, and acknowledgement of his ability to handle it — in other words, Do-hyun passes the test. And so, judging him finally ready to take on the pain of the past, Se-gi surrenders his memories to him.
That's why I'm afraid this is the end of Se-gi as we knew him. I know absorbing his alters is necessary to Do-hyun's healing, but I can't deny that Se-gi's existence brought something special to the show. His edge of wildness took him to really interesting (and hilarious) places as a character, especially since he could do things Do-hyun couldn't, unrestrained by manners, obligation or social convention. But while I will miss his madness, it's also a compelling turn for Do-hyun's character. Equipped with the missing memories and knowledge of Ri-jin's true identity, the stakes have changed. He won't just be a little more daring or a little less self-effacing — knowing the truth is the final push he needs, not only to embrace his inner Se-gi, but to lead a major offensive against all the perpetrators as we enter the show's last act.
His announcement in front of the whole Seungjin family was great. Because his interest at this point is not in gaining leverage at the company, he may have (inadvertently) created an ally in his uncle. There's more than one way to fight Grandma, and though they may not yet know it, Do-hyun and his uncle are suddenly united by their common goal to reveal her unspeakable secrets. Although their ends are different, it doesn't really matter as long as the truth comes out.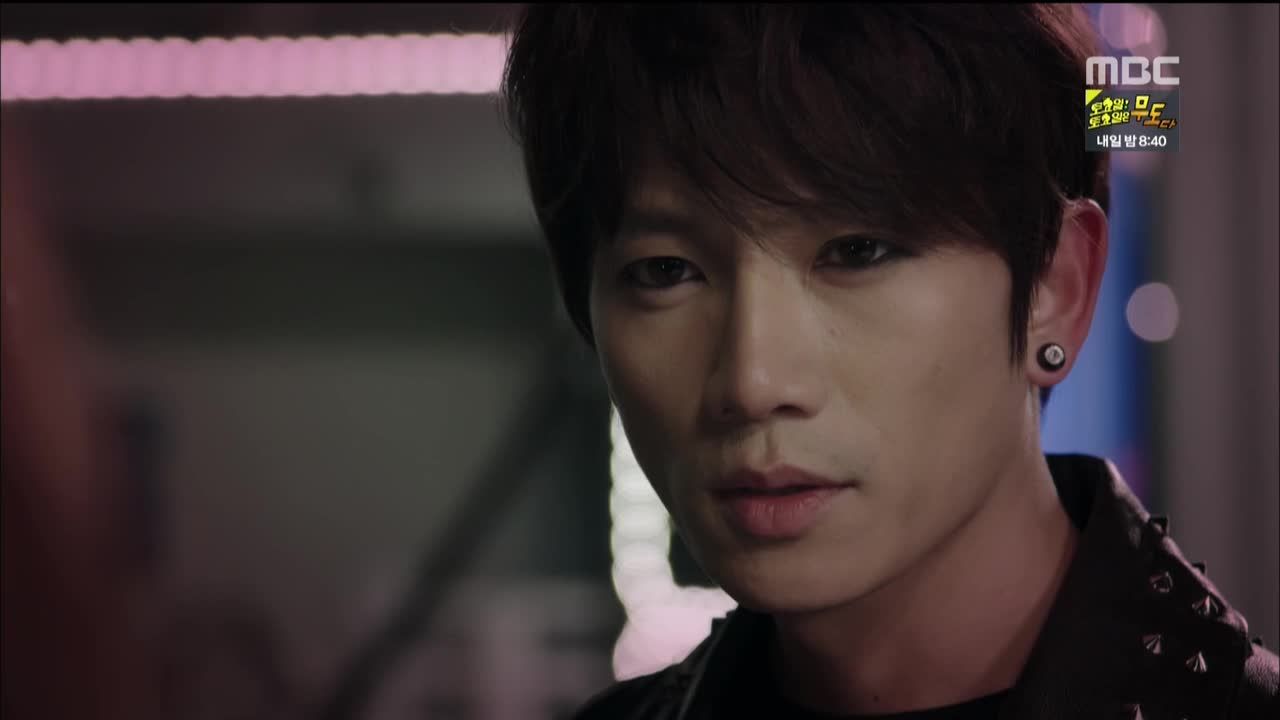 RELATED POSTS
Tags: featured, Hwang Jung-eum, Ji Sung, Kill Me Heal Me, Park Seo-joon