Persevere, Gu Hae-ra: Episode 4
This show makes me feel so many emoooootions, it's great. It's settled into its rhythm now—feel-good with a touch of melancholy—as the camaraderie really starts to come together, and it's such fun to watch this diverse mix of personalities gel into a team, one where every character feels real and heartfelt. The drama isn't quite as bubbly as it was at the outset, but it's thankfully also not completely moody either (and in fact has a lot of laugh-out-loud, good-natured comedy). The show feels like Monstar but with more purpose and focus, which is wonderful because I loved Monstar until it lost its way and kind of meandered to a weak finish. Gu Hae-ra has what I loved about that show, minus what I didn't. Win-win?
SONG OF THE DAY
Ulala Session – "Family" from the Persevere, Gu Hae-ra OST [ Download ]
Audio clip: Adobe Flash Player (version 9 or above) is required to play this audio clip. Download the latest version here. You also need to have JavaScript enabled in your browser.

EPISODE 4: "You Came Back to Me"
Se-jong walks home at night. As soon as he steps inside the door, he sees Hae-ra throwing her arms around the new guy who bears his twin's face, and the two guys catch each other's eyes in a mini-stare-down.
Then we're back at the fight in the alley, where Se-chan's doppelganger is knocked out by pickpockets. All goes black, and sometime later they're at the police station, where the moms arrive and fuss over Hae-ra. Jaws drop when the new guy turns to greet them, introducing himself as Ray Kim Hanson.
They take Ray home to hear the story, and he explains that when Henry sent him that photo of Se-chan three years ago from the Superstar K auditions, he was so shocked that he had to come to Korea.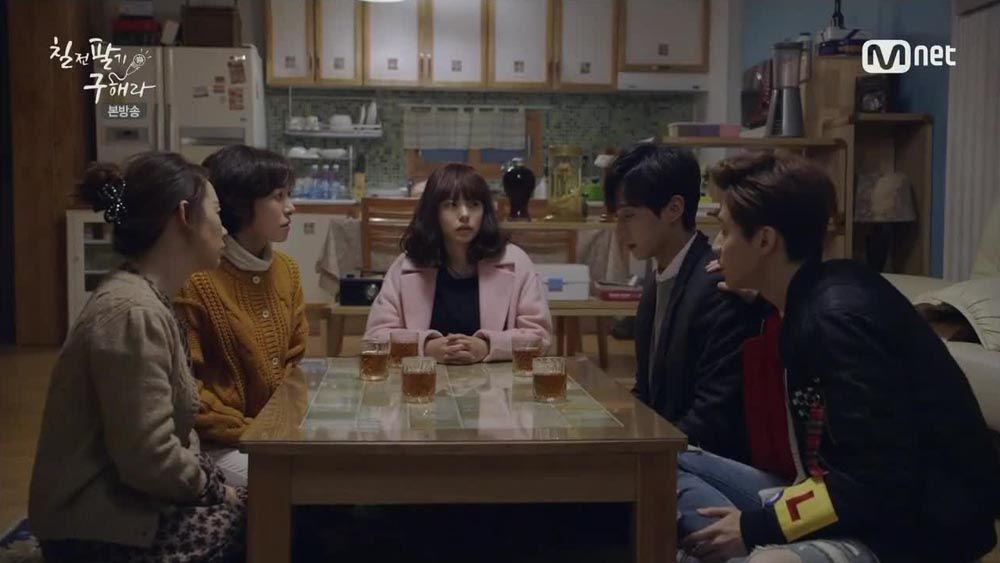 Mom seems to understand immediately what's going on, and her mind flashes back to December of 1989: She's very pregnant when she arrives at the single mothers' center, and gives birth to Se-jong. An employee brings another baby to her for help nursing it, because while his elder twin was adopted to the U.S. right away, the younger twin wasn't taken because he fell ill. His birth mother died soon after childbirth, and so Mom took in Se-chan as her own.
Ray is saddened to have come too late to meet his brother, and Mom assures him that Se-chan grew up well. She treats Ray with cool civility, telling him to go back home; I guess it must be too painful having him around. But Ray heard about Se-chan's bucket list from Henry and wants to see it. Since he has no place to go, Mom agrees to put him up until he returns to the States.
The Impact idols practice hard, and are peeved when Se-jong says he has to miss rehearsal tomorrow for a personal reason. Their reaction doesn't change his mind, though, and he promises to get his part down perfect for the next rehearsal.
Hae-ra gets a temporary gig playing music at a dance studio, and the dancers ask her to play anything while they warm up. (They're dancers from Mnet's dancing survival show Dancing 9, Choi Soo-jin and Lee Seon-tae.) Hae-ra picks Lim Ki-hoon's "The Day We Met," a song she used to sing with Se-chan; it's also the song that Ray watches his twin singing in one of the video clips Se-chan recorded. The two scenes form a sort of duet-from-the-beyond, separate but together, and Hae-ra cries a little as she finishes.
The next day is Se-jong's birthday, and Hae-ra helps his mother prepare dinner. He exchanges a shy greeting with Hae-ra, then notices his mother setting an extra place at the table. Who's coming?
Mom and Hae-ra exchange looks before they bring out the visitor. Gah, you couldn't give a guy a little warning? Se-jong looks up in astonishment at Ray, and struggles to process as his mother tells him that Se-chan is still her son and his brother—but he's also Ray's brother. Se-jong says bitterly, "So I'm not his real brother, and he is?"
Hae-ra explains that Ray came all this way to see that bucket list, and that just adds to the hurt. "That bucket list—I was the only one who didn't know," Se-jong says. He excuses himself angrily.
Ray just sits there quietly, and Mom asks him to understand Se-jong's shock. When she asks when he's flying back to the U.S., he asks for a favor—there's something he wants to do for Se-chan first.
Hae-ra chases Se-jong out, and he turns on her angrily. How could she keep the bucket list from him? "I'm his brother!" he says, not some stranger who comes out of nowhere. If anybody had the right to know about Se-chan's list or to do anything about it, it was him. "You lied to me," he accuses.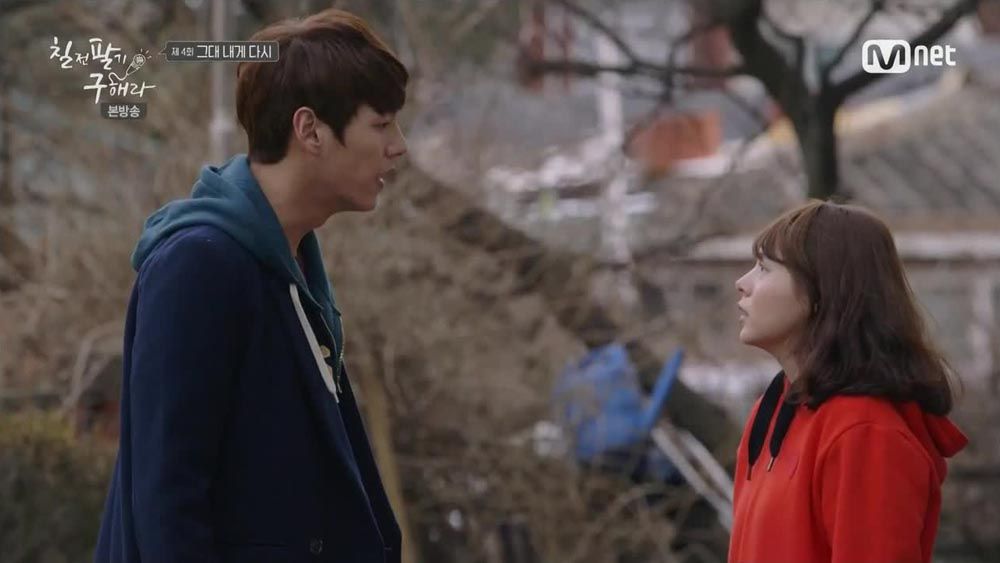 Hae-ra turns that right around on him—he lied to her about taking Se-chan's place in the idol contract. He's stunned that she knows, while she exclaims that she could have hated him her whole life because of it. "Was your reply to my confession also a lie?" she adds.
He avoids a direct answer, saying just that it's not important right now, and that he wouldn't have accepted her confession in any case. He would have cared for her, "but not as a woman." He says firmly, almost meanly, that she is only a friend and should get rid of any lingering feelings.
That night Hae-ra sobs to herself on her balcony, and Ray overhears from his own.
Se-jong drinks heavily at a pojangmacha, and just as I'm about to retort that he earned this pain on his own, we get another set of flashbacks to illuminate his behavior. After getting thwacked by their teacher for ditching school to go to the Panic concert, Se-chan injured his ear. He'd told his hyung to repay him with a wish later, and then called in that favor during Super Week. He'd admitted that he thought Hae-ra liked Se-jong, and said, "My wish… is Hae-ra."
Oof. Amazing how one flashback can turn my feelings right around. As he drinks, Se-jong pulls out an old note and re-reads it. In the form of their balcony whiteboard, it's a song request: To Se-jong, from Hae-ra, Toy's "Good Person" ("Kang Se-jong is always a good person to me").
He gets completely drunk, and Scarlet finds him slumped on the front steps of the agency. She joins him and asks why, and Se-jong talks to her like she's Hae-ra, slurring that he refuses to accept that other guy as Se-chan's hyung. With tears in his eyes, he says miserably, "Gu Hae-ra, you shouldn't do that. You're the girl my only brother liked. You know what Se-chan's last wish was? It was you, Gu Hae-ra. How could I like you then?"
Just then, President Hwang and a producer step outside within earshot. Knowing that a drunk trainee would be in dire trouble, Scarlet pulls Se-jong around the corner, where he pitches forward, half-conscious. Her heart starts to pound as he leans into her, and combined with those vulnerable tears, she's smitten.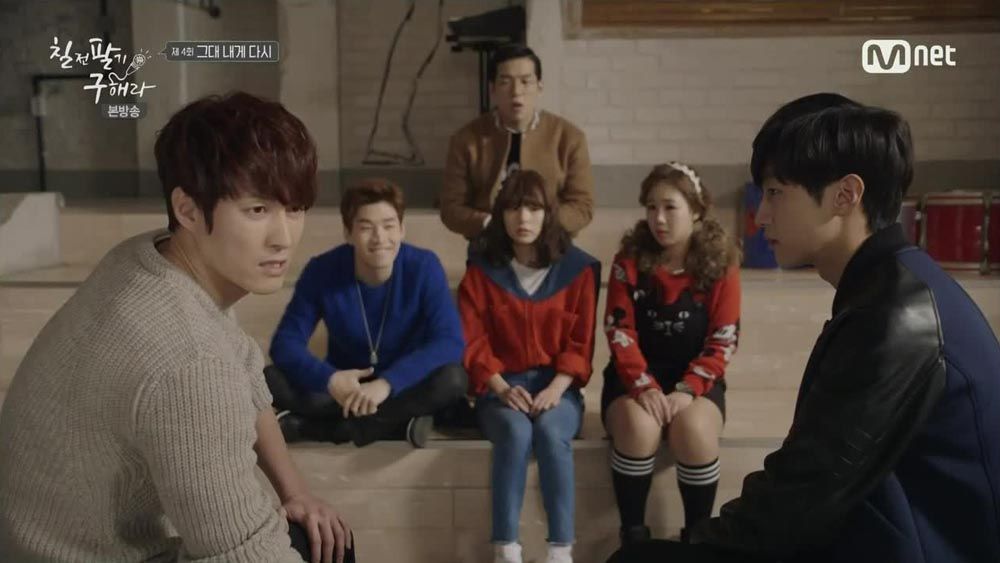 Ray comes along to rehearsal to ask permission to join them, and Team Persevere gapes in surprise, marveling at how identical he is to Se-chan. Tae-poong first requires a test of his singing ability, and Ray picks Lee Jang-woo's "Since We Met" because he'd seen it in Se-chan's videos.
It's another painfully familiar song for Hae-ra, and when Tae-poong indicates that she should join in the duet, she drags her feet. But despite her reluctance, they have musical rapport right from the start, and her mind flashes back to singing this with Se-chan. It makes her teary as she looks at Ray—the mindfuckery inherent in this setup is definitely understandable.
Tae-poong delivers the verdict: Ray has a great voice, but needs practice. So get crackin'.
Se-jong requests a release from his contract, promising to pay back the contract breach fee and all the costs sunk into his training. President Hwang says there's no way he could repay everything, and ominously insinuates that he'd ruin Se-jong and his family if he doesn't do as he's ordered.
And thus, the Impact debut continues as planned. They're a smash from the start, shooting up the charts and amassing tremendous popularity from Day 1.
It's a different story for Tae-poong, who staggers out of the bank looking at his empty account. His father only offers a contrite, "I'm sorry. I meant to not touch your money again…" He returns to the studio with heavy heart, because that money was meant to provide for the kids' lodging and training.
He finds the kids at Se-jong's place, where the moms are treating them to a barbecue party. Woo-ri sighs that it must be great fun for the boys to bunk together, and it turns out that Jang Goon is also crashing here. He says uneasily that his father allowed it, but his unsettled expression tells us that's not the full story.
Sure enough, we jump over to his father, who has gone to his study house lodgings only to find that Jang Goon isn't here anymore. He's furious and demands that his daughter 'fess up where her kid brother went.
At the barbecue party, the two moms sigh wistfully that it would be nice to share a house since they're so close anyway, though one apartment is too small for all of them. Tae-poong starts to get an idea and makes a proposal to the moms, piling on the flattery by calling them noonim. He even throws in some aegyo, which looks both hilarious and wrong, coming from him. (Tae-poong is adorable. He's fast becoming a favorite.)
And so, in the name of trainee lodging, Tae-poong tears down the wall dividing the two homes, enlisting the team in the remodeling process. As they work, Henry starts riffing on the piano and tells them all to have fun while they do it, singing to Yoon Sang's "One More Step": Even though we're one step slower, it doesn't make us that much later…
That evening, Hae-ra falls asleep on the couch and dreams of riding in a taxi. She's with Ray instead of Se-chan, but the scene unfolds the same way and a truck barrels toward them. She wakes with a start, and when she sees Ray standing there, she grabs him in a bear hug, sobbing, "Oh thank god, I thought you died…"
That's the scene Se-jong walks in on (and immediately out of), and Hae-ra realizes she'd confused the situation. She quickly steps back and apologizes to Ray, then hurries off. Ray finds the CD Se-jong dropped off: Impact's debut, for his mother.
Aw, and as he walks away, Se-jong pulls out a second CD that he didn't leave behind, for "Peanut." Welling up with frustration, he starts running, running, running until he can't run anymore.
Meanwhile, both Ray and Hae-ra lie awake in bed that night, thinking of what happened earlier.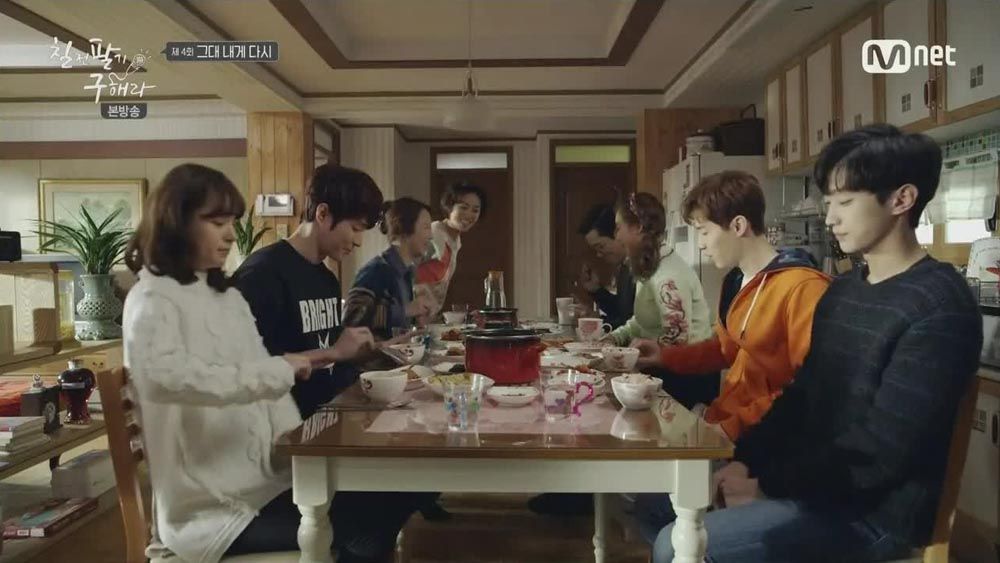 The combined households now make up a bona fide boardinghouse, and everybody sits down to breakfast together, which shines a light on a few sticky points. First, there's Jang Goon, who can't share family-style dishes without twitching, and then Henry reinforces his pervert image by mishearing Korean words for more salacious interpretations. (For instance, he mishears salted roe (myeong-ran-jeot) for Hae-ra's mom's boobs (Myeong-ran's jeot). Pwahaha.)
I love how the moms, who were happy to treat their kids' friends, aren't going to turn themselves into the wait staff. Se-jong's mom lays down the rules, essentially making everything self-serve. And self-clean.
Hae-ra and Ray lose the "not me" game and get stuck dishwashing, and she apologizes for yesterday. He's guessed that she mistook him for his brother, and asks what Se-chan was like. She describes him as always smiling no matter what and supposes Ray is curious about him. He says yes, and adds that he's also curious about her, since she figures so largely in the diary.
A knock at the door sounds the arrival of an unexpected guest: Jang Goon's father, who is spitting mad that his son ran away and has quit his university prep classes. Jang Goon hangs his head apologetically but displays a bit of spine when he refuses to go with Dad, saying that he understands that his father's wish is for him to fulfill Dad's and noona's unfulfilled education hopes: "But what about me? What about what I want?"
Jang Goon apologizes for being such a son, but asks his father not to come looking for him again and walks out. The moms invite Dad for sympathy drinks, listening as he airs his grievances. He describes what it feels like to be good at nothing but making noodles, and how you can't do anything without a college degree in this world. His one dream is for Jang Goon to go to university and get a stable job.
Later as Dad leaves the building, Jang Goon watches him leave, feeling torn.
Tae-poong is proud to announce to the team that he's found an in-demand songwriter to write their debut song. He leads them in the choreography as they rehearse (g.o.d's "Where You Should Be"), and Ray's first rehearsal is a success. The team welcomes him with cake (and then assaults him with cake).
Tae-poong has been consistently been annoyed with Henry's informal behavior (which feels disrespectful to him), and decides to speed his acclimation to Korean society. His solution: the bathhouse, which he insists is a key part of life and bonding for the Korean male. Henry goes along with it despite finding it odd, and then the boys compliment each other's junk, because of course they do.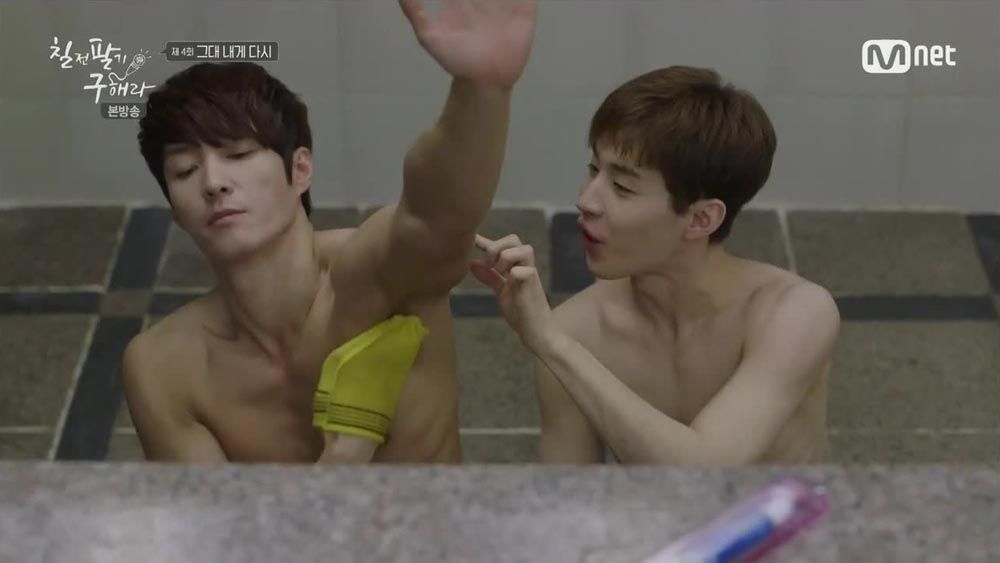 That night, Hae-ra calls Se-jong (his number still unsaved in her phone), feeling nostalgic in the wake of Team Persevere's reunion. Getting no answer, she sighs aloud, which prompts Ray to comment from his balcony. He asks about their school, wanting to visit it.
Se-jong thinks to the embrace he witnessed, and flashes back to a scene from his high school days, when he and Hae-ra had been studying together. She'd nodded off, and he'd cupped her head to prevent it from banging into the desk, then gently nudged it onto his shoulder. And with their faces inches apart, he'd leaned in closer… closer…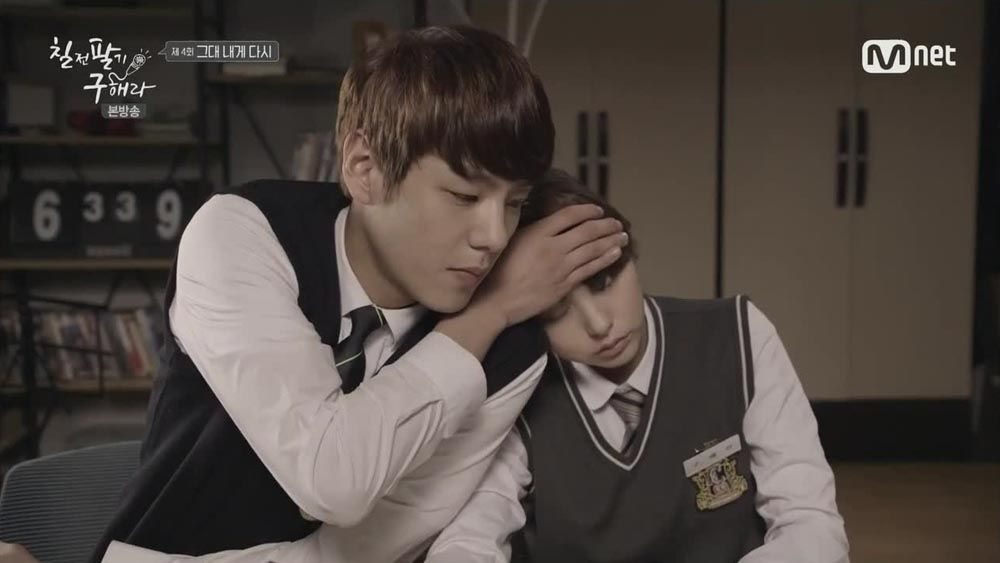 He shakes aside the memory. Then he checks his phone and sees the missed call from Hae-ra, finger itching to hit the call button. But it doesn't.
Hae-ra takes Ray to school that night, and is surprised when he knows all of Se-chan's sayings and reactions. He tells her that the diary is half about her, and half about Se-jong, and asks what kind of person Se-jong is.
They sit down on the bleachers outside and she describes Se-jong—he may be smart, but she finds him frustrating because he never talks. (Tell me about it.) He's got a lot of secrets, and she doesn't understand why. She looks momentarily excited when her phone starts ringing, but is disappointed when it's just Mom—a reaction Ray notices.
Jang Goon's phone alerts him that today is his father's birthday. Over at Dad's restaurant, Dad drinks with his buddies, who take turns bragging about their kids—salaried, educated, prosperous all. That's when Jang Goon enters, and when the friends ask what he's up to these days, Dad quickly blurts that he's preparing to study abroad. The ajusshis applaud his wise decision to quit that music nonsense, but put in a song request on Dad's behalf.
Dad sits there awash in shame while Jang Goon plays his guitar, singing to the classic Lee Seung-hwan ballad "Family." Great, I'm crying two bars in already, and that's before he gets to the part about juggling expectations and disappointment: How can I please my parents' hearts? / I don't know / I want to say what my loving heart feels / But it only feels awkward…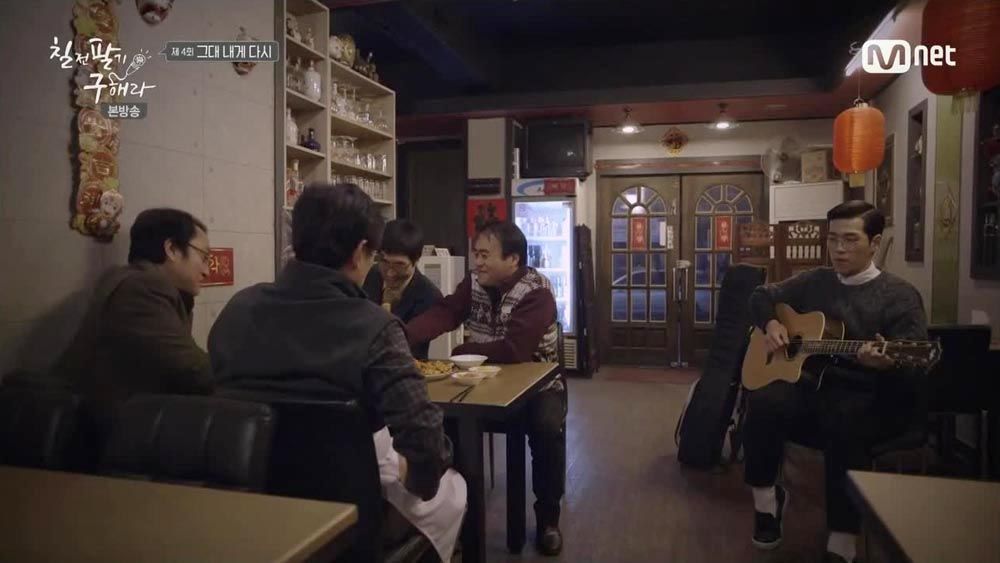 Then when the friends tell Jang Goon to hurry up and get settled so his father doesn't have to keep working, Dad can't hold back anymore and lashes out at them. What do they care what his son does? Have their kids ever sung them songs? He breaks up the party and kicks his astonished friends out, while Jang Goon feels terrible knowing he's the source.
Gruffly, Dad tells him he liked the song: "But I wish you would come to your senses and return to your place."
Time for another cameo: It's songwriter Yoon Sang, hosting his radio show, and the Hwangje idols are his guests of the day—Se-jong, Ki-joon, and Scarlet. Turns out Yoon Sang is the songwriter who promised Team Persevere a song, so Tae-poong arrives at the station with Hae-ra in tow.
Se-jong, Hae-ra, and Tae-poong stiffen upon seeing each other while the interview continues. Scarlet is asked why she picked Se-jong as her ideal type, and Ki-joon cuts in to say that Se-jong is full of aegyo. Ha, that's actually funny. DJ Yoon Sang requests a demonstration, putting him on the spot, and Se-jong uneasily musters a half-hearted "puing-puing." HAHA. (At least he returns the favor by saying Ki-joon also likes aegyo, forcing him to join in.)
A listener requests a demonstration of Scarlet's awesome vocals, and she coughs an excuse about her voice not being up to it. Yoon Sang presses for a short display, and Scarlet can't reasonably refuse, so she starts singing a few measures before coughing up a fit. I'm pretty sure Se-jong notices something's off with her voice (and Ki-joon already knows she's a fraud), but Se-jong swoops in to the rescue to pick up the song, salvaging the moment.
Afterward, Tae-poong greets Yoon-sang, and Hae-ra tells him enthusiastically how thrilled she is to get to sing his song. That makes Yoon Sang fidget and request to speak to Tae-poong alone, which can't be a good sign.
Sure enough, once they're alone Yoon Sang breaks the bad news—he won't be able to give him a song after all. He adds the caution that those kids aren't likely to get a song from any other songwriters, either. Hm, is that just friendly concern, or does he mean somebody's interfering?
As the idols leave, Scarlet asks Se-jong suggestively if his radio show rescue was a bit of flirting. At least he tells her flatly that he's never responded to her flirting, though she's not the type to let that stop her.
Just then, Hae-ra charges up to him asking to speak. Scarlet tries to fob her off, thinking her some random fan, but Se-jong identifies her as a friend and grabs her arm, pulling her aside. Now Scarlet really racks her brains (a task, that!) to place why Hae-ra's name sounds so familiar.
And then it hits—his drunken, tearful confession.
Se-jong pulls Hae-ra aside and pretends that he didn't see her call last night. Hae-ra beats around the bush, making small talk that's obviously not her real reason for wanting to talk, and he impatiently tells her to get to the point.
Hae-ra says that her hug with Ray was a misunderstanding. He replies that there's nothing to misunderstand because it doesn't concern him. To really get the message across, he repeats it harshly: "Whatever you do, whomever you do it with—there's no reason to tell me. I won't do that either."
Hae-ra grabs his arm as he turns away—and then Scarlet darts in and grabs her arm, warning her to back off.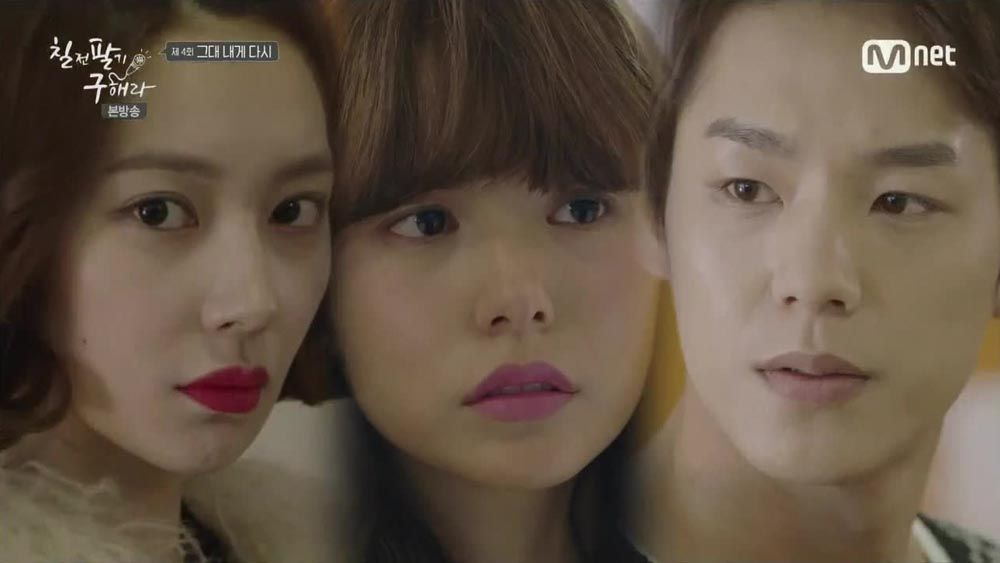 EPILOGUE
We're back at that high school study scene. Hae-ra opens a notebook where she's written a note that she has to become a singer for the sake of Dad's song, so she'd better not doze off. She's studying music theory, which has her tugging at her hair, and Se-jong turns out to know the stuff much better. She calls him cool, and he smiles at the praise.
Her head starts to nod, and he catches it and rests it on his shoulder. The sunlight beams into her eyes, and he raises a hand to shield her face. And then he leans in, close, just about to kiss her…
And Se-chan's voice yells from the door, "Hyung, I'm home!"

COMMENTS
Awww, I love this angst. I can see if it's not your thing, but for some reason the way this drama treats the we-can't-be-together angst really hits the right buttons for me, and that's a tricky thing because it's a plotline that could very well not work. It requires the right touch, because if dragged out too long we feel frustrated with the characters for letting non-reasons keep them unhappy.
And I confess to feeling those exasperations start to bubble up with Se-jong, but the funny thing is, every time I'm about to lose my patience the drama reveals something that makes me understand him and his choice. Yes, I do think that ultimately his reasoning is flawed and self-sacrificing to an extreme, and if it were all about Se-jong refusing Hae-ra because he's such a good guy with a saintly sense of integrity, then I'd be over it. And if he'd acted this way with Se-chan still alive, I think it would have been too nobly idiotic for me to tolerate for long—after all, Hae-ra likes Se-jong, she doesn't return Se-chan's affections, and Se-chan is going to have to accept that someday. Keeping himself unhappy wouldn't make his brother any happier.
But now, I see him more as suffering from survivor's guilt, and the fact that the girl likes him instead of Se-chan actually intensifies that burden. At least Hae-ra seizes upon the one thing she can do for Se-chan, which is assemble the old gang and make his wish come true. This is an active, tangible thing she can do. Even Ray can find comfort in helping the team and trying to realize Se-chan's dream by proxy. Se-jong, however, has nothing but that last damned wish, spoken in a bout of jealousy and insecurity. There's absolutely nothing he can do to make it better—if he were to pursue his heart, that could feel like disrespect for his dead brother, while on the other hand abiding by Se-chan's wish keeps him miserable. So right now he chooses miserable. I don't actually think those are his only two options, but I can see how that's how things feel to him right now, when he's isolated and cut off from any support system. Plus he's always been the type to keep all his thoughts to himself, suffering silently—he's certainly his mother's son in that regard.
The thing is, Se-chan's wish is completely unfair and, moreover, not possible—Hae-ra's heart isn't an object that can be transferred back and forth between the boys. She has a mind of her own and her feelings matter, dammit—she has a say in this. But both boys are equally guilty of forgetting this, Se-chan because of the way he wanted to claim her, and Se-jong because of how he pushes her away.
Of course, I can't hate Se-chan because he was a sweet boy who died too early, and his heart was in the right place. And honestly, after I saw that his dying thoughts were to save Hae-ra before himself, he won my heart—I can't hate him after that. It's just, I can see how leaving things where he did was a royal pain in the ass to his loved ones. What's extra painful about it is that Se-chan didn't get to grow up, mature, and rescind those words. But that's the last thing Se-jong remembers of him, and thus he feels bound by it.
I'm definitely curious to see how Hae-ra's mixed-up feelings and memories play out with Ray now, especially seeing that he sparks Se-jong's jealousy. He's not actually very much like his twin at all in personality—it's jut that his voice, his face, his biology are all familiar, and that tricks you on an unconscious level. I'd wondered which way the reaction would go for Se-jong, because Ray's appearance could have drawn out his protective loving side—yet once I saw how he reacted to being displaced, it made sense to me that he felt everything was being taken away. I don't think Ray is a serious contender (sorry if you're on that ship—you all have my sympathies!), but I do expect him to play a pivotal role in shaping Hae-ra and Se-jong's relationship, whether it's through jealousy, competitiveness, or maybe even support.
I was thrilled to get a few scenes from Se-jong's perspective, finally! Although we've been able to see that he cares for Hae-ra, it was really helpful to see more in depth how he feels and reacts to everything. Hae-ra's forthright and honest with her feelings in a really refreshing way (I love that she confessed first, and that she's always pressing Se-jong for the truth), but he's a brick wall. He's such the master of the poker face that without these flashes, it would be so easy to see him only as Hae-ra does, when he overcompensates for his true feelings by being extra mean. While I cut him some slack for meaning well, there's only so far I can go before I feel like acting mean and being mean are pretty much the same thing. Either way, he hurts Hae-ra. It's important (and refreshing) to get inside his head a little—now if only he'd let others in too. We just want to love you, Se-jong! Well, more, I mean.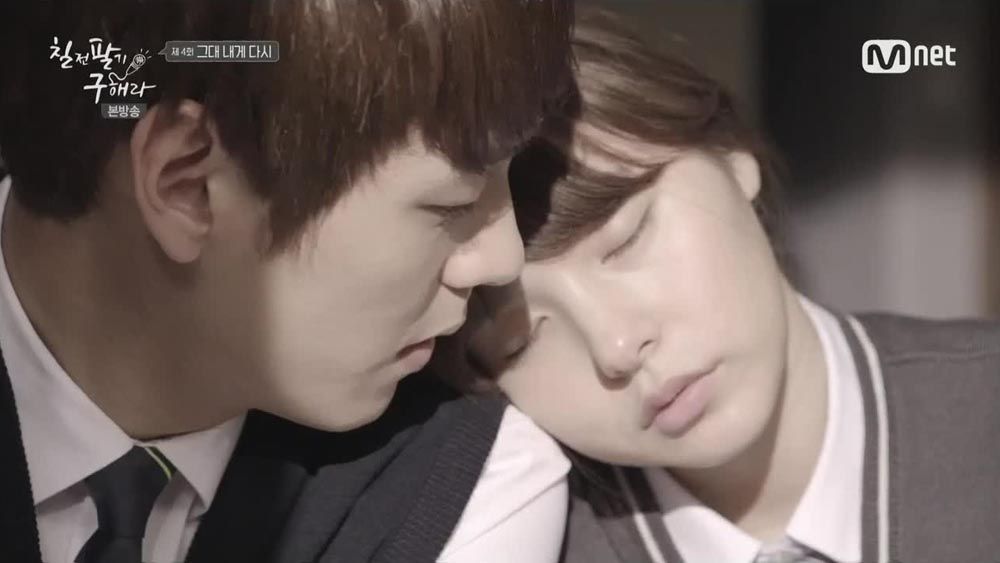 RELATED POSTS
Tags: featured, Jinyoung, Kwak Shi-yang, Min Hyo-rin, Persevere Gu Hae-ra