Persevere, Gu Hae-ra: Episode 5
"Persevere" is such a fitting theme in this episode, as we see our aspiring "artistars" try to take their first step into the music sphere. They don't get very far before they run into their first obstacle, but even when they fall, they get right back up to try again. As usual, we get our healthy mix of music, humor, and angst, though Se-jong seems to find himself deeper and deeper in the Hwangje mess. I can only hope for his soul to remain intact as he suffers multiple blows from Hwangje and slowly loses the support of his loved ones.

EPISODE 5: "I won't stop"
Se-jong tells Hae-ra that she doesn't need to explain what she does with anyone, and he won't do that either. Hae-ra tries to grab him before he leaves, but Scarlet interferes and stops her. She calls after Se-jong with more to say, but her phone starts to vibrate. She picks reluctantly, and we see why. It's Ray.
Se-jong looks at her accusingly as she picks up and quickly ends the conversation with Ray (he's asking about ordering pig liver with soondae), telling him she'll call back soon. He walks away with Scarlet, leaving Hae-ra with even more misunderstandings.
Yoon Sang explains to Tae-poong the circumstances around his decision. He can't give them his song because President Hwang found out about this and threatened to take away Hwangje's commercial bucks from his productions, which not only affects himself but all of his staff.
Tae-poong fumes and sighs in understanding — President Hwang is a person who could do worse. He thought that it would all end if he left Hwangje, but people without power get treated like convicts in this industry. And he's become one.
Back at the trainee lodge, Woo-ri gasps at the amount of pig liver Ray bought without soondae. Henry says that he saw Hae-ra eat this last time and imitates her. Woo-ri scoffs at his imitation, which prompts Henry to imitate Woo-ri's aggressive eating habits. She gets offended, and they bicker with boogers and feet smell until Ray pulls them apart. He thinks back to Hae-ra's promise to call him back and glances at his phone, waiting.
Jang Goon comes bearing bad news: Tae-poong told him that Hwangje bribed the songwriters, so it will be difficult to find someone to offer them a debut song. Tae-poong and Hae-ra return in disappointment, but on Tae-poong's cue, Hae-ra whips out a piece of paper and tells them to pick. In a flashback, we see Tae-poong suddenly light up to a song playing in the café (It's Roy Kim and Jung Joon-young's remake of Kim Kwang-suk's "Becoming Dust" from Superstar K Season 4). He and Yoon Sang exchange looks and high-five at their new idea: They can debut with a remake.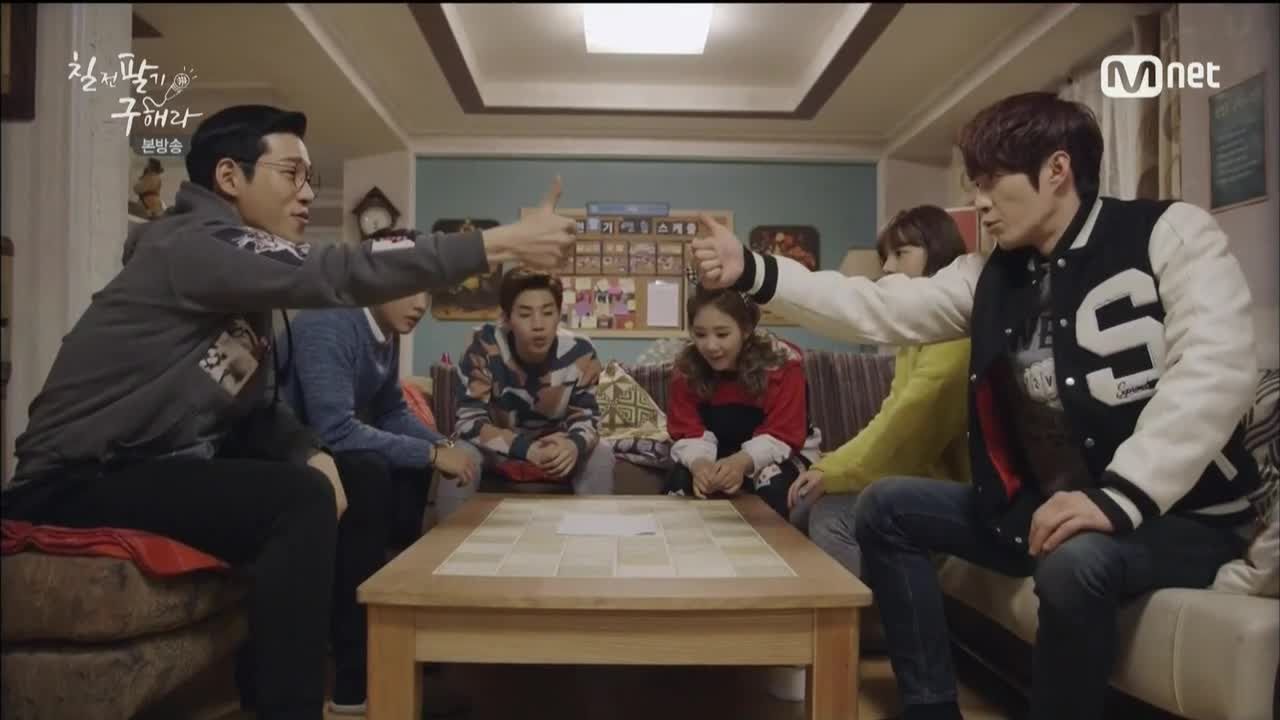 They look through the list of songs — Woo-ri and Hae-ra like Sharp's "Sweety" and sing along excitedly. But Henry thinks they should pick a stronger song with more impact, and Jung Yeon-joon's "Pilot" seems like a stronger choice. They turn to Jang Goon, and he hesitantly argues that these are all '90s songs that people don't know nowadays.
Henry reassures him that they'll be fine and brings up the phrase "Legends never die." People may not know Michael Jackson or the Beatles, but they still find their music fantastic. They can't come to an agreement on a song, so Tae-poong decides that each team can prepare their choice and face off against each other, and they'll pick between the two. Jang Goon, who hasn't decided yet, is told to participate in both teams and decide afterwards.
Scarlet walks into Daddy's trophy room in a good mood and tells him that she just declined a photo request from a reporter. He asks what it was for, and she cheerily tells him about the scandal between her and Se-jong. President Hwang freaks out, but Scarlet reassures him that nothing really happened, much to her disappointment. But she seems pleased with her scandal nonetheless.
President Hwang makes a call to try to clean up this mess and promises the reporter that he'll have the two retake the pictures. Scarlet doubts that Se-jong will agree to this, and as expected he refuses to take part. But once he sees the pictures of him leaning over Scarlet when he was drunk, which look pretty convincing without any context, he has to reconsider.
Team Persevere has now divided into Team Sweety and Team Pilot, with each preparing their own performance. Henry, Ray, and Jang Goon dress up in pilot gear and aviators, but Jang Goon seems more invested in Team Sweety's preparations. He eventually changes teams, getting along perfectly with the girls. HA.
Jang Goon carries Hae-ra in a demonstration of the choreography, and Woo-ri quickly asks for the same treatment. He tries really hard, but he ends up falling with Woo-ri's awkwardly on top of him and her face in kissing proximity. She's pleasantly surprised by this closeness, but Jang Goon politely asks her to get off and thanks her when she offers to not take part in this choreography.
Se-jong and Scarlet stage their scandal pictures, walking down the street in the middle of the night while the reporters give them directions to look like they're on a midnight date. He's super reluctant to get anywhere near Scarlet, but she's delighted in her own perception that Se-jong is just playing hard to get. As the reporter looks through the photos of Se-jong's clear disinterest, she wonders if the two aren't really dating, but they go through with the deal anyway.
The teams prepare for competition, and first up is Team Sweety. Living up to the song's title, they deliver a sweet performance, with adorable dance moves and backed up by Woo-ri's strong vocals. We even get some hints of jealousy from Woo-ri as she sees Jang Goon carrying Hae-ra. From the audience, Henry watches with a distasteful look, but Tae-poong and Ray seem to enjoy the performance, with Ray in particular looking enamored by Hae-ra.
Team Pilot delivers a more forecful performance, with some pretty sharp choreography. Henry even gets on his knees with the electric guitar, but at the end Jang Goon seems so ready to be done. He leaves as the other two hold their final pose, complaining that he doesn't want to do this. Heh.
Tae-poong expresses his enjoyment of both performances but tells them that they will leave it to a vote to decide Team Persevere's remake debut song. The votes end up at 2-2, with one final vote deciding their debut song… and it goes to Sweety! The girls celebrate with Jang Goon.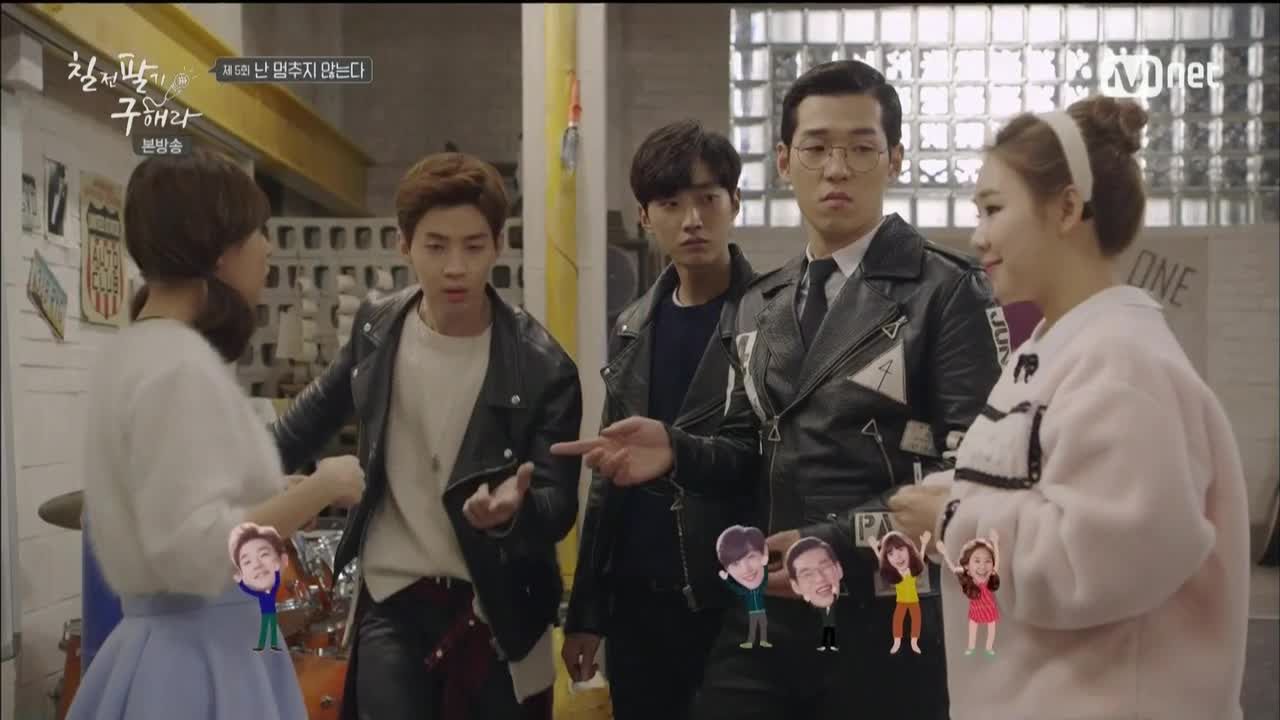 Henry calls Jang Goon a traitor, but Ray also says that he voted for Sweety. That confuses everyone, and they struggle with simple math, trying to figure out how this outcome came to be. Henry approaches the trash can to check to votes, but Woo-ri quickly snatches it before he reaches it. What's this funny business going on?
With Hae-ra's debut right around the corner, Hae-ra's mom looks at an old family picture and asks her husband why he left so early. She sits down gloomily next to the twins' mom and thanks her for staying by her side all these years. They shake off the gloom by reminiscing about their popularity with the boys back in the day, and then Tae-poong walks in.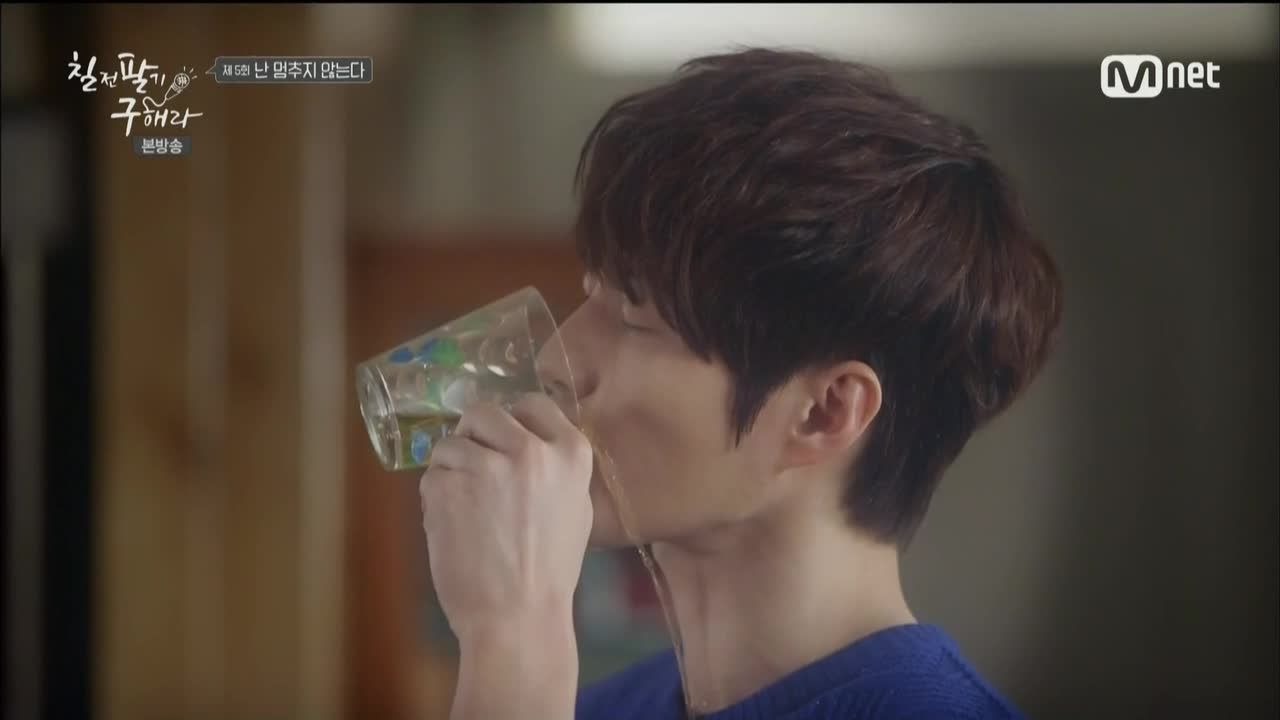 Hae-ra's mom brings up Se-jong's dad again, calling him a traitor for running off with another woman, and Se-jong's mom tries to quiet her. Then they're both mesmerized by Tae-poong's drinking-spilling of water, which is an overdramatic and impractical way to drink water, but hilarious nonetheless.
Tae-poong runs into Manager Pyun, who's convincing the Show Inki Music Camp (a mash-up name of all the live music shows) producer to drop Scarlet from their lineup, because she's so booked with other engagements. Their short and unpleasant encounter ends with great news for Tae-poong: Since someone just dropped their spot in the lineup, they have an open spot for Team Persevere this week.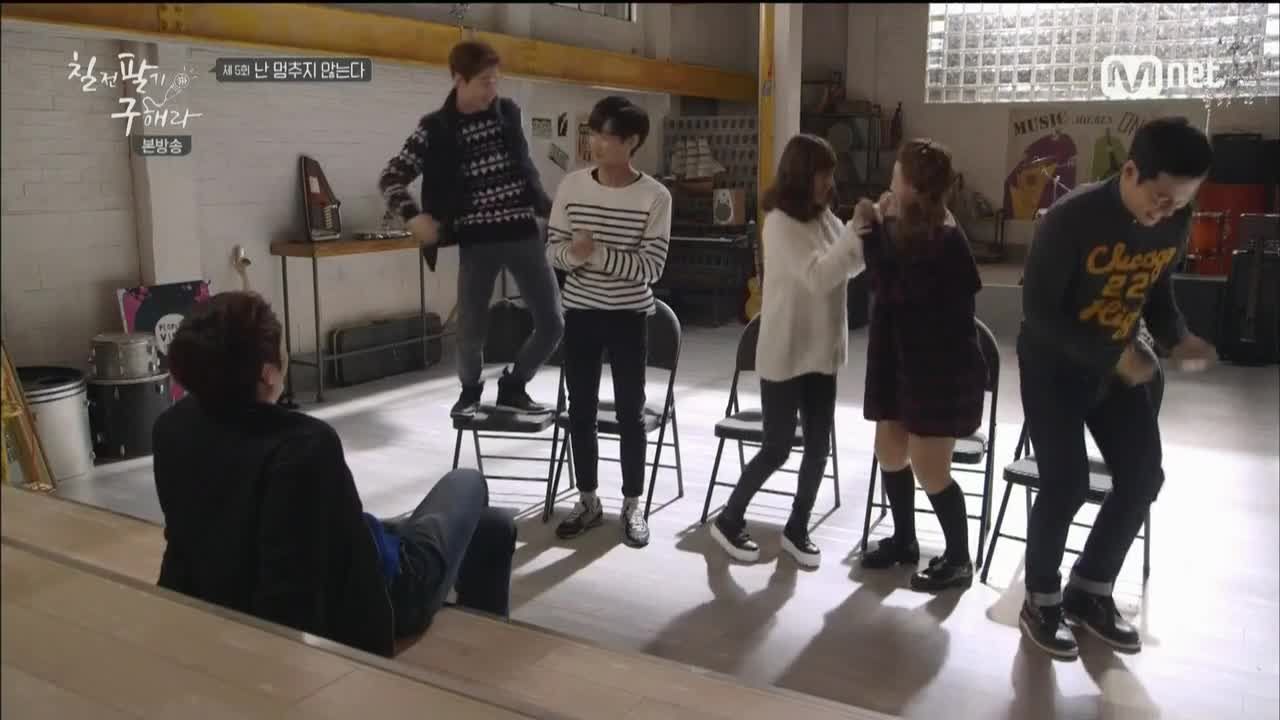 Tae-poong relays this news to his kids, and they jump for joy. But since their performance is so close, they don't have time to practice "Sweety." Instead, they'll got with Psy's "Entertainer," which they've already perfected (but we haven't seen yet).
The mothers watch a show counting down the top '90s male stars, with third place going to Jung Woo-sung. Tae-poong walks in but heads straight for the shower to wash up, just as the show names him as second place, showing '90s footage of his choco abs. Hae-ra's mom vows to one day see those in person, ha.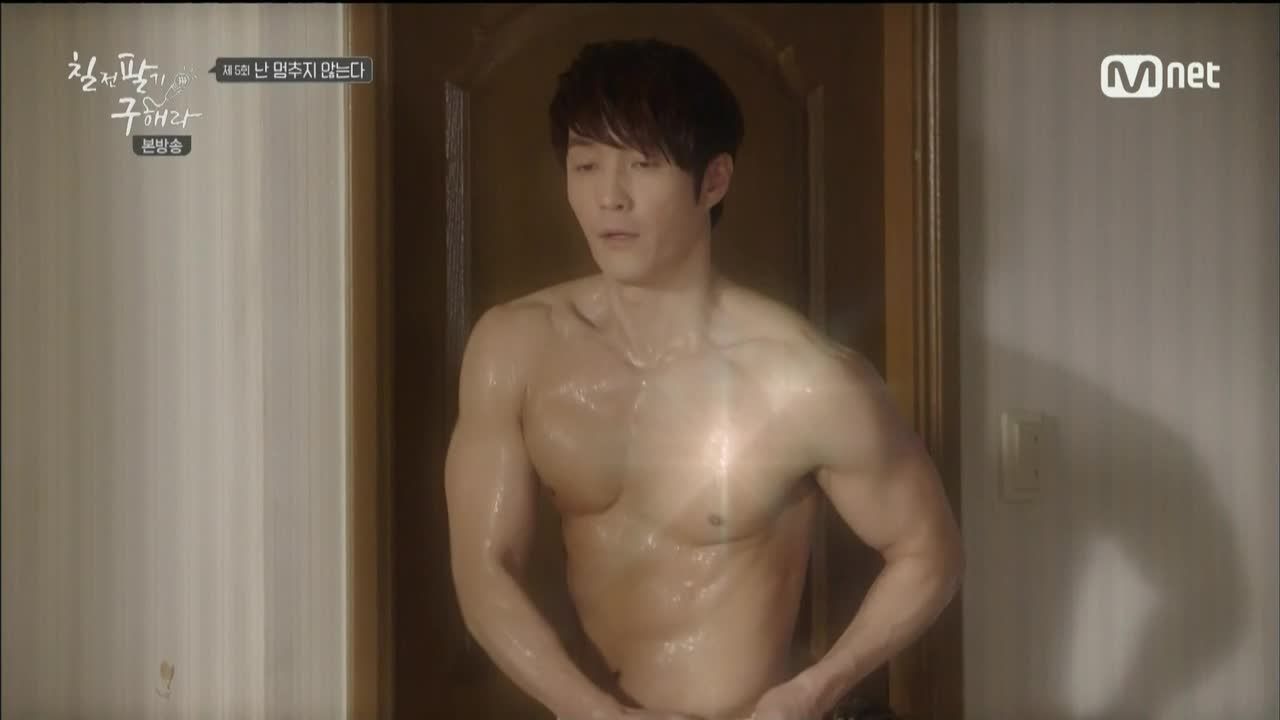 Se-jong's mom gets a notification about her late monthly fees, and she tells Tae-poong that he's late with his payment to her. He yells through the bathroom to just take the cash out of his wallet, and she discovers that his ID reveals his real name as Go Oh-hwan (gohwan = balls). The mothers get a kick out of his real name and then are mesmerized by Tae-poong's half-naked body fresh out of the shower.
After a dramatic viewing of Tae-poong's top half, he excitedly picks up a call from the music show producer. But it's bad news: Scarlet decided to be on the show after all, so they're kicked out. Tae-poong jumps up and down in frustration, which inevitably leads to an explicit viewing of his bottom half, right in front of the mothers, who look back in shock. Tae-poong belatedly notices his towel-drop and quickly runs out of the room, and Hae-ra's mom comments that he lives up to his name. HAHA.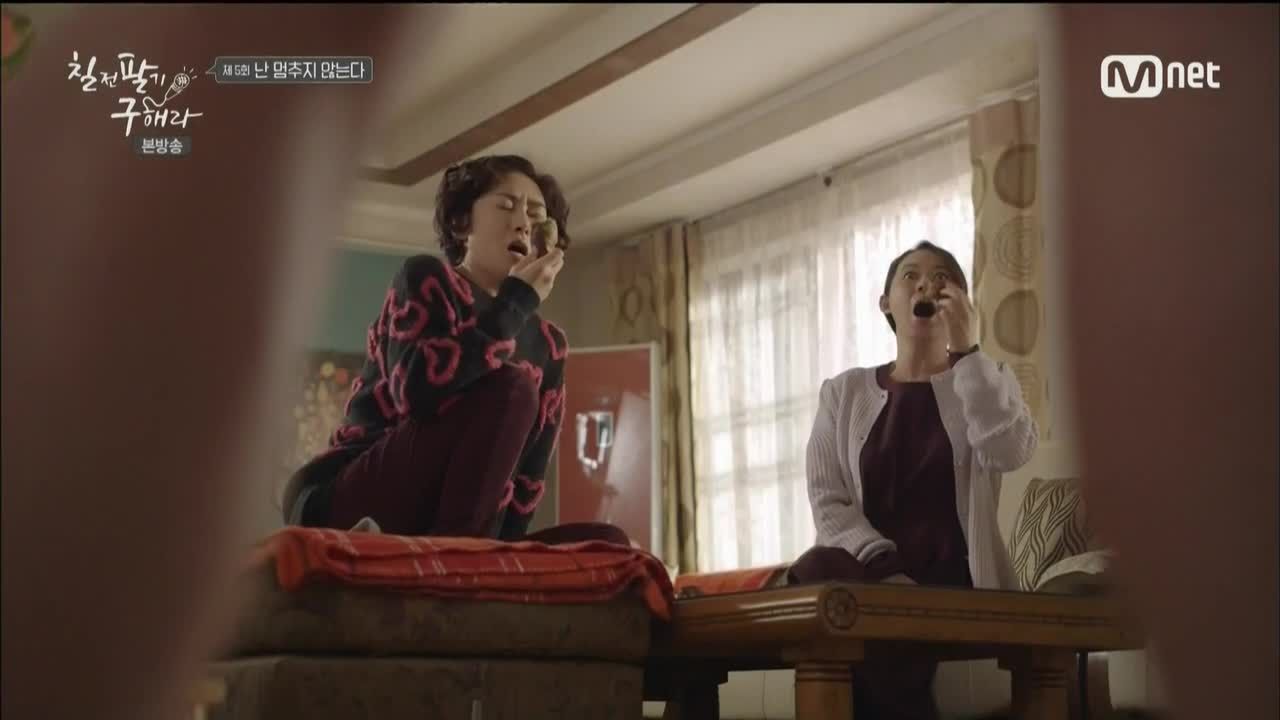 Scarlet approaches Se-jong and ignores the rest of the Impact members, asking him if he's excited for their scandal to become public. Once it's out, Scarlet walks away in glee as it tops headlines. The Impact members leave Se-jong with Ki-joon, who asks him for the truth. Se-jong apologizes for burdening the team with this scandal, and Ki-joon calls him a bastard for causing this mess.
Tae-poong dejectedly joins the kids' chicken feast celebrating Team Persevere's debut performance news, and he can't get himself to tell them that it's cancelled. His mood gets even worse when news of Se-jong's date scandal breaks, which only builds the misunderstandings between Se-jong and the team. Hae-ra is left speechless and shocked, a reaction observed by Ray.
Woo-ri walks in with ice cream and asks Hae-ra if the scandal about Se-jong and Scarlet is real. But she's too deep in her own thoughts to register the question and proposes that they talk about something else. Hae-ra asks if Woo-ri like Jang Goon, which flusters her and causes her to start putting ice cream instead of lotion onto her face. She asks if it was that obvious.
In the boys' room, Henry says that it was obvious about how Ray only had eyes for Hae-ra all day long. Ray says that he can see why Se-chan liked Hae-ra but denies that he likes her himself. On the girls' side, Woo-ri confesses to voting for Team Pilot (which explains the vote count) because she was jealous seeing Jang Goon only dancing with Hae-ra. Hae-ra promises to help Woo-ri along, and they decide that this is their secret, promising their loyalty.
Tae-poong and Jang Goon are roommates, which is fitting and adorable. Tae-poong pulls up the covers for Jang Goon, who's muttering for his father in his sleep. Tae-poong shudders when he thinks of being rejected for the broadcast, deciding to tell the kids tomorrow.
On broadcast day, Scarlet revels in her expectation to win the triple crown, but Manager Pyun cautiously warns her that she won't win because of Impact's popularity and her scandal — and she'll probably only net a single-digit score. Embarrassed, she whines that she wants to leave. Ki-joon tries to ameliorate the situation by apologizing, but Se-jong interrupts by asking why they should apologize — they're winning fair and square.
He walks out with Scarlet trailing and accusing him of being too harsh, considering their relationship. Se-jong clarifies what their relationship is, and she dejectedly calls him hoobae and herself sunbae. He nods in agreement and goes on his way. Manager Pyun tries to calm her down, but her patience (or lack thereof) has run out, and she decides that she won't perform today.
Just then, a reporter approaches her and asks a loaded question about her and Se-jong still dating. After a moment to set her brat level to full throttle, she lies that they are currently dating. Manager Pyun tries to deny this while chasing after Scarlet, but the reporter already got his desired answer.
The music show producer gets word of Scarlet's sudden exit and curses performers who take advantage of their popularity. He remembers Team Persevere and orders his team to call them up. Cue: Hae-ra's mom in van ajumma mode, navigating the roads at dangerously high speeds. The team finishes last-minute preparations in the car, and Ray notices Hae-ra's fearful reaction to the aggressive driving.
Hae-ra's mom comes to a sudden stop, her road rage accented by loud saturi, but she stops herself when she realizes that Tae-poong is in the car. Ray holds Hae-ra's hands to calm her fears, and when she tries to pull away, he says that he needs it to calm himself. Aw.
But once they arrive, they're left on standby for over two hours. While Tae-poong and Henry admire Crayon Pop's "Bar Bar Bar" rehearsal, Woo-ri reads up on the follow-up scandal that says Se-jong and Scarlet are currently dating. Hae-ra's noticeably shaken by the news, as she thinks back to her last interaction with Se-jong, which included an overprotective Scarlet.
Se-jong gets a text from Tae-poong telling him that Team Persevere's debut performance is today — now he can put down the burden he carries, always feeling sorry to them. But he sees the new scandal that Scarlet just caused, and it doesn't seem like he'll be any less burdened.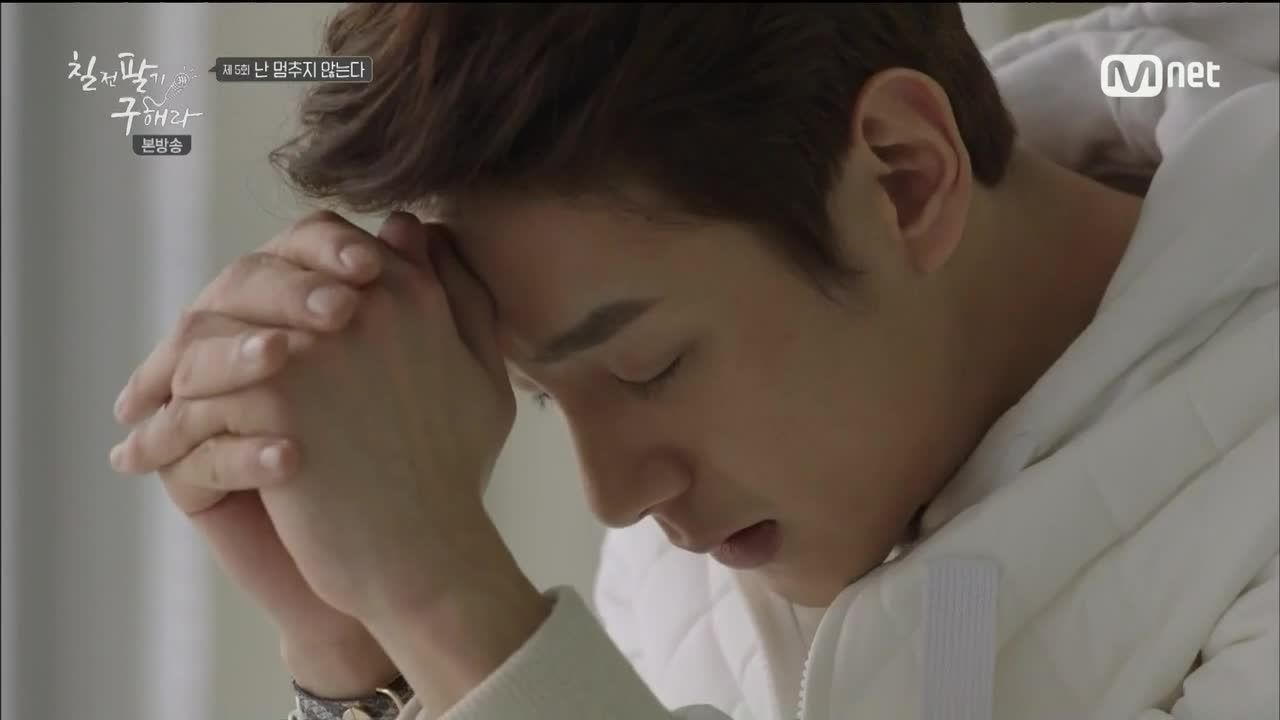 Hwangje is exploding with calls regarding this new scandal, and Scarlet is nowhere to be found. President Hwang scolds Manager Pyun for being so incompetent and causing this headache.
Crayon Pop comes down after their performance and bows to their sunbae Taepoong, but Henry cuts into express his enjoyment of their performance. He compliments them on their cuteness and vows to be an eternal fan. Next up for rehearsal is Team Persevere, and Tae-poong does a last cheer with them before he heads off to check their schedule.
Onstage, Team Persevere attempts to introduce themselves, "Though we fall seven times, we get up for the eighth: Perseve–" They're cut off by the staff and then scolded for not wearing name tags. A staff member quickly scribbles their misspelled names on paper, and they're ordered to their places to start their rehearsal without a mic check.
But Team Persevere isn't one to disappoint, as they fill up the stage with their performance. In true Team Persevere fashion, they perform the song as if they're performing a mini-musical while Se-jong watches with his Impact members by the stage. He smiles as he watches his old teammates, though his expression betrays a hint of jealousy when he sees Ray catching Hae-ra as she slips.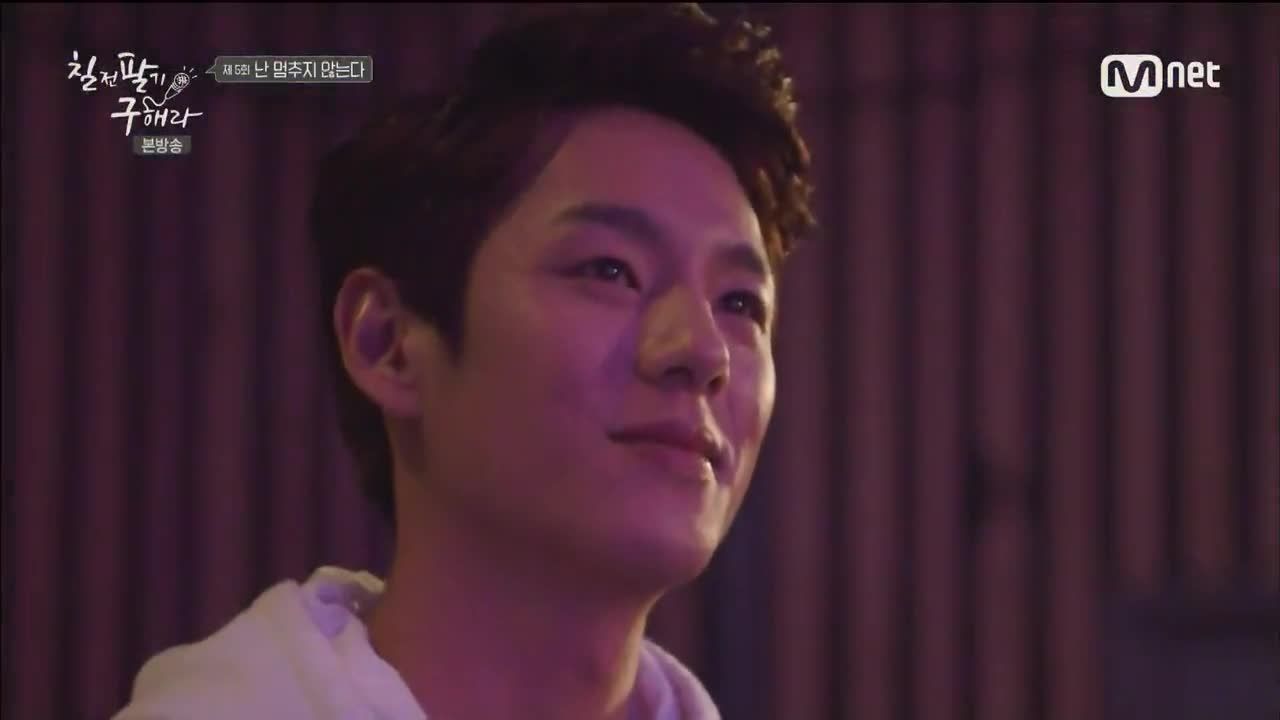 The staff seem impressed but quickly move on to the next rehearsal, since Impact has been standing by for a whole ten minutes. As Team Persevere exit the stage, they're met with Impact, and Ki-joon greets Jang Goon with a mocking smile. Jang Goon gets a flashback to his middle school day, and haughty Ki-joon insults them as dogs and pigs making their debut. Hae-ra calls him out for his harsh words, but Ki-joon counters that he's their sunbae and walks onstage.
Hae-ra tries to follow them, but Se-jong stops her, advising her to not listen their pointless words. He asks about her ankle and gives her some spray to put on her shoes. Speaking stiffly, she thanks him for the concern but advises him to take care of his personal life first. He grabs her and clarifies that it's all a misunderstanding — it's not what she thinks it is.
Hae-ra thinks back to Se-jong's response when she tried to clear up their misunderstanding and repeats his exact words to him: "Whatever you do, whoever you do it with — there's no reason to tell me." Ouch, but also touché.
Ray steps in, which earns him a glare from Se-jong and a warning to stay out of this. But Se-jong is called away for his rehearsal, leaving another misunderstanding unresolved.
Scarlet justifies her actions to Daddy in his office (decorated with awards for his parodied idol groups: CARA, 6PM, and Boy's Generation among them), explaining that she was angry that she wasn't going to win the triple crown, frustrated with Se-jong, and annoyed by the reporter. But she quickly apologizes to Daddy when she realizes how mad he's become.
He orders her to return to the music show, and when she refuses, he explains it in a way that makes sense to her level of intelligence. If they let Team Persevere perform, Woo-ri, the girl who's the voice of Scarlet, is going to debut. At this news, Scarlet rushes out, and President Hwang shakes his head in embarrassment.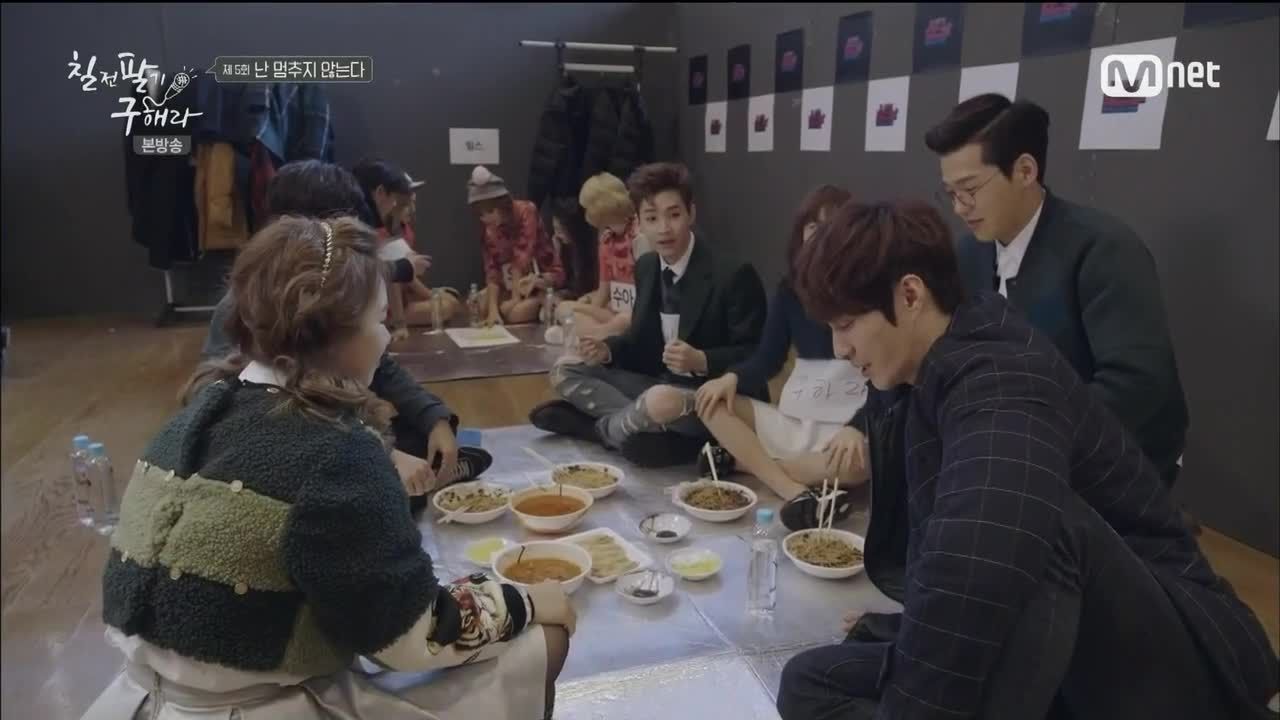 As Team Persevere wait for the live broadcast, they eat take-out Chinese and Tae-poong promises to buy them extra food next time. Just as the reality of their debut starts to hit them, Tae-poong is called over by a staff member with bad news. Scarlet is back to take their place, so they won't be performing for their debut stage today.
Angered and disappointed by their lost opportunity because of Scarlet, Woo-ri cries loudly in the bathroom. Of course, Scarlet enters the bathroom and makes belittling comments about their reunion. Woo-ri criticizes her selfishness, and Scarlet notes that she's different than them — she can do whatever she wants, whenever she wants.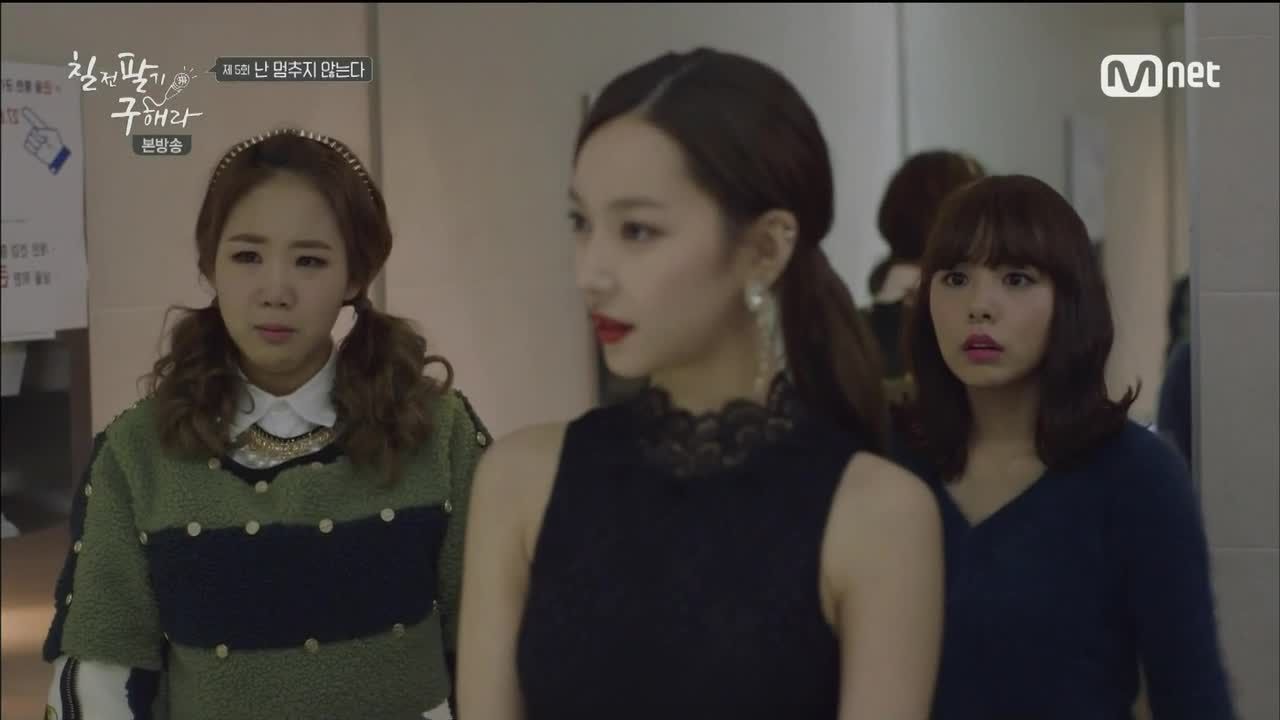 Hae-ra enters the bathroom as the argument continues. Woo-ri asks if performing is a joke to her, and Scarlet replies that it is. She didn't feel like performing before, but now she does. So she will. Seeing Hae-ra, she extends her hand in greeting, but Hae-ra ignores her and escorts Woo-ri out.
Scarlet yells at Hae-ra as they leave, warning her not to approach her boyfriend. Ray and Henry find them, which causes Scarlet to quickly turn around to hide her face. She knows the boys from somewhere and doesn't want to be recognized.
The final broadcast schedule is delivered to Impact, and Ki-joon sneers that dogs and pigs weren't allowed to perform. Se-jong looks through the list (containing more parodied idol groups: VAXX, OAO, Girls Week, Got6, A1B4, and Hae Shabet) and runs out to find Hae-ra (as Noel's "Fate" plays in the background). He asks what happened, and she tells him that he should know better himself. She reminds him to mind his own business and walks away.
Impact performs as Team Persevere watch from below. Ray tries to comfort Hae-ra, though he refrains from actually making contact when he moves to pat her back. The mothers watch from home on the TV, and although Hae-ra's mom points out Se-jong's handsome looks on camera, Se-jong's mom seems more concerned about Team Persevere's appearance.
The MC (cameo by fellow Super Junior member Leeteuk) counts down the votes for the number one performance, which goes to Impact in a landslide victory. Leader Ki-joon expresses his gratitude towards "Father Hwang," and Scarlet congratulates her hoobaes like a good sunbae should.
Leeteuk then asks Se-jong for some words regarding his scandal with Scarlet. Looking at Team Persevere, he takes the mic to apologize to those who are having a difficult time because of their company. Then he thanks Tae-poong for always being there for him. Yay for public humiliation and gratitude, but I fear for his fate under President Hwang.
The mothers watch the ending in disappointment, wondering what happened to the kids' debut, and Hae-ra's mom congratulates Se-jong's mom for her son's win. They're both hurt for the kids' sake, and Se-jong's mom assures her that there will be another opportunity. When Hae-ra calls, Mom pretends that she was too busy and forgot to watch the live broadcast, which breaks my heart.
As expected, President Hwang loses it. He bursts into Impact's waiting room and slaps Se-jong. After Manager Pyun shuts the door, he slaps him again. When Se-jong remains silent and doesn't apologize, President Hwang takes off his watch, ready to do more damage. Thankfully, Ki-joon enters the room, and President Hwang leaves before more witnesses arrive.
Ki-joon reminds Se-jong about his warning to not act up and hands him a handkerchief to clean up his busted lip. There are people around, and he should avoid making a scene.
Deflated Team Persevere returns in the van as Hae-ra narrates their feelings:
Hae-ra: Once you fight a cold, you develop an immunity to it. But if you keep catching the cold, you begin to fall. When my father suddenly passed away on my birthday, when we got dropped from Super Week, and even our failed debut today. Because of the malicious cold that comes at every happy moment, I'm hurting.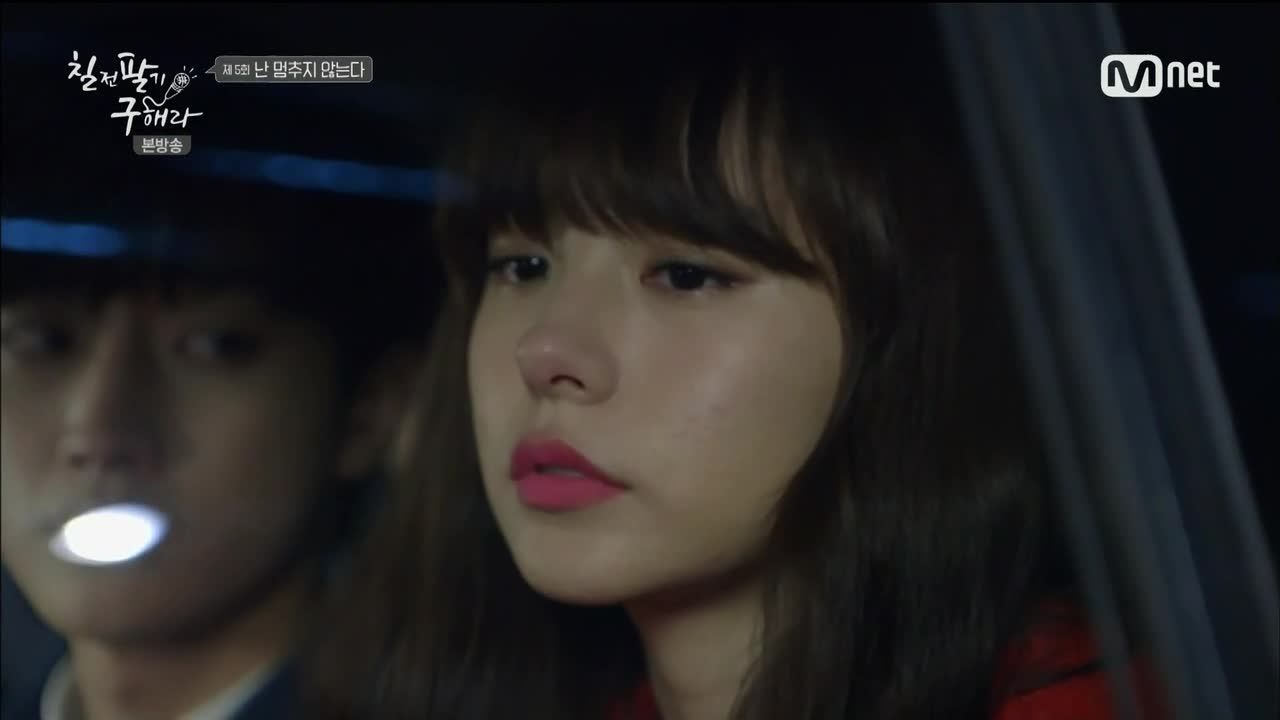 A mysterious person uploads the rehearsal footage of Team Persevere onto Youtube, and by the next morning, it's become a viral hit. At their respective jobs, the mothers are shown the footage, which puts smiles on their faces. Team Persevere gathers to watch the video and wonder who uploaded their rehearsal, since it wasn't Tae-poong.
Then Tae-poong gets a casting call, which grabs the attention of the team. He agrees to take the offer and smiles in amusement as the team worries if their debut will be for real this time.
And it is! Only, it's at a Buddhist monk's radio. HA. But Team Persevere is happy to finally make their debut, and Hae-ra narrates, "Even without a large stage or a cheering crowd, we were able to make a successful debut. And like that, we fought off another cold."
But it's a different story one month later. Se-jong narrates that he's in the midst of struggling with an ordeal of a different kind, and we see him approach the police station, swarmed by reporters. He ignores them as they take pictures, and continues inside.

EPILOGUE
The camera pans over the laptop to reveal the uploader of Team Persevere's rehearsal footage: It's Se-jong. He had asked a staff member to record their rehearsal, and he uploads the footage online. He's the first viewer, and he watches with a genuine smile.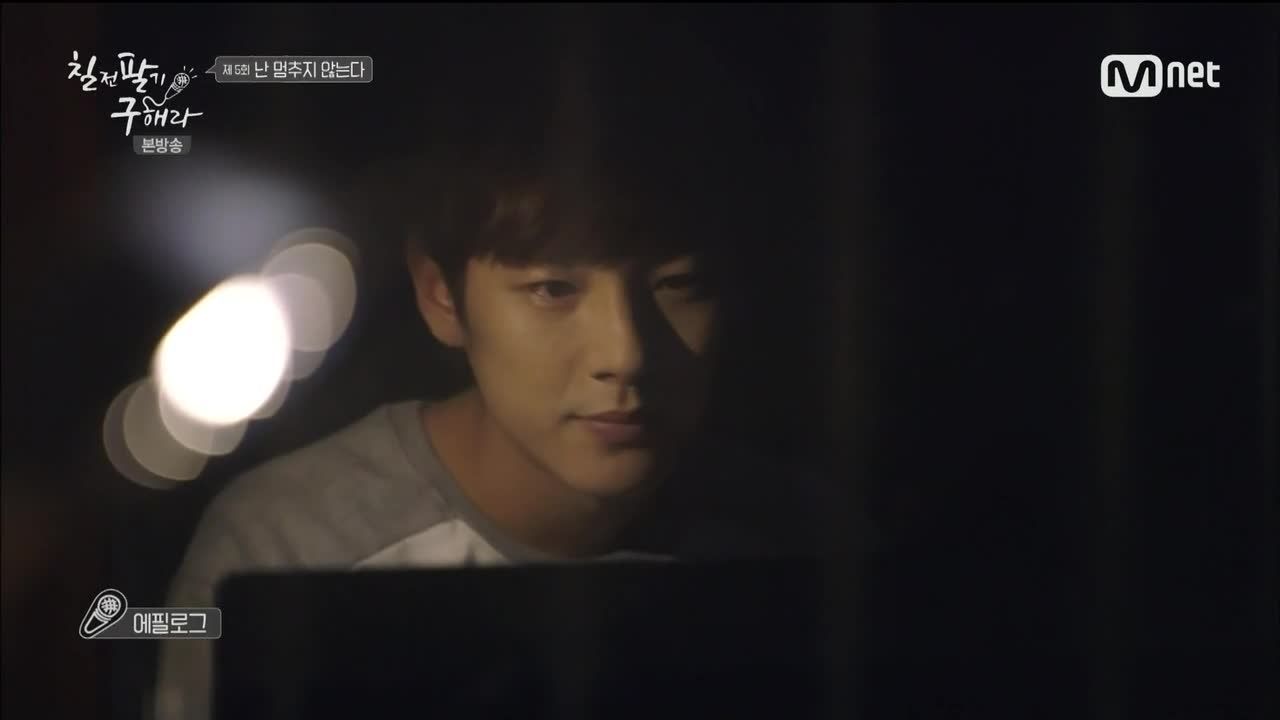 COMMENTS
Aw, Se-jong. I didn't expect anyone else to have uploaded the rehearsal footage, but I love the little details we get in the epilogue on how this all went down. It's depressing to see Se-jong watching Team Persevere with such a nostalgic smile, knowing that he'll probably never be a part of them again. I just want him to be happy, but we see that he's got a long way to go before that happens. Apart from his biggest conflict — his deceased brother's last wish — he's got so many misunderstandings to clear up thanks to his big pain in the ass called Hwangje.
Hwangje is such an interesting paradigm for entertainment companies we have right now, and it's surprising how relevant Hwangje actually is. Driven by a business model, Hwangje will use all the means possible to make a profit and manifest its power through the money it makes. Money sure is power in this industry, but business loses its meaning when it overshadows what it's selling, which in this case, is music. And I could imagine that the "musicians" under such a hardcore business model would lose purpose. The trainees under Hwangje seem to be perfectly adapted, however, as seen with Ki-joon. Ki-joon is clearly the antagonist in this show, but he's an interesting character who's well aware of what he is to whom. Having been in the system for so long, he's become the model idol for Hwangje, but that also makes him a powerful tool on both sides. If he cross over from the dark side, he's Pandora's box, ready to reveal the nasty secrets Hwangje so effectively conceals.
Along those lines, the whole posing for scandal pictures makes me wonder about the inner workings of the K-pop and entertainment industry in general. I found it pretty amusing how Se-jong and Scarlet were actually posing for these scandal photos, but it also seemed like a possibility. Are scandals manufactured so that the reporters don't release even more scandalous blackmail photos? It all sounds like some conspiracy theory, but I wouldn't be surprised if this ever actually happened in real life.
Se-jong again stays true to character and remains frustratingly silent, but I've got to give it to him for his public apology on behalf of Hwangje. That stings so much for President Hwang, and I was so glad that he had the balls to call out his own company. He's a little Tae-poong in the making, and I hope he'll be more successful at crushing this institution than his mentor was. I wish he would be more reckless like this more often because it gets me so pumped up for the possible damage he could do on Hwangje. I mean, I fear for his life in that company already, but he'd really be making the most of it if he could disobey and rebel as much as possible. That would be the best way to honor Se-chan and help Hae-ra out. Act fast, before Hwangje digs you into a deeper hole!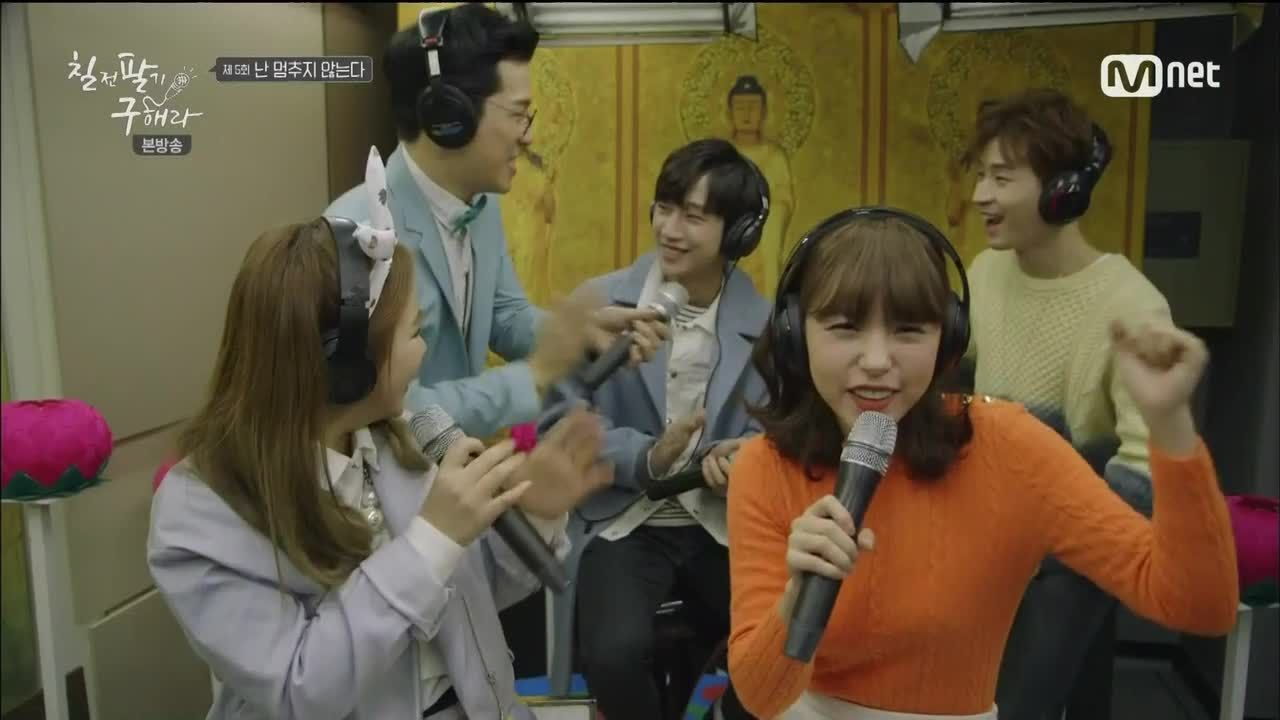 Onto some lighter topics, I loved the outcome of this episode and how Team Persevere found their own way to make their official debut. Of course, this wouldn't have been possible without Se-jong's clever upload of their almost-debut rehearsal footage, but it's so fitting that Team Persevere wouldn't go the conventional route to make their debut. Nothing about them makes them a standard cookie-cutter idol group, so why not a Buddhist radio broadcast as their debut stage? All they really want to do is express their love of music through performance, no matter what scale, so it ultimately doesn't matter where they begin. As long as they're all invested with the same goal in mind, they make a solid and competitive underdog group.
Tae-poong is actually my favorite, and the fact that Shim Hyung-tak ad-libbed a majority of the funny scenes makes me love him even more. I especially like him with the mothers because if I were in this drama, I would definitely be one of them, admiring his beauty and silliness. I literally laughed out loud starting from his water drinking to his big reveal, and they're definitely some of the more memorable scenes, despite it not having anything to do with the overall story. He brings great comic relief and life into this show while he still plays his role as a mentor for Se-jong and a manager for Team Persevere. I really do love the whole direction of this story and how it's progressing, but if this story ever gets lost (please don't, knock on wood!), I will rest assured that at least Tae-poong will make it better.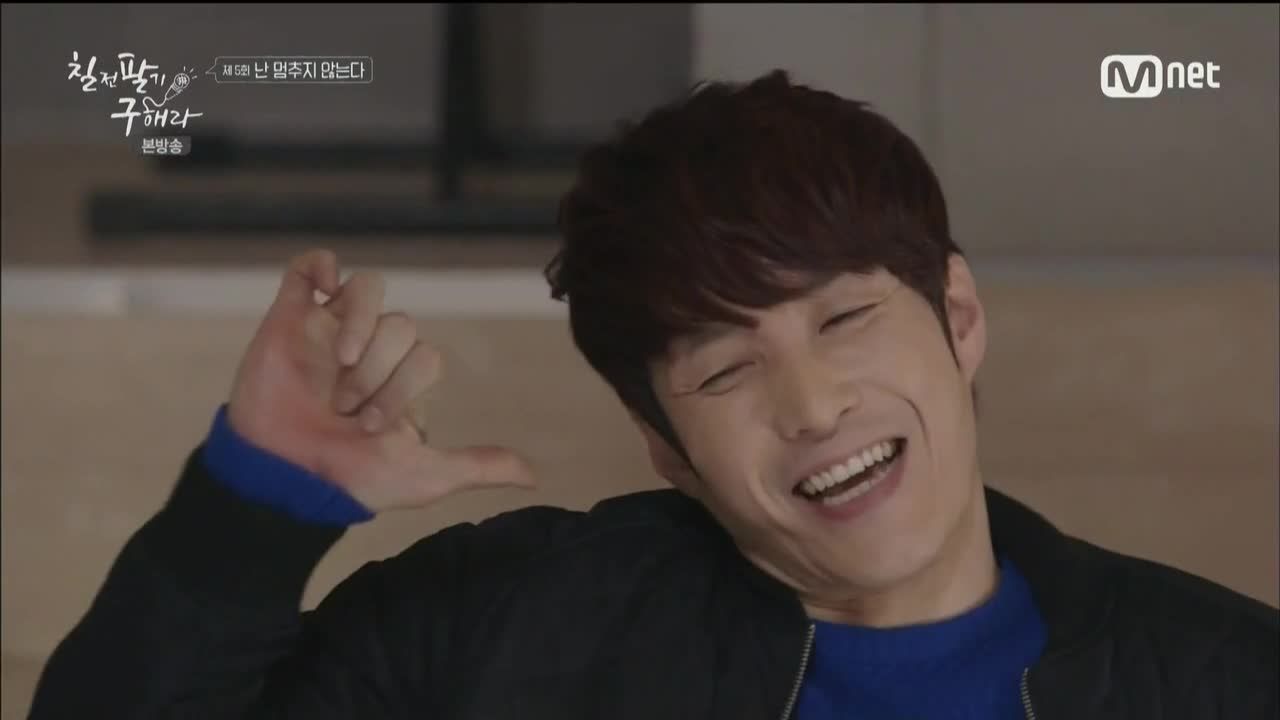 RELATED POSTS
Tags: featured, Jinyoung, Kwak Shi-yang, Min Hyo-rin, Persevere Gu Hae-ra