Persevere, Gu Hae-ra: Episode 6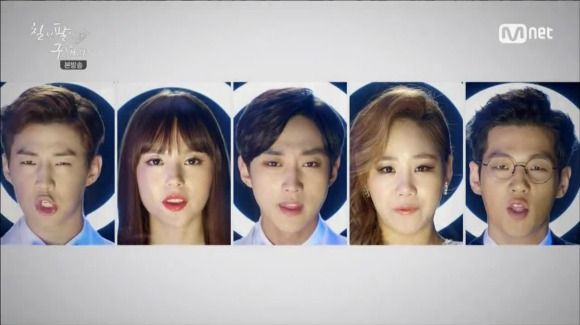 The story moves onward with more relationship progress, great musical numbers, and plenty of humor. Confusion and recognition of feelings complicates relationships, but jealousy in good amounts does its job to provoke action and plot progression. We see Hae-ra increasingly conflicted with her relationship with Ray, who's becoming more and more like Se-chan to her. In that process, she finds herself stuck between embracing a new reality and holding onto her past. Se-jong better step up his game if he wants to regain her trust and revive their relationship.

EPISODE 6: "Free yourself from restraints"
Se-jong walks out of the police station after his questioning, and reporters swarm around him. He apologizes for causing trouble and walks into his van with Manager Pyun trying to fend off all the following reporters.
Jump back to one month ago. Team Persevere look fierce with their elaborate make-up and costumes, singing an a cappella version of Brown Eyed Girls' "Sixth Sense" for a new music video. At one point, the camera pans out, and we see that they've made corrections to the names that the staff scribbled for them at the music show rehearsal.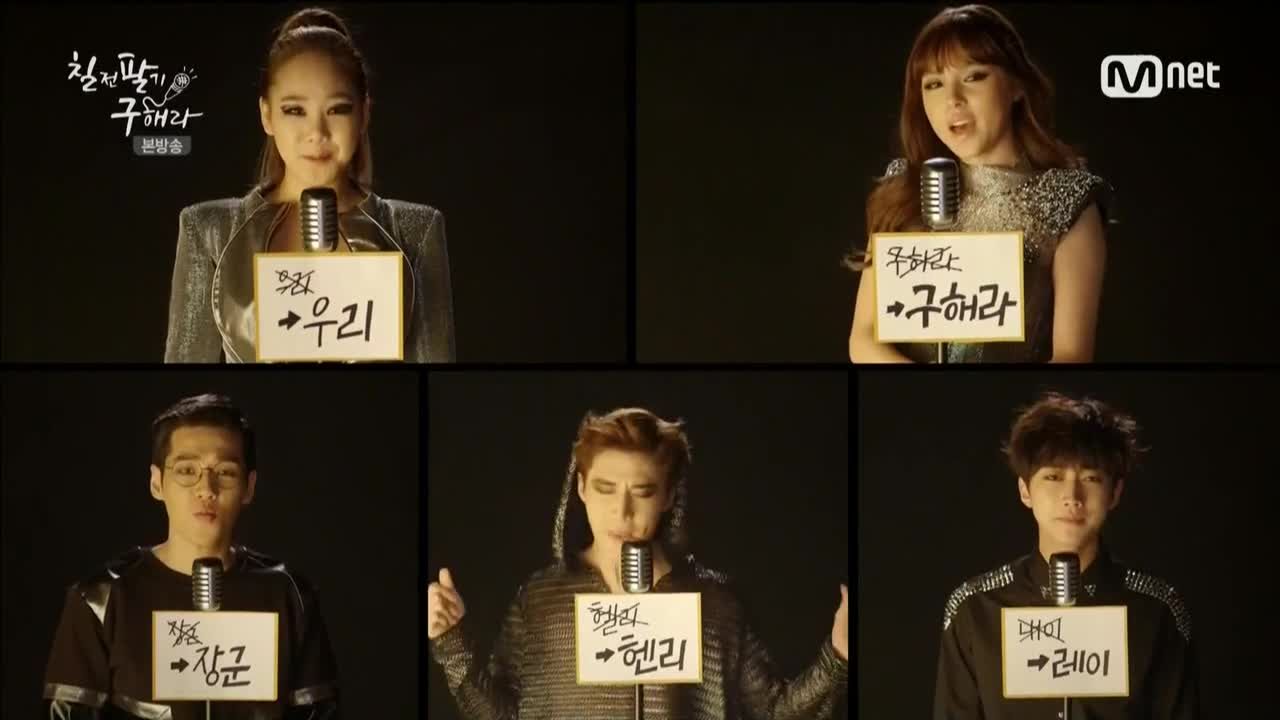 Team Persevere watches the music video in awe, and Jang Goon notices that Tae-poong doesn't have his watch anymore. Tae-poong also shows him his empty neck, telling him that he also sold his necklace. They get excited seeing that their music video has become one of the top searches, and Tae-poong confidently tells them that they live in an era where the internet is their platform. Jang Goon bromantically vows to replace Tae-poong's watch and necklace.
Woo-ri blushes at Jang Goon's compliment on her voice, but Henry suddenly replays the section, noting that her voice sounds similar to Scarlet's voice. He goes a step further by teasing her: Scarlet is skinny and sexy while Woo-ri is chubby and strong. They all laugh, much to Woo-ri's discontent and Hae-ra's annoyance. Hae-ra mindlessly grabs a snack, but Ray snatches it from her, reminding her that it's a peanut snack.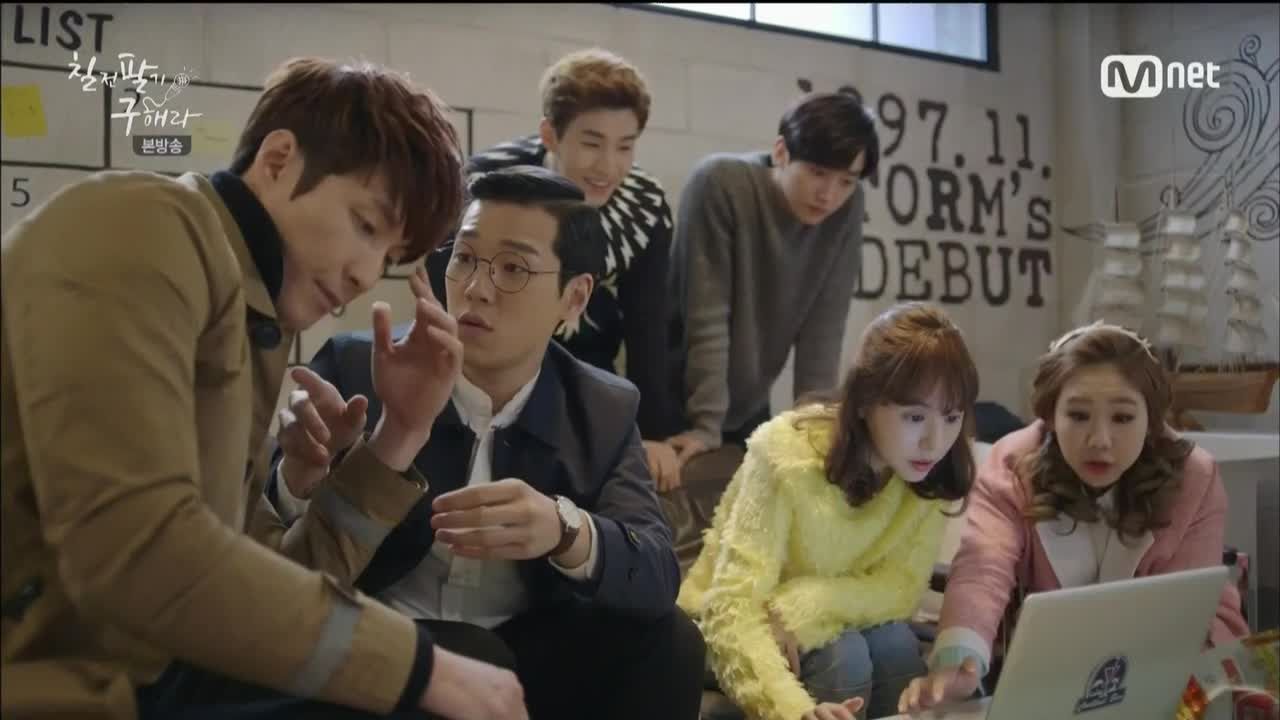 But moments later they're already bumped from the top search rankings. Impact has swept the searches with the scandal, album sales, and concert ticket sales. Deflated, the team watches Impact's popularity being showcased, and Tae-poong excuses himself to deal with manager duties regarding their debut album.
Hae-ra picks up a call from her mom, and Ray notices a motorcyclist heading their way. When he pulls Hae-ra close to save her from getting hit, she drops her phone, and it gets run over. Their awkward closeness is cut short by Ray, who picks up her phone and apologizes. She covers up her disappointment and tells him that she was going to replace her phone anyway.
Impact's van pulls into a parking garage full of yelling fans, and Ki-joon rolls down the window to give them his perfect idol smile. He looks back at Se-jong sending a text to Hae-ra, telling her that he enjoyed their music video and has something to tell her. Ki-joon asks why he's always staring at his phone, and Se-jong tells him to mind his own business.
Hae-ra gets a new smartphone with Ray, and they overhear two girls talking about how Team Persevere's name is tacky and comment on how they like the song " Some." As they walk along, Ray asks Hae-ra what "some" means, and she explains that it's when you're not friends but also not lovers.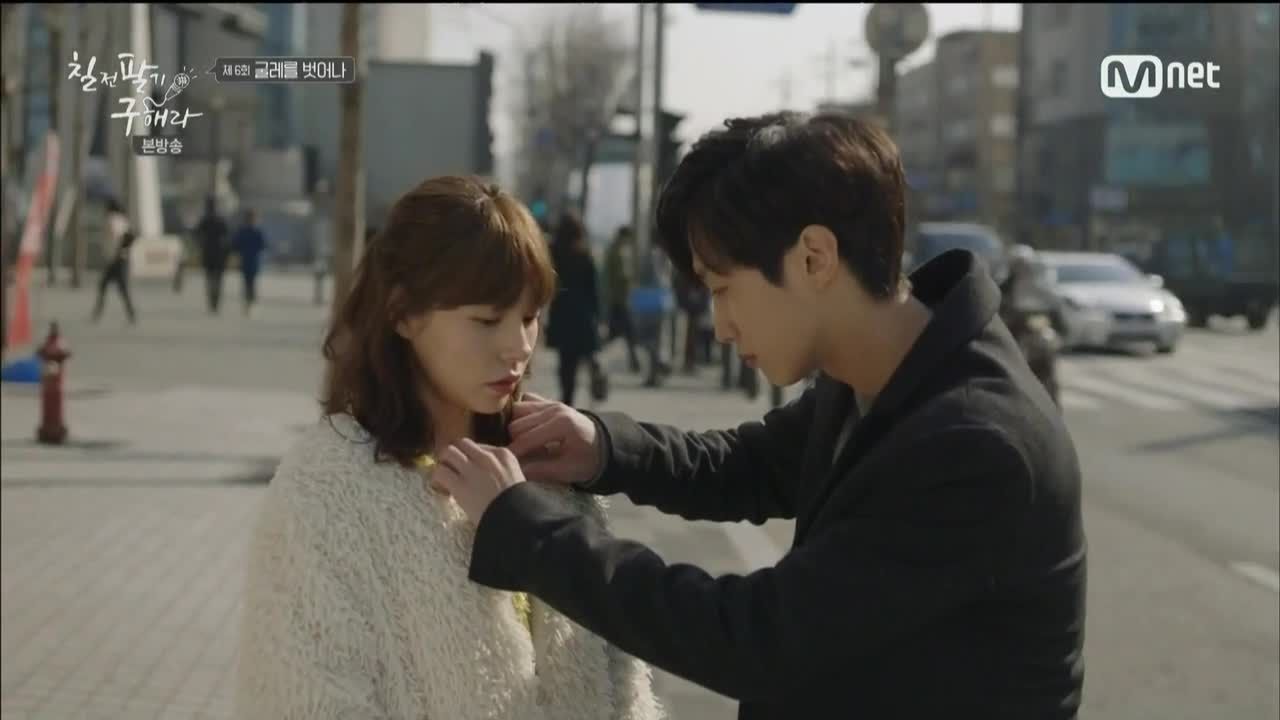 He switches sides with Hae-ra to be on the side nearest traffic and notices that her initials have turned on her necklace. He fixes them, which triggers a flashback to Se-chan. Hae-ra continues walking as if nothing happened and finishes explaining that "some" is used to describe the beginnings of a relationship.
Tae-poong struggles to find investors to fund his debut album for Team Persevere and seems dejected after multiple rejections. Of course, it's Hwangje that blocked all of Tae-poong's contacts from funding the team.
Se-jong barges into President Hwang's office to argue about their schedule. They've only had three hours of sleep every night since their debut, and now they're being forced into additional promotion for a subunit. He won't agree to follow this unreasonable schedule. President Hwang just shrugs, saying that they need the profit.
The argument gets heated when Se-jong presses to know when his scandal with Scarlet will be cleared up, and President Hwang warns Se-jong that he's under his control until his contract is up. If he does anything without Hwangje's consent, it won't end with just a couple of slaps.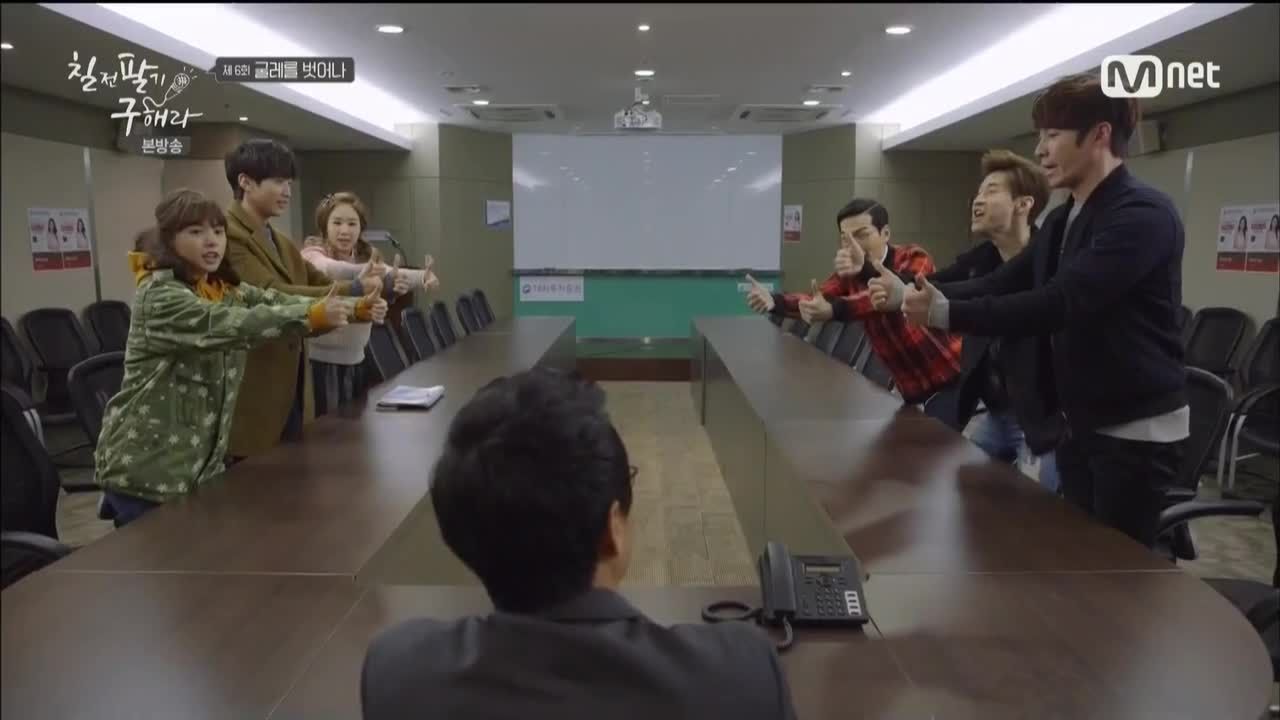 Yay, Team Persevere finally find an investor! They thank him with a team thumbs-up, and he suggests that they also film behind-the-scenes footage, as their friendly team vibes are great promotion material. Tae-poong shakes his hand, and Henry follows but thanks him in banmal. To make matters worse (or better), he gives the investor a peck on the lips, to the horror of the rest of the team. HAHA.
The promotional video from the subunit, Impact J, shows perfect idol Ki-joon and "chic" Se-jong introducing themselves, and Manager Pyun criticizes Se-jong for not performing his money's worth on camera. The other boys get excited that they've received their first paycheck, and Se-jong gets up to leave. Ki-joon makes a snide remark about Se-jong being old-fashioned and buying his mother something with his first paycheck. Se-jong clarifies the difference between old-fashioned and classic, which wipes the smirk off Ki-joon's face.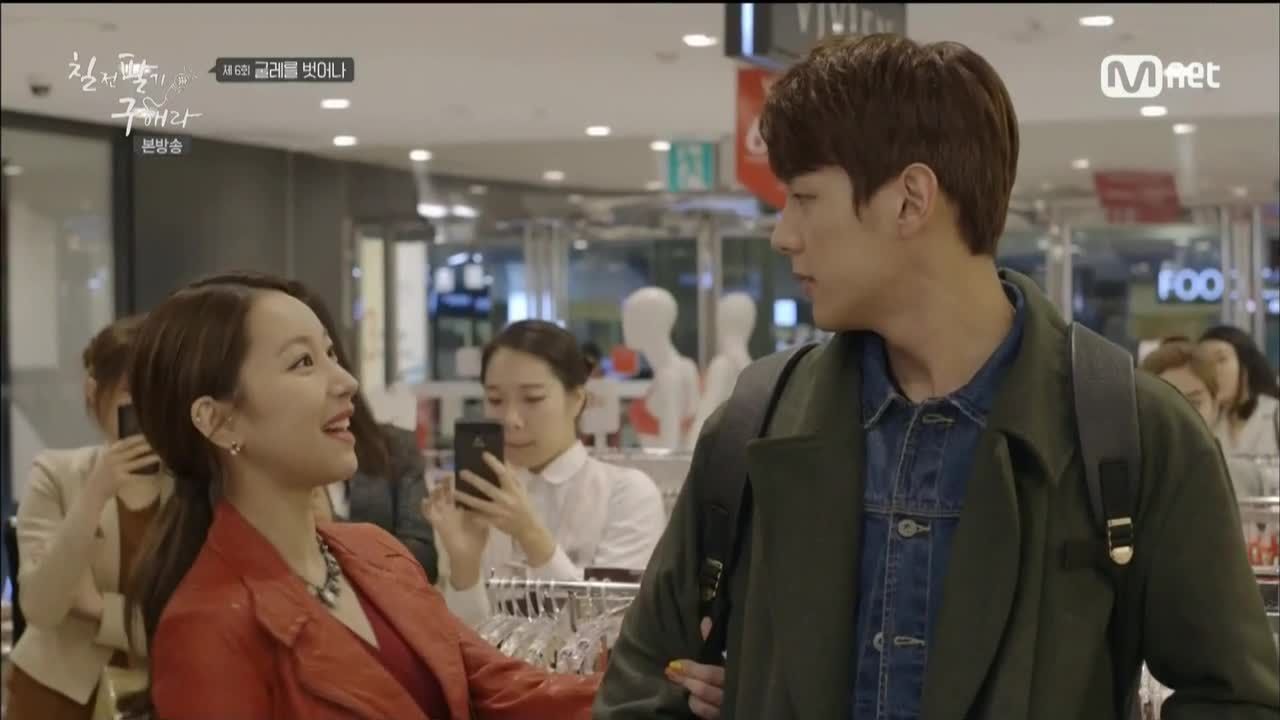 Se-jong ends up at the women's section to get undergarments for his mother (a traditional gift that one buys for parents with the first paycheck), which catches the attention of all the fans in the area. Scarlet pops out of nowhere to play girlfriend, but he only acknowledges her presence once and completely ignores her afterwards. On his way out, he buys a keychain with a music note, seemingly another gift.
Team Persevere enjoys a big feast with fried chicken, thanks to their investor. While munching on chicken, Hae-ra looks at Ray, once again thinking back to her times with Se-chan. Henry takes out his selfie stick to capture their off-screen moments, but Hae-ra is distracted by Ray and then her phone, where she sees the news of Se-jong with Scarlet at the department store. She chugs her beer in frustration, which Ray notices.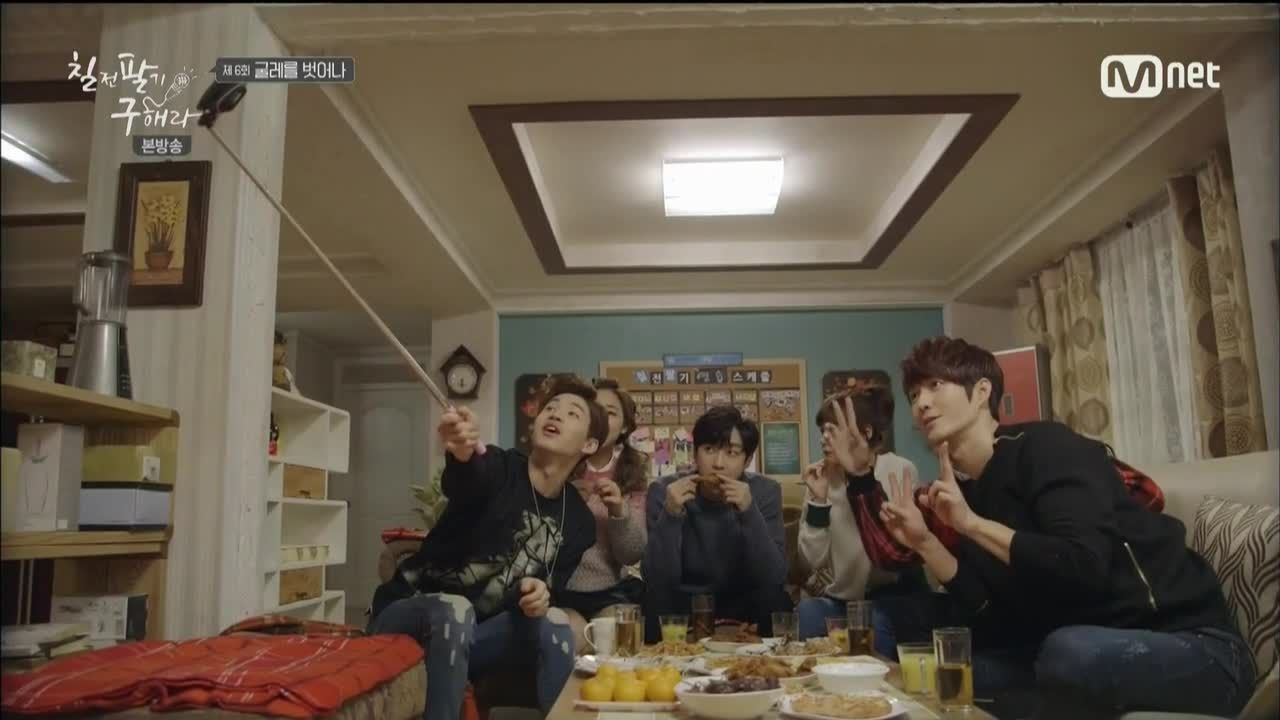 Scarlet finds Se-jong waiting for a response from Hae-ra and interrupts his thoughts by asking if he wants to take their scandal a step further with a contract relationship. She's excited as she explains how friends become lovers and contracts relationships become the real thing, but he gives her a curt rejection. From around the corner, Ki-joon eavesdrops.
Hae-ra has mysteriously disappeared from the chicken feast, so Ray goes out looking for her. Drunk Hae-ra stumbles around the streets entertaining herself with hand shadows and falling (just to get right back up, heh) with Ray behind her (as Ra.D's "I'm In Love" begins to play). As she passes a police poster, she gives them a salute, and an amused Ray does the same.
Entering the convenience store, Hae-ra takes off one shoe as per her usual drunken habit and grabs more beer cans. When she checks out, she realizes that she's forgotten her wallet, so she cutely pleads to the cashier that she's a regular and offers to leave her phone at the store until tomorrow. The cashier agrees to her terms, and Hae-ra leaves happily with her beer while Ray swoops in to pay.
Ray continues to shadow her and picks up after her when she drops her bag. Handing her the beer, her shoe, and her phone, Ray jokes that he could be Santa Ray. As they walk together, Hae-ra asks if he followed her the whole time and waited for her to recognize him. He nods, and she responds by saying that she hates waiting. "Every time I waited, something [bad] always happened."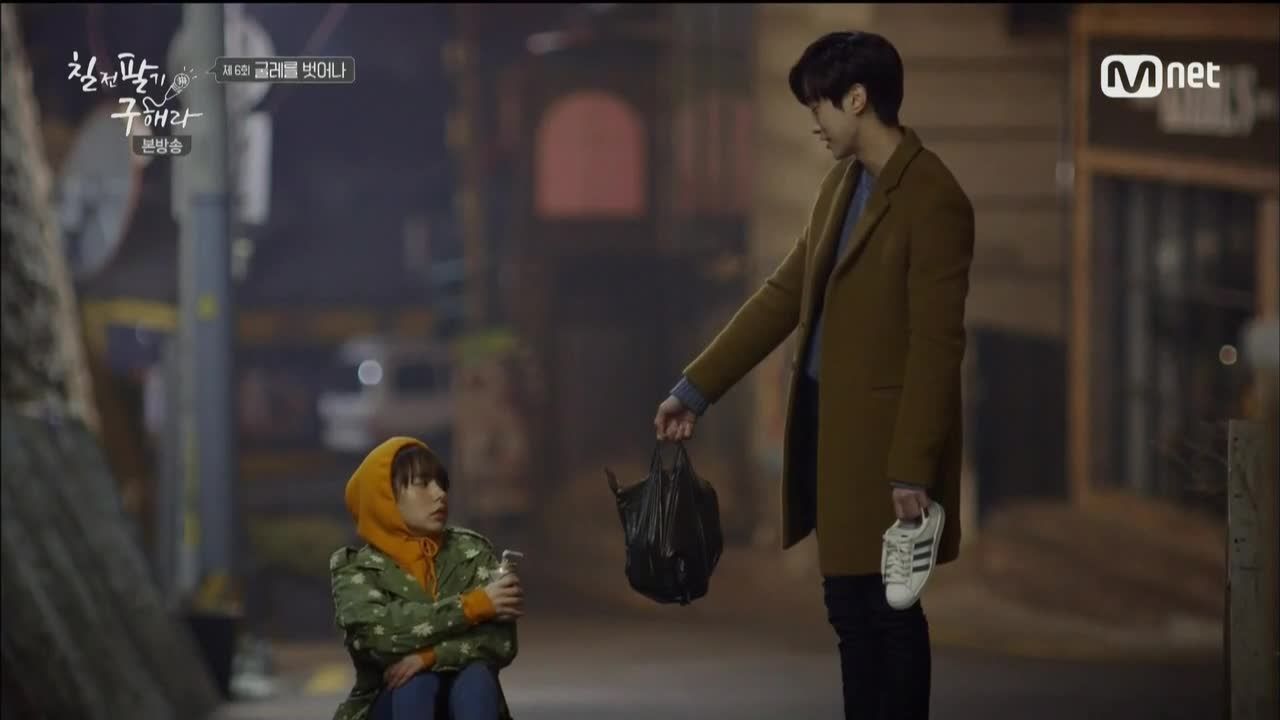 She's thinking of her father and Se-chan, who both left with unfinished business, then shakes off the memories. Turning to Ray, she tells him that she always goes somewhere when she's drunk and invites him to join her.
They go to the chicken shop, where she begins to sing karaoke with the usual, "The Day We Met." Filled with nostalgia, she flashes back to her duet with Se-chan as she sings. Ray eventually joins her, and we get a short montage of how they met.
On their walk back, Hae-ra thanks Ray for singing with her, and he asks for a favor back. He wants to learn guitar and requests that Hae-ra help him shop for one. She agrees and tells him that they'll go to Nakwon Sanga, a marketplace which she calls "guitar heaven."
At Hwangje, someone picks Scarlet's usual choice from the vending machine for her, but she's disappointed to see that it's Ki-joon. He grabs her before she walks away and tells her that she chose the wrong person to have a scandal with. He confesses that he liked her since he first saw her and tells her to leave someone like Se-jong. But he gets a biting rejection, as she adds a defensive comment about Se-jong. Ouch.
Woo-ri gets onto the elevator but quickly pushes the close-door button upon seeing Henry running to catch it. She's annoyed when he manages to get on, but that turns to alarm when the elevator dysfunctions. When the lights suddenly turn off, Henry hugs Woo-ri and cheerfully tells her that she's more comfortable than his grandma. Before she can give him a beating, the elevator door opens, and he runs out.
The filming crew has set up equipment to film behind-the-scenes practice footage of Team Persevere, and they begin with a beautiful harmony preluding their rendition of Kim Kwang-jin's "Sincere." The cameras circle around to capture the teamwork and arrangement, which ends successfully.
As soon as they're done, Woo-ri runs out to pick up a package, Jang Goon off to clean, and Hae-ra to her part-time gig. That leaves Henry and Ray to practice, and after a while Ray heads out to meet Hae-ra, calling her on a low batter to give her the heads-up. Meanwhile, a delivery mix-up brings Woo-ri's package to the studio instead of home, and Henry accepts it for her.
At the agency, Ki-joon sees Se-jong walking towards while fixated on his phone (still no return message from Hae-ra), and he purposefully knocks into him, causing Se-jong to drop his phone. Ki-joon picks it up for him and notes Hae-ra's picture as his background.
As Henry and Ray get on the elevator, it stops again. Henry reassures Ray that this happened before and shouts out random magic spells to open the door, but it won't budge. Ray's phone dies, and Henry's phone can't get signal. They're stuck.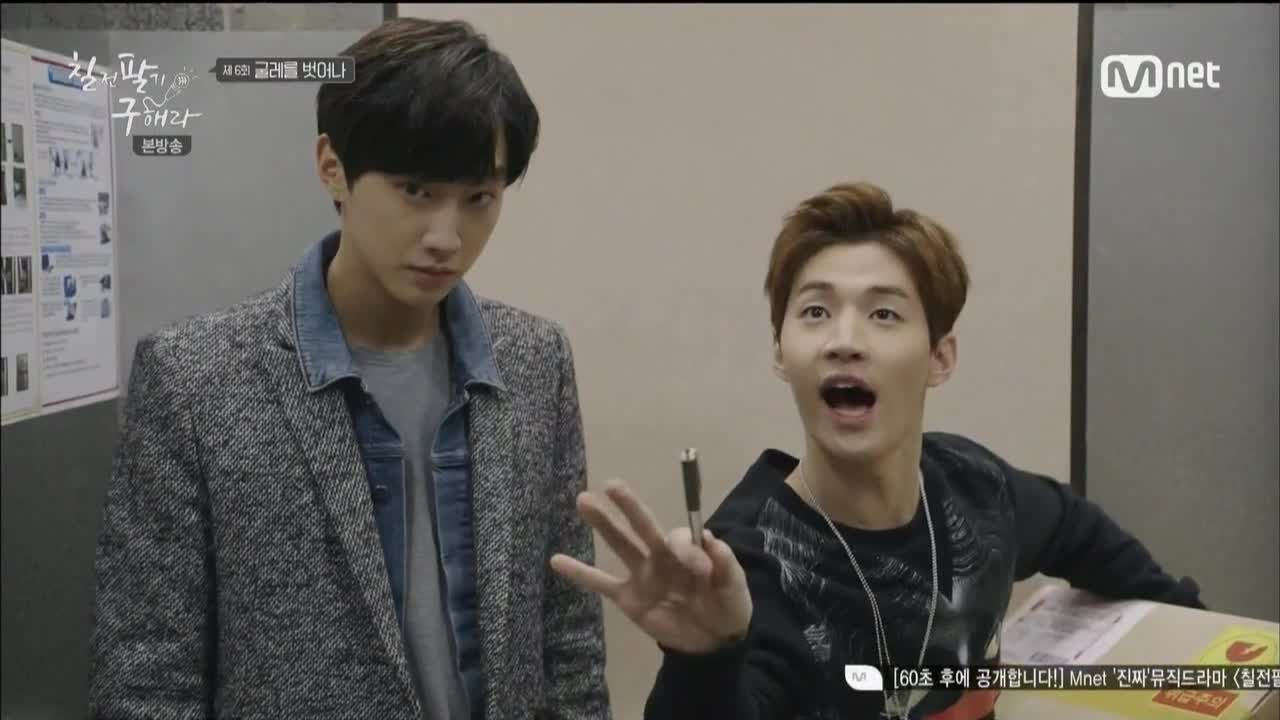 Hae-ra arrives outside the guitar shop and begins to worry when Ray doesn't show. The boys start to get hungry as they wait, so Henry opens Woo-ri's package, assuming that it's food. But the box is full of a diet drink with a warning about the serious side effects on your brain. Henry quickly thinks back to Woo-ri's defensive statement about all the skinny girls going on dangerous diets, and covers up the box before Ray sees.
The guitar shop closes, but Hae-ra continues to wait, looking both disappointed and worried. In the elevator, Henry reassures Ray that she must have gone home, since it's way past their promised meeting time. But Ray worries because he understands how scary it is to wait alone. When he was younger, he was teased as an adoptee and told that his parents would abandon him. Sometimes, he would wait at night, worried that he would get abandoned.
Hae-ra continues to wait, pacing back and forth by the guitar shop. Ray confesses to Henry that he wants to take care of Hae-ra, but he's hesitant. Henry reminds him of his nice gestures towards the fat girl in high school and how she misunderstood his intentions. Sympathy isn't love, and Henry advises him to figure out his true feelings before he creates a misunderstanding.
Hae-ra has a group call with the rest of Team Persevere, and they all can't figure out where the boys are. Her phone dies, leaving her stranded at the guitar shop. Woo-ri finally gets in contact with Henry's phone while he's still in the elevator, and she asks if he received her package and tells them that Hae-ra is still waiting at the guitar shop. Their call is cut short by the lost connection, but enough of it gets overheard by Se-jong, who's come home with his first paycheck gifts.
When the elevator finally opens, Ray races out to get to Hae-ra. Se-jong confirms with Woo-ri where Hae-ra is waiting, and he runs to her as well. Both guys run to her with the same urgency as Hae-ra waits hugging her knees on the ground, and tension mounts as we wonder who will make it first…
Ray arrives at the shop and finds it empty — until he turns the corner and spots Hae-ra huddled there. Relieved, he scolds her for waiting so long, and she argues back that she waited because he'd promised that he'd there. She bursts into tears, and Ray pulls her into a hug, apologizing.
Se-jong arrives a moment too late and watches the two embrace. He looks hurt and leaves his gift for Hae-ra on the door handle.
Se-jong sings Noel's "Fate" (about missing connections and wondering if that means we're not meant to be), as he thinks back to all the misunderstandings that piled up between him and Hae-ra. He can't get himself to finish the song, and it turns out that he's singing it on a television program where he and Ki-joon are guesting.
MC Moon Hee-jun (cameo as himself) seems impressed with Se-jong's emotional performance and asks the two what their first impressions were of each other. Se-jong gives an honest answer, describing Ki-joon's hypocritical ways of both ignoring him and expecting a proper greeting (which almost gives wide-eyed Ki-joon a heart attack), but he tactfully finishes his response by saying that they get along now.
Team Persevere's breakfast is full of strange vibes, with Hae-ra's mother trying to flirt with Tae-poong, Hae-ra and Ray reaching for the water at the same time, and Woo-ri trying to figure out if Henry took her delivery. After the meal, Woo-ri asks Henry if he has her package, but he denies having any knowledge of it.
In a flashback to yesterday, we see that Henry threw away the box. Looking at himself in the mirror, Henry compliments himself as the nicest person in the world and winks as he tells himself, "I'm a gooood boy!" HA.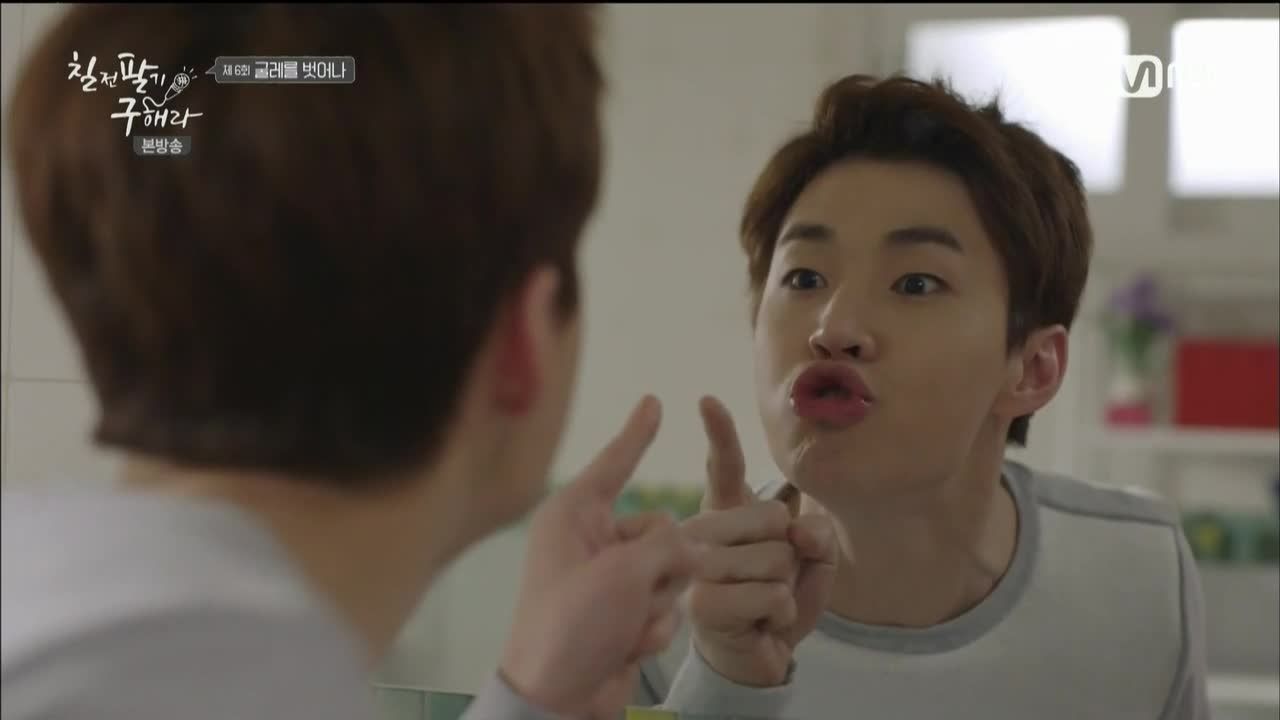 Ki-joon picks a fight with Se-jong, calling him a manipulative fraud for joining Impact last minute and using the scandal with Scarlet to gain popularity. Se-jong argues that all of this was out of his control, but Ki-joon calls him a coward for shamelessly reaping all the benefits of his pitiful circumstance. Before the fight escalates any further, they're interrupted by Manager Pyun, and Ki-joon pretends to straighten Se-jong's jacket while he sneaks his phone out of his pocket.
Ki-joon gets into his own car and baits Se-jong with his phone. He wonders aloud how people will react when they find out Se-jong's relationship with Hae-ra and drives off. Se-jong snatches Manager Pyun's car keys and chases after Ki-joon.
The car chase proceeds at dangerous speeds, as Se-jong remains fixated on recovering his phone and Ki-joon dangles it tauntingly whenever the cars are near. Every time Se-jong attempts to pass him or pull him over, Ki-jooon speeds off and swerves between lanes to keep Se-jong from overtaking him. Ki-joon seems to be having fun until he receives a phone call from his crying mother, and suddenly his expression darkens. He accelerates to even more perilous speeds, and Se-jong follows.
The chase comes to an abrupt stop when they spot a woman crossing the street. Both of them slam their brakes, but the damage is done: The woman falls to the ground. When we see the situation, she's collapsed in front of Ki-joon's car. Se-jong runs to check up on the woman, while Ki-joon slowly gets out of his car with an "Oh shit" look on his face.
The next morning, Hae-ra sees a message from Se-jong on his mother's phone, telling her not be too alarmed. As the mothers prepare breakfast, Tae-poong jerks up and yells at everyone to gather when he sees the news on Se-jong. He's been taken into the police station for investigation, and he publicly apologizes for causing this accident. The top online searches are about Se-jong being in a hit-and-run, although thankfully it isn't one because he called the police himself and turned himself in.
Se-jong and President Hwang negotiate the terms of this resolving this incident, with Se-jong agreeing to do whatever is asked as long as President Hwang keeps his side of the deal. It's a vague conversation, but it seems like Se-jong has made a deal with the devil.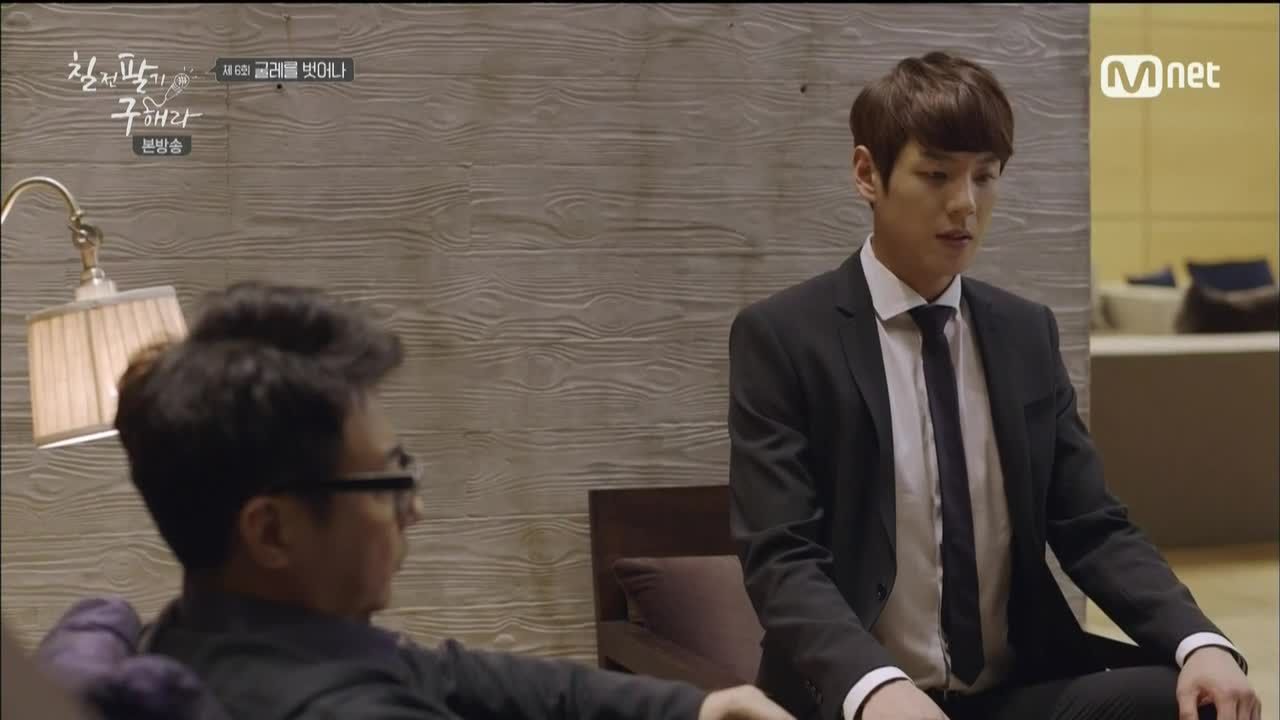 As soon as Se-jong leaves, President Hwang gets a call from Manager Pyun, who assures him that he's taken care of the reporters and black boxes on the cars to deal with this accident. The report of Se-jong's quitting Impact is announced, and we see Se-jong packing up to leave.
Scarlet tries to convince Se-jong to stay, offering to pull strings with Daddy to keep him in Impact, but he rejects her offers. She asks why she dislikes her so much, and he gives it to her straight: He doesn't like or dislike her, so there's nothing going on between them.
Even with the clear rejection, Scarlet blatantly confesses that her feelings aren't "like" but "love." She vows to keep trying to win him over, but he says that it's no use. He has someone he's liked for a long time, ever since he first saw her. Scarlet knows his conflict because of what he said to her in his drunken state, but he says that even despite the conflicting promise with Se-chan, he wants to stay by her side.
Hae-ra paces in her room, anxious about Se-jong. She finds articles about his quitting online and starts writing defensive replies to the negative comments about Se-jong. Meanwhile Se-jong boards a bus and stares back at his phone, waiting for Hae-ra's call.
At the chicken shop, Woo-ri and Ray sing Cool's "Short Wait" as we see Hae-ra waiting for news from Se-jong. She walks into the shop just as they finish singing and chugs a beer. She continues to drink in frustration and anger towards Se-jong, and the rest of her team starts to slam Se-jong out for always causing trouble.
Hae-ra tells them that they don't know anything, and she chugs one more beer before she tells them the truth: Se-jong didn't sign a contract with Hwangje; he was only taking Se-chan's place. The team gasps at this news.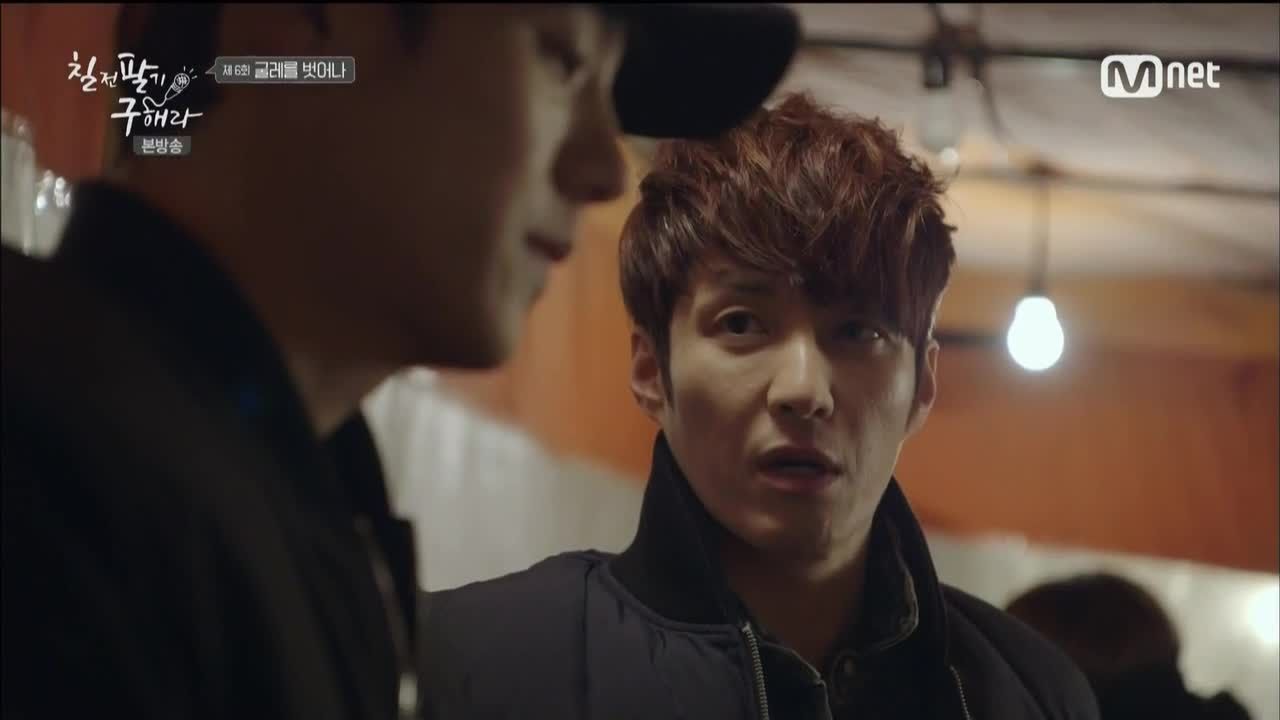 Se-jong meets with Tae-poong at a pojangmacha, and Tae-poong agrees to follow his decision. We don't know what the decision is, but they both seem somewhat relieved. He tells Se-jong to come back home, since the mothers and Hae-ra are worried about him.
Woo-ri sees a tweeted picture online showing Se-jong and Tae-poong together, which is enough of a direction to prompt Hae-ra to run out with only one shoe on. Ray follows her out with her other shoe.
Hae-ra runs into Se-jong on his walk home. She bombards him with questions, and he smiles at her worry. He seems to have returned to his normal self, calling her "Peanut" and addressing her more casually. He notices her one foot, bloody from running without a shoe.
Ray arrives with her one shoe and greets Se-jong. They don't seem too happy to see each other, but Ray tells him that he's glad that Se-jong's here because he doesn't like seeing Hae-ra unhappy. He drops down to put on Hae-ra's shoe, but Se-jong steps in and carries Hae-ra on his shoulder.
Hae-ra protests, asking what he's doing. Se-jong turns to address Ray, "What does it look like I'm doing?"

EPILOGUE
Back to high school, where a fat girl named Grace gets bullied by her peers. Another girl approaches her and hands her a drink that causes her to choke. Ray and Henry rush in to save her from all the bullies. Later, Ray's friends ask him why he helped Grace, and he says that he felt sorry for her. Grace overhears this and drops the gift she intended to give to him. She tells him that she doesn't need his sympathy and says, "I'm so all right [without your sympathy]," which is curiously the same phrase that Scarlet uses all the time.

COMMENTS
Hmm, iiiinteresting. So Scarlet used to be Grace but obviously went through some cosmetic surgery to change her appearance, which explains why she recognized the boys without them recognizing her. I like how there aren't prolonged secrets in this drama and how there aren't too many throw-away details. The small mention of the fat girl in high school could have just been an example of Ray's tendency to sympathize to the point of misunderstanding, but they made that detail much more significant by making Scarlet the subject. It's a great way to tie the characters together in this small world and make things much more interesting.
In terms of plot progression, I am quite satisfied with this episode, particularly with Se-jong. Yesssss, it was about time! While I'm still not completely convinced that he's free from Hwangje's bondage, I do think escaping the realms of Hwangje was a big positive step for Se-jong, who's been suffering way too much thus far. Making a deal with the devil is not the best way to escape the devil's grasp, but at least he has enough freedom to right some wrongs and reconcile some misunderstandings. I do fear that he might throw away this opportunity, since we know Se-jong to be frustratingly silent — always taking one step forward and ten steps back. Come on, Se-jong! You made your move, now just follow through!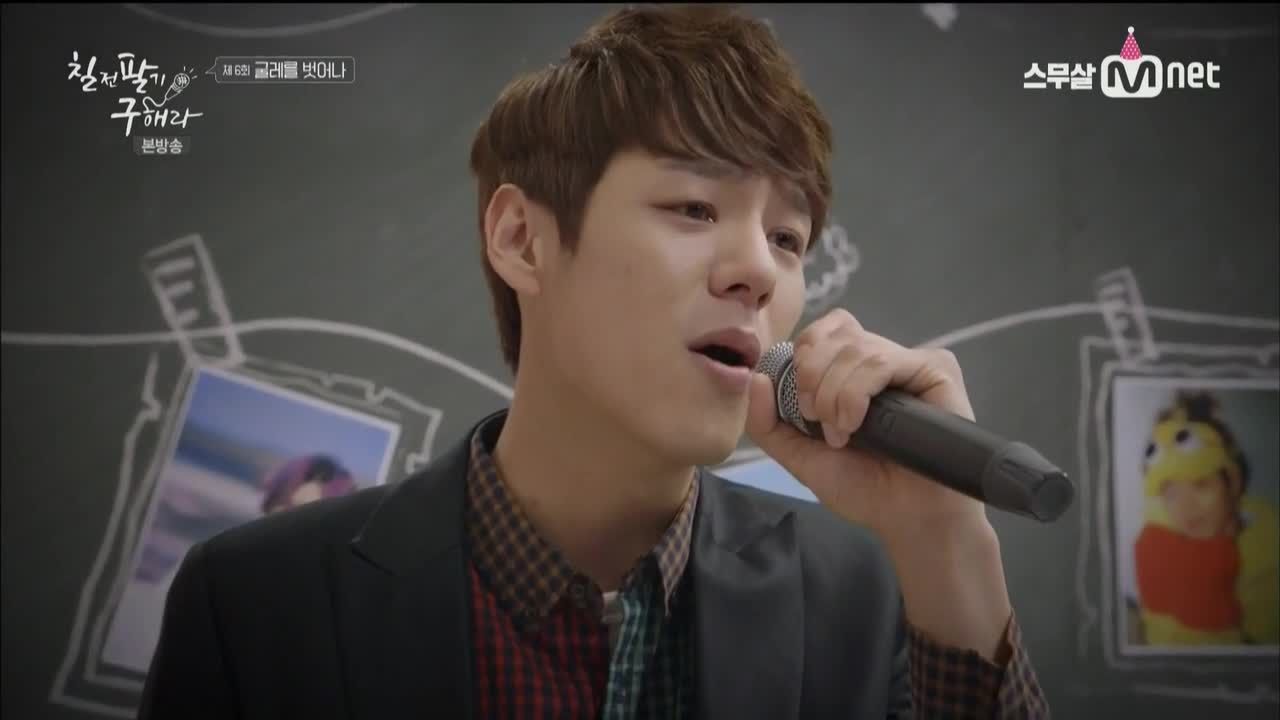 I'm interested to see how Ray develops his feelings for Hae-ra as Ray, not Se-chan's substitute. So far, it seems like Ray is trying to place himself in Se-chan's position and fill in the missing void. He's almost trying to become Se-chan for the family by reading through his journal to understand who Se-chan really was. While it's touching that Ray would go to this extent to fill in for Se-chan, I wonder if that's hindering his real self. I'm as confused as Hae-ra about whether or not Ray is Se-chan, and I really hope that there's something about Ray that sets him apart from Se-chan. The only difference I can think of now is that Ray is just a tamer version of Se-chan, and that's not much.
Being so frustrated with Se-jong and focusing on Ray's development, I tend to overlook Hae-ra, but she's definitely the core figure in this show. I love her character, and I wish the show would spend more time on her. She's got this great quirkiness and spunkiness that we only see when she's drunk, and it seems like she's always in a state of misery otherwise — stuck in this conflicting love triangle of confusing twins. There's a legitimate reason for her guilt and confusion, seeing that Ray and Se-chan are similar in both appearance and mannerisms, but I was glad to see that she was slowly letting go of the past. She took some steps to overcome her survivor's guilt, like getting a new phone and telling Team Perseverance about Se-chan's contract that forced Se-jong to take his place in Hwangje. I want her past experiences to empower her rather than weigh her down, and this episode dropped some promising sneak peeks into that progression.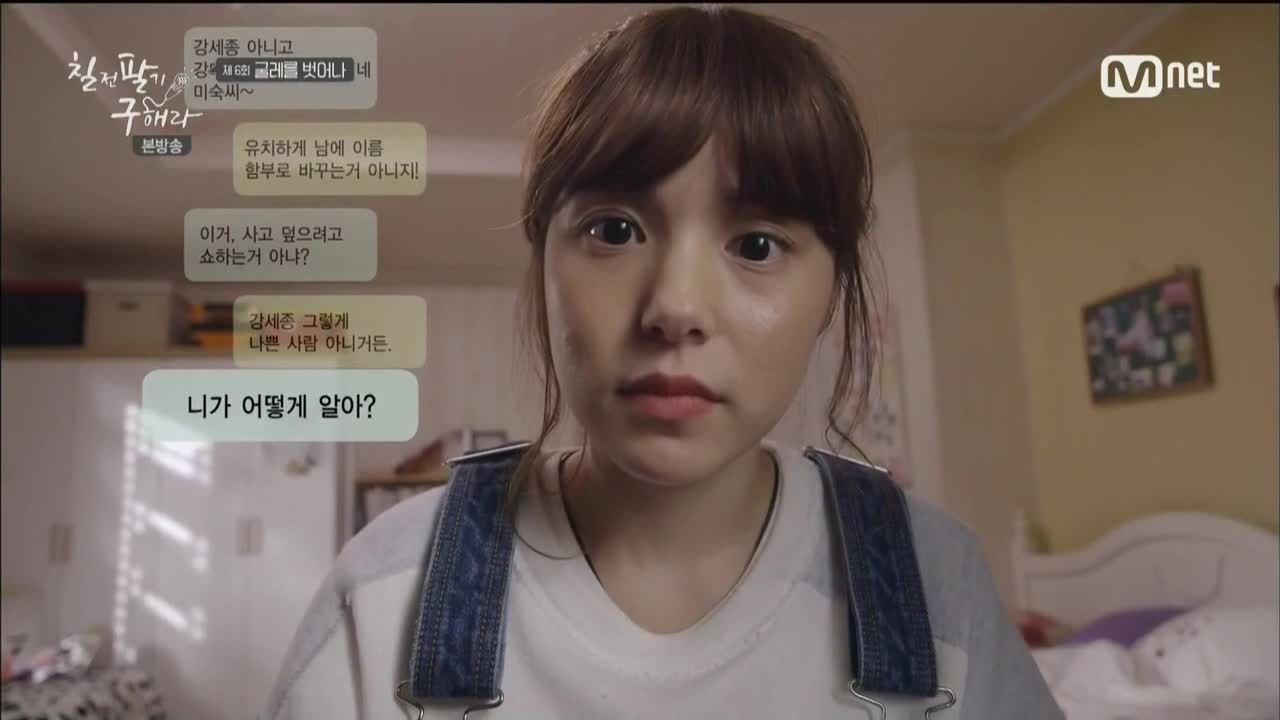 I am continually impressed by the musical arrangements this show offers. I'm not particularly surprised by the skill or harmony, since most of our actors have experience with music, but I appreciate the consistency in the quality of the musical renditions. The show clearly spends time on creating these musical remakes, and it's reflected in the final product. It's a great mix of music, and I can tell that the producers are having fun with the placement of songs in certain moments. The lyrics of the selected songs are purposeful in any selected scene, which makes me appreciate the music even more.
Of course I can't forget to mention Henry, especially in this episode. That kiss scene killed me. I cannot believe that Henry would ad-lib that, and furthermore, I cannot believe Shim Hyung-tak just went with it. That has to be the most mortifying experience for that guy who played the investor, and I can only imagine how hilarious that scene would have been in real life. We've got some serious ad-libbers in the house, and I can't wait for more spontaneous hijinks to come.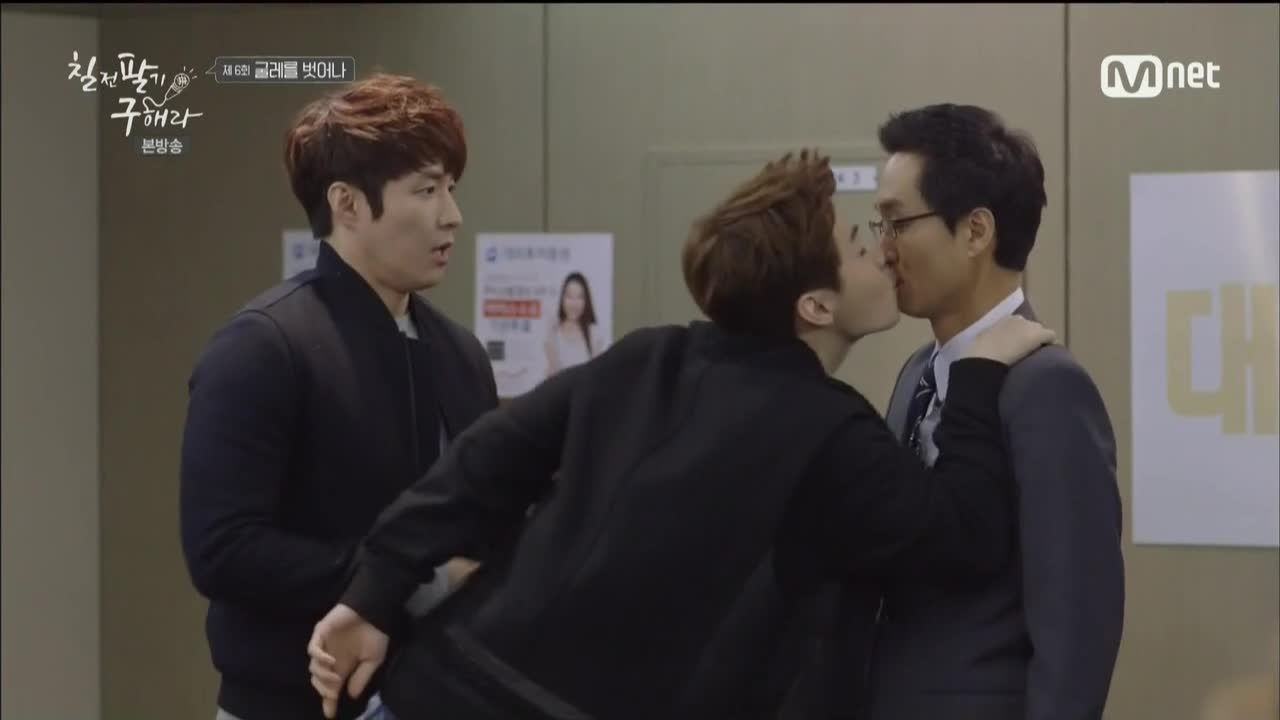 RELATED POSTS
Tags: featured, Jinyoung, Kwak Shi-yang, Min Hyo-rin, Persevere Gu Hae-ra