Punch: Episode 19 (Final)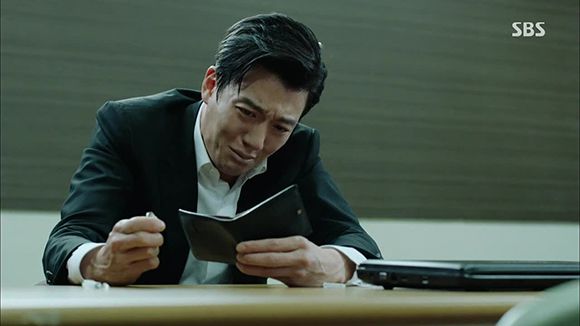 Writing an introduction has never felt more like crafting an obituary, because it means we've finally reached the end of the line for one of the best shows of the year, and one of the greatest character studies in drama history. Like our hero, we made this journey knowing with certainty that it would end, even though it still feels like there just Wasn't Enough Time. And though this finale provides the perfect level of closure—something I don't think I've ever been able to say—it doesn't make the act of letting go any easier.
Note: There were some broadcast errors in the original airing of this finale, so for the sake of the hard work put in by this production, this recap follows the chronological order of the revised rerun broadcast except when noted otherwise. In keeping with the show's message, it's not so much about the mistakes you make as much as how you fix them.
And besides, Punch went out with a series high of 14.8%, the highest of all its weeknight drama competitors. Couldn't be more well-deserved.
SONG OF THE DAY
Jung Yong-hwa feat. JJ LIN – "Checkmate" [ Download ]
Audio clip: Adobe Flash Player (version 9 or above) is required to play this audio clip. Download the latest version here. You also need to have JavaScript enabled in your browser.

FINAL EPISODE RECAP
Since his leg cramps prevent him from fleeing, Jung-hwan retreats back into the car before Ho-sung comes back, none the wiser…
But he's ratted out when the blackbox announces that its memory card has been removed. His immediate reaction is to punch Ho-sung in the gut (yay!) before he attempts to flee, cramping spasms and all.
Ho-sung rushes to pursue him, and Jung-hwan barely manages to stay ahead even after taking a tumble down the stairs leading into the subway. He loses his phone in the fall, which Ho-sung picks up, and uses the very brief head start he has to hide the card in a locker before Ho-sung corners him on the subway platform.
Ho-sung tells Minister Yoon about the memory card being stolen, but that he's dispatched detectives to search the subway station. Jung-hwan has also undergone a strip search, though they've come up empty. They're not going to allow him out of the interrogation room until he gives it up, though.
While Minister Yoon gives the media a bogus reason for holding Jung-hwan in custody, Tae-joon realizes that the only reason he'd still be locked up is because he still has something Yoon wants. He'll use the law (for once, as he admits) to get Jung-hwan out.
But the thought that Jung-hwan might die before they can get their hands on the chip is too much for Minister Yoon to bear, so she pays him a personal visit.
Despite the fact that he looks like he's knocking on death's door, he still has the ability to give her deadpan responses, my favorite being when she claims that her son's enlistment fraud was just an accident: "I guess it was also an accident that you accelerated toward Ha-kyung."
She claims she'll take responsibility for that by paying it forward to make the world a better place. Jung-hwan cuts her off when he admits her words make him want to vomit (hah), and she switches tactics—now she's threatening him by reminding him that he'll never leave this room.
Jung-hwan isn't so sure, and dares her to do her worst. He's ready.
Armed with medical charts and a doctor's note stating that Jung-hwan is on the verge of death, Yeon-jin and Tae-joon resolve to get Jung-hwan out of Minister Yoon's clutches the following morning.
Before that can happen, Tae-joon is visited by Minister Yoon with a proposition: He can't avoid his prison sentence, but if he delivers the memory card to her, she'll shorten it to about five years. He laughs, not only at that offer but at Yoon's audacity, reminding her that she was born with a silver spoon in her mouth while he and Jung-hwan had to work their way up.
He doesn't want her deal, because a reduced sentence isn't a sweet enough pot—he's an all or nothing kind of guy, and isn't about to take the leftovers from some princess' table.
"I'll hold your hand tightly and we'll fall together," he adds with a Cheshire grin. "We're in this together, you and I."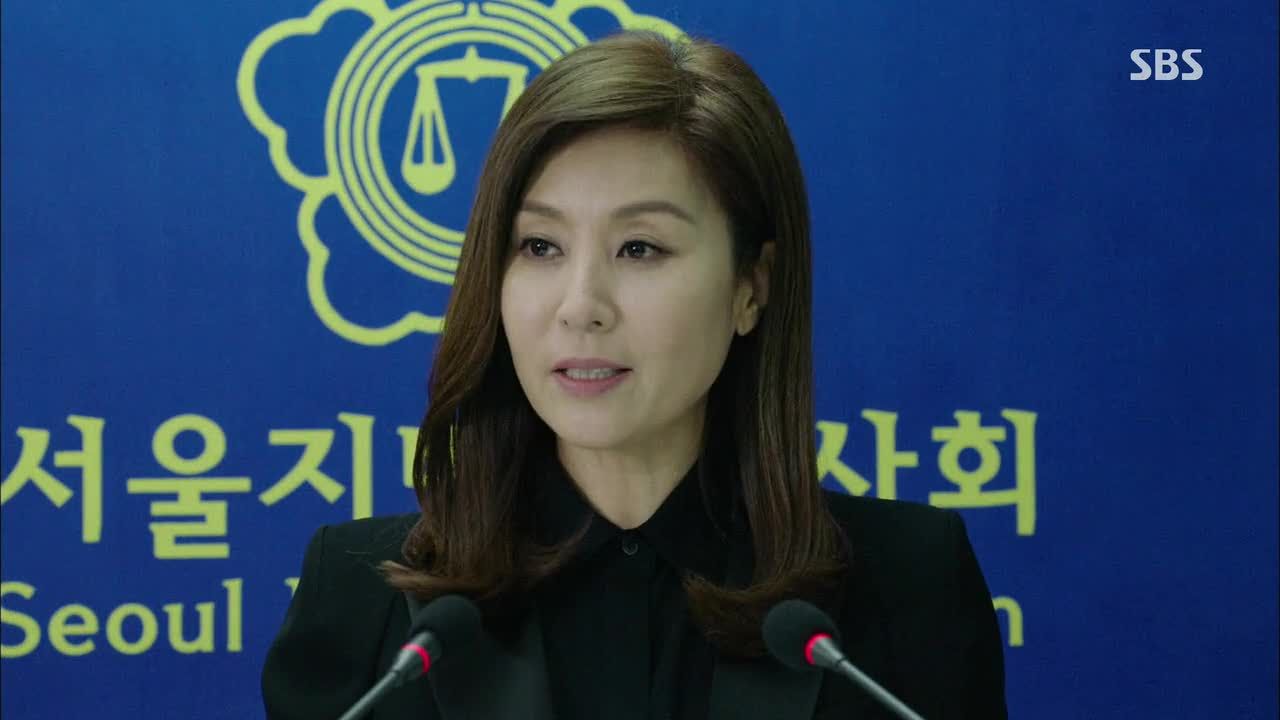 Minister Yoon has to scramble to call up old contacts once she's notified that Jung-hwan has requested a suspension of the investigation, because they can't let him go to his scheduled trial in a few hours—if the judge were to grant him his request, they'd lose the memory card forever.
So she asks her friends in high places to make Tae-joon resign, as well as to convince the judge set to hear Jung-hwan's case to dismiss it. She gets her second wish since no trial is held, and she's able to pin the blame for the request on Tae-joon and even goes so far as to directly call for his resignation during a press conference.
Tae-joon knows Minister Yoon is pulling out all the stops to get him out of his office, to the point where even Yeon-jin doesn't think he can hang on (like Jung-hwan asked him to do) much longer.
Since Ho-sung confiscated Jung-hwan's phone, Hyun-sun has to call him to reach her brother with the news that Ha-kyung's gone critical—her heart is giving out.
And Ho-sung has the merciless nerve to offer the possibility of taking Jung-hwan to see Ha-kyung in her last moments like a reward, but only if Jung-hwan tells them where the memory card is.
Poor Jung-hwan looks like he's using all his strength just to sit up, and Ho-sung actually manages to get me to hate him more by crying a single tear like he's actually sad Ha-kyung is about to die and that he's preventing his old friend from being there for his wife. Oh boo hoo.
Jung-hwan doesn't relent, but the whole body pain that overcomes him afterward proves to be too much. He fishes out that last vial of Demerol as his face contorts with a barely repressed sob—oh god, it's because he's worried about Ha-kyung. Ho-sung, you're a monster.
He fishes out the picture of the three of them together in his wallet for strength as he uses all his willpower to break the vial and spill its contents. He's doing it purposefully so he'll be sick enough that Ho-sung has to send him to the hospital, but it's no picnic—he passes out before Ho-sung finds him still gripping the picture.
Ho-sung leads the chief prosecutors to Tae-joon's office to demand his voluntary resignation, because that's the only way they can avoid the shame of arresting an acting Prosecutor General.
But Tae-joon—looking about as beleaguered as Jung-hwan in the interrogation room—says he won't budge until Jung-hwan comes for him. Which is why the news that Jung-hwan's been hospitalized deals a crushing blow, since it means Jung-hwan won't be swooping in to save him now.
Tae-joon is left with no other choice but to accept the retirement speech Ho-sung has written for him, claiming he'll meet them down in the briefing room for the press conference. Ho-sung can't help but smile victoriously as he struts out of the office.
"You kept your promise to make me Prosecutor General, and your promise to hang on for ten minutes while dangling out of an interrogation room window. Jung-hwan-ah, how can you leave without keeping your promise this time?" Tae-joon muses sadly, as he opens the envelope containing his speech…
…Only to find the memory card nestled within. Wait, what?
Flash back to the moment when Jung-hwan got back into Ho-sung's car, being unable to flee. He'd seen the envelope containing Tae-joon's speech and hurriedly tucked the memory card inside, knowing that the folder and its contents would eventually make its way to Tae-joon. Jung-hwan, you sneaky bastard you.
So he ran from Ho-sung to deliberately throw him off the trail, making it seem like he could've even hidden it in the station. Tae-joon smiles that Jung-hwan kept his promise after all—now they'll expose the card to the press and finish this.
When the Chief of Staff expresses hesitance at the idea of arresting Tae-joon directly after his retirement speech, Minister Yoon defends her actions as being for the greater good: "I'm going to show the people that even those in high positions are equal in the eyes of the law."
As Yeon-jin carries the card to the press conference where Tae-joon is expected to give his retirement speech, she can't help but think of how Jung-hwan kept his promise to help her get to the National Assembly by making her the prosecutor who stood up to the Minister of Justice and won.
But she also remembers predicting the pain it'd cause her when he would eventually shuffle off this mortal coil, and says to herself with a tear running down her cheek, "I was right, Sunbae."
Yeon-jin takes to the podium in front of all the media present, and directs them to the screen for their investigation results re: the attempted murder of Ha-kyung.
No one even has time to react before the blackbox video showing Minister Yoon and Ho-sung at the crime plays. Even Minister Yoon's voice can be heard as she tells Ho-sung that they won't have to sin anymore now that the chip is gone.
Ho-sung looks like he's about to cry (yessss), while Minister Yoon can only watch from the Chief of Staff's office in horror as her crime is broadcasted for the entire nation to see. Yeon-jin adds the nail in the coffin: that Minister Yoon tried to kill Ha-kyung to cover up her son's enlistment fraud case.
The media goes wild, and Tae-joon calls the Chief of Staff to request permission to arrest Minister Yoon before he himself is arrested, in what will be his final act as Prosecutor General.
The Chief of Staff gives him the go-ahead, and looks straight at Yoon as he repeats the self-righteous words she'd just spewed at him: "We should show the people that even those in high positions are equal in the eyes of the law." BOOM.
Tae-joon has just enough time to sign Minister Yoon's arrest warrant before the independent counsel thugs slap handcuffs on his wrists. He leaves the office empty save for the leftover kudzu root his brother gave him, never to return.
Yeon-jin leads the party to Minister Yoon's office, where she issues the arrest warrant for attempted murder and reads her her rights. Minister Yoon tries to keep a cool and collected facade about her but she can't hide the tears that continue to fall outs of her wide, shell-shocked eyes.
Mom, Ye-rin, and Dong-hoon finally make it to the hospital to find Jung-hwan on his deathbed. Mom takes his hand in hers. "Jung-hwan-ah… your mother is so proud of you. No matter what people say, I'm going to tell them: 'Park Jung-hwan is my son. I am Jung-hwan's mother.' My son… My baby," she cries.
"Dad, I love you. I love you, Dad." Ye-rin cries as she takes his hand, trying to reach him. "I love you, Dad. Dad, I love you," she repeats again and again. "I love you so very, very much." Oh god. This is too much to handle at once.
Jung-hwan's eyelids flutter just the slightest bit—he can't open them fully, but he's looking at her. A tear rolls down his cheek…
…And then his eyes close as his hand drops limply. No no no no no no. Not like this. He has to say goodbye. He didn't even get to say goodbye!
The doctors declare Jung-hwan brain dead, leaving his family to wail pitifully at his bedside.
As Jung-hwan is rushed into surgery, the news reports that Minister Yoon will be tried for attempted murder and punished harshly for her corruption. Ho-sung has also been arrested for attempting to cover up her crime.
The surgery isn't to save his life—since there's no more hope for that—but to transplant his still-living heart into the person who needs it most now: his wife. (I'll seriously never be able to finish this recap if I can't stop crying long enough to type.)
At first, Tae-joon is confused when Yeon-jin comes into the interrogation room only to leave him a laptop and a bottle of soju. But when the video starts playing with footage Jung-hwan had her record before he left the hospital, Tae-joon knows what's up.
It's not a last will and testament, it's a video of Jung-hwan drinking, having anticipated that Tae-joon would watch after his arrest. And true to form, Tae-joon drinks with Video Jung-hwan as though he were really there. It's eerily reminiscent (and purposefully so) of their virtual jjajangmeyon date.
Jung-hwan bequeaths his book collection to Tae-joon so he'll have something to read for the ten years he's going to spend in prison. Tae-joon can't help but marvel at how Jung-hwan never fails to keep every promise he made, even though he could've done without Jung-hwan keeping his promise to put him in prison.
But still, Tae-joon is clearly affected by watching the video, even more so at Jung-hwan's seemingly-frivolous final words of advice: "Those ear muffs didn't look good on you. Don't put them on." This he says with a bright smile that's somehow heartbreaking to see now.
"Did you like the ear muffs that much?" Tae-joon asks after the video ends. He fights tears as he adds, "Every time it gets cold, for as long as I'm alive, I'll make sure to put those ear muffs on and think of you. Goodbye, Jung-hwan-ah."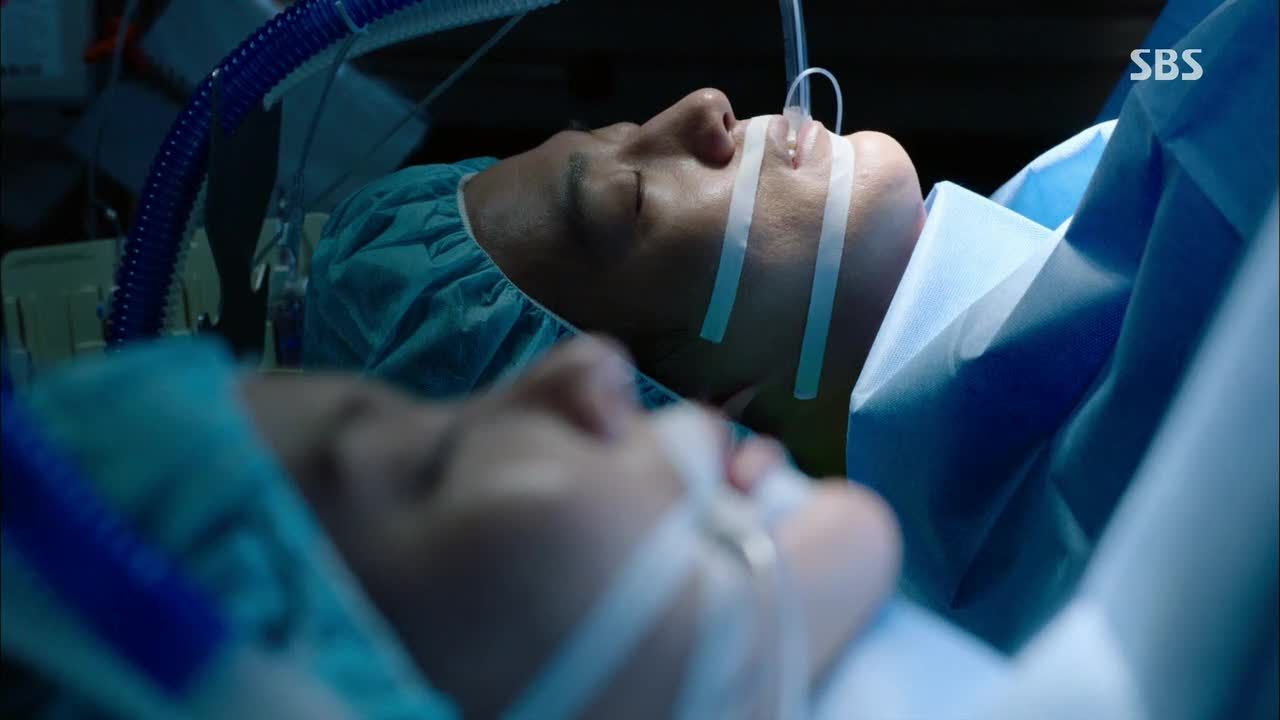 We get to (very literally) witness the moment Jung-hwan's heart stops beating, since his chest has already been cut open by the surgeons. His time of death is officially declared before the transplant operation begins.
When we next see Ha-kyung, she's acting as head prosecutor for Minister Yoon and Ho-sung's trial. The defense pleads for mercy on account of Yoon's thirty years of service to the law before she committed a felony, but ultimately it's left up to Ha-kyung.
Prosecutor Jung gives her a supportive smile from the observation area before she submits the last piece of evidence she has: the statement Jung-hwan gave before his death, knowing that if nothing else, it would be enough to keep Minister Yoon down.
While it lists all Jung-hwan's crimes as well as Tae-joon's and Minister Yoon's, Ha-kyung clarifies that Jung-hwan took responsibility for his choices—but Yoon never did. She was strict on others while being endlessly forgiving of herself and her crimes, and now it's time to pay up.
But she can't leave out Ho-sung, who used to be a righteous prosecutor before he threw his lot in with Minister Yoon. She requests eight years for him, and Ho-sung nods like he agrees with and sanctions his punishment. Too late.
As for Minister Yoon, who's never even shown remorse for her crimes, Ha-kyung requests a life sentence.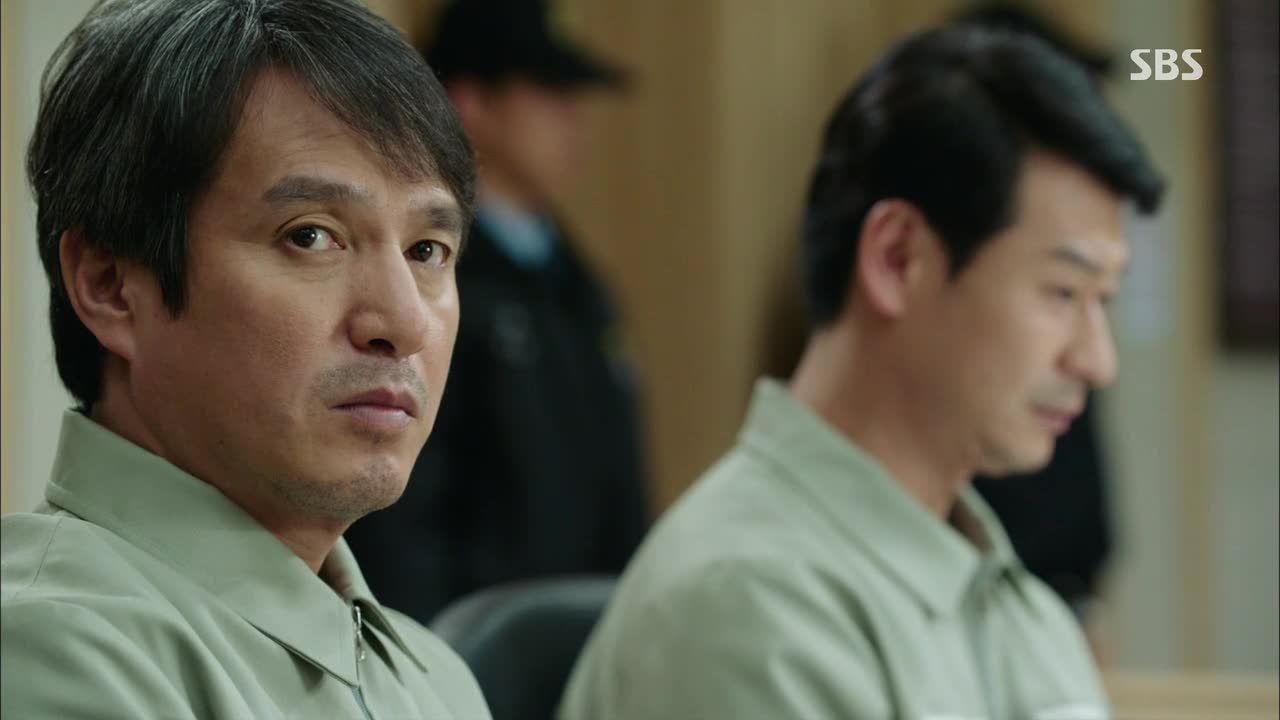 Tae-joon and Kang-jae get their day in court, though we only hear Tae-joon get sentenced to ten years. Just like Jung-hwan predicted.
Ho-sung gets five years out of the eight Ha-kyung asked for, while Minister Yoon gets fifteen years without the possibility of parole. Ho-sung and Ha-kyung share a silent look before he's taken out of the courtroom.
But Ha-kyung makes it a point to stop Minister Yoon in order to repeat one of her favorite phrases: "The law is equal… for Jung-hwan, and for you."
We see Mom living a happy life with Hyun-sun and her new son-in law as the news regarding the prosecution of all our baddies breaks. Tae-joon accepts his verdict, but Kang-jae plans to appeal. (This is a scene that appeared in the original broadcast but not in the rerun.)
Ha-kyung takes Ye-rin to the beach where she first told Jung-hwan she was pregnant, so technically, it's the first time her father met her. She pulls out the book she gave Jung-hwan for his birthday where she'd once written that she wanted to be there for all his birthdays.
We know his response that followed, back when he was determined to live at any cost. But the next page holds a new passage Ha-kyung hadn't seen before:
My time is over.
Ha-kyung-ah, it's your time now.
Ha-kyung-ah, live a good life.
With my heart, and your beliefs.
For the sake of the world Ye-rin will live in.
After Ye-rin yells out to her father that she'll keep her promise to live like her mom, she runs back into Ha-kyung's loving arms. They both turn toward the sea, where Ye-rin waves and says, "Goodbye, Dad."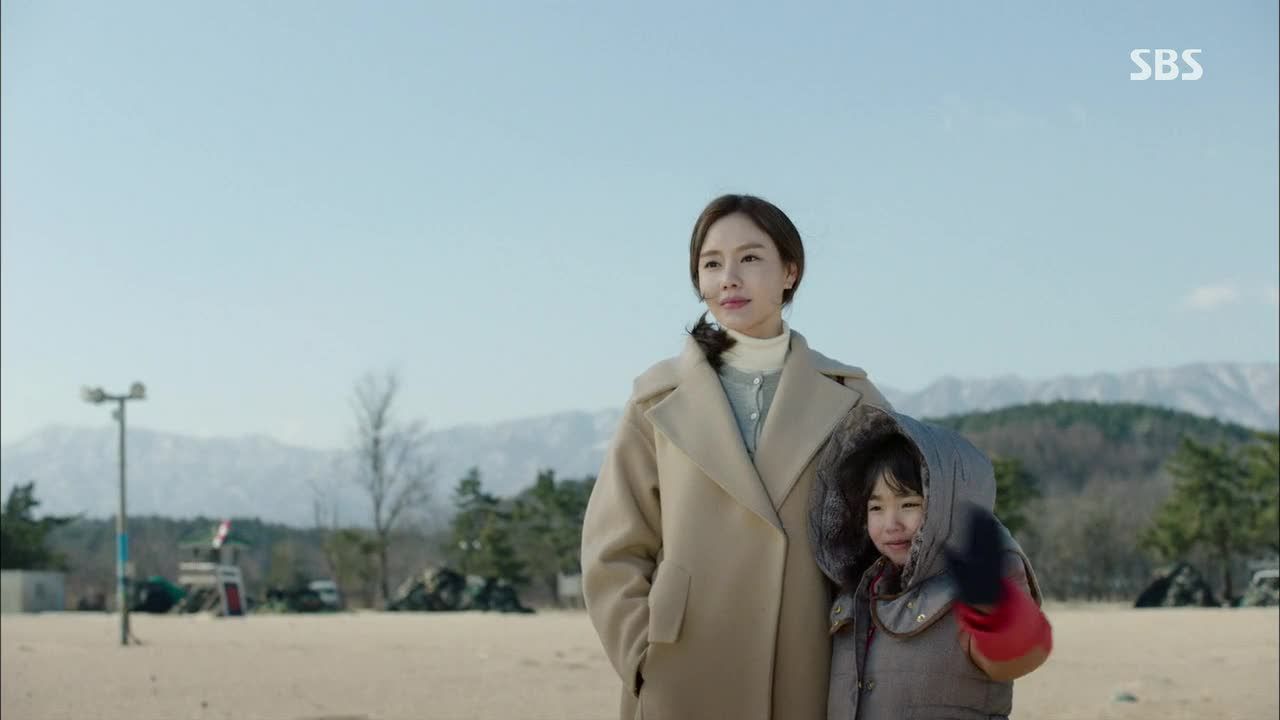 COMMENTS
First things first: Bravo! Bravo! Bravo!
Even with the seemingly endless heaps of respect I already had for Punch coming into the finale, I have to give credit where credit is due—though it used traditionally heavy melodramatic tropes relating to death, dying, and sacrifice, it never allowed itself to get bogged down in being about death. Yes, dying shaped a significant portion of our hero's character arc, but never once did the fact that he was dying truly define who he was, which I find admirable and just a little bit brilliant.
And the very significant choice the show made in having him slip away so quietly really cemented the idea it's been pushing all along: It's not only our actions that shape us, it's how we react, and—if necessary, repent—that really matters. Jung-hwan's journey wasn't about his inexorable march toward that most final of curtain calls so much as it was about cause and consequence, taking responsibility, and the ways in which humans can justify all sorts of terrible things to themselves when they use ends-based thinking.
So in the end, despite meticulous personal preparation on Jung-hwan's part and that of everyone around him, his death was really just a small blip on the radar. I don't think I could've loved the hospital scene any more than I did, no matter how traumatized it's going to leave me, if only because it fit so (shockingly) well with the overall message that we leave this world the way we came into it. Which is just another way of reinforcing the themes and ideas revolving around causality that this show so expertly explored through a cast of characters that won't easily, if ever, be forgotten.
But enough about all that lofty idealism, because going into the philosophical ideas driving Punch would comprise an essay even I wouldn't want to read. I shouldn't have been surprised at the way the show even handled tropes like the Truck of Doom and Nothing Says I Love You Like An Organ Transplant with such tact and clarity of purpose, though I blame it on dramaland practically hardwiring us to associate those things with lazy, grab bag storytelling. But the lazy writer would've switched the focus to being all about that transplant, when in reality it was downplayed as much as a major surgical operation like that could be.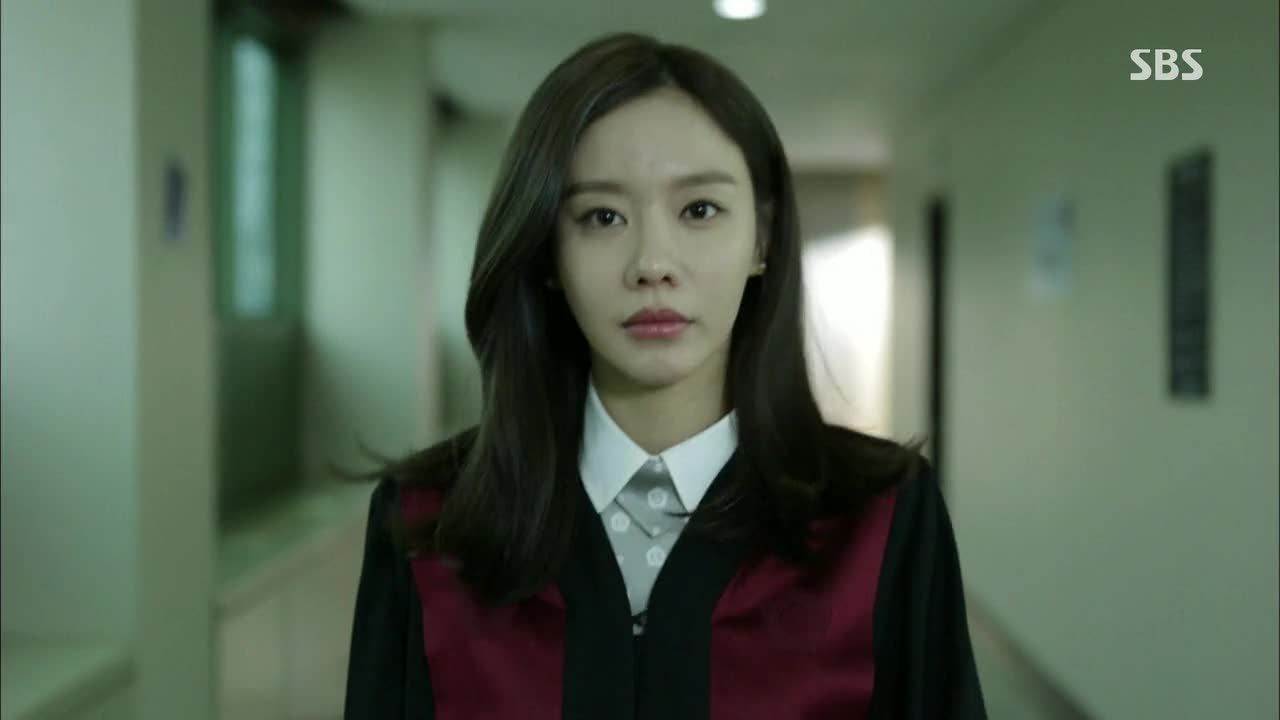 Again, it was less about the act itself and more about the impact, which is why the choice to not even have Ha-kyung be aware of it before the fact or to show her after finding out mattered more than seeing her in those moments would have. Jung-hwan's final and most selfless sacrifice allowed her to live on and see through to the end what he couldn't. It took blood, sweat, and tears to get everyone in front of a judge who deserved to be, and though it might have been overcooked and a little burnt, justice was eventually served. (Mmmm.)
Of course, any discussion about this show wouldn't be complete without at least touching on the incredibly complex relationship Jung-hwan and Tae-joon shared, which had more than its fair share of ups and downs. I loved, loved, loved that poignant final sendoff Jung-hwan gave him, because it encapsulated everything that made them into the friends they were and the bitter rivals they became. Despite their differences, they never lost the mutual respect they had for each other as worthy adversaries, which effectively separated them and their wrongdoings from the likes of Minister Yoon and Ho-sung.
At least when Tae-joon lost, he did so gracefully, because he never once deluded himself into thinking he was doing the right thing. Like Jung-hwan, he avoided taking responsibility for his choices until he couldn't anymore, and then stepped up to the plate because he knew exactly what he deserved. Even Ho-sung had a moment to accept the punishment coming to him, and though that doesn't make him any less hateful, it did make Minister Yoon's lack of recognition or remorse more stark by comparison. Or in other words, that witch got what she deserved.
But at the risk of writing a novel because I'm not ready to let go of a show that actually invited and withstood the most intense scrutiny I could give, all that's left for me to say is: Here's to you, Punch. You were one in a million.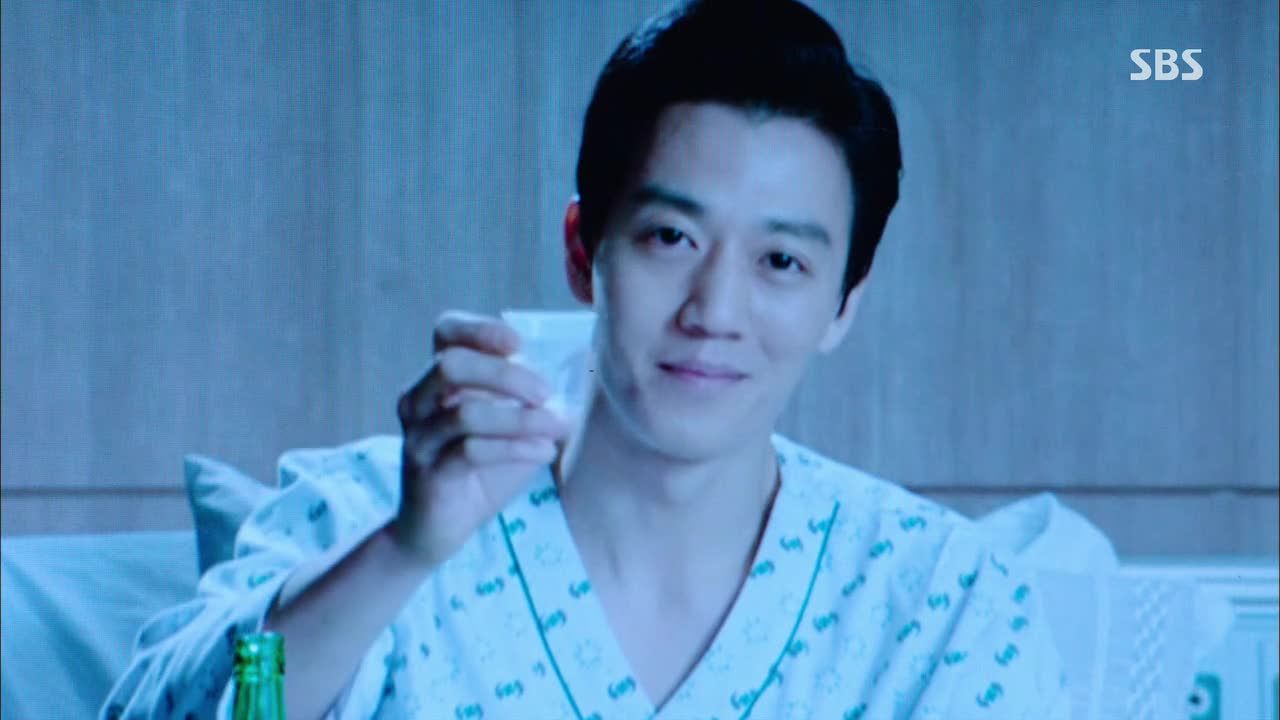 RELATED POSTS
Tags: featured, Jo Jae-hyun, Kim Ah-joong, Kim Rae-won, Punch