Running Man: Episode 233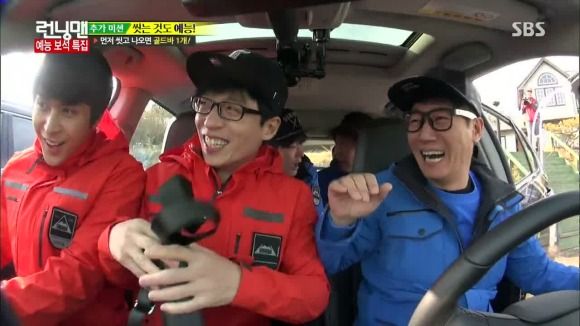 Idol specials can often be a toss-up on this show, but this one might be my favorite one yet. It's amazing how a willingness to get one's name out there propels the drive to do anything and everything for the sake of variety. This week's visiting idols are prepared to do that and so much more, so that when you hear names like Super Junior, BEAST, 4Minute, Girl's Day, and more, these guys and gals will be the first ones that come to mind.
EPISODE 233. Broadcast on February 8, 2015.
Our cast's voices are shot this morning on this second day of filming, but we get right to introducing our guests today: first up is Super Junior's Ryeo-wook, who comes dressed in his "Mamacita" outfit. As he greets our cast, the caption introduces him as "the one who you isn't easily seen on Sunday variety shows."
Joining him is 4Minute's maknae Kwon So-hyun and BEAST's maknae Son Dong-woon, the latter of whom Jae-suk describes as ambitious, as evidenced from the stills of Dong-woon trying to make sure his face appears on the music shows.
Seeing the faces that accompany the popular song intros that blare through the speakers has let Jae-suk caught onto what kind of idol special this is. Is it the maknae line or the ones you hardly ever see on variety? Or as Jong-kook puts it a la "Some" lyrics: "It's a little bit of 'sort of like a team representative, but not really the team rep either.'"
But the next entrance basically answers their question when INFINITE's Jang Dong-woo runs in and slips in front of the cameras. Hahaha, most memorable heodang entrance ever. Jae-suk: "I really like INFINITE, but this is the first time I've ever seen you [on variety]."
And to verify that today isn't a maknae line special, Dong-woo says he's the second-oldest in the group. Without skipping a beat, the others claim to be the same, with Dong-woon declaring that he's the second-oldest in his family. HA, I immediately love these kids for their quick wit.
All our guests are hungry for a moment in the sun, like Girl's Day leader Park Sojin. The cast drives the nail in the coffin of obscurity by naming the ones who first come to mind in each idol group. Like 4Minute would be HyunA, or Siwon and Teukie with Super Junior, or Ki-kwang and Doo-joon in BEAST.
If you can believe it, there's more as TEEN TOP's Niel struts towards them. And ha, the others complain that Niel is way too famous to be appearing with them today. Dong-woo: "He's the main vocalist." Dong-woon: "He doesn't have a thirst for fame."
Niel acknowledges that he's often heard how he resembles Kwang-soo, though he politely says thank you when he's told that his image comes across as completely different than our resident giraffe. Kwang-soo: "What do you mean, 'thank you'?!"
Eric Nam makes an energetic entrance, and Jong-kook jokes, "I know of [Shinhwa's] Eric Moon." Then BTOB's Min-hyuk blows past everyone and hardly anyone recognizes VIXX's leader N until he properly introduces himself and his group.
When Ryeo-wook claims that he's the variety star of the group, Haha kindly helps him out, referring to him as "the Yoo Jae-suk on cable." They play off that bit, as Jae-suk says it's because of all of those Yoo Jae-suks on cable that he can't appear on those networks.
Sojin surprises everyone by admitting that she's older than Ryeowook (she's a '86-er, and he's an '87-er), and when Jae-suk tries to offer some encouraging words to everyone, Ryeo-wook says he's blocking his shot. Ha, but I can't blame him if this is his one shot of variety glory.
In fact Jae-suk's words of calling them "a variety treasure" and "a variety gem" only adds to the pressure to deliver today, though that doesn't stop VIXX's N from some self-promotion about his arsenal of dancing and singing skills. That prompts Jae-suk to suggest addressing N as "that guy," as in, "What's up with that guy?"
Aha, so N and Sojin share a loveline on the weekend drama The Family Is Coming of which N is proud of whereas Sojin is slightly embarrassed.
Let's go ahead and introduce our team line-up: Red (Jae-suk, Dong-woon, Dong-woo, and So-hyun), Pink (Gary, Haha, N, and Sojin), White (Jong-kook, Ji-hyo, Min-hyuk, and Ryeo-wook), and Blue (Suk-jin, Kwang-soo, Eric Nam, and Niel).
In this Find the Hidden Variety Gem Race today, our idols had previously written out and picked out the games they've most wanted to play on Running Man. Our teams will be given gold bars upon completing their missions, and the team with the most gold bars at the end will be declared the winner.
In the car, Dong-woon says he basically spends his time at home lighting scented candles and So-hyun says she previously met Jae-suk on his show Truth Game when she was very young. Ryeo-wook mentions that his fellow members didn't believe him at first when he told them he'd be appearing in this show, then adds that Dong-hae needs some variety exposure too.
Our first stop is the all-too familiar mud flat, where our idol singers are all newbies walking on. Evidently this was Min-hyuk's idea, and here our team will run to climb into an oversized pair of ajumma pants and then run again to the finish line.
Min-hyuk catches the first pair of pants, while Ji-hyo struggles to keep Ryeo-wook (who claims not to exercise regularly) afloat. People start slipping and falling left and right, and Kwang-soo can barely see because of his mud-covered eyes.
Between the White and Pink Teams, the White Team grabs first place. Whereas everyone says that it's freezing cold, Min-hyuk brightly quips, "Aren't you so happy, though?" Aw.
The others are quick to give Niel his own variety moment by sticking his face in the mud, which is followed by his other teammate Suk-jin. It's a full-out war zone on the mud flat battlefield as people push and pull others down onto the ground.
While the White Team looks on with amusement, Jae-suk cries out who this game is for when you can't even see the participant's faces all that well. It takes some struggling, but the Pink Team grabs second place, and now Eric looks like a mud zombie.
At one point in the third round, Kwang-soo takes off with a pair of pants, which have the others yelling at him to come back. Ryeo-wook: "That way leads to China!" Jae-suk actually chases Kwang-soo a good distance until they both fall onto the flat.
Then Jae-suk tries to run to rejoin the group, only to be knocked down. Exhausted, he tries to swim his way back. The Blue Team takes the win, and I'm pretty sure Kwang-soo has literally lost his pants now.
After our winning three teams get their gold bars, even cleaning up becomes a mission in of itself. As expected, the guys clean up first and Ji-hyo the first among the ladies to come running out.
Jae-suk keeps the road blocked until his other teammates show up, much to Suk-jin's frustration. It's a madhouse to prevent the idols joining their teammates, like how N gathers Dong-woon into his arms. Or how Gary locks Ji-hyo out, demanding to know if she'll date him or not. Lol.
At one point, Dong-woo gets Kwang-soo on his shoulders, and despite losing a shoe, Kwang-soo climbs back into the car, giving the Blue Team a win (and another gold bar).
Everyone is quick to pick up on a nametag rippin' game ahead of them when they gather together at a library. Before they start, Jong-kook calls out Kwang-soo for stealing one of their team's three gold bars. When Suk-jin is reluctant about giving it back, Kwang-soo returns it to prevent any unnecessary backfire later.
Gary is looking pretty adorable in his pink jacket, then it's time to explain the rules to this 3:1 nametag ripping game. Three members of each team will randomly pick another team's representative (Jong-kook, Jae-suk, Kwang-soo, and Gary) to eliminate. The team that achieves the shortest time to eliminate their targets, wins.
If, however, say Jong-kook eliminates his three pursuers, then that entire team is eliminated. So basically don't pick Jong-kook.
The White Team chooses Gary, who whines that Ji-hyo's on that team. "She shoots me a text after filming wraps, too!" O really now?
Ji-hyo worries about her fellow teammates Ryeo-wook and Min-hyuk, who know that Gary is a beast on the field. It's interesting that Jong-kook can already anticipate Gary's movements as he and the others watch him traverse up to the third floor. Downstairs, Ryeo-wook and Min-hyuk look like scared and lost little lambs.
So it's a good thing they've got Ji-hyo on their side, and Min-kyuk discovers Gary in the stairwell. It's barely been 50 seconds before a 3:1 confrontation takes place, and then Gary expertly grabs Ryeo-wook's nametag.
Gary isn't an easy target to catch, his speedy hands whipping the others around. Finally driving Gary into the corner, Min-hyuk rips off his nametag.
The Blue Team is up next, and there's a 50/50 chance they'll end up with Jong-kook. And so it is, with Suk-jin, Niel, and Eric up against Spartakooks. Suk-jin offers some tips to his teammates, but the fear is evident.
To make matters worse, Jong-kook meets them at the staircase right at the start. But at least the confined space (is supposed to) work to their advantage, as the trio slowly closes in.
In the next room, the trio circle around Jong-kook, who then whips Niel around and uses the momentum to rip off his nametag. But then while Jong-kook grabs Eric, Suk-jin rips off Kookie's nametag. Nice.
Haha, N, and Sojin run to catch Jae-suk in the next round, but they unknowingly run past him on the second floor. Back with the others, Eric points out that one of their gold bars is missing.
After a good minute passes, the Pink Team finally finds Jae-suk somewhere in the library. It takes a few seconds to grab him in the aisles, but then even more time to actually try and rip off his nametag. It's pretty funny watching the tape fast-forward until Jae-suk eliminates Sojin, and Gary watches on his knees looking pretty frustrated.
It's Jae-suk's desperation that his team is still without any gold that keeps him going. He puts up a solid fight until finally, Haha eliminates him.
Dong-woo, Dong-woon, and So-hyun are eager to start, then search the floors for Kwang-soo. Funnily enough, he's nowhere to be seen. And then Kwang-soo actually steps out so that they can find him. What does Dong-woon do next? Run away. LOL.
That is, until Dong-woo joins the battle and the two finally corner Kwang-soo in the staircase to eliminate him. I can't wait to hear what the numbers will be.
That long chase to eliminate Jae-suk took 4 minutes and 43 seconds, and the White Team obtain one gold bar for coming in third. The Red Team earn two gold bars for eliminating Kwang-soo, which means it took the shortest amount of time for the Blue Team to eliminate Jong-kook in 84 seconds.
Remember that missing gold bar incident earlier? Taek PD has the team show how many gold bars they have, and Gary is called out for the one hidden in his sock. Gary: "I found it!"
We skip ahead past the palm-pushing (?) game where the Pink Team pulled in first place, and the Blue Team recalls handing over a gold bar to the Red Team. When the other boys wonder what would happen if they didn't end up winning after giving away a gold bar, Suk-jin says this entire conversation will get edited out and Kwang-soo will be remembered for his muddied face today.
Then again we skip ahead to our teams looking for something in a building before we backtrack to find out that they're looking for gold bars. Here at this final mission location, the first team to acquire 10 kgs worth of gold (one bar equates to 1 kg) via finding or stealing will win.
However, there is a safe zone where violence is prohibited where their remaining gold bars dwell. The current numbers are as follows: Red (3), White (5), Pink (5), and Blue (6).
Jae-suk finds a bar and drops it in first, while Ryeo-wook tries (and fails) to take off with a gold bar. Niel steals it away to drop it into his team's cylinder.
Ji-hyo runs into Jae-suk, who then steals her gold bar for himself. Haha lures Kwang-soo into stealing away an empty case Jae-suk left behind, so when he does find a real one hidden in the seat, Kwang-soo turns a blind eye.
So-hyun's gold bar gets plucked out of her hand and her cries for help remain unheard. Niel stealthily hands off the case to Suk-jin, who then has a clear path to the safe zone. Smart, smart.
Unfortunately, Suk-jin gets knocked out (and both of his feet weren't in the safe zone), allowing the gold bar to be whisked away. It ends up in Min-hyuk's hands, who's known for his speediness. And sure enough, he slips past the others to get into the safe zone.
Poor Sojin is upstairs still searching for any sign of a gold bar, upset since she really wanted to play this game. She finally finds one sitting on top of a doorway, and sends N down with it.
N manages to slip past the Easy Brothers to deposit his gold bar, then steps out to help his teammates with a struggling Eric, who hilariously gives away where the case is. It's a 7:1 struggle, and Dong-woon makes off with the case… only to find it empty. Ha, did Eric smartly take the gold bar out?
And then Eric slides into the safe zone to bring his team's number to 8 kg. Wellll done, sir.
While that goes on, Sojin finds another gold bar. She gets found out right away, and when Kwang-soo approaches, she screams and calls him a pervert. Her teammates come to her rescue, and although the bar falls to the ground momentarily, Haha picks it back up.
Meanwhile, Niel searches around the building and accidentally hits his head. Twice. Ouch. He runs off after discovering another gold bar. Five minutes earlier, Haha had found a gold bar and then pretended to still be searching.
It turns out thanks to Sojin, they only needed one more by that point, which is also the same time Niel comes flying down the stairs. The Pink Team deposits the final gold bar together, giving them the win and the gold.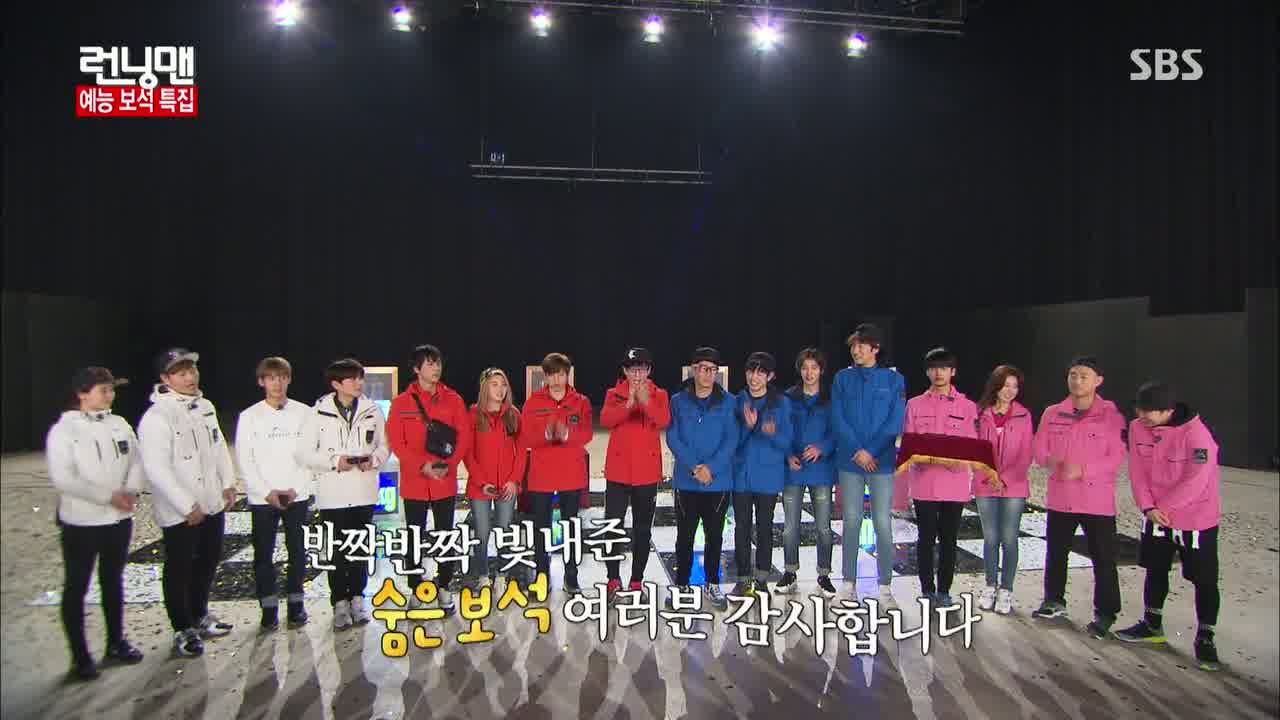 RELATED POSTS
Tags: featured, Haha, Ji Suk-jin, Kang Gary, Kim Jong-kook, Lee Kwang-soo, Running Man, Song Ji-hyo, Yoo Jae-suk