School 2015 in the works at KBS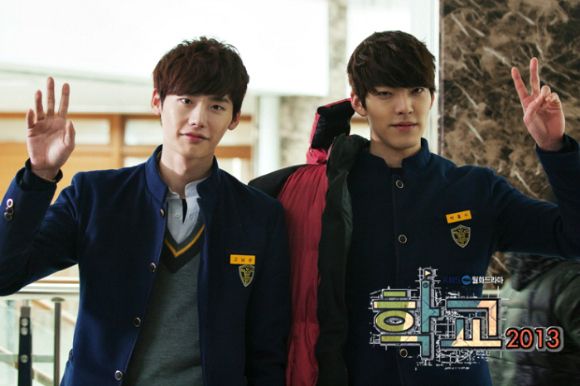 Sigh, I miss the days of School 2013. It was such earnest, unbridled, furious man-love — er, boy-love — with little else to get in the way. The good news is that we're about to get another installment of the high school drama franchise that began in the '90s and launched dozens of careers. The series made a comeback in 2013 with Lee Jong-seok and Kim Woo-bin leading the new class, and now KBS is planning for School 2015 to launch, well sometime this year, if you hadn't guessed from the title.
Reps at KBS say that the new season is in development, though it has yet to secure a timeslot. This time PD Baek Sang-hoon of Secret and Drama Specials Junior High Student Miss A and When I Was Prettiest (featuring a young Lee Jong-seok) will be at the helm. School was a slice-of-life drama series that began in 1999 and ran for four seasons until 2002, then came back eleven years later in 2013 with its fifth season.
School 2013 is technically a fifth season but more of a relaunch, and the show was praised for succeeding all these years later while sticking to its original vision: fresh-faced young actors, social issues of the day, and a realistic take on high school students that was focused on friendships and teachers, and not just romance.
The franchise boasts star-studded alumni the likes of Jang Hyuk, Ha Ji-won, Jo In-sung, Bae Doona, and many others, and always has a knack for catching rising stars on the cusp of breaking out. I'm looking forward to the upcoming casting announcements as much as anything, though admittedly it's going to take a hell of a lot to top the Lee Jong-seok ♥ Kim Woo-bin bromance sandwich. Maybe they flunked a few grades and never graduated? I know it's bad, but not implausible. Fiiiine, I won't wish flunking high school on them. Maybe they can at least get Daniel Choi and Jang Nara to play teachers again — I'd settle for that.
School 2015 is still waiting for a spot on the 2015 drama calendar.
Via My Daily
RELATED POSTS
Tags: School 2013, sequels