Ho-gu's Love: Episode 12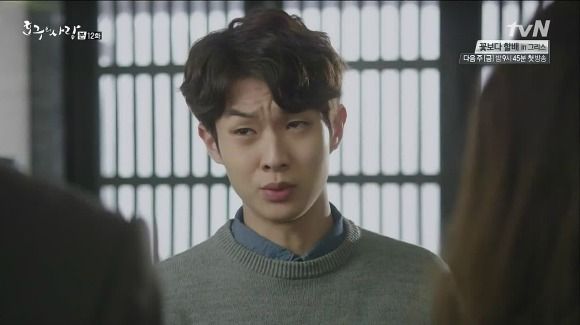 Ho-gu finally realizes that Kang-chul isn't the father. Finally. In a very important plot-point, he also gets a haircut — or maybe Choi Woo-shik just grew weary of wearing the "hogu" wig every week. Either way, it's a new (hair?) day as he takes a step forward in deciding that it doesn't matter who Geum-dong's father is. Except, of course, it totally does.
EPISODE 12 RECAP
Twelfth Foolish Act: "Let's not love the baby's mother."
Surprised at finding Kang-chul leaning over Ho-gu for a kiss, she backs into the wall, making enough sound to catch Kang-chul's attention. He covers up the near-kiss by slapping Ho-gu on the cheeks, telling him to wake up and go home.
When Gong-mi meets Ho-kyung for dinner with Chung-jae and Tae-hee, and Gong-mi and Tae-hee immediately recognize each other from when he and Ho-gu barged into the office. He pulls her aside, making her promise not to tell Ho-kyung about their visit or the baby.
Ho-kyung notes that they seem to have a connection, and apologizes to Chung-jae because she had originally intended to set him up with Gong-mi instead. But Chung-jae is offended that Ho-kyung, who he has a crush on, would be setting him up with girls. Ho-kyung: "What, should I be introducing you to boys instead?"
A phone call from Kang-chul quickly distracts her. He wants to know if there's another way that someone could find out if he's gay that doesn't involve kissing the guy that makes his heart flutter. Ho-kyung offers to bring all her research and information to a lunch date tomorrow, and after Kang-chul agrees, he wonders why it feels like he's been lured into a trap.
Ho-gu is reluctant to leave the baby and Do-hee has to practically shove him out the door. But they get distracted by all of Kang-chul's trophies. Do-hee and Ho-gu are impressed that Kang-chul climbed Mt. Everest last year, and the dates on the certificate make Ho-gu realize that he would have been climbing Mt. Everest around the same time Do-hee got pregnant.
She just rolls her eyes, reminding him she's already told him that Kang-chul isn't the father, but with the photographic evidence of Kang-chul standing at base camp, Ho-gu starts to actually believe it.
Despite Do-hee and Kang-chul's protests, Ho-gu still tries to find a way to cling his belief that Kang-chul is the father (even suggesting that Do-hee went to Everest with him). He can't get over the conversation he overheard in the hospital, when he thought they were talking about Kang-chul not using condoms.
Do-hee has no idea what he's talking about, but Kang-chul looks a little shifty as he orders Ho-gu to go home. Ho-gu refuses, and when Kang-chul reminds him yet again that he's not the father, Ho-gu says that's why he can't go home — he can't leave Do-hee alone with another man.
In a happy voice, he says to himself: "My name is Ho-gu. Kang Ho-gu."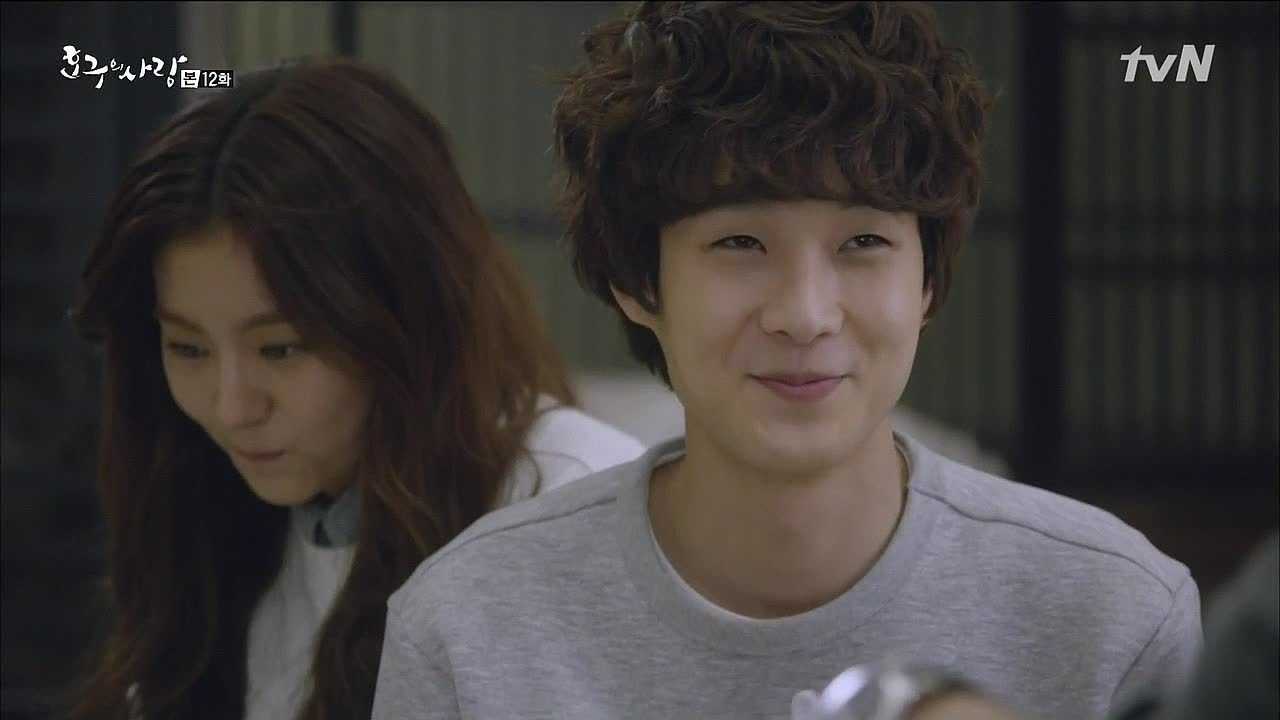 After they finally convince Ho-gu to leave, Kang-chul wonders how they'll keep the real father a secret. Do-hee begs him not to tell Ho-gu the truth, and Kang-chul reassures her he won't. After all, he's not a high-priced lawyer for nothin' — he knows how to keep client confidentiality.
The next morning, Ho-gu makes an important decision — a hair-cut. As the barber snips off those adorable curls, he says that Ho-gu must be about to confess to a women. Ho-gu, very seriously, answers "yes."
Sporting his new 'do, he marches with purpose to Kang-chul's apartment building. He's determined to ask about Do-hee's relationship with Kang-chul and the baby-daddy — as Geum-dong's "hyung" and the fact he was her guardian in the hospital, he has the right to know. But when he sees Do-hee walking to the bus stop, he quietly follows her.
Unnoticed, he gets off at the same stop as her, seemingly in the middle of nowhere. He continues to follow her to a cemetery, where she greets an older couple, and it's apparent that they're all there for a memorial.
Ho-gu returns to Kang-chul's apartment, where an annoyed Coach is surrounded by dirty diapers as he struggles to get a fresh diaper on Geum-dong. Ho-gu quickly takes over, asking about Kang-chul and Do-hee. They've gone to meet potential adoptive parents.
Aw, Kang-chul is the one who interviews them while Do-hee hides a few tables away, listening in. She shakes her head when Kang-chul asks her about them, but it's the last couple they had lined up as Geum-dong's prospective parents. He sighs that they'll have to find another place to look, as well as figure out more selective criteria.
Curious, Do-hee asks him why he's working so hard to help her. He tells her it's because she promised him a huge fee when hired him as the lawyer to oversee Geum-dong's adoption. He swears it's not because he has any feelings for her, it's just…
Do-hee asks if it's because he's sorry because he didn't use "that thing" originally. Hesitating, Kang-chul quietly admits that if he had filed a complaint for her, it would have made her life even more difficult. She confesses she really resented him because of it, but the more she thinks about it, the more she agrees with him. Especially for Geum-dong's sake.
Kang-chul is back to business when he reminds her not to forget to pay him for his services, and after he leaves, Do-hee grumbles that a woman is about to cry and all he can do is leave: "It's no wonder he can't get a date."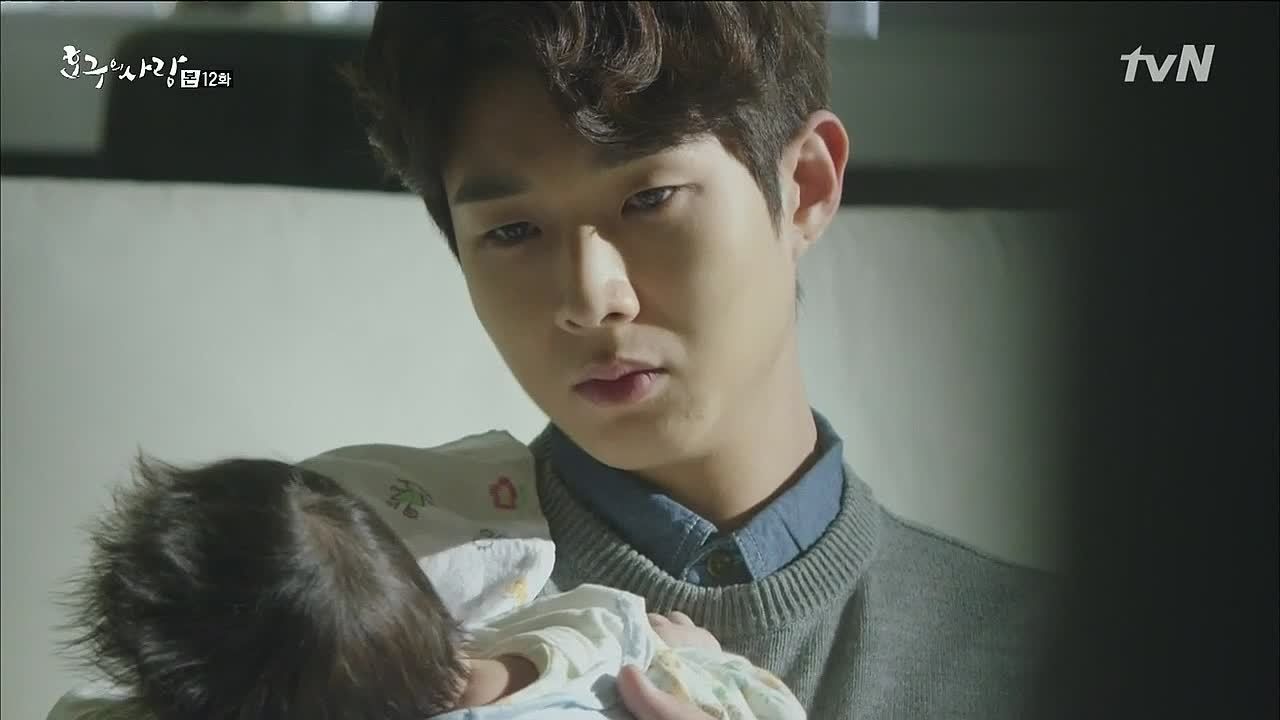 Ho-gu watches over the sleeping Geum-dong and remembers earlier in the morning, when he saw Do-hee at the cemetery. He had greeted the other couple as they waited at the bus stopm (sans Do-hee), and the woman had explained that Do-hee and their deceased child were close friends.
He wonders if their son was the baby's father who died in an accident, since it would make sense — both why she should seek out Kang-chul for legal advice as well as her statement that both she and the baby's father made a mistake. Not to mention her breakdown, wondering if she'd ever be able to love again.
Even so, Ho-gu can't back down from his purpose today. He came to ask her some important questions (and even cut his hair!). Kang-chul and Do-hee arrive home, and pfffft, when Kang-chul sees Ho-gu, he sighs that they really need to change the passcode.
When Do-hee notes that Ho-gu got a haircut, he screws up the courage to tell her why he got it cut — because it's a hindrance when taking care of babies. Buhhh? Holding out the "babysitter needed" notice Kang-chul had posted on the apartment community board, he tells them that he's Geum-dong's new babysitter.
Do-hee pulls him aside, demanding to know if he's being serious. Ho-gu swears he is, and Do-hee asks if he's really not curious about the father or how Kang-chul is involved. Ho-gu admits that it doesn't matter to him anymore. All he cares about is Geum-dong.
Even if she broke off the potential relationship she might have had with him, he asks Do-hee to at least promise not to break apart the relationship he could have with Geum-dong. They agree to write up a contract that will allow him to babysit and keep their relationship professional.
The doorbell rings, and Kang-chul answers it, annoyed that the video screen isn't working so he can't see who's at the door. Surprise! It's Ho-kyung (with her hand over the camera). She's there to give him the information he'd asked for last night.
Kang-chul's trying to hustle Ho-kyung out the door, and she teases him that he must be hiding a girl when suddenly Do-hee appears. Ho-kyung is ready to face-off and defend her turf when Ho-gu arrives with the baby. The twins are surprised to see each other, and Ho-kyung is even more shocked to see the baby. Do-hee cooly tells Ho-kyung that, yes, it's her baby.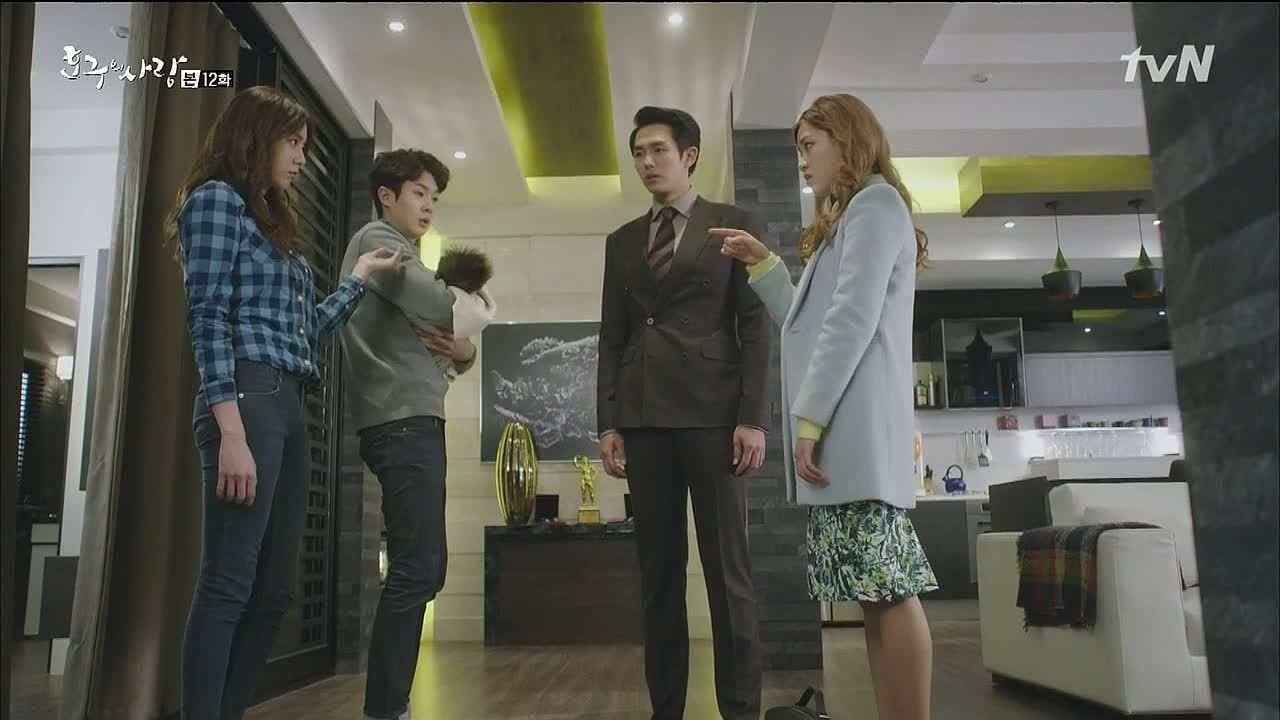 The men can sense the tension as they slowly back away, and Kang-chul tries to explain that it's not his baby. But Ho-kyung curses him out as she kicks him in the face, giving him a bloody nose and sending him sprawling on the sofa.
Ho-gu tends to the dazed Kang-chul as a furious Ho-kyung tries to talk sense into Ho-gu (while Do-hee once again insists that Kang-chul isn't the father — this assumption seems to run in the family). She wants to know why her brother is caring for a baby that isn't his, especially when he said his fling with Do-hee had ended. So why is he still here — is he dating Kang-chul, or what?
When Ho-gu realizes how close his face is to Kang-chul's, he slooooowly slides away. But Ho-kyung is putting together all the clues and figuring out why the atmosphere is so weird — is the story Kang-chul told her about his client actually his? Is Kang-chul gay? Is that why Ho-gu is here with him?
Kang-chul scrambles up, insisting that's not it, and sputters out that Ho-gu is actually the babysitter. Congrats, Ho-gu — you've officially got the job.
Ho-kyung follows Ho-gu home, trying to talk sense into him. How can he be taking care of a baby when he also has be working on the webtoon? He tries to bribe her to go along with it (and not tell Mom, heh) by promising her he'll help her get in with Kang-chul's good graces, but when that doesn't work, he threatens to show Kang-chul her pre-cosmetic surgery pictures, instead.
Thus Ho-gu begins his career as a babysitter. During the day, while Do-hee trains, he watches Geum-dong. When Do-hee returns in the evening, she takes care of the baby while Ho-gu works on the webtoon. In the meantime, Kang-chul interviews potential adoptive parents (and vainly tries to tolerate a messy baby in his apartment).
Even Ho-kyung gets in the act, stopping by to visit Kang-chul but getting put on baby duty so Ho-gu can do some chores. When Do-hee returns home, she finds Ho-kyung napping next to Geum-dong. She warns Do-hee not to seduce her brother. This is just another source of charity for the kind of guy who takes in all the neighborhood stray cats.
Do-hee says that it's not about her, but about Geum-dong. When Do-hee admits that she's using Ho-gu's goodwill to have someone take care of her baby, Ho-kyung marvels that Do-hee isn't the "nation's mermaid," but rather the "nation's bitch."
But Ho-kyung's found her match in Do-hee, who pointedly reminds her that Ho-kyung's been speaking informally to her when she's supposed to be Do-hee's dongsaeng. Ho-kyung scoffs, saying that Do-hee shouldn't be so presumptuous — if she keeps acting like that, she'll be abandoned by the baby's real father.
Do-hee gives her the death glare as she asks if Ho-kyung knows who the father is. Ho-kyung gulps and says she doesn't, then smiles, adding honorifics for her "unni."
When they meet in the elevator, Kang-chul pitches a fit that Ho-gu's wearing the wrong cleaning gloves to take out the trash. But Ho-gu just ignores him and as they ride up together, instad asking if Do-hee sought Kang-chul because the baby's father died in an accident.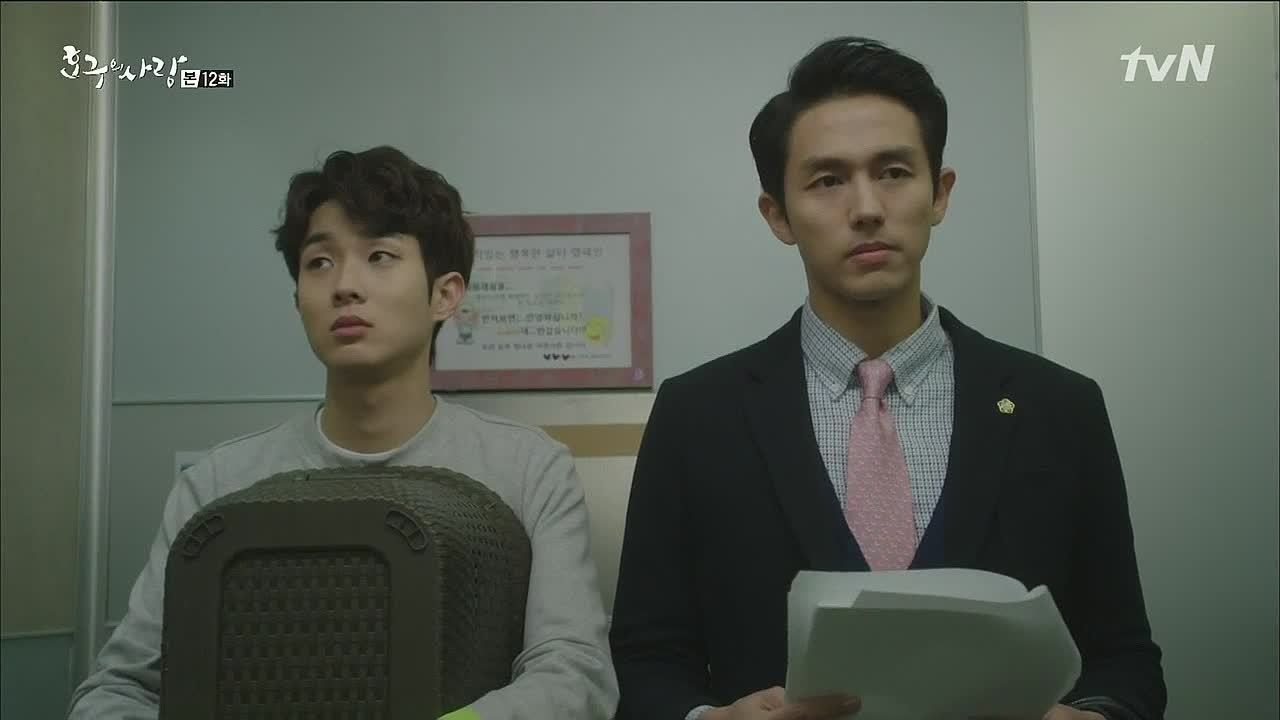 As a lawyer, Kang-chul can't answer that. But as a friend, he admits that Do-hee came to him, asking for help, but he turned his back on her. He swears he'd do the same again, though, even though he knows he'd be called a selfish bastard.
But Ho-gu admires him because Do-hee considered Kang-chul someone dependable enough to ask for help, and is relieved that Kang-chul was her ex-boyfriend. Kang-chul is just amazed that Ho-gu found out about the accident.
Ho-gu's mother intercepts a delivery for Ho-gu, surprised that it contains baby diapers. She tracks him down to Kang-chul's apartment, where Professor Mok is also there to see her son. The women side-eye each other, since their style is so opposite — Ho-gu's mother with her colorful, bohemian ensemble, and Professor Mok with her subdued, fashionable outfit.
But both women are equally astonished to see Do-hee leave the apartment with Geum-dong, and they retreat to a coffee shop to get over the shock. Hahahaha! The moms think their children are dating and had a secret kid together, as they assume Do-hee must be the other's daughter. Ho-gu's mom is excited to call each other in-laws while Professor Mok bursts into tears.
Kang-chul is meeting with another national athlete from Do-hee's company, NO KYUNG-WOO (Kim Hyun-joon), who wants to sue whomever started the rumor that he's gay. When Kang-chul tells him it seems pointless to sue for such a minor thing, Gong-mi pipes up that in many Korean companies, if it's found out that you're gay, you automatically become an outcast, potentially ruining your career and reputation.
Kyung-woo adds that's why the company told him to seek out Kang-chul — they said he's the best in this field. Kang-chul, having become progressively anxious throughout the meeting, suddenly demands to know who told Kyung-woo that he's the "gay expert." But Kyung-woo just meant that Kang-chul is the best at defamation cases.
Ho-kyung's gives Kang-chul documents to help support Kyung-woo's case, including an assessment for Kyung-woo to take to prove that he isn't gay. She convinces Kang-chul to go with her for some drinks, and when he insists that he won't drink alcohol, she pops open a bottle of soda for him.
But when the bottle cap hits him on the forehead the same way that "Ho-gu" had opened the bottle of beer back in high school, he begins to wonder. After Ho-kyung excuses herself to use the restroom, he reaches for the gay assessment test.
Do-hee meets with CEO Park, who has a new concept image to present to her — a sexy photo-shoot. Do-hee's a little hesitant and CEO Park reassures her it shouldn't be too awkward since she'll be doing it with fellow swimmer, Kyung-woo. The sound of his name makes Do-hee even more determined not to do it. But CEO Park tells her that they can dispel all those childbirth rumors with this photo-shoot — it's not a request, it's an order.
At the restaurant, Kang-chul is totally drunk now, and he tipsily asks Ho-kyung why she likes him. He cutely tells her that she shouldn't like him, though, because he's… he lowers his voice… gay. She laughs it off, but he repeats it, yelling: "I'm gay! Gay!" until he passes out drunk at the table. She spots the crumpled up assessment next to him.
When Do-hee returns home, she sees Ho-gu to the door. But Ho-gu notices that she's looking tired, and offers to hug her — when someone in his family is having a rough day, they give each other a hug, no questions asked. She agrees, and he comforts her, telling her she's doing great, working hard to make money to pay for diapers.
She smiles as she hugs him back, telling him he's also doing great, working hard to change those diapers. As he pulls away, she stares at him a moment, then… kiss!
Do-hee bids him good-night, and Ho-gu calmly walks out of the apartment, only to go all rubber-legged once the door closes. Awww, Do-hee also falls to her knees as she wonders what she just did. She spots the old sketchbook that Ho-gu gave her, and then she starts to cry as she remembers finding it and seeing the story of the girl who was a mermaid.
Ooohhhh, it turns out that Do-hee actually recognized Ho-gu on the street corner before he first saw her in his camera; that she immediately knew he wasn't the waiter (aw, the smile she tries to hide when she sends him off for more chips is adorable); and when she walked away from him in the crosswalk, she'd sighed that he was as clueless as ever.
Do-hee clutches the sketchbook to her chest, and with a hankie over her eyes, cries as she remembers their night in Yeosu. At the sound of Geum-dong crying, too, she turns to comfort him. She's still weeping as she apologizes to Geum-dong, telling him that she'll pull herself together — she'd tried so hard to hold it in. But she breaks down, sobbing even harder after she admits that it's her first love.
CEO Park is astonished to discover that Do-hee had the baby, wondering who Do-hee is dating. But her assistant says that Do-hee isn't dating anyone — it was sexual assault. Ooof.
As Do-hee comforts her baby, she looks at the sketchbook and smiles. "My name is Ho-gu. Do Ho-gu."
COMMENTS
So now we finally know exactly what that mysterious thing Do-hee and Kang-chul were discussing that night in the hospital: a formal complaint. Probably a complaint against the guy who raped her, and I only need one guess for that — the smarmy swimmer Kyung-woo.
At first I thought he was there just to make a point about how difficult it is to come out in Korean society, but now I'm pretty sure he's there for me to be extra mad at him for raping Do-hee. Ugh. Of course, there's still hope (as strange as it sounds) that the father was the person who died, but from the vague way the parents referred to their child (no gender pronouns) and how often Ho-gu's assumptions about the baby's father are utterly wrong, I'm not convinced that will be the answer. Although, the writers could be giving themselves an "out" if the rape plot-line gets too messy — there's no cute and quirky way to tip-toe around sexual assault.
While I know the "big secret" and push towards the end will be figuring out who the father is, at this point, I don't really care (and now that it might be someone who raped her, I'm angry about it). What I do care about are the characters. I love that I can inhabit their charming and chaotic world for a few hours each week.
Even when a character annoys me, I'm still eager to see how they'll grow and change. Such as Ho-gu being determined that Kang-chul is the father, despite Do-hee and Kang-chul telling him he wasn't over and over and over again, until he could only be convinced by documented evidence that Kang-chul was elsewhere at the time. As much as it irritated me that Ho-gu wouldn't take Do-hee and Kang-chul at their words, I respect that he finally came to the realization that he doesn't care who the father is — he just wants to make sure Geum-dong has a happy home.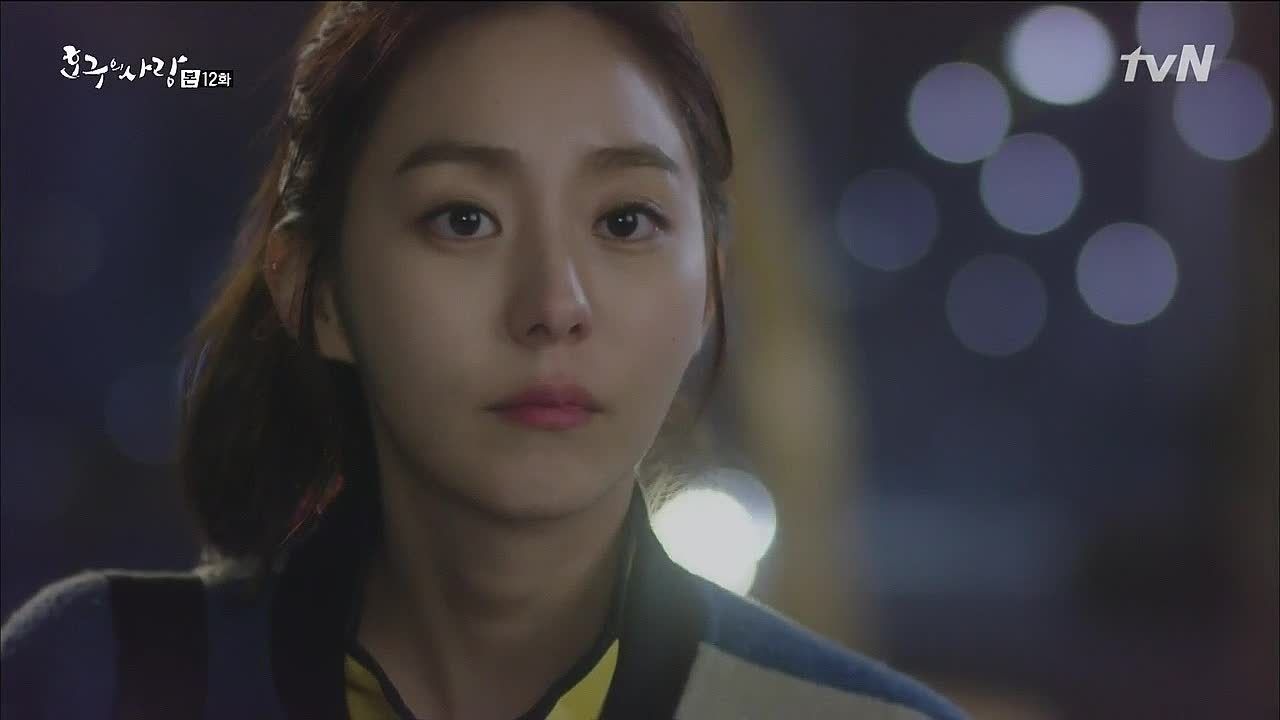 My favorite character, by far, is Do-hee. She was introduced to us as an arrogant, cool-hearted, competitive athlete, and despite the cracks we would occasionally see, kept her personal business closely guarded. But now we finally get to see her as she really is. Not filtered through the eyes of Ho-gu, whose assumptions (both positive — she's his perfect dream girl — and negative — Kang-chul is the father and she only cares about winning a gold medal) mean that we have mostly known her from the viewpoint of someone who hasn't always seen Do-hee for who she truly is.
But now we finally are able to meet the woman who fell in love with the adorable teenaged Ho-gu: the boy who could tell how much swimming meant to her; the boy who would share comics and snacks with her; and who, in his naturally helpful way, was able to slowly break down the walls that protect her. We see her as Do-hee, the woman who loves swimming for the freedom it gives her and not just as a national athlete determined to win a gold. We see her as Do-hee, the woman who has experienced loss and pain, and who struggles to give up this adorable baby that represents a gift of love and joy.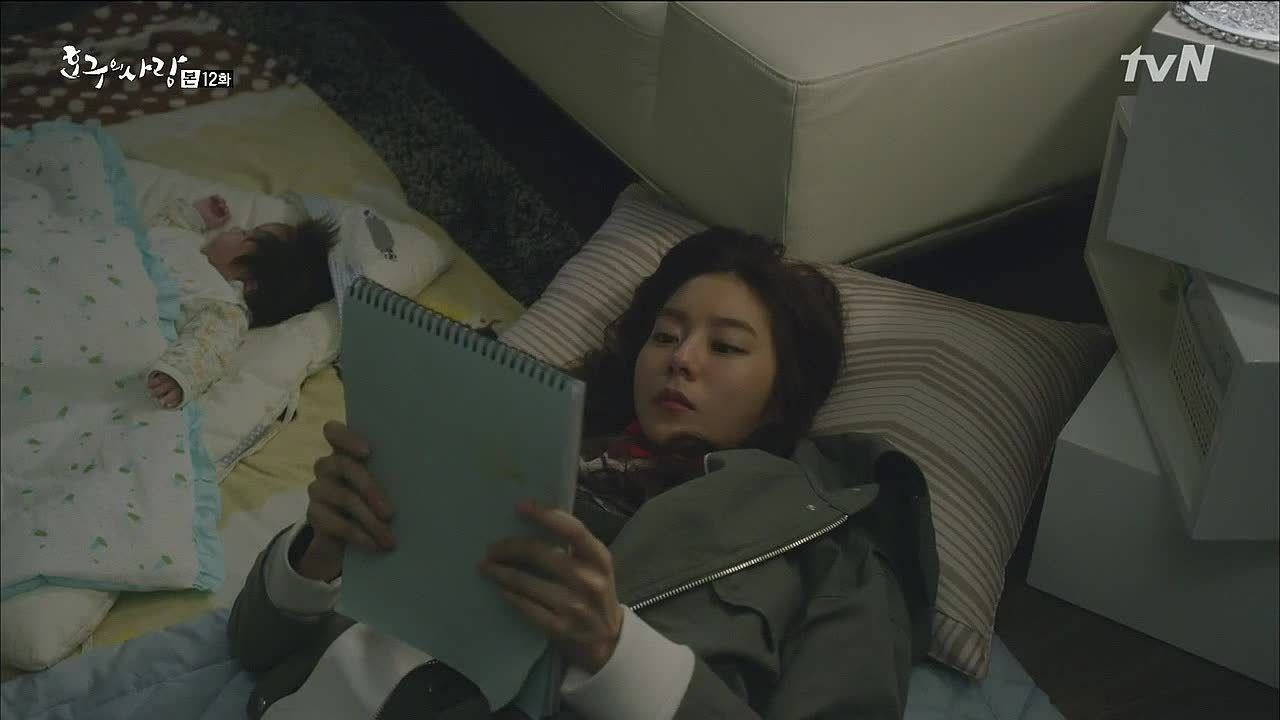 This is a woman who can break down sobbing in fear of never loving again, who goes weak in the knees when she kisses the her first love, who stands her ground (and wins!) against the fierce personality of Ho-kyung. She knows exactly how to maintain her composure when talking to reporters, but she cries the moment her CEO hugs her.
She's a human being, trying to do the best she can as she makes her way in this world. Maybe not every decision she makes is perfect, but it's the best she can do in that moment. For Do-hee to even be able to stand strong and proud despite knowing all the rumors that circulate about her (even since high school, when Ho-gu was commissioned to draw her naked), she still manages to keep looking forward and trying to do best she can. She doesn't need Ho-gu to fall in love with her or to save her — she just needs Ho-gu to trust her.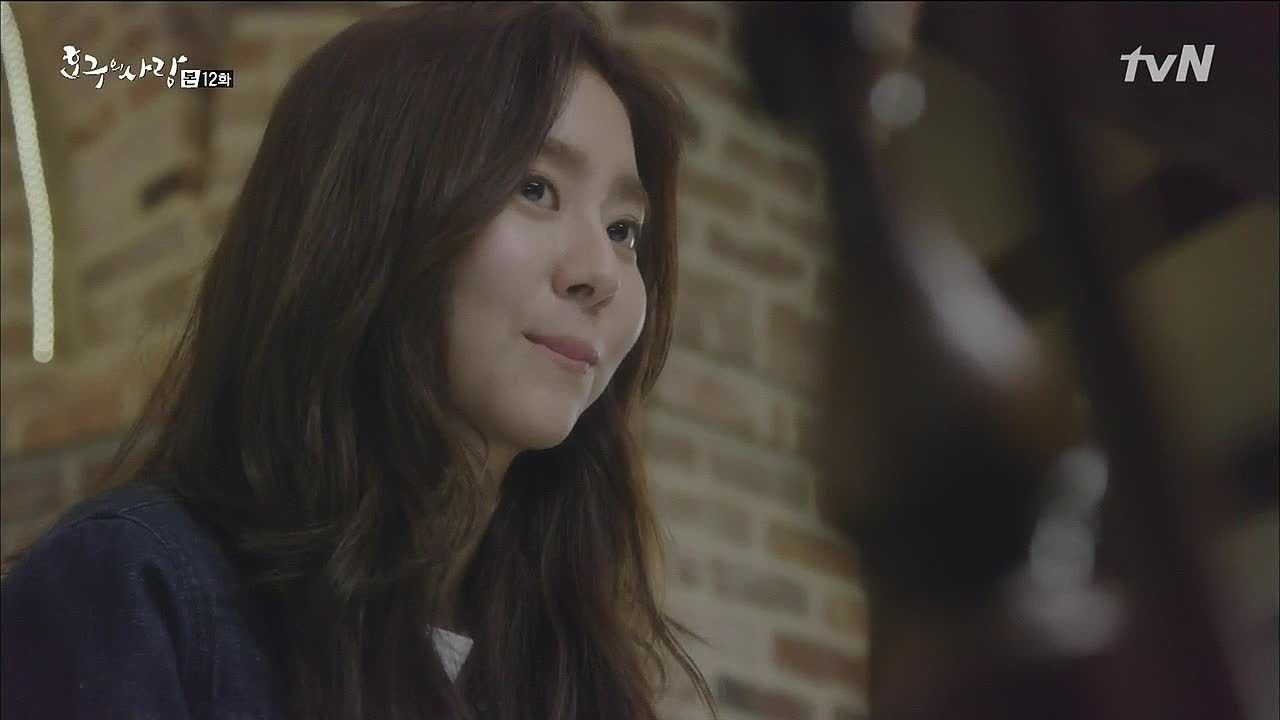 RELATED POSTS
Tags: Choi Woo-shik, featured, Ho-gu's Love, UEE