Ho-gu's Love: Episode 14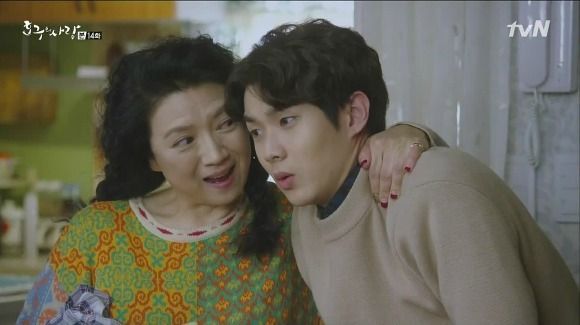 Ah, the ordinary life. Falling in love, holding hands, raising a child that isn't your own, disappointing your parents. Yep. Totally ordinary. But is being ordinary overrated? Maybe it's better to just be different so long as you're true to yourself, even if it means being shunned by society. Or maybe not. Who said making life decisions — even so-called ordinary ones — was easy?
EPISODE 14 RECAP
Fourteenth Foolish Act: "Ordinary things are best."
Do-hee, Ho-gu, and baby Geum-dong are all asleep on the floor, Do-hee and Ho-gu with their fingers entwined over Geum-dong's belly. Ho-gu wakes first and wonders how Do-hee can be so beautiful after crying so hard last night, then he closes his eyes to sleep again. Do-hees wakes up next, smiling when she sees Ho-gu next to her before closing her eyes again. Too cute.
Also waking up (wearing a snakeskin sleep mask this time) is Kang-chul, who sighs as he remembers Ho-kyung driving him home, agreeing to counsel him even though she told him she'd also need time to sort out her feelings about him. He sets aside the slip of paper with Kyung-woo's number and gets out of bed. Aw, even he can't resist smiling at how cute Ho-gu, Do-hee and the baby are, all asleep on his living room floor.
Ho-gu is in extra bright spirits at home as he dances to a nursery tune. His mom notices his happy mood, sweetly asking if he wants to have some early-morning makgeolli. Hee! Kang-chul also catches Do-hee rocking out to the same nursery tune, and she tries to cover it up by saying it's a good song. But Kang-chul knows better — it's Ho-gu that's on her mind.
Over their early-morning makgeolli, Mom tells Ho-gu that she knows all about Do-hee and the baby, and how hard it must have been for him to keep it a secret. But her face falls when Ho-gu gently informs her that the baby isn't his. Ho-gu's mom can't understand why he would have an unwed mother staying in his room, but he tells her that Do-hee is the woman he loves, and that the baby's father is dead.
Kang-chul's mother walks in to his apartment, much to his surprise, and she greets him, then brightly smiles as she greets Do-hee by name. When he pulls her aside, she explains she's there to get to know her future daughter-in-law, adding that they can put enough spin on the secret pregnancy so that it won't cause such a ruckus in the media. But she, too, is stunned when Kang-chul tells her that he's not the father.
Ho-kyung rushes to Kang-chul's apartment, where the trio sit despondently with the baby. She hits Ho-gu's shoulder over and over, demanding to know why he'd tell Mom about his love for Do-hee, which caused her to faint. But Do-hee pulls Ho-gu close, telling her that she likes him, too, and to stop hitting "her" Ho-gu. Exasperated, Ho-kyung turns her attention to Kang-chul — what exactly did he tell his mother?
Flashback to Professor Mok throwing a fit after learning that Do-hee is a single mom.
She slaps him, asking how he'd dare to let such an inferior woman like that in his home, especially after all they've done to give him a luxurious life. Kang-chul defends Do-hee, saying she isn't inferior. Besides, what good was that luxurious and "perfect" life when he ended up gay, anyway? Oooo, the cat's out of the bag.
Both sets of parents are having their respective meltdowns at discovering their son is either in love with an unmarried mother who's baby isn't his, or is gay. Ho-gu's parents say to themselves: "We're fools [hogu's] who gave birth to a Ho-gu [fool]."
CEO Park meets with Kyung-woo, and even though her policy is not to interfere with her athlete's personal lives, she needs to know: did he and Do-hee used to date?
He tells her that it wasn't like that — they just got drunk one night when she was feeling depressed about not winning gold. When CEO Park tells him that Do-hee got pregnant, he seems more concerned about a smudge on his poster than the implication that he could be the one responsible for Do-hee's pregnancy.
After practice, Do-hee calls Ho-gu, and they are just too dang adorable as they happily check up on each other and on baby Geum-dong. It's like they're an actual married couple. Sung-shil overhears part of the conversation and wonders if Do-hee's dating someone. Smiling, Do-hee asks if Sung-shil wants a hug, and Sung-shil stutters out that she must be crazy as Do-hee hugs her.
But Do-hee's happy exuberance disappears when she sees CEO Park walk in. In private, CEO Park remarks that Do-hee is doing well in her training — especially considering she recently gave birth. Shocked, Do-hee asks how she knows, and CEO Park says she learned about it from Kyung-woo.
Do-hee looks like someone punched her in the gut as CEO Park continues, saying that there's no need to worry and she'll take care of the adoption. When Do-hee carefully asks what exactly Kyung-woo told her, CEO Park informs her that he was drunk and doesn't really remember anything, except that the he was surprised when he woke up the next morning.
But it's not the time to talk about the mistake her two athletes made, and Do-hee bursts out that it wasn't a mistake. CEO Park interjects: "It was rape, wasn't it?" Do-hee stares at her for a moment and then nods, fighting back tears as she breathes out a "yes." Patting her shoulder, CEP Park says she understands, and they'll address that later after everything else is settled.
Ho-gu has the baby wrapped in a sling as he sings and hunts through his room, looking for some paper. But the song dies on his lips when Dad suddenly appears in the doorway.
Ever the nurturer, Papa Kang feeds the baby as Ho-gu gets him caught up on everything that's happened. He asks Ho-gu if he really likes Do-hee that much, and Ho-gu apologizes as he admits that he does. But Dad doesn't need Ho-gu's apology — if he's finally found the woman he loves, then that's all that matters.
He's only ever wanted Ho-gu to be happy and to love in an ordinary way, and he knows that his son has the ability to take the extraordinary and make it ordinary. Aw, that's actually really sweet.
Mom's lost in thought at her workshop, and when she breaks out of her reverie to greet a client, she's surprised to see it's Do-hee. She's there under the pretense of getting her tracksuit altered, but as Mom gets to work, Do-hee quietly calls her "mother-in-law," apologizing for shocking her with the news that Do-hee is the mother of another man's baby.
But Mom tells her that she doesn't need to apologize for being a mother, and she's the one who's actually sorry because Ho-gu told her baby's father is in heaven. Do-hee's surprised to hear that, and Mom gently tells her that she was more concerned about Do-hee's past wounds, because she's worried that someone as ordinary as Ho-gu, who finds happiness in the small things, won't be able to heal such a deep emotional wound like Do-hee's.
Mom sees how distressed Do-hee's become, and gently apologizes for saying so much. But knowing her son, he needs to be with someone happy so he can be happy — is Do-hee ready to become happy? As Do-hee dazedly walks away from the store, Mom hurries after her with a gift for the baby, telling her it will be useful when the baby gets older.
At work, Kang-chul enters an elevator full of his fellow lawyers who are deciding where to go for lunch. They immediately find excuses to exclude him, so he ends up slurping ramen alone at his desk. It's a pitiful sight, but Kyung-ho arrives to save the day, laying out a homemade feast.
He complains about being shunned by his coworkers, especially since he's only "potentially" gay and not "confirmed" gay (pffft, whatever), so he shouldn't be treated like a criminal. It's totally unfair. Ho-kyung agrees, adding that this is exactly how the people he's gone up against in his cases must feel — those people that he looked down upon and crushed in his effort to win against them.
Kang-chul remembers the single mother from the trial who had asked him if, in order to appease society, she should have had an abortion instead; Do-hee reminding him that she'd asked him for his help that night but he refused; and the gay man who'd said, during his trial, that he couldn't help who he loves. When Kang-chul clutches at his heart, Ho-kyung asks if it's racing again. It's either that, or it's his conscious starting to prick.
Chung-jae delights in showing Gong-mi around the webtoon studio (much to Hee-tae's annoyance at being constantly pushed aside), and when Ho-gu shows up with the baby and bag full of fried chicken, he tells them it's not for them — it's for his "baby." Tae-hee: "How can a baby eat chicken?"
Cut to all of them sitting in Kang-chul's living room, staring in awe at Do-hee. Chung-jae is stunned to realize that Do-hee is Ho-gu's "baby," and Ho-gu and Do-hee adorably blush as they admit they're together. Ho-gu tries to act as sickeningly doting as Chung-jae is to Gong-mi, but Do-hee is like, "Nope, I can wipe my face by myself, thankyouverymuch."
As Do-hee walks Ho-gu to the bus stop, he cheerfully chatters about his plans for Geum-dong's 100-day party, but Do-hee asks if it would be okay not to have one. He reminds him that she'd said she wanted to raise him like a normal baby up until the day he was adopted. He asks her what she wants for a 100-day gift.
She dismisses the idea, but Ho-gu shyly says that he knows that she had a tough time giving birth and he just wants to do what any man (aka the husband/father) would do. He reaches for her hand but she brushes him off, which makes him pout since she won't hold hands while they're walking in public.
Do-hee turns to apologize to him, and he's back to his cheery self as he tells her there's no reason to apologize. But Do-hee has got some heavy burdens, and sighs as she watches him happily bounce-walk away.
Gong-mi, Chung-jae, and Tae-hee are busy watching over Geum-dong, and Chung-jae doesn't understand why Geum-dong can't figure out how to roll over yet — it's so easy! Kang-chul arrives home, surprised to see this trio in his living room, and a flustered Gong-mi tries to explain to her boss that she was just stopping in to see the baby while running errands for work.
Chung-jae and Tae-hee introduce themselves as friends of Ho-gu, and Kang-chul is prepared to immediately dismiss them until he remembers Ho-kyung's advice that he needs to find "true" friends, ones that he can drink with, fight with, and tell all his secrets to. In her estimation, he needs more interaction with friends of the same gender to lessen the impact "that one guy" had on him. Turning back around, he smiles, asking if they'd like to have a drink together.
Meanwhile, Ho-gu is trying to figure out the best gift for Do-hee, and Ho-kyung tells him a bag is always best. At the store, the salesperson shows him popular choices for men to give their girlfriends (which makes him adorably blush), but when he asks if moms like it, too, she shows him a backpack that his "wife" might like. CEO Park is there, and she agrees with the choice of backpack, saying that Do-hee doesn't like the other style of handbag. Oooooooh.
Kang-chul happily chatters on about boring finance stuff as Tae-hee and Chung-jae awkwardly clutch their fancy glasses of wine, having no idea what he's talking about. Sighing, Kang-chul says that this is obviously not working, and since they can't have conversations on the same level, they might as well go home. When they offer to take Kang-chul to their favorite watering hole, he tells them that he doesn't drink in public, because he refuses to use a public bathroom. Pffft.
Just then, his father barges into the apartment, and as Kang-chul stands up in surprise to greet him, his dad slaps him hard across the face, knocking him to the ground. Furious, his father asks him if Kang-chul hates him so much that he'd humiliate him and ruin his image.
A hurt (both physically and emotionally) Kang-chul asks if people's perceptions are more important than how his own son feels. Dad is still furious, and Tae-hee and Chung-jae escort him out the door. Leaving the baby with Gong-mi, they take Kang-chul out to their favorite squid restaurant.
They pour him some soju, explaining that even though they don't know what's going on between him and his father, they can totally relate to being a parental disappointment. Hahaha! It's the first time he's ever had soju, and so they fill a water glass with soju, telling him that's a "real" soju glass instead of the shot glass. Pffft.
Tae-hee says that he imagines Kang-chul must go on dates with pretty girls, eating only in fancy restaurants and drinking wine as he French-kisses them, but Kang-chul says he's never even held a girl's hand before. Tae-hee and Chung-jae stare at him in astonishment: "You're still a virgin? Like us?" They fist-bump in solidarity, officially declaring their friendship with him.
Over coffee, Ho-gu sincerely thanks CEO Park for all she's done for Do-hee — he knows she's been like a mother to her. Even though he realizes Do-hee still has a lot to figure out, his dream is to stay by her side and continue to raise the baby together. CEO Park laughs, amused by his plans, but there's a hard edge to her smile.
Do-hee unwraps the present from Ho-gu's mother — aw, it must be the baby carrier she used when her children were babies, because embroidered on it are the words: "Pretty Angel Ho-gu." Do-hee smiles, delighted with the gift. Ho-kyung hurries into the apartment, worried about Kang-chul, and is surprised to discover that he's out with friends. In fact, he's currently very, very drunk and happily singing karaoke with them (for the first time, too, I'd wager).
Ho-gu's shaken by his conversation with CEO Park, where he learned that the baby's father didn't die like he thought. CEO Park explained to him that the daddy is alive and well — it was just a drunken one-night stand. Distressed, he escapes to the rooftop, where he catches his mom with a cigarette in her mouth.
She teases him that she's taking up smoking again because of all the worry he's been causing her, but he seriously asks that, if he's doing all this, it must be love, right?
Mom pulls in him for one of those comforting "no question" hugs, reassuring him that if he's already decided to go for it, then he needs to just go for it. She'll learn to how to deal with it somehow. She is his mother, after all.
Ho-kyung lounges in Kang-chul's apartment and tells Do-hee that she admires her for being strong enough to decide to have a baby all on her own. When Ho-kyung realizes she called Do-hee "unni," she awkwardly explains that it's only because she's the woman her "oppa" loves. Ho-kyung's willing to be friends with Do-hee not because she likes her or anything, but only because she wants to support her brother. Suuuuure that's the only reasoning.
As she glances over at the mermaid sketchbook, Do-hee asks Ho-kyung why the Little Mermaid turned to sea foam. Ho-kyung, bewildered by the sudden change in conversation topic, answers that it's because she lost her voice and couldn't tell the prince the truth. Do-hee wonders if the Little Mermaid still had her voice after all, but just couldn't tell the prince the truth because it might hurt him.
Ho-gu enters the house and stops in the entryway when he hears his mother sobbing in her room. His father tries to comfort her, but she cries that she worries Ho-gu is going through a hard time — she hugged him, but his body felt so cold. She only ever wanted him to have a simple, happy life. Ho-gu slowly sinks down on the floor, eyes welling with tears as he listens to his mother weep.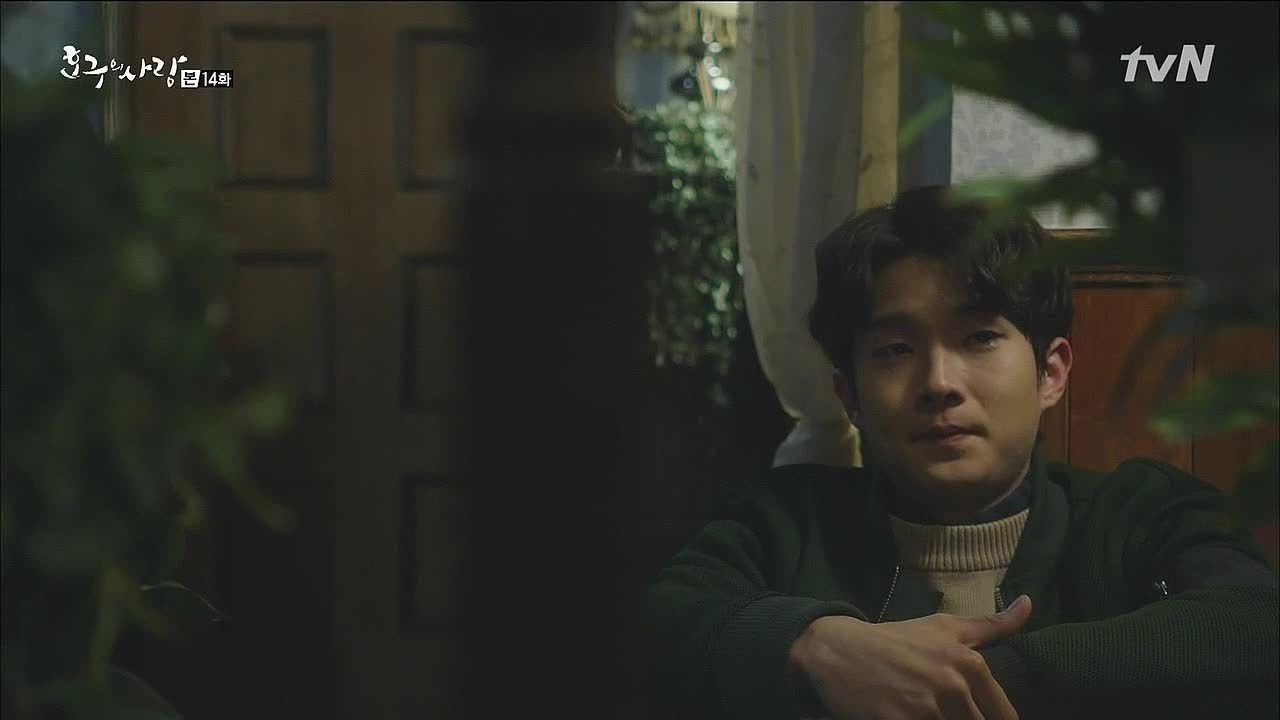 Eyes red from her own cry-fest, Professor Mok confirms that her husband slapped Kang-chul on the right side of his face. Kang-chuls father: "Yes, because you said you slapped him on the left side." He numbly asks her if he was such a terrible father, psychologically speaking. She sighs, admitting she has no idea any more.
The next morning, Kang-chul smiles as he rolls over in bed, only to find a stolen tambourine from the karaoke room. Hahaha! When he steps out into his living room, ready to go to work, the other guys are there, busy sorting through the supplies for Geum-dong's 100-day party.
Ho-gu asks if he'll be home early to attend, but he says he'll be back late, like always. He also warns them to not make a mess, but before he leaves, he stops to ask Tae-hee and Chung-jae if they got home safe last night. Then he asks Ho-gu what time he should be home. Aw, the robot is learning how to be human.
As Do-hee finishes swimming her laps, Kyung-woo arrives at the pool. She immediately turns her back on him, refusing to engage with him. But when he asks if her cold shoulder is because of her pregnancy, she tells him to shut up.
Since she decided to cover it up, the least he can do is keep his mouth shut and leave it alone. If he mentions the baby or what happened that night, she'll tell everyone the truth. He leans forward, smiling smugly as he warns her that even if she did, no one would believe her.
While he works, Kang-chul thinks back to his night out with his new friends, and then pulls out the assessment test so he can change his answers. Ho-kyung barges in at that moment, and Kang-chul leaps up in delight, eager to show her his new score.
But Ho-kyung is there for another purpose and she asks if he gave her number to another man. He admits he did, and with sad eyes, she asks if he ever thinks of anyone but himself. Hasn't he ever thought about how she feels, especially about him? She spins around to leave, quietly fighting back tears.
A subdued Do-hee returns home and asks if they can wait a bit to have the party because she has a headache. In an attempt to cheer her up, Ho-gu shows off the bag he bought her, but she glares at him, reminding him that she told him not to get her anything. When it looks like the two are about to have a lovers quarrel, Chung-jae and Tae-hee quietly sneak out to give them privacy.
Do-hee apologizes, but Ho-gu asks her why she has to apologize all the time. Why must she always be sorry towards him? Can't they laugh together and not care what people think? To not worry and just do all the ordinary things that everyone else does?
But Do-hee, filled with emotion, says that she's can't be like others who can be happy all the time. She looks over a Geum-dong, her eyes fill with tears as she watches him roll over for the first time. Do-hee: "Ho-gu, can we stop?"
Ho-gu nods, quietly agreeing: "Okay. Let's stop."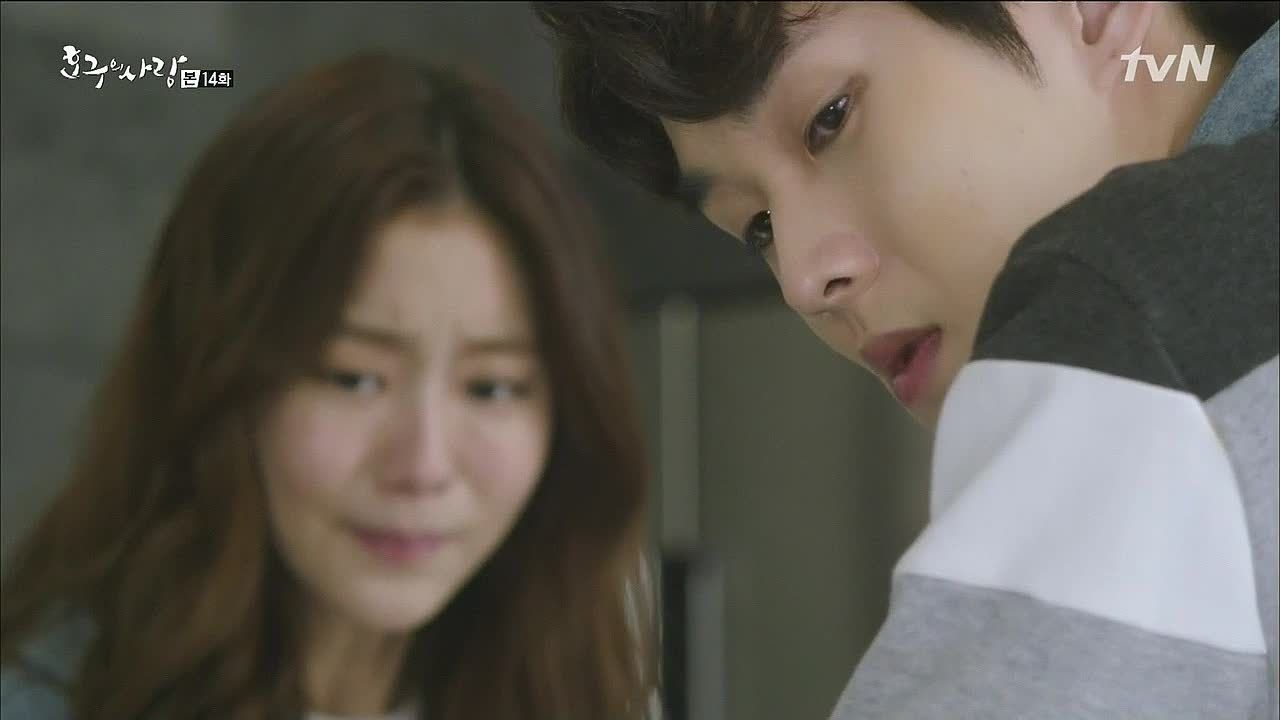 COMMENTS
Ooooof. Show, why must you always end each episode in tears? I mean that literally.
I've got all these crazy speculations (who the dead friend is; who the baby-daddy really is; what happened with Kyung-woo that night; how Kang-chul will litigiously destroy Kyung-woo for raping someone; when Kang-chul will find out who "Ho-gu" really was; whether or not Kang-chul is really gay; how the writers will possibly tie up all the loose ends by next week; and so on and so forth), but this show has been teaching me that speculations are not nearly as fun here as they are in other shows, when it's much easier to predict outcomes based on common plot projections. Here, instead, I prefer to ride alongside the characters, patient to have them reveal their inner layers piece-by-piece, until their backstories, motivations, and hearts are eventually peeled apart.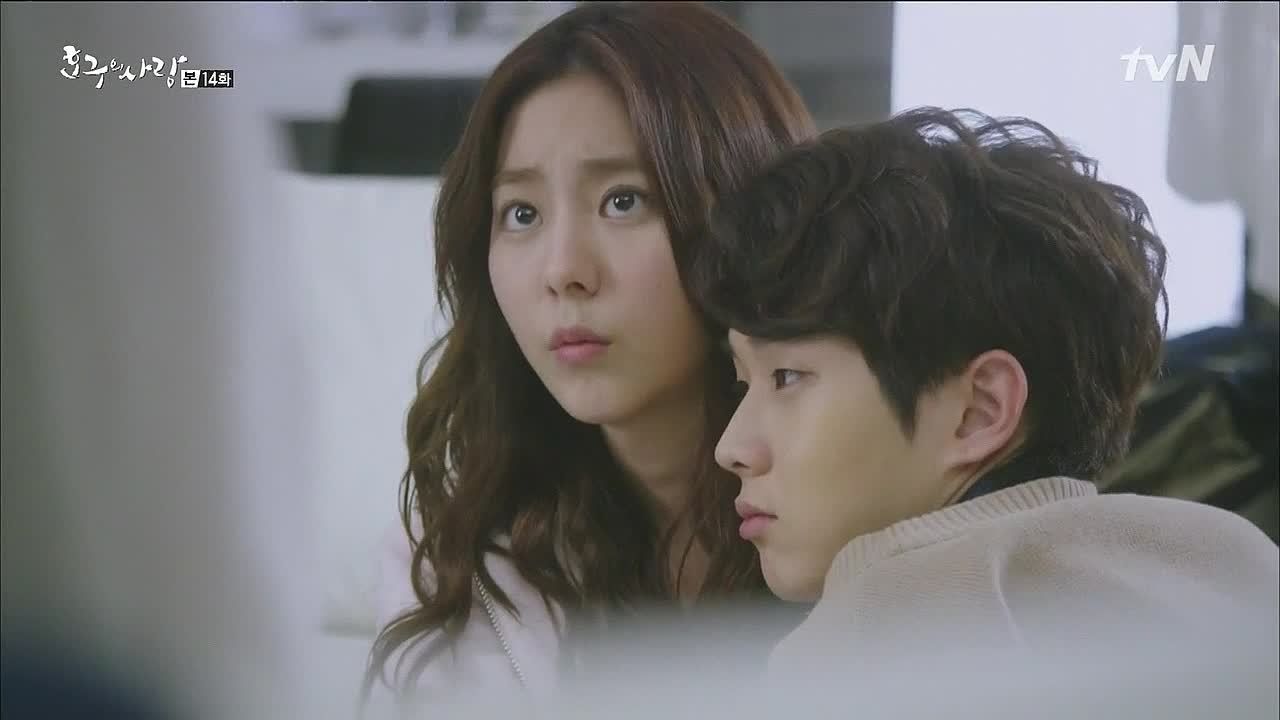 Honestly, if you look at this drama just based on plot, there really isn't much there — it's a bare-bones melodrama. But the characters give this show its life.
When we first meet them, there's the aura of superficiality — everyone seems like caricatures, and the webtoon influence is dominant, as zany fantasy sequences are peppered throughout. But as we go deeper and deeper, everyone takes on more dimension, and the flash-bang-sparkle cuteness that was originally so enticing melts like cotton candy, to reveal the hurts and worries and fears and pain that comes from loving other people (although there's definitely still tons of cuteness!). Be it friendship, familial, or romantic, this show has done a delicate yet masterful job showing the difficulty of loving someone, warts and all.
Which is why this episode's MVP is Mom. She's only ever wanted the best for her sweet, gullible son, who's spent so much of his life cheerfully helping others. I can imagine that she would assume Ho-gu's good-nature was being abused, since why else would he be so determined to protect and care for a baby that isn't his? But she trusts him enough to support his declaration that he loves Do-hee. Therefore, even if she fears that he will end up abused and heart-broken, she'll still be there for her family's trademark "no question" hugs, handing down her own motherhood treasures for the baby (possibly saved for when her "real" grandchildren came along).
It felt like such a real, human, reaction — the comforting hug on the rooftop, followed by the private sobbing in her room. Her children don't need to see her momentary grief when she realizes the path they've chosen in life isn't necessarily the one she would have have chosen, but she trusts the way she's raised them, and who they've grown to become as adults, and therefore will still support them.
Most especially, I loved her moment with Do-hee, when Do-hee visited her at work. That could be such a hard scene. It's the kind of thing where in most dramas, you'd have the mother slide over the stereotypical envelope filled with cash, or point-blank tell the girl to back-off. Instead, Mom conveys her worries, especially regarding the type of personality Ho-gu has that can be easily hurt and taken advantage of, yet still makes it clear that because Ho-gu loves Do-hee, Do-hee will be accepted gracefully into her family. Not necessarily easily — but gracefully.
Which gives me hope for Do-hee, because no matter what really happened that night or what threats Kyung-woo tries to pull, there are at least a half-dozen people who will believe her, and those half-dozen are the only people that really matter in the end.
RELATED POSTS
Tags: Choi Woo-shik, featured, Ho-gu's Love, UEE