Ho-gu's Love: Episode 9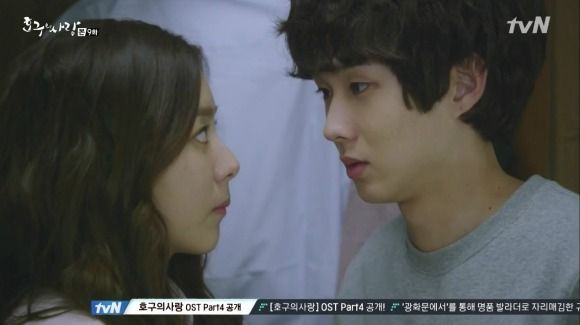 Hey guys! I'll be recapping Ho-gu's Love with odilettante for the remainder of the show, and I'm so excited because this is just the sweetest, most heartwarming drama and I love everything about it. Things are really picking up and it's time for some secrets to come out, at least regarding who ISN'T the baby's father, and we finally learn a little bit about Do-hee's past. Kang-chul is pushed to his breaking point and he finally explodes, which I can only hope means he's about to stop moping around and start doing, well, anything.
EPISODE 9 RECAP
Ninth Foolish Act: "Stray Cats Have Names, Too"
Ho-gu comforts a crying Do-hee in the alley, and she wails that she'll never be able to fall in love again, so upset that his assurances that it's not true don't seem to get through to her. Kang-chul watches in shock, then he drops the seaweed soup that Ho-gu made and leaves without a word.
Ho-gu leads Do-hee inside but she can't stop crying, and she says she's afraid the tears will never stop. She tells him that this has happened before, when she cried for three days straight after her parents' forty-ninth day memorial ceremony. She huddles under the covers and whines that she couldn't even cry when they died. Her sobs wake the baby, and she pats him on the tummy to comfort him. Ho-gu pats Do-hee to comfort her in turn, and all together now: AWWW.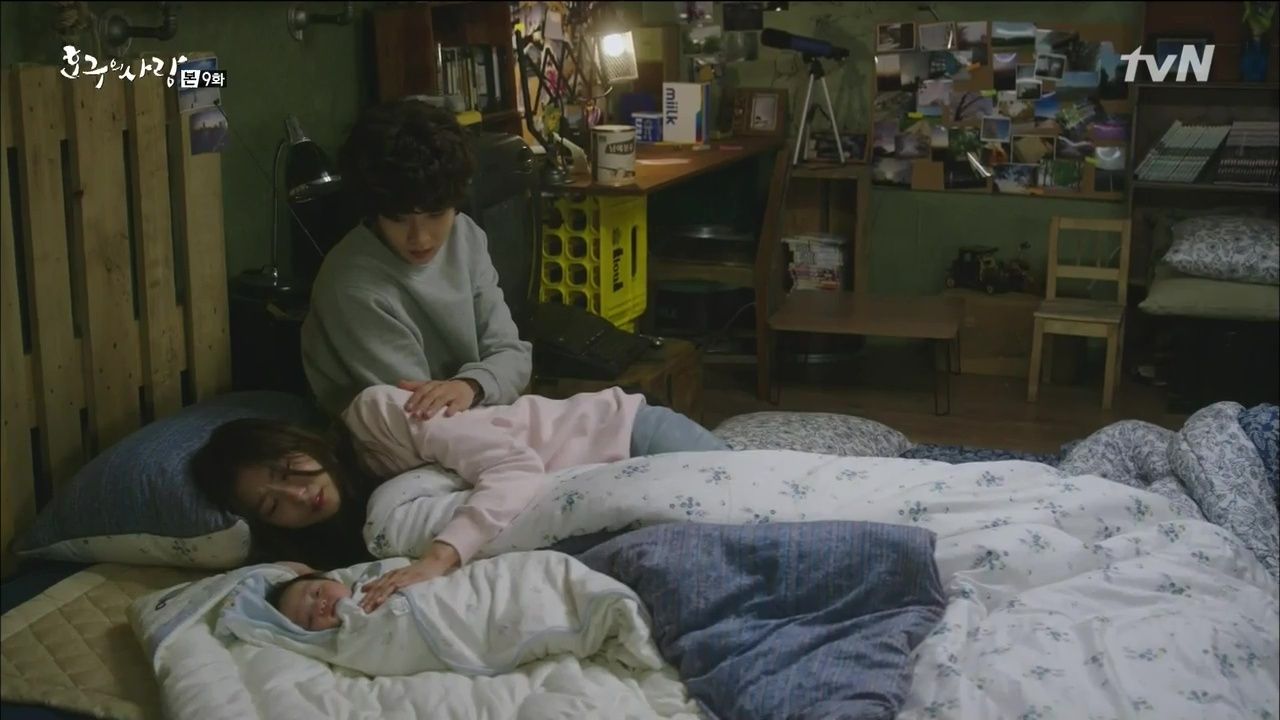 Ho-gu softly murmurs that she probably just held back too much — his father says tears are like urine, and you have to let them out regularly. That's so oddly gross, yet sweet. He figures Do-hee's tears are a good thing, and tells her to let it all out today.
Kang-chul goes back to the empty alley and fumes when he sees the light in Ho-gu's window go out. He kicks the soup pot which alerts Ho-gu (who's sitting on the steps) to his presence, and Ho-gu picks up the pot and follows Kang-chul to his car. He's too late, and Kang-chul peels out leaving Ho-gu to wonder why he came.
Ho-gu's mom knocks on his door the next morning, startling him and Do-hee awake (and awww, he slept all night with his hand on Do-hee's shoulder). Ho-gu and Do-hee scramble to hide all the evidence of her and the baby, but when Mom finally gets in to collect his laundry, Ho-gu freaks out a little bit when she accidentally grabs a dirty diaper.
The baby lets out a little peep and Ho-gu blames it on a stray kitten outside his window, grabs the laundry and the diaper, and finally gets Mom to leave. But her radar is pinging, and she asks Dad if Ho-gu could possibly have a girlfriend. She could swear his room smelled like a woman had been in there.
Ho-gu lets Do-hee and the baby out of his closet, and they have this awkward moment where they stand a bit closer, and stare a bit longer, than strictly necessary. The baby coos and provides an excuse to do something else, and Do-hee lets out a little breath of tension once Ho-gu moves away. I saw that.
Kang-chul furiously writes down everything he (thinks he) knows about Ho-gu, drawing what seem to be the most logical conclusions. Ho-gu kissed him, therefore Ho-gu is gay. Ho-gu thinks Kang-chul is the baby's father, made seaweed soup for Do-hee, and told Kang-chul to take responsibility for Do-hee, therefore Ho-gu likes Do-hee. But how can both of those things be true?
Ho-gu prepares for work and tells Do-hee that she can stay until her coach comes back, though she's hesitant to accept. She ignores a call from Kang-chul, saying it's not important. Ho-gu just quietly takes the baby and tells her to answer, and Kang-chul asks her to meet with him about the baby.
Ho-gu offers to take the baby to work with him so Do-hee can see Kang-chul, using reporters as an excuse, but I really suspect he just loves that tiny little face. Neither Chung-jae nor Tae-hee are thrilled to see the baby at the office, but at least Tae-hee makes an effort to pretend it's okay.
Do-hee and Kang-chul talk in his car, where he tells her that Ho-gu came to see him. He says that Ho-gu thinks he's the father and ordered him to take responsibility, and Do-hee demands to know what Kang-chul told Ho-gu. He wants her apology first, and she promises to explain everything to Ho-gu.
Kang-chul asks what the relationship is between Do-hee and Ho-gu, and he doesn't believe her when she says they're just friends. Ho-gu does too much for her to be just friends. Do-hee misunderstands his irrational emotional state to mean that he still likes her, and Kang-chul accuses her of being a narcissist. HAHA.
Do-hee can tell he's jealous, and quips that he either likes her or Ho-gu, but that hits a bit close to home. Kang-chul goes overboard denying it, saying that he's just angry at being accused of being the father. Do-hee leaves in a snit, wondering how she could have ever liked him.
The tension is palpable as Ho-gu works while holding the baby, and Chung-jae tells him that he's violating his labor contract by bringing a baby to work. He at least wants to know whose baby it is, not taking "my friend's baby" as an acceptable answer anymore.
Tae-hee says the mother is a friend of theirs from high school, concocting a story that she doesn't get along with her mother-in-law so has nobody to take care of the baby. Chung-jae is so upset at having a baby around that he scrunches up his Do-hee pillow, making Tae-hee and Ho-gu cringe. Ho-gu asks if they have childcare leave, and Chung-jae nearly has a stroke.
He sends Ho-gu and Tae-hee out to sort the trash as punishment, and Ho-gu tells Tae-hee that Do-hee is meeting with Kang-chul. He's upset that they're probably getting back together, and takes his anger out on the aluminum cans, close to tears. He tells Tae-hee that he's so angry his heart is burning, but if Kang-chul is the baby's father, there's nothing he can do.
Kang-chul meanwhile sits in his apartment stewing over Do-hee's joke that he must like Ho-gu, and nurses his upset at Ho-gu's hypocrisy. How can he have kissed Kang-chul back in school but like Do-hee now? Can a gay man suddenly like women again? He ignores a text from Ho-kyung asking what he's doing today.
Do-hee goes by Ho-gu's work to pick up the baby and finds Chung-jae alone, and he admonishes her for leaving her baby at someone else's workplace. He's hugging his Do-hee pillow and fanning himself with his Do-hee fan, but he still doesn't recognize her and scoffs when she says she's a swimmer. Even when she tells Chung-jae her 100 meter record, he yells that that's Do Do-hee's record, and he's not an idiot. Um…
Chung-jae is all smiles once Ho-gu and Tae-hee come back and he realizes this really is Do Do-hee, and he even argues that she can't stay in a hotel because the reporters could find her and anyway, she'd be all alone. He generously offers for her to keep staying in Ho-gu's room, and did he really just call the baby "agi-nim"? HAHA. Ho-gu is confused to find out that he suddenly has childcare leave as part of his work contract.
Ho-gu and Do-hee sneak back to his room with the baby, and Do-hee apologizes that the adoption is taking longer than expected to go through. Ho-gu is surprised that she doesn't plan to raise the baby with Kang-chul, but they're distracted by the kitten at his window again.
Ho-gu says the kitten's name is Geum-dong. His father named all the neighborhood stray cats, because even stray cats have the right to have a name. Ho-gu hopes that Kang-chul will at least name his baby. But Do-hee sets him straight — Kang-chul is not the father.
Mom and Dad tango and pop a bottle of champagne, because Mom spotted Ho-gu taking a real live woman to his room. Ho-kyung wanders in but isn't impressed at her brother's newfound dating prowess, and her dad literally tackles her when she tries to go to Ho-gu's room to get her blanket back, hee.
Meanwhile Do-hee tells a shocked Ho-gu not to contact Kang-chul anymore, since he has nothing to do with this baby. She promises that once the baby's been adopted she won't bother Ho-gu anymore. Trying to process all this, Ho-gu just gives her a sad little smile.
Kang-chul relaxes at home with music and wine, but he shuts the music off when his parents try to let themselves in and find that he's changed his passcode. His mom calls him and he refuses to give her the passcode, telling her it's bad manners to let themselves in. His dad grabs the phone to say it's not his home since they paid for it, but Kang-chul reminds him that he earned it by becoming a lawyer.
His parents leave and this time the doorbell rings, and Kang-chul is surprised to see Ho-gu outside his door. He lets Ho-gu in, and Ho-gu says he came to give Kang-chul something. He sets the baby's rattle on the table, saying that it makes the baby calm down. Next he holds up a diaper and shows him how you can tell if it's dirty.
Kang-chul stops Ho-gu halfway through his detailed explanation of diaper cream, but Ho-gu says he should know this stuff as a guardian. Kang-chul yells that he's not the father, but Ho-gu thinks that Do-hee is just covering for Kang-chul because she likes him.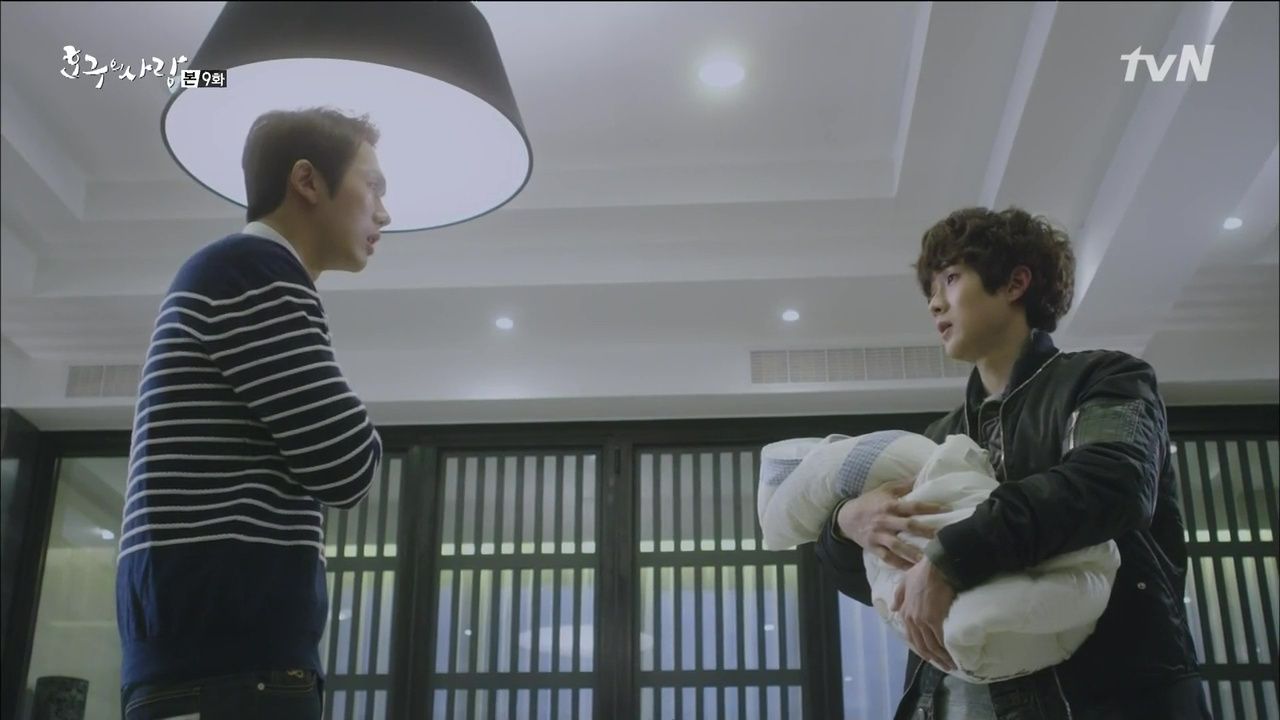 With a pained expression, Kang-chul asks why Ho-gu is doing this to him, but Ho-gu thinks he should already know. Kang-chul knows there's no way Ho-gu likes Do-hee, wondering if possibly… does Ho-gu still… ? But Ho-gu just wants to know if he doesn't have the right to like Do-hee. Is Kang-chul looking down on him because he's a lawyer with a fancy house?
Poor Kang-chul couldn't possibly be more confused, especially when Ho-gu assures him that there's no way Do-hee could like him since she still likes Kang-chul. Ho-gu says he just wants the person he likes to be happy, so he's trying to like the person that the person he likes, likes.
It's worded so confusingly that Kang-chul of course hears it backwards, that Ho-gu is trying to like Do-hee because she likes the same person he likes. Kang-chul clutches his heart when it starts to beat wildly in his chest, remembering his kiss with "Ho-gu," and his knees give out.
Ho-gu tells him that the baby still has no name, and that Kang-chul will regret it if he lets the baby be adopted without giving him a name. He leaves the rattle to remind Kang-chul to visit the baby just once and name him, and says he'll be waiting for him. After he leaves, Kang-chul tries to catch his breath and stares at the rattle as if it might bite him.
Ho-kyung and Gong-mi drink beer in the park (through straws, because they're dainty ladies, you know), and Gong-mi chastises Ho-kyung for letting herself get so upset over an unanswered text message. It's not like Kang-chul is her first love or anything. This reminds Ho-yung of her day with Kang-chul, when she and Ho-gu had fought over which jacket to wear.
Mom said they had to wear different colors because even she got them confused if they wore the same thing. Ho-kyung has snuck off to school wearing Ho-gu's jacket, which is how she had his name tag on that day.
Back in the present, Gong-mi asks what Ho-kyung sees in that stuffy Kang-chul anyway, and Ho-kyung only smiles that he's cute, remembering him cowering behind her and his defiant drinking when she dared him. Gong-mi says there are lots of cute guys out there, but Ho-kyung dreamily admits that Kang-chul is her one-and-only first love. Too bad Gong-mi is already passed out drunk.
Do-hee wakes in the night to find the baby gone, and a note from Ho-gu not to worry. She goes outside to sit on the steps, where Mom accidentally catches her when she pokes her head out the door. Ha, it's hard to tell who's more embarrassed.
Mom invites Do-hee in for some fruit, and Do-hee apologizes for being in Ho-gu's room. Mom assures her that she has every right to be there as Ho-gu's girlfriend, going to great lengths to tell Do-hee that they neeever eeever go into Ho-gu's room, and by the way Dad even goes to bed early. Also the basement is soundproof. I'm dying over here — Mom makes a pretty darn good wingman!
Do-hee relaxes a bit when Mom comments on her looks but doesn't recognize her, though Mom admits she's too pretty for Ho-gu. She pouts that Ho-gu's never even had a "some," much less a real girlfriend, which makes Do-hee smile. Never mind, I'm revoking Mom's Wingman Card.
Mom says that Do-hee may find it difficult to date Ho-gu because he's slow, and Do-hee adds that he's not concerned about himself and a scaredy-cat, but she says it with so much affection it squeezes my heart. Mom asks why she's dating him then, and Do-hee starts to deny it, but stops herself and just says it's because of his smile.
Do-hee tells Mom that when she smiles, she only smiles halfway, because she's afraid people will take advantage of her if she seems to easy to get along with. So she only smiles part-way and saves some "bullets" for herself. "But Ho-gu, he smiles one hundred percent. He leaves his bullets behind and always smiles with one hundred percent of his heart." So true.
Do-hee adds that that's why Ho-gu needs to meet someone nice. Mom tells her that she is nice, and Do-hee asks with the most childlike hopeful expression if Mom likes her. Mom says that she does, because if Ho-gu likes her then she's worth it. She adds that she's fine with his choice as long as it's not a married woman with kids… whoops. Do-hee's eyes well up but I don't know if she even heard that last comment, because she just says she envies Ho-gu.
The next morning on his way to work, Kang-chul stops to glare at the offending rattle again, pocketing it. But when he gets to work he remembers Ho-gu saying that he hopes Kang-chul comes once to see and name the baby, and he chucks the rattle in the garbage.
Ho-kyung is waiting to "accidentally" run into him, and Kang-chul doesn't look at all happy to see her. They go for coffee where he throws up a wall every time Ho-kyung tries to connect with him, but she's doggedly determined to get through to him. She even provides an excuse for why he probably didn't ask her out on a second date, saying he was probably too busy.
SLAM. She runs into another wall when Kang-chul replies blandly that he wasn't busy, he just forgot. Ho-kyung's smile falters a bit, but she says that at least now he has another chance. But he makes it clear he's not interested, and says he hopes they don't run into each other again. He tells her he never changes his opinion, and gets up to leave.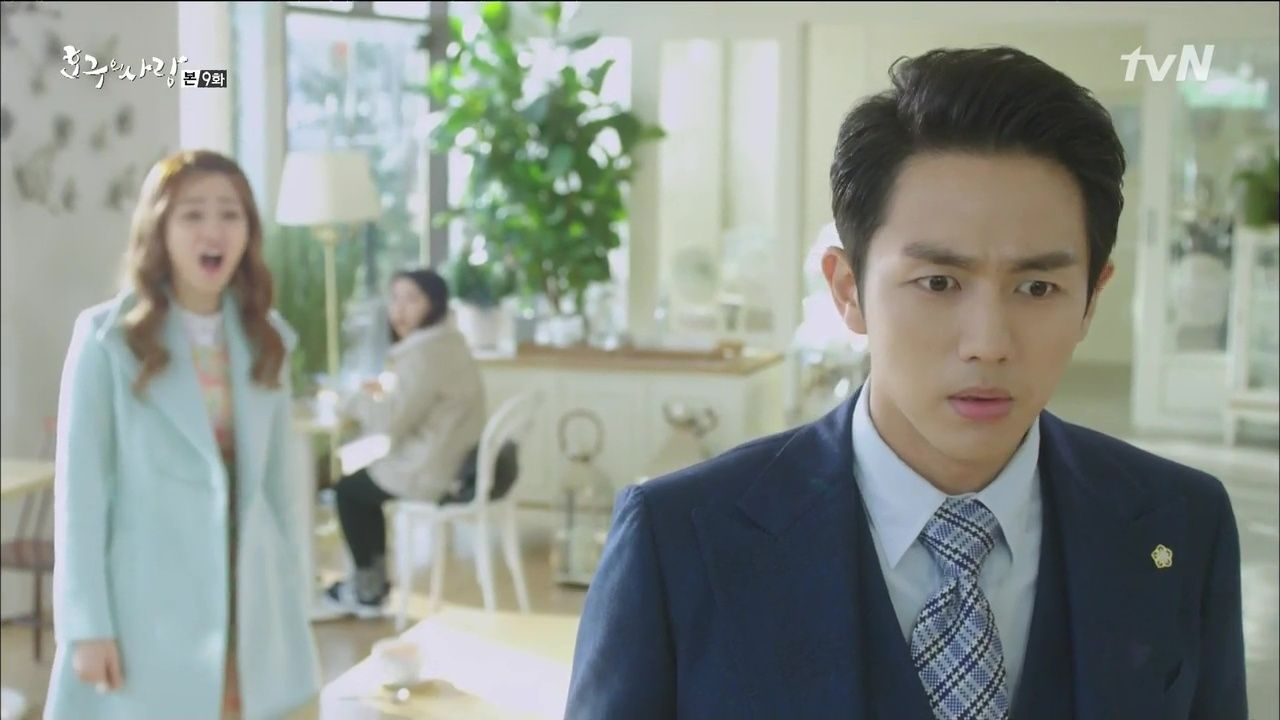 Ho-kyung jumps to her feet to holler, "Just go out with me!" Such a delicate flower, this girl, haha. The entire restaurant stares as Kang-chul grinds his teeth at her: "I. Don't. Want. To."
Gotta give the girl props, she's stubborn as a mule. She actually chases Kang-chul out and physically blocks his path. She drops all the overly-polite calculated lines and says honestly that she wants to keep seeing him, practically begging him to go out with her again.
Ho-kyung says that she's willing to do whatever it takes, even if it's humiliating, which seems to give Kang-chul pause. She says that if she doesn't grab him now, she's worried he'll never fall in love. She actually knows the guy pretty well — she knows that he avoids things like public transportation because people can be messy and dirty. But she's scared he'll die of loneliness that way.
It's clear that Kang-chul is moved, but he blusters that Ho-kyung doesn't even know him well enough to say those things. He doesn't need those things, or her, only himself. He pushes past her and goes on his way.
Do-hee tells Ho-gu that her coach is back, and that her baby's adoptive parents have been chosen. It's a good situation, because they're educated and wealthy, and they plan to move to the States with the baby. But Ho-gu is shocked, sure she was going to change her mind and stay with Kang-chul and keep the baby.
Later, Kang-chul asks Gong-mi and Lawyer Gae if they ever ride the subway. They do, but Gong-mi snickers that Kang-chul could never do it — he's so scared of human contact that he has his own pen, his own coffee cup, and even his own bathroom. She and Lawyer Gae whisper as they leave that Kang-chul will probably die alone in his house, and Kang-chul looks chastened to hear it twice in one day.
We see that when Kang-chul walked away from Ho-kyung, she'd yelled at his back that it wasn't that he doesn't need other people, but that he's scared. He runs back to the garage and fishes the rattle out of the trash (does he just carry rubber gloves with him all the time? That's hilarious).
Ho-gu asks Do-hee if he can go with her to see Coach and meet the adoptive parents, but she cuts him off and says he can't. She has her armor firmly back in place, and doesn't even let him say goodbye to the baby or walk her out.
Shortly after she leaves, Ho-gu hears a commotion and opens his door to see a furious Kang-chul standing outside. Do-hee runs back to see what's happening, but Kang-chul just pushes Ho-gu inside and locks the door behind him.
Pinning Ho-gu to the wall by the wrist and getting real up close and personal, Kang-chul growls right into Ho-gu's face: "I came to see you, Kang Ho-gu. I'm going to seal the deal here in this room today."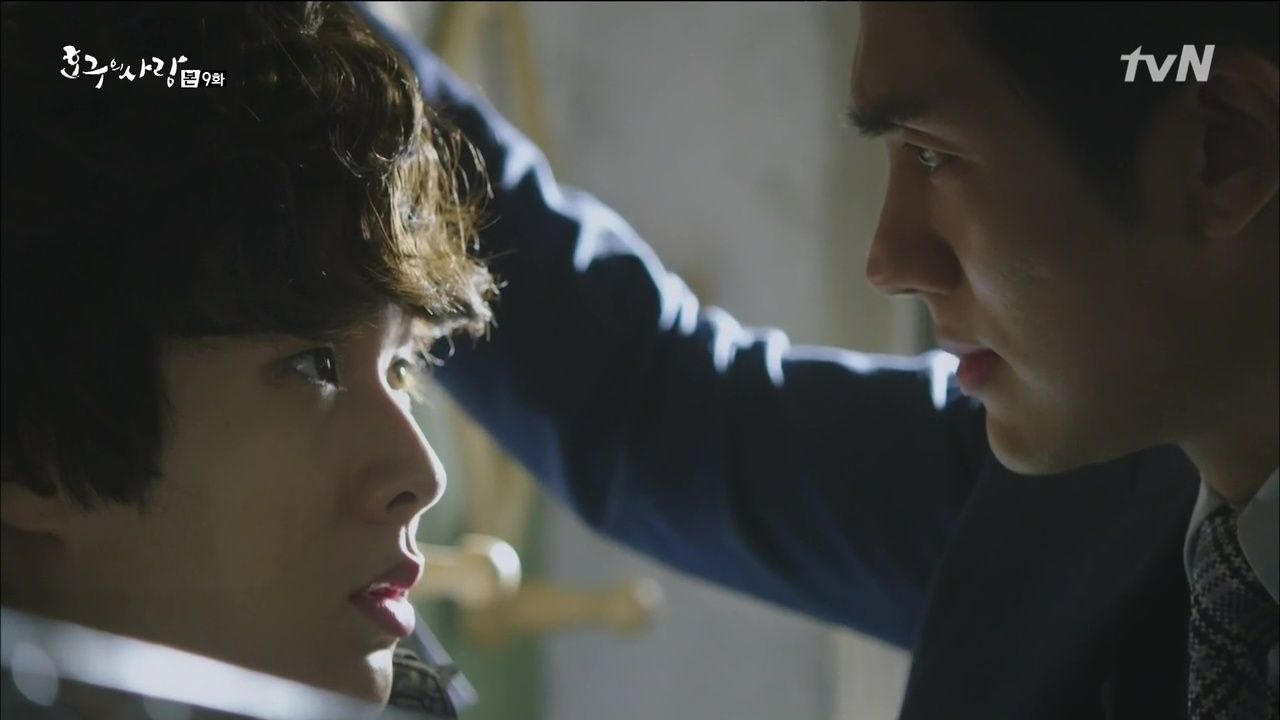 COMMENTS
Rawr! Okay, that was hot. Just had to say that.
First of all, it will come as no surprise that I love this show desperately, and I'm so excited to get a chance to finish recapping it. It grabbed me right away and it's one of the few shows I can't wait to watch the moment I get a chance each week. It's a simple story and I doubt it will get much more complex than it is now, but I don't mind that, because I'm not really here for the story.
I always say my favorite shows are the ones with characters I can love and relate to, and Ho-gu's Love is just brimming with sweet, sensitive, caring, and most of all vulnerable characters that I fell in love with instantly. I mean Ho-gu is a no-brainer – who WOULDN'T adore a sweet cuddly puppy who's loved a girl from afar for years, and is willing to help her give birth to another man's baby then give her up when he thinks she likes someone else? Even when it's tearing him up inside, and even when he stands to lose the girl he loves and the baby he's grown to adore, he'll let her go if it means she can keep her baby and be with the man (he thinks) she loves. Ho-gu barely even knows Do-hee as a person, and yet he's willing to sacrifice his own happiness for hers. Anyone for a group swoon?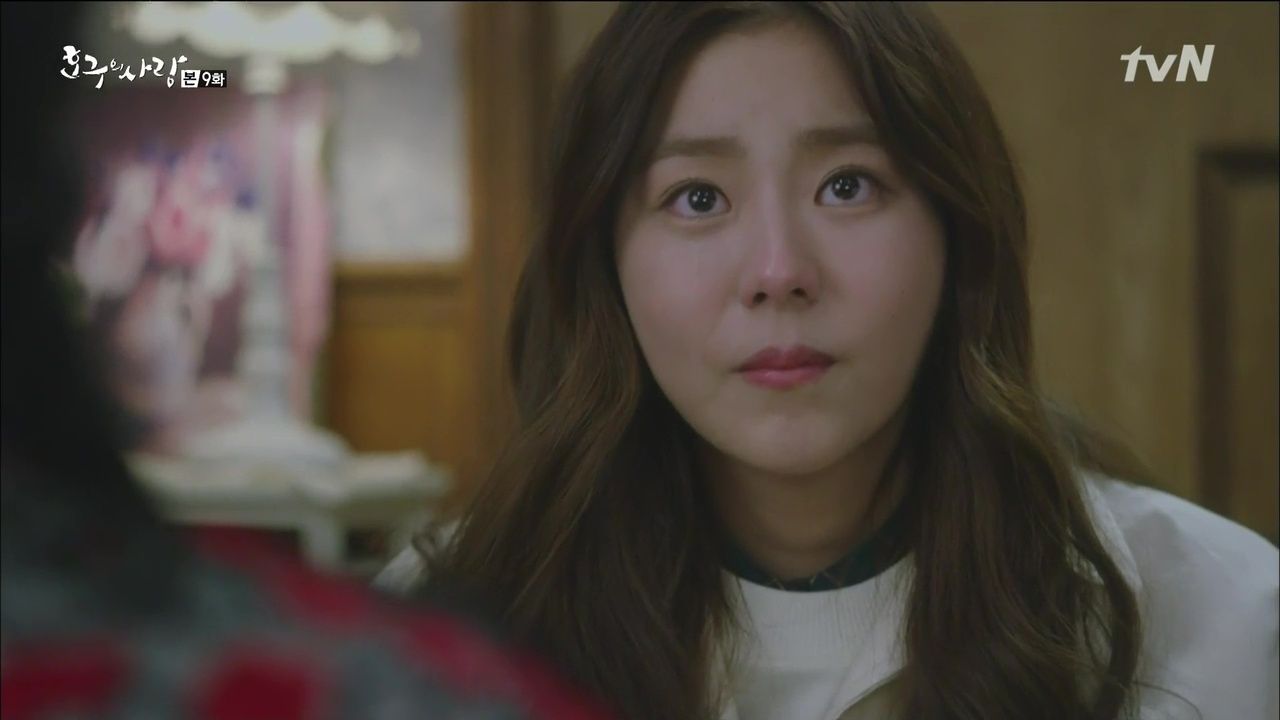 Before anything else, Ho-gu is the best friend anyone could wish for, and that's what I think Do-hee is responding to most right now. The poor girl has been alone in the world with just her coach to worry about her for years, and even Coach only needs her because she brings in money. She's been so hurt in her past that she doesn't let anyone in, feeling it necessary to hold everyone at a distance to avoid getting hurt. Like she said to Ho-gu's mom, she feels like she has to keep some bullets for herself, which tells me that she's been somehow betrayed or taken advantage of at some point and that's just so sad. I can't wait to see her learn to lean on Ho-gu and trust that he'll take care of her, and to learn more about who she really is behind that half-smile. And maybe see her gain a new mom in the process? Please, Show? As much as she needs a friend, she needs a mom. It kills me that Do-hee doesn't think she's good enough for Ho-gu, and explains so much about why she's holding back from letting herself get too close to him. It's not arrogance or her fame, it's that she doesn't feel worthy of being loved by someone like him. I think Mom telling Do-hee that Ho-gu liking her means she's a good person, was the start of something big in Do-hee.
I've seen Kang-chul getting a bit of a bad rap with some viewers, but I sort of really love him. Yes he may be pompous and stodgy and sometimes downright rude, but one thing I really appreciate about Kang-chul is that he's honest with himself. For a man in his professional and social circles, being gay could be a death knell to his career and his future. But though he's trying to hide it from the world, he never lies to himself. He's confused about Ho-gu and fighting his own feelings, but he's willing to entertain the idea that he may be gay. I like that he's not spending his energy trying to convince himself that his feelings are something else.
And that's not even getting into Ho-kyung, who I appreciate for just being a real girl who doesn't always have to be primped and dressed up all the time – sometimes a girl just wants to laze around in a ratty old sweatsuit and her hair up, ya know? Or Mom and Dad, who are probably my favorite drama parents of all time. What guy wouldn't want parents who celebrate with champagne when he has a female visitor? I feel like I've hit the "awesome character" jackpot with Ho-gu's Love, and I would watch these people paint a barn for sixteen episodes, if that's all the show was about. But lucky for us, we have a story that gives us some important things to think about like single motherhood and sexuality crises, because those are things that are important in our world today. And as good as the show's been in its first half, I feel like it's getting better and better with each episode, and I can't wait to see where it takes us.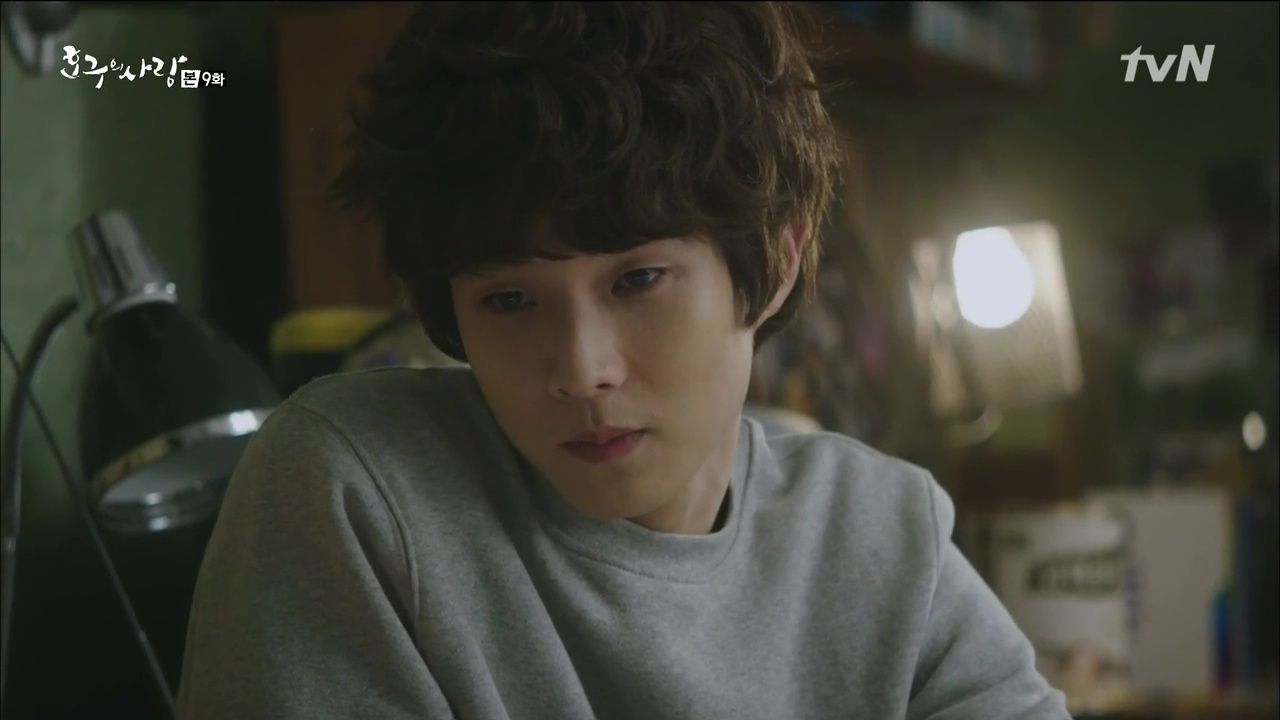 RELATED POSTS
Tags: Choi Woo-shik, featured, Ho-gu's Love, UEE