Hyde, Jekyll, Me: Episode 14
Oh I like this episode. There's payoff in the central conflict, and more time spent with our three main characters and the developing romance. Er, romances. The jury's still out on whether Hana is dating two guys or one, but the closer she gets to both of them, the more complicated it all becomes. If only your alter ego were an ugly toad. Too bad he looks just like you.

SONG OF THE DAY
Burstered – "기다릴게" (I'll Wait) [ Download ]
Audio clip: Adobe Flash Player (version 9 or above) is required to play this audio clip. Download the latest version here. You also need to have JavaScript enabled in your browser.

EPISODE 14 RECAP
The sting operation is underway, as Seo-jin heads up to meet Tae-joo, posing as Robin. He's wearing a wire so that Hana and Detective Na can listen in, in the hopes that Tae-joo will reveal his identity while Robin is hypnotized. (We've been told previously that Robin is very susceptible to hypnosis, while Seo-jin isn't, so hopefully that still holds true.)
Both boys plaster fake smiles on their faces before Tae-joo opens the door, and Seo-jin makes sure to grin and speak slowly in his best Robin impersonation. Seo-jin says that the memories have been coming in bits and pieces, but lately they're becoming whole. He presents his interest as curiosity over the events that led to Seo-jin creating Robin as an alter ego—he wants to know where he came from, and Seo-jin isn't into sharing.
Tae-joo surmises that the recent kidnapping events have dislodged some of Seo-jin's repressed memories, and then his pleasant façade slips for a second as he says that Seo-jin is just pushing the painful memories onto Robin, another form of hiding behind him.
Seo-jin baits him by saying that he's not sure that these memories are hide-behind-your-alter-ego caliber, and Tae-joo immediately twitches angrily. He's eager to dig around in the memories, so they begin hypnosis.
Seo-jin closes his eyes on cue, and Tae-joo begins firing questions in an even, flat tone, and Seo-jin responds in kind. It's enough to make Detective Na and Hana nervous about whether Seo-jin is really hypnotized.
Seo-jin describes waiting for his friend outside the haunted house for his friend Soo-hyun who called him there. Then once they're inside, someone drags them away. Tae-joo interrupts to say that he's got it wrong—the kidnapper grabs Seo-jin, and Soo-hyun clings to the man's leg, crying, "Why are you taking Seo-jinnie?"
Tae-joo says that Soo-hyun was kicked and hit repeatedly, but he never gave up. Well now I see why he's doubly angry about Little Seo-jin escaping without him at the end. Tae-joo sighs that their memories already diverge here: "Your memories… and mine." Oh. Is he going to say it?
Tae-joo is feeling a little cocky and says, "How do I know this? That's because… I… am your friend… Lee. Soo. Hyun." Ding ding! Hana gasps and Detective Na radios his squad to move in.
Tae-joo says that he's wanted to see Seo-jin for a long time, to work out the anger and resentment that he carries. He gets worked up as he says that what really angers him is that even in this moment, the one he's waited his whole life for, he's being forced to talk to the alter ego that Seo-jin created to hide behind.
At that, Seo-jin says, "Soo-hyun-ah," and opens his eyes. Aaaah! Seo-jin leans forward, and Tae-joo shrinks back a little, trembling. He gets up with a start when he realizes that it's been Seo-jin this whole time.
As the cops race up the stairs, Seo-jin tells him that the police are here and have been listening to their conversation. Tae-joo refuses to let it end like this, but he's taken aback when Detective Na rings his doorbell and demands that he open up. Wait, all you're going to do is stand outside the door and knock? And call Emergency? What'd we call the cops for then??
Seo-jin tells him that it's over, and that this might be the last chance they get to speak to each other freely and plainly. He apologizes for what he did to him and for forgetting all these years. Tae-joo doesn't seem to find it sincere enough, but Seo-jin says that he's also here to figure out the truth about their scars from being abandoned as kids: "And our lives that have been broken since that day."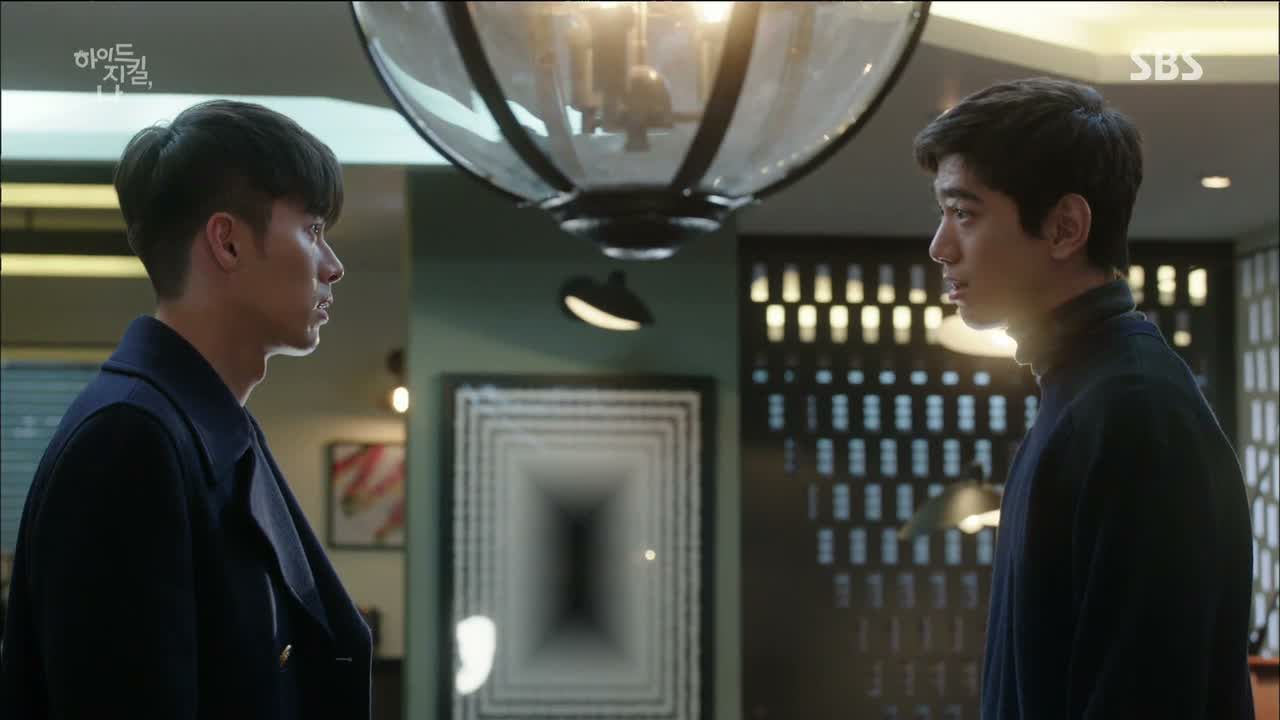 Seo-jin shuts off his listening device and almost pleads with Tae-joo to tell him that he wasn't in on it too—that he didn't call Seo-jin to meet him at the haunted house that day because he was a part of it all. The look on Tae-joo's face says he's innocent of that, though he gets defensive when it's implied that his father was an accomplice to the kidnapping.
Tae-joo insists that he was never abandoned by his father—Seo-jin was the one who left him there, and Seo-jin's father was the one who abandoned them both. Seo-jin argues that they were just children, and that it's okay to admit that they were thrown away by their parents: "We're the ones who are alive. No matter how difficult and painful, isn't it more important that we're alive?"
Tae-joo counters that Seo-jin might need an excuse to keep living, but there's no evidence that his father was involved. He accuses Seo-jin of inventing fake memories to hide behind, and Seo-jin surprises him by agreeing that the same thing worries him too. He asks Tae-joo sincerely if he doesn't remember anything about his father, and Tae-joo says no.
The cops are getting antsy outside, so Tae-joo tells Seo-jin that Dr. Kang is here in the apartment. While Seo-jin rushes into the hidden room to untie Dr. Kang, Tae-joo uses the moment to fling the door open on the cops with guns, and runs for the stairs.
They close in on him in the stairwell, but he manages to get into the elevator just in time. But when the elevator doors open in the basement, the cops are waiting, guns drawn. Tae-joo slowly raises his arms, holding a cell phone in one hand. Suddenly the song "Happy Together" starts to play on his phone—the one he used when treating the entire police department, when he hypnotized them to quit smoking and such.
They freeze like statues, and Tae-joo smirks as he just saunters past them and rides off on his motorcycle. Detective Na flips out to hear that they lost him, but the officers say that they couldn't move a muscle as soon as that song came on.
Hana runs up to the apartment, calling out for Seo-jin. As soon as she sees him, she talks a mile a minute, asking if he's okay and not hurt, and yelling at him for turning off the listening device when he promised not to, and what if something had happened to him—
Without a word, he just pulls her close and throws his arms around her, quieting all her fears. She sinks against his chest as he holds her tight, and they both close their eyes. The moment is interrupted by Detective Na, who comes to a screeching halt when he sees them. He mutters awkwardly in amazement that love is in the air at a time like this.
He sheepishly tells them that Tae-joo got away, and Seo-jin and Hana are so exasperated that they just walk out. Cousin Seung-yeon storms in, always two steps too late, and blusters to Detective Na that he had a hunch about Tae-joo being the bad guy. Uh-huh.
At the hospital, Seo-jin sits with Dr. Kang as she tells him about Tae-joo. She thinks she was too hasty about confronting him with his secret, because she was convinced that being alive would be enough for the two boys to heal their wounds.
She describes Tae-joo in a similar state to Seo-jin, having deleted the most painful memories that he couldn't handle as a child. Where Seo-jin had taken on his pain in the form of guilt, Tae-joo turned his into anger and vengeance.
She worries that he's been pushed over the brink, and that confronting the truth now might lead to terrible consequences. Seo-jin thinks that Tae-joo has nothing left to lose, but Dr. Kang says he's wrong about that—there's one weapon left with which to hurt Seo-jin. She must mean Hana.
Hana walks into the room and introduces herself, and Dr. Kang thanks her for everything she's done, and for staying by Seo-jin's side.
Secretary Kwon briefs Chairman Dad on the day's events, and admits to being a little miffed at being fooled by Seo-jin. But he beams proudly that everything is good now, and even yells at the chairman not to threaten Seo-jin with extradition every time something goes wrong. Chairman Dad gives him a little side-eye for his outburst, and Secretary Kwon bites his lip. I bet he's not sorry though.
At home, Hana tells Seo-jin that it was for a short time, but she had come to trust Tae-joo and feels betrayed, like there's no one to trust in the world. She can't imagine what that's like when the trust you lose is in your father and your best friend, and says that she wouldn't have been strong enough to survive the way Seo-jin has.
She tells him very earnestly that he's done a good job. It's a simple compliment, but it probably means the world to Seo-jin.
He just silently leads her to the batcave and sits down to start a recording, but hesitates before beginning. He looks up at her and confesses that he never thought he'd be in here recording a message with someone else present.
Seo-jin tells Robin that they rescued Dr. Kang and are looking for Tae-joo, and thanks him sincerely for his part in helping them get here. Seo-jin sighs that if there's one thing he really wishes, it's that he and Robin wouldn't be forced to interact solely via video message.
Robin wakes up and finds stories about Tae-joo all over the news. He checks on Hana who's fast asleep in her room, and when he notices that she's having a bad dream, he holds her hand and just sits next to her for a while, smiling at her.
Tae-joo stops by the river, alone with his thoughts, and keeps trying to shove out all of the looming doubt about his father. He swears that he's different—he's not like Seo-jin, and he remembers the truth.
Woo-jung and her father watch the news in shock, and when Woo-jung reaches for her phone to call Robin, Eun-chang grabs it out of her hand to leave the message for her. Dad smiles when he notices what's going on, though Woo-jung seems a little clueless about the cute boy with an obvious crush on her.
The police surmise that Tae-joo will make an attempt to contact the kidnapper, who's being treated at a hospital near the prison. They call the officers stationed there to be extra cautious, just as Tae-joo enters the building with a surgical mask on his face.
A CT technician arrives at the room to take the kidnapper for a scan, and the officers demand that he unmask his face. It's false alarm—he's a hospital employee. But then when the man wheels the bed back out of the lab afterwards, we see that Tae-joo is there. Ah, he had the kidnapper brought to him! Damn he's smart.
Tae-joo has him tied up in the corner, and prepares to sneak him out of the hospital. He admits that he planned on never coming face-to-face with his kidnapper, and thought that letting him rot in prison for a murder that he didn't remember would be enough for him. "But I don't think that's enough…"
Detective Na flips his lid all over again, and when the other cop suggests that Tae-joo must've hypnotized the other doctor at the hospital, Detective Na gets a little meta as he cries foul at the ridiculous number of people who've been hypnotized all too conveniently. You don't say.
Detective Na calls Seo-jin to update him on Tae-joo, and says contritely that he'd like to make sure that he and Hana remain safe. Seo-jin tells him not to worry since his security is here 'round the clock, but Detective Na worries about Hana and asks where she lives. Seo-jin: "My house. We live together."
The look on Detective Na's face is priceless, and I love how Secretary Kwon stifles a laugh, knowing exactly how that sounds. He promises not to step one foot outside the house, and heads up to check on Hana.
When she doesn't respond, Seo-jin worries and finds her burrowed beneath the covers looking pretty sick. He feels her forehead and rushes downstairs to make tea and grab sick supplies, just like she did for him.
He feeds her aspirin and checks her temperature, and she watches curiously as he runs down the list of things he remembers her doing for him when he was sick. He even apologizes for not having anticipated her being sick after such a rough day. Who are you right now?
He says it's his fault for not taking better care of her (aw), and then answers her phone when Eun-chang calls. He lets him know that Hana won't be at work for a while for security reasons, and when she protests, Seo-jin tells her that they have to be safe and that Tae-joo has already kidnapped the kidnapper. There's karma for ya.
Seo-jin says that it's his first vacation in years, and for the first time, he wants to do what his heart wants to do: "Let's do it all, slowly." Rawr?
Hana has a fleeting memory of seeing him by her beside last night and starts to ask if he was in here, but then realizes that it was probably Robin. Seo-jin heads down to his batcave to watch the security feed from last night, and crosses his arms when he sees Robin go into Hana's room at midnight and come out nearly eight hours later.
He's about to get angry, but then decides, "I did the right thing," suddenly taking credit for Robin's actions as if they were his own. He retaliates by leaving a passive-aggressive message to Robin asking why he didn't notice that Hana was sick and that he should've told Seo-jin.
We cut to Robin watching the message later, and he reacts like Seo-jin socked him: "She's sick?!" This is the weirdest pissing contest, and it's hilarious. So then Robin runs upstairs to check on Hana, hovering the same way that Seo-jin was. He criticizes Seo-jin's store-bought porridge and heads to the kitchen to cook.
Hana comes down and asks if Robin watched the video that Seo-jin left for him yesterday. Robin pouts that she's not allowed to mention Seo-jin's name around him, and tells her to start sleeping during the day so that he can get more time with her. He's adorable.
He tells her to stop smiling because he's still not onboard with sharing her. Hana knows that he's hurt and wraps her arms around him in a back-hug, thanking him for staying up all night with her. He softens at that, and she says that their lives have been so chaotic ever since she's arrived, and suggests that they just rest a while. He leads her down to his room, where they lounge around reading comic books. Well, she reads comic books while he stares moony-eyed at her face. It's too cute.
Tae-joo takes the kidnapper to a warehouse and demands the truth about his father. But Ahn Sung-geun's attack in prison has the man so spooked that he swears up and down that his father had nothing to do with the kidnapping.
Tae-joo looms over him menacingly, wielding a wooden beam that he's lit on fire. He screams the question over and over again, and every time, the kidnapper swears that his father wasn't involved. He's so afraid for his life that I don't believe what he's saying, but it's the right answer for Tae-joo, and he finally drops the beam and calms down, though now he's seething at Seo-jin for making up lies.
The police get a report from a drugstore where Tae-joo picked up bandages and other supplies, clearly intending to treat the kidnapper's wounds. They're relieved to see signs that he's not going to kill, and we see Tae-joo redressing the kidnapper's cuts.
He says that it's not time for him to die yet, because they have a lot of work to do. The police discover that Tae-joo is curiously leaving a very obvious trail with his credit card, as he moves south toward Busan for some reason.
Seo-jin does a double take in the morning when he opens the fridge to find it exploding with fresh food. He asks Secretary Kwon what the hell happened, and when he hears about Robin cooking for Hana, he heads to the batcave to watch the security feed.
This time it's impossible to hide the jealousy that's written all over his face. Robin cooks a lavish dinner and spoon-feeds Hana, but it's the way she laughs and smiles, and the way she looks at Robin that feels like a stab to the gut. Aaaaagh, poor Seo-jinnie. They just look so… happy.
Secretary Kwon heads down to his car to drive over to Seo-jin's, when he gets a weird feeling about a figure walking past in his rearview mirror. Not Secretary Kwon! When he turns around, nothing is there, so he shakes it off and drives out of the garage.
Hana is surprised when Seo-jin calls her down to dinner, and approaches the table warily. She asks if it's going to be like this—Robin makes her dinner so then Seo-jin has to do the same. Yeah, it's totally like that. But he says it isn't, and that he just wants to eat.
Seo-jin says that his time as Robin is like a dream that he doesn't remember, but because she remembers what happens, he'd like for her to tell him about everything so that he can share it with her. She asks how, and he says he wants to know what he does when he's Robin: "How to make you laugh. How to love you."
But before she can respond, all the lights shut off. Oh no. And outside, the trunk of Secretary Kwon's car is propped open. Is it that easy to sneak onto the extra-secure chaebol estate? Hitch a ride in the secretary's trunk? Bah.
Seo-jin tells Hana not to worry because the security team will be here any minute. But someone already is there—Tae-joo, who walks up right behind Hana and clamps a hand over her mouth.
Seo-jin is frozen in shock, and Tae-joo steels his gaze at Seo-jin and says, "You and I have truth left to unravel." Closing caption: Even though you weren't invited, even though you're not allowed.

COMMENTS
I think I prefer Tae-joo as the loose cannon. Not that he was a pillar of stability before; I was just getting tired of Dr. Kang living in his closet, with them rehashing the same conversation in different forms. It was good to have her around, since he treated her more like his therapist and clearly cared a lot about her opinion. But it was getting repetitive, and I like what we're seeing when Tae-joo is pushed to the brink and behaving erratically. They should maybe rein in his powers of hypnosis though, since I want to try and believe that he could hypnotize people in the right conditions, and his insta-hypnosis on everyone but Seo-jin is starting to feel like a magical power without limits. I know we're not exactly floating in realistic waters to begin with, but let's not go overboard.
I do like that Tae-joo is just Seo-jin's darker half, and now that they've been allowed to confront each other honestly as themselves, we really start to see how they're struggling with the same things, and just dealing with the pain in opposite ways. Maybe it helps that Dr. Kang has affection for Tae-joo and feels pity for him, but he really does seem like a lost kid lashing out, looking for somewhere to place the blame. And now, everything that he's accused Seo-jin of—running, hiding from the truth, misremembering events to protect his fragile emotional state—is exactly what he's doing himself.
More than anything, I loved the moment when Hana ran to Seo-jin, anxious and nagging him for making her worry. It's not even all that romantic on her side, but that kind of concern just hits Seo-jin right where he's most vulnerable, and that outburst means more to him than anything. All he did was hug her, but it felt like a big moment for them. Sometimes I'm frustrated at how slow their relationship is, but then other times I really appreciate the tiny moments, like that hug or the way Hana looks at Seo-jin like he grew a third eyeball when he starts fussing over her fever. He was so stiff and cold that all this show of warmth looks adorably awkward on him, and there's just something really endearing about his cautious I'll-wait-for-you approach with her.
Of course, the growing jealousy makes it even better, and I have a feeling that Robin's relationship with Hana is going to light a fire under Seo-jin's ass. It amuses me that they're both equally petty and feel the need to even the score at every turn—Seo-jin plays nurse so Robin has to, and Robin does dinner so Seo-jin has to. I felt a pang when Seo-jin saw Hana laughing and smiling with Robin, so easily, so comfortably. I know he's been trying to convince himself that it's him doing those things with her, but it has to hurt to see it so plainly that she looks at Robin differently. But then it impressed me when he asked her to tell him how to love her and make her laugh, knowing that it can't be easy to hear any of it. That's what makes me root for Seo-jin though, because while Robin forbids any mention of Seo-jin out of jealousy (cute as it is), Seo-jin swallows his pride and asks to hear about what Robin does to make her happy. Yeah, I'd say he's a keeper.

RELATED POSTS
Tags: featured, Han Ji-min, Hyde Jekyll Me, Hyun Bin, Sung Joon