Missing Noir M: Episode 1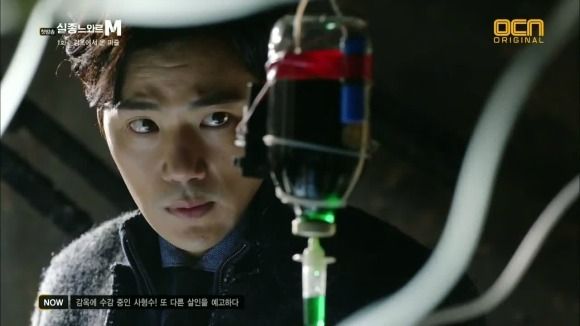 Now this is what I call a slick and smartly-written crime procedural. OCN's newest Saturday drama Missing Noir M premiered this week, introducing us to a team composed of a highly gifted former FBI agent, an experienced detective, and a hacker tackling on the most difficult missing persons cases out there.
Our opening case pulls out all the stops, delivering the spooks and chills in a taut and suspenseful narrative. Like most OCN shows that deal with the grittiest of crimes, this is no show for the queasy. But if you can stomach the gruesome elements, you'll find a show that will keep you on your toes for the full hour… and the other nine to follow it.
Note: If only there was a way to open up the time-space continuum to cover everything that I like onscreen. It turns out that Kim Kang-woo and his character's sexy brains aren't enough to bend the fourth dimension, but you can bet that I'll be tuning in for this one until the end.
SONG OF THE DAY
Xia Junsu – "꽃 (Flower)" [ Download ]
Audio clip: Adobe Flash Player (version 9 or above) is required to play this audio clip. Download the latest version here. You also need to have JavaScript enabled in your browser.
EPISODE 1: "A Puzzle From Prison: Part 1"
A lone police car pulls up to a large, deserted warehouse, and the officer approaches the plastic-covered structure inside with caution, until a breeze pulls back the sheet to reveal a startling sight: a man hooked up to at least a dozen or so intravenous needles. And good god—he's still breathing somehow.
At the same time, a prisoner jots down a letter before depicting the aforementioned setup precisely down to every gruesome detail. The walls of his jail cell are filled with scribbles, including a few circled key words and drawings of intravenous bottles. Once he's finished, he carefully tucks the drawing into an envelope.
Over at the police agency headquarters, Director Park Jung-do is briefed on the highly-gifted man with an IQ of 187, GIL SOO-HYUN (Kim Kang-woo), alternatively known as James Gil, who entered Harvard at the age of ten and worked as an FBI consultant-turned-agent until the recent past, though the reason for his resignation remains unknown.
We find Soo-hyun at home, reading an email sent anonymously that states cryptically: "This is not the person you are looking for." He's busy looking at an old family photo when the doorbell rings, and recognizes the director at once.
In fact, Soo-hyun remembers all the details of their first meeting, thanks to his exceptional memory. Judging from how the furniture is still covered, it hasn't been long since Soo-hyun has returned to Korea, and he doesn't have any concrete plans in state. Director Park wastes no time to present him with photos of the crime scene, along with the mysterious envelope sent to them.
The sender is a prisoner on death row, charged with murdering his entire family in order to obtain his parents' fortune and life insurance money. He was caught at the crime scene and sentenced to death a mere six weeks after confessing his crimes; however, he won't disclose where his young sister's body is.
The reason why Director Park has wrangled Soo-hyun into this case is because that envelope is addressed to him. The letter inside states that there have been more killings, but the sender refuses to meet with anyone except for Soo-hyun.
Unfortunately, the male victim passes away soon after being detached from the strange apparatus. As Soo-hyun closely examines the body, medical examiner KANG JOO-YOUNG (Park So-hyun) informs him that the victim experienced a slow death from malnutrition.
Furthermore, the regulator the victim was hooked up to kept him an inch away from death. Despite the automatic settings, she's certain that maintenance was quite a laborious task.
With that, Soo-hyun pays a visit to the incarcerated sender, Lee Jung-soo (cameo by Kang Haneul) who notes that his visitor is right on time. When asked why he keeps smiling, Jung-soo can't hide his wonder at meeting a former FBI agent. His tone remains matter-of-fact while sharing about his past accomplishments and childhood dream to Soo-hyun, adding that while he has various talents, he's not particularly adept at any of them.
Jung-soo catches himself in his personal boasting just then, though he breaks into another smile at the idea that he's done his homework on Soo-hyun. Prison leaves him nothing but time on his hands, Jung-soo says, and while the two possess a shared love of soccer, Soo-hyun rooting for a rival team would make them sworn enemies.
Jung-soo isn't at all disappointed at the idea that he may never get to see his favorite team play in person, holding fast to the idealistic hope that dreams may still come true. But that's enough of the small talk, and Soo-hyun gets straight to the point: the police found one victim of his multiple-IV apparatus, but Jung-soo's note suggests there are more in the same state.
Jung-soo snorts in response, impressed that Soo-hyun is better than he'd anticipated. He agrees that no one reveals all of their cards at the start, which is why he's set up a little game for Soo-hyun.
I have to admit that almost-clownish smile on Jung-soo's face is rather disturbing; he looks rather pleased with himself while Soo-hyun reads the seven hints he's listed for him. On the other side is a rendition of an iconic Salvador Dali painting, and Jung-soo says the rules are simple: figure out the victims' identities and he'll tell Soo-hyun where they are.
Drawing closer, Soo-hyun's voice drops down to a whisper to ask, "Why me?" Jung-soo returns a cryptic answer and makes sure to clarify that these people are dying, not dead, just like how the first victim was still alive when discovered by the police.
"See you tomorrow," Jung-soo chirps. And so the game begins.
At the crime scene, Soo-hyun visually combs the place for clues and gathers enough information to deduce that the first victim, a 44-year-old college professor, had been missing for approximately three months before passing. He notes that Jung-soo has calculated the exact number of bottles to keep his victims alive in his game.
Furthermore, Jung-soo's version of Dali's "The Persistence of Memory" differs from the original in that two of the clocks (versus one) show a distinct time—the first being the hour they first met (3 PM), and the second being the hour the victim should expire (11 AM). And since Jung-soo mentioned that they'll see each other tomorrow, that means they have 17 hours to track down the victim.
Soo-hyun isn't interested in running around with a gun, however—what he needs is a partner.
And that's how we're introduced to detective OH DAE-YOUNG (Park Hee-soon), who has his nose in a law dictionary while on stakeout. His reason for studying up so much? "A detective is someone who catches those who break the law. But should a detective break the law? One needs to know the law to protect the law."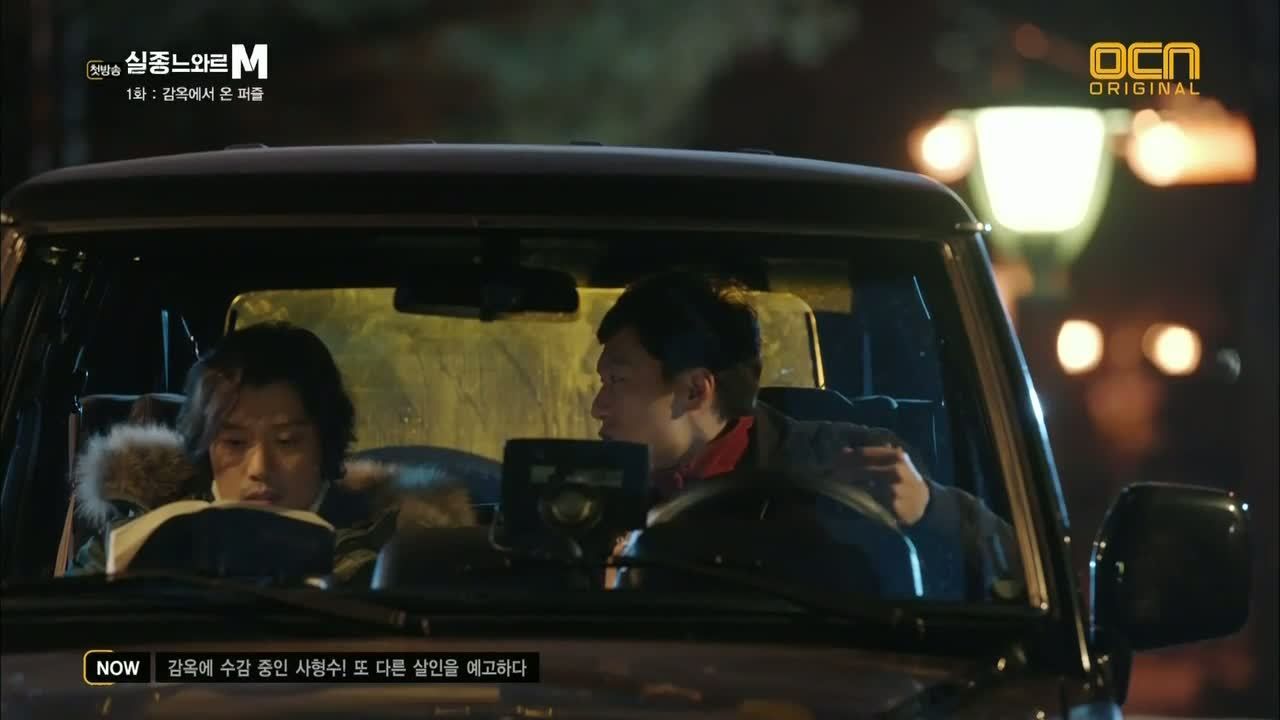 When his partner points out that time Dae-young "borrowed" a different warrant for another arrest, Dae-young counters that that was a shortcut. Hee. His partner's confused response is enough for us to deduce that Dae-young is quick on his feet when it comes to handling his cases.
Meanwhile Soo-hyun reads over the hints again, guessing that there some truths hidden among the falsities. It's the clear-cut and repeated words that appear to rise above the page that are the clues he needs to follow, which means two of the seven lines have a high chance of holding the truth.
He calls up the Cyber Crime Investigation line which connects him to JIN SEO-JOON (Jo Boa). She'd been waiting for his call, and when she says it'll be difficult finding someone with so little to go on, Soo-hyun replies that's why the police director recommended her.
That gets him starting on the right foot with her, and Seo-joon says she'll be in touch again in an hour.
Dae-young pulls up with his car just then, having been called in by Director Park. He introduces himself in his limited English, only to be flustered by Soo-hyun's perfect Korean. While Dae-young is interested in getting to know more about his new highly intelligent partner, Soo-hyun is focused on the case at hand.
That leaves Dae-young a bit miffed, thinking that the former FBI agent is lording over him. But Soo-hyun calmly says in a warm voice that they have exactly 15 hours to find their middle-aged victim lest he die.
And with a deep sigh, Dae-young tacks on the cherry on the roof, then zooms off. Oh it is on.
Pulling up to the harbor, Soo-hyun uses the hints to deduce the date of the first snowfall, and Seo-joon calls with the details of a tire factory president, Shin Ji-sub, who's currently on the run and facing bankruptcy. Even Dae-young is surprised that their vague hints matches perfectly to where they need to be, and the two head inside a motel to speak to the manager.
Bribing doesn't work on both men, and Dae-young impresses by asking for the long-term log, since a runaway would need lodging. Sure enough, there's an entry and Dae-young impresses again by calling up the number and pretends to be a courier dropping off a package for Shin.
That leads Soo-hyun and Dae-young back to Shin's home, where his wife grows worried at hearing that nothing's happened to her husband yet. It's been some time since she's heard from her husband who's been running from loan sharks, then falls silent at the mention of his possible last whereabouts.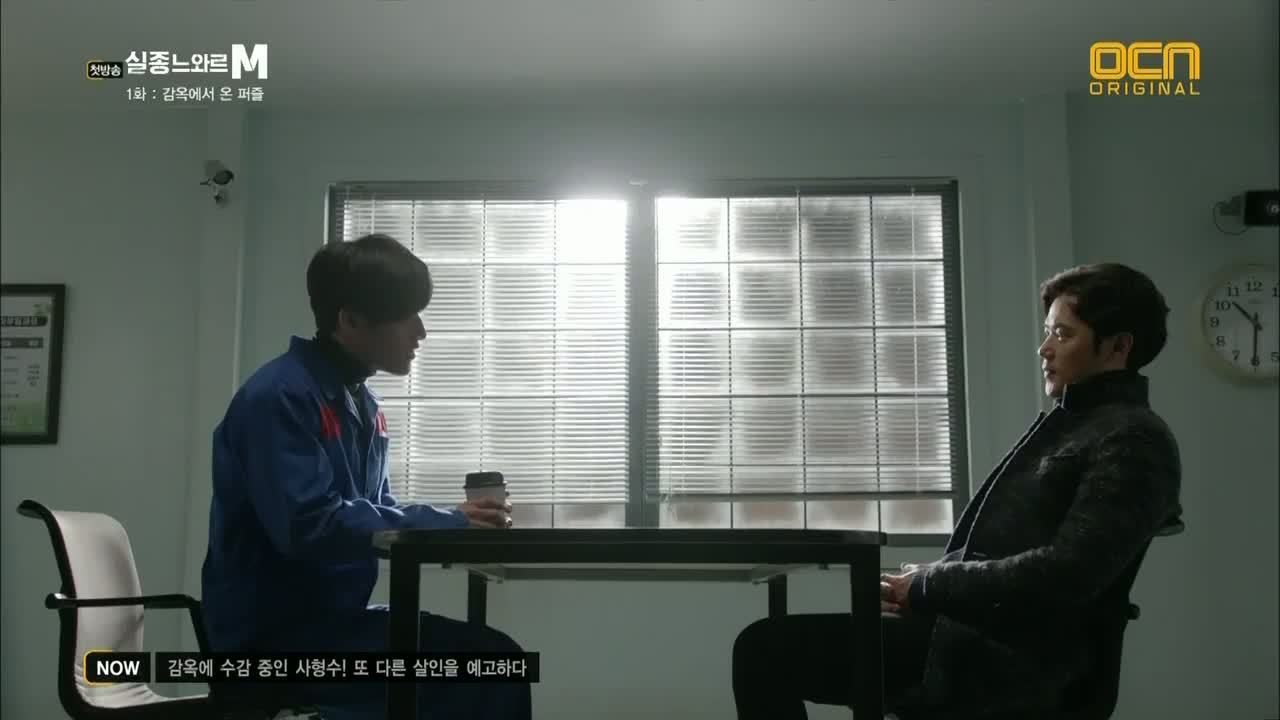 Soo-hyun assures her that they're here to help her missing husband, and she breaks down in tears, crying that she's been waiting for her husband's call ever since he said he planned on fleeing to China. That was on December 19, the day of the first snowfall, but since Shin never made it on the boat that same day, Soo-hyun deduces that he's the missing person they're looking for.
10:30 AM. Jung-soo brightens at the coffee waiting for him, touched that Soo-hyun would remember one of the luxuries he's been snubbed of while behind bars. He's pleased at how quick Soo-hyun is at arriving at the right answer, then launches into a long-winded story about the history of coffee.
Jung-soo doesn't miss Soo-hyun checking his watch in the middle of his story, but as promised, he hands him the location of where Shin is. "Hope you're not too late. Hurry up."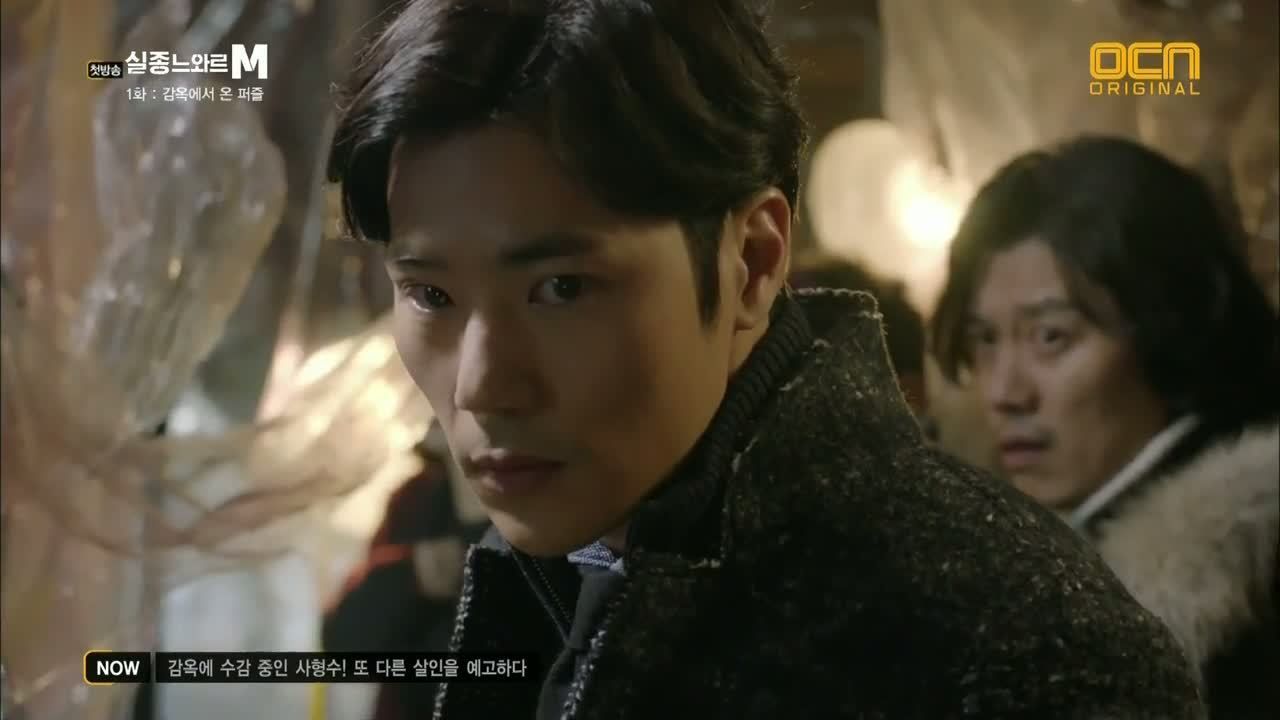 Soo-hyun and the authorities rush over to a deserted sauna, where Soo-hyun accidentally knocks against a tripwire that triggers a guillotine and slices off the head. Oh shit.
It turns out to just be a dummy, but that's when Soo-hyun remembers another hint: "As the beheaded scarecrow cackled, the man in the black house died." Taking another look at the card Jung-soo had just given him, Soo-hyun realizes that this is yet another clue… which means he's got the wrong place.
You can clearly see the terror and rage written on Soo-hyun's face at his belated error, and he sends the police out to hunt down the actual address. That leads them to a charred house, but they're too late—the victim is already dead.
To be exact, Soo-hyun has missed the deadline by a mere four minutes, the time in which another IV has been injecting the body with lethal poison. Jung-soo sure as hell doesn't kid around, though he does bust a gut when Soo-hyun bitterly asks if he calculated that Soo-hyun would misread the address.
But there's no time to mourn the dead, Jung-soo says, because Soo-hyun has just 24 hours to find the next victim. This time, the card simply contains an eight-digit number (24608741). Time's a tickin', Jung-soo reminds him.
Soo-hyun is called in by the medical examiner, leaving Dae-young to drive down to Chungcheongnam-do (in western Korea) while Seo-joon to find any reports of missing women in that area. There's one woman who's a possible match, but there's been no record of any bank or online activity for the past fifteen years.
Gathered at Soo-hyun's house, Dae-young initially tries to call the number, only to find that it's non-existent. Heh, worth a shot. By assessing the initial seven hints again, Soo-hyun notes a mention of a woman then rearranges the digits, which points them to a possible district code and a partial identification number.
Soo-hyun is informed that both victims exhibit evidence of torture, and Joo-young shows him a piece of foil found in the first victim's stomach. Wrapped inside contains another eight-digit number (20000220), and there's another note in the second victim's stomach: "History repeats itself."
Meanwhile Jung-soo is busy sketching out another scene: an empty chair hooked up to multiple IVs and a timer.
Dae-young gets an uneasy feeling when he finds the woman's neglected house covered in vines. But the next thing we know, he's getting his ass whooped in a game of Go Stop with the neighborhood granny who scared him awake the next morning.
He asks the granny about the missing woman Kang Soon-young, a name that causes some unease among the elders. Soon-young was an orphan and there were rumors of her promiscuous ways—she was a teenage mother whose child supposedly died at a young age. No one knows where she is now, since they heard she skipped town with a man fifteen years ago.
Soo-hyun is basically out of time Dae-young calls to say he doesn't have much of a lead. But it matters little at present, since Jung-soo refuses an audience with Soo-hyun since he's come alone.
Seo-joon supposes that the victim is dead by now, but Soo-hyun believes they still have a fighting chance. They still have seventh hint left that could still contain some clues, and a quick internet search has Seo-joon wondering if a black soutane means they should be looking for a priest.
Dae-young hangs back at Soon-young's place to search for traces left behind. He discovers a growth chart on the wall and a child's expense log, which would be strange for a woman who abandoned her child for another man.
One halbae that was at that Go Stop game earlier remembers Soon-young as a devoted mother who sold her body to make ends meet. In those times, she'd send her young son away on an errand.
Soo-hyun follows up on a priest who took orphans of incarcerated parents under his wing. Father Paul has taken a long sabbatical and a personal retreat, so it's been some time since he's last kept in touch.
With that information, Soo-hyun heads up a mountain to secluded cabin. The door is unlocked and there are signs of disturbance, but unfortunately Soo-hyun is again too late, discovering the late priest on his knees with his neck roped to the ceiling.
As Dae-young wonders why an incarcerated serial killer would have the detectives running around looking for a woman who has no relation to him, his ramyun break is cut short when he spots an old photo of Soon-young hanging outside a storefront window.
Examining the broken glass and furniture has Soo-hyun surmise that Jung-soo exhibited fierce rage in this place. Joo-young's initial conclusion is suicide, and she discovers yet another piece of foil that was inserted post-mortem. In it contains a date: December 29, 1989.
And what do you know—it's the same date of that old photo Dae-young spotted earlier of a young Soon-young standing apart from four young men in front of the train station. Then a moment of realization: all four male victims were from Soon-young's past (and it appears that one is Jung-soo's father. Hmm, foster parents or did Jung-soo track down who his birth father was?)
Seo-joon is told to look up unidentified bodies of young women gone missing, because Dae-young can't shake off the notion that a devoted mother wouldn't simply abandon her child. It puts him on the right track, and he buckles down to rifle through the hundreds of relevant cases until a photo of the same flower hairclip young Soon-young wears in the photo catches his eye.
It turns out the case went cold when they couldn't find a DNA match on the body that was discovered seven years ago, which has since been cremated. Dae-young can't understand why Jung-soo would have them chase down a ghost, but Soo-hyun believes these serial killings were messages that ties back to Soon-young's disappearance fifteen years ago.
It's with a heavy heart that Soo-hyun hands over the urn containing Soon-young's ashes. Silent tears fall from Jung-soo's eyes, and Soo-hyun asks if he kidnapped and tortured those male victims in his search for Soon-young.
Jung-soo replies that he's the one that determines the rules of this game, and now Soo-hyun's excellent work has qualified him for the real game: find Soon-young's murderer.
But Soo-hyun declines the offer—all four men in this photo are now dead. "Is there a point in continuing this game if there's no one left to die?" he asks.
A long moment of silence passes before Jung-soo poses a frightening question: "Could there truly be no one who could still die?" He slides over the drawing of the chair and IV setup we saw earlier, only now there's a girl sitting in that chair.
Astonished, Soo-hyun asks, "Could this be… your younger sister? She was alive?" And Jung-soo breaks into a wide, amused smile. Oh fuck.

COMMENTS
A spine-chilling opening, indeed. Despite coming in fairly blind prior to the show's premiere, Missing Noir M certainly exceeded my expectations with a missing persons crime solving unit spearheaded by a genius ex-FBI agent and his highly intelligent team members. I'd say we barely had time for a formal team creation in this episode, what with all the case information crammed into this opening hour.
At this point, I'd say Missing Noir M would be safe without one, and I'd be okay with getting to know our characters as the story develops. I always believe a good show can (and will) successfully establish its characters and their relationships to each other within an hour, which is certainly the case for this show. Even from their first case, our core trio of characters makes a pitch perfect team between Soo-hyun's brains, Dae-young's street-smarts, and Seo-joon's tech-savvy skills. It's certainly nice to see that Soo-hyun has dependable and trustworthy folks on his side, which leaves us more time to see more of his exemplary (and stylish) deductive skills in action.
In fact, I appreciate that we as viewers are witnesses to the fact that despite Soo-hyun's cleverness, he isn't always perfect. One fine example of that is when he realizes the grave error made in the search for the tire company president. We could see the horror so plainly written on his face and the surge of anger that comes with being outsmarted by a serial killer psychopath behind bars. As always, Kim Kang-woo does a fantastic job of delivering that emotional moment, along with his portrayal of Soo-hyun as an astute and smart hero who isn't haughty about his intellect around others. Not only were there moments when Soo-hyun was left impressed by his new partner, but there's a sense of respect and trust towards the experienced detective as well, particularly when the trio has to divide and conquer in order to gather more clues.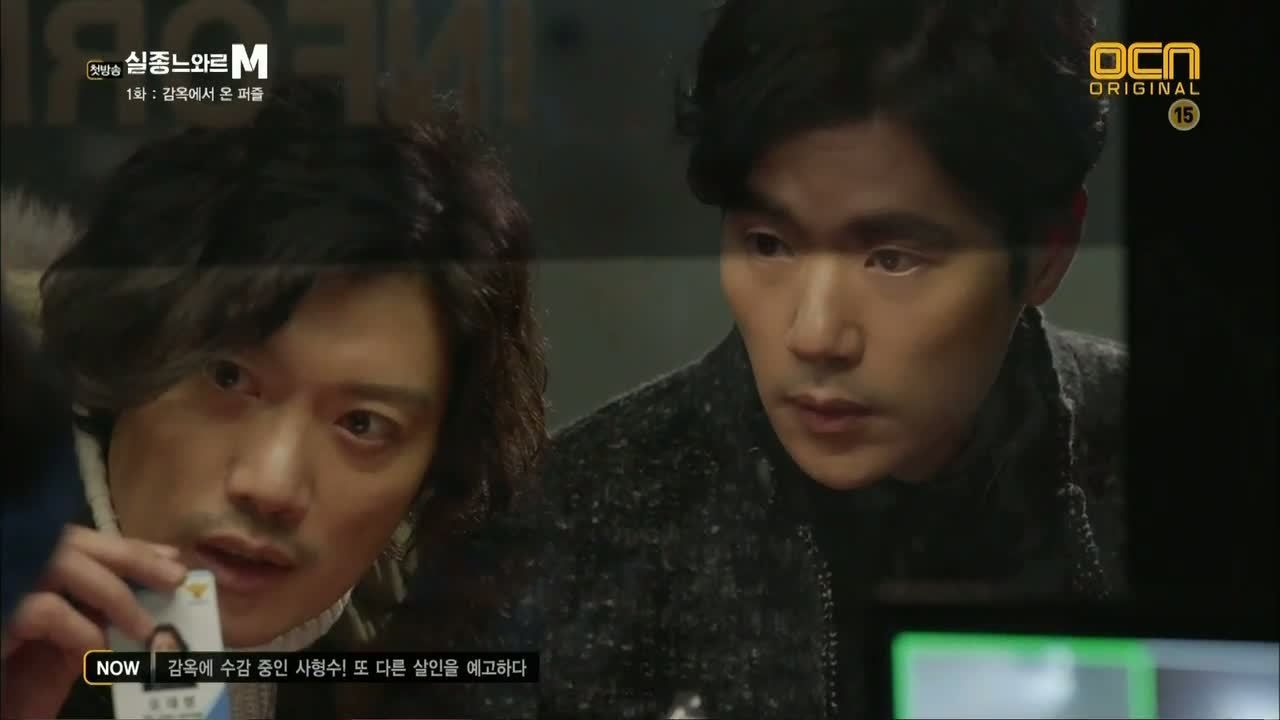 Soo-hyun's working relationship with Dae-young is still very much in its early phases, and while I enjoy their respectful regard for one another, I would love to see what it'd be like when the two butt heads and argue about how to handle the case-of-the-week. This first episode was painted much darker than I'd anticipated (yes, even with the word "noir" in the title), but don't get me wrong—I like gritty crime procedurals, but I also love me some crime thrillers that also boast bickering and solid bromances (see: Bad Guys). Seeing the ebb and flow of these character relationships is what propels character development, and there's got to be more to Soo-hyun than meets the eye.
Production-wise, it's safe to say we'll be in good hands with PD Lee Seung-young of the TEN franchise. Delivering suspense to hints that overlap and intertwine with one another is no easy task, but if our first case is any indication, then we have nothing to fear because the direction so far is in support of the story playing out, not getting in the way. But even with good direction, our first case is an interesting labyrinth of clues, and each detail carries equal weight. Missing Noir M is a show that requires you to pay attention, because you could miss a visual or verbal clue easily. Which makes it super fun for a viewer, but maybe not so much for a recapper trying to gauge which one clue is more important than another.
Still, Missing Noir M can boast that it has a pretty kickass opening with a cryptic puzzle presented by a psychopathic serial killer. Heartless as the incarcerated man may be towards his victims, there's an undeniable emotional response in Jung-soo's shock at Soon-young's fate. We won't get to know the answers until the next hour, and only if Soo-hyun is willing to play his dangerous game.
RELATED POSTS
Tags: featured, first episodes, Jo Boa, Kim Kang-woo, Missing Noir M, Park Hee-soon