Netizen hunters become the hunted in Social Phobia
There's a new thriller movie about to release, and it features a few of the latest trendy things: social media, Byun Yo-han (Misaeng), and up-and-comer Lee Joo-seung (Pinocchio, Let's Eat 2). The movie, titled Social Phobia, tackles the dark side of online social networks, taking as its capsule description an "SNS witch hunt."
The plot unfolds when one young man serving in the military commits suicide, which gets the whole nation talking, particularly online — while there are netizens expressing sympathy and sorrow, there are also hateful comments being generated deriding the military, which originate from someone called Re-na. Newcomer Ryu Joon-yeol plays a character who kicks off the hunt to find Re-na and punish her, and he gathers together a group of eight participants to track her down.
Among the group are our leads, Byun Yo-han as a young man hoping to become a police officer, and Lee Joo-seung. The group manages to locate Re-na's house… only to find that she's already dead. Because the leader has been broadcasting their doings on social media in real time, they now become suspects in her murder, and the group suddenly find themselves the target of netizen ire. And furthermore, doubts arise amongst the group until they're suspecting each other of being the true killer.
So Byun Yo-han takes the lead in figuring out the true cause behind the girl's death, and the plot unfolds in a way that mimics real time, with the SNS world becoming almost a character in itself as its reactions affect the actions of our main characters and shape the course of the film.
Sounds like a timely film, and these are two actors I'd be happy to see more of. We all know about Byun Yo-han's sudden skyrocketing to fame, though it looks like he'll be showing a much more serious side than his Misaeng character (who wasn't without seriousness, but was marked by a fair amount of levity and playfulness). Lee Joo-seung is a face I've been seeing quite a bit of lately; he's really been racking up those supporting drama performances and doing a solid, if understated, job in all of them (the somber little brother in Iron Man, the office maknae in High School King of Savvy). But it was the indie movie Shuttlecock that netted him strong praise and several acting awards last year, and I've been keeping my eye on him.
Social Phobia was first screened at last year's Busan International Film Festival, and will release in theaters on March 12.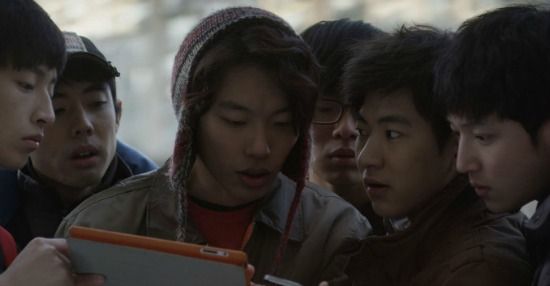 Via Mk.co.kr
RELATED POSTS
Tags: Byun Yo-han, Lee Joo-seung