Persevere, Gu Hae-ra: Episode 11
We're in the final stretch of things, and Team Persevere has never been stronger. We see that Hwangje's one weakness is something Team Persevere lacks: greed. President Hwang struggles to keep face with the rising popularity of Team Persevere, fearing that everything he built on his fraudulent foundation will soon come crashing down. Meanwhile, Team Persevere builds up their reputation against all odds, finding contentment in the small victories and small truths they find along the way. We get somewhat of a break from the miserable love triangle, which is a relief and means a little bit more smiles for everyone.

EPISODE 11: "Goodbye, my love"
Se-jong finds the contract under President Hwang's laptop, and a quick glimpse shows that Hae-ra's mom had unknowingly agreed to hand over all rights to her husband's songs in exchange for the paid surgery bills. The door to the office suddenly opens, and Se-jong ducks under the desk. Scarlet gasps when she sees Se-jong and quickly turns around to distract Daddy with something really important to say.
Panting and sweating, Jang Goon arrives at his father's Chinese restaurant and grabs Ki-joon as he steps out. He demands to know why Ki-joon hates him so much, but he's told that he doesn't have much time by Ki-joon, who gestures to inside the restaurant.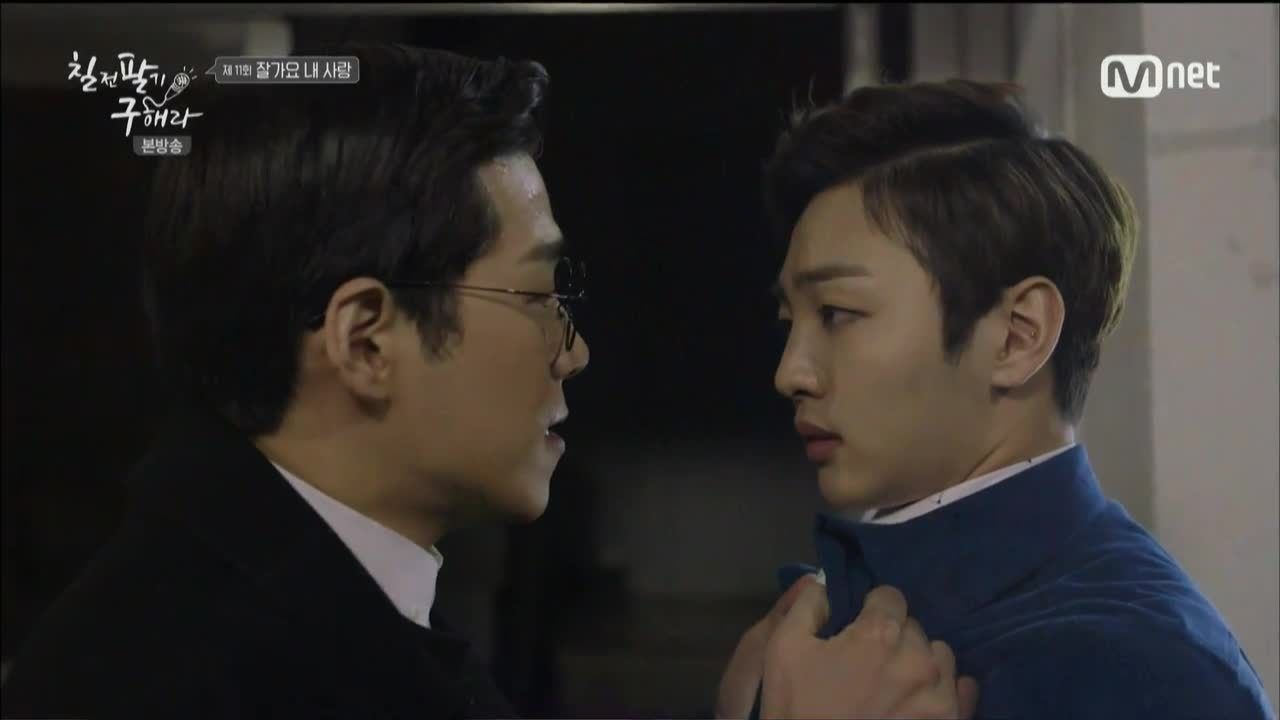 Scarlet continues her very important message to Daddy saying, "To be honest… Kang Se-jong…" She glances at the desk where Se-jong is hiding. "I still like Kang Se-jong." She asks Daddy to bring him back to the company, since he acknowledges his looks and talents. Her confession has never been timelier.
But then, she takes out her phone to call him, and Se-jong scrambles to take out his phone to silence it before it rings. Done with Scarlet's tantrum, President Hwang heads towards his desk, but Scarlet pretends to call Se-jong and asks him to return to the company, prompting President Hwang to follow her out in Daddy mode. Wait, did Scarlet just save the day?
Outside his office, he tells her that Se-jong can't return to the company under any circumstances. She pouts that Daddy always told her anything can be bought with money, but if he so insists, then so be it. She walks away, leaving Daddy exasperated. Meanwhile, Henry waits in the lobby of Hwangje, antsy about his appointment with President Hwang. He gets a worried text from Woo-ri asking where he is, and he seems to come to a realization.
Jang Goon meekly enters the restaurant, and his father sits at a table, deep in thought. When he sees his son, he feigns excitement and offers to make them jjambbong. As he cooks, he thinks back to his encounter with Ki-joon. Anticipating a reaction of grave disappointment, Ki-joon played the recording of Jang Goon admitting that he likes Tae-poong. His father takes a moment to digest this information and calmly asks Ki-joon if he's done with his food. It's not the expected reaction, so Ki-joon asks if he understood what the recording meant and offers to replay it. Jang Goon's father turns to him and says, "Whatever that means doesn't matter. Jang Goon is my son. Regardless of who he is and how he lives his life, I love him because he's my son."
Back in the present, Jang Goon's father cries as he cooks. Jang Goon looks through the newspaper cut-outs of him collected by his father. When his father comes out with the jjambbong, Jang Goon thanks him for the food delivery for their performance and somberly apologizes. But his father is all smiles and pats him on the back, assuring him that he has no reason to apologize. Awww.
Se-jong runs down the stairs and sees Scarlet waiting. She demands to know what he took from the office. He thanks her for hiding him but refuses to hand it over because it's a document that ruined a family. Her father may be a good person to her, but he's not like that to everyone. Hae-ra suffered the consequences of her father's egotistic ways.
Scarlet can't understand why Hae-ra's so important and warns him that he's at Hwangje. Is he really going to risk ruining his life for this girl? Se-jong says that it doesn't matter. To him, Hae-ra is everything. Scarlet finally comes to her senses and realizes that she has no chance with Se-jong. She snatches the contract and rips it up just as President Hwang notices the disappeared contract and sounds the alarm.
Everyone evacuates, and Se-jong catches Henry at Hwangje's lobby. They head out together and report back to the team. All of the hit songs that built up Hwangje up to what it is now belonged to Hae-ra's dad. The contract signed over all copyright and ownership of the songs to President Hwang, and he had built up his reputation as renowned composer. The last composition in Hae-ra's possession threatened to reveal him as a fraud, so he went to extreme lengths to get rid of it.
Woo-ri suddenly bursts into tears and confesses that Hwangje stole her voice. She was Scarlet's shadow singer and couldn't tell them because she signed a contract to keep the secret. Se-jong confesses that he signed one as well — to cover up Ki-joon's accident and keep silent about his fake scandal with Scarlet — to return to Team Persevere. Hae-ra thanks him, grateful that she knows how talented her dad really was.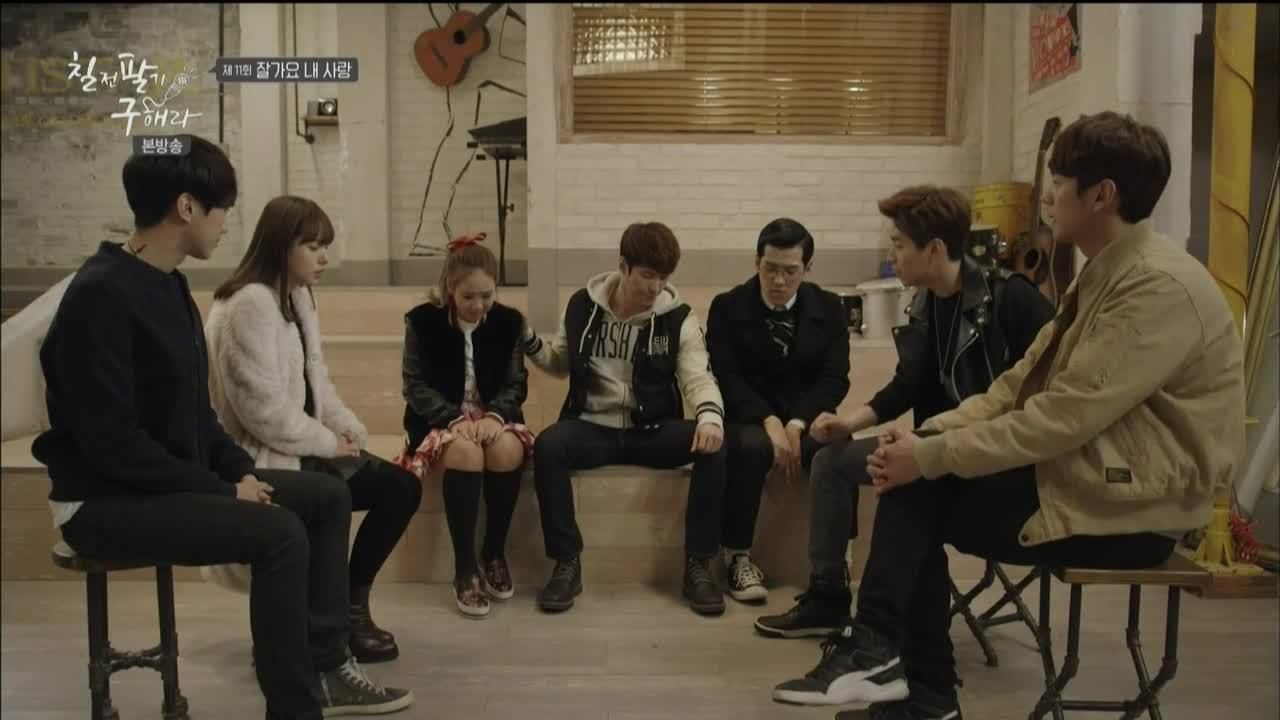 Tae-poong turns to Henry and asks why Se-jong found him at Hwangje. He gets up and accuses all of them for forgetting his birthday. While they were ignoring him, President Hwang had tried to coax him into the company. Woo-ri says that technically, his birthday isn't over yet and leads him to the roof while covering his eyes.
When she uncovers his eyes, Team Persevere is there with a candle-lit cake and Woo-ri hands him one candle as everyone begins to sing. Following last week's theme, it's g.o.d's "One Candle," and Tae-poong even takes part in the singing. The lyrics are perfect to show their support for one another: So that you don't feel alone / I will hold your hand
After the song, Jang Goon gives Woo-ri credits for preparing all of this, and Henry seems even more pleased. The two eat cake separately from the group, and Henry asks Woo-ri to be his girlfriend. He tries to feed her a strawberry, but it falls, leaving frosting on her lips. He swoops in and kisses her. Though she's initially shocked and looks a bit angered, she agrees. Yay!
Hae-ra tells the rest of Team Persevere that she's excited to take on Hwangje as a tight-knit team, and Ray says that they'll work hard to get number one in the charts. Tae-poong nods in agreement and notes that they probably couldn't win the charts because their song was a remake. Se-jong looks afar at a concert advertisement billboard, which gives him an idea. He suggests that they do a Team Persevere concert, and the rest of the team excitedly agrees.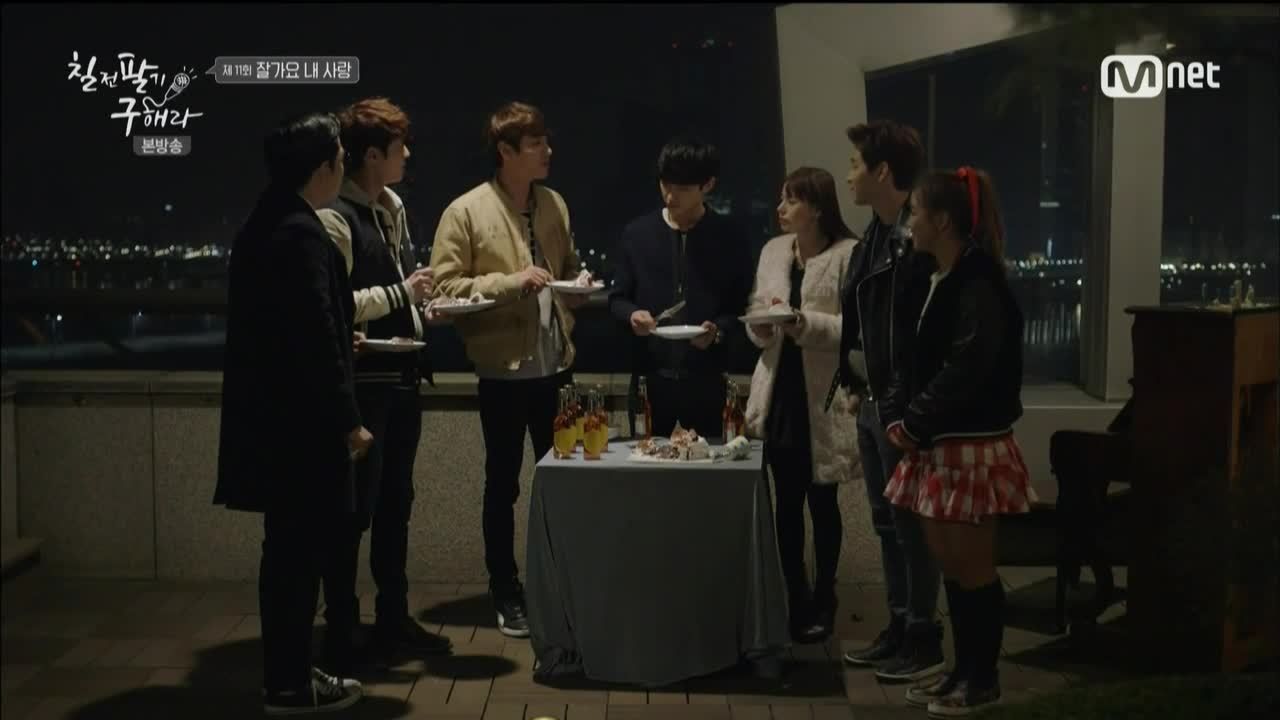 Scarlet walks into Daddy's office with the ripped contract in hand and tells him that she knows everything. He first tries to justify his wrongs, but realizes that she read the contract. Then she must know that he bought the songs and they legally belong to him. Scarlet admits that she was disappointed at first, but she is Daddy's daughter. She's completely done with Se-jong, but her tone of voice doesn't seem to convincing. She tells Daddy to take care of the contract and leaves the office.
Manager Pyun walks out of the building with heavy sighs and thinks back to his scolding by President Hwang. He gets blamed for losing contact with Henry and then gets ordered to ruin Team Persevere by any means. It seems like a typical demand, but he seems tired of being President Hwang's punching bag. He surprised by two fangirls with signs that say "5-1=0." They're Se-jong's fans and want him to return to Impact. Sly Manager Pyun lets slip that Se-jong left Impact for that one girl in Team Persevere, Gu Hae-ra, and the fangirls clearly take note.
Woo-ri happily texts Henry before she sleeps, and Hae-ra says that it's nice to see her happy with him. Noticing Hae-ra's downcast mood, Woo-ri asks about her, Ray, and Se-jong. Hae-ra admits that she was thankful that Ray was always there for her when she needed someone, but Se-jong finally told her what she's wanted to hear for so long — that he likes her. Woo-ri advises her to make her feelings very clear, using her own experiences with Jang Goon as reference. At first, she was really hurt, but she was able to settle her feelings more easily because he was direct.
The next morning, breakfast is interrupted by a call to Tae-poong from the music program. Based on the polls, it looks like Hae-ra and Scarlet will be facing each other in a sing-off. Tae-poong rushes out to the meeting, where Manager Pyun rejects all the PD's requests and makes the rules in Scarlet's favor: no live singing and no childhood pictures. A reporter swoops in and questions why Scarlet has no childhood pictures. She smells something fishy.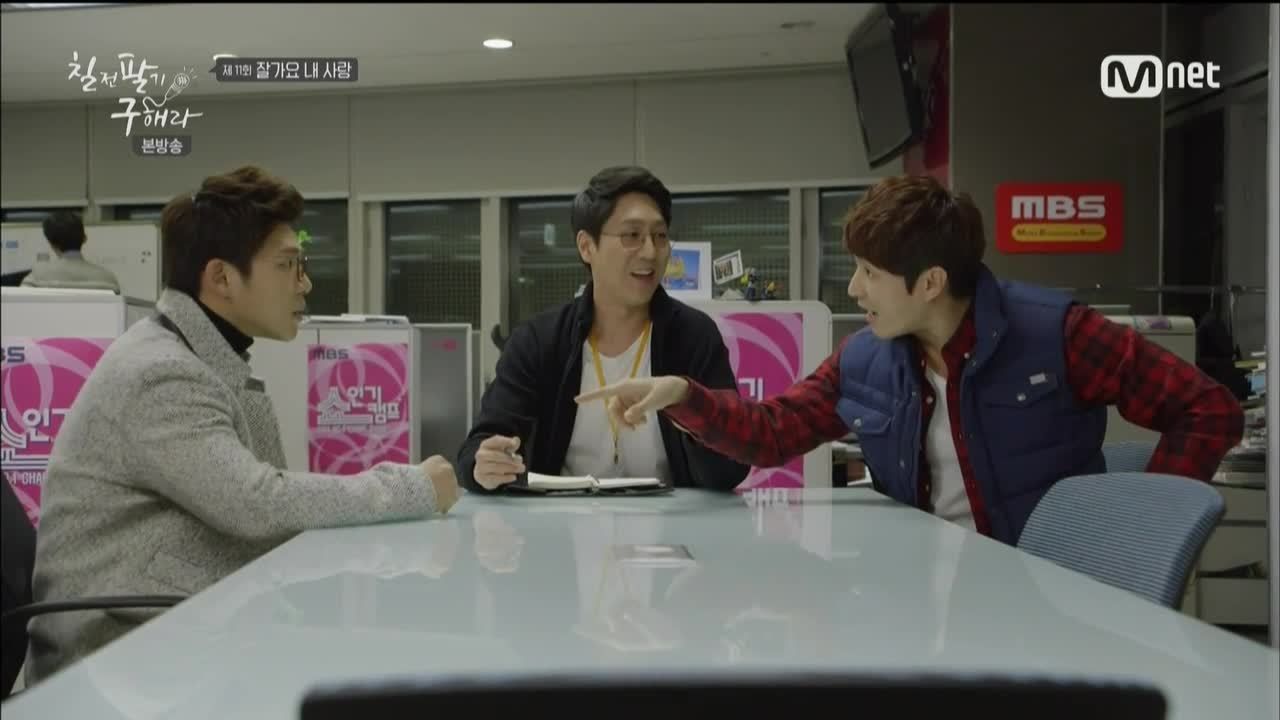 Unfortunately, Daddy didn't have enough good karma to persuade the music program head to drop Hae-ra, so Scarlet and Hae-ra end up at the music program recording together. They're both given sponsored jewelry to wear during their performance, and Hae-ra takes off her initials necklace to try it on. When asked about it, she says that it's a one-of-a-kind necklace, which doesn't go unnoticed by Scarlet. They leave all their valuables in a safe, and Scarlet stays behind.
As Scarlet heads to the stage, she's stopped by the reporter, who asks if she's really from New York. She starts questioning the legitimacy of her claims, since there are no records of her from the school she claimed to attend. Flustered, Scarlet confirms that she really did attend St. Nicholas and quickly leaves the situation.
As Hae-ra and Scarlet pass by, Ki-joon gives a quick nod to Scarlet, and we see why. Hae-ra returns to an empty safe, her sponsored necklace and initial necklace both gone. Team Persevere walks into the dressing room, and Scarlet haughtily orders them to bow to their sunbae. Only Se-jong does so, but she rejects him. Hae-ra tells them that her necklaces disappeared, so the team disperses to looks for them. Se-jong has an idea and runs out, and Ray follows him with a picture of the necklace.
Outside the room, Ray is approached by the reporter, who asks if he knew Scarlet from St. Nicholas. Ray says that she's never seen her there and goes on his way to search for the necklace. He searches the brand on his phone and calls a taxi.
Se-jong requests security to show him the surveillance footage around Hae-ra's room, and he sees Ki-joon coming out of the room. He tracks down Ki-joon and accuses him of taking the necklace. Ki-joon denies any knowledge of the necklace and sneers that even if he did take the necklace, he wouldn't be giving it to him now, would he? Se-jong just about jumps on him, but Tae-poong interferes just in time.
The live broadcast begins, but Hae-ra doesn't set up on stage because she doesn't have the necklace. Just as she's about to go on without it, Ray arrives with the necklace. She thanks him and rushes onto the stage. Ki-joon and Scarlet are shocked that Hae-ra managed to make it with the necklace, and she continues the performance of AOA's "Miniskirt."
Afterwards, they're joined by Sunmi in a performance of "Full Moon." In a meeting room, a man name Jamie — the producer for President Hwang's new project — takes particular interest in Hae-ra.
After the broadcast, Team Persevere praise Hae-ra's performance, but she turns to Ray to ask where he found the necklace. He claims that he got lucky. Scarlet storms into the room accusing Hae-ra of using a fake necklace, but the jewelers confirm that it's real after checking the engraved initials. They find Scarlet's accusations suspicious, but she leaves the room with a snobbish attitude.
Se-jong thanks Ray for "finding" the necklace, and Ray defensively responds that he doesn't need the gratitude from him. Se-jong adds that he doesn't think that he just got lucky with finding the necklace but doesn't dig any further. As Ray walks away, he runs into Scarlet on the phone, asking Ki-joon what happened. When she notices Ray, she stumbles over her feet and falls. He helps her get up, but she rejects him saying, "I'm so all right."
That triggers a memory, and Ray asks Scarlet if she's Grace. Scarlet pretends not to know what he's talking about, but he presses on with his intuition. She gets silent and says that she's not Grace, not anymore. Ray agrees and says that the Grace he knew was a different person. She turns to him and accusingly asks, "What do you know about my experience? What do you know about the times I suffered being bullied, made fun of, and getting hurt?"
Ray grabs Scarlet and responds, "That doesn't justify you to steal. As a person who's been hurt before, you shouldn't be hurting others in the same way." That message resonates with Scarlet, but her thoughts are interrupted by the reporter who overheard the conversation. She approaches Scarlet with a picture of Grace and asks to talk to her separately.
Ray finds Hae-ra on the balcony and takes off his necklace. He says that his grandma in the States gave him this cross necklace, and he wants Hae-ra to wear it. But Hae-ra thinks back to Woo-ri's advice and refuses. She says that she's always thankful for him, but that gratitude is hindering her real feelings. If she stayed with him, she'd be betraying his feelings. She asks that they stop here and walks back inside. Ray takes a moment on the balcony, and the Se-jong fangirls watch from below.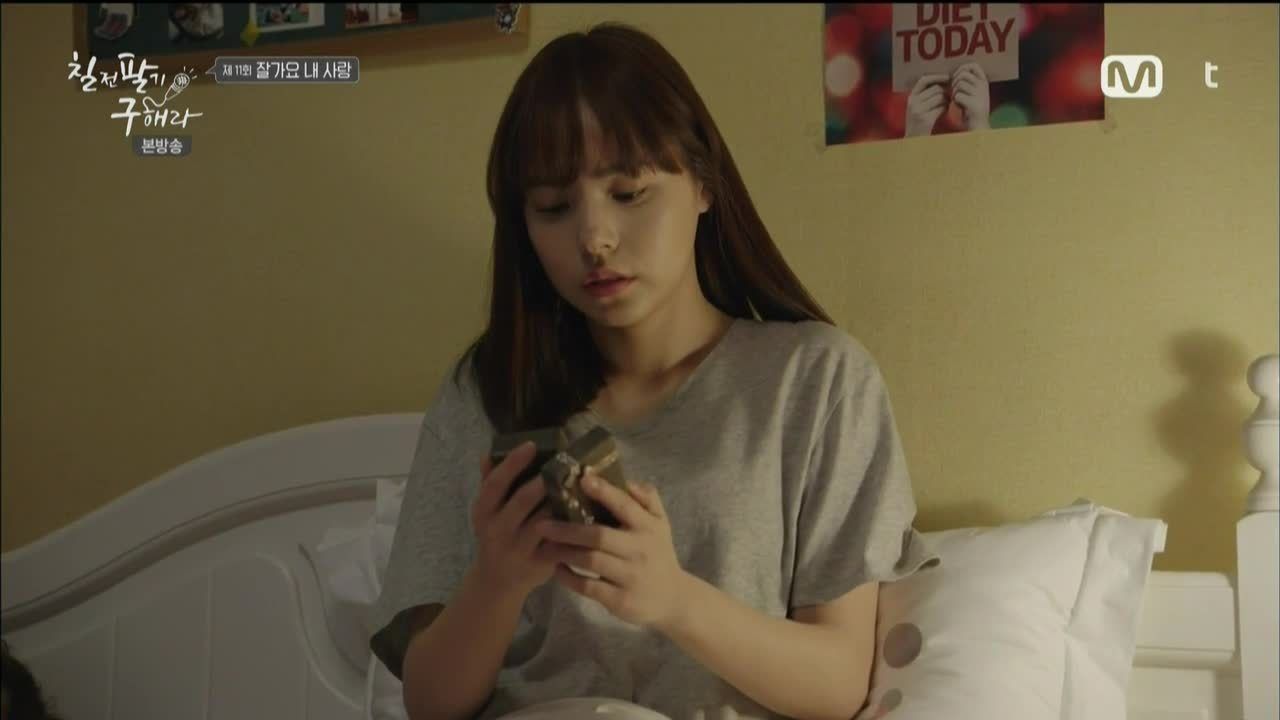 When Hae-ra returns to her room, Woo-ri tells her that Se-jong left something for her. It's a small box, and Hae-ra opens it to find a new necklace with her initials. She narrates, "People have selective memories for things that are favorable to them and unintentionally hurt people: the person who first made my heart flutter, the person who I'm thankful for. Today, I left the person I'm thankful for and will make my decision so that I don't become more apologetic."
The news erupts with the reports on Scarlet's fake voice and fake body. Scarlet asks Daddy to fix the problem, but there's only so much he can do. He tells her to go abroad to the U.S. while he settles this issue, but she refuses. She wants Daddy to solve his for her now. Scarlet runs out crying, and Manager Pyun reports that their stocks have dropped significantly since the scandal reveal. President Hwang orders the new project with Jamie to be launched as soon as possible.
Team Persevere gathers at a café to plan their concert set list. Tae-poong proposes that they have a duet and asks who hasn't been matched up yet. Woo-ri and Henry volunteer themselves, and Jang Goon also points out the Hae-ra and Se-jong have yet to partner up. Hae-ra and Se-jong stay behind at the café to talk. He asks about the initials necklace as he recollects how important that is to them.
In a flashback, we see the original trio in 2009 on Hae-ra's birthday. They sing, she blows out the candles, and they have a special gift for her. It's her birthday, but it's also the 10 year anniversary of their friendship, so Se-jong whips out a box with the initials necklace. If you flip the initials certain ways, it can say "GHR," "KSC", and "KSJ" for all of them.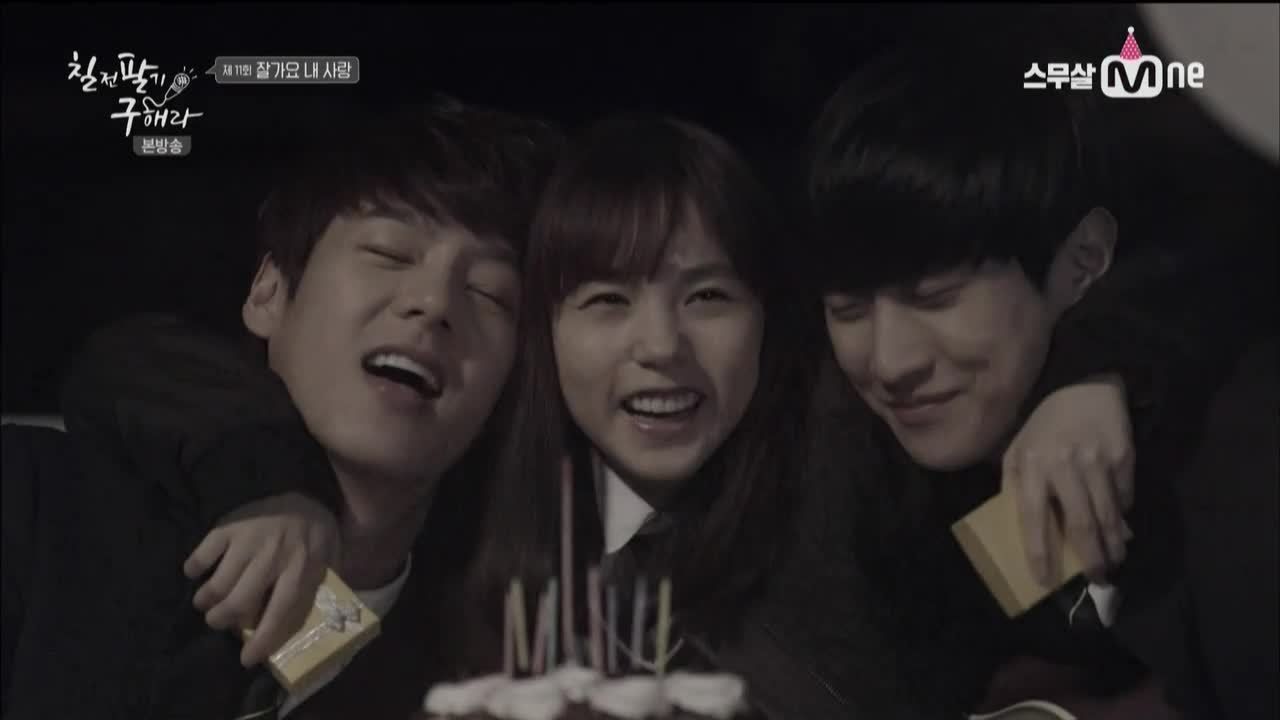 Back in the present, Hae-ra returns the gift. She says that she can't accept it. "Actually, I don't need it. The me who liked you in the past doesn't exist anymore. Over time, things change. I've changed, so don't impose your feelings on me. Or else, we may not even be friends anymore." She starts to leave, but Se-jong stops her and puts the box back in her hand. He tells her that the necklace belongs to her, so she can do whatever she wants with it.
In the meeting for the new project "2015 Show," Jamie expresses his excitement over the talented groups he's seen, especially Team Persevere. President Hwang argues that Team Persevere cannot participate in the show because they're not a contracted team. Jamie doesn't seem too happy with that regulation.
Team Persevere busily prepares for their solo concert, with about a week left to go before the actual performance. In the middle of their practice, Tae-poong comes in with good news: their tickets are sold out!
Ray and Se-jong find themselves at the convenience store, each buying separate drinks. They both deliver them to Hae-ra, but the drinks are returned to their rooms, much to their disappointment. On the balcony, Se-jong asks Ray if something happened between him and Hae-ra, and Ray gives a straight answer. He admits that his necklace offer got rejected and essentially got dumped. Se-jong says that he did the same and got rejected as well. Before Ray goes inside, Se-jong proposes a truce at least until their concert is done so that they can see Hae-ra be comfortable and smile again.
Hae-ra walks into the practice room the next day and attempts to excuse herself when she notices both Se-jong and Ray there. They approach her with their proposal, saying that they're the ones who like her and with that comes a responsibility for the consequences. They want to bring back bright Hae-ra, so they ask her to forget about their conflicts during their concert preparations. She thanks the guys, and Jang Goon runs in asking for Henry and Woo-ri's whereabouts.
They're off somewhere enjoying each other's company, and they sing As One's "Love+." The song continues with a montage of Team Persevere practicing as we progress closer and closer to the concert date.
Meanwhile, Tae-poong calls up other composers like Park Jin-young and Yoon Jong-shin asking if they have markers in their songs so that they can recognize it as their own. But he comes up with nothing of significance. Manager Pyun reports Tae-poong's behavior to President Hwang, who's even more annoyed with Team Persevere. He tells Manager Pyun to take care of their concert with no mistakes, and Manager Pyun assures him that he's taken extra steps to ruin their plans.
Sure enough, Tae-poong gets a call on the day of the concert informing him that 500 of the tickets were cancelled. When they arrive at the concert venue, it's closed because of a gas leak. Team Persevere worries about the disappointed fans, but there's little that they can do. Tae-poong returns to the car and tells Se-jong that he'll need to meet the sasaeng fan who caused the gas leak for her to confess.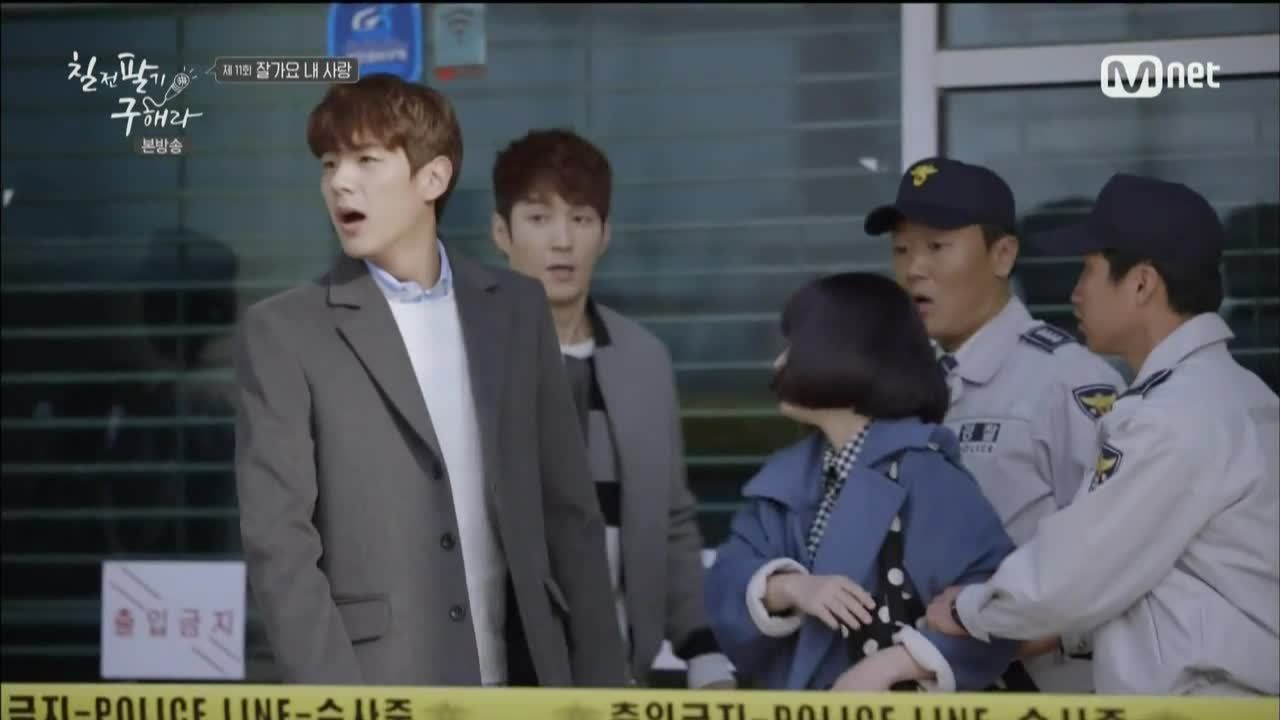 Se-jong goes out to greet the fan, but she immediately slaps him. She calls him a traitor for leaving Impact and says that she heard everything from Manager Pyun, who promised to bring Se-jong back into Impact if she caused the gas leak. She warns him about her accomplice, who's supposedly a crazier sasaeng than she is. She seems to threaten him, advising that he look out for himself and Hae-ra.
As the police escort her away, Se-jong overhears the disappointed fans. He overhears one fan talking about a shopping mall, which sparks an idea. Team Persevere takes it to the streets to advertise an impromptu concert to be held at the shopping mall later that evening. When the time comes, they introduce their guerrilla concert to the large eager crowd and begin the show.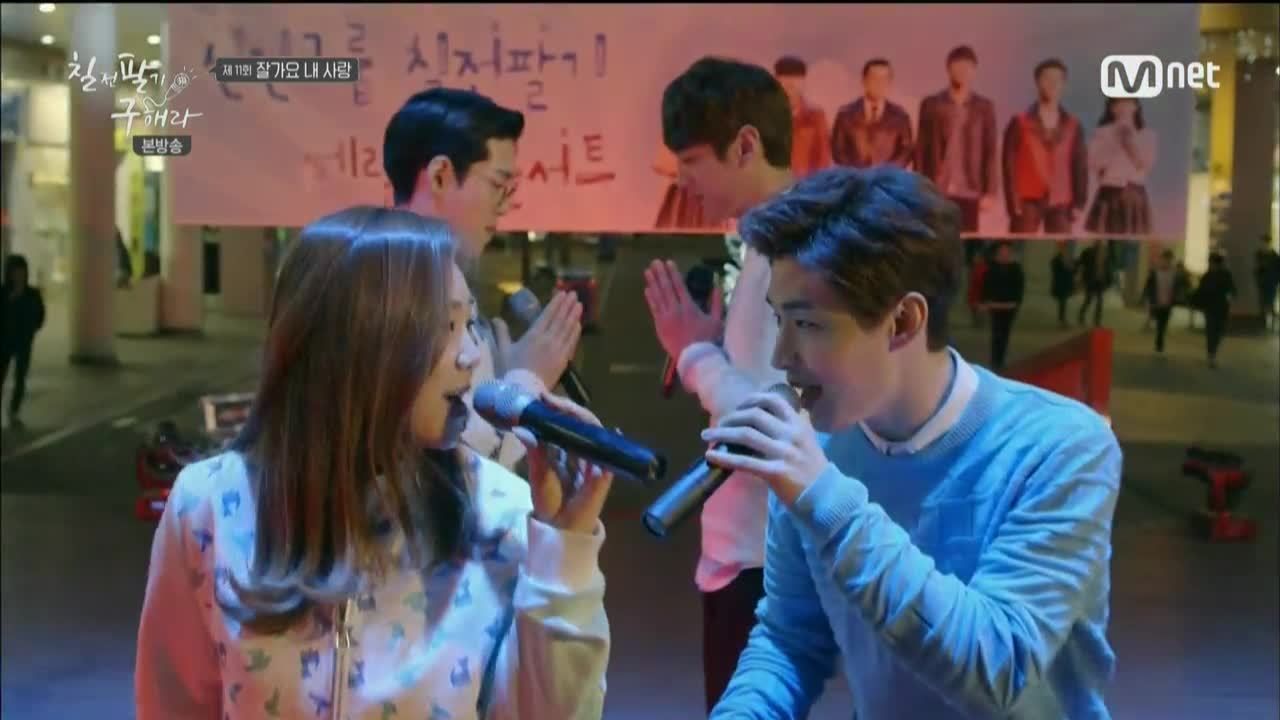 In true Team Persevere fashion, they fill the stage with their performance of Shinhwa's "I Pray 4 U." Jamie watches them from the top floor and calls President Hwang demanding to have them on his show. When President Hwang refuses to bend the rules, Jamie argues that this is his show and he'll have them on at his request. Yesss.
The media blows up with footage of Team Persevere's concert, and the fans are thoroughly impressed with their live performance even though they didn't get to attend the formal concert. After their song, Hae-ra apologizes to the crowd for failing to hold their concert. She begins to choke up, so the rest of the team takes over to thank everyone for their support.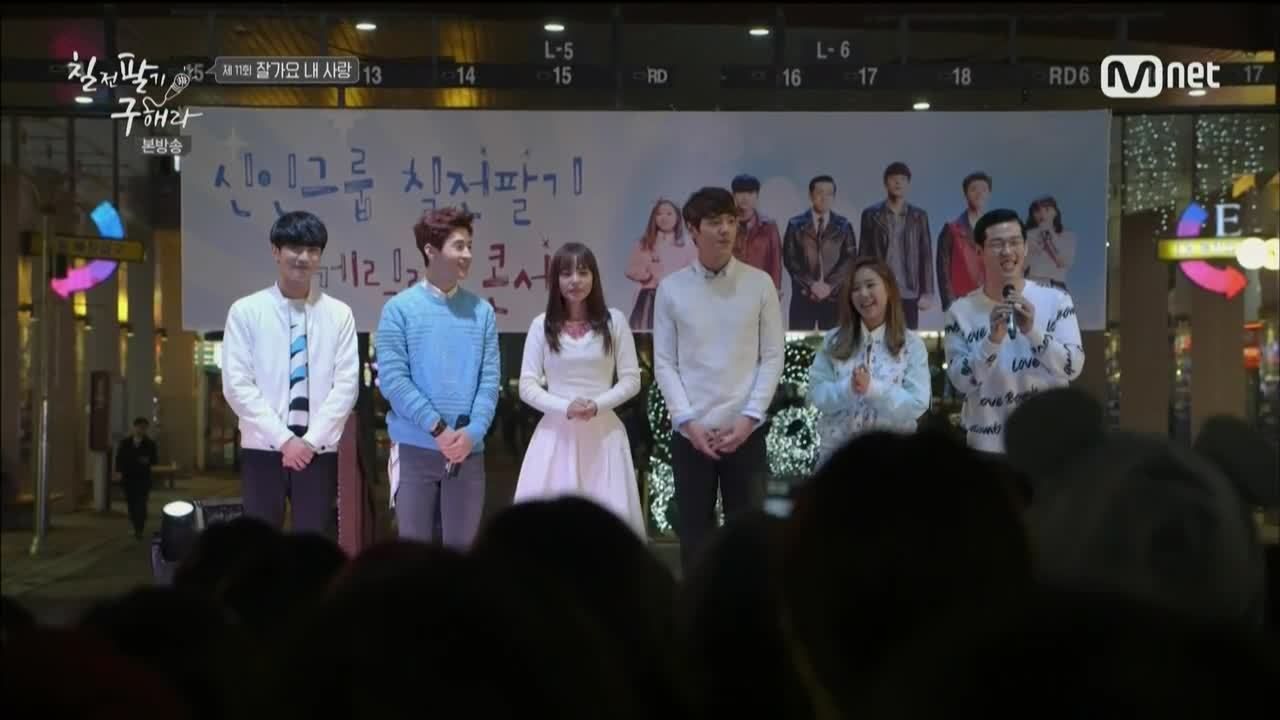 Onto the next song, it's Hae-ra and Se-jong's turn to sing their duet with Park Ji-yoon's "I Fell In Love." They're cute and happy throughout the performance, but one fan doesn't seem pleased to see them together. She's the sasaeng fan, and when she takes a quick opportunity to run onstage and seemingly stab Hae-ra.
Ray runs on stage to drag the sasang fan away, but the damage is done. We look down to Hae-ra's torso and see blood stains. She looks up to Se-jong in shock, and the rest of Team Persevere rushes on stage to escort her down. But she tells them she's not hurt. She's okay.
She turns around and sees Se-jong slowly walking towards them in silent pain. He has the wound on his side and eventually collapses. Team Persevere rushes to his side, and Tae-poong holds him. Before Se-jong loses consciousness, he gives Hae-ra a reassuring smile and closes his eyes.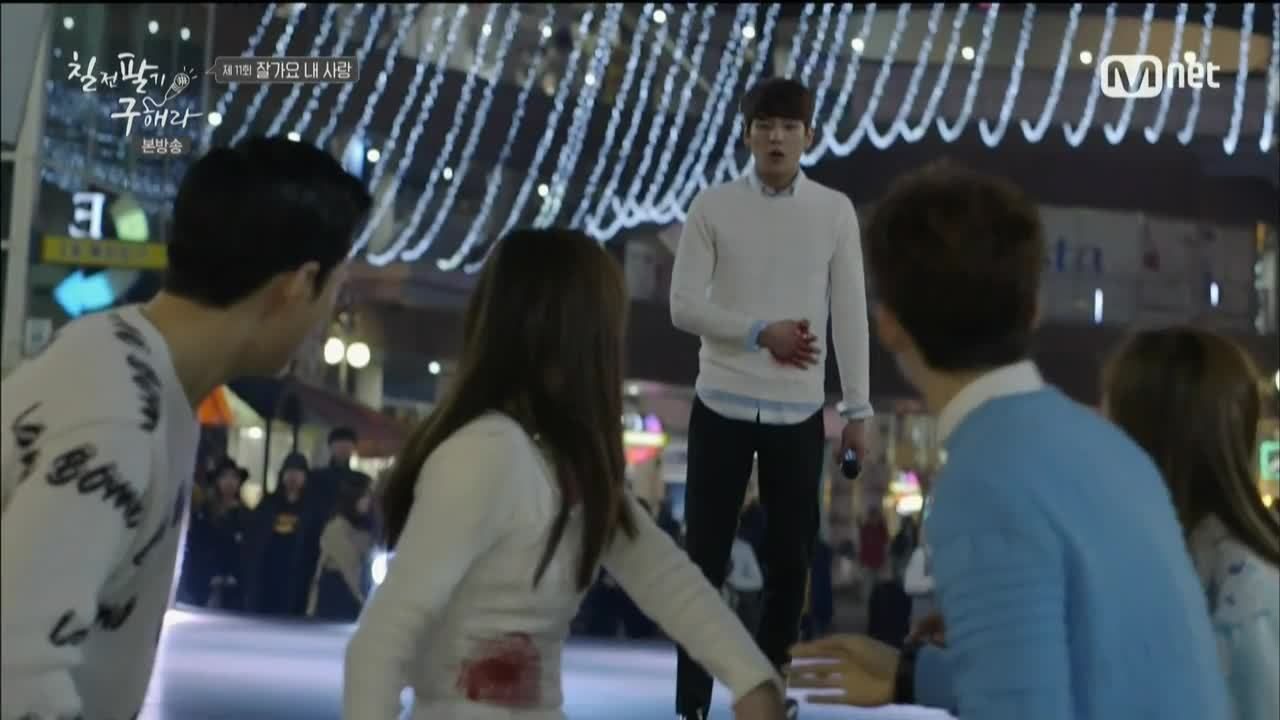 EPILOGUE
Ray rushes into the jewelry store and searches for the necklace. The worker recognizes him as Ray from Team Persevere and tells him that she's a big fan. She helps him find the necklace, but Ray has to call his father to help him pay for it. On the phone, his father offers to give him the large sum of money under the conditions that Ray return and take over his father's business. Ray agrees to the terms and thanks his father for the help.

COMMENTS
I was surprised to find some liking with Scarlet in this episode, even in her oscillation between relatable and insolent. She still annoys me, and I understand that she's meant to be a sort of nonsensical character at times. But she seemed much more reasonable and human in this episode. She portrayed some level of care, vulnerability, and finally some logic in accepting who she was in relation to Se-jong. When she made a heroic move and saved Se-jong seamlessly with her acting, I kept second guessing whether or not Scarlet had actually saved the day. She did, but she made up her brattiness with the necklace mess. And then she won some of my sympathy when she implicitly admitted to Ray that she was still this broken and vulnerable Grace. You can see how much Scarlet relies on her new identity to bring herself up, so it was intriguing to see her resort back to her vulnerable alter ego. I do think this is the end of Scarlet's arc, since all her lies could only lead to such a downfall. I feel bad, but my overall reaction is just a shrug. She should have seen it coming.
Our other evil minion, Ki-joon, is a different story. He was quite sinister in this episode, which was disappointing, because he seemed to have more dimensions in previous episode portrayals of his character. I wish he had more of a redeeming factor, but based on this episode, he seems like a lost cause. Like Scarlet, he's awaiting his downfall with his collection of lies and bad karma he's accumulated over these past episodes. You've got Hwangje to thank for that.
The main love triangle has been so ambiguous and indecisive, so taking a break from all of that was a big relief. It gave us more time to focus on the Team Persevere dynamic as a whole, and other individuals who were shadowed by the trio. Jang Goon and his father were a great addition to this episode because you can see how much their relationship grew throughout the drama. Allowing Jang Goon to pursue what he really loved to do opened up Dad's heart to accepting Jang Goon as his own person. So when Ki-joon went in with the intention of breaking Dad's confidence in Jang Goon, it was satisfying to see Ki-joon being heavily disappointed and Dad responding as a supportive father. Dad successfully deflected the extreme assholery that Ki-joon showed us in interfering with Jang Goon's coming out process. Major assholery points right there for Ki-joon, but even more Dad points for Jang Goon's father for effectively dealing with Ki-joon and being patiently supportive of Jang Goon.
I absolutely love Henry and Woo-ri balancing out the cute for us. We've had a long stretch of angsty and moody exchange of feelings in our confusing love triangle, so I appreciate the simple happiness that these two show off. I sure hope we get more of this happy and cute in our final installment because while this show can get pretty dark and real, it is a hopeful and encouraging show at its core. To be honest, all I want for the ending is a big party with lots of music, groovy dances, plenty of food, and a good time with everyone minus Hwangje. Is that too much to ask?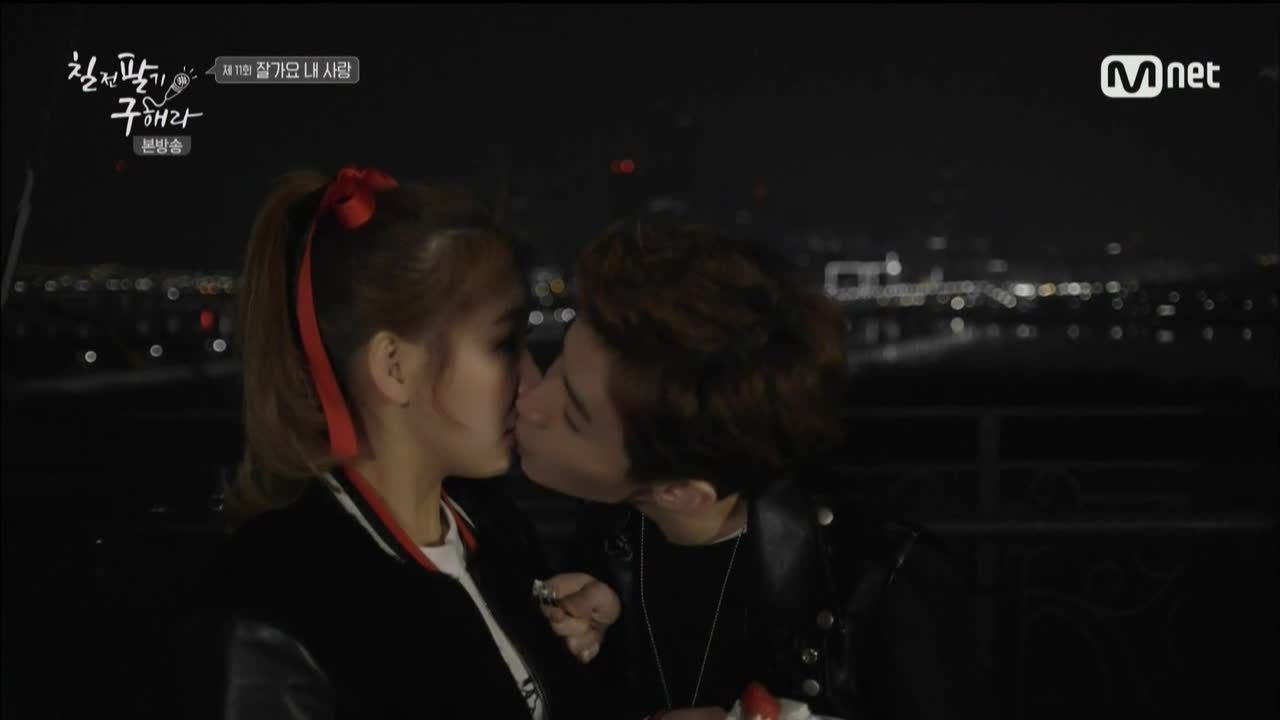 RELATED POSTS
Tags: featured, Jinyoung, Kwak Shi-yang, Min Hyo-rin, Persevere Gu Hae-ra