Persevere, Gu Hae-ra: Episode 8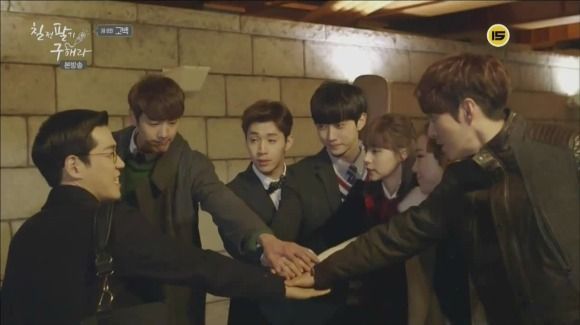 We've got an episode rich with emotional conflict, belated development, and some great tunes. We're reminded that fate isn't always the magic hand, the larger force, or something that repeatedly comes back around. What matters is how and when you act on that fateful encounter, and all our characters experience some aspect of that conflict throughout this episode. With love and confessions in the air, Team Persevere tries to reconcile the feelings and rejections, some old, some new. And while it's a well-balanced episode for everyone, it really is Se-jong's time to shine, as he finally finds his voice.

EPISODE 8: "Confession"
Scarlet accuses Hae-ra of being oblivious to the fact that she's a setback in Se-jong's life. In the practice room, Woo-ri responds to Jang Goon's rejection, asking why he was so nice to all along. He says that he was nice as a friend and apologizes if he created a misunderstanding.
Dejected and embarrassed, she runs out the room, and Henry watches. Walking alone on the street, Woo-ri rejects Jang Goon's calls, but her sadness is interrupted by a woman who walks into her with her coffee. It spills everywhere on both of them, and the woman immediately blames Woo-ri. She claims (in English) that her jacket is an "original luxury fitting" and demands reimbursement.
A man steps in speaking in a British accent, "Excuse me, did my darling do something wrong?" It's Henry (ha, why the accent?), and he expertly navigates the situation in English, calling out the woman for bumping into Woo-ri and for claiming that her fake jacket was a luxury item.
Flustered by his English, the woman yells at him to speak in Korean, and he does just fine translating his message: "This isn't original luxury, but original nonsense. You know, knock-offs?" Embarrassed, she runs off, and Henry takes off his jacket to cover Woo-ri's buttonless skirt.
She thanks Perv — er Henry, and he says that it's just repaying his debt from last time. While he wraps the jacket around her waist, a man knocks into him, which causes their lips to smack together. They're both taken aback by the unexpected kiss and quickly pull apart. Woo-ri walks off to change before going back to the studio, leaving Henry to wonder if his heart is racing because of the cold.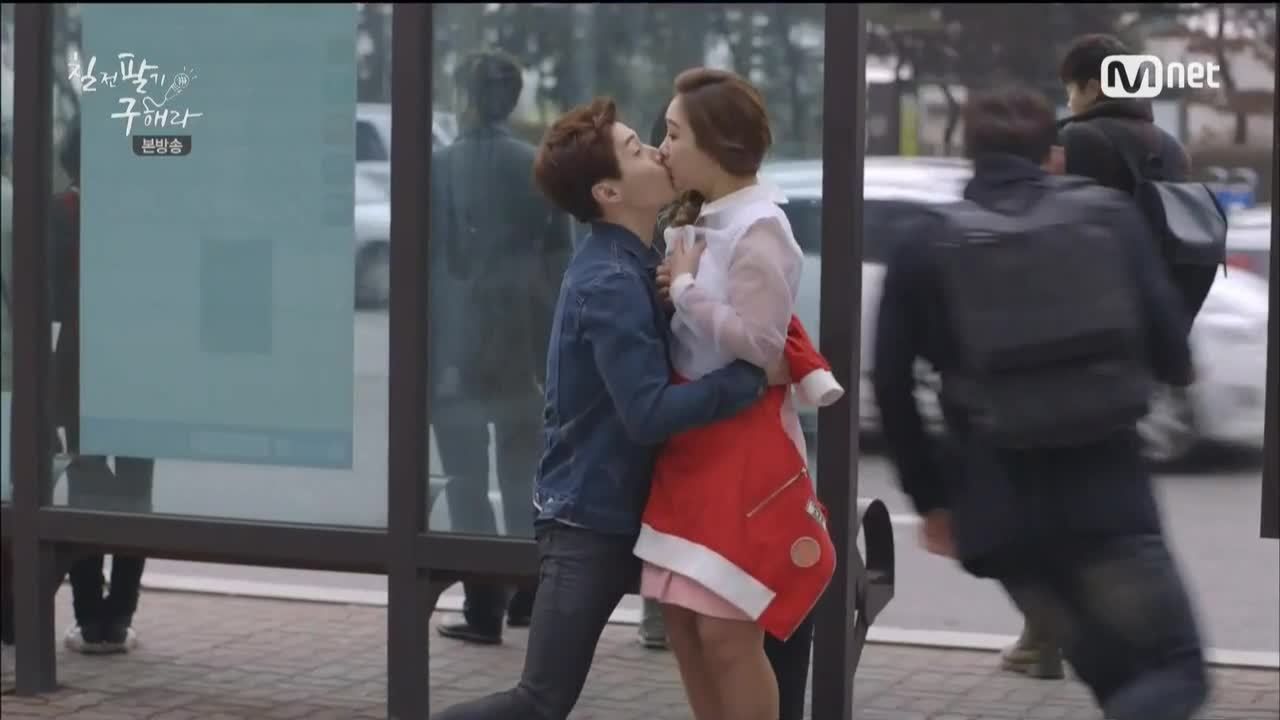 At the team meeting, Tae-poong asks if the ladies have decided on partners. Hae-ra looks over at Se-jong, then at Ray, and she decides Ray, much to Se-jong's disappointment. Woo-ri picks Se-jong, saying she's always wanted to perform with him, and Jang Goon doesn't protest. Tae-poong seems surprised by the match-ups, but he encourages them to work hard, oblivious to the inner conflicts.
Hae-ra thinks to Scarlet's accusations about being an obstacle to Se-jong, but she puts on a façade of confidence to Se-jong's face.
Noticing Hae-ra's dreary mood, Ray tries to cheer her up with desserts, then a trip to the aquarium. It's Hae-ra's first time at an aquarium, and she's fascinated by this underwater life. Meanwhile, Se-jong spaces out during rehearsal with Woo-ri, thinking about Hae-ra.
Looking into the tank, Ray names all the fish that Hae-ra points to, including the sting ray, which they note has his name. From behind, he brings her close to the tank and puts his hand against the glass. She's a little reluctant, but he tells her that being this close to the glass makes him feel like he's a part of their underwater world.
Hae-ra marvels at the sensation of being underwater with the fish, and Ray tells her that he would come to the aquarium often as a child when he didn't want to be alone. In the aquarium, there are fish that travel in groups, but there are also solo creatures, like the shark or the turtle. It's okay to be alone in this world. "It's a good place to be alone and think."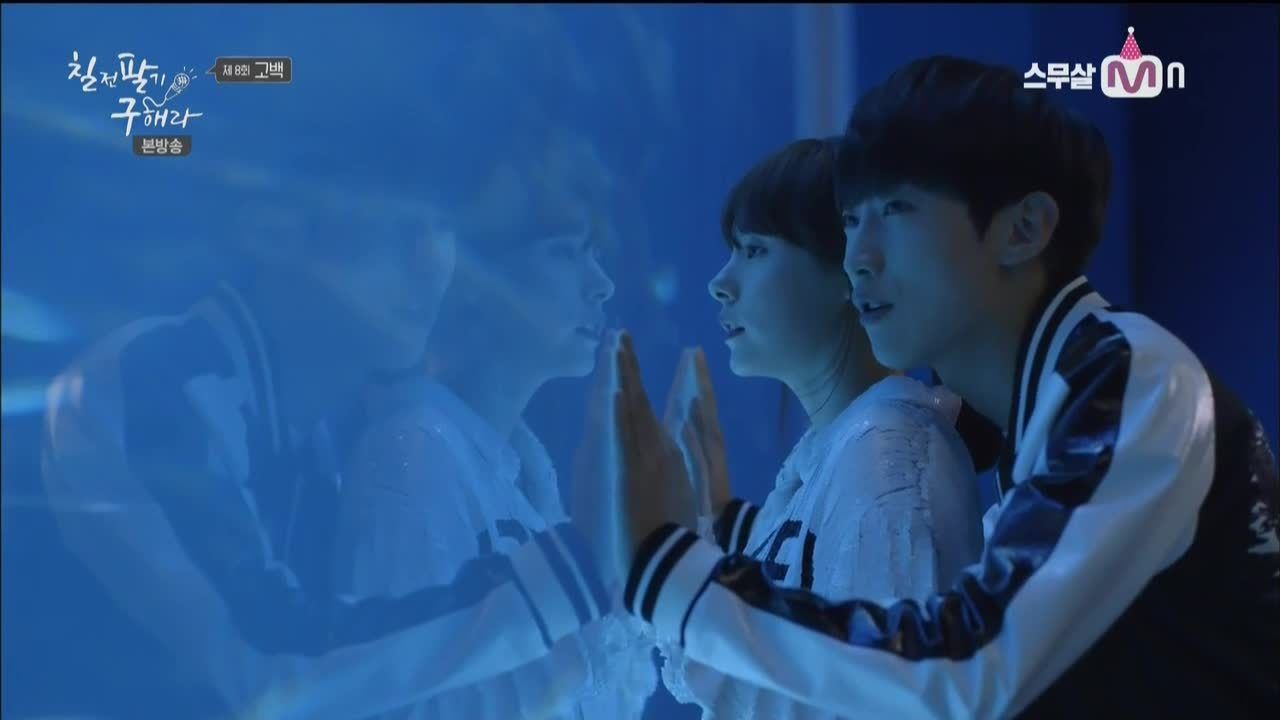 Hae-ra thanks Ray for bringing her here, telling his story, and not asking her anything. He thanks her for picking him as her partner. But Hae-ra can't look at him straight, knowing why she actually picked Ray.
Team Persevere lines up one by one and stares in awe — they're at Jo Sung-mo's studio. They're met with Lee Young-ju (Jo Sung-mo's duet singer who had to cancel), who will be judging the duos for Sung-mo. Everyone seems pleasantly surprised except for Tae-poong, although she greets him happily, noting that it's been 10 years since they last saw each other. Team Persevere hold back their excitement, but Jang Goon seems to be holding back discontentment.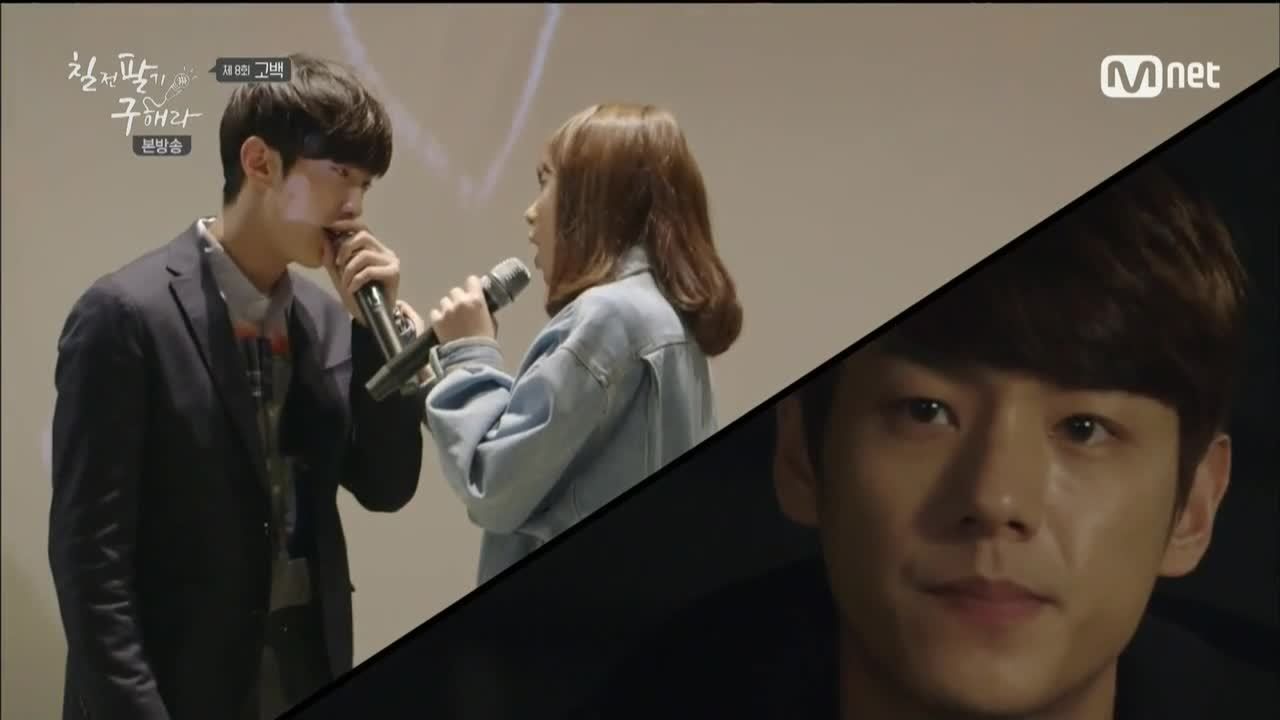 The competition begins with Hae-ra and Ray with their rendition of 2AM's "What Do I Do," which seems fitting for the duo: What do I do? / In your face / I keep seeing that person's face… What do I do? / From your voice / I keep hearing that person's voice… Throughout the performance, Se-jong scrutinizes the duo.
Young-ju thoroughly enjoys their performance and asks the two if they're actually a couple, which earns her a disapproving look from Se-jong. Next up, Woo-ri and Se-jong sing Toy's "Good Person," which narrates a one-sided love story. Se-jong plays the piano and sings to Hae-ra while Woo-ri sings to Jang Goon. At the end of the performance, Henry gives a silent cheer, and Woo-ri smiles in gratitude but turns around to wipe a tear.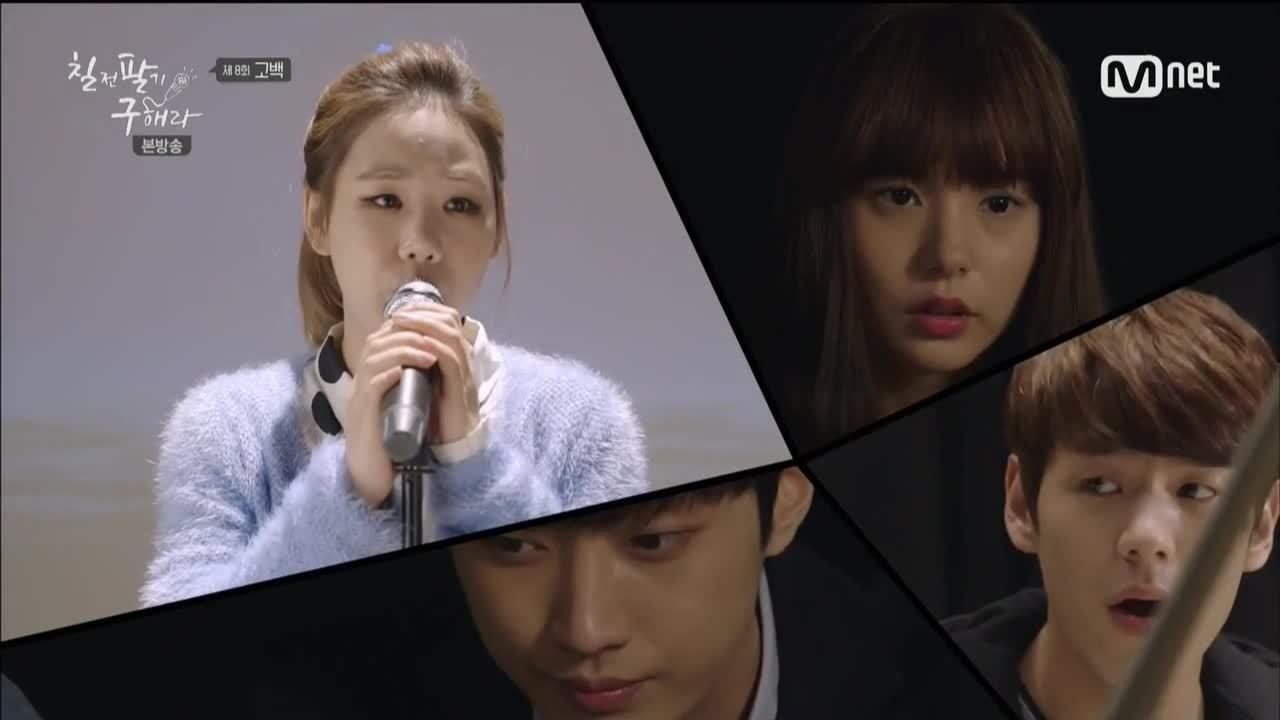 Before the final decision, Young-ju compliments both duos, then says she chose the team with richer emotion: Woo-ri and Se-jong! Se-jong looks over at Hae-ra, but she doesn't seem disappointed and actually betrays a smile.
They return to a chicken feast at home base, with Young-ju joining the group. The mothers look over at their new competition for Tae-poong's attention, and Hae-ra's mom bets that she looks better with him than Young-ju does.
Henry asks Tae-poong if their scandal back in the day was real, and Tae-poong uncomfortably evades the question by boasting about his many scandals. He even had a scandal with Sung-mo, with their couple name being Poong-mo. They talk about old times and their coincidental meet-up at Sung-mo's house, while Jang Goon observes attentively.
The group plays the truth game, and first up is Henry. He denies liking anyone, but admits that there is this one person who keeps crossing his mind. Then he spins the bottle, which lands on Se-jong while Scarlet's music video plays on the TV. Henry asks if Scarlet really was his first love. He gives a direct answer: "No, she's not. My first love is someone else."
Then it's Ray's turn. Se-jong asks a pointed question: "Are you always this forward? You seem to disregard other people's feelings and just do what your feelings tell you." Tae-poong jumps in to break the tension, but Ray answers anyway, "I do consider other people's feelings, and that's why I tend to hesitate."
He spins the bottle, and it's back at Se-jong: "Why can't you be honest with your feelings? Isn't it hard to hide them?" Se-jong answers with confidence, "There are times in which that's the only option, whether it's in the interest of myself or others." He spins the bottle, and it points to Hae-ra.
But she spins it again and changes the focus by asking Young-ju if she regrets retiring during her prime. Young-ju replies that she doesn't because she's always done her best, in both music and now acting. Tae-poong adds that it was hard to create sincere music then, since the company meddled with everything.
In response, Young-ju says that if there's a sincere message to be sent, one should have the courage to get that across, even under pressure. Jang Goon asks if you should still do so if the other person may have a difficult time because of you. Young-ju says that overcoming that worry is courage and love. "They say that love is all about timing. If you miss your time and regret it, you'll be left with a heartache." That message resonates with most at the table, but Young-ju breaks the silence by proposing a toast.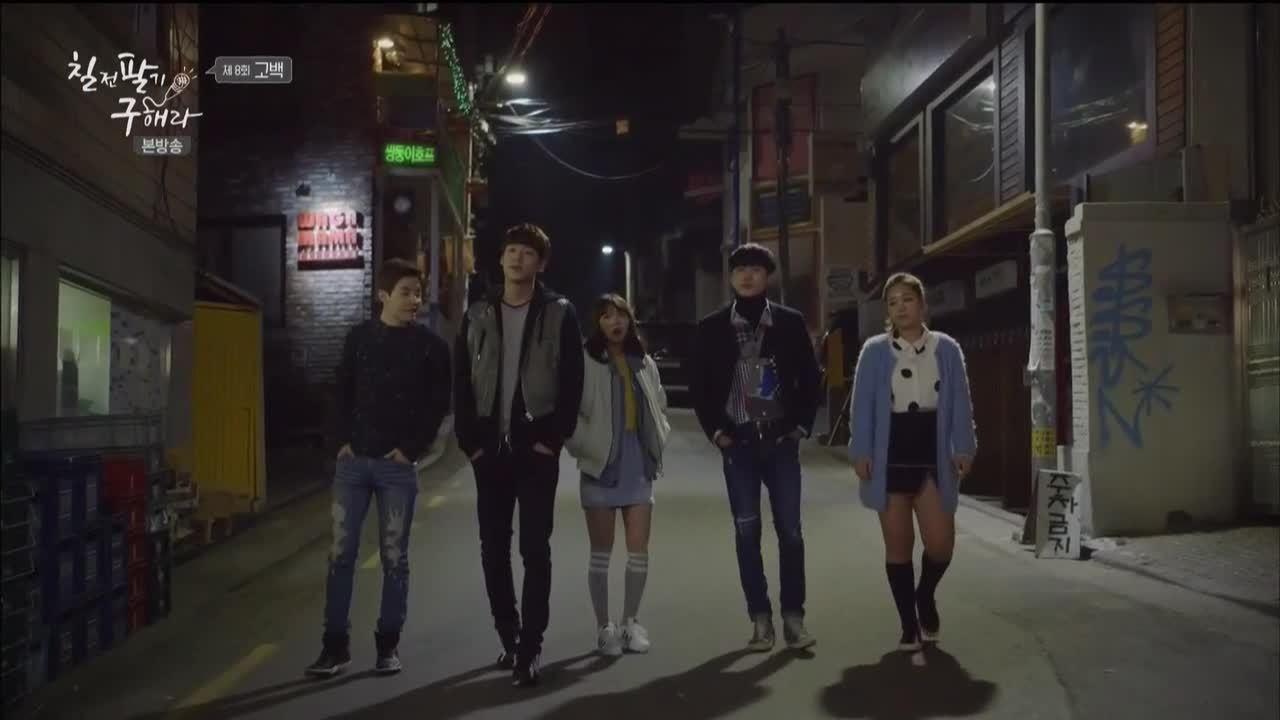 As Team Persevere walks home, Woo-ri notices that she forgot her phone. She runs back to get it, and Hae-ra heads inside first. Se-jong grabs Ray as he follows Hae-ra, but Ray pulls away.
Back at the restaurant, Jang Goon puts his jacket over drunk Tae-poong and hesitates with his words. He tells Tae-poong that he likes him, and Tae-poong, in his drunken state, mumbles that he does too. But Jang Goon continues in a more serious tone, "It's not like how you like me. Whenever I see you, my heart aches." Woo-ri overhears and drops her phone in shock, and Jang Goon sees her there.
Team Persevere arrive for Sung-mo's concert, and they pause to admire the venue and all the congratulatory stands. Hae-ra notices Sung-mo-endorsed drinks hanging from a tree, and Henry reads the ad tagline and makes a cute biting gesture. Woo-ri responds with a roar, and Henry is startled — but more than fear, he's mesmerized by Woo-ri, and his heart starts to race.
Woo-ri laughs that he's scared, but Henry turns around to convince himself that his heart racing has nothing to do with Woo-ri. Never ever. Let's see about that.
Team Persevere get adorably excited to find their very own dressing room backstage. The concert begins with Jo Sung-mo singing the Lovers in Paris anthem (major throwback), "To Your Side," and then he introduces Tae-poong's kids: Team Persevere.
Se-jong walks onto the stage to start the song, and the crowd immediately recognizes him. Woo-ri joins him in singing Jo Sung-mo's "Do You Know," and Se-jong is clearly singing the song to Hae-ra, looking at her whenever he can.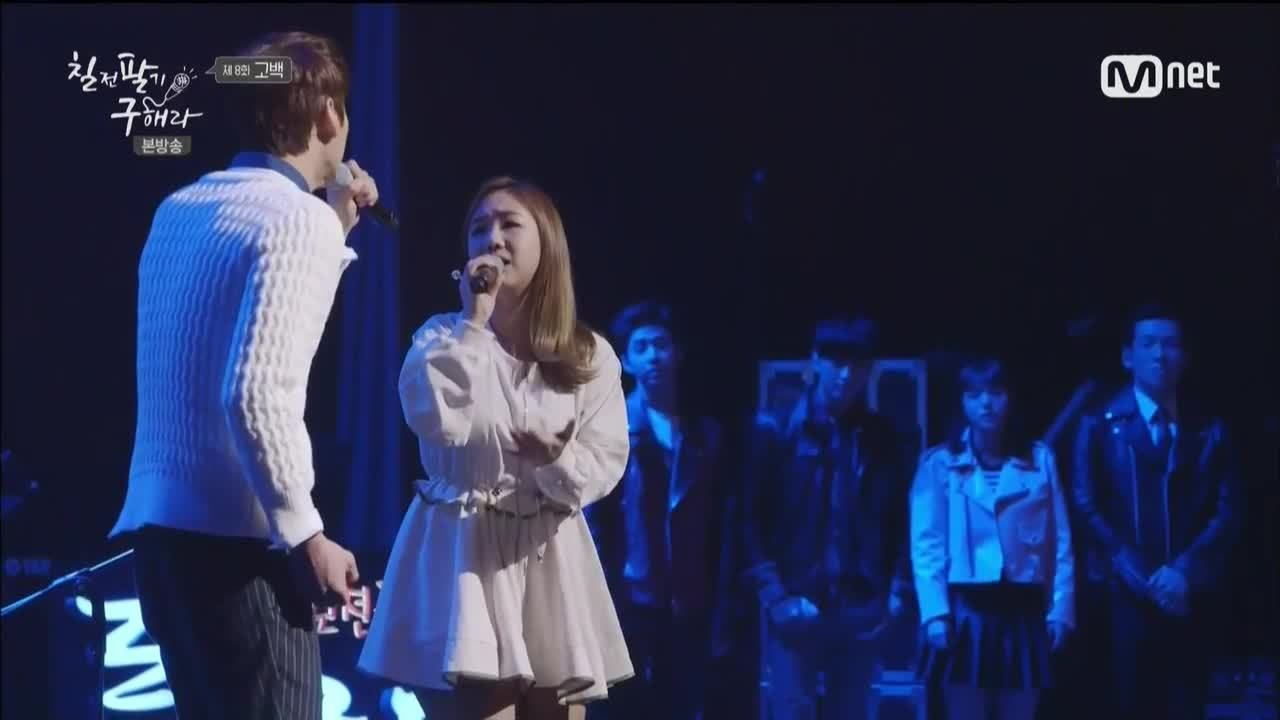 After the performance, the crowd reacts on social media, asking what happened with Se-jong betraying Impact and joining Team Persevere, wondering if the Poong-mo couple is back. Backstage, Jang Goon tries to reconcile with Woo-ri by offering a water bottle and complimenting her voice. Woo-ri accepts Jang Goon's water bottle, and he's visibly relieved.
Then they rush onto the stage, following their members, and perform Jo Sung-mo's "Pledge," jacket flutter and all. Their energetic performance wins over the crowd, and Tae-poong watches like a proud papa.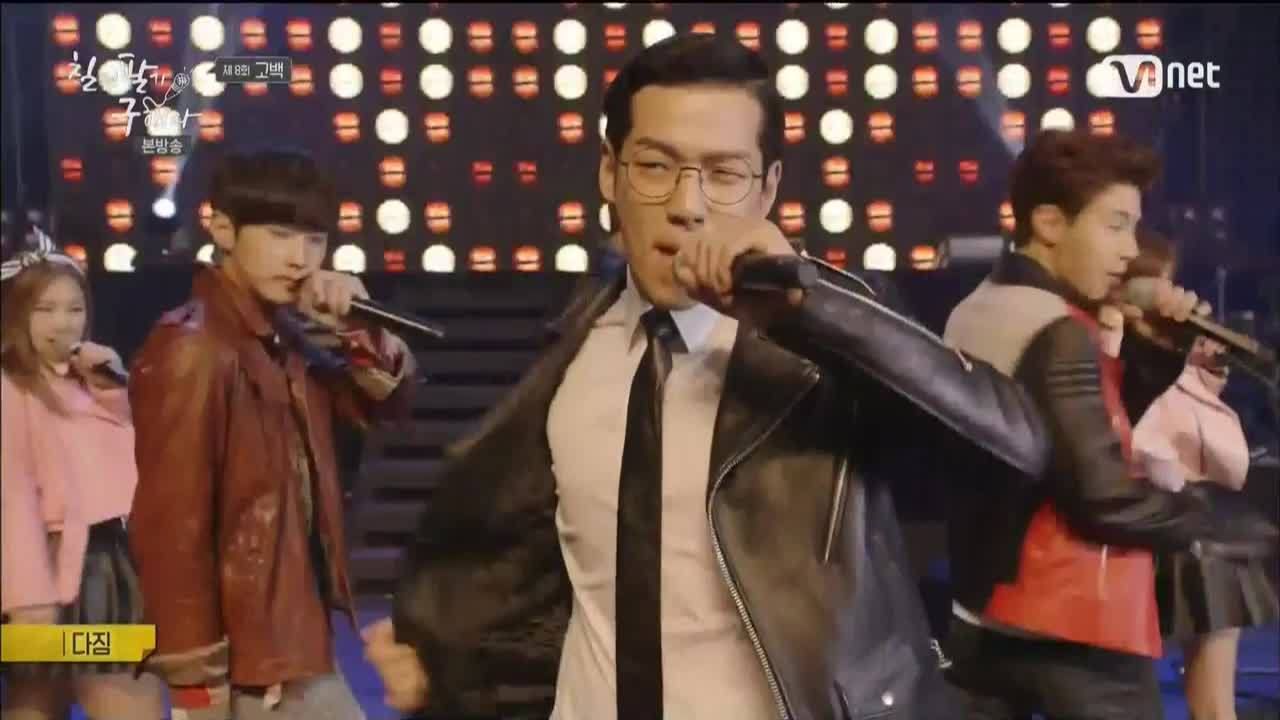 They celebrate their successful performance, and in his excitement, Henry accidentally hits Tae-poong in the balls. Ouch. Tae-poong limps away with an envelope in hand while Team Persevere finds that their performance is already in the news.
President Hwang also sees the news and slams the table in frustration that Team Persevere would dare to find a way around his bans. Manager Pyun assumes his anger is about Se-jong and Woo-ri, but he points to Hae-ra in the picture — if she gets big, she'll make his life difficult. He comments on how much she's grown but doesn't reveal much more. He orders Manager Pyun to find more effective ways to block this group.
On the way home, Se-jong gets a line of texts from Scarlet and shakes his head. Everyone exits upon arriving home but Jang Goon, who sticks with Tae-poong to park. Ray asks Hae-ra on a walk, but Se-jong interferes, wanting to talk to her privately. Ray tells him to back off, but something else interrupts their argument.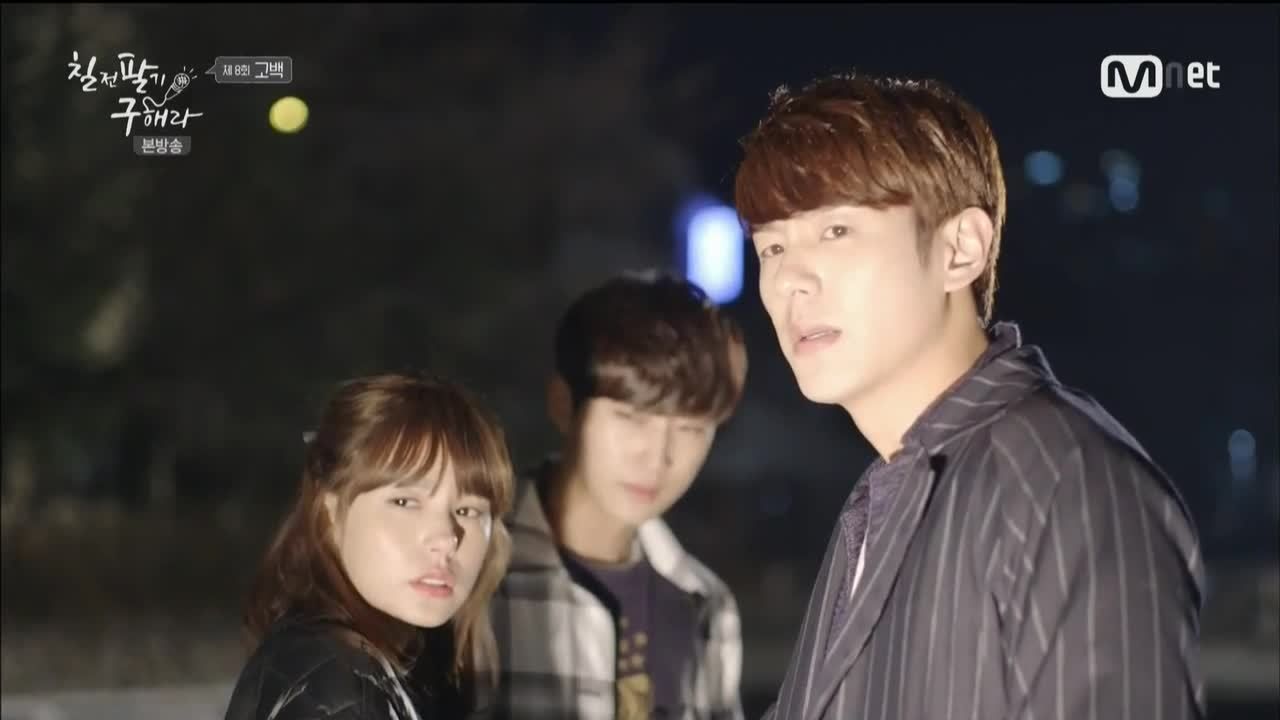 It's Scarlet, and she cheerily greets Se-jong. At the sight of Ray, she hides behind Se-jong in fear of being recognized. She threatens to be a public nuisance if he doesn't come with her, so Se-jong gets dragged into her car.
Once they leave, Hae-ra drops down and crouches in disappointment. He tells her to stop having such a hard time — come to him now. Hae-ra replies that her heart is a big muddled mess, and she could hurt him. He knows and doesn't care, and he asks that she lean on him. Shaking her head no, Hae-ra begins to say something, but we jump to the other couple.
Se-jong notices the music note keychain on Scarlet's phone, which she admits to getting at the department store where he got his. Her reason for seeking him out today is to recommend him as a costar for a new drama she's doing, but he rejects the offer instantly.
He adds that she shouldn't call or randomly show up, but she says that she can't. She knows that a guy who doesn't return her calls has no interest in her, but she can only think about Se-jong all day. Then she mentions Hae-ra being an obstacle and catches herself before she spills too much, but Se-jong realizes that Scarlet said something to Hae-ra and demands the full explanation. Once he hears, he runs back home to find Hae-ra.
Tae-poong and Jang Goon have drinks at the pojangmacha, where Jang Goon tries to confess his feelings again. But Tae-poong is already drunk, and confesses that today, his first love ended. We see that he'd given Young-ju the envelope earlier, with two tickets to a movie they once enjoyed together.
Flashback to 2000. Tae-poong and Young-ju cuddle on the couch to watch Les Amants de Pont-Neuf, and she complains that they always have dates at Sung-mo's place and never in public. But Tae-poong says that the ring on his pinky finger is a symbol of his commitment to her. He declares himself her slave and she playfully orders him to bark and meow for her. But he's had enough and pulls her close for some sexy times.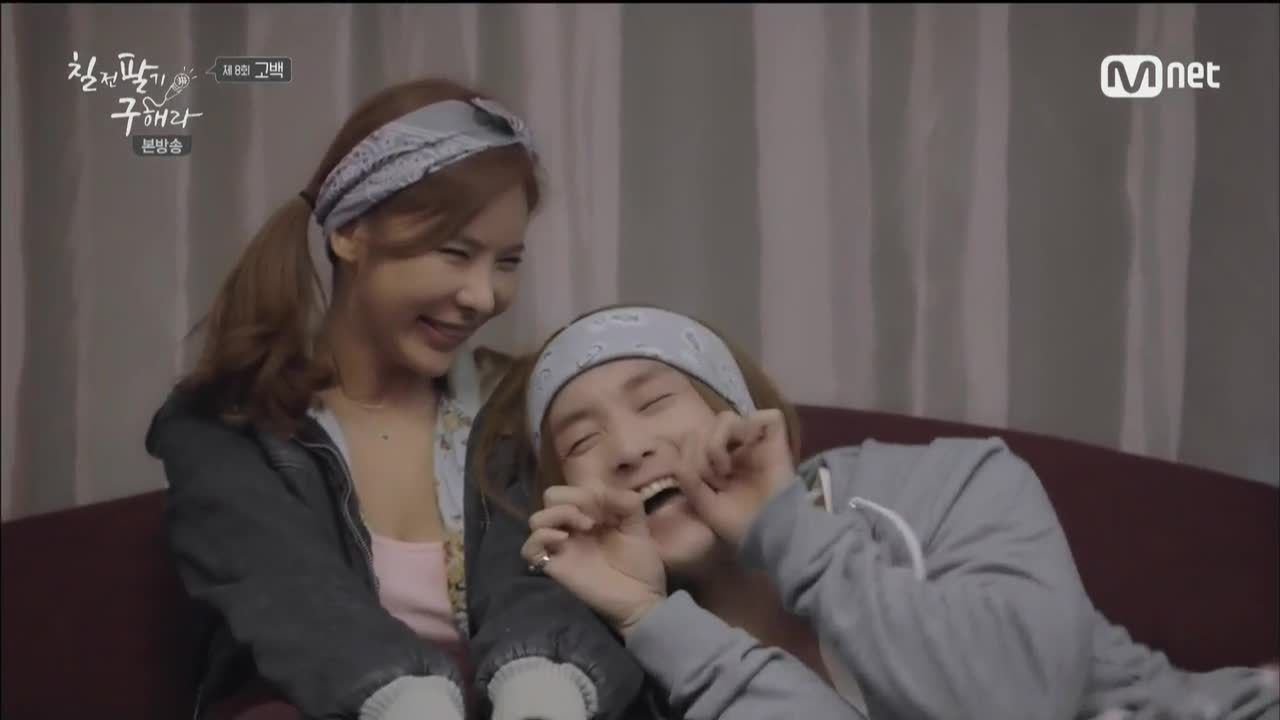 They decide to hold a press conference together to announce their relationship, but Tae-poong never arrives. She's forced to continue the press conference alone while Tae-poong is locked in by President Hwang. Instead of confirming their relationship, Young-ju denies it and announces her retirement from the industry.
In his current drunken state, Tae-poong holds an envelope that Young-ju had given him after the concert, mumbling about needing to go to Young-ju. Jang Goon watches his beloved hyung cry over his first love and takes a drink.
At home, Se-jong's attempt to talk to Hae-ra is interrupted by Ray again. Se-jong says that he talked to Scarlet and tries to clear up the misunderstanding, but Hae-ra says that she's fine and walks away. And this time when Ray stops him from following, he informs Se-jong that he now has the right to interfere.
Flashing back to their recent conversation, we see Hae-ra admitting to being selfish and not wanting to be hurt anymore. Ray urges her to be selfish, because love is selfish: "The more you receive it, the more you want it, and when you confirm it, you want to confirm it again. I've become like that for you. If you just come to me, I think I'll be really happy." He pulls her into an embrace, and she cries on his shoulder.
Hae-ra tells Ray that she'll try, and that's enough for him. He wipes away her tears and plants a kiss on her forehead.
So now, Ray explains to Se-jong what that means — Hae-ra's giving Ray a chance.
Jang Goon helps drunk Tae-poong home and opens the envelope. It's Young-ju's wedding invitation, and she has handwritten a note explaining that her wedding was the reason she couldn't perform at Sung-mo's concert and wishing him happiness. Jang Goon tells passed-out Tae-poong that his first love ends today as well. He stifles his cry, but Woo-ri watches from afar.
The next morning, an awkward breakfast ensues. Se-jong watches Hae-ra and Ray, while Woo-ri glances at Jang Goon with worry, and he's so distracted he chews on a clamshell. Tae-poong wakes up with a hangover and gives up a thumbs-up to the noonims for the great hangover soup.
Woo-ri gets defensive when she thinks Hae-ra's mom uses the words "crazy gay," and Hae-ra has to explain the saturi pronunciation. Woo-ri realizes she misheard, and gets a grateful look from Jang Goon.
Team Persevere still don't have any bookings to fill their schedule despite their wave of publicity. Hae-ra optimistically says that if they don't come to us, we can go to them. Tae-poong nods in agreement and suggests that they perform at winter's biggest festival. The team nods in excitement.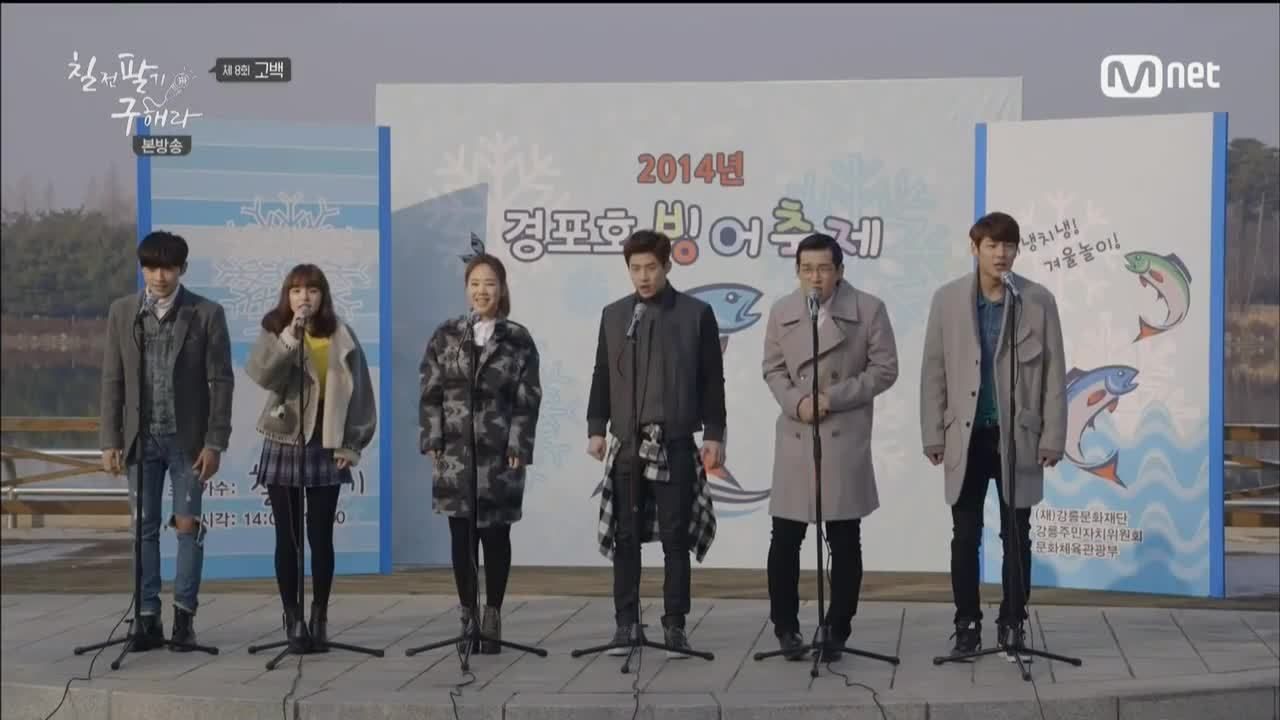 That ends up being the Kyungpo's Fish (Smelt, to be specific) Festival, and the only people in the crowd are a few elderly people. Then they travel to the next city, then the next, then the next. Their final stop is in Seoul, which Tae-poong assures them has good pay. It's a fancy holiday party and seems like their best event yet, but they're met with none other than Impact.
Ki-joon calls their manager to get the other group kicked out. The members leave without comment, feeling dejected.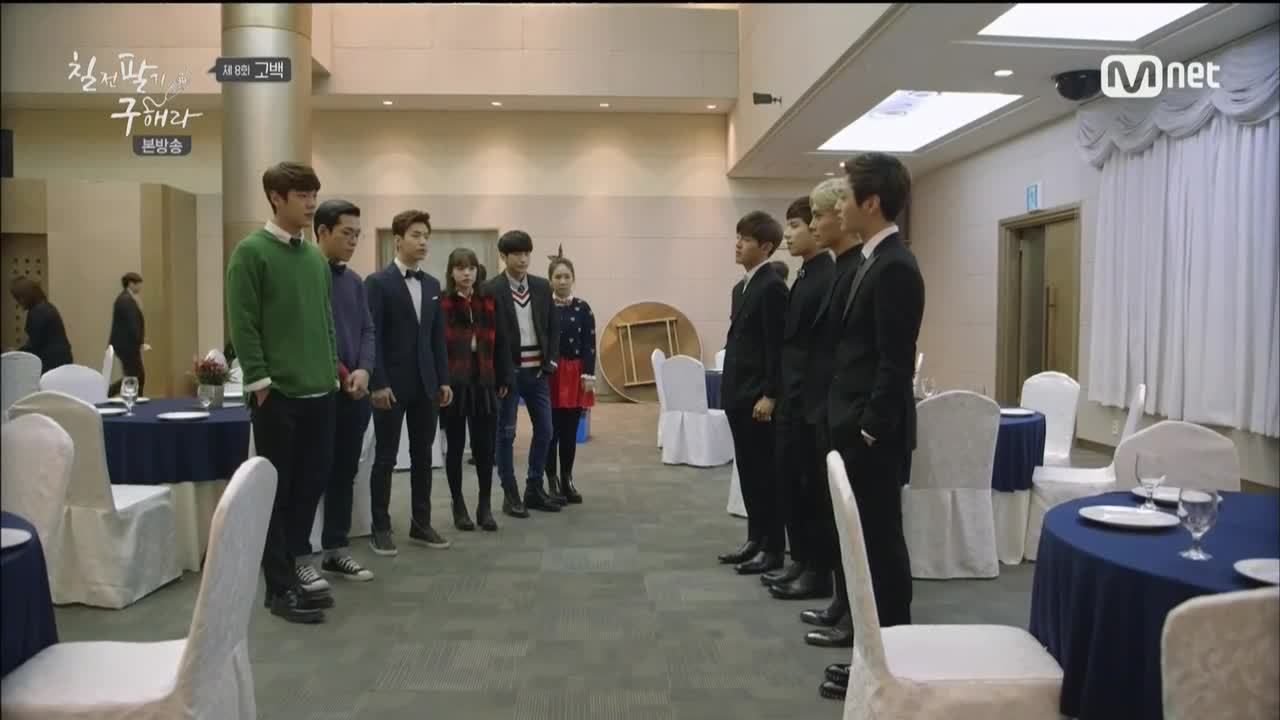 Se-jong apologizes for being a burden on the team, but Hae-ra refuses to let this bring them down. She reminds them that they're Team Persevere for a reason and tells them to cheer up. She suggests that they go back to the basics and start with busking.
So despite the lack audience, they put their hands in for a team cheer and head off to perform. Team Persevere executes a very simple yet full rendition of Yoon Jong-shin's "Uphill," and Tae-poong films while a crowd forms around them and bursts into applause as they finish.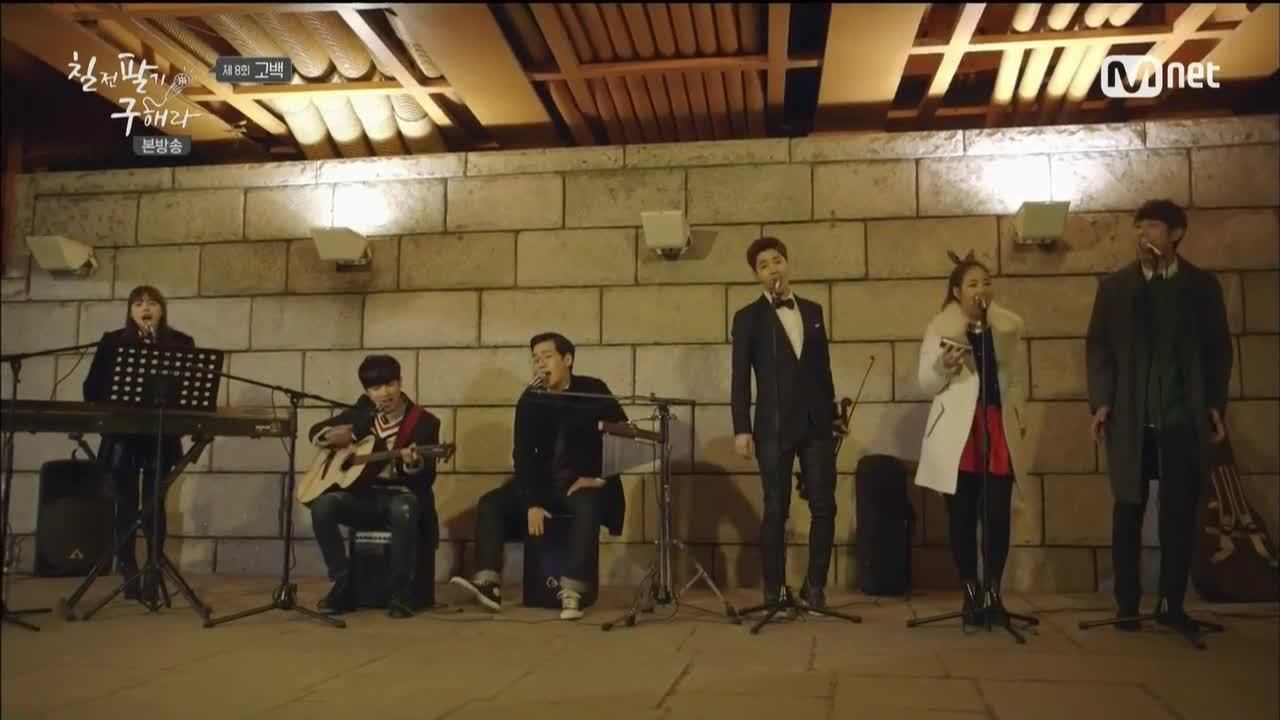 Ray and Henry edit the footage, and Henry wonders why Woo-ri looks pretty, especially when he prefers sexy girls. Ray offers to pick up a snack and heads out.
Se-jong gets a text from Mom asking what he wants to eat for his birthday tomorrow, and he ends up at the pojangmacha, where he sees Ray ordering food and goads him into drinking. So Ray sits down with a bottle, and a soju battle ensues. Their competitive drinking (please do not try this at home) gets them completely drunk, and a large crowd forces them to sit together.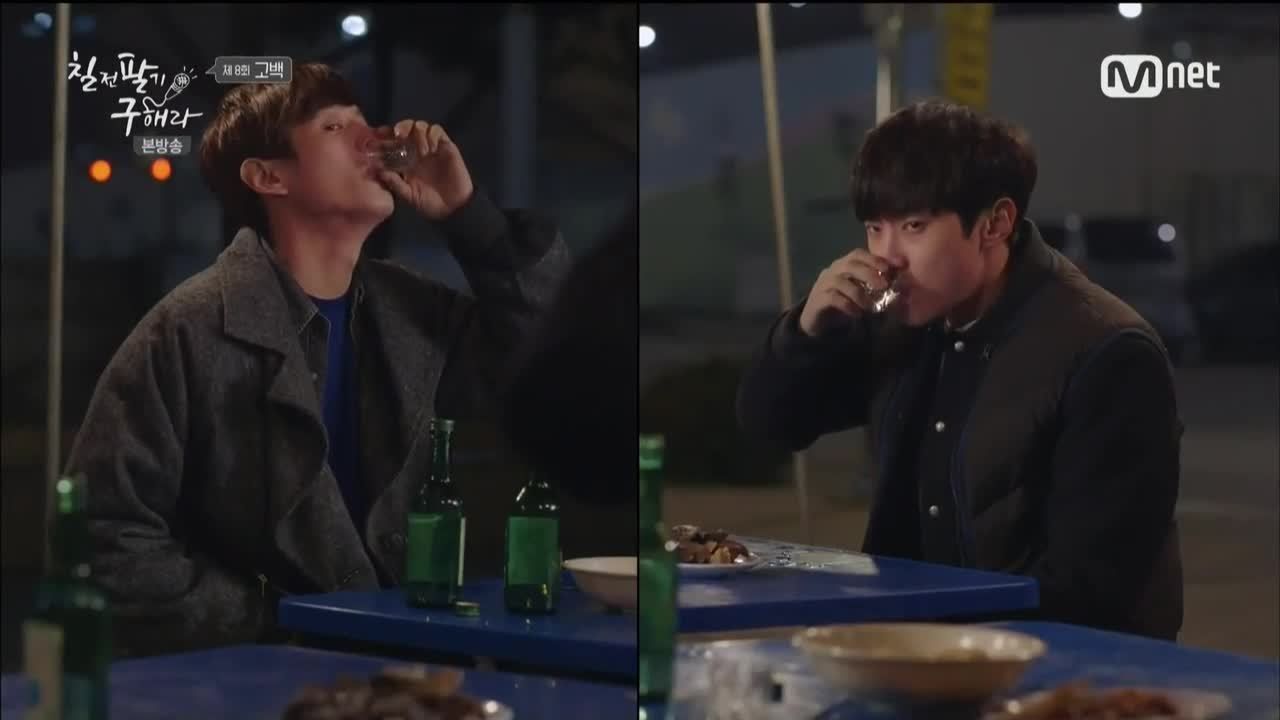 So drunk Se-jong orders Ray to call him hyung, and when Ray refuses, he holds him in a headlock until he obliges. They feed each other soondae and drink some more, and when Se-jong sees that it's past midnight, he declares that it's their birthday.
He decides to make his new younger brother a present and hands him an empty soju bottle with a spoon as a one-and-only mic. Ray takes the gift and hugs it to his chest. Se-jong puts his head on Ray's shoulder and Ray rests his head on top. Aww.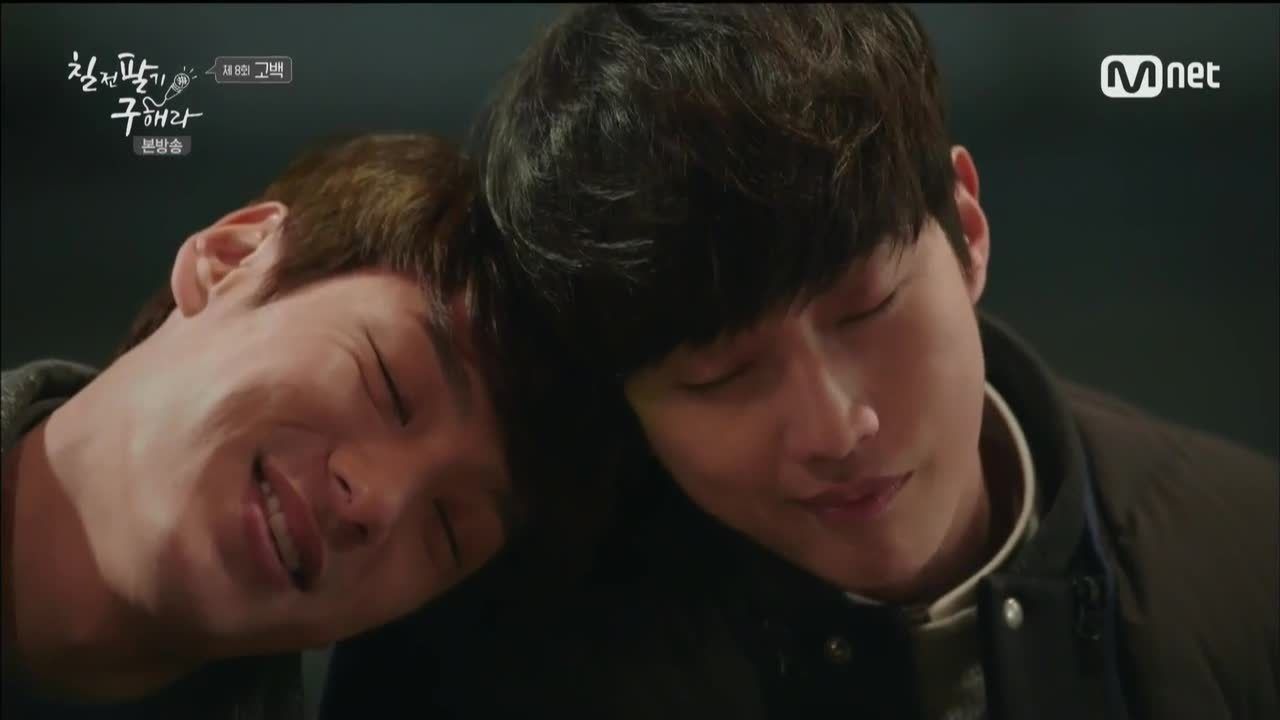 The next morning, Se-jong wakes up with an upset stomach and a massive headache, and flashbacks start to trickle in from last night. Apparently they'd continued the night by jamming to some karaoke tunes. He tries to shake off the mortification and feigns ignorance when he runs into Ray.
As Tae-poong drives along, he sees Hae-ra waiting for the bus and picks her up. There's some awkwardness when she opens the van door and sees Se-jong inside, but she takes a seat.
Hae-ra gets a text from Ray asking her out for a movie, and she responds that she'll be home soon. Then she starts nodding off, and when she almost falls over, Se-jong catches her head and props it against his shoulder.
Tae-poong leaves the car first, while Se-jong remains seated with sleeping Hae-ra. Just like that flashback to their high school days, he leans in for a kiss… and just as his lips touch hers, Ray arrives and sees Se-jong kissing Hae-ra. He drags Se-jong out, and they fight.
Awake now, Hae-ra yells at them to stop, and they're joined by Tae-poong and the mothers. Se-jong's mom pulls Se-jong inside for a scolding, saying that he should be more considerate and concede to Ray.
But Se-jong asks brokenly, "Ever since I was born, I had to endure everything, wait, and concede just because I was the hyung, the oldest son. I've lived enough that way. But Mom, can't I be selfish this one time? For the first time, I want to be selfish. Is that wrong?" Mom pulls Se-jong into her arms and consoles him. She apologizes to her eldest for not understanding.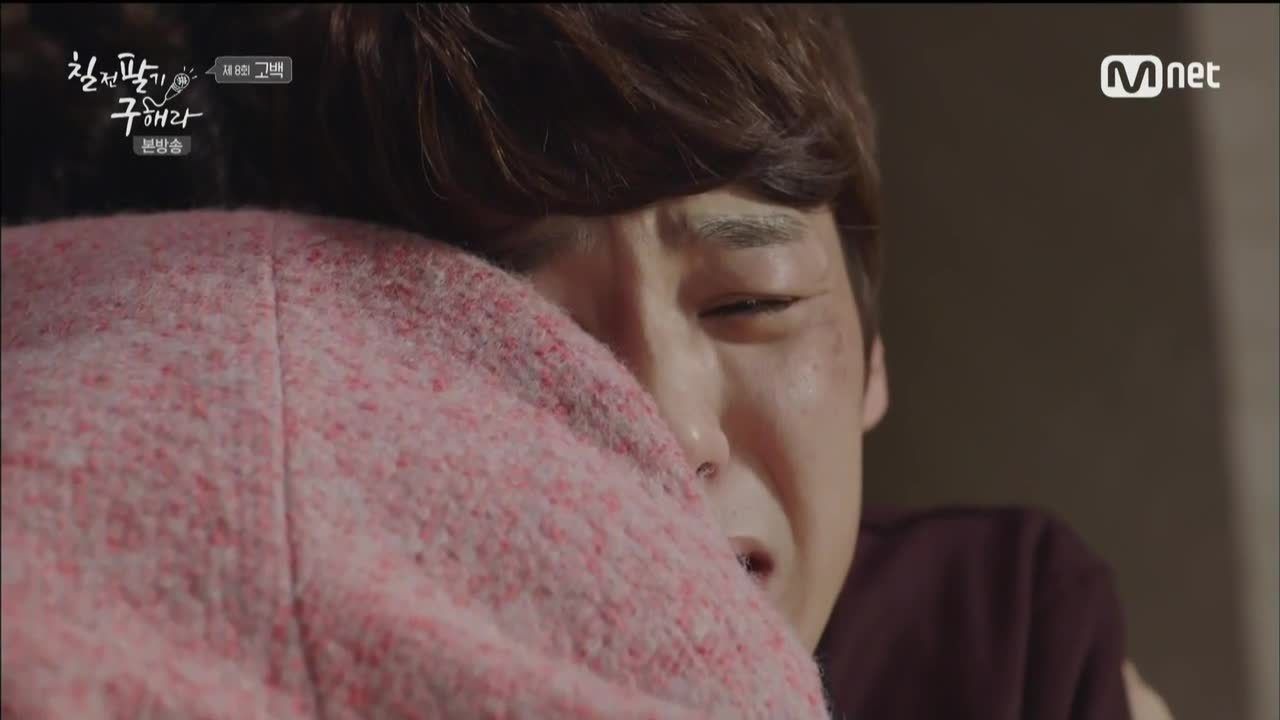 Se-jong visits Se-chan's memorial with a birthday gift (a Panic album) and apologizes for not visiting often. He tears up as he confesses, "I need Hae-ra. I've come to need her, so now I'm going to muster the courage. You'll understand, right?"
At home, the members watch Scarlet acting in a dramatic moment for her drama (a hilarious mash-up of names called Cheomdamdong Rice Bori). Woo-ri comments that Scarlet's lucky to have a rich father setting her up in all of these productions, then cringes at her line about love being all about timing.
On the balcony, Hae-ra asks Ray why the two guys fought, and he says that it's a guy thing that he can't explain. She asks if he wants something in particular for his birthday, and he admits that there's one thing he wants…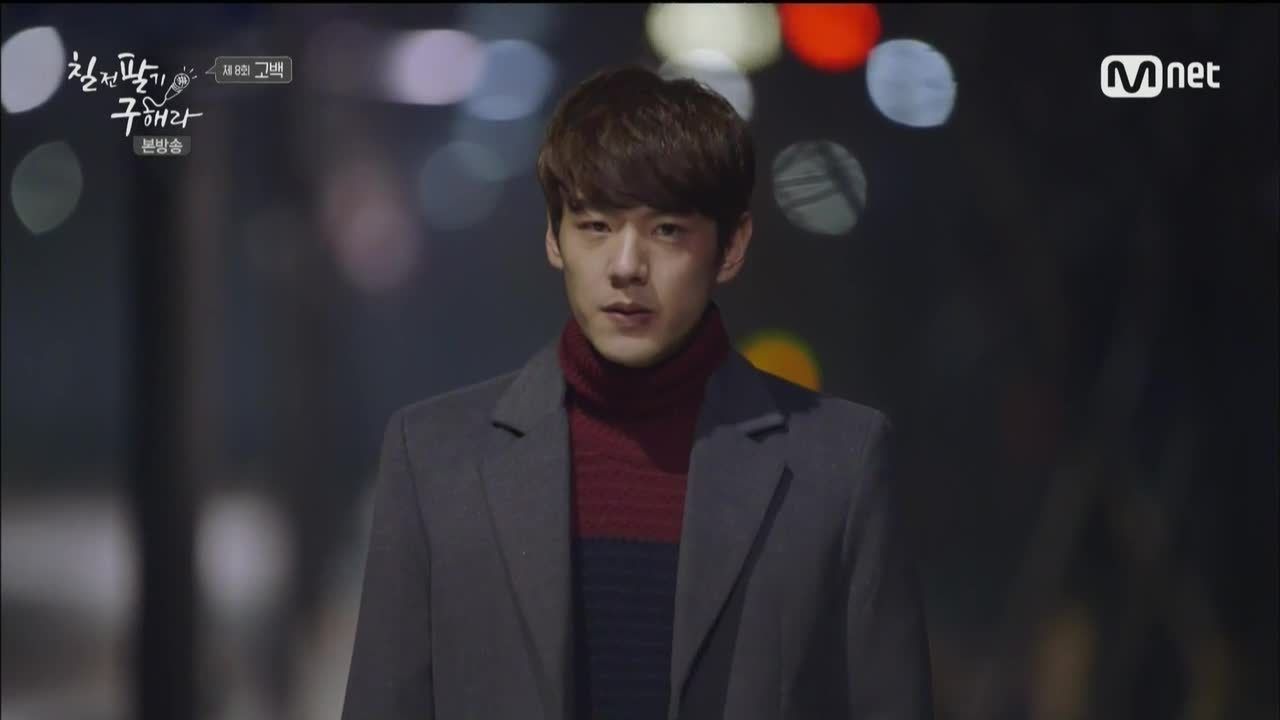 As Se-jong walks home, he narrates, "The problem is always with timing. And when that absolute and opportune moment presents itself, the problem gets bigger. You learn to wait to make your dramatic confessions for the sake of the other person, but ultimately, love is all about timing."
Henry looks at Woo-ri, Woo-ri at Jang Goon, and Jang Goon at Tae-poong's room while Se-jong continues, "Some people lose their moment, and they wait for the next opportunity. Some people regret their confusing feelings. Some people hurt because they can't say a thing. And for that reason, one can lose love. The best timing for the person you love is to not be late. As always, confessions depend on their timing." Tae-poong reads news of Young-ju's wedding announcement and wipes away a tear.
On the balcony, Ray swoops in for the kiss. Hae-ra looks surprised, but she closes her eyes, accepting his confession. Se-jong walks home and looks over at the balcony to see them mid-kiss, and his eyes flare up. "The problem is always with timing."

EPILOGUE
The boys have a jolly ol' time in their drunken state, singing girl group songs and dancing along. The mothers watch the boys having fun and comment on how close they seem to be now, despite their contention before. The boys continue their karaoke for a while until they fall on the ground, and Se-jong says that it feels good to sing together after such a long time. He turns to Ray and confesses, "I wish you could just stay by my side like this." For a moment, Se-jong sees Ray as Se-chan, and he tells his brother, "I really wish it could be like that, Se-chan." They close their eyes, and a tear rolls down Se-jong's sleeping face.

COMMENTS
Awww Se-jong, you're making me tear up. I am so relieved to finally see some belated development in Se-jong. It was gratifying to see him actually talk and emote. His cathartic confession to his mother has got to be one of his best moments, and I really felt for him in his plea to be selfish. For weeks, I've been frustrated with his lack of words and progress, but we see that the burden that he carries isn't all self-made. He carries this burden of expectation that his mother has taken for granted, that as the eldest, he must act responsibly and selflessly. And so far, he's been exceptionally good at meeting that expectation — he's gone above and beyond anything anyone has asked of him. But now, it's his turn to lay that down and do something for himself. And that important something or someone is Hae-ra. It's been quite clear to us from the get-go, but now the ambiguity is gone for himself. He's made it clear to himself that he's committing to repairing his relationship with Hae-ra.
Everyone got some form of confession out of this episode, most of them related to romantic love. But it was different for Se-jong. While he did narrate his thoughts in the context of a romantic confession, I love that his confessions in this episode weren't to Hae-ra, but to Mom and Se-chan. He needed to confess his struggles to Mom because he desperately needed that approval to let down his burden of being responsible hyung all the time. He also needed his brother to understand and approve. While I'm not certain that Se-jong has come to terms with the unsettled circumstances in which Se-chan passed, he's come to a healthy point where he understands that he can move on, pursue what and who he loves, and not feel heavily apologetic.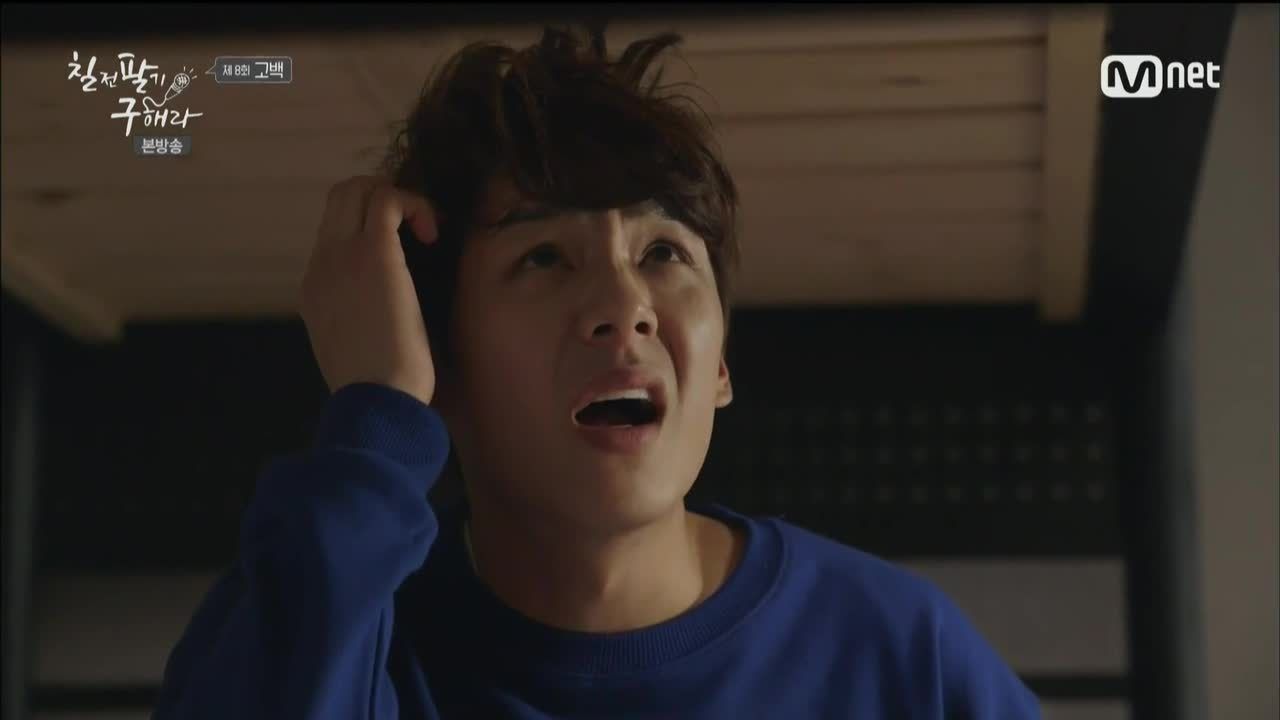 That last scene in the epilogue killed me, with Se-jong imagining himself with Se-chan. His longing for the older and simpler days was so real, especially with how much nonsense he's had to deal with in order to get to this point of acceptance among people he actually cares about. With his longing for his brother in mind, the bromance between Se-jong and Ray definitely had a more melancholy undertone. It was undoubtedly adorable and necessary, but it also gave Se-jong a reason to be nostalgic for the days when all was right with the world. The frequent mistake of seeing Ray as Se-chan hints that Ray could actually act as a bridge between what was and what is. It's a hopeful thought, and I don't think Ray is there yet. Actually I don't know if he ever will get there, since there's only so much we know about Ray. He's still this mystery, and the show is either being stingy with the details or just trying to get by without fully developing him.
I'm increasingly disappointed by this show's portrayal of Hae-ra. What happened to the brash girl with enough backbone to dump boiling hot stew on a random pervert's lap? I feel like I've been robbed of Hae-ra's true character and self. She's been lost in the struggle between the two brothers, whose conflict we've seen over and over again. I hate how many times the guys grabbed her wrist in this one episode, like she was a simple object of their childish fight. In no way is their conflict childish — they're both approaching her with genuine feelings — but it's a little disappointing to watch these two gentlemen trivialize their emotions into a petty fight of "who gets to her first?" or "who will she pick?" I need Hae-ra to stand up for herself, find that spunky side she had in the beginning, and not be some rag doll whose wrist is always there for grabbing.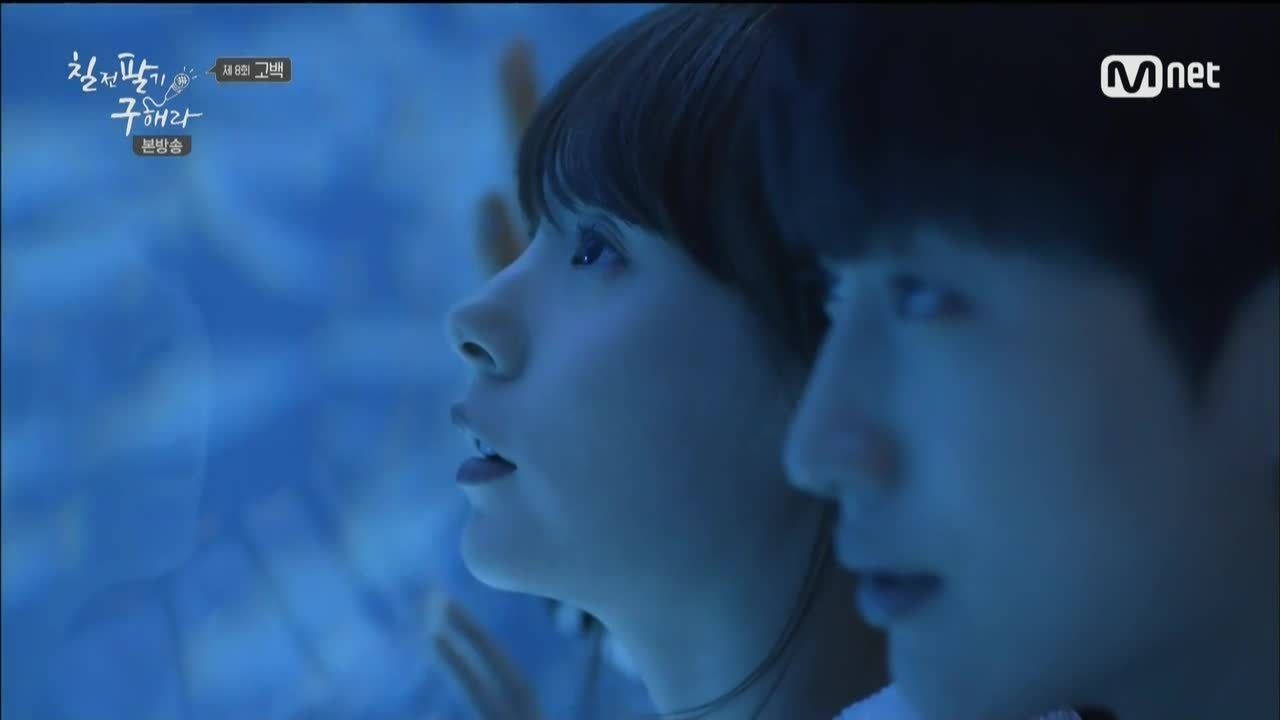 I disliked how Ray dismissed Hae-ra's question about why the two fought by saying that it was a guy thing. Like she wouldn't understand. I get that he doesn't want her to know that Se-jong kissed her. That would strange for him to actually tell the truth. But I don't think their conflict is a "guy thing." Clearly, Hae-ra is involved and deserves to know what's going on when two guys she cares about are fighting because of her. I'm hoping the show will be more elegant with how they deal with the love triangle issue, because so far, it's seems a little messy.
Back to the good stuff. Jang Goon really had some tragic yet wonderful moments in this episode. His character is an interesting one, and I do wonder if his first love is actually based on love or based on admiration. I'm wondering if it's a similar case to Binggeure from Answer Me: 1994, the character who admired Trash to the point where he was questioning his sexuality. I'm looking forward to figuring out more about Jang Goon's struggles, and it will be interesting what direction the writers take with this character, which I think will be somewhat reflective of Korean culture and the societal approach to homosexuality.
There was so much going on (like glances and tensions) during the performances that I don't think I did them justice. It's funny that the story can just be told through the songs without explanation, and I definitely credit the music directors for choosing such fitting songs for the scenarios. It's difficult to really put the scene into words because the music does its job so well conveying all the complex emotions going on at once.
More conflict is certainly imminent, especially with some of that foreshadowing involving President Hwang. I do hope Team Persevere gets it together — emotionally, personally, and musically — before they face their biggest enemy. They got back to the basics of what Team Persevere really stands for, and with that spirit, I'm hopeful for a positive outcome.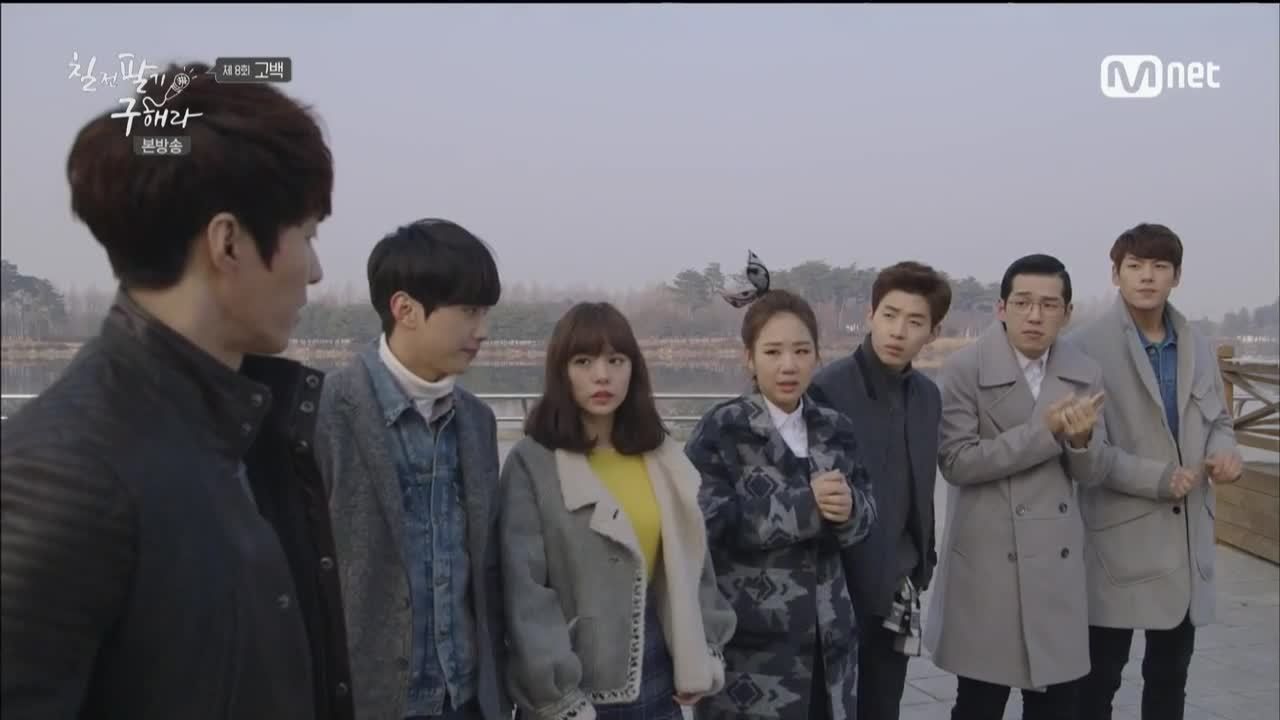 RELATED POSTS
Tags: featured, Jinyoung, Kwak Shi-yang, Min Hyo-rin, Persevere Gu Hae-ra