Angry Mom: Episode 7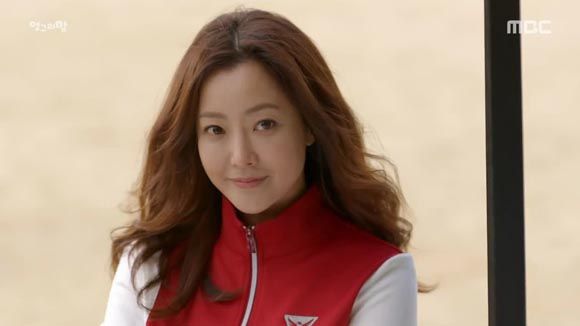 One step forward, one step back? Or maybe it's one step sideways—Kang-ja makes impressive headway in her crusade to right this series of wrongs, but she's about to find out that there's much more than one bad egg spoiling this bunch. There's a whole network of selfishness, corruption, and intrigue, and she's only scratched the surface. It may mean a whole new world of trouble for her… but as long as that means she gets to keep up her alter ego and continue to school this school, I'm all for it.
SONG OF THE DAY
Ben – "언제 사람 될래" (When will you become a person) [ Download ]
Audio clip: Adobe Flash Player (version 9 or above) is required to play this audio clip. Download the latest version here. You also need to have JavaScript enabled in your browser.

EPISODE 7 RECAP
Kang-ja finds Yi-kyung's pregnancy test in Jung-woo's apartment, and is just about to be caught red-handed upon his return. But just as he arrives at his door, Noah comes charging up, shoving papers at Jung-woo as his excuse for being here, though we know he's trying to check on Kang-ja.
Noah fakes an excuse about needing the restroom and is literally wrestling with Jung-woo at the doorway when Kang-ja steps out. Noah follows her to scold her for going to a teacher's home late at night—and Kang-ja, stunned at her revelation, just agrees with him. She cuts off Noah's lecture to say that you can't blame the student when the teacher is a thousand times more in the wrong.
Noah demands to know if Jung-woo did anything to her and is ready to confront him about it. But Kang-ja huffs that he doesn't know anything, leaving Noah very confused.
Ah-ran is surprised to hear that her mother has put together the truth. Kang-ja insists that the girls should have told their mothers rather than trying to deal with something so huge on their own, to which Ah-ran retorts, "Then Do Jung-woo would probably have killed Yi-kyung sooner."
Kang-ja asks how it all started, and Ah-ran explains that Yi-kyung was an outcast at school. When Ah-ran met her, Yi-kyung dove into the friendship wholeheartedly because she'd been so lonely before. It was after they became close that Ah-ran came to know of Yi-kyung's relationship with the teacher, which had ended when he tired of her.
And like the mean bastard he is, Jung-woo's method of ending it was to order Yi-kyung to transfer to a new school. She'd agreed but needed time to convince her mother to allow it, and the longer she remained at school, the more he sent Bok-dong after her to scare her into leaving. Ah-ran had stood up to Bok-dong, which got her harassed as well.
Now Kang-ja knows the full story, although Ah-ran pleads with her to let it go, worried that Jung-woo will hurt her if she persists. Kang-ja retorts defiantly, "No, Mom will handle it. I'll get Do Jung-woo." Yeah you will!
Jung-woo opens the mailed envelope that Kang-ja had gotten to first, and only now sees Yi-kyung's note and pregnancy test. He bolts up in shock and anger.
Kang-ja seeks out Yi-kyung's mother and tells her what she knows, all fired up to go after the teacher. But Yi-kyung's mother says that her daughter is already dead, and has been scorned enough—she won't have Yi-kyung trampled yet again. Kang-ja is shocked that a mother could be willing to cover this up, but Yi-kyung's mother says she has her younger child to think of. She keeps a stiff upper lip until she leaves the cafe and breaks down in tears.
Kang-ja shares what she's learned with Gong-joo, who points out that continuing her path is dangerous for Ah-ran. Kang-ja replies that Ah-ran's already in danger—she has to stop Jung-woo before he does anything to her. And now that she's seen the pregnancy test, there's evidence against him… if only she can get it.
In the morning, mother and daughter head into school together, and Ah-ran warns Mom not to do anything dangerous to trigger Jung-woo's suspicions. That's when Jung-woo appears to ask to see Ah-ran alone, to Kang-ja's consternation, and once again pokes around to see how much she remembers.
Jung-woo comments that it'd be nice if people would be transparent with their thoughts, so as to avoid misunderstandings. Ah-ran replies that he's describing a dead fish—you can't see through the living ones. Jung-woo says meaningfully that she's quite smart, and he's curious to know just how much: How is her memory? Her ability to judge when and when not to interfere?
He adds that Yi-kyung sent him a "gift"—did Ah-ran help pick it out? Ah-ran doesn't know what he's talking about, and he figures that's for the best. "Remember that I'm always watching over you," he says.
Kang-ja tries her best to eavesdrop at the door, and Jung-wo catches her lurking. It's a good thing she has her fake crush to serve as excuse, since he assumes that's the reason for her attention and finds it amusing. It also makes it less suspicious when Kang-ja asks if he's busy tonight and whether he'll be late coming home. His reply (he'll be very late) gives Kang-ja the info to start planning her way in.
But Noah catches the exchange and scolds her for dangling after Jung-woo. Ha, I love that this misunderstanding is dragging on, because Kang-ja's certainly not about to tell him the truth, but he's just going to keep assuming wrongly without a better explanation. And when she grumbles about his old-fashioned earnestness, he exclaims, "You can like him in your heart, but not like this!"
The ridiculous Vice Principal Oh assembles the faculty to greet Chairman Hong to the school, hovering obsequiously as he points out Kang-ja as the student who beat up Sang-tae. Chairman Hong looks at her blankly: "But she's a girl. This doesn't make sense!"
The chairman gives a mind-numbingly dull speech about school violence that stretches on so long that students squirm and fidget. Ah-ran starts to sway with a headache, which makes Sang-tae look over in concern and Kang-ja rush to her side to steady her.
After an hour and a half of pontificating, the chairman and Jung-woo retire to the secret "laundry machine" vault. The chairman advises him to work well with Ae-yeon, and not to screw around with any of the info in this room.
The next class is gym, and while everyone literally falls out of the path of Sang-tae's soccer ball (gotta kiss up to the school prez), the girls gossip on the sidelines. A volleyball rolls to Kang-ja just as the chairman exits the building, and she takes the opportunity to serve the ball into his back.
The chairman glowers, and Kang-ja apologizes profusely. The chairman vents his ire the usual way—by kicking Vice Principal Oh—and orders the man to flunk Kang-ja in next week's midterms. (VP Oh: "Yes sir! But… she's already at rock-bottom…")
At lunch, Sang-tae cuts in front of Ah-ran, who tells him to get in the back of line like everyone else. He says haughtily that the school is like his home and he doesn't wait in lines, which doesn't impress Ah-ran, who tells him to quit acting like a kid—he can go home and be a child with his mother. But mention of his mother sparks his temper, and he flings her lunch tray aside.
Then Kang-ja steps in and asks if his mother taught him his crap manners, and he throws utensils. She grabs his lapel muttering that kids like him deserve to be hit, but out come the smartphones. His cronies warn that if she bullies she'll be expelled, and nobody's willing to back her up in standing up to Sang-tae. He sneers at her and Ah-ran to come over to his side instead of being outcasts.
Ah-ran glares. "I'll starve, but I won't stick with you." It's only Ah-ran's asking look that keeps Kang-ja from going after Sang-tae again. Kang-ja ushers her out of the cafeteria while sputtering in indignation, but Ah-ran tells her that school has always been like this.
Kang-ja buys them bread for lunch and asks if Ah-ran has been enduring this treatment the whole time. Ah-ran replies that any high schooler in Korea has to be tough enough to endure this much. Kang-ja sighs and turns that around on herself, saying that a Korean mother ought to be tough enough to endure this as well.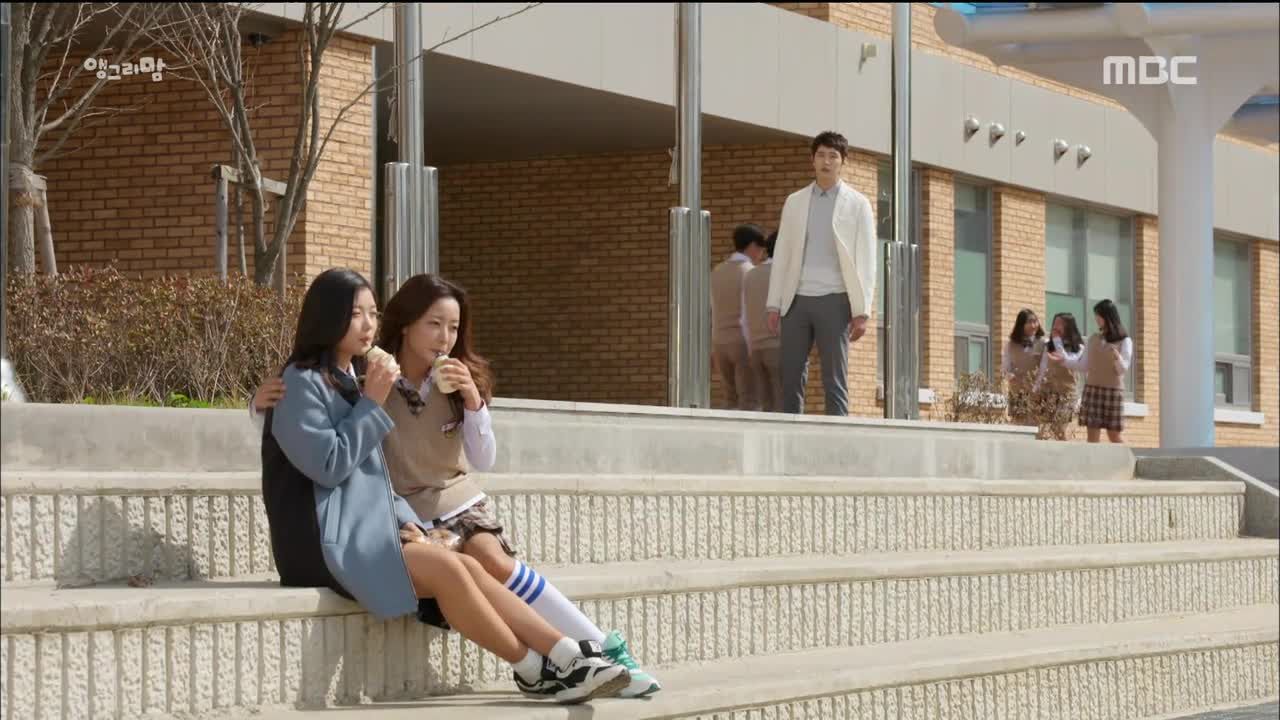 Dong-chil has Kang-ja's husband Jin-sang on a project to collect as many names as possible. It's not clear for what purpose, but given how he orders him to make people up out of thin air if necessary, undoubtedly it's for the shady underside of whatever his construction company is doing.
Jung-woo takes a look at the numbers and has a similar response—if there are no cheaper materials for purchase, make them somehow. Dong-chil understands the order, but cautions that they have to pay a certain price to keep things looking legitimate. Jung-woo reminds him that it's his job to take care of these concerns.
Jung-woo then suggests that having "a child" (Bok-dong) watching Ah-ran isn't enough, because she could do a lot of damage. The implication is to have Dong-chil take over, which he actually seems uncomfortable with. And you know you're a real scumbag when your resident lowlife looks uneasy at how scummy you're being. Dong-chil wonders to himself if he's being set up to be the fall guy.
Gong-joo's princess minions (god I love them and their ever-changing hairdos) prepare blueprints and a plan for breaking into Jung-woo's apartment. They enact the mission using methods like blinding the CCTV cameras with eggs and flour and unlocking the front door through the peephole.
Kang-ja's search takes a while because she can't find the envelope, and Gong-joo is first to see Jung-woo and Ae-yeon arriving in the garage. Kang-ja heads for the exit but can't resist one last search through a trash bin. Princess Minion 1 thinks fast to delay them, and arrives shouting Jung-woo's name just as he gets his front door open. He pretends like he's an old buddy, acting like it's so funny that Jung-woo's "acting" like he doesn't recognize him.
While he's being delayed in the hall, Ae-yeon enters first and gasps to see Kang-ja rooting through the trash. She doesn't understand what Kang-ja's doing here, but covers up for her and gives her the opening to slip out unseen.
She follows her outside to confront her, asking incredulously why she's going after Jung-woo, convinced Kang-ja's following a false line of suspicion. Kang-ja says that she has proof that Jung-woo impregnated a student, and that Ae-yeon just doesn't know what he's really like. She thanks her for helping, and heads off.
Kang-ja returns to the princessmobile empty-handed, only to find the car empty as well. Gong-joo tells her over the phone to wait just a while, and directs her princesses to keep digging through the building trash pile. God I love them all.
They come back covered in refuse, but also successful: Gong-joo has the envelope. Kang-ja thanks her in tears, saying that Gong-joo saved her daughter. Gong-joo cradles Kang-ja and says, "I've saved my daughter too. My daughter Bang-wool." Aw, tears.
Noah shares his concerns with his father that night, disappointed that he couldn't get the kids to open up to him. His father assures him that all kids are like that, and that it's not his fault. But it's little comfort to Noah, who explains how Kang-ja and Ah-ran ate snacks for lunch outside, and watching that made him feel useless. Ignorant. Unable to help.
His father says wisely, "That powerlessness you feel—that's what the kids feel. You've started to match your eye level to theirs. Our son is becoming a real teacher."
Kang-ja dresses up in the morning for an important meeting, which has her already suspicious mother-in-law extra suspicious at all her recent odd behavior. She asks if Kang-ja's having an affair, perhaps with that homeroom teacher, and tries to keep Kang-ja from leaving. In the brief struggle, Kang-ja drops her purse, and out comes the pregnancy test. Eep! Kang-ja promises to explain everything later and hurries out.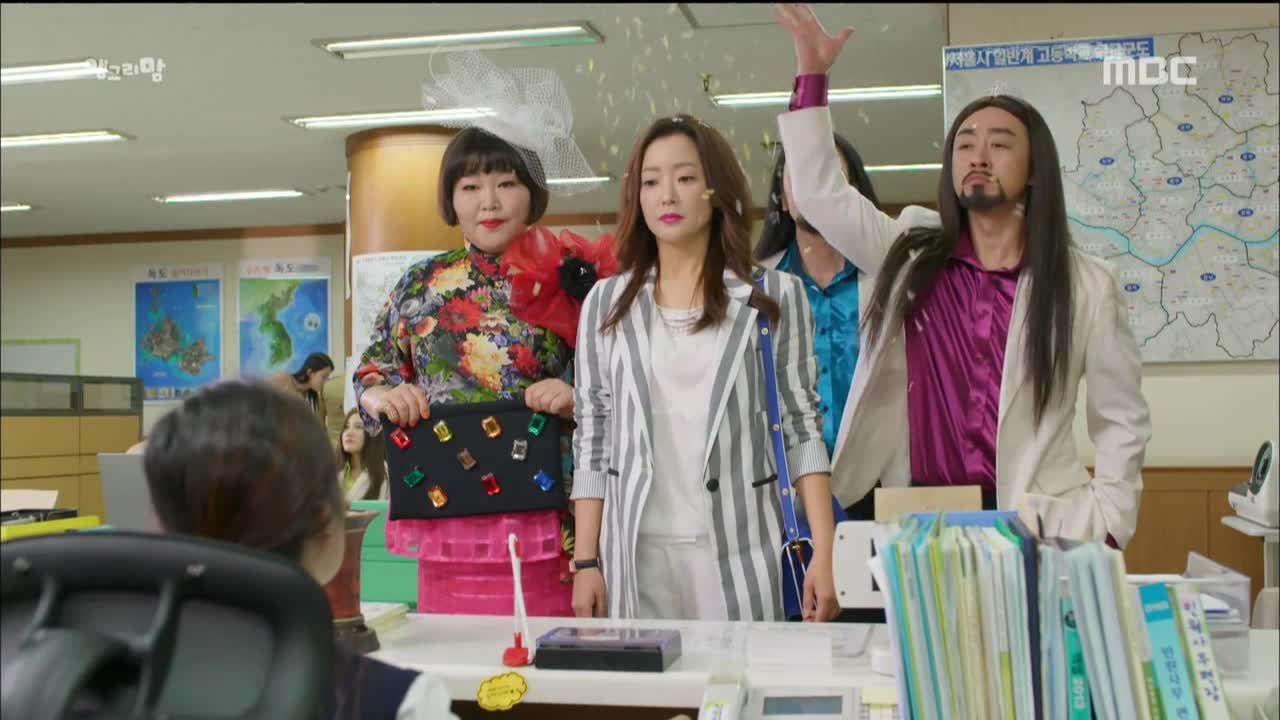 She meets her entourage to file her complaint with the education ministry, and presents her evidence and her charge against Jung-woo for being responsible for Yi-kyung's "suicide." Throws confetti. By which I mean there's real confetti, thrown by Princess Minion 1 to commemorate the moment.
Two inspectors from the education ministry come to school to take Jung-woo in for questioning, which is enough to get the school buzzing. Kang-ja tells Ah-ran about finding the evidence left by Yi-kyung and reporting the teacher, and says, "No matter how scary the world is, bad guys do get punished. That's why if you hide something up front out of fear, it just complicates things. If there are difficult problems you can't figure out on your own, tell Mom, okay?"
Ah-ran is moved and reassured, and Kang-ja pulls her into a hug with a relieved sigh.
But things aren't ever so simple, and the investigation department recognizes the names involved, knowing that they're backed by powerful people. This has education Minister Kang, Jung-woo's father, swooping into action immediately. He summons his son and puts in calls to do damage control.
News travels swiftly, and Ae-yeon catches wind of the movements. She calls Dong-chil to ask about it, and he answers noncommittally while looking at a safe, trying to decide something. But what?
Minister Kang is apoplectic in fury, reminding Jung-woo that he just used up his last chance. "I should have gotten rid of you earlier," he fumes. "I've dragged this out too long." He orders Jung-woo to leave the country and live "as dead" out of his sight.
Kang-ja just has a few loose ends to tie before quitting her schoolgirl act, meaning Bok-dong and Sang-tae, and doesn't notice that her mother-in-law is following her in a taxi. Mom-in-law gasps in shock to see Kang-ja in a school uniform pulling up in front of a motel, which sends her imagination into overdrive.
But Kang-ja bypasses the motel and heads to the campus nearby, where mom-in-law grabs her by the bookbag. Kang-ja gasps and promises to tell her the truth, trying to prevent a scene, just as the mean girl trio spots her and tells her to hurry before she's late. Kang-ja hurriedly waves them on and goes away sputtering "Mother!"—which makes the girls wonder why she has a different mother from last time. One must be the bio-mom who abandoned her, and the other one the woman who raised her.
They burst into class to spread the news about Bang-wool being dragged off by a totally old grandma-looking mom, and Ah-ran realizes what's going on.
Mom-in-law orders Kang-ja home, tut-tutting at the ridiculousness of her madcap scheme. Kang-ja pleads for understanding, saying that she just needs to take care of a few "problem children." Mom-in-law is unbending, but Kang-ja convinces her that she has to at least take care of dropout paperwork and will only go today.
Kang-ja heads in, only to see the chairman's fancy car pulling up—and Jung-woo emerging alongside Ae-yeon. Jung-woo has been promoted to director of the board, and we see that he had blackmailed his father as a last resort, thanks to the preparation of his mother before her death. He says he doesn't want to use his mother's "gift" against his father, and so, Minister Kang gives in.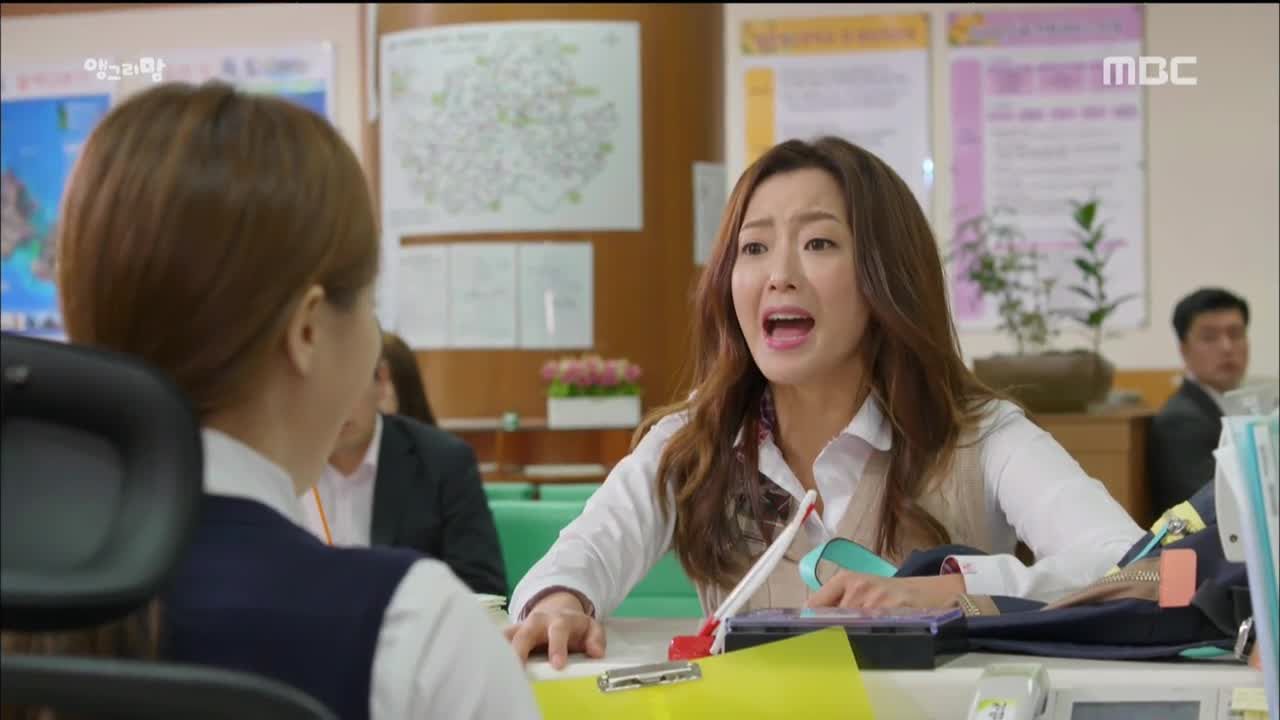 Kang-ja returns to check on the complaint, only to be told the office never received it. She pitches a fit, demanding CCTV footage and meetings with supervisors, and the office replays yesterday's tapes for her. There's nothing.
Kang-ja leaves feeling dejected, and belatedly realizes that she ought to be worried about Ah-ran. She hurries back to school just as Jung-woo is also on the prowl, though her desk is empty. It's a race to find her first, and Jung-woo is closer; he enters the library just as she's in the back aisle, trying to find that switch to open the wall.
He finds her as she's getting a call from her mother, and snatches the phone away just as she's about to answer. He asks if she filed the complaint and launches into a speech about her wasting her brains writing fiction… and that's when Noah arrives in the library and overhears the curious conversation.
Jung-woo makes a veiled threat about people like her ending their lives lonely and scared, and throwing themselves off rooftops. He advises her to think of herself and her future, and based on the choice she makes now, her life could take on very different paths. He advises her to make the "wise choice," and if she doesn't, he'll have to pay a visit to her parents.
Noah finds the exchange strange enough to ask Jung-woo what he was talking about, not accepting the answer about just wanting Ah-ran to study hard. Noah notes that Jung-woo has a talent for telling bald lies with a poker face, and demands to know what he showed Ah-ran.
Jung-woo warns him to stay out of it, ignoring Noah's demand to see that complaint, and leaves.
The encounter leaves Ah-ran trembling, but she puts on a brave face before her mother. She tells Kang-ja that she wants to focus on her studies and forget everything, and that continuing with this feels like a waste. Kang-ja guesses that Jung-woo threatened her, but Ah-ran returns, "Don't you know that the more you do this, the more danger it puts me in?" She tells Kang-ja to stop things now, and Kang-ja is left reeling.

COMMENTS
I knew it was too soon for Kang-ja to save the day and turn in her high school uniform for good, but the drama has done such a good job pacing the events that this progression up to the filing of the complaint felt natural, and that Kang-ja was ready to make her exit. I didn't want to see her leave the school since there's still so much story to be mined from it (both on the dramatic and comedic fronts), but I wondered how to keep her cover intact with more people finding out about it, and especially once she'd stepped forward to file a charge.
But we're not dealing with one corrupt individual here but an entire system full of broken pieces, so it makes sense to depict the perpetuation of injustice at every level. So now it's time for some background players to step it up, like the officials at the education ministry; today felt like the first episode where I saw the reason for all these characters having been introduced previously. The plot is ever so gradually bringing everybody together into the same story thread, so that while I never felt that Angry Mom was disjointed (the opposite, in fact—it's quite cohesive and nicely woven together), I like that things are coming into sharper focus.
We still don't know what kind of threat Jung-woo is holding over his father's head, but I don't know that it's important. The point is more that there is abuse and politicking every step of the way, and one person's crusade against the entire behemoth of a system can't be so easily resolved. An angry mom's work is never done, it seems.
Not that I mind, since I really love the depiction of mother-daughter relationships in this drama, whether they be literal mothers with their daughters or the faux ones, like Gong-joo and Kang-ja. I love the sweetness of Gong-joo, who used to be the sidekick to badass Bang-wool, stepping up to take on a maternal role; Kang-ja's always been the protector, but it's a comforting thought to see that she has people looking out for her, too.
You can see Kang-ja in Ah-ran as well, in the way Ah-ran is just as moved to step up for the weak and unwilling to give in to intimidation. Kang-ja may be the more fearless badass (one could argue that perhaps she had less to lose as a lost teenager), but it's both admirable and worrisome that Ah-ran is so staunch in her beliefs, that she won't kowtow to Sang-tae or cower before Bok-dong. Her unbending idea of right over wrong is, as Jung-woo insinuates, a stumbling block to what could be a successful future… and so I completely understand when Ah-ran decides to give up and put her head down: Stop making waves, and maybe life will be better for everyone—minus the wronged innocent dead girl, that is. It must be crushing for Kang-ja to see Ah-ran come to that point, but the good thing about Kang-ja is, she leads by example. What's the use in spouting platitudes when you can prove them firsthand?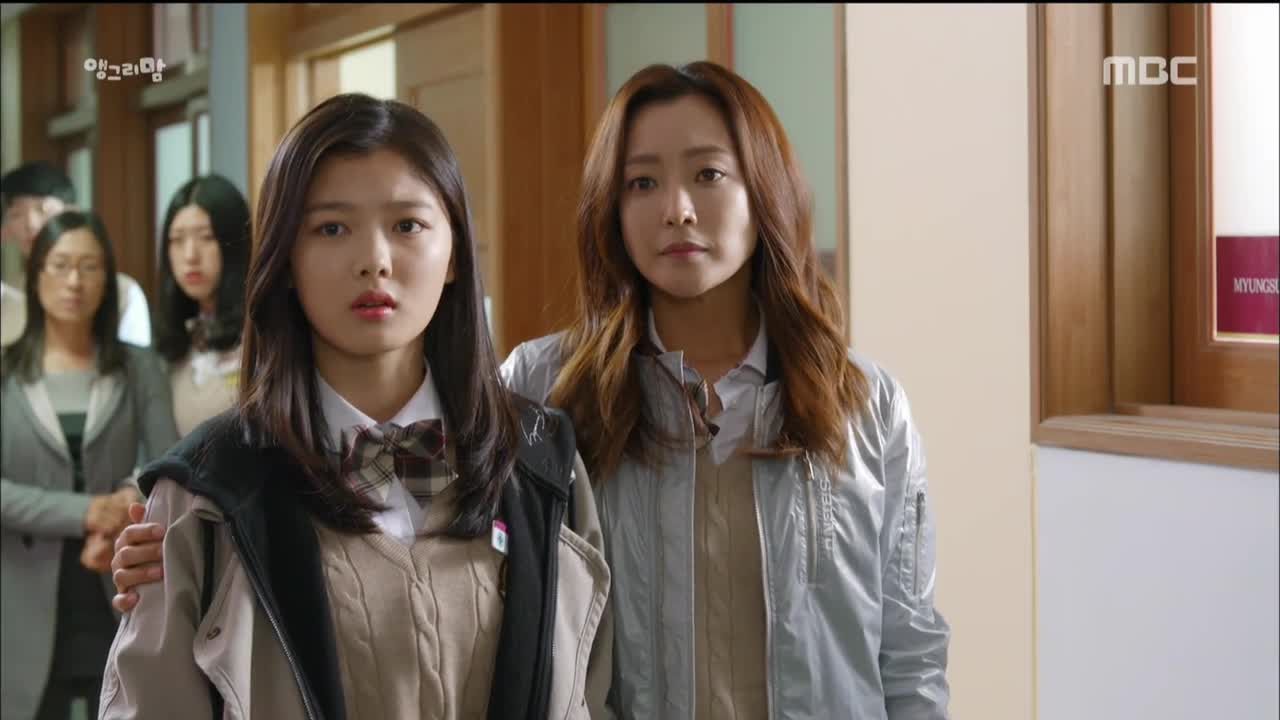 RELATED POSTS
Tags: Angry Mom, featured, Ji Hyun-woo, Kim Hee-sun, Kim Yoo-jung