Angry Mom: Episode 8
We focus almost entirely on the students and Kang-ja's quest to right wrongs from the inside, and it makes for a great episode. It isn't anything new to point out that the world is corrupt, but watching children accept that as fact is another thing entirely, and the wave of disillusionment just makes Kang-ja more determined to save the day.

SONG OF THE DAY
Lim Kim – "언제 진실이 중요했던 적 있었니" (Since When Was the Truth Ever Important) [ Download ]
Audio clip: Adobe Flash Player (version 9 or above) is required to play this audio clip. Download the latest version here. You also need to have JavaScript enabled in your browser.

EPISODE 8 RECAP
After being thoroughly threatened by Jung-woo, Ah-ran decides to put her head down and study, and tells Mom to leave school so she can put this stuff behind her. Kang-ja is left speechless.
Jung-woo is officially re-introduced to the teaching staff as the director of the board, and when Chairman Hong tells all the teachers to make sure the upcoming midterm scores are up, Noah chirps that test scores aren't everything. He's met with a room full of silent stares.
As they walk out, Chairman Hong merely chides Jung-woo that the girl was awfully young, and Jung-woo just offers that everyone makes one mistake. To her credit, Ae-yeon looks a little horrified.
Jung-woo smirks to himself that he'll make sure Chairman Hong never returns, while Chairman Hong chuckles in his car that Jung-woo has a long way to go. He gives Ae-yeon a vague warning to pick the right side, while thinking back to his conversation with Jung-woo's father—the one in which daddy dearest told him to get rid of Jung-woo and the washing machine once their work is done.
Kang-ja tells Gong-joo everything, and they deduce that Jung-woo has a network of far scarier people behind him. Kang-ja finally lets down her fierce façade and starts to break down in tears, crying, "Why does a mother only amount to this? I'm her mother! I'm her mother… but why is there nothing I can do for her?"
Gong-joo tells her that it's not just her—all mothers in the world feel this way. She just holds her friend and lets her cry on her shoulder. Great, now I'm crying too. And hee, so are the princess minions, who suddenly appear in the background sniffling into their tissues, having been a foot away the entire time.
Gong-joo gets mad and just wants to go in there guns blazing, but Kang-ja tells her that this isn't about tit-for-tat retribution. They have to ensure that these people can never do this again. She says that it's time to use their brains. Awww yeah.
It's hilarious how quickly Gong-joo deflates at the mention of brains over brawn, and she reminds Kang-ja that this isn't really their strong suit. But Kang-ja has a plan for getting smarter—they'll both study up on Myeongseong Foundation's ins and outs, and somewhere they're bound to come across one weakness.
To that end, the princess minions gain access into Chairman Hong's house posing as exterminators to plant cameras. Kang-ja's plan is to cut off the head—Chairman Hong—and go after Jung-woo when he's left without backup.
Kang-ja has another hurdle to jump when she gets home, because her mother-in-law is waiting to hear that she dropped out of school like she promised she would. They're interrupted when her husband Jin-sang comes home, and Kang-ja clamps a hand over Mom-in-law's mouth to keep her from talking.
She manages to drag Mom-in-law out with her, hand still over her mouth, and then butters her up with expensive sushi. Kang-ja offers to send her on that trip she's always wanted to go on, or a facelift, and Mom-in-law starts to soften.
She's mostly worried about what happens to their family if Kang-ja gets caught at school, so she promises to be careful and begs for one more month to keep up the ruse. Mom-in-law consents to one more week.
Meanwhile, hubby Jin-sang goes digging around in Kang-ja's backpack for her ID card (to add her to his list of names for unknown nefarious uses), and finds her school uniform. He asks her about it when she gets home, and Mom-in-law actually helps cover it up and Kang-ja lies that it's from a friend's daughter and she's giving it to Ah-ran.
Noah can't get it out of his head that his father might've pulled some strings to get him his job, and asks him about it directly. Dad is pretty evasive and asks how he could've done that when he knows no one at the school, and Noah seems satisfied with that.
After watching the Chairman Hong Cam for a while, Gong-joo decides that he's not right in the head. She promises round-the-clock surveillance and sends Kang-ja off to school with a polished apple (while wearing a Snow White costume, keh).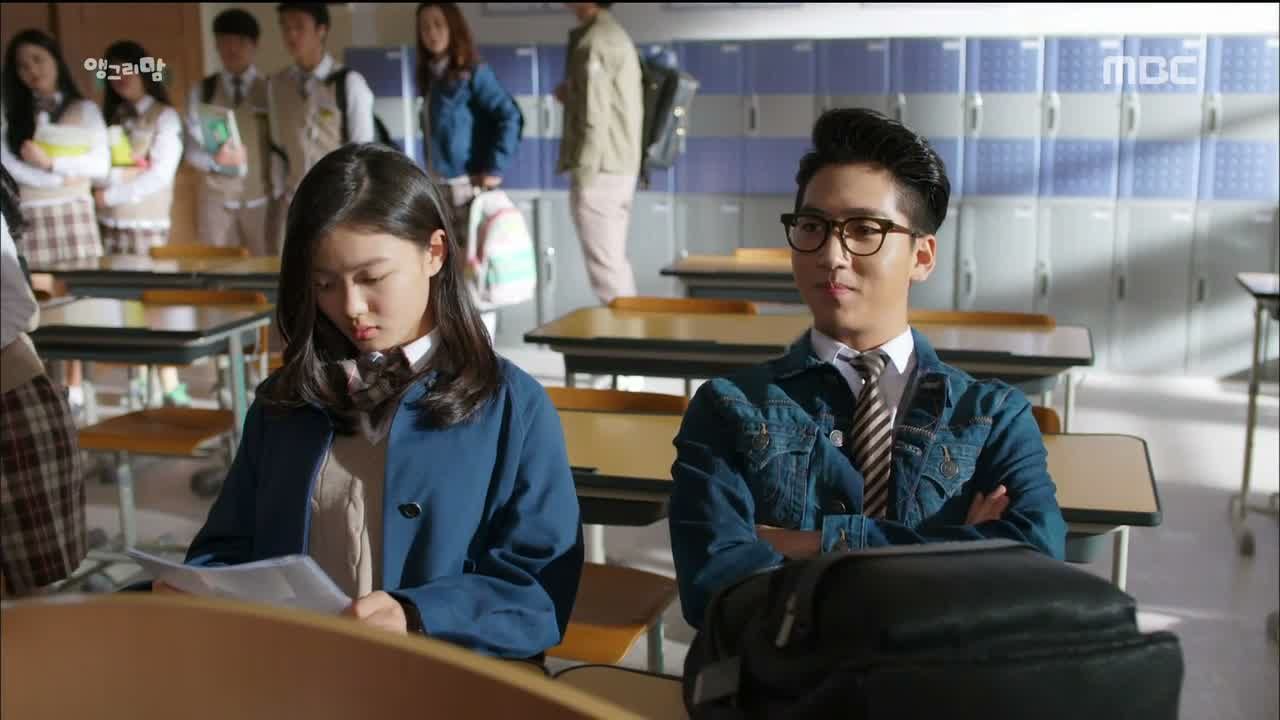 Ah-ran is aghast to see Mom back at school, but Kang-ja swears she'll make it so that Ah-ran can study in peace. Jung-hee's trio runs up and offers their sympathies to Kang-ja for her bio-mom/adopted-mom drama, having drummed up an elaborate backstory about her being abandoned in the streets. Kang-ja and Ah-ran just gape, as Jung-hee and the girls defend Kang-ja in front of the other kids.
When they get to class, the vice principal is there to rearrange the seating order, ignoring Noah's protests. They now have to sit according to class rank, which sucks for them but is fun for the drama, since it puts first-place Sang-tae next to second-place Ah-ran, much to his joy and her ire.
And of course last place goes to Kang-ja and Bok-dong, which just makes my day. Both boys are trying their damnedest to play it cool, but Sang-tae keeps grinning and Bok-dong steals glances at Kang-ja when she isn't looking. This kills me:
Besides being academically embarrassing, the new seating arrangement puts a kid who can't read the chalkboard in the very back row, and when he asks to be moved up, the fascist vice principal tells him to just get higher scores so he can sit closer.
Noah follows him into the teacher's office to argue that this isn't right, but just gets another screaming outburst for his trouble. The vice principal hands out test material to use for the upcoming exams, and then collects a fat check from the publisher of the study guides. Ugh.
Jin-sang turns over his list of people to Jung-woo, and is surprised to be named the lead developer on the new construction site. Oh yeah, he's definitely their fall guy for whatever fake front this is.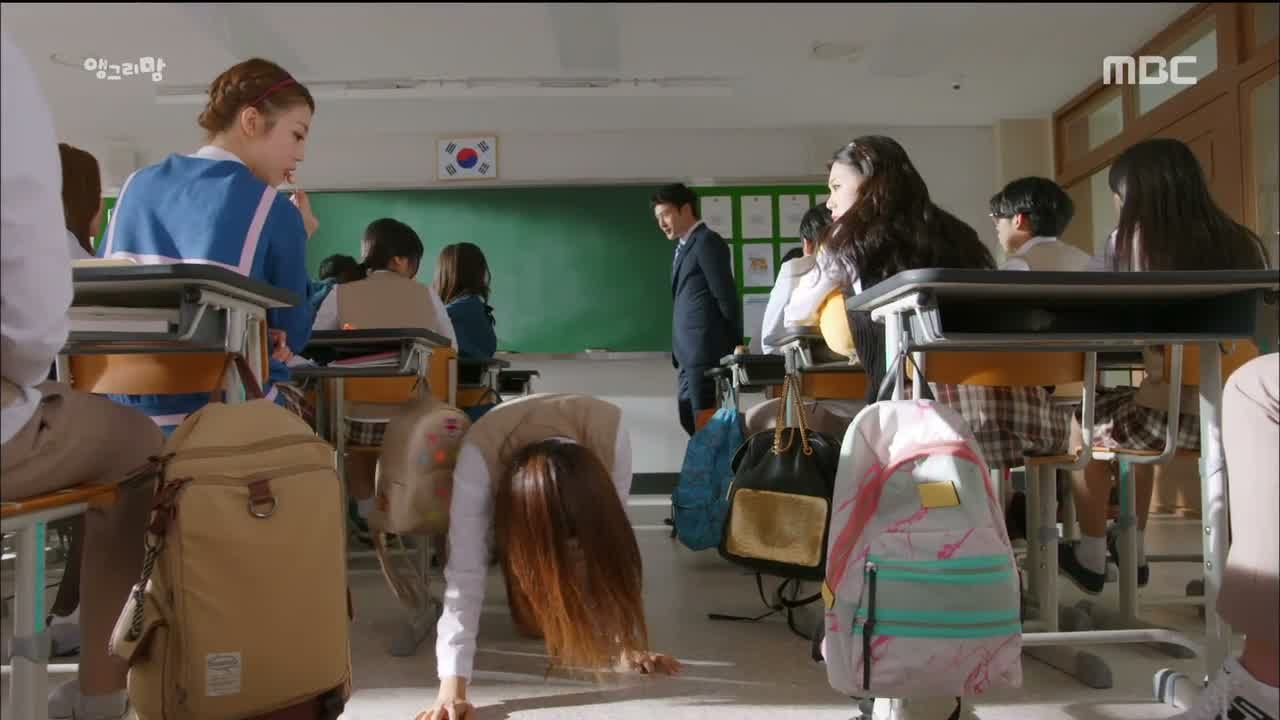 In class, Sang-tae invites the smartest kids in class to join his study group and tells the riffraff to stay out of their hair. The kid with the glasses, Geun-soo, meekly offers Sang-tae a pastry and asks to join his study group, and Sang-tae dismisses him like a bug.
Kang-ja can't stand to see him bullying that sweet kid and gets up to make an issue of it, when suddenly Ah-ran's eyes go wide and dad Jin-sang walks through the door. ACK. Kang-ja hurriedly drops to the ground and crawls toward the back of the room like she came out of The Ring, as if that's not the most conspicuous thing ever.
Everyone stares, but before Dad can look closely, Ah-ran drags him out acting embarrassed. Kang-ja succeeds in crawling to her desk, but Bok-dong asks what she's doing, so she quickly ties his shoelace. Eee, he totally has this cute internal freakout at her sweet gesture. He has such a crush on her.
The princess minions continue their running commentary about what a weirdo Chairman Hong is, as they watch him spend his day talking to his snakes and ignoring his son.
Gong-joo eagerly attends a moms' lunch with other parents from Kang-ja's high school, only to find that it's an excuse to bribe the vice principal and get the inside scoop on which study guides to buy for the exams. Dude, just how much side money are you pocketing?
The other moms sneer at her and Geun-soo's mother (the shy boy with glasses), who admits that she's out of savings but had to give something to get her son ahead, when he's struggling in school. Gong-joo is doubly saddened, knowing what an ass the vice principal really is.
Midterm exams begin at school, from PE tests to English poetry recitals. Comedian Kim Young-chul cameos as the English teacher, and when Kang-ja gets called up to the front of the class to share a poem, she begins to recite somberly: "Step by step. Ooh baby. Gonna get to you girl." Oh. My. God. Are you quoting the lyrics to Step by Step? *dies laughing*
Music class includes more recitals, and the theme of the day is pretty much Sang-tae Coasts By. So do the students of mothers who bribe the appropriate people, talent or skill be damned. Kang-ja is dismayed to learn that this is how things work—students of moms that grease the right palms get ahead.
Kang-ja spends late-night study hall just happily watching Ah-ran study, and when she notices Bok-dong sleeping next to her with his thumb near his mouth, she mutters to herself that he really seems like a baby at times like this.
She busts out her Myeongseong flow chart to study instead, but runs out when she sees Ah-ran head for the bathroom with a bloody nose. Kang-ja tells her to go home and rest up before the big test tomorrow, but Ah-ran asks why she isn't like all the other moms and goes right back to studying.
On her way back to class, Kang-ja sees Jung-hee sneaking down the hall. She's on her way to join Sang-tae and his inner circle in the office, where he's handing out copies of the exam. Oh, THAT'S your idea of study group? No wonder Ah-ran doesn't want to join you. Besides, yunno, the fact that you're an ass.
Jung-hee asks to be included because she really needs to do well on this exam so that her parents don't ship her off overseas. Sang-tae agrees to let her in if she stands up to Kang-ja, and tests her right away when Kang-ja comes in asking what they're doing.
Despite Jung-hee's cold rebuff, Kang-ja can tell that something suspicious is going on and grabs one of the tests out of another girl's hand. When she tries to wrestle the other exams away, they struggle and Kang-ja gets pinned down by a bookshelf. Sang-tae just tells Jung-hee to get all the exams, and they leave her there.
Though Jung-hee rips the tests out of Kang-ja's hand, she manages to hold onto one piece, and takes it straight to Noah to tell him about the cheating.
He bandages up the cut on her forehead and says that the school will have to open an investigation and she'll have to name names eventually, but she remains tight-lipped for now.
Noah sighs that he doesn't know where things went wrong, calling it a kaleidoscope where teachers and parents and children just start to reflect one another until it's unclear where the trouble began.
Kang-ja says that she doesn't know about complicated things like that, but she does know one thing: There is a monster in this school.
At home, Kang-ja tries to get Ah-ran to sleep instead of pulling an all-nighter, and lets her in on the secret that there won't be a test tomorrow. Ah-ran guesses right away that Sang-tae is behind the stolen tests, and uses the chance to study harder to edge ahead into first place.
Kang-ja catches a glimpse of Jung-woo's father greeting his constituents on television, though she doesn't know about his connection to Jung-woo. He's just presented in the media as a caring politician with a heart for education, and it seems to leave an impression with her.
In the morning, Ah-ran and Kang-ja are both shocked to be handed midterm exams as if nothing happened. Kang-ja asks why the test isn't postponed, and runs into the vice principal's office where Noah is currently asking the same thing.
The vice principal has no intention of canceling an exam that made him so much side money, so all of Noah's protests fall on deaf ears. Once Kang-ja arrives to offer herself up as a witness, the vice principal accuses her of being the number one suspect and shows her the video of her in the teacher's office with Noah, adding that Noah could be in on it.
Kang-ja has no choice but to name the culprits, but that doesn't faze Sang-tae in the least. He just sits back and says that the test was a practice exam based on last year's midterm, and everyone else corroborates his story.
Jung-hee is the last holdout, and Kang-ja calmly reminds her that she's the one who's always complaining about this dirty rotten unfair world—if she takes Sang-tae's side now, she's making a choice to be part of that world she hates.
Jung-hee does really look torn up about it, and she's about to open her mouth when she gets a text from her mother (who received a warning from the vice principal) about being sent abroad. She immediately falls in line and confirms Sang-tae's story. Kang-ja and Noah look devastated.
So the midterm scores stand, and Ah-ran drops down to third place. Sang-tae gives her an I-told-you-so about joining his study group, the jerk. And Jung-hee's friends call her out on going darkside to raise her scores, and they get into a fight.
There's another commotion outside the vice principal's office, where Geun-soo's mother is currently arguing that she gave him money to raise her son's score. It didn't go up, so she's asking for her money back. Naturally he denies receiving anything, so she parks herself in his chair and at least demands for her letter back, refusing to budge.
Kang-ja and Noah arrive in the office and pick up enough of the argument to know that the vice principal is collecting bribes. And just when you thought they couldn't be disillusioned any more in one day.
Noah takes up the argument privately with the vice principal, fuming over his blatant misuse of power. He stomps off prepared to go straight to the education board with this, but the vice principal just asks how Noah's father is any different—he paid to get his son this job, didn't he? Ouch. There goes the last crack in Noah's rose-tinted glasses.
There's a cool shot of Kang-ja as she walks through the halls in slow-motion, and everyone else moves in reverse. It's starting to dawn on her just how deep the corruption runs in this place, and how difficult it is for anyone to fight it.
She finds another set of kids in the boys' bathroom, berating Geun-soo for cheating. The poor kid gets beaten up no matter what he does, and Kang-ja kneels down to ask gently why he did it.
He cries that he just wanted to do well and be liked by teachers and other students, and not be overlooked and ridiculed all the time. Kang-ja sighs and tells him that he still crossed a line, and Geun-soo wails that it's unfair. Sang-tae steps out of one of the stalls and sneers that he can't poop in peace.
As they leave school that night, Kang-ja tries to tell Ah-ran that it's okay if her scores dropped a little this time because they'll go back up. But Ah-ran argues that nothing is okay about this—no matter how hard she works, she'll never be scored fairly, and asks what's right about that.
She repeats the same thing that Kang-ja said at the top of the episode and that Geun-soo said: "It's not fair."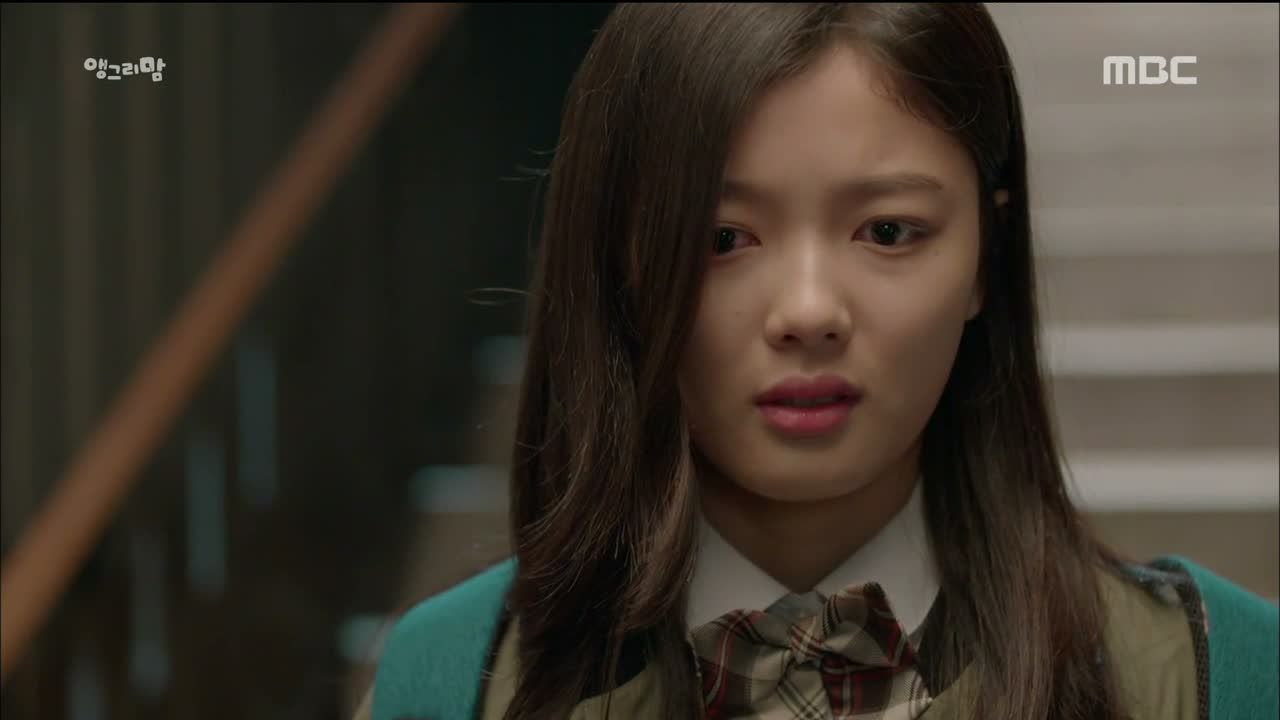 It breaks Kang-ja's heart even further when Ah-ran adds that the world is just one big con. She tucks Ah-ran into bed and watches her sleep for a while, and then gets the idea to write a letter to the minister of education.
She details all of the injustices going on at her school, and then finds him at his next public marketplace appearance to hand him the letter personally. He listens to her story and tells her not to worry—he'll take care of everything.
Kang-ja leaves in good spirits, buoyed by the feeling that she's actually made a difference, and tells Gong-joo all about it. Gong-joo is skeptical about a politician keeping his word, but Kang-ja says that this one is different.
The princess minions pipe up when a visitor shows up on the Chairman Hong Cam, and Kang-ja is shocked to see the minister of education walk right in and hand her letter to Chairman Hong.
He grouses, "Do I have to deal with trash, with trivial civil complaints like this? Don't let the cries of children reach my ears. I hate it. Give them candy or sweets to suck on, but don't let them cry!"

COMMENTS
How poetic that the minister of education hates children. Not that we didn't guess this, based on how he treats his son, however illegitimate. I was worried about Kang-ja trusting yet another man in power who can't be trusted, but this show is pretty quick about not leaving our heroine in the dark too long, and I'm grateful for that. I want her to gather up enough information to take the whole house down, and she's finally starting to see just how far this organization reaches. It seems an insurmountable foe at the moment, but that makes her quest all the more admirable, if one woman can bring down an organization that elaborate. I can't wait to see their faces when they discover who's responsible.
But for now Kang-ja has to swallow bitter pill after bitter pill, and today was a shared experience in becoming jaded, from Noah to Ah-ran to their classmates. It's so heartbreaking when Kang-ja wants to shield Ah-ran from having to believe the worst about people and the world she lives in, only to be proven wrong at every turn no matter how hard she tries to do the right thing. Her earnest frustration is so palpable, and Kim Hee-sun makes this character feel so grounded and real, no matter how crazy the situations get.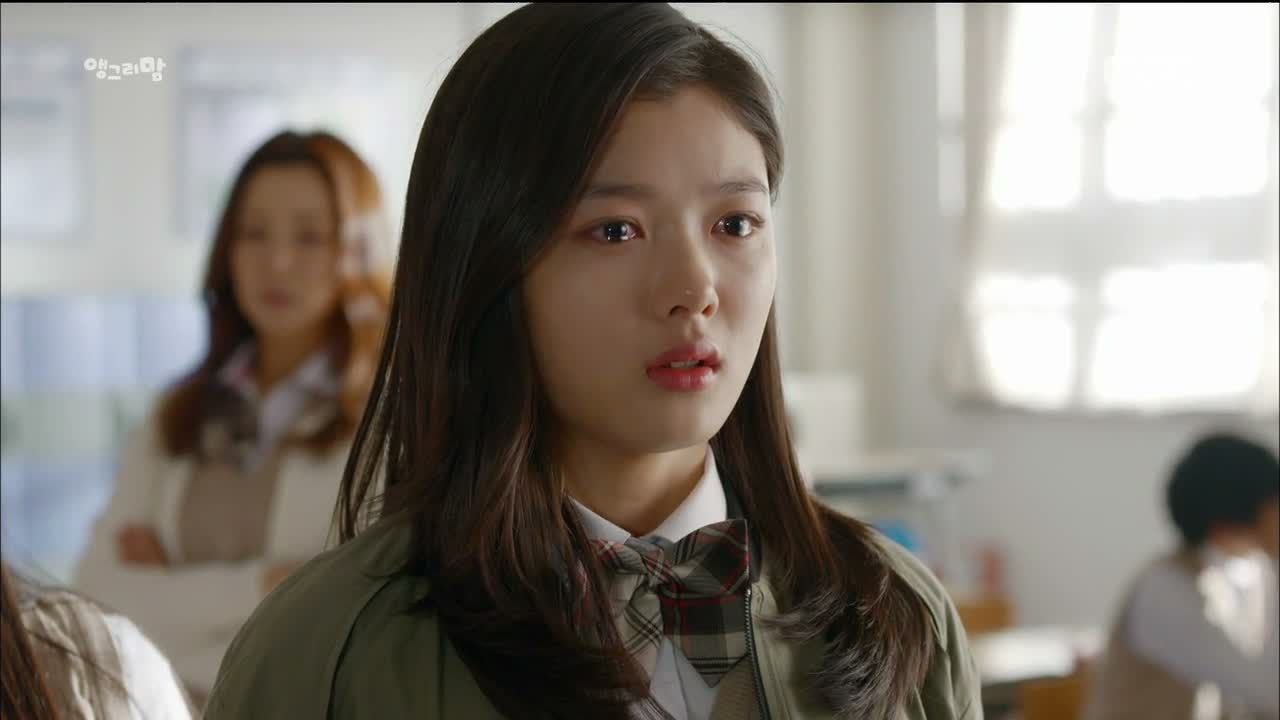 Today's episode had very small and relatable problems, familiar to any high school drama about the haves and the have-nots. While the villains are pretty outrageous (that vice principal, I mean, come on), Angry Mom does a fairly good job of giving multiple perspectives, like Jung-hee who hates the corruption but yields when her livelihood is threatened, Geun-soo who represents the weak and bullied, and Noah the righteous white hat… who discovers that he's the product of the very same privilege that he despises. It's a great moment when he's struck with that hypocrisy, though it's really his father's not his. Still, he benefitted in the same way that the students of the wealthier parents did for the exams—those kids get ahead in life, and so did he, because of what his father was willing to do. From an ethical point of view, it's almost easier to be the kids of poor parents who can't afford to bribe people. Not that being Ah-ran is fair either, but she gets to have a clean conscience, and in this school, that's saying a lot.
While Angry Mom isn't inventing any new conflicts or being subtle about its message, I find myself always in the moment with Kang-ja because my heart is with her, and engaged with every little character because they're given warring motivations, personal quirks, and are written as complex people. I find myself sympathizing with the nosy mother-in-law or wondering about Noah's father, understanding Jung-hee's boneheaded move, and feeling for the bullied Geun-soo even though we just met him. And of course I love everything about Gong-joo and her princess posse, and Bok-dong, whose crush is fast becoming my favorite thing ever. I know he's just a kid and it'll only end in heartbreak, but ohmygod, could it be any cuter? Moar please.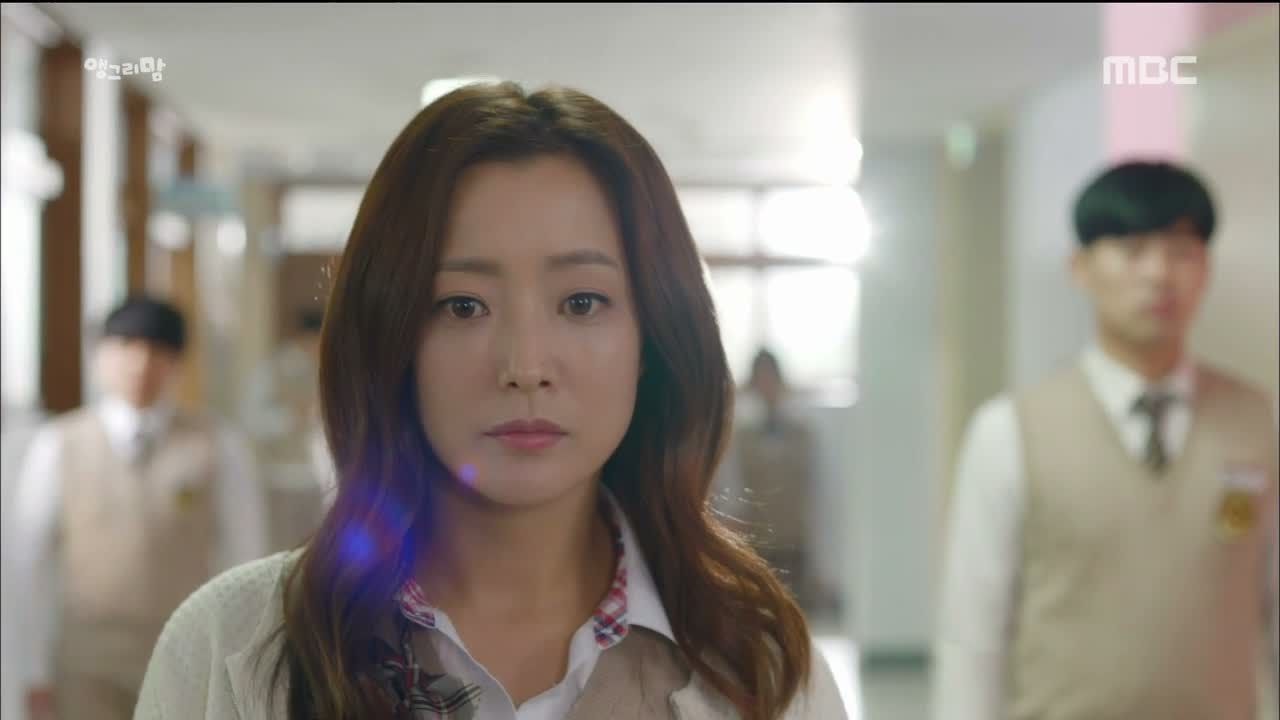 RELATED POSTS
Tags: Angry Mom, featured, Ji Hyun-woo, Kim Hee-sun, Kim Yoo-jung