Cha Tae-hyun goes behind the 1N2D camera for Producer
After watching Cha Tae-hyun (The Con Artists, Jeon Woo-chi) on the cast-member side of variety programming in 1 Night 2 Days, constantly being thwarted by fate (by which I mean producers who engineered his fate, of course), it'll be a fun turnaround to see him playing a producer for that very show on his upcoming meta-filled drama Producer, where he plays (surprise, surprise) a variety producer.
In these stills, you see Cha Tae-hyun as director Ra Joon-mo, the PD of 1 Night 2 Days' fourth season; we'll all be aware, of course, that Cha Tae-hyun is currently starring in the show's third season. The stills depict the show-within-the-show filming in front of the KBS building (as does the real program), with Cha—er, Ra Joon-mo—directing the proceedings, which will unfold with an all-female cast of actresses in this fictional future season.
The mock verisimilitude of Producer is exactly why I find this show fascinating, since they're not doing the typical television thing of creating thinly veiled dramaland versions of real shows. That's the tactic most shows about showbiz adopt, where you change a word or a letter in a title, so that we know what they're referring to without actually invoking real names. But Producer sets itself into real reality—just with different participants—so while it's certainly fictional, there's so much overlap with the real-world versions that just keeping all the realities straight will be a task (and a source of entertainment in and of itself). It'll be the perfect mix for variety lovers and drama fans alike—or so goes the hope, at least.
To that end, Producer recently brought on veteran rom-com director Pyo Min-soo (Ho-gu's Love, Flower Boy Ramyun Shop, You've Fallen For Me, The World They Live In, Full House) to join the directing team, replacing a less experienced director, Yoon Sung-ho. The drama started out with veteran variety producer and director Seo Soo-min (Gag Concert, 1 Night 2 Days, Yoo Hee-yeol's Sketchbook) at the helm to lend her years of expertise to the variety half of things while the other PD managed the drama aspect, but felt a more seasoned hand was needed.
In any case, I can't wait to see Cha Tae-hyun on the flipside of the variety camera, being the one dictating all the challenges after always being the victim of them. Perhaps it'll be his chance to enjoy some karmic payback, even if it's only by proxy?
Producer, co-starring Gong Hyo-jin, Kim Soo-hyun, and IU, kicks off on May 8 on KBS.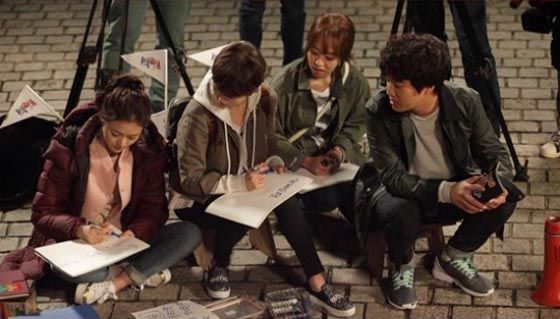 Via Joins
RELATED POSTS
Tags: Cha Tae-hyun, The Producers