Falling for Innocence: Episode 2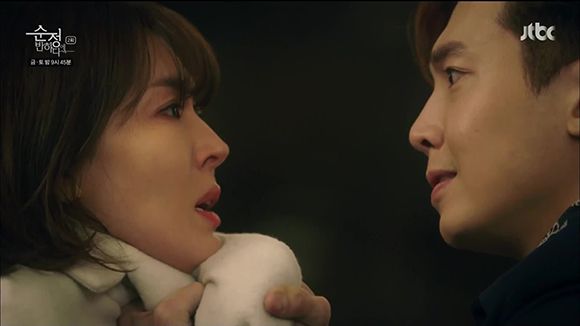 Our hapless heroine is blamed when a revenge plan goes awry, but lest we start worrying, there's plenty of misplaced blame for everyone in an episode that does remarkably well in setting up its central premise so we can dive right into the heart of the story next week. It's certainly got all the makings of a modern melodrama, but there's definitely an intangible quality to the show that keeps it from being an emotional drag that's only after our tears. The balance strikes a happy medium for now, and I like that.
SONG OF THE DAY
Navi ft. Jaebum – "Damaged Heart" [ Download ]
Audio clip: Adobe Flash Player (version 9 or above) is required to play this audio clip. Download the latest version here. You also need to have JavaScript enabled in your browser.

EPISODE 2 RECAP
Wide-eyed and worried when Min-ho suddenly falls into her arms, Soon-jung helps him to lie on the ground before hurriedly dialing the hotel's front desk. Only Min-ho's weak grasp on her wrist stops her as he murmurs, "Don't."
So she helps him into a taxi instead, where he has enough energy to direct the cab driver to the hospital he wants to go to. Once there, she can only follow his gurney as far as the VIP section, where she's turned away by both doctors and security guards.
While Dong-wook can't stop thinking about Soon-jung's mysterious taxi ride from the night before, Soon-jung calls work from the hospital and lies that she needs to take a sick day rather than informing them of Min-ho's condition.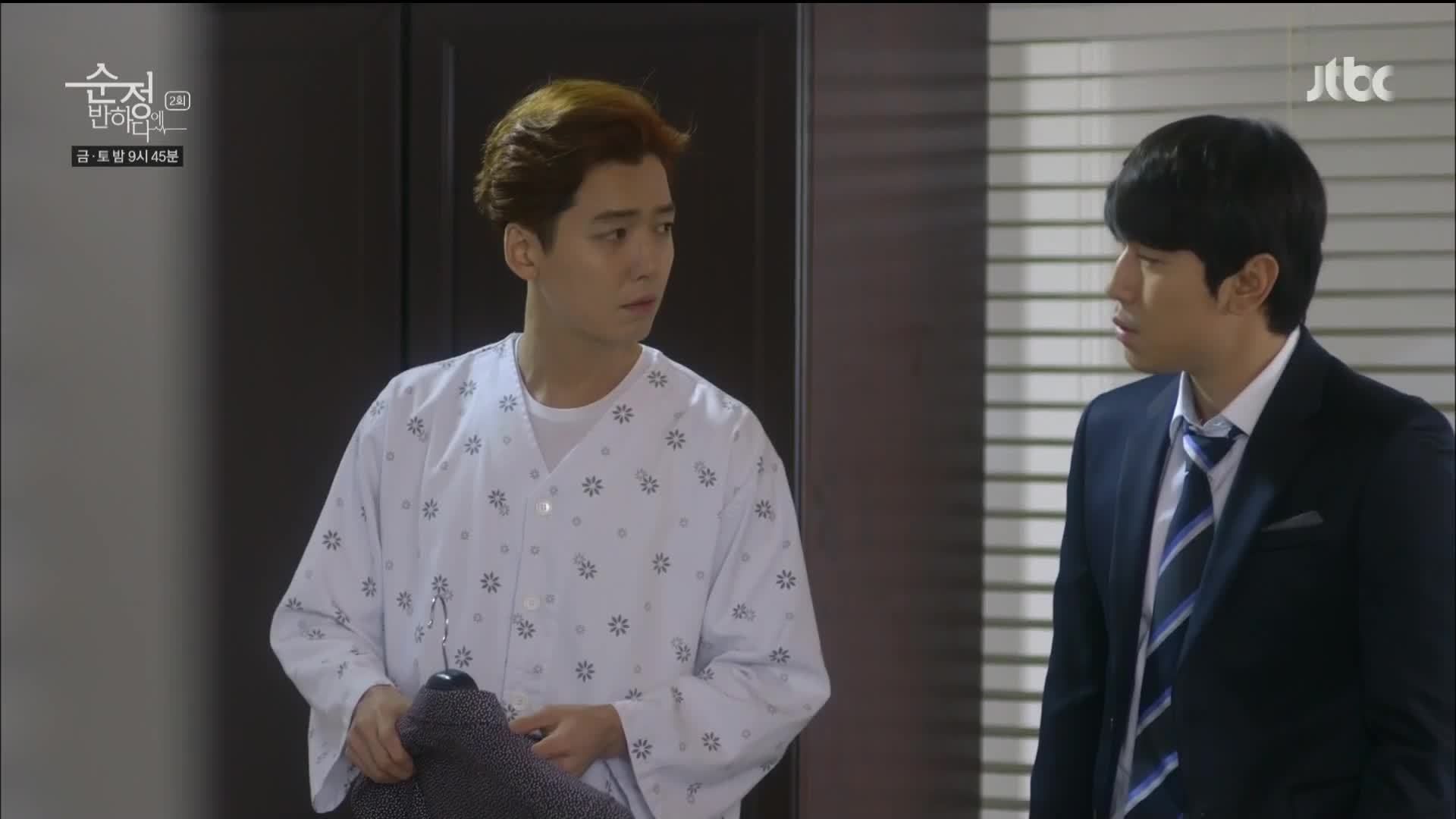 After hearing the doctor's grim prognosis concerning Min-ho's future, Secretary OH WOO-SHIK (Lee Shi-un) finds Min-ho getting dressed in preparation for the big meeting.
Even though it'd be much better for him to stay in the hospital, Min-ho knows how little time he has left and asks Secretary Oh to get enough pain medication from the doctor to last him twelve hours. Oh, sad. He knows he can't ask for any more time than that.
Joon-hee finds himself feeling downtrodden after a meeting with Chairman Kang ends with him getting piles of dirty work to take care of in order to grease the wheels for the future legal showdown between Hermia Group and Gold Partners.
What's worse is that everyone in the legal circle knows that Joon-hee is basically Chairman Kang's glorified hunting dog, which can't be of much help to his self-esteem.
Dong-wook arranges a coffee shop meeting with Joon-hee to ask what he knows about Soon-jung—she's been acting strange lately, and Dong-wook knows she wouldn't let him in on her secrets so as not to worry him.
Joon-hee decides to be honest when he tells Dong-wook that the man he got into a scuffle with the day before was actually the son of the late chairman of Gold Partners, who Soon-jung's father used to work for and allegedly betrayed in order to side with Min-ho's uncle.
As if that wasn't already a point of contention between Min-ho and Soon-jung, Joon-hee explains, now the whole assault case Dong-wook started has given the contentious Min-ho another reason to give Soon-jung grief.
Dong-wook thinks the solution should be simple—they know the man who disappeared after tampering with one of Hermia Cosmetics' products, and even though they suspect Min-ho was the one pulling the strings, he thinks that finding their friend would fix the issue.
Joon-hee isn't so sure, and warns Dong-wook that the amount of power Min-ho possesses is truly beyond his realm of comprehension. It's better that Dong-wook just stay out of it.
After a night of nodding off in the hospital waiting area, Soon-jung is taken up to Min-ho's room for an interrogation session she wasn't expecting—though she stayed the night out of the goodness of her heart, Min-ho accuses her of having other, more nefarious purposes she no doubt learned from her turncoat of a father.
However, Min-ho announces the terms of the settlement for Dong-wook's act of violence: he wants her to work with him, but in secrecy. "If you say anything to anyone, I will destroy you," he adds darkly. She shoots back, however politely, that she was about to say the same thing to him. Ha.
Makeover time! It's a bit surprising to find one here, since Soon-jung seems to dress pretty competently already, but Min-ho wants her wearing only the finest brands while she's in his secret employ.
He sits by coolly as he orders her to just go along with it, to which she sighs exasperatingly that this better be over quickly. After a period of waiting, Soon-jung steps out of the dressing room looking like a million bucks, and Min-ho's demeanor visibly changes as he gives her the once-over. Be careful what you wish for.
Afterward, she asks him why she needs such a getup, only for him to reply that she should consider it armor, since they're going off to battle. It's a fight she wouldn't have had a chance in had she been wearing plebeian clothes, which sets off a lightbulb over her head—is he thinking of using her for (gasp) male entertainment?
Min-ho laughs. "It could be similar to that. You have to meet with five men at once today." Her eyes go as wide as dinner plates as she sputters in shock. He must know what she's thinking, but he's having way too much fun messing with her.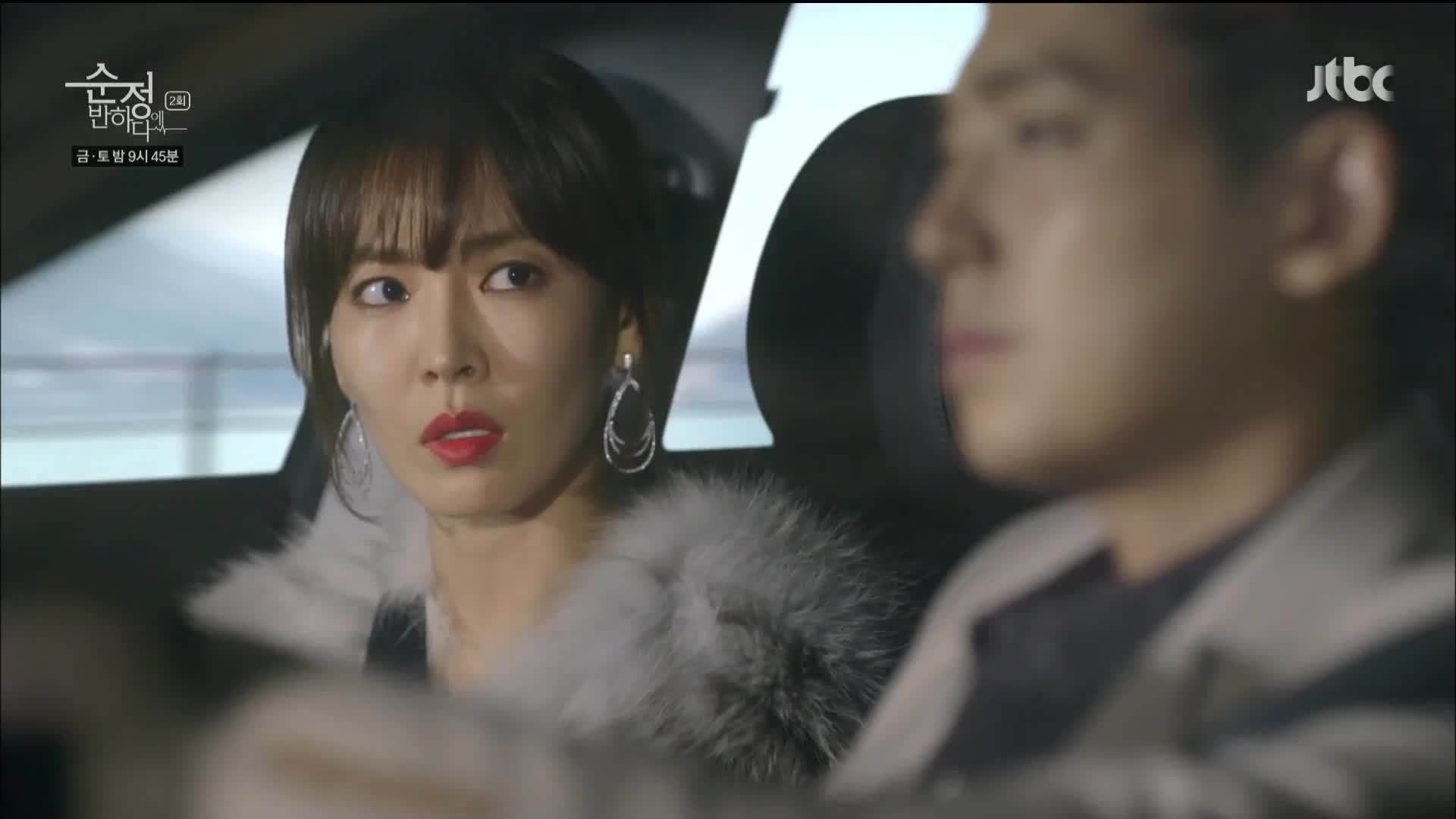 She tries to draw a line in the sand about what she will and will not do, even though Min-ho to tell her it won't be so bad—all the men she'll be meeting with are extremely wealthy.
But she's in for quite a surprise when he leads her into the meeting room of a lavish mansion… only to find her boss, Chairman Kang, among the group. Oh Min-ho, you devious snake.
Min-ho is essentially crashing what was supposed to be a secret meeting, and proves how tough his skin is when the men gathered—all former associates of his father who turned their backs on him—take potshots at him for being the rebellious nephew to their godly chairman.
They wonder how Min-ho even found out about the meeting and jump to blame Soon-jung as a turncoat, but Chairman Kang comes to her defense as he tells them that even she didn't know about it.
By saying that, he's undermining what he thinks was Min-ho's plan in bringing her here, since he undoubtedly wanted to make the board members sweat that their secrets could be exposed by Soon-jung's alleged defection.
Unfortunately, Chairman Kang doesn't care about Soon-jung as much as she might've thought, since he casually mentions that he can get another secretary—but he can't replace the bondholders present here. Their bond of twenty-five years is unbreakable.
Min-ho decides to test that bond with a proposition: he'll buy their bonds at the lowest possible price. But, that offer is only available to the bondholder who breaks down and calls him first. "Let's see how much those twenty-five years are worth," Min-ho dares Chairman Kang.
While Dong-wook tries tracking down their missing friend who tampered with Hermia's products, Soon-jung throws her fine fur coat in Min-ho's face after they leave the meeting room, calling him a piece of garbage through her teeth.
He calls her out on being impolite for a secretary, to which she fires back, "Only those who deserve respect get respect. Even curse words are too good for you right now."
Min-ho is unfazed, as usual, and tells her that if it weren't for him, she wouldn't have gotten to see the true face of the man she calls her boss. He was ready to drop her like used underwear, so shouldn't she be grateful to Min-ho for showing her that?
Short answer? No. She asks if her being a spy was what he wanted as part of the settlement agreement all along, to which Min-ho chuckles and adds, "That was just the beginning." It's enough to set Soon-jung's temper flaring as she demands to know what exactly he does want.
Min-ho makes it simple: He wants her to come work for him permanently. He'll give her a high position, and besides, it'll offer her protection against his uncle/her former boss now that she's been seen accompanying him. It's not like she can go back, after all.
Even though she knows that as well as he does, she still won't take his offer, claiming that only people who've given up their humanity could work as his secretary. She's not about to work for garbage like him.
As she returns home, she can't help but think of Min-ho's last words to her: "You have two choices. Become my ally and live, or become my enemy and die." Luckily she's shaken out of her thoughts by Dong-wook, who's been waiting for her.
He pulls her into an embrace while his phone plays the same song he sung while proposing to her and says comfortingly, "It's okay, Soon-jung. Like I've always told you, happiness passes, but so does sadness. Plus, I'm here by your side. Right?"
Her eyes fill with tears as she nods with a small smile. That's when he breaks the news that there's another man who's been waiting to see her—his dad, MA TAE-SUK (Ahn Suk-hwan).
Papa Ma has prepared dinner to thank her for getting his son out of the sticky situation with the police, and the three share a happy meal together. But, Papa Ma adds that he can't bless their marriage until they visit the graves of her parents to ask their permission first. Aww.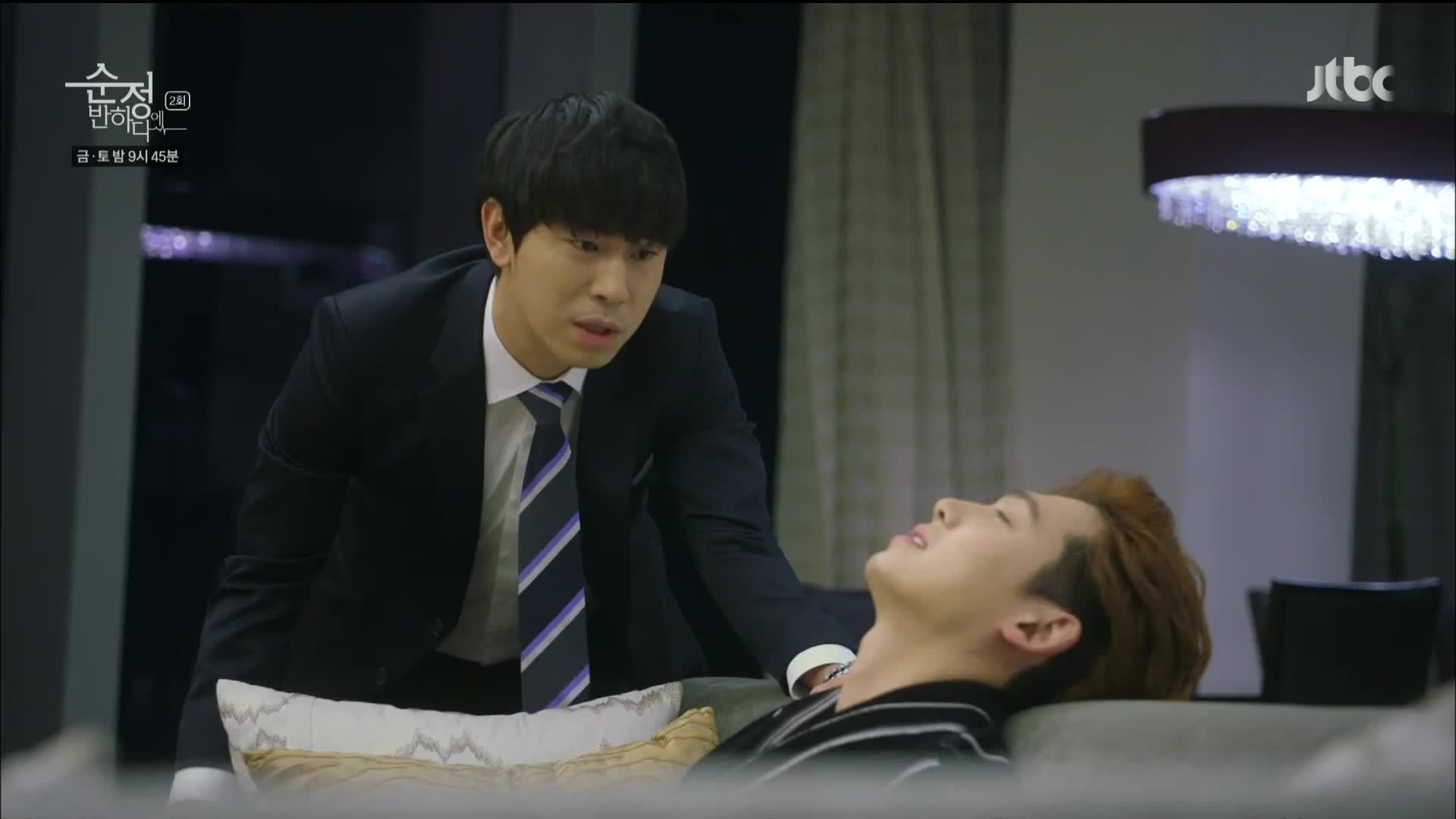 Not only did Min-ho's plan to break up Chairman Kang's twenty-five year bond with his bondholders work, it worked too well—all four of the men at the meeting have called him about taking his deal. So much for loyalty.
Secretary Oh is less impressed with this most recent accomplishment when Min-ho can't even sleep lying down because of his heart, and frustratingly grits that his millions are worth nothing when he has to sleep sitting up.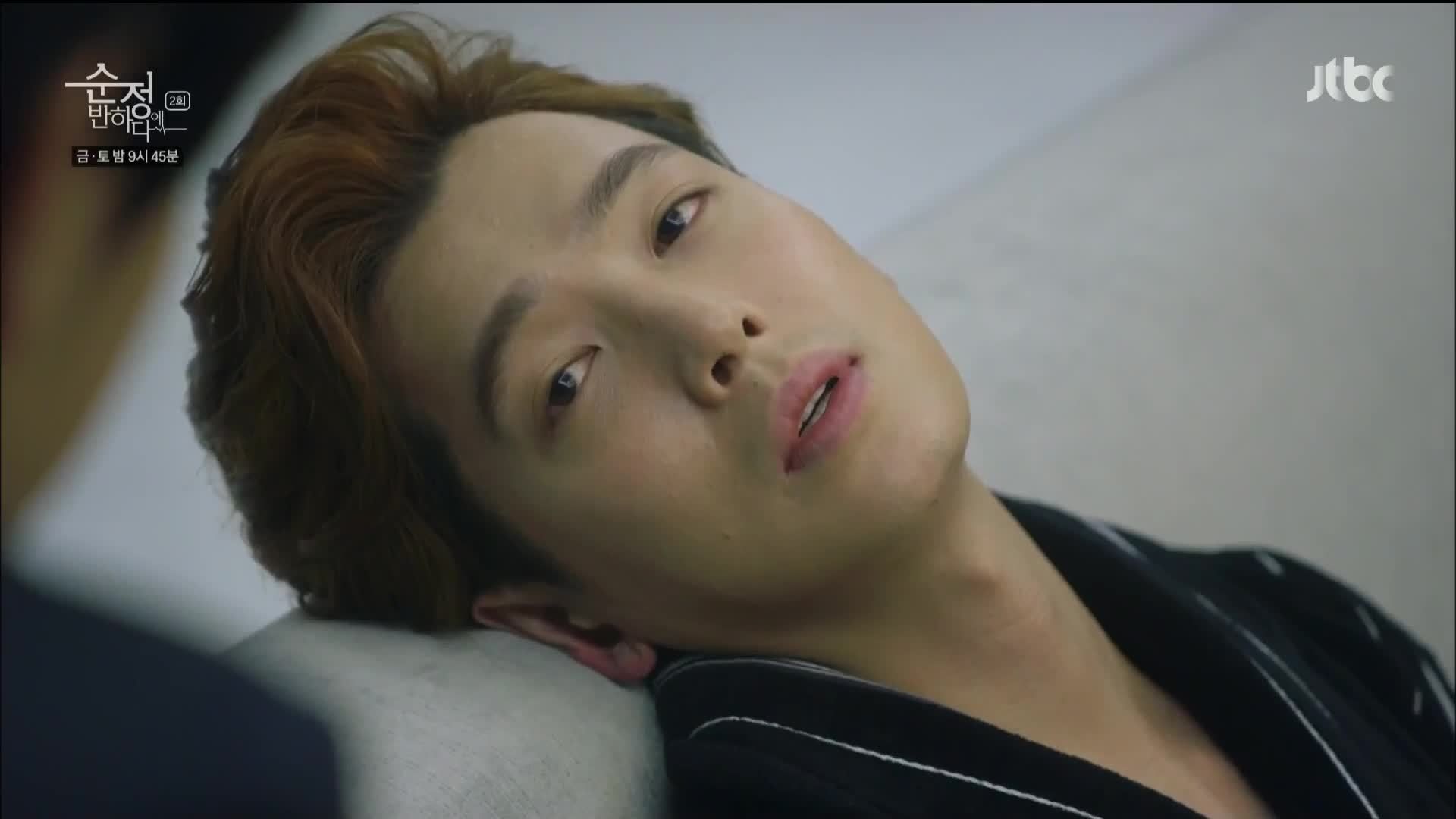 Min-ho takes this all with a sense of rueful irony, even going so far as to joke, "I guess I have to die in order to lie down properly." But he won't let go of his vendetta against Chairman Kang just because he's dying—since, as he so wisely mentions, everyone dies anyway.
"What is revenge to you?" Secretary Oh asks, exasperated. "Do you want to live this way when they said you only have one month left?" Min-ho: "No. I want to die this way."
While Chairman Kang works to try and stop Min-ho's plan in its tracks, he's given some potentially damning information—they have pictures of Min-ho making frequent visits to Doctor Jo, who Kang is familiar with. Uh oh.
Soon-jung has her resignation letter in hand when she meets with Chairman Kang, sure that it's the only way to make up for the whole Min-ho debacle. But Chairman Kang won't accept it, knowing that she must've been blindsided, otherwise she would have avoided the meeting at any cost.
His only advice for her going forward is to not make the same mistake again, which she promises not to do. Now that she's back under his employ, he gives her a package to hand deliver to one of their investors. Why does this seem suspicious?
Dong-wook has been on the trail of the product tamperer, watching as he makes an exchange with someone in a black car before it speeds off. He tries desperately to keep it within eyesight so as not to lose its trajectory, and eventually catches a fleeting glimpse of the man in the driver's seat…
…And it's Joon-hee. Oh no. That can't be good.
Soon-jung is in for a very unwelcome surprise when she goes to the address Chairman Kang gave her with the package in hand, only to be led into a meeting room with Min-ho and a few of his people. Yikes.
Dong-wook tracks down his product tampering hyungnim to confront him over his ties with Joon-hee, since he knows Joon-hee's been hiding him all this time. That also means that Joon-hee has been secretly working for Gold Partners and Min-ho.
After some coaxing, the hyungnim spills everything—Joon-hee was behind the product tampering, and used him to do it. As for what Gold Partners promised Joon-hee in exchange, he doesn't know, only that Joon-hee mentioned that the company owner would be changing soon.
Joon-hee looks very unhappy when he finds out that Dong-wook now knows everything—which might be why he tried to warn him away from interfering. Too late.
Min-ho barely gets a chance to ask Soon-jung what she's doing there when Chairman Kang and his entourage burst in uninvited as well. Ah ha, so Kang is using her to pull the same trick on Min-ho that he pulled on him.
Since the bondholders were previously beholden to Chairman Kang, it's a bit of an awkward situation for them now that they've been caught in the act.
But Chairman Kang quickly gets the upper hand when he reveals in front of everyone that Min-ho has the same heart condition his father died of, which means that any of the promises he may have made to try and buy their bonds are moot. He won't be able to follow through with them when he's dead in a month.
Chairman Kang effectively gets the bondholders to bail on Min-ho, all while acting like he's just concerned for his nephew, being such a good uncle as he is. Min-ho's all but shaking in rage, but is powerless to stop him.
Joon-hee gets in an argument with his dad, who's choosing to live simply even though he's been giving him money to live a better life and quit his lowly job as a security guard. His dad acts more like the son getting scolded in their relationship, which makes the fight doubly frustrating on Joon-hee's part.
Dong-wook drops by then, and Joon-hee instantly realizes that his father knew he'd be stopping by. Dong-wook innocently claims he's there for Joon-hee's mother's memorial and acts like nothing's amiss, though the tension between the two men is all but palpable.
Once Chairman Kang and all the bondholders are gone, it's just Soon-jung left with Min-ho's seething rage. He pins all the blame for the botched meeting on her, and begins throwing things in an absolute fit as he shouts that she's ruined everything he's worked for.
He even goes so far as to grab her roughly by the lapels as he growls in her face: "What kind of ill-fated relationship do you and your father share with me? After making my father into a laughingstock, are you trying to make me into one too?" Then he pushes her down on the ground. Dude. Not cool.
She's visibly shaken, and tries yet again to explain herself. But Min-ho makes it clear that further violence is imminent when he throws and shatters a glass against the wall as he yells at her to get lost.
Soon-jung has no choice except to go, but before she's even cleared the hallway she hears a terrible crash from within. Min-ho has lost consciousness.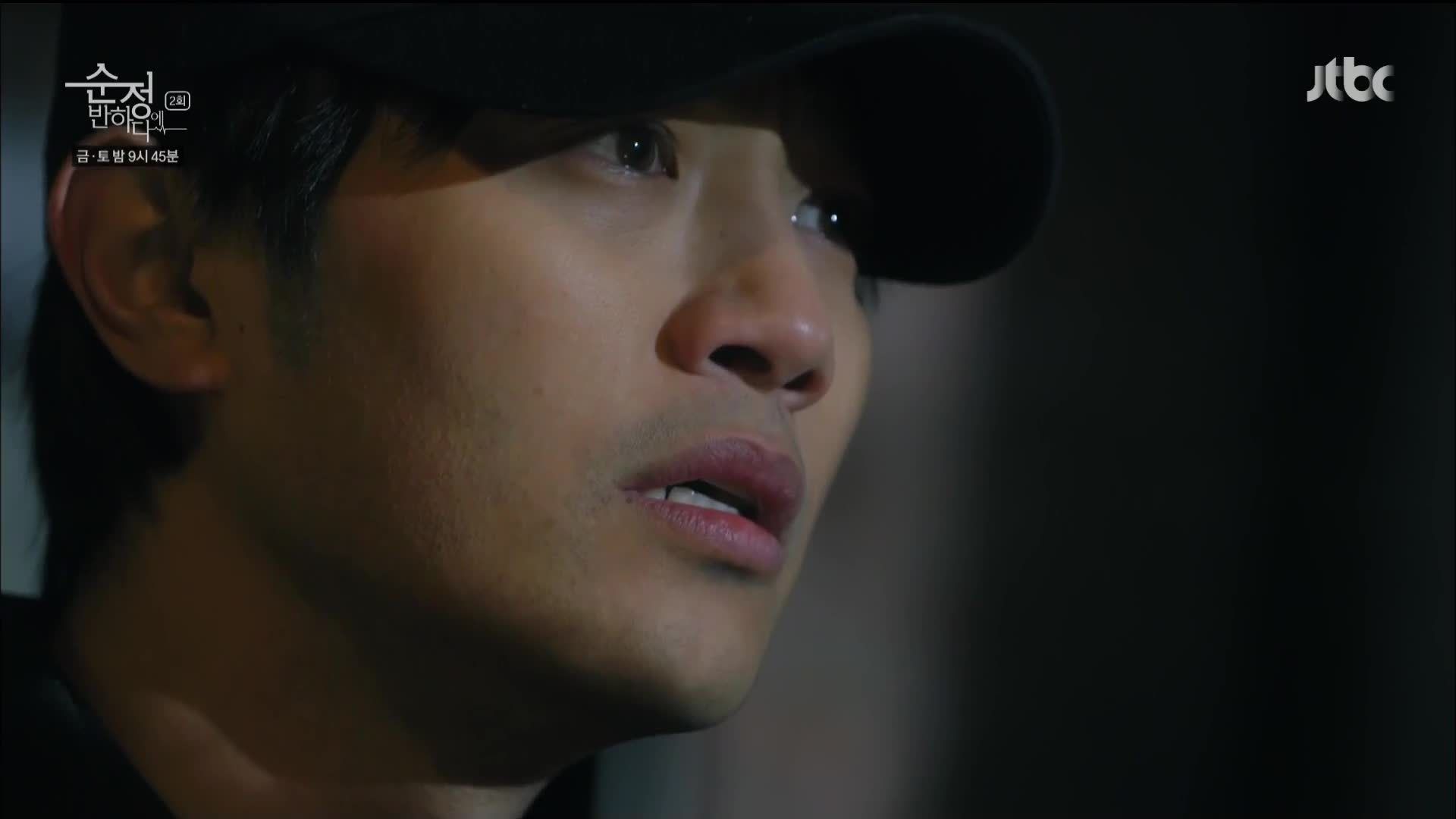 Joon-hee and Dong-wook finally have their confrontation (where did they find that abandoned warehouse?), with Dong-wook asking his old friend why he partnered with people who can't even be considered human at Gold Partners.
"Because I wanted to be treated like a human being," Joon-hee replies emphatically. He explains how everyone knows he's Chairman Kang's dog who takes care of the dirty work, and not the director of legal affairs like his job title claims.
Joon-hee continues, "You don't know the kind of cheap life I've led." He used to operate under the assumption that all his hard work and dedication would be recognized someday, but not anymore. "You can't get anything if you're not crazy enough, because the world isn't fair."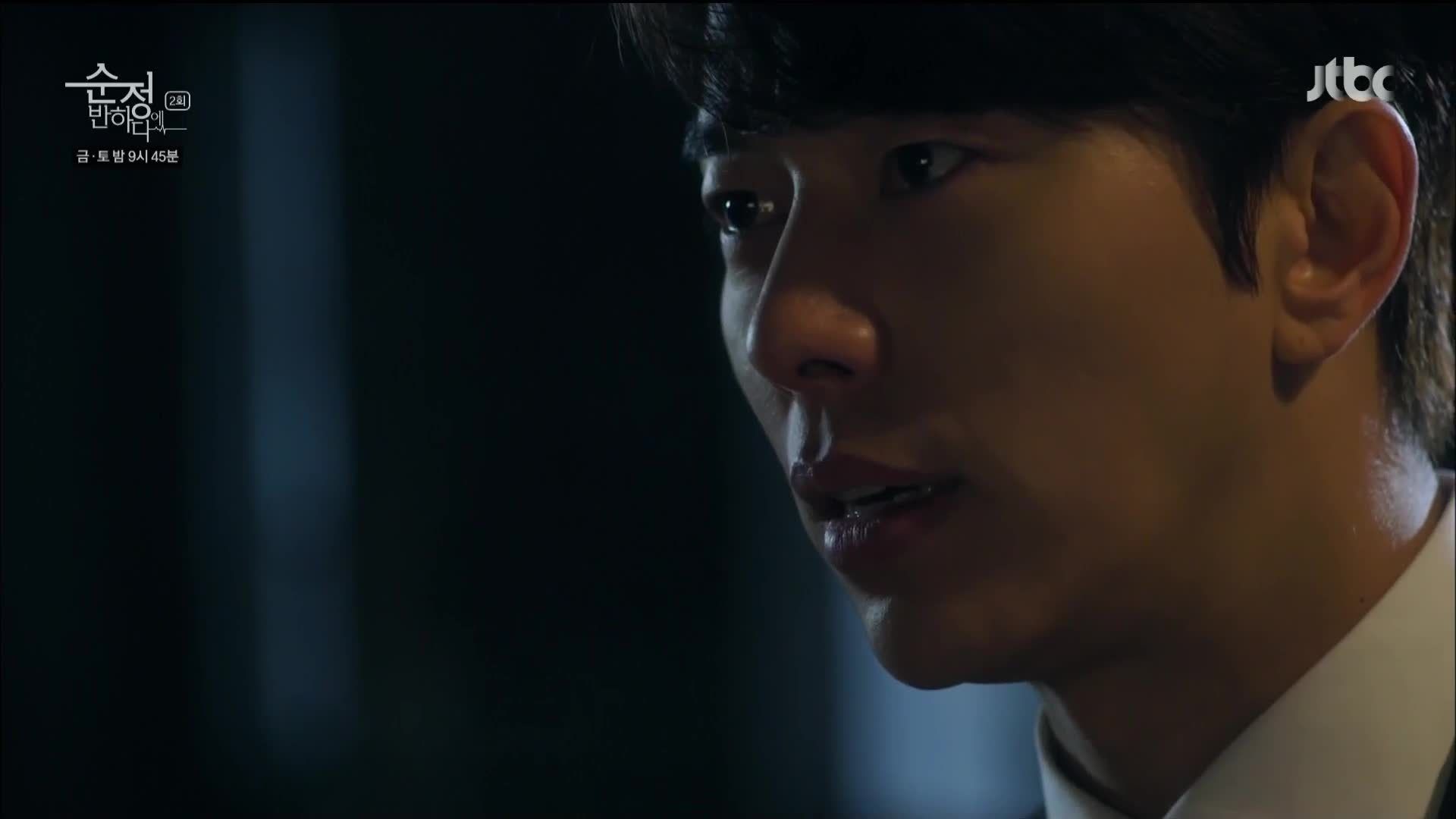 Even with Dong-wook calling him crazy to his face, Joon-hee doesn't stop trying to argue the point: Why wouldn't he go to Gold Partners for help in taking down someone as big as Chairman Kang when he's no more than a security guard's son?
That's fine, Dong-wook claims, but what about the factory workers who'll end up paying for his ambition? He's known those people for twenty years and they've been like a family, so will he feed them to the dogs just like that?
Short answer: Yes. Joon-hee is in this to win this, and firmly believes Hermia Group is too corrupted to go on the way it is. He's sure that he's doing the right thing.
"Once I become the chairman, I'll make sure nothing like this ever happens again," Joon-hee stresses. Uh oh. Someone's really lost it.
Dong-wook isn't buying his line of reasoning in the least, and urges his friend to snap out of the delusion he's in. Even if Joon-hee disowns him, he swears to reveal the truth. Joon-hee has one day—either he confesses, or Dong-wook will arrest him.
While walking home, Dong-wook gets hit by a car. It is what it is.
As Min-ho is rushed to the hospital, Dong-wook lies abandoned and bloody on the street. His phone rings and he tries to reach for it, knowing it's Soon-jung, but he just can't hold onto consciousness. His last thought: "Soon-jung, I miss you. Soon-jung…"
A hand reaches down to pick up his phone. Dong-wook sees who it is but we don't, and he's left there to die. Not by accident, a couple of extras end up seeing an old white car speeding away. Is that the car that hit Dong-wook?
It's Soon-jung to Min-ho's rescue again, as she accompanies his ambulance to the hospital, completely unaware that her fiancé is also being carted into a hospital in pretty bad shape.
Until she gets a call, that is. She drops her purse in shock, her butterfly pin Dong-wook gave her spilling out, before she drops to her knees. The world blurs around her as she thinks of all the loving things Dong-wook said to her.
We fade to white on Dong-wook and come back to Min-ho after some time has passed. He's just regaining consciousness in the hospital, and his doctor explains that he got insanely lucky when they found a donor heart that matched the specifications he needed.
The transplant was successful, and Secretary Oh can't help but gush about the sheer luck Min-ho had in the donation—he had less than a one percent chance, after all.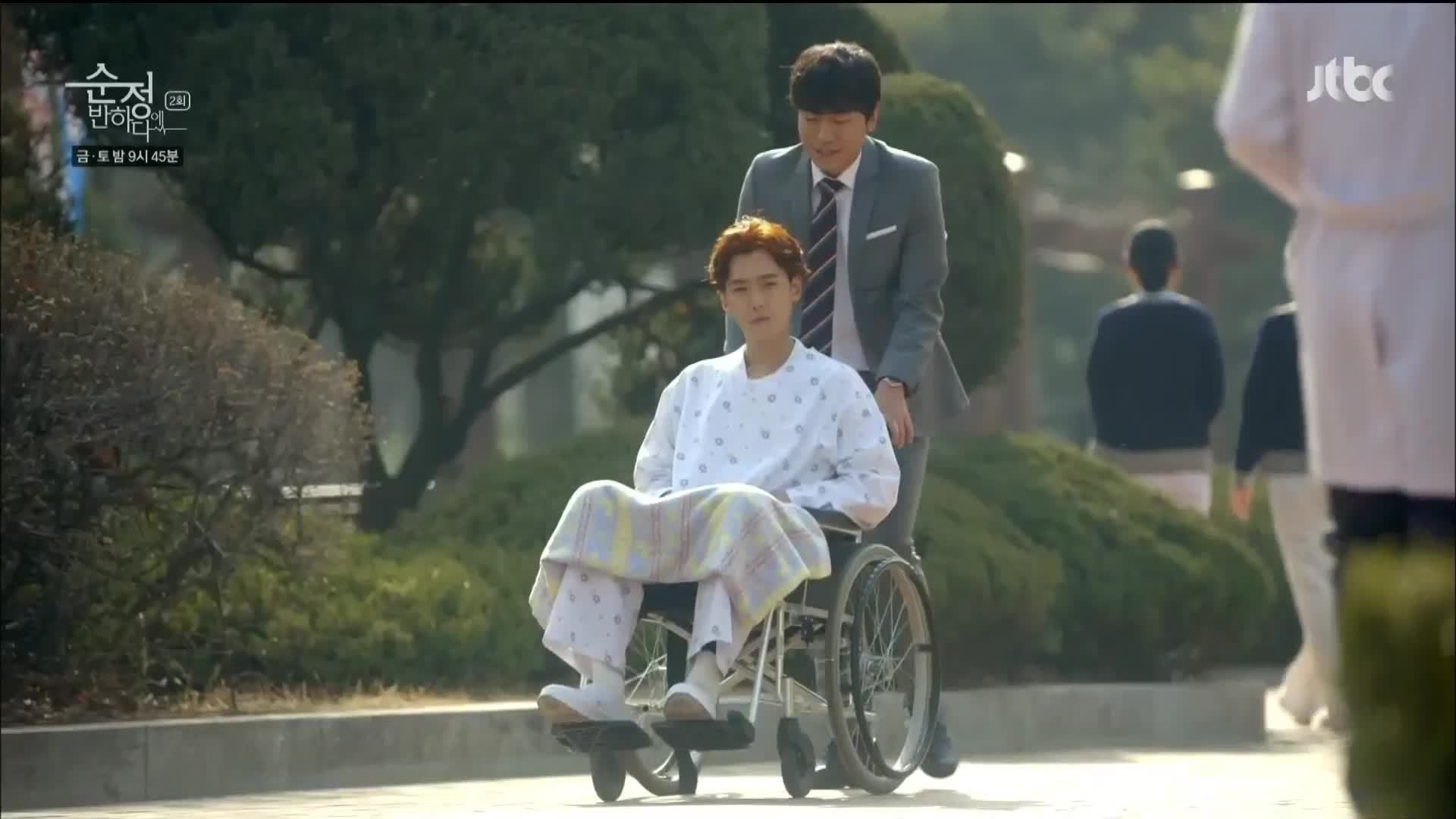 But something strange happens when a little girl's rubber ball ends up stopping at Min-ho's feet. Picking it up curiously, he offers it back to the girl who lost it before a happy and uncharacteristic smile tugs at the corners of his mouth.
He reaches out to tap her nose affectionately and smiles even wider, an uncanny picture of how Dong-wook would act with Soon-jung.

COMMENTS
I wonder where they're going to take this heart transplant storyline from here, because I actually kind of liked Min-ho as we've so briefly come to know him, and don't want him to have received a brand new personality along with his brand new heart. Obviously that's part of the premise, but I'm hoping for a gradual change rather than an overnight one, since it'd be a shame to lose everything Min-ho was in these past two episodes.
Granted, what he was (or still might be, who knows) wasn't a hero to write home about, since he was cold, ruthless, revenge-oriented, and way too unpredictable for comfort when he was angry. At the same time, those weren't his only qualities, and we saw shades of his emotional and social shortcomings in moments where he seemed to be sincere—he just really, really didn't know how to go about expressing it. Like most/every chaebol/hero.
No one would argue that he was being anything less than a terrible person when he used a bewildered Soon-jung against her own boss, but the moment that really caught my attention was his earnestness in claiming to have shown Soon-jung what kind of man Chairman Kang really was after the whole bondholder brouhaha. And, if it makes it any better, at least he wasn't planning to use her and toss her away jobless and alone—he had a plan for how she could stay gainfully employed after the situation played out, even if he presented it poorly.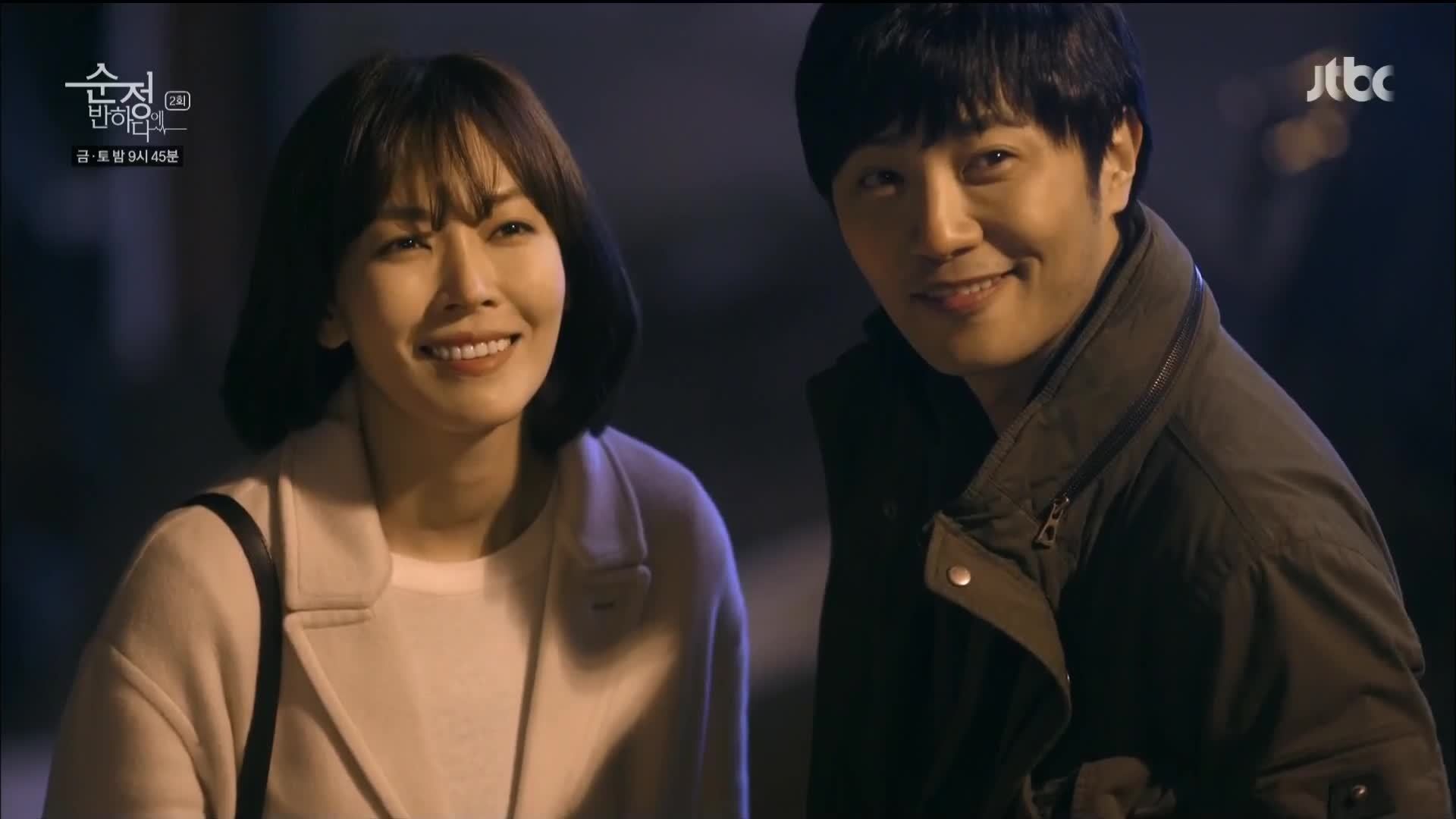 What I like about Soon-jung, even if she could use a bit of spine reinforcement, is her inherent kindness that doesn't discriminate against douches like Min-ho. By all means she had no reason to walk back into the room where he had just threatened to kill her, but she's not the kind of person who could just walk away, either. It leaves perhaps too much room for her to get stepped on and taken advantage of, but this kind of character quirk is a hard one to suss out this early in the game. If you root for a naively kind character to become more jaded and thick-skinned, then you sound like the worst kind of pessimist. If you root for them to stay the course even if it's to their own detriment, you sound like a lofty idealist. There's a middle ground to be found, and though I don't know what it is quite yet, I hope she finds it over the course of this series. A newly Frankenstein'd Min-ho should provide no shortage of opportunities, that's for sure.
I had my doubts about Joon-hee when he was so insistent that Dong-wook not get involved in anything regarding the Hermia Cosmetics tampering case, but man does it suck to be right sometimes. The mystery regarding his involvement was being carried over pretty well until Joon-hee's tell-all interview with Dong-wook, which was admittedly enlightening regarding his motivations, but concerning in that he spelled out everything that makes him who he is in a matter of minutes. I'm all about about transparency, and knowing what drives a character is fundamental to understanding them, but that was an info dump if there ever was one. Maybe it'll end up coming in handy, but for right now it feels like we saw all Joon-hee's cards before the game even started—and frighteningly, even shades of psychosis in his ardent devotion to his selfishly ambitious goals.
But you can't help but feel for a guy who's smarter than the game he's playing and gets no credit for it, so as far as character empathy is concerned, he earned a fair amount of goodwill. Of course, I'm saying that based on the assumption that it wasn't him behind the wheel of the car that killed Dong-wook, not because I want to like him more—my love of villains should be well known by now, the badder the better—but because that'd just be too obvious. And I want Joon-hee to be better than that. Or worse. Yoon Hyun-min is the kind of actor who can get away with murder, so really, being picky with him is like calling out a filet mignon for being lacking in beef. (Note to self: Do not attempt metaphors when hungry. Or at all.)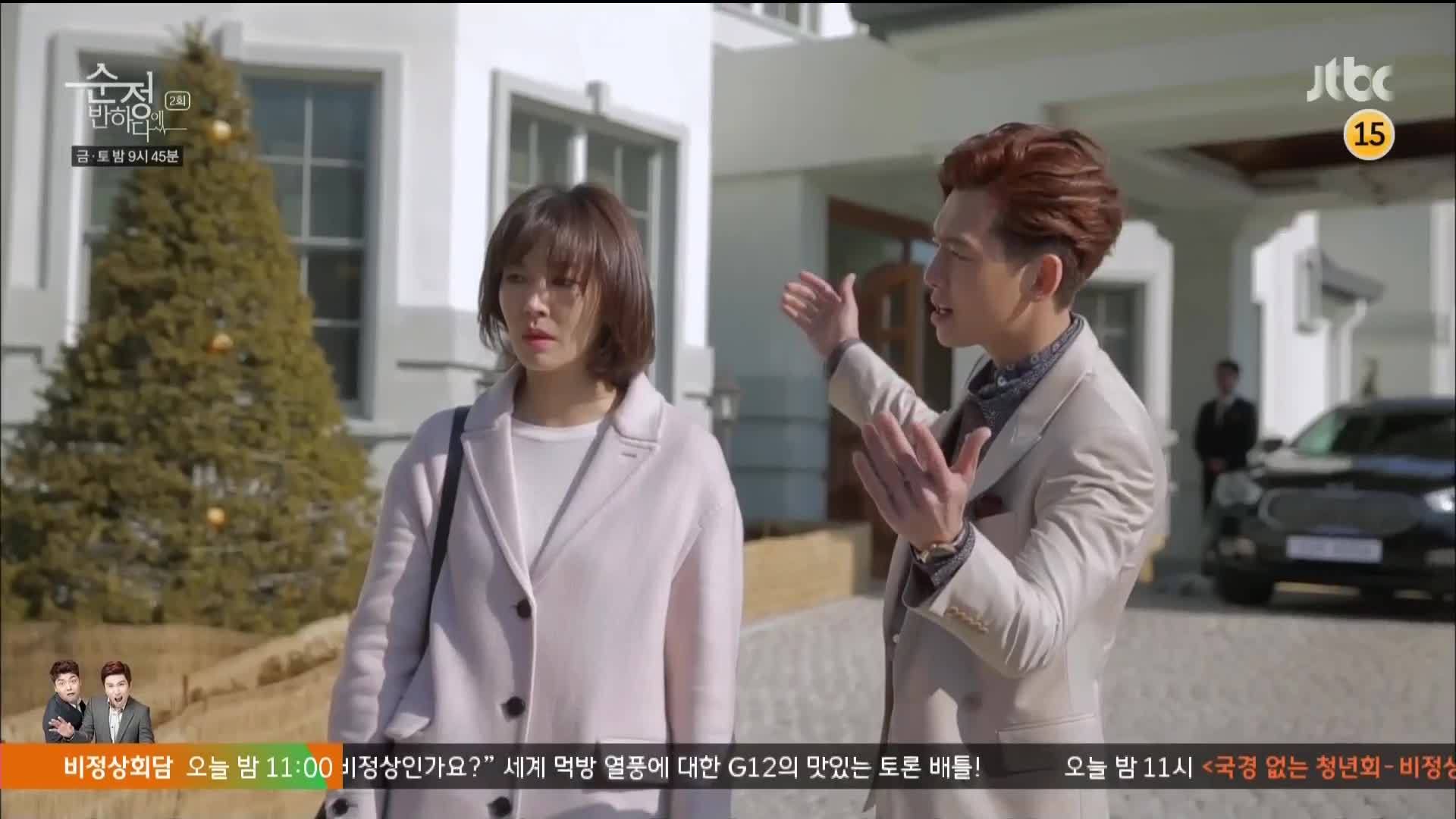 RELATED POSTS
Tags: Falling for Innocence, featured, Jung Kyung-ho, Kim So-yeon, Yoon Hyun-min