Falling for Innocence: Episode 4
Tensions abound when our heroine gets recruited as Min-ho's personal secretary, which turns out to be way more physically and emotionally taxing a job than it should be. Poor Soon-jung can't take one step without getting herself into trouble this hour, and while she's got one white knight with a dark streak, she also a has a ten-year-old boy to babysit instead of a boss. I'd normally say good luck, but when the universe has it out for someone like it does for Soon-jung, sometimes it's better to just get out of dodge.
SONG OF THE DAY
Davink – "파라다이스 (Paradise)" from the OST [ Download ]
Audio clip: Adobe Flash Player (version 9 or above) is required to play this audio clip. Download the latest version here. You also need to have JavaScript enabled in your browser.

EPISODE 4 RECAP
We see a very young Min-ho attending his mother's funeral with Doctor Jo, who clearly knew Min-ho's parents very well. Though he tries to comfort the boy about how kind and giving both his now-deceased parents were, Min-ho's cold answer even then was: "I won't forget that my father was the dumbest man in the world."
In voiceover, we hear Adult Min-ho muse that his life has always been cruel, forcing him to make a personal vow that he'd become crueler than his fate in order to survive.
"And then about twenty years later," he adds, after we see a flashback of him receiving his grim three-years-to-live prognosis, "I became a cruel monster."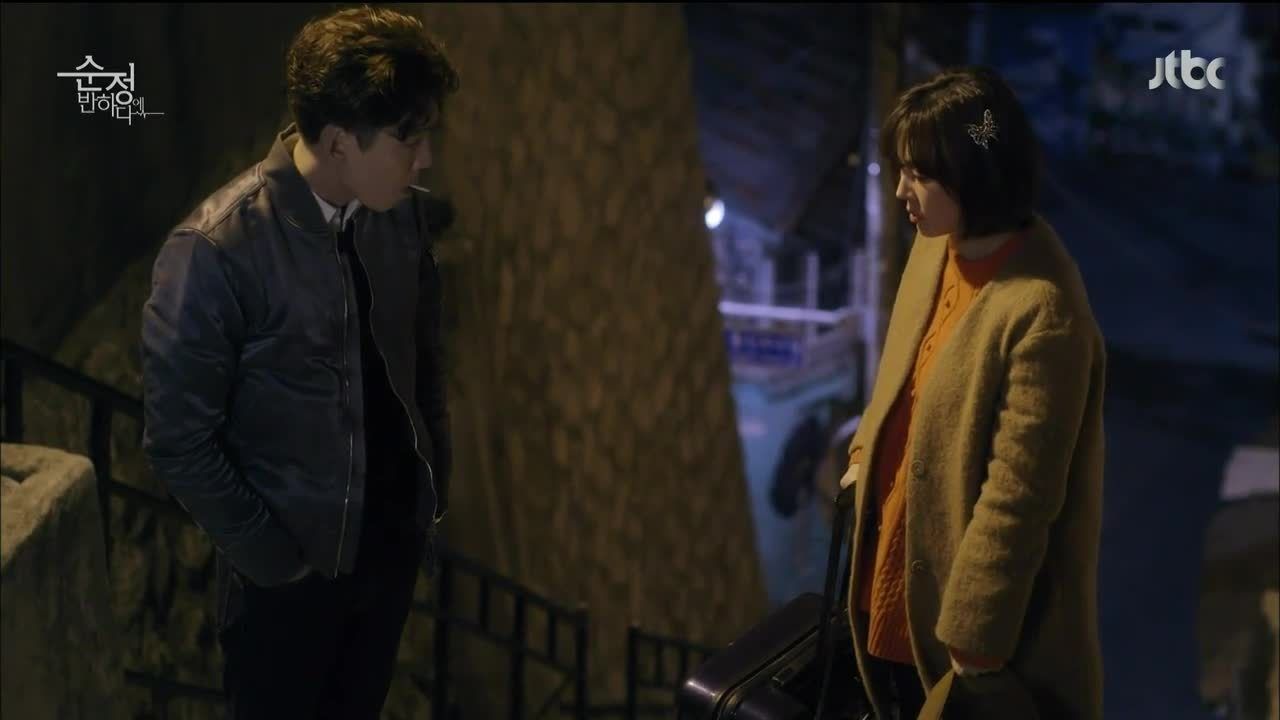 But now he's struck with a different memory, one that doesn't seem entirely his own—the hands clutching his face in the hospital, the female voice telling him that it's okay to rest now. "But I didn't know then," the voiceover continues, "that my fate was slowly changing course. And that an unimaginable future was waiting for me."
After getting the bejeezus scared out of him by a cat that sounds way too much like an infant, Min-ho calls Secretary Oh in a fit because he doesn't know where he is or how he came to be there. Blearily, Secretary Oh just tells him to take a picture of the street sign and send it to him.
That's when Min-ho comes across Soon-jung crying on the stairs where Dong-wook always used to meet her, and disregards her tears entirely when he asks her why she's here. (Asks the man who doesn't even know why he's here.)
But it's the sight of her butterfly hairpin that has him all aflutter, though his embrace is quickly shut down by Soon-jung. "You were in the ICU, weren't you!?" he asks accusingly. She shoots back that it couldn't have been her when only family members can enter the ICU.
He loses the opportunity to find out how she really knows that intel by assuming that her experience comes from visiting her father in the hospital. Soon-jung doesn't correct him, eager to get on her way.
As she trudges up the stairs, she hears Min-ho pick up his phone with the "Whenever" song ringtone and demand angrily of Secretary Oh, "Where am I?!" Hah. Does someone not know how to use a smartphone?
Even though she's hot on the trail of Dong-wook's murderer, Ok-hyun still finds time to call Soon-jung to offer some moral support for her upcoming meeting, since Min-ho is sure to give her trouble. "If that jerk bothers you, I'll go arrest him!" Ok-hyun chirps. "Fighting!"
While Chairman Kang and Joon-hee prepare for the worst now that Min-ho is a delegate board member for Hermia, Min-ho prepares for his first board meeting with a snazzy new haircut and only the finest in suits. And a lollypop, of course.
Min-ho, Secretary Oh, and investment expert Ji-hyun are serenaded by Coldplay on their drive over, and Ji-hyun shares some juicy intel we just heard being discussed over at Hermia: if they can't renew their contract with one of the biggest department store chains, they'll be ruined.
Obviously, it's in Min-ho's best interests to make sure that contract doesn't go through. He might not know what it is yet, but he has a plan. He also probably doesn't know why he's sketching a random house he's never seen before.
The only reason they got that information about the department store in the first place is because Joon-hee leaked it, which Min-ho thanks him for when they're alone. Joon-hee underhandedly mentions that Min-ho's plan better work, causing Min-ho to raise his hand as if he's going to hit him.
He stops when the elevator doors open to reveal Soon-jung waiting. They look straight at each other, and Min-ho feels his heart beating like crazy again. No luck still on figuring out the cause.
To say that the board meeting goes well would be an outright lie, since it's more of a weewee measuring contest between Min-ho and his uncle than anything else. Chairman Kang calls Min-ho out on his lack of work experience, while Min-ho threatens to inspect Hermia's accounting files to see if he can dig up some less than legal dealings.
Everyone in the boardroom is against Min-ho at present, but Min-ho is sure that'll change—their loyalty to Chairman Kang won't last if sales hit rock bottom. But Chairman Kang thinks differently, and reminds Min-ho that these are the same men who turned to him after his father's betrayal.
After the meeting, Min-ho again runs into Soon-jung and feels his heart start to beat rapidly again. But he still doesn't make the connection when he asks his new employee, "Aren't you scared? It's your first consummation night with a crazy thug." He uses that term intentionally to hearken back to ye old wedding nights, which implies a slightly creepy amount of permanence and unwillingness to their situation.
Soon-jung is more matter-of-fact about the situation, and explains that she'll work for him just like she's worked for anyone else—her only condition is that he not ask her to do anything illegal or unessential to her job.
He agrees, but adds his own condition with a hint of malicious glee: "Should you fail to do what I ask, I'll fire you immediately. If you make even one mistake, you're out. Got it?" She does.
But he certainly puts her skills to the test when he gives her a litany of things to do, from changing the entire interior of the office to reorganizing all existing and incoming files.
Soon-jung accepts all his orders without blinking, only to chase after him as he prepares to leave the office. He's so absorbed in what he's doing that he doesn't pay attention, and ends up accidentally slamming the car door on Soon-jung's fingers.
Secretary Oh jumps to the rescue as she nurses her bleeding hand, but even that she takes in stride as she straightens up to give Min-ho what she was originally chasing him for. But his expression takes her by surprise—he's crying, and he doesn't know why.
"You're the one who's hurt, so why am I crying?" he asks, mystified. They share a moment to stare at each other, both thoroughly confused.
Later, Min-ho has his own freakout session about the whole crying business, since he can't figure out why he couldn't help himself. "Am I really crazy?" he wonders. Secretary Oh is pretty much like, "I've been wondering that myself."
Then the funniest thing happens: Secretary Oh sneaks a talisman meant to exorcise demons out of his pocket, slaps it onto Min-ho's face, and in a shamanistic voice, orders the evil spirit within Min-ho to get out. It's the Buddhist version of The Exorcist's "The power of Christ compels you!"
Even Soon-jung wonders why Min-ho cried when she was the one who got hurt, causing Ok-hyun to wonder if he's just a garden variety lunatic. Soon-jung would rather believe that than Min-ho actually crying because he genuinely felt her pain.
That night, Min-ho has a nightmare of lying on a street, hurt and unable to move. Just like what Dong-wook experienced. It's like he sees through Dong-wook's eyes as he picks up an important detail: a wristwatch with a fish design on the face. Was it Dong-wook's watch?
Soon-jung has no idea why Joon-hee's called her out so early the next morning, at least until he cheerfully tells her he's taking her to see a doctor friend of his after hearing about her hand. Aww.
He drives her to work after she gets a cast put on one finger, but their Moment is interrupted when he has to suddenly pull her out of the way of a speeding car.
The driver who almost hit her turns out to be none other than Min-ho, who offers the most unapologetic apology after hopping out of the car.
It's a cause of animosity between the two men as they ride up the elevator together with Soon-jung, and though Min-ho won't reveal it directly, it seems like he's almost… jealous of their friendship.
Joon-hee standing by his concern for Soon-jung doesn't help things, because no matter what Min-ho says about them, they won't stop being friends on his account.
Min-ho is definitely jealous about Joon-hee taking Soon-jung to the doctor, so much so that he's being bratty about everything she tries to do for him. He orders her not to involve herself with Joon-hee in the future, prompting her to ask if he's being serious about asking her to break off a twenty-year relationship.
He asks her if this means she's disobeying him, her boss, to which she replies that she'll do as he asks… as long as they're in the office. It's a decent middle ground, even if it's not exactly what he wanted.
After Min-ho tasks her with taking care of some French clients coming into town, Chairman Kang finds out that Min-ho is using those French clients to try and take Hermia's contract from the big department store that they desperately need to stay afloat. They have to stop him.
The only person who doesn't know what Min-ho's up to with these clients is Soon-jung, because Min-ho is purposefully keeping her in the dark about why they're really here while forcing her to be a good host. Even Secretary Oh is surprised at how Min-ho's manipulating the poor girl, considering the fact that he's also deliberately misled Chairman Kang about the clients being there to take Hermia's contract when they're not.
That's when Min-ho spots a familiar symbol on a jewelry mail-out—the fish he saw on the watch in his dream. The company who makes the jewelry is called Pumpkin Club.
Soon-jung remains oblivious as to the French clients' motivations until the president (named Wigo, cameo by the fabulously handsome Ricky Kim) tells her that they're there to take Hermia's spot at the department store.
She realizes belatedly that Min-ho's tricked her into a situation where she can't abide by his wishes without betraying her own company, but she doesn't give in to Wigo's request to be shown around the store. Even if it means disobeying Min-ho, which he specifically threatened her not to do.
In response, Min-ho tells her she's fired. It's only when he asks her why she didn't turn a blind eye just this once that we begin to see he's not completely serious… wait, was he just messing with her? Did he stage this whole charade to test her loyalty?
Soon-jung explains somberly that her decision was based on her karma, since she's had to do bad things as a secretary in service to her bosses before.
Today was one of those days where she had the choice to do the wrong thing for the boss or the right thing for her morals, and she chose the latter. So she'll take her punishment accordingly.
News reaches Chairman Kang that Soon-jung disobeyed Min-ho and turned the French clients away from the Hermia shop, since he still believes they were there to take Hermia's contract.
But in reality, Wigo is a friend of Min-ho's and a consultant with Gold Partners that Min-ho used to stage an elaborate prank/loyalty test on Soon-jung. He only wanted Soon-jung to believe that Wigo was looking to oust Hermia's contract to see what she'd do, which is… well, really bizarre behavior coming from him. Or anyone.
Only later does Min-ho find out that his plan backfired in a big way when Wigo reveals that Soon-jung knew he was just pretending. She'd seen his Gold Partners cufflinks and had caught onto Min-ho's ploy, which had impressed Wigo enough for him to promise to put in a good word for her with Min-ho.
That he does, even marveling at how well Soon-jung continued to treat him even after the reveal simply because he was still a guest of Min-ho's. Min-ho is in shock as he wonders whether Soon-jung is perfect or just has no pride.
Soon-jung holds a subdued pity party replete with soju for herself at a pojangmacha, since she's just been fired and can now do all sorts of things she couldn't do when she was employed. Like drink herself silly.
She wanders home drunkenly, but when she slips on the huge set of stairs leading up the hill, someone's there to catch her. It's Min-ho, though she's too bleary-eyed to recognize him.
She doesn't even remember the encounter the next morning, though she has the strange feeling that something happened last night. Ok-hyun counsels her jokingly, but her smile fades when she receives a call at the police station from a man asking to speak to Dong-wook. We don't see who it is, but he's wearing a baseball cap.
While Min-ho tracks down the Pumpkin Club jewelry shop responsible for the fish watch he saw in his dream, Chairman Kang finds out that Min-ho's French associates did steal their department store contract.
But he puts the blame in the wrong place and assumes that Soon-jung was the one intent on misleading them with the fake company headed by Wigo, which is why pranks are bad, mmkay.
Joon-hee hears about all that's happened and beelines for Soon-jung, running into a totally oblivious Min-ho on the way. After threatening Min-ho that he'll rain an unholy firestorm on him if Soon-jung gets hurt because of his actions, they both make it to the hallway in time to watch Chairman Kang march up to Soon-jung…
…And slap her hard across the face. Ouch. Joon-hee kneels next to her and calls for calm, since the chairman is operating on false information.
But Chairman Kang won't listen to reason, and even with Min-ho (a man who's made no bones about wanting to bring down Hermia) standing right there, he blames everything on Soon-jung and swears that she'll never work as a secretary anywhere ever again.
Joon-hee helps her outside the building while Min-ho stands numbly by, and despite what she's just been through, she smiles and works to ease Joon-hee's concerns. He pulls her into a tight embrace as he wonders why she's taking care of him when she needs it more right now.
"I'm sorry," he breathes. "I feel like you're going through this because I have no power." She struggles to hide her own tears and tries to make light of the situation, even though he promises that if she just bears with it a little longer, he'll fix everything and make her smile again somehow.
Min-ho feels extra bad (or should) when he returns to his office to find that Soon-jung changed everything according to his unrealistic and ridiculous expectations, down to the last detail. That sends him running to find her.
Just when he reaches her, the mysterious man in the baseball hat who called the station asking for Dong-wook grabs Soon-jung and threatens to cut her with his knife should Min-ho take one step closer.
Ok-hyun arrives on the scene planning to pick her friend up, but pulls out her gun when the assailant grabs Soon-jung. Min-ho is caught between them and panics for a moment before he takes stock and calmly asks the man, "Why are you doing this?"
He fishes in his pocket for the fish watch he must have bought from the jewelry store, which catches Ok-hyun's attention—it's the same watch Dong-wook had. In fact, the way Min-ho uses it to distract the assailant is the same as Dong-wook once did with a criminal.
Of course, his offer to trade the watch for Soon-jung fails when the assailant kicks and smashes the piece of jewelry. This makes Min-ho mad enough to approach the man, who luckily throws Soon-jung aside to lunge at Min-ho with his knife.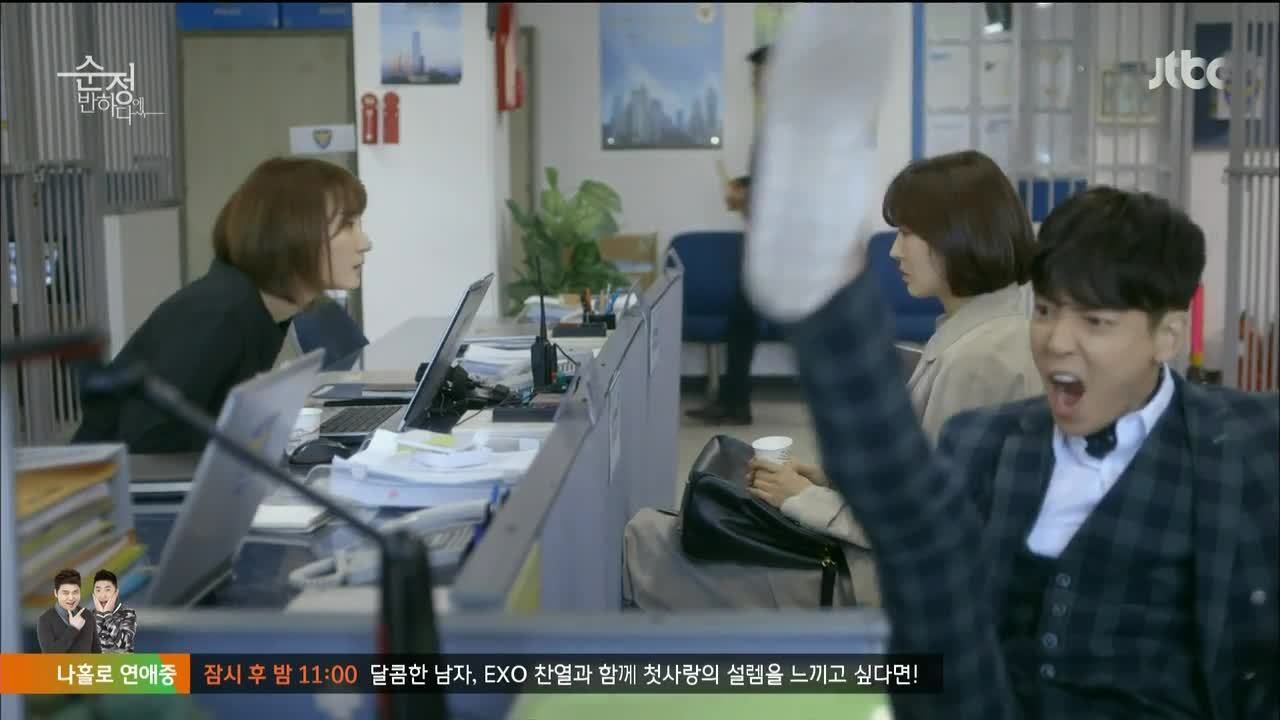 And to everyone's surprise, including his own, Min-ho dodges the attacks skillfully. Before he even realizes it, he pulls out moves he didn't even know he had in order to successfully disarm and down the knife wielding maniac.
He ends up at the station with Soon-jung, still hopped up on adrenaline from his ultimate smackdown. Ok-hyun informs them that the assailant had a grudge against Dong-wook because he'd put him in prison, and that's why he targeted Soon-jung.
Even after the ordeal she's been through, Min-ho waves his broken watch in her face like it's her fault—buuut, he's so magnanimous that he's going to call it even between them now. This is his way of apologizing, weirdly enough.
He's so unfamiliar with the idea of apologies that he doesn't know what one is, and wonders honestly if he should be asking whether she's hurt. "You're really something," she marvels, but agrees to call it even. Now they can cut ties cleanly without owing each other anything.
She explains that she only put up with him because she had to before, and that she realizes now that they're just incompatible as people. Ending it like this is the best thing they can do for each other, and she wishes him well before she leaves. He yells after her like a petulant child, belatedly remembering a box he'd meant to give her.
Ok-hyun and another detective watch the CCTV footage of the confrontation later and both agree that Min-ho caught the criminal the same way Dong-wook used to. They can't help but find that strange.
Soon-jung gets an unexpected call from Pumpkin Club that an order of hers has been completed, even though she made no such order. When she arrives, the jewelry maker tells her that Dong-wook commissioned a custom wedding ring for her, but that her friend already came and picked it up.
She's doubly confused when she finds out that "friend" is Min-ho, and it's only when she almost gets run over (again) does she remember tripping and falling into Min-ho's waiting arms the night she was drunk.
They'd sat and talked a while, with Min-ho asking honestly why she pretends to be so strong when in reality, she's weak. But he'd apologized for what happened that day, and had tapped her nose the same way Dong-wook would.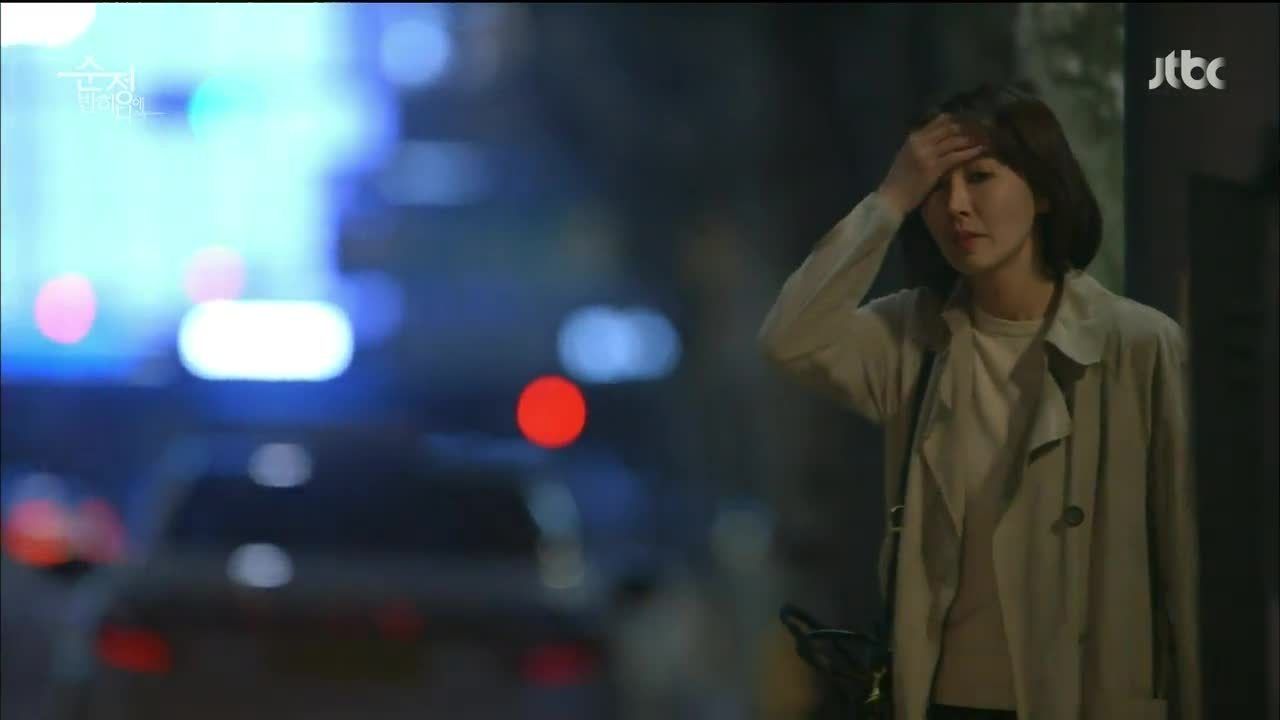 Now Soon-jung can't help but think of the strange and uncanny way Min-ho's been behaving lately, down to the way he cried when she hurt her hand—something Dong-wook did ever since they were children.
With tears in her eyes, Soon-jung hauls over to the address Min-ho gave the jewelry maker… only it's not his address, it's Dong-wook's (the same house Min-ho found himself sketching). Still, she finds Min-ho outside, and both of them take turns wondering what the other is doing there.
"This is my house," Min-ho matter-of-factly tells a very bewildered Soon-jung. "I moved today."
"Who are you?" Soon-jung asks, emotion creeping into her voice. "Who are you?!"

COMMENTS
I really wish we could see things through Min-ho's perspective a bit more, if only because the logistics of the heart transplant as far as his personality is concerned are beginning to get muddled. Oh, let's face it, they were never that clear in the first place—but we've clearly transcended reality if we're watching a story unfold about a man taking on the personality traits of the other man whose heart now beats within him, so if that's the case (and it is), it's the show's job to explain whatever alternate version of reality it's presenting.
And to a certain extent it is, but it could be doing a much better job of making things clearer for us. For instance, while it's inherent in the premise to buy that Min-ho is changing due to his new heart, it could only help to know how this is actually affecting him, and how he perceives these changes. Admittedly the childishness that's come out as a dominant trait of his wasn't all that present last week, so while having the emotional faculties of a young boy could account for him just not thinking some things through, at the same time he's also a grown man who has to have a baseline level of self-awareness. If he does, what does he think of all this? How does he account for ending up in neighborhoods he's never been to? Where did he think he learned advanced martial arts from? What did he think about finding the same watch he saw in a dream?
The most important question of all is whether he even realizes he's acting abnormally. There was a tiny moment of awareness in his scene with Secretary Oh (the one that ended in an impromptu exorcism, which was kind of amazing), but past that, it's like he doesn't even know himself well enough to question this new self that's literally invaded him. And to make matters worse, we don't even know him well enough to guess at the why of some of the things he does (yet). He doesn't need to know why he suddenly cares about Soon-jung so much that he can't help but be that boy in class who pulls her hair, but he needs to at least wonder why. Nobody is self-aware enough to dissect everything they do in a day, but when you get to the point where you're buying a house you visualized from a memory that isn't even yours, maybe, just maybe, a little soul searching wouldn't hurt.
What was definitely unexpected was for nearly everyone around Min-ho to start linking his behavior to Dong-wook's so quickly, and I'm more than interested to see where that idea goes. Even if Soon-jung finds no concrete answers in her confrontation with Min-ho, the fact that the thought has come to her at all—and with so many eerie examples—hopefully means that she won't be dropping it anytime soon. And if she can't help but be reminded of Dong-wook when she sees Min-ho, it'll add a whole new dynamic to their future interactions, even if Min-ho remains oblivious.
Soon-jung is a more complicated nut to crack, which I can't help but like about her. She has a sense of self, strong principles, and an immense amount of inner strength. She knows when to pick her battles, but when she does, she goes for the win. Her best moment of the episode came when Min-ho found out that she knew his ploy the entire time and still treated his guests with courtesy. She didn't even hate him for what came from his little prank gone awry, and while I would've liked to have seen more fight from her when it really came down to losing her job for all the wrong reasons, she's clearly got way too much pride for that. Besides, for a girl who had her fingers smashed by a car door, her face slapped by an awful boss, and a knife held to her throat by a crazy person all without having the added benefit of self defense skills resulting from a life-saving heart transplant, I'd say she's earned a few brownie points.

RELATED POSTS
Tags: Falling for Innocence, featured, Jung Kyung-ho, Kim So-yeon, Yoon Hyun-min