Falling for Innocence: Episode 5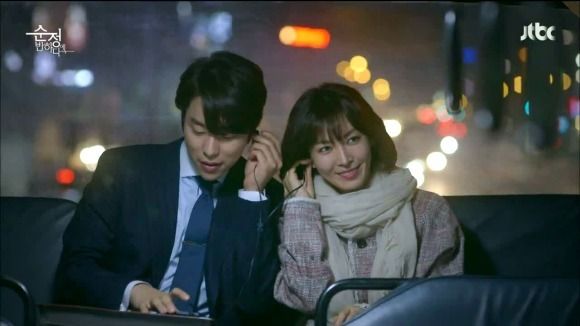 As the number of eerie coincidences continue to climb, our hero remains in the dark about the budding emotions growing inside him. Little does he know that his new heart is his own rival, but that won't stop him from trying to score brownie points with the girl who freezes at the sight of him. At least he can take heart in knowing that same girl remains oblivious to the affections of the other man in her life trying to find room in her heart and not just her memories.
SONG OF THE DAY
Park Si-hwan – "가슴아 뛰어 (My Heart Beats)" [ Download ]
Audio clip: Adobe Flash Player (version 9 or above) is required to play this audio clip. Download the latest version here. You also need to have JavaScript enabled in your browser.
EPISODE 5 RECAP
We backtrack a few minutes to see Min-ho surveying the house he just bought, otherwise known as Dong-wook's dream house. For some reason, Min-ho isn't fully satisfied, and it isn't because the place is empty of furniture.
His decision to get some fresh air brings us back to the end of the previous episode, where a baffled Soon-jung wonders who the hell he is. With a sharp flick to her forehead, Min-ho says it's him, her boss.
He has an answer for all the eerie coincidences Soon-jung brings up: a) He can buy any ol' house he likes; b) He shed a tear for her bleeding finger because he was still recovering from his surgery; and c) The act of tapping on one's nose is inconsequential.
But then Soon-jung's question about the ring makes him falter—how did he know to pick up a unique wedding ring even she didn't know existed? Min-ho argues that he went to that jewelry shop because he had a query and became friendly with the owner. Why Soon-jung should be thanking him for picking that ring up for her!
He insists that's all there is to it, then asks if she's acting this way because she feels ashamed. Word on the street is that her fiance skipped town–she was dumped, wasn't she? Soon-jung can hardly believe her ears, and Min-ho acts all haughty about how he totally knew that Dong-wook wasn't the commitment type.
Having had enough, Soon-jung demands the ring. Handing the box over, Min-ho wonders, "How'd you know that I had it on me?" Heh. His attempts to ask if she's okay go unanswered.
At home, Soon-jung puts on the ring and tells Dong-wook's photo that she really must miss him if she's entertaining such far-fetched thoughts about these coincidences. By the following morning, Min-ho says his pounding heart and a lingering memory (likely Chairman Kang slapping Soon-jung) kept him up all night.
Min-ho arrives to work in time to overhear the secretaries bid Soon-jung farewell. He walks backwards on the escalator, and when he gets caught, it's kinda impressive how he doesn't fall all over himself. Hahaha. He follows after Soon-jung and yells to grab her attention—why is she leaving when he as her boss hasn't fired her?
It's the chairman's orders, Soon-jung points out, to which Min-ho asks if he just needs to take it up with his uncle then. With that, he leads Soon-jung by the wrist upstairs to give her the opportunity to defend herself in person.
When Director Yoon suspects this to be yet another ploy, Min-ho points out that the director was caught on camera last night paying a visit to the department store whose employees espoused Soon-jung's innocence. Chairman Kang can review the evidence for himself later, Min-ho adds.
Although Chairman Kang agrees to consider his misgivings against Soon-jung as a misunderstanding, he doesn't quite understand Min-ho's behavior in this matter. Honestly, neither do we. Even if Soon-jung's loyalty to Hermia remained unwavering, it'd be of no help to Min-ho's goals. Oh crap, it's never good when your evil character starts talking sense.
Min-ho replies that neither party lost any sensitive information this time around. Plus, it's to his uncle's advantage that he chose an impenetrable safe like Soon-jung as his personal secretary than someone else.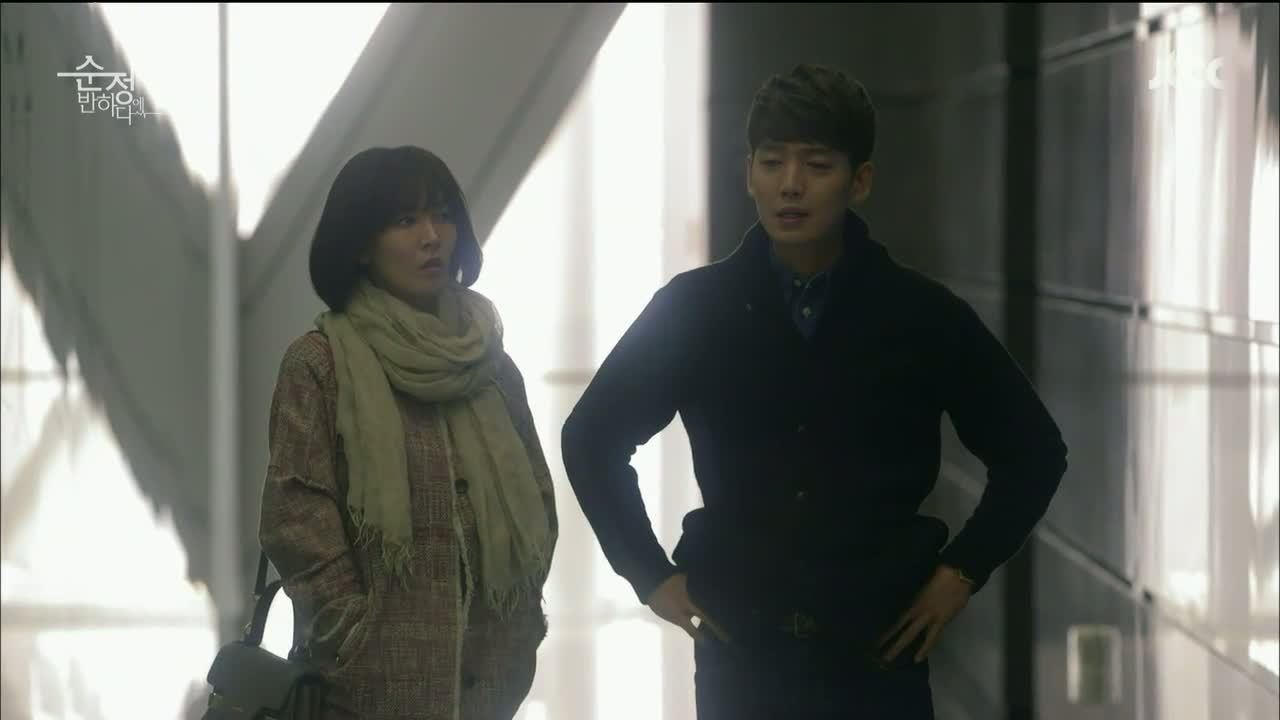 Afterward, Soon-jung wonders why Min-ho would bother to get personally involved. He downplays his act of kindness, likening it to getting rid of something caught in his throat. When Soon-jung frowns at that, he clarifies that he feels bad about being the reason why she was fired in the first place.
Even though she might not like it, Soon-jung should keep working for him and in return, he'll make sure she keeps the job that's so important to her. She's taken aback, but then collects herself to declare that she has a stipulation: that he doesn't pull something like this on her again.
He agrees, and then says she needs to accompany him to the hospital since Secretary Oh is off-duty today. And well, she can, er, probably get some tests done to examine the damage to her cheek, too. Pfft, look at you trying not to worry about her.
He sends Soon-jung off before getting some tests done about his pounding heart. Doctor Jo doesn't find anything out of the ordinary, though he does follow Min-ho's line of sight to see Soon-jung laughing with a child. Fascinated, Min-ho wonders aloud, "She knew [how to smile] too?"
Min-ho even unknowingly mirrors her hand gestures, and Doctor Jo's expression at his patient's budding interest is hilarious.
Not long after Chairman Kang orders to use lobbying to keep their final distributor happy, Director Yoon barges in with good news: a representative of said department store wishes to meet with the Hermia chairman. Imagine Chairman Kang's surprise when that meeting is with none other than Min-ho and Ji-hyun, because Gold Partners recently partnered up with the conglomerate that owns that department store.
In fact, Gold Partners is already well-informed about all the measures Hermia has attempted to keep secret. Appropriate measures (which is just a nicer way of saying punishment for Hermia's backhanded dealings) will be implemented: they'll expedite the sale of Hermia's central factory.
That means even if Hermia secures a distributor, they won't have any products to sell. Min-ho literally shrugs at the question of how Hermia will make any money that way, but both he and Chairman Kang are aware that no sale can take place without obtaining the board of directors' approval first.
Which is why Min-ho has prepared an offer: once Hermia goes bankrupt, he vows to hire the directors under his employ. At his uncle's snarls, Min-ho states that there's no need to switch out the employees when the head of the company is the problem. Oooh, burnn. Also, I think Min-ho might be the first person I've seen actually chow down at a tense business dinner.
What was supposed to be Soon-jung's unemployment pity party turns out to be an occasion to celebrate. Like always, Soon-jung sees thing half-full, knowing that working for Min-ho is better than being blacklisted for a job.
On the bus, Joon-hee and Soon-jung takes a walk down memory lane, recalling how they both secretly listened to the radio in class because they were so bored. Joon-hee suggests they relive that memory, then sing and groove to an oldie with shared earbuds. Aw.
They're still chatting about their embarrassing school memories when they walk up the hill to Soon-jung's place. She remembers that Joon-hee was particularly cold to her when they first met, so she thought he'd hated her. "What was it that you didn't like about me?"
Soon-jung receives a call just then, and Joon-hee softly replies behind her: "Because I liked you so much. I liked you a lot, but I was too shabby in comparison. So I acted like that because it made me so upset. But you remembered that."
Soon-jung apologizes as soon as she wraps up her call, and Joon-hee says he's sorry too.
After a light-hearted moment of Min-ho lingering around to watch (and sympathize with) Soon-jung burning her tongue from her ramyun, the Hermia board members chat about how one member now faces bribery charges. Director Yoon wonders if it was the chairman's doing because he found out that the man was in contact with Gold Partners.
In the boardroom, Chairman Kang has prepared gifts for all the board members: copies of exclusive contracts, expense reports, and incriminating photo evidence for others. He has dirt on all of them, so they best remain loyal to him.
Hermia won't be able to recover if the central factory is lost, so they'll shine the media spotlight on the central factory and use public opinion to their advantage. Which means they need to sway the union workers' hearts first, and so the directors head out to voice their support of the factory while handing out leaflets that paint Gold Partners in a negative light.
Min-ho, meanwhile, walks in on Secretary Oh and Soon-jung bonding over cosmetics in his office. Seeing his secretaries getting along so well makes him smile, and he has to keep insisting that he isn't upset at all at the sight. But when Secretary Oh says he must be, Min-ho finally yells out of misunderstood annoyance.
Once Soon-jung leaves, Min-ho sits down with his secretary to ask after his secret in becoming so chummy with Soon-jung. She never seems to smile around him like she does with Secretary Oh, who finds that odd since Soon-jung seems like a bright and funny personality to him.
Min-ho sounds awfully like a teenage boy asking how to get to know a crush that won't give him the time of day. Secretary Oh isn't surprised at the least, knowing Min-ho's mean personality all too well. To that, Min-ho defends the idea that he was nice to Soon-jung— he got her re-hired (Secretary Oh: "After you tried kicking her out of the company") and he saved her life, too (Secretary Oh mockingly babbles, "Sure you did").
But Secretary Oh is more knowledgeable about women's hearts than Min-ho is. A woman never forgets a time the man was in the wrong, he points out. Min-ho says he's over it already, and therein lies the problem: Min-ho has to make an effort in making her feel better.
Min-ho complains that he keeps trying, but it's not working, to which Secretary Oh guesses it's because Soon-jung doesn't trust Min-ho yet. Thus Secretary Oh advises Min-ho to plant that seed of friendship with Soon-jung by buying her a gift and talking it out.
Next thing we know, Min-ho takes that advice to heart by taking Soon-jung to a designer handbag store. He uses the flimsy excuse that it'll be a gift for one of his female buyers, keeping the other details vague. "Just… buy something that looks pretty to you," he tells her.
But Soon-jung quickly catches onto Min-ho's strange behavior, asking him if he's trying to buy something for her right now. Min-ho's defensive reply only makes her more suspicious, and Min-ho wonders why she can't just play dumb and accept his generosity.
Soon-jung has every right to be suspicious, pointing out that the last time he decked her out in luxury clothes was to manipulate his business dealings. Min-ho bursts angrily at those words, and his reaction legitimately shocks her. Not the best way to make amends there, dude.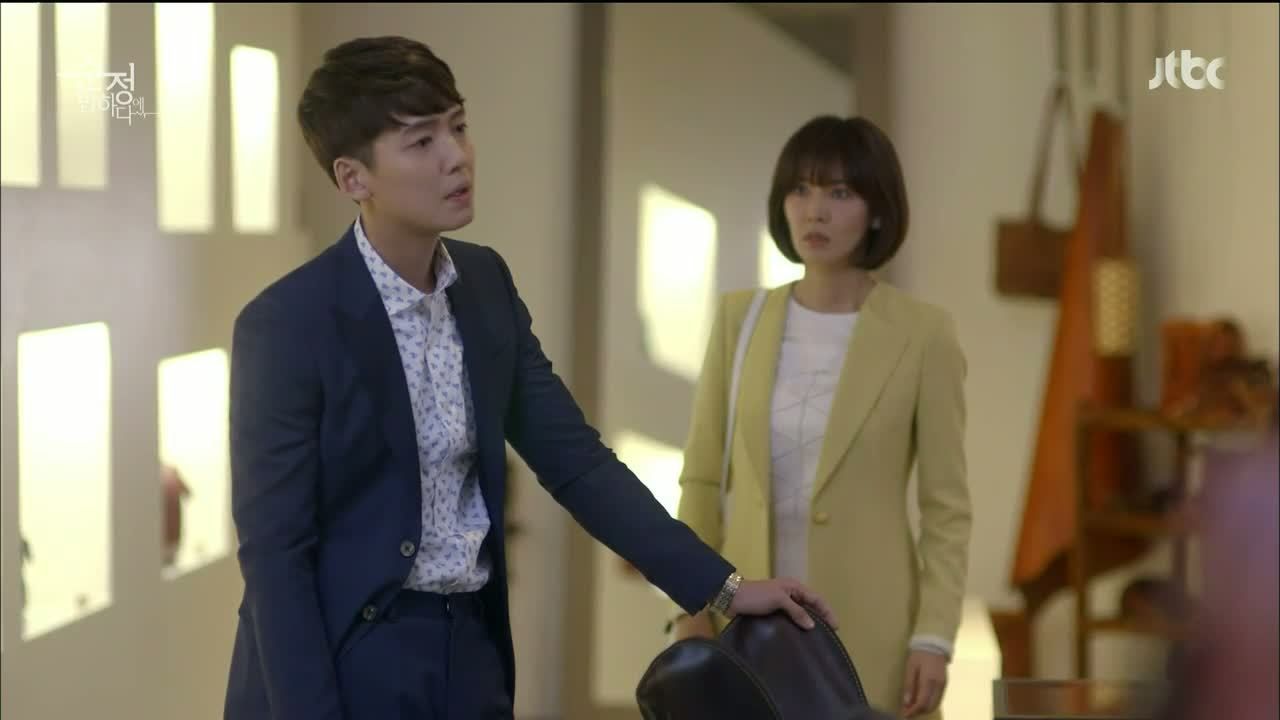 Min-ho falls back on his earlier argument that he just feels bad, and that he wanted to do something nice because they'll be working together again. But when Soon-jung flatly declines again, Min-ho sighs in frustration—pulling this move on other women usually ends with them in his bed.
It's as if Min-ho catches the meaning of his words a few seconds too late, because Soon-jung draws back when he approaches. Despite Min-ho insistence that he didn't mean that he wanted to sleep with her, Soon-jung politely declares that it's best to keep things professional between them.
Min-ho takes his failure out on Secretary Oh, who says his boss would've found Soon-jung even more distrustful if she had accepted his gift. So their next tactic is becoming friendly with Soon-jung's acquaintances—and to do that, Min-ho will host a housewarming party and invite Soon-jung and her secretary friends.
Min-ho isn't on board with the idea of inviting strangers into his home, but Secretary Oh argues that sacrifices must be made on his part, especially when it comes to women like Soon-jung.
Upon hearing that the white hatchback Ok-hyun has been tracking down is the very one she looked into for Dong-wook not long before his death, she runs out, believing that this was no simple hit-and-run accident. At the same time, we see that product tampering hyungnim climbing into said car and driving away.
Min-ho sits Soon-jung and the other secretaries (who swear fealty to their chairman) down in his office. His housewarming party invite is a bit rough around the edges, with Min-ho having to bite his tongue at the sugarcoated reasons why he's hosting one in the first place.
He stares at Soon-jung as he says the words, trying to gauge her reaction, and Secretary Oh attempt to lighten the mood, laughing that they'll see each other tomorrow night.
While shopping the next day, Soon-jung has no intentions on relaying warm wishes of Min-ho living in the house she and Dong-wook dreamed of. When Joon-hee calls, she asks if he can't pretend to come down with something so she can jet off early tonight. But as it turns out, Joon-hee is feeling pretty sick, which has her worried.
At the same time, Min-ho isn't satisfied with any of the fancy dinner party ideas, saying that none of them align with Soon-jung. He asks the party planner what's most popular with secretaries.
Later that evening, we see that Min-ho has prepared some in-home spa treatments and a spread of Chinese delivery food. Secretary Oh is worried that his boss can't eat any of it given his heart condition, but Min-ho has eaten ahead of time and figures the ladies will enjoy eating food they commonly don't get to enjoy.
Min-ho is disappointed when the other secretaries arrive sans Soon-jung, who will drop by later on in the evening. That's because Soon-jung has gone to visit a sickly Joon-hee in his office with meds in hand. He seems genuinely moved by how she'd come to see him.
So Min-ho can barely contain his anger when he finds out that Soon-jung can't make it after all, muttering, "Who did I go through all this trouble for—" At the secretaries' mention about how Soon-jung didn't want to visit this house, Min-ho asks what that means.
He's told that this place used to be Soon-jung and her late fiance's dream home. He's surprised to hear the belated news that Soon-jung's detective fiance had died in a fatal hit-and-run accident.
Soon-jung worries that Joon-hee's working too hard while bearing the great responsibility of keeping the company afloat. Joon-hee says he's not accomplishing such great feats here, but Soon-jung's concern for his health as his friend remains the same. He swallows back his disappointment but promises to take care of himself.
His head filled with all the despicable words he threw at Soon-jung about her deceased fiance, Min-ho heads out. He argues with himself on the hilly steps near Soon-jung's place, saying he wouldn't have bought the place if he had known.
He heads down when he sees Joon-hee pull up with Soon-jung in tow. Soon-jung pulls up her professional demeanor at the sight of him, and when Joon-hee asks what he's doing her, Min-ho's initial reaction is to yell that he lives in this neighborhood. Min-ho is dissatisfied by her answer that she couldn't attend his housewarming party due to inexplicable reasons, and lords it over her until she adds, "Because it involves Joon-hee."
Her decision to use Joon-hee's name (versus his job title) is deliberate here, and they both know it. She honestly explains that Joon-hee was sick and she's the only one around who can care for him. She wouldn't have dropped out for anyone else, but Joon-hee is her longtime friend whom she shares a telepathic connection with. Says the girl who doesn't know that same friend is in love with her.
Anyhow, Min-ho drops the subject, muttering that she wasn't that important of a guest anyway. He comes up with a work excuse to explain his visit, instructing her to join the negotiation talks for Hermia's central factory tomorrow morning.
That's news to Soon-jung, and Min-ho belatedly realizes that Joon-hee didn't inform her about it. At her initial protest, Min-ho points out that this is an order that befits their professional relationship.
Assembling a team to an arcade casino, Ok-hyun gives chase to the product tampering hyungnim and corners him near a junkyard. She tells him that they're here to investigate Dong-wook's death. She accuses him of running Dong-wook over after he found out about the tampering case, but the hyungnim wildly swings the bar in his hand, professing his innocence.
With that, the hyungnim takes off again, only to stop when another detective stops him. Next thing we know, the hyungnim runs into oncoming traffic and gets hit by a truck of doom. Ok-hyun is left in shock and frustration.
Min-ho's dream that evening takes him back to Dong-wook's final moments—lying bloody on the road, reaching for his phone. But before he can see the name, the glass cracks, and Min-ho wakes up with a start.
Things are in a tizzy this morning because the media is having a field day about the public opinion circling today's negotiations with the factory union members. Min-ho remains unfazed—the public will focus its attention to a different scandal soon enough, just like Hermia's scandal twenty-five years ago. "In other words, I'm not going to stop."
As soon as Min-ho decides on sticking with the original plan, Soon-jung arrives with the report he previously requested. She also added something else, because while she's aware that Min-ho won't change his mind, she believes he should know the people whom he's laying off.
Furthermore, Soon-jung believes that a son shouldn't destroy what his father built up. She doesn't see how joining hands with those who betrayed his father to tear down his achievements counts as revenge. If it helps, neither do we.
Ji-hyun finds it strange that Joon-hee didn't know of Chairman Kang's actions, unaware that he'd coerced loyalty out of him. They'll chat later, so Joon-hee ought to make sure the negotiations don't blow up into a major scandal.
Min-ho reads the attached letter explaining the backgrounds of each the union members: a father who proudly wears his son's school pin, a single mother with poor eyesight who continues to earn a living for her kids.
Despite leaving the note crumbled in his wake, Min-ho is reminded of their life stories when he enters the boardroom. He gives the floor to the union members first, who ask if the rumors about selling the factory are true. When they say they can't trust suits like Min-ho, he counters, "What will make you believe me then?"
Min-ho has four options in mind, and all of them involve selling the factory. It doesn't matter what he says since the union won't believe him anyway, then abruptly ends the meeting. That incites one union member to grab Min-ho by the lapels, and Min-ho reminds him that assaulting him will only end in backlash.
It's at that moment Papa Ma comes to break things up, but there's something about his voice that causes Min-ho's vision to blur and suddenly lose consciousness. Whoa.
Although the tests don't indicate anything off, Doctor Jo has treated his unstable heartbeat. He warns Soon-jung that Min-ho may feel sluggish when he wakes. That's exactly how Min-ho feels as he stumbles out of bed and hobbles into the hallway where Soon-jung finds him.
Staring at Soon-jung for a few moments before reaching for her cheek, he croaks, "Don't go." Min-ho pulls Soon-jung into an embrace saying, "Don't leave me now."
And who should be five feet away from this scene unfolding but Joon-hee with a wide-eyed, perplexed expression.

COMMENTS
It'd be great if we could see one consistent facet of Min-ho's personality throughout an episode. Not because I don't enjoy his immature antics with Secretary Oh and boyish attempts to win Soon-jung's favor in this hour (I find his awkwardness around her pretty adorable, actually), but rather because it feels like we're dealing with a hero with an on-off switch—his behavior mostly dependent on whether Soon-jung is physically present in the room or not.
It would be a different story if the cold personality we've seen in the beginning was at war with Dong-wook's kindheartedness (because of the new literal heart), but that's not necessarily what we're seeing onscreen. Min-ho has surely questioned his physical symptoms and the results of his uncharacteristic decisions very belatedly, but for now that's where it ends. What I'd hate to see is us as viewers growing more distant from Min-ho's internal conflict. Rather than digging deep into Min-ho's development, the show chooses to skim the surface of those external consequences. Doing so makes it hard for us to decipher which Min-ho we see at the moment is the before or after version at times, and thus even harder to track his progress. As a viewer, I want to be able to be in step with our hero's journey, not trying to pinpoint his location with a broken emotional compass.
But I can say that fainting spell piqued my interest because something about Papa Ma was a trigger. It's interesting that no one else in the dramaverse has yet caused that reaction, and it's too early to make guesses as to why. However, that does tie back into the mystery surrounding Dong-wook's death. For a few episodes, I honestly thought that Innocence showed its hand too early with the product tampering hyungnim. And now that the closest link to the murder is presumably dead, the plotline now enters dangerous waters. I wasn't a fan of revealing a prime suspect so early, but now it's up to the writing to have a helluva good explanation, and not one that's out of left field.
I sound like a broken record when I say that Soon-jung continues to impress with her kindness and optimism. It takes a special kind of person to put up with a boss who's either cold or plain childish in any given moment, and serve a chairman whose dealt in various shady dealings. In regards to the sale of the central factory, Soon-jung would have had every reason to protest on Papa Ma's behalf alone, but instead she chooses to speak for all the workers, to try and get Min-ho to see the faces and lives behind the names. I do love how she pointed out that destroying something his esteemed father built up with those who betrayed him is a strange kind of revenge, if you could call it that. It's an example how this show can be oddly self-reflective of its own characters, and better that it comes from Soon-jung than the villainous uncle spouting sense in between his semi-comprehensible mutterings.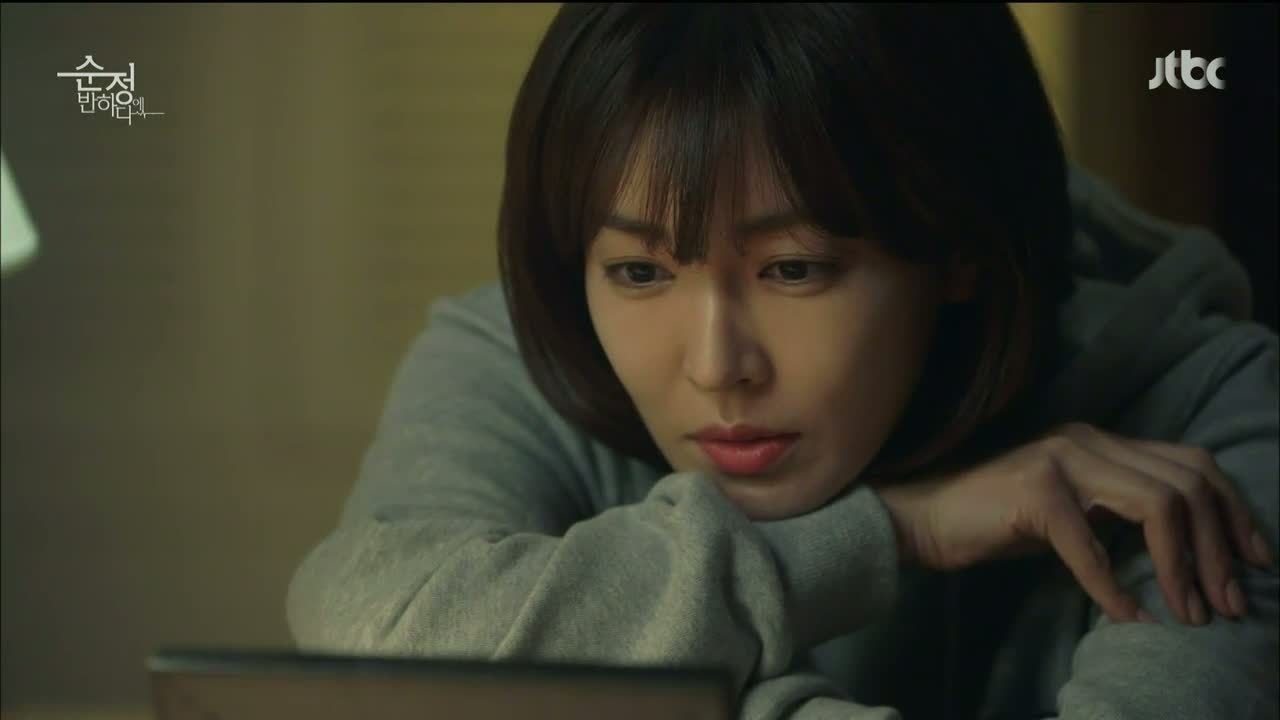 RELATED POSTS
Tags: Falling for Innocence, featured, Jung Kyung-ho, Kim So-yeon, Yoon Hyun-min