Falling for Innocence: Episode 6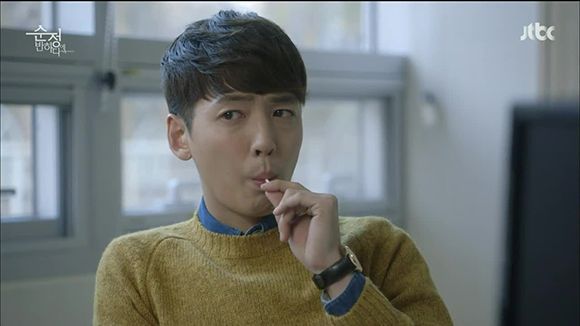 Our hero finally learns that his new heart may be the source of all his palpitating woes, but that does little in the way of sweetening up his sour side, which comes into full force this hour. Turns out that when Min-ho gets mad, he gets mad, and Soon-jung may be the only person who truly understands the little boy trapped inside him. But as long as we're just talking metaphorically, that little boy could use a spanking more than a lollipop sometimes.
SONG OF THE DAY
Lee Young-hoon – "꿈은 아니길 (Hope It's Not A Dream)" from the OST [ Download ]
Audio clip: Adobe Flash Player (version 9 or above) is required to play this audio clip. Download the latest version here. You also need to have JavaScript enabled in your browser.

EPISODE 6 RECAP
We begin in a flashback of Joon-hee's childhood, which he'd spent always having less than Soon-jung—his father, a mere security guard, would always call Joon-hee out to greet Soon-jung Lite, always addressing her as "Agassi," a word Joon-hee came to hate.
In voiceover, he narrates how he was always afraid to talk to her even when he wanted to, because he never had the nicest things or even things that weren't old and tattered. But when they were teens, he'd tried to make his move by getting her tickets to see Toy, the man behind the "Whenever" song that became Soon-jung and Dong-wook's anthem.
Speaking of, he remembers how he was always one step behind Dong-wook in wooing Soon-jung. And how Dong-wook had taken the word he hated most, "Agassi," and turned into a term of endearment for Soon-jung. Now, Joon-hee sighs that he came to love that word the most.
But as he adds, "I swore to myself I wouldn't hesitate again to be with you," he comes across the scene we left off at last episode, with Min-ho pulling Soon-jung into an embrace and saying, "Don't leave me now."
Joon-hee's voiceover continues: "Soon-jung, what is this ominous feeling that I may be one step behind again?" Aww.
Just then, Min-ho passes out. The momentary spell is broken.
While Papa Ma can't seem to get Min-ho's loss of consciousness at the meeting out of his head, Doctor Jo is informed of Min-ho's newly stabilized condition. Strangely enough, everything suddenly got better as soon as Soon-jung arrived.
Soon-jung finds herself caring for Min-ho while he's unconscious, but leaves the task to Secretary Oh when he comes for his shift. Still, she's reluctant—she doesn't want to leave Min-ho by himself after he asked her not to go.
Joon-hee drives her home, and is curiously introspective on the drive. She's her usual dense self when it comes to his feelings so she doesn't understand why he'd come to the hospital and not see Min-ho, even if it's obvious he just came to see her.
He does admit he's afraid, but won't tell her why. It's obvious to us and anyone with eyes that he's afraid of losing her to Min-ho, and Sad Puppy Joon-hee is just about the most pitiful thing ever.
Papa Ma is waiting for Soon-jung when she gets home, and the two share a warm but sad meal together as they reference the shared tragedy they have in Dong-wook's death.
To Papa Ma's credit, he acts just like a father to Soon-jung, and admits that he feels the same way too. In fact, he wants to find someone for her to marry so that he can be at peace… what about Joon-hee?
Soon-jung thinks it's a ridiculous proposition, but Papa Ma defends that he saw them together earlier (when Joon-hee dropped her off), and they looked like a perfect couple. He'd actually like for her to end up with someone nice like Joon-hee, and is sure Dong-wook would've felt the same. Aw.
Turns out that the product tampering Hyungnim NOH YOUNG-BAE (might as well give him a name if he's sticking around) lived through his traumatic accident, though he's currently comatose.
That means Ok-hyun won't be able to get any answers out of him, even though they've figured out that Dong-wook found out about his tampering, which would've given Noh Hyungnim a motive to kill him.
After Joon-hee finds out that he's technically being fired/moved from his position as the head of legal affairs at Hermia in lieu of someone more qualified, Min-ho barely gets a chance to recover before he's pelted with ideas for a media blitzkrieg by Ji-hyun. It's their way of fighting back against Hermia.
Luckily, Doctor Jo informs him that he's in fine health, even though Min-ho complains about the heart palpitations that seem to come on randomly. Doctor Jo has spoken to Secretary Oh about Min-ho's changes in behavior since the transplant, and has come to believe that Min-ho may be in the one percent of transplant cases with cellular memory syndrome.
It's not scientifically proven, of course, but it's a theory wherein the organ recipient gains the characteristics of the organ donor. That's the only reason Doctor Jo can think of to explain Min-ho's weird behavior as of late.
Min-ho's only concern is whether he can be cured of it using willpower alone, to which Doctor Jo says that matters of the heart aren't so easily controlled. Especially if Min-ho is experiencing unfamiliar emotions… like love.
Min-ho drops his lollipop in shock. "Love?" he says, as though he's never heard the word before.
Chairman Kang's wife, Madam Min, asks Soon-jung to do a task in secret for her and the chairman—it's the only way to save her husband and her children. Soon-jung has something to gain from it too, in that Madam Min will save the central factory, and thus Papa Ma's job (along with countless others).
Min-ho has to endure hearing others in the office talk about him when they fail to realize he's in the same elevator, only to have Joon-hee beat him to the punch when they both come upon Soon-jung and a spilled stack of papers.
He is not happy about it, and thinks back to Doctor Jo insinuating that these feelings of "love" he has are directly tied to Soon-jung. He adamantly denied it at least until Doctor Jo added, "Whoever it is, or whatever situation it is, if you keep making excuses to be around that person… That's love."
While Min-ho had laughed like a maniac at what he perceived to be crazy talk, in the present he suddenly bursts out, "That's nonsense!" It's almost funny how normally Soon-jung reacts to his outburst, as though he'd just said an ordinary hello.
Min-ho tears into Soon-jung about spilling his precious papers and orders her to make new copies, which she heads off to do without question. Joon-hee knows he's being ridiculous, but Min-ho's mean teasing of his doggedness with Soon-jung doesn't get the expected result when Joon-hee owns up to his actions: "It's because I like Secretary Kim."
When asked for clarification, Joon-hee repeats what he said unflinchingly, though he drops the formalities and just calls Soon-jung by her name. He's not afraid to warn Min-ho against taking a personal interest in her, but Min-ho is equally unafraid to threaten his job position. Weiner measuring contest, commence!
Min-ho returns to his office in a rage, though he completely misdirects it at Soon-jung and acts like this is all over her spilling some papers. He's more incensed that he could be in love with someone like her, but of course can't word any of that past stuttered I's and You's.
It's surprising that Secretary Oh acts as the voice of reason here, acknowledging that Min-ho is acting like a jealous little kid over Soon-jung. What's funny is how he muses whether he'd get more of Min-ho's attention if he tried being friends with Soon-jung, since it'd mean arousing his jealousy.
Soon-jung remains purposefully oblivious to Min-ho's more ridiculous antics, and instead asks about his health. Her sincerity puts a stop to Min-ho's tirade, but mostly because it sets his heart aflutter and he's forced to flee into his office.
"What's wrong with me?" he mutters as his heart thumps loudly within his chest. "I must be crazy."
Meanwhile, Ok-hyun and her detective buddy find themselves in a bit of a dead end after the white hatchback they confiscated from Noh Hyungnim confirmed no DNA samples or signs of an accident. Noh did tell them that he was just a grunt, so with their only witness/accomplice still in a coma, they set out to find the kingpin behind the product tampering.
Now that Gold Partners is running a successful media campaign against them, Chairman Kang has to go to Plan B, which none of the bondholders are enthused about. He wants to file an injunction against Gold Partners for illegally obtaining their bonds, even though that'd open them up to public scrutiny as to why they're having to sell their bonds at all.
But it's a risk Chairman Kang is willing to take, even if it means exposing his own weakness just to reach his enemy's.
Min-ho knows this is a desperate move coming from Chairman Kang, and one that could potentially land the old man in jail if not played right. For the time being, he'll countersue, and work to get the media in his favor.
Before the cameras begin to roll, Min-ho is told that his stylistic team was involved in an unfortunate accident. I'm honestly not sure if this is just a ploy by Secretary Oh to get Soon-jung and Min-ho in the same room, but it works—he tasks her with making Min-ho camera-ready—suit, makeup, and all.
The shoot is taking place in Min-ho's new home/Dong-wook's dream home, and since Soon-jung is having to get so close to him to apply foundation, Min-ho can't help but ask if it bothers her to be inside the house.
She's professional as always, and completely unaware that the simple act of reaching around Min-ho's shoulders to secure his tie has him going mad. He practically runs away from the close contact and into the interview, where he's asked to comment on Chairman Kang's recent injunction.
But the tone turns serious when the interviewer asks if it was Min-ho's father who founded Hermia, and if so, is Min-ho really planning on selling his father's company? Min-ho's answers are succinct and to the point, because to him, emotions have no place in the world of mergers and acquisitions.
The interviewer then mentions the suspicious circumstances regarding the takeover of the company by his father's brother, Chairman Kang, and how it's believed that his father might've been wronged. If so, doesn't Min-ho want to reveal the truth?
In a surprise move, Min-ho emotionlessly states that the corporate takeover was bound to happen whether or not his father was in the wrong or not. "It all happened for one reason. It happened because my father was a dreamer," he adds coldly.
After the interview, Soon-jung wonders why Min-ho is tailing her and innocently asks whether he's walking home. His vehement response that he totally isn't, how could she think such a thing? tells us everything. He's just… taking a walk. Yeah, that's it.
He does find a moment to ask her if being in his house bothered her, since he knows it held a special meaning for her. Aw. She's her usual cool self about it, and replies that a house is just a house—it's who you live with inside it that's important.
And in usual Min-ho fashion, he manages to break the sincerity of the moment by asking Soon-jung what she thinks her charms are… as in, what's so special about her that her fiancé fell for? Haha, that's such an oddly personal question to just put out there.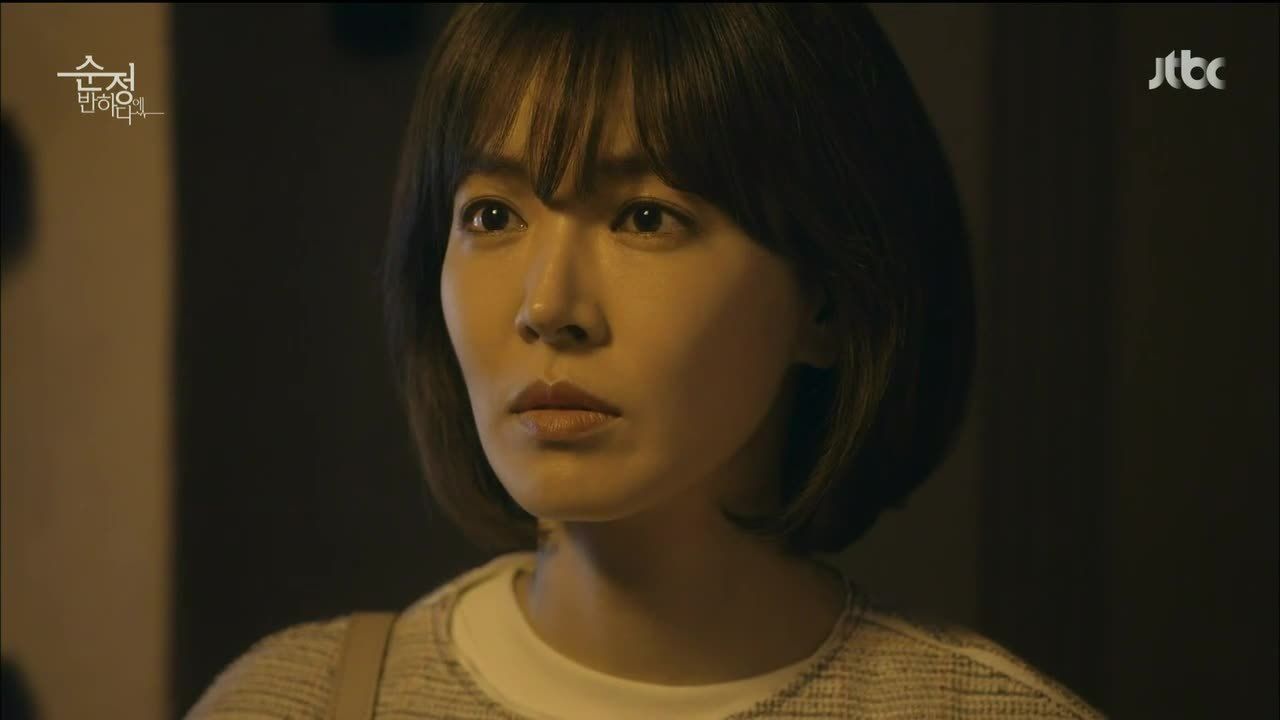 She finds it awkward but still does her best to answer, and says that Dong-wook explained her attraction in terms of the earth's rotation—basically to mean that Dong-wook was the earth orbiting around the sun that was Soon-jung.
And that last bit is the conclusion that Min-ho comes to very reluctantly, because even saying the words makes him think of Doctor Jo telling him that he's in love. I guess he really, really doesn't want that to be true.
Still, Soon-jung manages to surprise him when she tells him not to be ashamed of his father. Visiting the central factory had her thinking of the wonderful person his father must have been to build it, even though it also made her think about how her father ruined it.
She knows that he won't care to see how his father's legacy has been kept alive in the factory he wants to demolish, so she says instead that she had a thought: "Maybe you're not a bad person. Maybe you're someone who's hurting on the inside. You're smart, you control an unthinkable amount of money. Thousands of people are afraid of you. But inside, you're still that stunted nine-year-old boy. A boy who's hurting."
Joon-hee's already in a foul mood due to the myriad problems on his plate, so he's not in the mood to entertain his father's money-grubbing relatives when they come knocking.
They're clearly only interested in Joon-hee because of his position, and not-so-subtly hint that he should give their son a job while they take the money Joon-hee all but throws at them to get rid of them. He turns to his father with barely contained rage, berating him for allowing these people around when they were the first to turn him and his father away back when they needed money for his mother's surgery.
Remember that favor Madam Min asked of Soon-jung? We still don't know what she asked, but Ji-hyun outs her as a betrayer to Min-ho: Chairman Kang led everyone to believe he was going on a business trip to China when he isn't. The reason why she's pointing fingers at Soon-jung is because she knows Soon-jung has been in and out of his house, so she must've known Kang's secret plan.
On Ji-hyun's advice, Min-ho and Secretary Oh follow Soon-jung in secret. She enters the hospital with a masked person at her side, and Min-ho follows her all the way up to the top level… where Chairman Kang is staying as a patient.
Min-ho forces his way past Soon-jung and inside, passing soiled adult diapers to get to the private bathroom where Madam Min and Chairman Kang's son wait. He grates out an introduction to his aunt like this is their first time formally meeting each other. (Is it?)
Now that Chairman Kang has been caught, he's surprisingly docile during his ensuing sit-down with Min-ho. Though his nephew doesn't display a shred of mercy or compassion, Chairman Kang tells him a fact he may have missed on his hurry to follow Soon-jung: they're in the cancer ward.
Min-ho couldn't care less, and is instead all the more angry at Chairman Kang for doing everything he did just to end up this way. Kang expresses no remorse and says he'd to it all again—the lofty ideas Min-ho's father had about running a business just aren't practical or possible.
He's not sorry for his greed, but he does point a finger at Min-ho for his greed, since he knows this isn't about revenge anymore. Min-ho doesn't deny it, and says that even now he can't help but calculate how Chairman Kang's death will affect his plans.
In the meantime, he'll expose everything he needs to make Chairman Kang a laughingstock, even down to his dirty diapers. What he doesn't realize until it's too late is that Kang's young son has been listening, and he runs to his father tearfully asking if he's really going to die.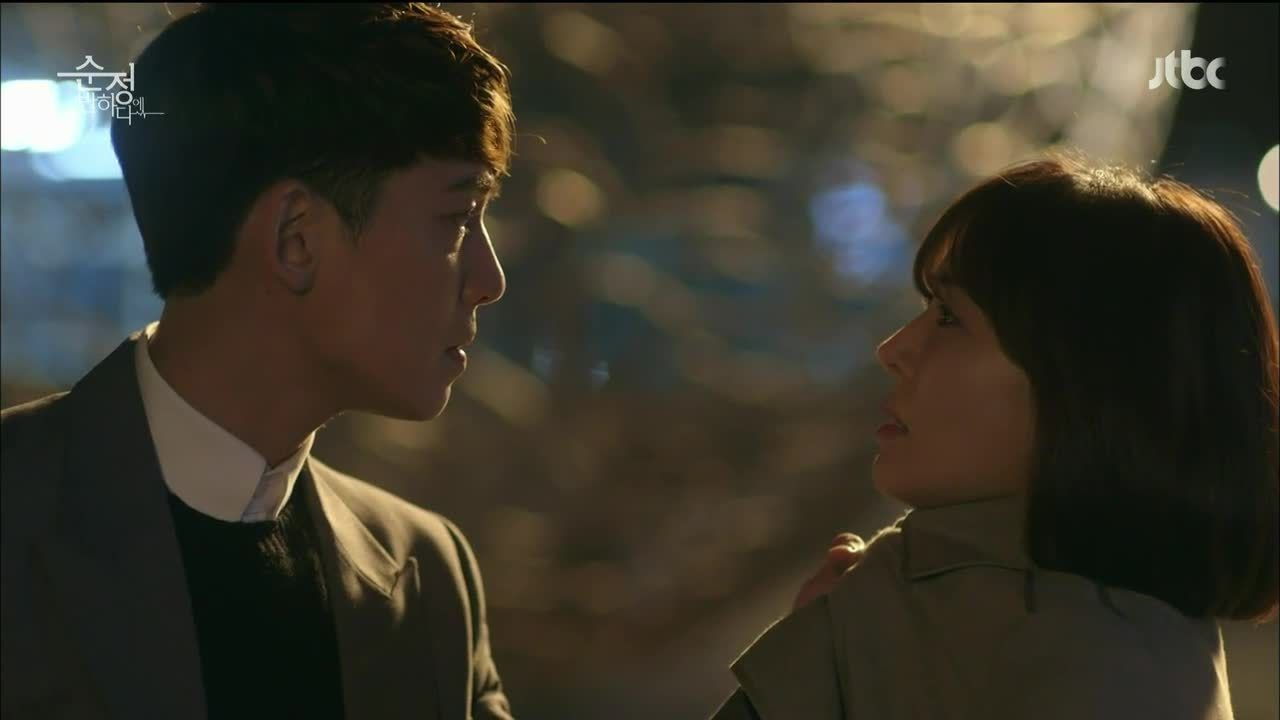 Soon-jung follows him out of the hospital because he's in such a volatile mood, and she would rather him calm down before he makes any decisions.
Min-ho displays his worrisome penchant for getting physical when he's angry and roughly grabs a fistful of her jacket to hold her in place. "Stop pretending to be a good person," he sneers. "You've been helping him behind my back, and now you're worried about me? It'd be better if you tried to seduce me with that pretty face of yours. I might be able to calm down if I toyed with you for a couple of hours." Um.
I sincerely hope that Soon-jung's "Do what you want" reaction is only said in the hopes that Min-ho will realize how awful he's being, and not because she thinks that having meaningless sex with him will actually help calm him down. Because if that's the case, then this just turned into a completely different show.
While Joon-hee deduces that Chairman Kang must be holing himself up in a hospital, Min-ho has calmed down enough to ask Soon-jung how serious his uncle's illness is. It's late-stage colon cancer, she answers, and there's not much time left.
As for why she helped, it was because Madam Min asked her, and she couldn't say no since she's known the chairman for so long. And, she admits, because it'd ensure the future of the central factory—because if the public found out about Chairman Kang's illness, it'd be sold off immediately.
When asked why the central factory means so much to her, Soon-jung replies honestly that that place and the people who worked there became her family when she lost her parents. "That place… is me," she adds finally.
"Is that so? Well, that's too bad," Min-ho says coldly after her heartfelt story. He can't afford to think of anything in such sentimental terms—even now he's only thinking of how he can profit off Chairman Kang's death.
Joon-hee sees the truth of Chairman Kang's condition firsthand, while Min-ho spends the night dreaming of Dong-wook's last moments and wondering who the person is hovering right outside his field of vision.
The next day, Joon-hee conspires with Ji-hyun to act while Chairman Kang is ill, which is exactly what Min-ho would be doing if he wasn't having flashes of what we like to refer to as "conscience."
So Joon-hee gathers up all the bondholders and tells them to come to the dark side (aka Gold Partners), because Chairman Kang's late-stage colon cancer and impending death will make his injunction against Min-ho's company worthless. And when that happens, wouldn't they rather be on Min-ho's good side?
News of Chairman Kang's illness breaks thanks to Joon-hee, and he heads the ensuing board meeting to call for Kang's dismissal. The board votes yes, and the chairman is dismissed just like that.
Min-ho is at first enraged that he wasn't invited to the meeting, at least until Joon-hee tells him that they just eased his way into the company. Plus it helped Joon-hee too, so it's a win-win situation in his book.
Even so, Min-ho can't help but think back to Chairman Kang's words about corporate greed and how there will always be others to replace him. Is he having a change of heart (har) about his uncouth business practices?
Soon-jung has come to the informed conclusion that Min-ho leaked the news and caused all this company upheaval, so he runs to catch up with her. He wants to stop her from going to the chairman's house where there will likely be a mob of reporters, until she throws back that it's all his doing anyway.
If that stings, it shouldn't, but Min-ho takes offense at her accusation anyway and goes along with her presumption that he's the one who caused all this. Didn't she know he'd do that anyway?
"Yes, I knew," she admits. "But it's strange… I didn't expect anything of you, so why am I so disappointed in you?"
She leaves on that note, walking headlong into traffic. A car flickers its lights as it heads straight for her…
…But Min-ho pulls her to safety just in time. He yells at her for almost getting herself killed before he becomes distracted by his own thumping heart, louder now that he's holding her.
He can't understand what he's even doing in this situation, and it's no help that Doctor Jo's words about being in love come to the forefront of his mind. "Fine," he says, more to himself than to her. "Let's find out… how my heart truly feels."
Then, standing in the middle of the street, he pulls her in for a kiss.

COMMENTS
What could possibly go wrong with that scenario? At this point though, I think it's safe to say that this drama needs to very seriously re-evaluate its relationship with motorized vehicles, because we're nearing parody territory with all the damage cars have done in just six episodes. Dong-wook was killed by a car, Noh Hyungnim was put into a coma by a car, and if Soon-jung has been pulled out of the way of an oncoming car twice now, that's two times too many.
We all know and understand the skinship purpose of having the hero save the damsel-who-can't-read-traffic-signs, but maybe we could try to vary up the distressing situations a little so it's not cars all day, every day. If being the person constantly needing to be saved is the direction we're going with in regards to Soon-jung anyway, though I sincerely hope that won't be the case.
In many ways, Soon-jung was brave this episode, and proved again that she'll do the right thing even if it puts her in a bad spot. But that mentality seems to work to her detriment as well, because I honestly can't tell whether it's in her kind nature to just turn into a limp noodle when she's being manhandled or not—and if so, whether she realizes that's a bad idea sometimes.
For instance, Min-ho's penchant for rage-induced physicality is no secret to her, since he's shoved her onto the ground before in a fit of misdirected anger. This time was yet another fit of misdirected anger, though I get that he thought she was double-crossing him to help his enemy, it wouldn't be the first time he thought she's betrayed him, he's very confused about his conflicting emotions when it comes to her, etc. That's all fine and well, but grabbing her the way he did and demeaning her well-meaning efforts to calm him down by insinuating that she'd better serve that purpose by putting herself at his sexual mercy? And then having her agree if it would actually work? Oy vey.
I'm sure there are multiple ways to read that scene to make it sound less awful, and some of them might be accurate. It could easily be argued that Min-ho was just trying to be hurtful and Soon-jung was resilient enough to call his bluff so that he couldn't scare her away. If that was the case, she's got a better read on him than he does on her, and her misdirected blame at the end doesn't count when what she thought he did is exactly what he said he'd do. To add to that, she had no reason to think that he'd be better than that—though she admitted that she felt disappointed nonetheless.
So we're definitely seeing Min-ho's conflict when it comes to rising above the terrible person he can clearly be, though he's not at a point where it's easy to feel sorry for him when he's blamed for something he would've done anyway. It does make Joon-hee out to be worse than he is, though it's a tactic I'm not entirely for—Joon-hee's motivation to rise above his circumstances is clear, and he's driven by ambition. As Chairman Kang said, Min-ho is driven by the same thing, but Joon-hee beating him to the punch doesn't necessarily mean one is worse than the other. Because let's face it: Telling a man dying of colon cancer that not only will you find a way to profit off his death but will also make his inability to control his bowels public knowledge is a pretty crappy thing to do. At least Joon-hee's not in the business of crushing people's souls (unless he's in the business of crushing people under his car, which would be very bad).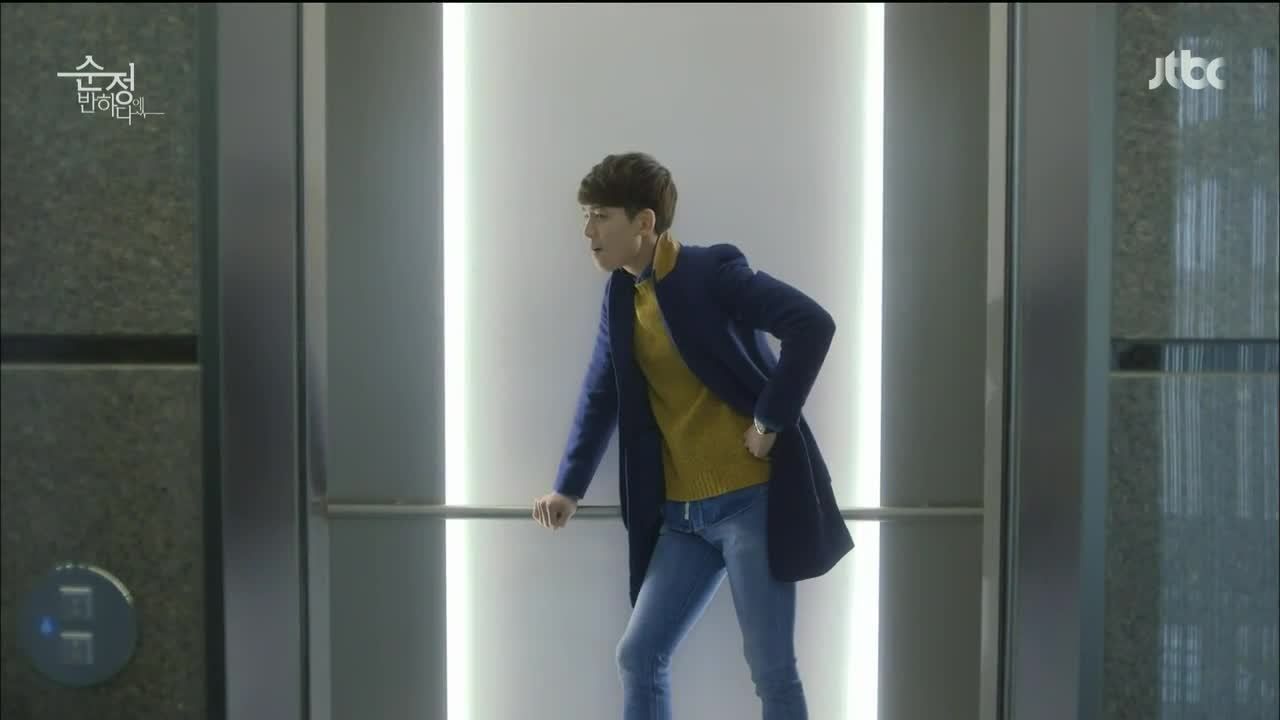 RELATED POSTS
Tags: Falling for Innocence, featured, Jung Kyung-ho, Kim So-yeon, Yoon Hyun-min