Girl Who Sees Smells: Episode 3
Our duo grows closer as they work on Mu-gak's case and Cho-rim's audition, and they both finally come clean about how their past traumas have affected them. Rather than be put off by each other's oddities, their confessions create a unique sort of kinship, even as they both start to realize their growing attraction. But there's still a killer on the loose, and the search for the truth unearths more questions than answers as danger looms closer and closer.
EPISODE 3 RECAP
Standing at the site of the accident, Cho-rim stares as she watched the missing girl Ma-ri's signature scent ride from the ground behind Mu-gak, wafting off the road and toward the river below. She follows the scent and gets too lose to the drop-off, losing her footing, and Mu-gak quickly swings her away from the edge and into his arms. For the second time he holds her close a bit longer than necessary, and they both seem intensely aware of the other before they pull apart.
As Mu-gak steps backwards nervously, he trods on Cho-rim's sunglasses where she dropped them breaking them clean in half. Her loud reaction irritates him and he reminds her that he just saved her life. He takes the pieces of the glasses, and redirects her attention back to Ma-ri's scent trail. Cho-rim looks again, and points to the river. Oh no.
Out in the mountains, the chief (whose name is Detective Kang) directs his men as they search by using a bullhorn to project his voice, hilariously aiming it right at his detectives' ears. He's enjoying that too much for it to be entirely accidental, hee. Mu-gak calls to say he's found the missing girl, so they all head to the riverbank where her car is being pulled from the water.
As Cho-rim watches from a distance, the detectives open the car door to find Ma-ri's body in the car, as they feared. They call Lieutenant Yeom to the scene, and she curses as she confirms that Ma-ri has a barcode etched into her wrist — it's definitely the Barcode Killer again. She asks Mu-gak how he knew the girl was in the river, but he just silently looks over towards Cho-rim (which the sharp-eyed Yeom catches).
The Chief of Police comes to inspect the scene, and orders a special investigation team to be created for this case. Detective Kang motions over his three lackeys, but when the police chief orders Lieutenant Yeom to head the team, the three hilariously sidle over to stand next to her instead. Yeom asks permission to include one more person on her team, and handpicks Mu-gak, to everyone's surprise (including Mu-gak).
When Cho-rim gets home, her (adopted) father is on his way out, but he takes time to remind Cho-rim that she only has seven months left to give acting a try, then she promised to quit. But there's no bite in his bark, and Cho-rim seems to know it by the way she aegyos him. She brings him his favorite steamed buns, but that only sparks more interrogation about why she was in that part of town, and she blames the Frog Troupe. Aw, these two are so cute.
Detective Oh runs into Lieutenant Yeom at the station, but neither of them seem happy to see each other. They know each other from previous Barcode Killer investigations, and Yeom tells Oh about the murderer's latest victim, but he reminds her that he's no longer a cop — he just works security now.
Yeom pleads for him to tell her where the only surviving witness is… ah, so she doesn't know that he's taken her in as his daughter. Oh reminds her that there was no evidence the daughter witnessed anything, and that anyway, she died when she was hit by the car that night. Yeom is smart and figures she was only reported dead and is actually under witness protection, but Oh holds tight to his story.
Creepy doctor Chun Baek-kyung reads an old article from when Cho-rim's parents were found dead, and we see that he's bought a ticket to the Frog Troupe's show. He takes a call from someone named Kwon (I'm assuming Chef Jae-hee), who tells him about the news from the police station, and Baek-kyung says he'll meet him in a few minutes.
Mu-gak goes to the restaurant to talk to Jae-hee, who admits to being extremely distracted and looks like he's been crying. Mu-gak offers to let Jae-hee see Ma-ri once before the autopsy, and Jae-hee tells him that she never mentioned having any family so he'll be handling the funeral.
Mu-gak asks if Jae-hee knows Baek-kyung, and probes for information about him since he's on the suspect list. But just then he hears, "Are you saying I'm a suspect in Ma-ri's murder?" from Baek-kyung, who's standing right behind him, listening. Damn, could you be any more creepy? He seems a bit amused to be considered a suspect, and offers to answer Mu-gak's questions himself.
Mu-gak asks about the frequent calls to Baek-kyung from Ma-ri's phone, which he explains away as her being his patient. Jae-hee elaborates that he introduced them, since Ma-ri was having trouble with pain after spine surgery. Mu-gak asks why his office was closed for the last four days, and Baek-kyung testily answers that he was in Jeju. He clams up after that, and Mu-gak leaves after saying he'll be in touch later.
On the street, he finds the shattered pieces of Cho-rim's sunglasses, and goes into a store to replace them. When the salesperson tells him they're fakes, he grumbles that she made such a fuss over them and buys her a real pair. That is so cute.
Baek-kyung shows up at the Frog Troupe show that night, but spends more time watching Cho-rim than the show itself. Cho-rim takes a break for a drink, and he follows her to the hall. He approaches her slowly from behind, and reaches into his jacket for something, but ohthankgoodness, Mu-gak arrives in time to stop him from doing whatever-it-was he had planned. Mu-gak doesn't get a good look at him as he runs off too fast, but Cho-rim recognizes the scent of the hospital in his wake.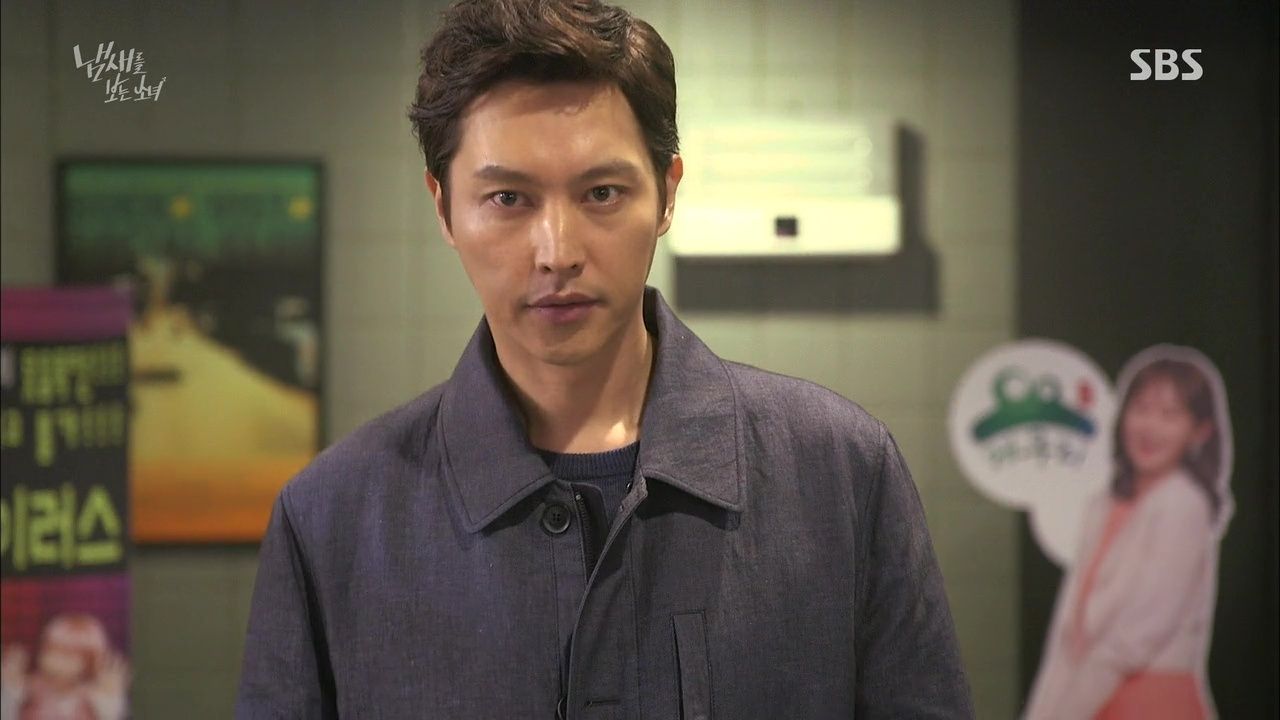 Mu-gak takes off after Baek-kyung, leaving Cho-rim talking to herself, so she's surprised when she sees the troupe director behind her instead of Mu-gak. He asks why he hasn't seen her practicing with her new partner, guessing that she only brought him once to trick the director, but Cho-rim swears he's her real partner.
After the show, she follows Mu-gak's scent trail (which looks like sparkling, icy blue crystals) and vents about her director's accusations. She yells at him for not practicing with her and keeping his end of their bargain, but he just says talking too much will make her hungry. HA, his deadpan expression is awesome. He invites her to follow him to dinner if she wants to yell some more.
Mu-gak steals every bite of meat at dinner, and Cho-rim asks if he's always this selfish. He never comes to rehearse with her, and now he's taking all the food. Mu-gak does look a bit chastened and orders more meat, and when Cho-rim isn't looking he sneaks a sunglasses case in front of her.
HAHAwhoops, it's the broken glasses. Mu-gak snatches them back and gives her the new ones, thanking her for helping him get a place on the investigation team. Cho-rim politely says she should probably give them back since they're real and hers were fake, but her adorable smile gives away that she loves them and Mu-gak practically blushes.
The waiter brings their meat, knocking over Cho-rim's water and splashing some in her left eye. It dislodges her colored contact, and Mu-gak sees her blue eye for the first time. He says nothing, but a little boy at a nearby table calls Cho-rim a monster, so she hides her eye and leaves quickly.
Mu-gak finds her contact and follows her out, and when Cho-rim tries to duck into a cab he grabs her wrist and tells her not to run from him… "I'm just like you." He says he's also a monster compared to other people, and they find a place to talk, where he tells her of his sister's murder three years ago.
He'd torn apart the police station like a madman, throwing chairs, breaking things, and demanding they find his sister's killer. He'd screamed that he was going to kill the murderer himself, and it had taken several cops to (barely) keep him from destroying the place.
After two months of no leads, Mu-gak had started to feel a constant pain inside and hadn't been able to sleep, until he finally fainted while in the aquarium at work. He'd been taken to the hospital, and we see that as he'd been wheeled in, he was wheeled right past an unconscious Cho-rim as she was taken out. Mu-gak says he was clinically dead, but he'd miraculously revived ten days later.
He reveals that after he woke up, he'd lost all his senses. He can't feel pain, and he can't smell or taste anything. Cho-rim says it's almost the same as her story, and tells him about being in a coma for months and waking up with a blue eye and the ability to see scents.
She asks about Mu-gaks gluttony, and he says he can't taste the food but it feels like he's trying to fill an emptiness inside. Cho-rim suggests the emptiness is in his heart, then cutely asks if she can hit him, since he can't feel anything. And Mu-gak almost, not quite but almost, smiles.
They head to a coffee shop (where Cho-rim's friend, whose name is Ae-ri, also seems to work) to work on their skit for the troupe audition. Cho-rim pulls some props from her bag, handing a silly wig to Mu-gak and donning one herself. He tries to be too dignified to wear the wig but she nags him into it — but not before much eye-rolling and long-suffering sighing.
As soon as Mu-gak starts his lines, he becomes incredibly animated again, making the oddest faces and noises, and OMG I can't breathe. Even Cho-rim stops to laugh at him, and he yanks the wig off and looks embarrassed. She sobers up and tells him this is her last chance since her father wants her to quit the troupe, and Mu-gak promises to try his hardest to help her like she helped him. Awww.
The next day, Mu-gak takes Jae-hee to see Ma-ri's body, and Jae-hee dissolves into tears as the reality hits him that she's really dead. Mu-gak leads him out of the room, and Lieutenant Yeom watches them go with a strange look on her face.
The new investigation team inspects the site of the car crash for clues, and Detective Ki brings the couple that accidentally hit Ma-ri's car into the river that night. Everyone watches their car's black box video, and the couple apologize for not reporting the accident sooner. Detective Yeh asks Mu-gak how he knew where to find Ma-ri's car, but he just claims he got lucky. Lieutenant Yeom's way of looking at him intensely shows she doesn't believe this for a second.
At the station, Yeom sighs at the men as they play games to determine who buys lunch, while she tries to concentrate on the clues they've found so far. She retreats in disgust to a vacant room, and finds herself looking through a one-way mirror at Mu-gak, who's gone to an interrogation room to think.
He has his most serious face on, and he stares intensely into his side of the mirror… then pulls a face and makes the weirdest noise ever. HAHAHA, he's practicing Cho-rim's skit, and he's so serious about it which makes it even funnier. He even dons the wig again and tries out different expressions and noises. Yeom watches him with a growing look of confusion, then busts out laughing at his antics.
Later, Detective Yeh briefs the team on Ma-ri's autopsy results. She didn't drown, and there were no rope marks on her neck, leading them to conclude that her airway was most likely blocked while she slept. Her time of death was roughly three days before her body was found, which is right in line with the pattern that the Barcode Killer follows.
He shows them something strange — there was a necklace with a key charm found in Ma-ri's stomach. It's unclear whether it belonged to her, or whether she was forced to ingest it before she died. Detective Kang wonders if it's some kind of dying message from the victim.
The friendly detective (we learn his name is Detective Tak) comes in with more interesting information — there are only two roads that lead to the place where Ma-ri's car was hit, and those roads are monitored by video cameras. But there's no recording of Ma-ri's car passing either of those points, from the time she disappeared to the time when her car was found in the river. Strange.
Lieutenant Yeom orders Mu-gak to get Ma-ri's medical records from her doctor, though Baek-kyung makes it clear he's only complying because Mu-gak has a warrant. Mu-gak asks about his alibi of being in Jeju at the time Ma-ri was killed, thinking it's just a little too perfect. Baek-kyung shuts down again, refusing to answer, and Mu-gak leaves for now.
Detectives Ki and Yeh visit Ma-ri's roommates again, and they identify the key charm as belonging to the box where Ma-ri hides her diaries. They open the box to find it empty, but her roommate swears the last time she saw it, there were at least ten books in there. She says that Ma-ri's boyfriend, chef Jae-hee, was in the apartment recently.
It's the day of Cho-rim's audition but Mu-gak hasn't shown up yet, and Cho-rim nervously calls him. He promises he's on his way, but Lieutenant Yeom calls him and sends him to Jae-hee's home to ask why he was at Ma-ri's apartment. He finds Jae-hee burning some clothing and yanks them out of the fire, but Jae-hee says they're Ma-ri's, and he's only burning them because they remind him of their frequent fighting.
Jae-hee claims to know of her diaries but says he never read them, though she wrote in them every day. He says the clothes are all that he took from her apartment, and Mu-gak apologizes and leaved quickly.
The director starts the audition, but by the time it's Cho-rim's turn, Mu-gak still hasn't shown up. She valiantly tries to do the skit by herself, but the director angrily stops her and yells at her to get off his stage — she lacks the right mindset for being a true comedian.
The troupe goes out after the audition, and it's sweet but sad how Cho-rim congratulates her sunbaes' success and pours drinks for them. The director suggests they all move to another bar, but when Cho-rim tries to join, he tells her she's no longer part of their troupe. He even warns the rest of the actors not to associate with her anymore. Oh, ouch.
Mu-gak finally makes it to the theater, and tracks down the troupe as they walk between bars. Bitchy Woo-ya tells him drunkenly that he missed the audition, and that Cho-rim is still in the last restaurant all by herself. He finds her there, gulping down shot after shot and so drunk she can barely open her eyes.
But she can still see his sparkling blue aura, and knows he's there before she ever sees him. Mu-gak apologizes, and Cho-rim yanks him down to sit with her, then passes out in his lap. Awww. He takes her to a park and brings her some medicine, and against his better judgment he agrees to spin her on the carousel. As she spins she laughs, then cries, then laughs again, as Mu-gak watches guiltily.
He eventually leads her to a taxi but she shoves him away when he tries to get in with her. He asks the driver to take her home safely, but when the taxi pulls away, Cho-rim must have slipped out the other door because she's sitting in the street. Mu-gak groans, and is forced to piggyback her home instead.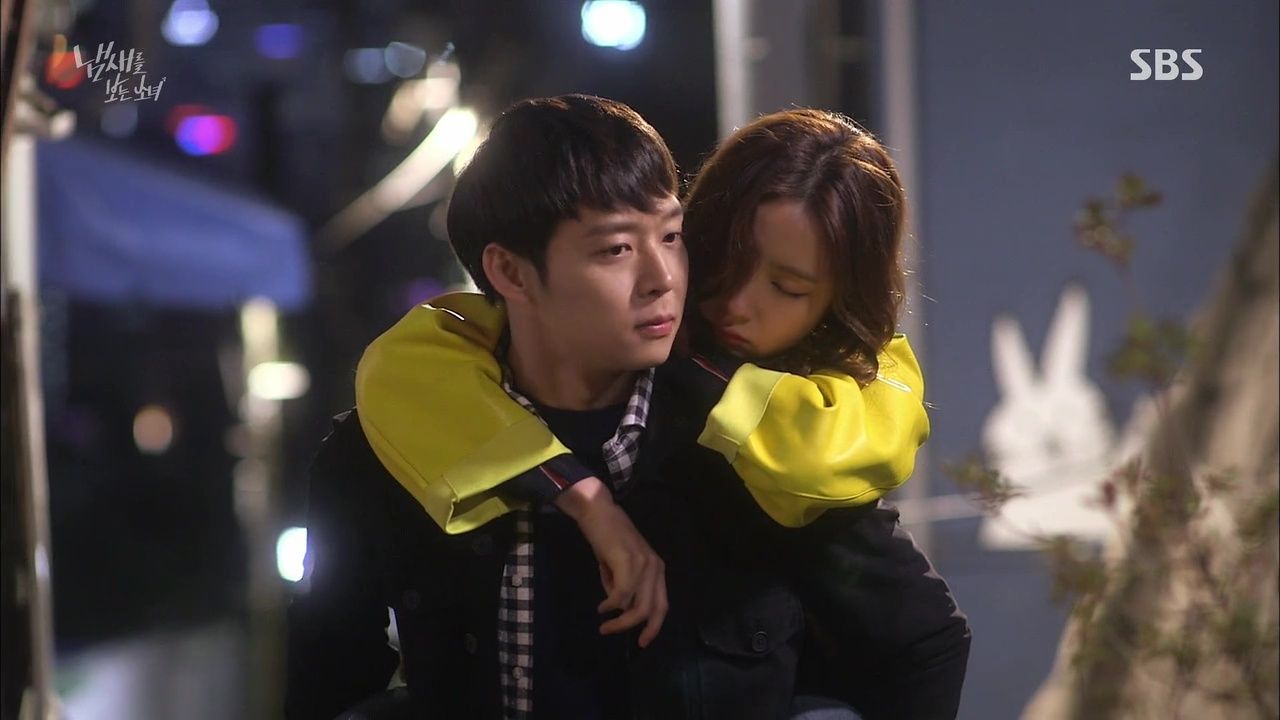 So cute — she leads him by pulling on his ears. But a too-hard yank brings his face veeery close, and he can't help but be aware of her pretty face so near his. By the time they're in front of her house he's exhausted, but she's too drunk to say she's home, so he whines that they're just going back and forth, back and forth… The words seem to spark something, and he heads for the police station.
Lieutenant Yeom is at the station reviewing the Barcode Killer's previous victims, Cho-rim's parents among them. Mu-gak comes to tell her that he's thought about Baek-kyung's alibi of being in Jeju, but what if he was traveling back and forth? He could have come back from Jeju, killed Ma-ri and left her body in the car, then gone back to Jeju.
He offers to find the evidence, but just then Cho-rim comes wobbling around the corner. Mu-gak starts to apologize to Yeom, but she stops him — something about Cho-rim looks familiar, and she quickly pulls up a photo of the victims' daughter. She looks closely at Cho-rim, recognizing her as the witness who supposedly died three years ago.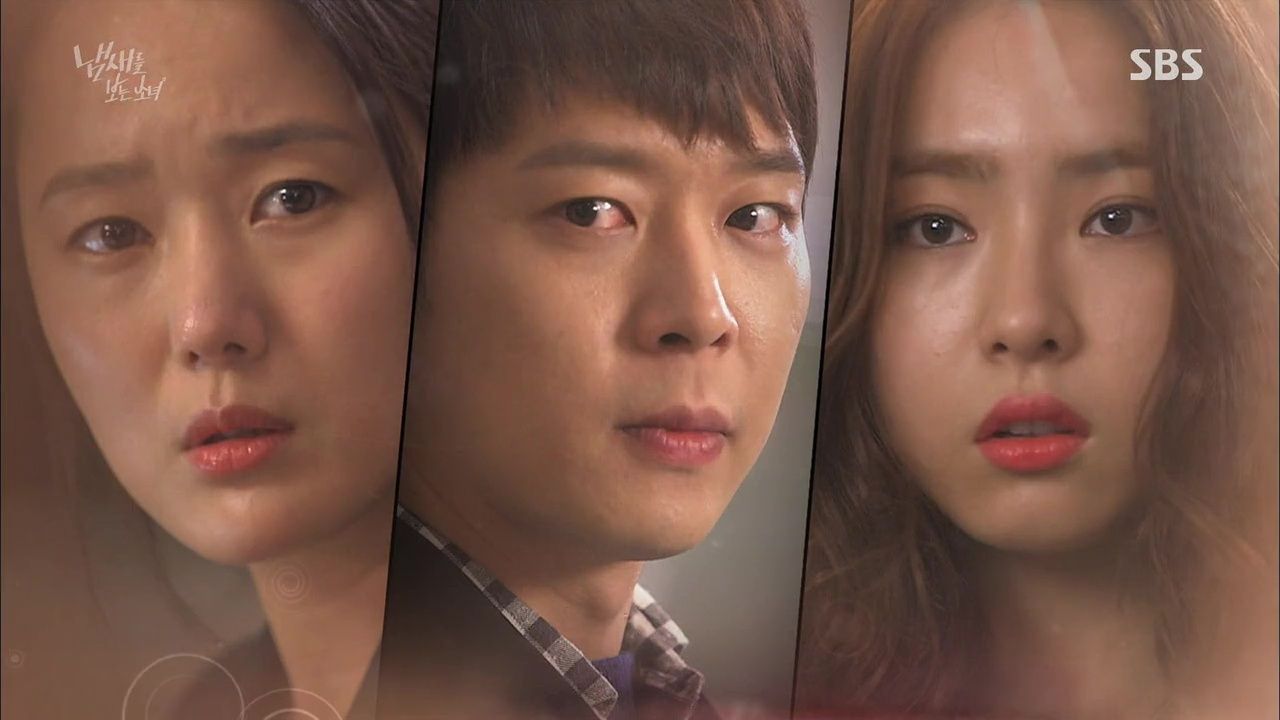 COMMENTS
I'm going to start sounding like a broken record, but it bears repeating — this show just keeps getting better and better. Only three episodes in and we already have a new murder case, a suspect or two, a cute side-plot involving a theater troupe, and a lead couple who are fast becoming friends and well on their way to becoming interested in more. And yet, I don't feel like the story is being rushed at all, and every detail is placed just perfectly so that there's no confusion about where all the pieces fit.
I like that things are moving along quickly, because it hints at a lot of storytelling yet to come and a lot of secrets still to be revealed. Especially involving our doctor and our chef… I'm just intrigued by how they both will fit into the murder plot, and the greater story itself. How did they get to be friends? Did one, or both, of them kill Ma-ri? How are they linked to Cho-rim and Mu-gak's tragic pasts? I'm dying to know, and I have a feeling the answer won't be so simple as anything we're thinking at this point. I'm beginning to see that this show doesn't do anything simply, and will be stingy with doling out the clues while giving us just enough to keep us on tenterhooks waiting impatiently for more. As if we aren't already!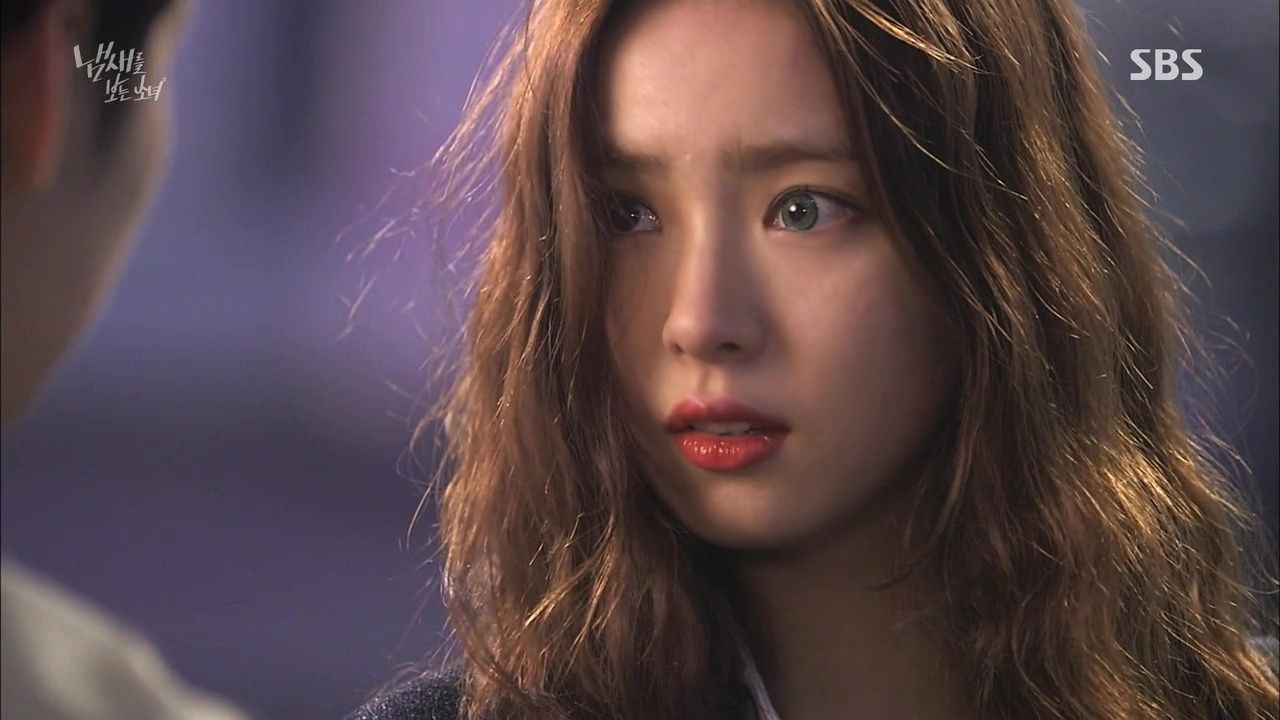 My favorite part of this episode was the growing closeness between Mu-gak and Cho-rim, as Mu-gak finally opened up about his sister and his own strange reaction to her death. It was sweet that he told her about himself to make her feel better about her own strange ability, and I love that he didn't shy away from her odd appearance without her colored contact. There wasn't even one second where Mu-gak looked disgusted or frightened, and I fell in love with him a little bit, on Cho-rim's behalf, for that. And it was touching that he immediately wanted her to know that she's not alone, and that he also feels like a freak, but that doesn't mean that either of them actually is a monster. They're just people who were touched by tragedy in a way that left them physically, as well as emotionally, scarred.
And Cho-rim's response to Mu-gak's reveal was just as awesome, because she didn't seem fazed at all. Not only that, but she knew right away that his ability to eat massive quantities of food was his way of trying to fill the hole in his heart. You could almost see Mu-gak relax when she expressed an instant understanding of how he feels, and that almost-smile was just adorable. Finding someone who gets you isn't easy, much less someone who understands the strange aftereffects of a traumatic past. These two are going to be too cute for words when they stop hanging out together because they need the other's help, and actually begin to like each other.
But it looks like they're going to have a lot to go through here very soon, especially if Lieutenant Yeom is about to blow Cho-rim's life to bits by revealing her true identity. I have no doubt that Cho-rim will react with the same poise and humor that she approaches everything, but that first realization that her whole life is a lie, and that her parents were brutally murdered and the murderer is still out there and probably looking for her, is going to be a tough one to get through. I just hope that Mu-gak is strong enough to be her friend through it, since the discovery of her true name will no doubt lead him to realize that his sister was almost certainly killed in Cho-rim's place. They're going to need this friendship if they're both to survive.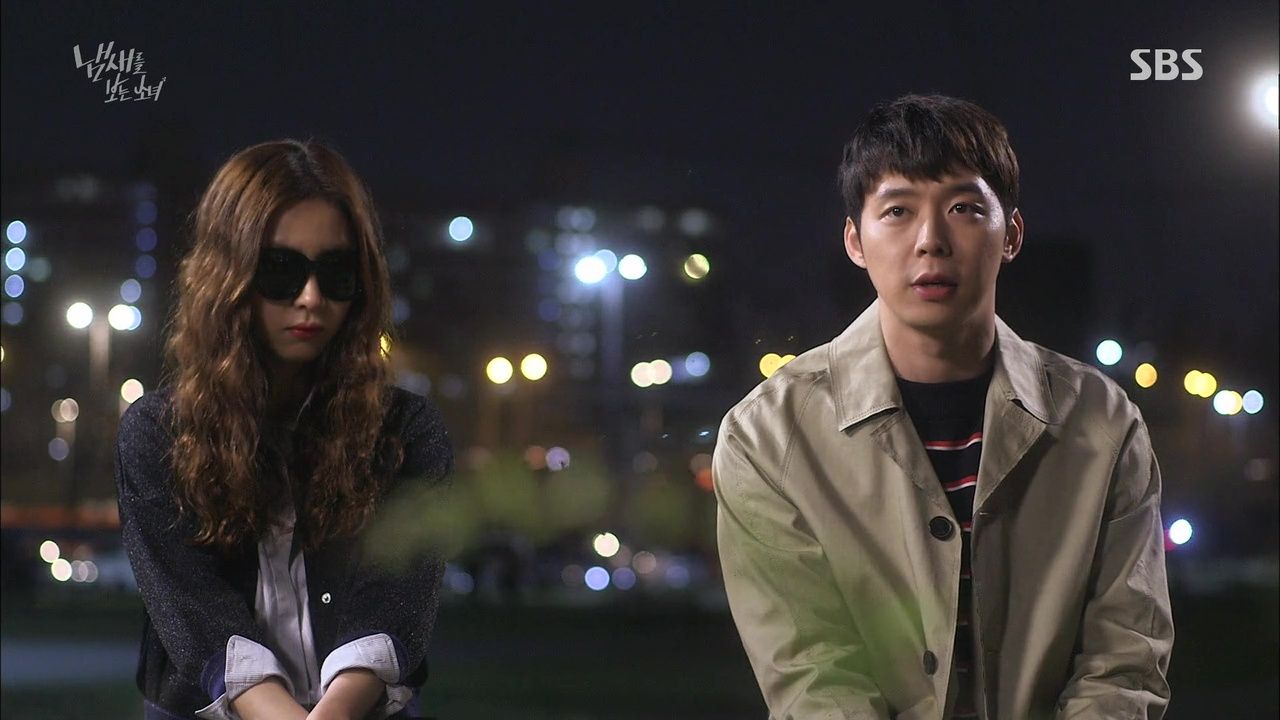 RELATED POSTS
Tags: featured, Girl Who Sees Smells, Micky Yoochun, Namgoong Min, Shin Se-kyung, Yoon Jin-seo