Girl Who Sees Smells: Episode 5
Unrequited crushes suck — but never so much as when the guy you like not only doesn't notice you, but literally can't like you back. But who can resist a man who loved his little sister so much that he actually lost all ability to feel anything when he lost her? Certainly not Cho-rim, and though she tries to keep her emotional distance from Mu-gak, another murder case throws them together again and possibly brings the two even closer.
EPISODE 5 RECAP
After seeing Mu-gak and Lieutenant Yeom together in the restaurant looking relaxed and smiling at each other, Cho-rim jumps to the wrong conclusion and leaves disappointed. As she walks, she sees herself in a shop window and wipes off her lip gloss. She goes home to get in her raggedy clothes, and laughs a little too hard at the TV while eating ramyun.
A call from Mu-gak perks her up, especially when he says he's waiting right outside for her. Hilariously, he gives her the once-over when she arrives in a cute little dress, and just complains about how long it took her to come out. Cho-rim cutely pretends to be annoyed when Mu-gak says he's here to practice, but her tiny smiles give her away.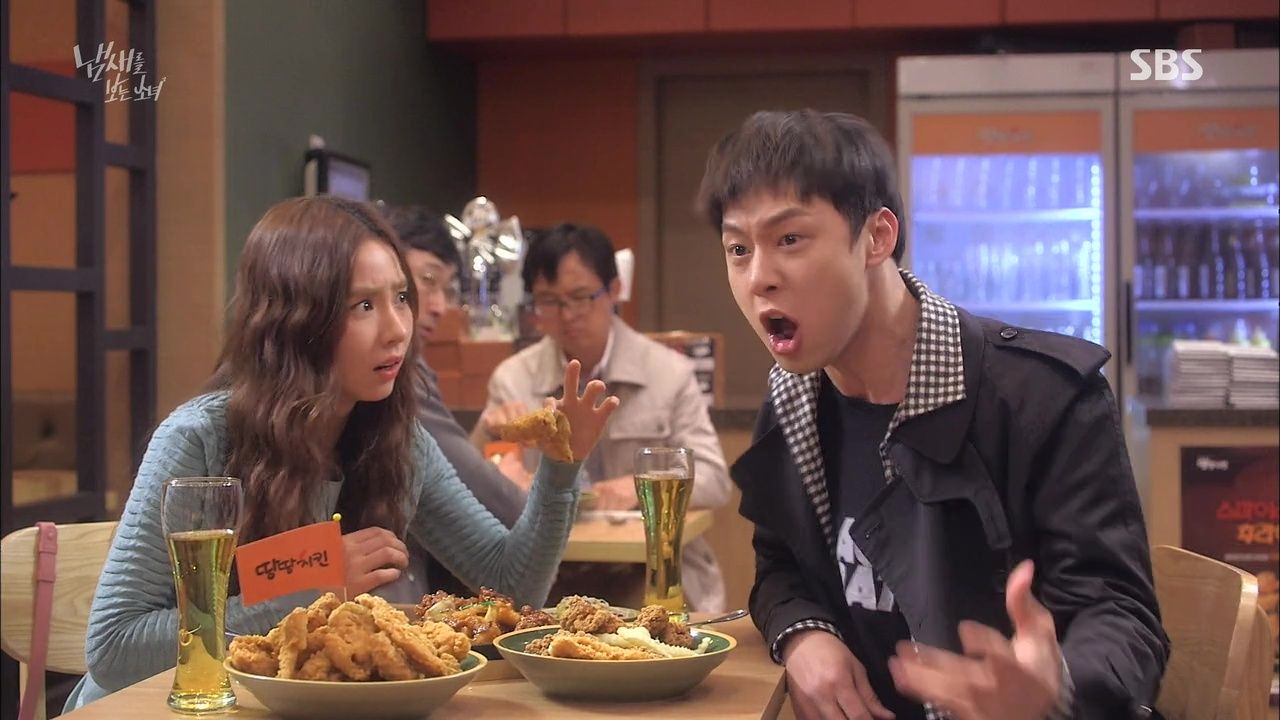 They go for fried chicken and practice their skit right in the restaurant, and wow, those CHUUUURRRRRs are getting louder and longer! Mu-gak is getting even better acting-wise, though the looks from the other customers embarrass him when he notices. HAHA, one of the other patrons even pays their bill, taking their skit as a real conversation and leaving a message for Mu-gak that the country is a nice place to live.
In the morning, Detective Tak is officially arrested for his part in concealing the murder of the gym employee and making it look like a Barcode murder. He sincerely apologizes to his team, and there's not a dry eye in the place. He particularly thanks Mu-gak, saying he enjoyed working with him, and offering a (handcuffed) hand to shake. In a sweet gesture, Mu-gak shakes his hand and replaces the cloth over Tak's cuffs to protect his dignity.
Lieutenant Yeom is all business, declaring the murder closed and reminding everyone that it was only a copycat of the Barcode murders. She orders the team not to be distracted, and to concentrate on the evidence in Ma-ri's murder. Poor Detective Kang grinds his teeth and reminds himself just to make it to retirement, hee.
Detective Ki takes Detective Yeh and Mu-gak out to lunch at a new restaurant in his new car, but his fussing over whether it will get dinged in the parking lot drives Mu-gak out of the backseat. The second he gets out, a man's body lands right on the hood of the car, and Mu-gak looks up to see Chef Jae-hee looking down from the roof. Uh-oh.
Ten minutes ago.
Chef Jae-hee welcomes patrons to the new restaurant, including Cho-rim who he's invited especially. He overhears complaints that the food is taking too long so he checks the kitchen, and is told the owner, Chef Hong, went to the rooftop for supplies and hasn't come back yet.
Jae-hee heads to the roof, where he's just in time to gape as Chef Hong goes over the railing. Jae-hee does lean over the railing to look down just as Mu-gak looks up, but he was nowhere near the man when he jumped (fell?).
Jae-hee runs back to the door but now it's mysteriously locked, and he's stuck until Mu-gak and his team find him there and arrest him. They escort him out and past Cho-rim, and ask Jae-hee to quickly identify the dad man on Ki's car. He confirms that it's the owner of the new restaurant, Chef Hong, who worked for Jae-hee and left to open this place.
Watching all this from the sidelines, Cho-rim notices traces of a green leafy scent on the dead man's neck. She'd seen Jae-hee's hands and there was no scent on them, but she notices the man walking away, trailing the same green leafy scent from his hands. Gotcha.
Mu-gak and Detective Yeh observe Jae-hee through the one-way glass but Mu-gak is interrupted by a text from Cho-rim. They meet and she tells him that the herbs Chef Hong grew on the roof didn't have that same green leafy scent that was on his neck — it was a very strong odor, and she saw it on the hands of the retreating man.
Mu-gak counters that he saw Jae-hee looking down from the roof after the chef fell, sparking an argument. He swears Jae-hee must be guilty since he was the only one on the roof, but Cho-rim counters that he had no scent at all on his hands, so there's no way he killed the chef. Mu-gak feels his evidence is clear, and orders Cho-rim to step back from this one.
When Mu-gak interrogates Jae-hee, he brings him a drink from Cho-rim and tells him that she's sure he's innocent. He informs Jae-hee that they'll be investigating his home, and that if they don't find anything they can't arrest him.
He also says that Cho-rim is worried about his dog Moong-chi, so Jae-hee sends Cho-rim to his place to get the little dog until he gets out of jail. While she's there she notices Ma-ri's signature scent on a box of wine, but since she was Jae-hee's girlfriend, Cho-rim doesn't think much of it.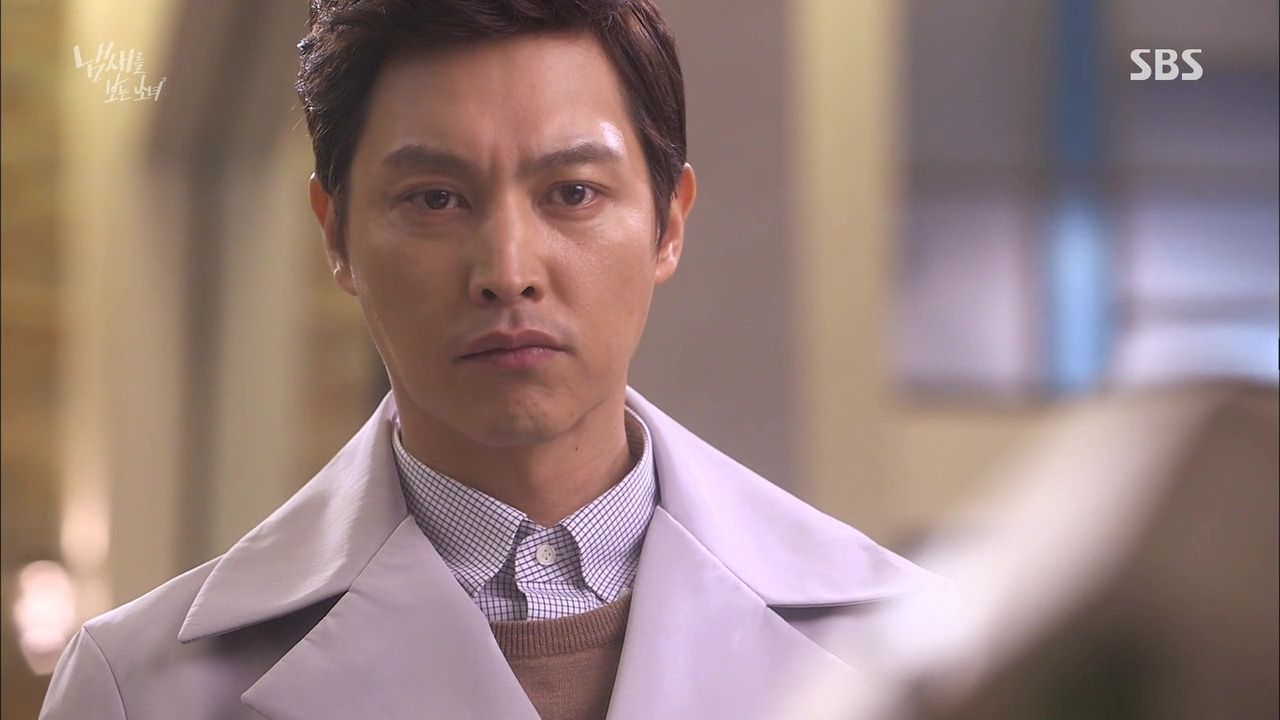 She runs into Baek-kyung outside, who keeps things short but does give Cho-rim a strange look as she leaves. Jae-hee had asked Baek-kyung a favor, and requested that he remove some embarrassing financial papers from his home. When Baek-kyung goes into Jae-hee's house, he goes straight for the wine boxes and takes the middle one, the one with Ma-ri's scent on it, which Jae-hee claimed holds his papers.
The detectives go over the evidence, pointing out that Ma-ri's diaries are still missing and reminding themselves that the key to the box holding the diaries had been found in her stomach. Detective Yeh assumes this means she'd written the name of her killer in one of the diaries, and Mu-gak complains that they're probably in Baek-kyung's possession but they can't get a warrant. Meanwhile the warrant to search Jae-hee's house comes in, so they all head over.
Despite her yelling at Mu-gak that she refuses to help him anymore, Cho-rim goes on a search for the mysterious leafy green scent. She checks out foods, herbal medicine, and even an herb seller on the street, but doesn't see the guy from the murder scene.
Until suddenly he rides right past her on his bike, trailing the green scent in his wake, and Cho-rim gives chase. He corners her in an alley, but Cho-rim manages to get past him, and she hides behind a truck just long enough to text Mu-gak for help. But the man finds her and pulls a knife, asking why she's following him.
Again Cho-rim runs, and slips into a building to hide in a bathroom supply closet. The man checks the door but walks away — only to climb over the partition from the bathroom stall and start waving that knife at Cho-rim again.
Thankfully, we see Mu-gak's distinctive blue crystal scent waft in from the hall, and he calls out for Cho-rim. But before she can answer, the man grabs her and holds the knife to her throat, so Mu-gak leaves the bathroom without checking the locked door further.
The man relaxes and lets go of Cho-rim, but only so that he can hold the knife at her face again. Ohthankgoodness, the door suddenly bursts open and it's Mu-gak, who quickly wrestles him away from Cho-rim. He and the man grapple, the man runs, and Mu-gak lets him get away so he can go back in to check on Cho-rim.
Now that the danger is passed, Cho-rim succumbs to her tears, and Mu-gak sweetly takes her hand to lead her out. But once they get to a park bench, he goes all gruff and angry and yells at Cho-rim for going after a suspect instead of notifying the police.
Cho-rim gets angry back, yelling that Chef Jae-hee is in prison for something he didn't do, and it's only right that an innocent man to be set free as soon as possible. Mu-gak fumes, but assures her that after a proper investigation he'll be freed. Cho-rim hands Mu-gak some Japanese mugwort cakes, telling him that Japanese mugwort is the scent that was on the dead man's neck and the murderer's hands.
But she's still confused why the scent on the men was so much more intense, and tells Mu-gak that everywhere she went, she couldn't find anything with the scent that strong. Sighing, he says he's got to get back to the station, and his overbearing-big-brotherly reminder to behave makes Cho-rim so upset she literally gets hot.
She removes her jacket and there, on the shoulders where the man touched her, is a medley of floral scents. She figures this means the murderer has been in a flower shop, but flower shops don't sell Japanese mugwort. She catches up to Mu-gak and tells him about the flower scents, and he grumpily holds out a little wound-care kit he got for her knee that she skinned in the chase.
Cho-rim gets all fluttery, and sits down to gesture in the direction of her boo-boo, clearly hoping Mu-gak will bandage it himself. So cute. Instead he says that it's his fault for asking her help in the first place, and promises to still be her skit partner, but he tells her not to get involved in his cases anymore — it's too dangerous. He gets on the bus and it pulls away without him even looking back, and Cho-rim can only watch him go.
The detectives inspect Jae-hee's palatial home, but now the wine box with Ma-ri's scent on it is gone. They don't find much, so they head back to the station to revisit Baek-kyung as a suspect in the Barcode murders. Apparently he was married, but his wife died of lifelong heart disease within two years. The two of them lived in Jeju while she was ill, hoping it would be healthier for her.
Mu-gak perks up at this, but goes white to hear that Baek-kyung worked at a hospital there, the same one where his sister was murdered. Interestingly, the time frame also coincides with Cho-rim's parents' murders, which also happened in Jeju. Lieutenant Yeom orders Mu-gak to go to Jeju and check out Baek-kyung's movements during that time.
On his way out, Mu-gak walks past a street vendor selling small teddy bears that record a voice message. He remembers taking his sister to Namsan Tower where they'd played with a bear like that, recording silly messages for each other. He buys one of the bears and makes a visit to Eun-seol's resting place, recalling happier times when she was alive.
At the hospital in Jeju, Mu-gak discovers that Baek-kyung was just there recently, and had requested to see Choi Eun-seol's medical records. But he insists that his sister didn't have any medical records, having been killed almost as soon as she was admitted that night. He asks to see the records, and sees that this Choi Eun-seol has a different birthday than his sister, and realizes there were two girls with the same name.
The detectives identify which buildings used a larger-than-normal amount of electricity recently, and one of them turns out to be a flower shop. Mu-gak goes there with Detectives Ki and Yeh, who secure the outside while he goes in to make the arrest (and HAHAHA, you can clearly hear CHUUURRRR sounds among the noise of a struggle… I'm dying). Mu-gak arrests the owner and murderer all by himself while Ki and Yeh pretend to be bad-ass.
The cowardly duo go in to look for evidence, and find a huge hidden greenhouse full of marijuana. Turns out, innocent Cho-rim mistook the scent for Japanese mugwort, and it explains why the scent was so much stronger than mugwort.
The flower shop owner and the murderer confess to growing illegal substances, but Mu-gak adds an additional arrest for the murder of Chef Hong. The man denies anything, but Mu-gak knows he had a motive — the new chef refused to allow the drug dealers to continue to use his restaurant location as a selling point.
When the chef didn't bend, the man choked him, only meaning to threaten but accidentally killing him. He'd pushed the chef's body off the roof to make it look like suicide, and hidden when Jae-hee had come up.
Mu-gak tells Lieutenant Yeom about his findings in Jeju, and she tells him that Choi Eun-seol is the name of the Barcode Murderer's victims' daughter. He wonders why Baek-kyung was looking for the daughter's medical records three years after the fact, figuring they just need one solid piece of evidence to nail Baek-kyung as the Barcode Murderer.
Jae-hee is released and heads home, and Cho-rim brings Moong-chi home later that night. He invites her to stay for dinner, thanking her for believing in him. She wishes Mu-gak could join them, and Jae-hee gives her a strange look when she's not paying attention.
Mu-gak uses his new access to look up his sister's case, and Lieutenant Yeom sees and orders him to show her what he's reading. He tells her this is his sister's file, and apologizes for not being honest before. In turn Yeom tells Mu-gak that the Choi Eun-seol whose parents were murdered is the only surviving witness of the Barcode Murderer.
Jae-hee and Cho-rim chat over dessert, and she tells him about working for the Frog Troupe. He offers her a second job at his restaurant which she gratefully accepts. Again an odd expression crosses Jae-hee's face when Cho-rim isn't looking. He's creeping me out right now.
Yeom and Mu-gak put the two stories together, and figure out that the murderer must have killed his sister in place of the Eun-seol whose parents were killed. Still assuming that Baek-kyung is the murderer, Mu-gak storms out and goes to his office.
He slams Baek-kyung against the wall and accuses him of murdering his sister by mistake, and Baek-kyung looks genuinely confused and shocked. Yeom is right behind, and pulls Mu-gak off Baek-kyung and down to her car. She yells that this is why there's a rule against officers working cases involving their family. Wanting to avoid losing authority over this investigation again, she angrily says she never heard his sister's story.
On her way home, Cho-rim sees Mu-gak's blue crystal scent even before she sees him waiting for her. He's not happy to hear about her having dinner with Jae-hee, or her new job, jealously calling Jae-hee her Santa Claus. He stiffly hands her a cute little teddy bear like the one he got his sister, saying he got it for free for buying the first one, and she says she'll have to thank him by going for drinks.
They eat and drink companionably, but Cho-rim clocks Mu-gak's somber mood and asks if something happened. He searches her face for a long moment, looking like he wants to tell her everything, but just reaches out to run his hand down her hair. But just as Cho-rim is blushing prettily at the skinship, Mu-gak says blandly that she had food in her hair. PFFT.
Cho-rim excuses herself, and calls her friend Ae-ri to tall her about a friend-of-a-friend (yeah right) who's been out to eat a few times with a man, been given a doll as a gift, asking if those count as a green light. Ae-ri asks, "So Officer Choi bought you a doll?" and Cho-rim gasps and hangs up, hee.
She goes back in and pours Mu-gak a drink, and downs one herself before she asks if she can come on his next investigation. He just stares into space with an unchanging expression… and snores. HAHA, he's asleep with his eyes open. Cho-rim nudges his shoulder but he only collapses, still asleep.
Cho-rim remembers Mu-gak saying that he couldn't sleep when Eun-seol was killed, then had suddenly fainted. Seems he's still doing that. She pokes the teddy bear and hears a message that he'd recorded for his sister – aww, he gave her the same bear he got for Eun-seol. It's so touching, even as Mu-gak slumps against the wall, still snoring.
Cho-rim somehow relocates them to a beautiful spot under some cherry blossoms, and the flowers float around them as Mu-gak sleeps with his head in Cho-rim's lap. A petal gets stuck on Mu-gak's cheek but, not wanting to wake him, Cho-rim hesitates to remove it, so instead she leans down to gently blow it off. At that exact moment Mu-gak wakes, and turns his head to see Cho-rim's lips mere inches from his.
COMMENTS
The closer this couple gets, and the more they start to feel the chemistry between them, the more I love them. Not only are they two lonely people who are beginning to be attracted to each other, but they also give each other help and purpose that they wouldn't have alone. Cho-rim has her ability which helps Mu-gak solve cases that would otherwise go unsolved, and he is helping her achieve her dream of being a comedienne with his talent to be hilarious. They truly have the potential to be each other's missing half, in a literal as well as a metaphorical sense. Not to mention, how freaking cute are they??? ~flail~
I appreciate that in this episode, Mu-gak got a taste of what can happen if he tries to shut Cho-rim out. She's not a girl who will sit quietly when told to keep out of something when she knows she can help, but leaving her to her own devices can be dangerous as she doesn't have the training that Mu-gak has. By forbidding her to help him, he probably instead contributed to Cho-rim's getting into a dangerous situation, because she was forced to go out on her own. Hopefully now he knows her better, and won't let that happen again.
I think that his angry yelling was just because seeing Cho-rim nearly harmed or killed probably scared him silly, though he won't admit it. I've conjectured that Mu-gak's inability to feel emotion may be mostly self-imposed, as a psychological shield to protect himself from being hurt again. Clearly he can feel emotion, as we've seen him feel happiness in response to gaining access to Eun-seol's file, and jealousy over Cho-rim spending time with Chef Jae-hee. But I have a feeling Mu-gak is about to learn that sometimes you can't avoid caring for a person, no matter how hard you try. Just the fact that he sought her out, when he'd had a bad night and wanted company, says volumes.
Especially not when that person is Cho-rim, and more especially not when she turns on the aegyo and gets all flirty-shy. She's pretty dang adorable, and it would take a stronger man than Mu-gak with his hard outer shell and gooey marshmallow center to resist her. Now that she acknowledges that she likes him, I expect her to turn that charm on him full-force, and frankly the poor man doesn't stand a chance. I, for one, can't wait to see his hard outer shell melt in the face of Cho-rim's puppy love.
On a different note, I'm now pretty certain that Baek-kyung is innocent. There are so many really smart, interesting theories as to why he might be legitimately looking for Cho-rim, and he's been pushed forward so hard as the possible killer that it really just seems like a huge red herring now. He seemed truly confused when Mu-gak confronted him, which he wouldn't be if he had already figured out that Cho-rim is the Eun-seol who saw the murderer. It's just too obvious, and some of the theories that paint him as innocent make so much sense that I can't see him as the murderer at this point. I may still be proven wrong, and I'll do my Interpretive Dance of Wrongity-Wrongness again if that happens. But somehow I think that he's going to turn out to be an ally to Mu-gak and Cho-rim, and if that's the case I'm really looking forward to seeing that.
RELATED POSTS
Tags: featured, Girl Who Sees Smells, Micky Yoochun, Namgoong Min, Shin Se-kyung, Yoon Jin-seo