Girl Who Sees Smells: Episode 6
Another day, another case to solve, though this one comes with a bit of fun for the whole detective team. Cho-rim and Mu-gak grow closer yet, as some brutal honesty gives both of them something important to think about when it comes to their future, at least as friends. But an important break in the Barcode Murders investigation simultaneously brings the detectives closer to solving the murders, and puts them all in more danger than they realize, unless they can work fast to catch the killer.
EPISODE 6 RECAP
Under the falling cherry blossoms, with a sleeping Mu-gak's head in her lap, Cho-rim leans down to gently blow a blossom off his cheek. Suddenly Mu-gak wakes to find their faces very close together, and they both freeze. Mu-gak sits up and wordlessly folds Cho-rim into a hug, and she melts. "I like you, too," she tells him, and Mu-gak just smiles and hugs her closer.
But it's just her imagination — Mu-gak is still asleep on Cho-rim's lap and it's beginning to rain. She shakes him awake and he apologizes for falling asleep on her, asking what he's like when asleep like that. Cho-rim says he's like a zombie and, still befuddled from her daydream, hobbles away even though her legs are half-asleep from his weight.
Mu-gak is adorably confused at her strange behavior, but follows her to her bus stop to see her off. He's even more thrown off when she gets on the bus in a hurry. After she sits, she motions for him to check his hoodie, and he finds the little teddy bear he gave her. He jumps on the bus to ask why she gave the bear back.
Cho-rim fibs that it's because he said he got it as a freebie for buying one, and she doesn't care for freebies. Mu-gak pouts that she doesn't even know if this bear was the free one, and the bears were identical anyway. She says she accepted it because she didn't want to hurt his feelings, but he just says that since she accepted it anyway, to take it back and throw it away if she doesn't want it.
Knowing it was really for his sister, Cho-rim gives herself away by being horrified at the thought of binning the bear, and she gives it back to him again. She tells him to keep and treasure it, and gets off the bus quickly. Mu-gak accidentally squeezes the bear, causing it to repeat his message to Eun-seol, and realizes it's the one he meant to leave for his sister, and also realizes that Cho-rim knows and that's why she gave it back.
Baek-kyung packs up his office, having accepted another job all the way in Senegal. He finds Cho-rim's medical files and packs them too, and suddenly connects Mu-gak's screaming at him with the name Choi Eun-seol. He says to himself that if the wrong Choi Eun-seol was killed accidentally, then the true witness must still be alive. He staggers a bit with the realization: "Oh Cho-rim is the witness."
Later he talks to the company that shipped all his files, and discovers that they accidentally took Jae-hee's wine box, the wine box he asked Baek-kyung to remove from his house when he was in jail. Jae-hee comes to his office for the box, but he's not angry as long as the company found the box. The friends are sad they won't see each other for a couple of years, and make plans for dinner.
Cho-rim talks to her director, and tells him that Mu-gak won't be her partner anymore. He reminds her that he only gave her a second chance if Mu-gak was her partner, because alone, she's just not very good. Ouch. He does offer to let her stay as crew, though he can't pay her, and Cho-rim gratefully accepts.
But after Cho-rim leaves, the director asks Woo-ya to help out Cho-rim by getting her a partner and some comedy ideas, so that she can make it into the troupe eventually. Awww, that's so sweet, and Woo-ya grumpily agrees. Meanwhile Cho-rim starts her new job working for Jae-hee as a waitress, and he smiles at her enthusiasm.
Before he leaves the country, Baek-kyung sits to write a letter to Cho-rim (who he also addresses as "Choi Eun-seol," unaware that she doesn't remember who she really is). He says he's been wanting to apologize to her, because once, he wished for her death. We see that she'd been in the same hospital as Baek-kyung's wife, at the same time as his wife had been waiting for a heart transplant.
Cho-rim had been given zero chance of survival, and he'd hoped she would die so his wife could get her heart. But Cho-rim had hung on, and his wife was dying, so Baek-kyung decided to facilitate Cho-rim's death. He'd planned to inject her with something that would kill her painlessly, but when the time came, he had stopped at the last second. This explains so much.
In the letter he apologizes for nearly killing her, and says that she seems so happy these days. He writes that he doesn't want to shatter that happiness, so he probably won't send this letter. He asks her forgiveness, seals the letter, and leaves it on his desk. But when he's not looking, a nurse mistakenly packs the letter with some books.
Mu-gak comes to eat at the restaurant and sits in Cho-rim's section, but carefully avoids looking at her even while ordering. Hilariously, he orders the wine that's on special two-for-one — he's so freaking precious when he's being petty.
When she brings the two wine glasses, he stops her from leaving and asks with extreme seriousness which is the free one and which is the one he paid for. Cho-rim rolls her eyes so hard, ha. She tells him to decide, but he reminds her that she said she could tell.
Jae-hee interrupts their bickering to thank Mu-gak for proving his innocence in the murder of his chef colleague. Mu-gak apologizes on behalf of the police, and Jae-hee proposes a toast with the two wine glasses. Interestingly, they clink glasses but neither of them actually drinks.
Mu-gak takes a call from Baek-kyung, who mysteriously asks him to meet at a church that evening. Jae-hee seems relaxed, but he sees who the call was from and listens in to Mu-gak's side of the conversation.
Baek-kyung meets the deliveryman at Jae-hee's house to receive Jae-hee's wine box. The man asks him to check the contents, and Baek-kyung slices open his thumb on the latch. Jae-hee arrives home just as the deliveryman is leaving, noticing Baek-kyung's bleeding thumb as he takes his box back. He offers to bandage it inside, but Baek-kyung says he's busy with moving plans, and quickly leaves.
Inside, Jae-hee opens the wine box, and to exactly nobody's surprise at this point, it's full of Ma-ri's missing diaries. He flips through one diary and when he gets to the end, we see that he's pasted into the book a photo of the barcode that was sliced into Ma-ri's wrist — I knew it, he's the Barcode Killer! But his eyes narrow with fury to see a smear of fresh blood on the photo… Baek-kyung's blood.
The innocent-after-all Baek-kyung drives away, valiantly trying to keep his composure. A short flashback shows that he saw the photo of Ma-ri's wrist in the book just before Jae-hee arrived home, and he'd only just barely managed to keep from giving away his horror to find that his friend is a serial killer. As he drives, he focuses on one thing — he must protect Cho-rim, the only witness.
Baek-kyung goes to the church where he arranged to meet with Mu-gak, and sits to wait in the pews. The door opens, but the person who enters isn't Mu-gak… it's Jae-hee, and there's literal murder in his eyes. Oh no.
Baek-kyung plays it cool, and the two men sit to talk. Jae-hee asks why Baek-kyung's here when he said he had to prepare for his move, and asks if they can pray together. Jae-hee clasps his hands and closes his eyes serenely, but Baek-kyung can only sit and shake with fear, unsure what to do. He decides to make a run for it, but Jae-hee grabs him by the arm, quick as a snake.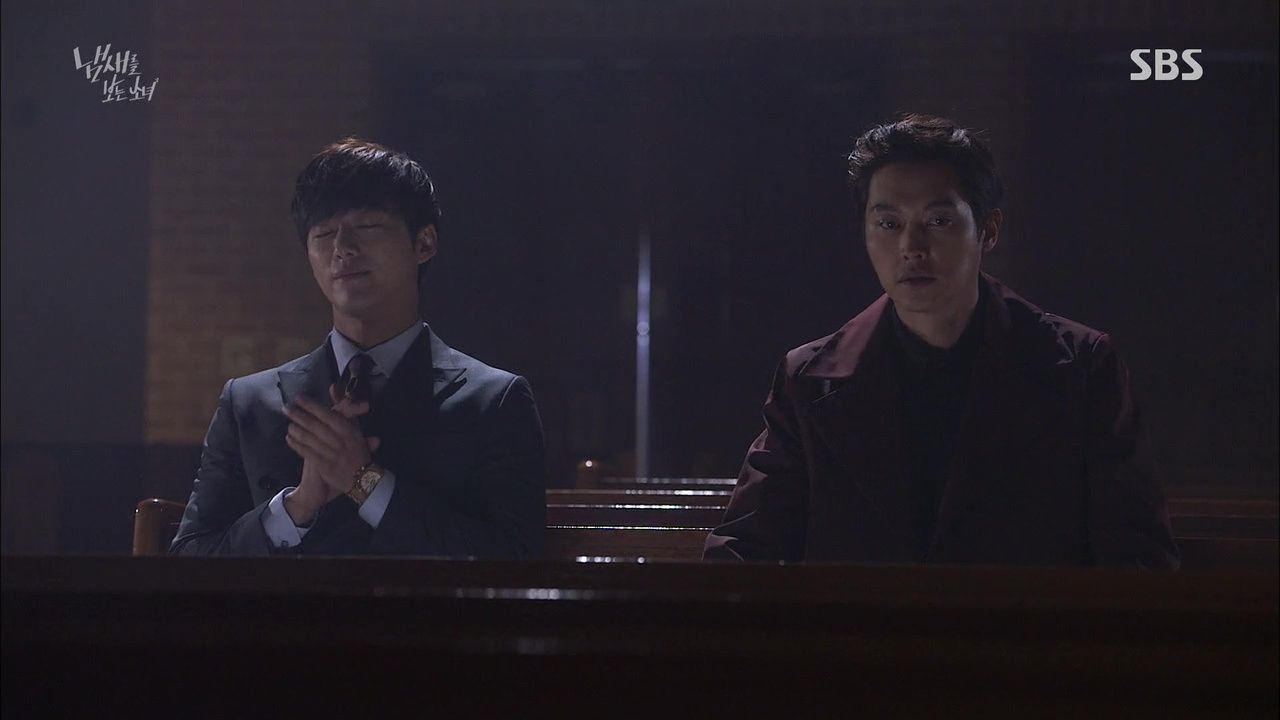 When Mu-gak arrives, the church is empty. He sits to wait for Baek-kyung, but something tells me he'll be waiting for a very long time.
Since Mu-gak made a point to give Detective Kang all the credit for catching the drug dealer and his murderous employee, Kang is presented with a Certificate of Excellence and a cash reward to take his team out for some fun. Cho-rim is at the station borrowing some old uniforms for the Frog Troupe, and deflects when Mu-gak asks when they're going to rehearse again.
They run into Detective Kang as he struts through the office, but a mix-up with the uniform hats reveals that Kang was trying to take the cash prize for himself, ha. Busted, Kang proposes that they all go out to spend the day together, and even invites Cho-rim along. She tries to politely decline, and I die when Mu-gak mutters that she has to go since she found the envelope. No, that's not why, it's because you liiike her.
They head out to the country to a little chicken restaurant, where Cho-rim comments to Mu-gak that for a chicken joint, it smells way too much like ramyun. He just brushes it off as probably the owner's personal food.
They all agree not to call each other by rank while off-duty, and Kang especially likes it when Cho-rim calls him "brother." They decide to play a game of Go-Stop, betting forehead flicks instead of money. Ki and Yeh form a team, Kang decides to be his own team, leaving Mu-gak and Cho-rim as the third team. Cho-rim worries that Mu-gak isn't good at this game, but he insists he's great.
Yeah, so, he's not. Kang's on a roll though, dispensing forehead flicks with great relish, even with Cho-rim. Mu-gak of course can't feel a thing. Kang decides to up the stakes, betting punches instead of flicks, and Cho-rim agrees but shoves Mu-gak over to let her play.
Uh-oh, when a girl ties her hair back, you know it's on. She's pretty good, and Mu-gak cutely eggs her on as she uses her scent-seeing ability to gauge whether Kang and Ki are bluffing by seeing their scents change. She wins, and Mu-gak gets the dubious honor of punching his boss square in the face. At least he respectfully apologizes first?
Later as they eat (and Kang and Ki compare bruises, ouch), they ask Cho-rim how she got so good at the game. She says Frog Troupe does a skit about a professional gambler, and Detective Yeh whines that she should have told them earlier while rubbing his sore forehead, ha.
They complain that Lieutenant Yeom should have joined them and that she's too intense, but surprisingly, Kang actually comes to her defense. He says her father was a policeman and was killed in the line of duty when she was young, which seems to touch Mu-gak in particular.
Outside, Detective Ki notices something unusual about the size of the building — it appears bigger on the outside than on the inside. Detective Yeh scoffs that only in novels do buildings have secret rooms. A tiny little granny passes them carrying a covered basket, and Cho-rim notices that oddly, the scent of money is coming from under the blanket.
She tells Mu-gak the lady must be rich because she smells (sees) a lot of money here, which is strange since there aren't many customers. Mu-gak thinks a moment then asks Kang to call the station for reinforcements, as he thinks this is an illegal gambling house.
Ki, Yeh, and Mu-gak go back inside and find a hidden door, and HAHA, Ki tries to count to three but on two, Mu-gak shoves them both through the doorway and right into a huge room filled with people playing cards. They all run, but are stopped outside by the team that Detective Kang called in.
Cho-rim is knocked to the ground in the kerfuffle, and Mu-gak hears her cry out and drops his suspect to run to her. He picks her up and brushes her off, then leads her to a safe place. All together now… AWWWW. As they file all of the offenders onto a bus to the police station, the whole team give each other thumbs-up.
At the station, the restaurant owner asks how they knew it was a gambling house. Mu-gak explains that the place smelled of ramyun even though it was a chicken place, since ramyun is faster to feed to large groups. Then the gamblers started running out of money and borrowed some from the owner, which is why the granny was walking around with baskets of money. Again Mu-gak gives all the credit to Detective Kang, who grins at him gratefully.
That night Cho-rim is excited to see Mu-gak waiting for her to come home, and stops to spray on perfume. He brings a gift of red bean cakes from Detective Kang, and asks her to sit down to talk. He asks her again to stop getting involved in the investigations, and starts to explain, but Cho-rim interrupts.
She says that lately, she feels like her "devil-colored eye" is finally useful, and that she can do something with it that helps people. She says he probably can't understand how that feels, but Mu-gak just worries that it's too dangerous. Cho-rim tells him that he's always right next to her at the investigations: "You can protect me when I'm in danger."
Her utter trust in him seems to rock Mu-gak, and he can't think of anything to say in response. She goes inside, leaving Mu-gak gulping air like a stranded fish.
Mu-gak goes to Baek-kyung's empty office, where his nurse says he's gone, and leaving for Senegal today. He makes a quick call to put a travel ban on Baek-kyung, but his flight already left that morning. However, Baek-kyung wasn't on it, and there's no sign of his leaving the country.
Jae-hee makes a meal, notably plating up two portions. Mu-gak arrives at his place as he's eating and Jae-hee offers to make him something if he's hungry, which tells me that the second meal was already fed to Baek-kyung (who is probably in the "wine cellar," I'm assuming). Mu-gak declines, and they sit to talk over coffee.
Mu-gak asks when Jae-hee saw Baek-kyung last, and he answers that it was two days ago when he found out his friend was moving to Senegal. He expresses surprise that Baek-kyung hasn't left the country, and shows Mu-gak the box of books that Baek-kyung mailed to him (the same box in which the nurse packed his letter to Cho-rim).
At the station, Mu-gak and Lieutenant Yeom talk about how it's strange that Baek-kyung would tell everyone he was leaving the country, but never get on his plane. If he was fleeing the country he would have done the opposite, and caught a flight in secret. Yeom suggests they put Baek-kyung on the wanted list.
Mu-gak meets Cho-rim at a fan meeting for Jung-shin, the bassist from the kpop band CNBLUE, giving the innocent idol the side-eye when he shakes Cho-rim's hand. HA, I love meta-funnies. Cho-rim shows how Jung-shin's distinctive autograph can only be read upside-down, but Mu-gak is annoyed that his thunder was stolen and throws a package onto the table at her ("It's not a freebie!").
Co-rim gapes at him when she opens the box to find sexy lingerie, and a matching set of furry handcuffs. HAHAHA~snort~, that's awesome, especially considering Mu-gak's admitted love of handcuffs. But he was clearly shipped the wrong items, and Cho-rim calls to check the shipping barcodes. As she describes the barcode to the operator, Mu-gak looks at Jung-shin's inverted autograph again and gets an idea.
He goes back to the station and checks out the barcodes from the victims' arms, which previously didn't seem to mean anything. He flips them over, and suddenly he sees the pattern. Lieutenant Yeom calls a meeting and Mu-gak explains that the barcodes are the same as those found on books. The murderer is comparing his victims to books, for some reason, and there's a pattern to those numbers too — Mu-gak can even predict the identifying number that will be on the next "book," or victim.
At his home, Jae-hee prepares two identical meals again… at least his victims eat well before dying? He takes an elevator in his home down to an underground library, and removes a thick book from his desk. He prints out a barcode sticker to put on the book, with the same identifying number that Mu-gak just predicted. On the cover is an engraving of the name "Chun Baek-kyung," and the dates December 23, 1980 to March 7, 2015. Oh. Shit.
Smiling contentedly, Jae-hee takes the book to a shelf and lines it up with the previous books in his grisly "series," each one marked with one of the same barcodes he carved into his victims.
COMMENTS
I KNEW IT. I knew this guy wasn't right. I don't know if I really believed Jae-hee was the Barcode Killer until this episode, but his whole demeanor from the beginning was just off somehow. He never seemed all that distraught over his girlfriend going missing, then found dead, and he's never really reacted to other events like a normal, feeling person would. When he did display reactions, like his chef friend being killed, that eery blank face would show up again as soon as he was alone.
Now that we've identified our Big Bad, it opens up even more mysteries to solve: What are Jae-hee's motives for the killings? How does he choose his victims? Why only one of two victims a year? Does he have multiple white rooms for the times he chooses two victims, since we saw Ma-ri in a room by herself, and we know there was another victim alive somewhere at that time? And what significance do the books in Jae-hee's library carry? Obviously the books are a message or a form of memento, at least to himself. But why books? As a bibliophile myself, I'm dying to know.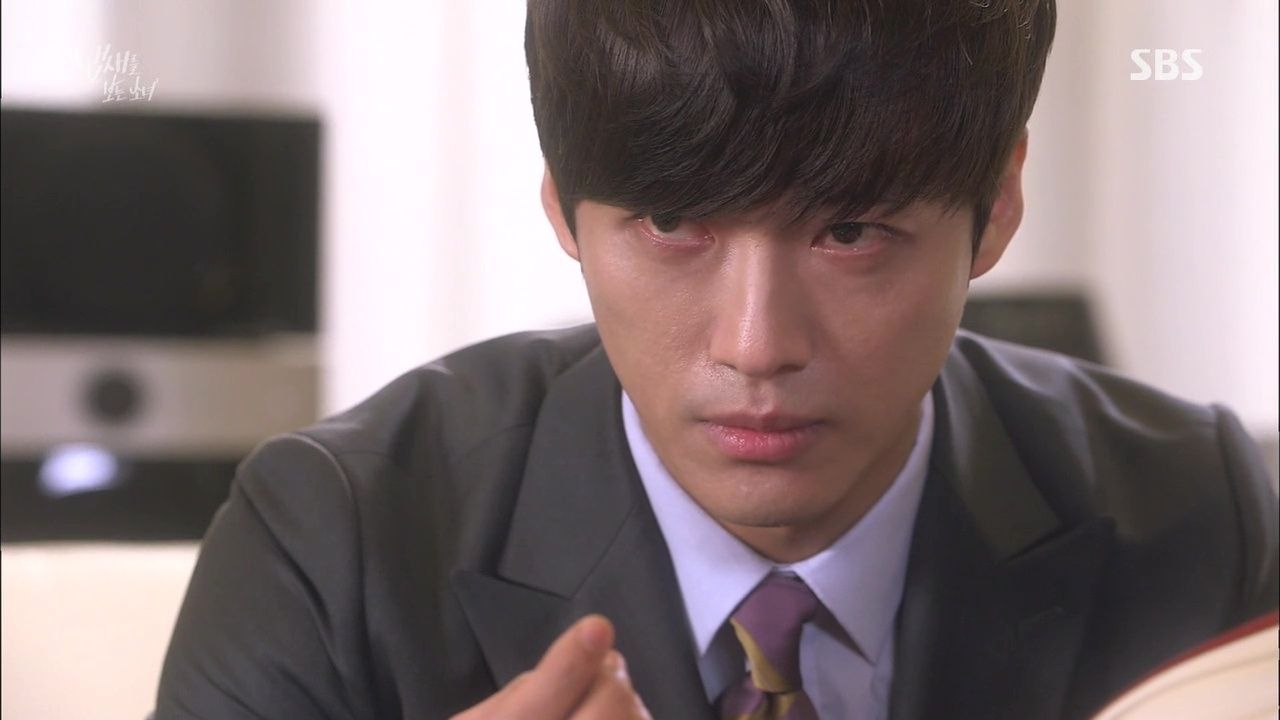 I do have one complaint, and that's that it's lazy storytelling that the police never thought, in four years, to try looking at the codes from the other side. You'd think that the actual physical message the killer leaves on his victims' bodies would be the first thing the investigators would want to decode. I do think they tried, since we saw that the carvings from the bodies had been converted to actual barcodes in the police files, which shows that an effort was made at some point. But really, nobody thought to turn them over? And even upside-down, there would still be an obvious pattern. Ah well, at least now we know what they mean, if not why they relate to books, specifically.
I'll admit I was starting to actually like Baek-kyung in episode 5, and even more so in this episode. So I hope he's rescued, because I would be sad if he's killed off just when I was starting to think he's a pretty nice guy after all. Yes, in a moment of weakness and great emotional turmoil he considered committing an unforgivable act, but in his defense (if considering murder can have a defense), he thought Cho-rim was going to die anyway and was trying to save a life, too. And who among us hasn't had horrible thoughts? What makes us better than animals is that they stay as thoughts, and we don't act on them. In the end Baek-kyung's humanity prevailed and he did the right thing, even if it meant losing his wife. So I forgive Baek-kyung for his momentary lapse in judgment, especially since it seems like he's been following Cho-rim around in an attempt to make amends. I only hope he actually gets a chance to do that.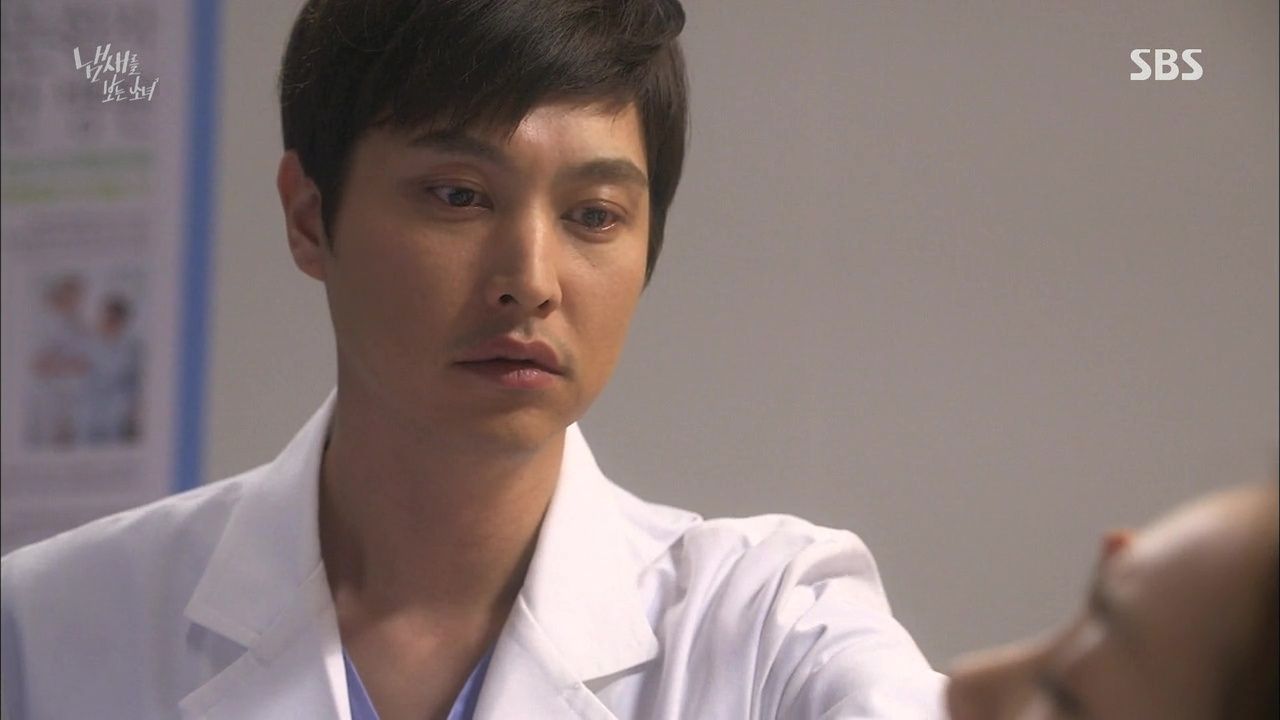 Now that we know who the killer is, I expect the Barcode murders to take a more pervasive role in subsequent episodes, though I hope the show still keeps in the smaller cases that allow Cho-rim and Mu-gak to work together and become closer emotionally. Like Cho-rim said, helping Mu-gak gives her strange ability a purpose and makes her feel less of a monster, by using that ability to help people in a meaningful way. I also noticed that for the first time, she didn't mention their deal for him to help her with her audition — she's helping him now for the right reasons, and not just to get something she wants for herself. We've been saying for weeks that Cho-rim's ability, and her courage and tenacity, would make her a fantastic cop. Maybe this experience will give her a new purpose in life, who knows?
And Cho-rim helping Mu-gak solve cases could be the way to break through to Mu-gak personally and heal him, too. Cho-rim's absolute faith that he can keep her safe cuts right to the heart of why Mu-gak can't feel anything in the first place — that he couldn't protect his sister. The fact that Cho-rim knows that, and yet still believes that she'll be safe as long as she's near Mu-gak, just gets me right here. And since he's a detective for the sole purpose of finding his sister's killer, I would love to see him go back to his original career that he seemed more suited for, and let Cho-rim do all the sleuthing from now on.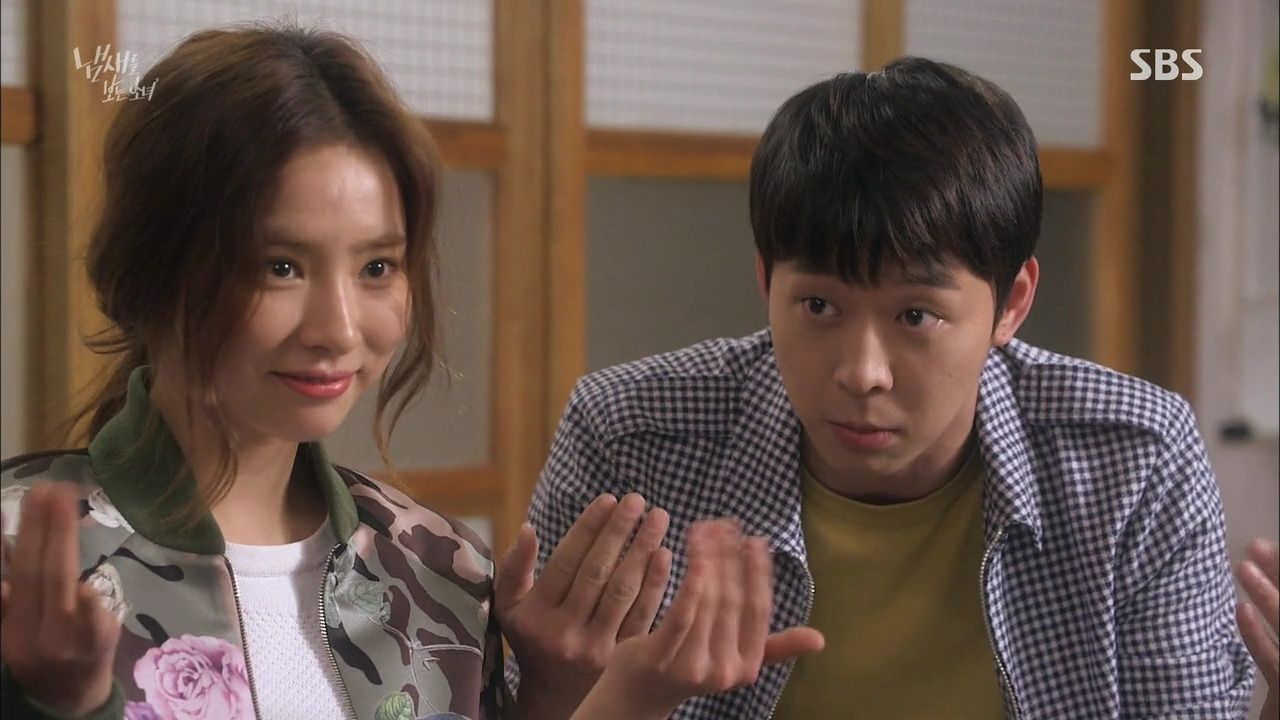 RELATED POSTS
Tags: featured, Girl Who Sees Smells, Micky Yoochun, Namgoong Min, Shin Se-kyung, Yoon Jin-seo