Grandpas Over Flowers in Greece: Episode 1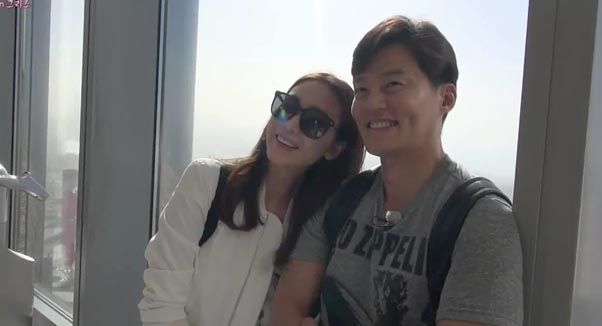 javabeans: The halbaes are back! It feels like we've been off the Na PD train for a while, but really, it was just the one show (Three Meals a Day).
girlfriday: And even that show, we watched most of. It was just less interesting to recap on an episode-by-episode basis.
javabeans: So we open with a teaser introducing our main players, all of whom have been given Greek-sounding nicknames, like leader halbae Lee Soon-jae as Soon-zeus, Shin Gu as Gu-seidon, Park Geun-hyung as Geun-pollo, and Baek Il-sub as Heracles-sub.
girlfriday: And this time, joining Original Luggage Boy Lee Seo-jin is actress Choi Ji-woo, nicknamed Ji-woo-phrodite. We know what to expect now from the halbaes, but it's the luggage duo that makes me excited for this new season.
javabeans: You and all of Korea. I'm pretty sure the entire nation is on this matchmaking train.
girlfriday: With the halbaes driving that train! And we all know that the halbaes get what they want.
javabeans: At least that's what I'm hopin'!
girlfriday: So we begin back in February, a year after the halbaes' last trip to Spain. They trickle into the restaurant one by one, and after a while Gu halbae asks like an afterthought, "So where are we going?" I guess it's kind of the least important part, the where.
javabeans: It's crazy how Na PD refuses to tell, so that the first they hear of it is through the press. Although at this point the halbaes just kinda go with it, all, Okay, there? Sure why not.
girlfriday: For all of Na PD's evil scheming, he really does have their full trust.
javabeans: I think it's mostly because of Seo-jin though — they know he'll do all the worrying. No planning necessary!
girlfriday: Yeah all of the hard stuff is on his shoulders.
javabeans: Il-sub halbae pipes up in the middle of the meal that he was sure Na PD would have prepared some kind of "event" for today. Na PD just sits closer and asks, "Say, for instance, what kind of event…?"
girlfriday: Il-sub halbae: "There's no way that Na PD would just let us go on a regular trip, just us and Seo-jinnie, without something… some new thing…"
javabeans: I'm dying laughing when he says they should take along a lady, and Na PD just plays it off like that isn't exactly what he did.
girlfriday: And even without prompting, all the halbaes are like, a girl? For Seo-jinnie? What style does he like?
javabeans: The halbaes all interview that they love Seojinnie and find him fun, but think it would be nice for him to share the burden with someone. When asked what kind of person he'd want, Seo-jin just says, "Taecyeon, of course" — because he's brawn over brains, lol.
girlfriday: Yeah all he really wants is another slave that he can order around. Someone younger and eager to please.
javabeans: The PD prods for a female possibility, and he says he'd prefer someone who came knowing she'd be a luggage carrier, and not thinking to have a sightseeing vacation. Yeah, I think I'd be annoyed if that happened.
girlfriday: I can practically feel Na PD giggling in the background. So then we rewind to a week before that dinner, when Na PD and writer Lee Woo-jung meet with Choi Ji-woo on her own.
javabeans: I love the montage from the trip contradicting everything she says up front. She says she thought it would be a great way to travel and have the others help her, and Na PD says she's the one providing the help (cue: scenes of her lugging around bags and madly cooking in tiny spaces), and she says she's in great physical condition, which contrasts with her huffing and puffing amongst the ruins.
girlfriday: Choi JI-woo already has this very light and airy way that she talks, but when she's excited she gets extra girly, and the way she's talking about this trip makes it sound like she's going to Disneyland. They keep asking her if she isn't worried about how much work it'll be, but she just smiles, "What would I have to worry about? I have Oppa."
javabeans: There's a hilarious montage of their "Greece Sonata" and then a scene from a hotel room where they're reading netizen comments about wishing how they'd get together while on the trip. Na PD asks if he should write a reply about how that isn't likely, and Ji-woo adds, "Say that we're fighting like cats and dogs!"
girlfriday: I can't wait. Na PD gives Ji-woo a mission, and assigns her to do all of the planning for the Dubai leg of the trip. She gasps and says that she doesn't know anything about Dubai, and Na PD just shrugs, "I don't either." Guess you're on your own!
javabeans: She has a camera set up at home to show her hard at work, and there's a whole Misaeng-themed sequence of her agonizing over online travel sites.
girlfriday: It's hilarious. At one point she calls Na PD to beg for more daily trip allowance, but he just tells her to be better about spreading the money around. Scrooge.
javabeans: Who else can get away with saying that to Choi Ji-woo? "Don't spend more money. Do better!"
girlfriday: Seriously, only Na PD. So she has no choice but to lower her standards and search high and low for cheaper accommodations. Then the halbaes go through their health checks and their usual pre-trip routine, and Gu halbae goes soju-shopping because it's a day that ends in Y.
javabeans: They all gather in the terminal, and now I recognize the area from the pre-show pics and am sitting in anticipation of the big reveal. Hee hee. Hee. Hee. Hee.
girlfriday: Ji-woo is adorably excited as she rides to the airport. Meanwhile, Na PD hands Seo-jinnie the trip money in a giant stack of bills (like in all ten-dollar bills), just to be annoying. And then he needles him: "Remember how you conned me last time?" So this was your way of preventing that?
javabeans: Seo-jin is given the plane tickets to hand out, and ends up with an extra one. It makes him laugh but the surprise isn't ruined because the name is unfamiliar — Choi Mi-hyang is Ji-woo's real name. It definitely tips him off that trickery is afoot, though. Na PD says with the straightest face that Choi Mi-hyang is merely their Dubai guide. LOL.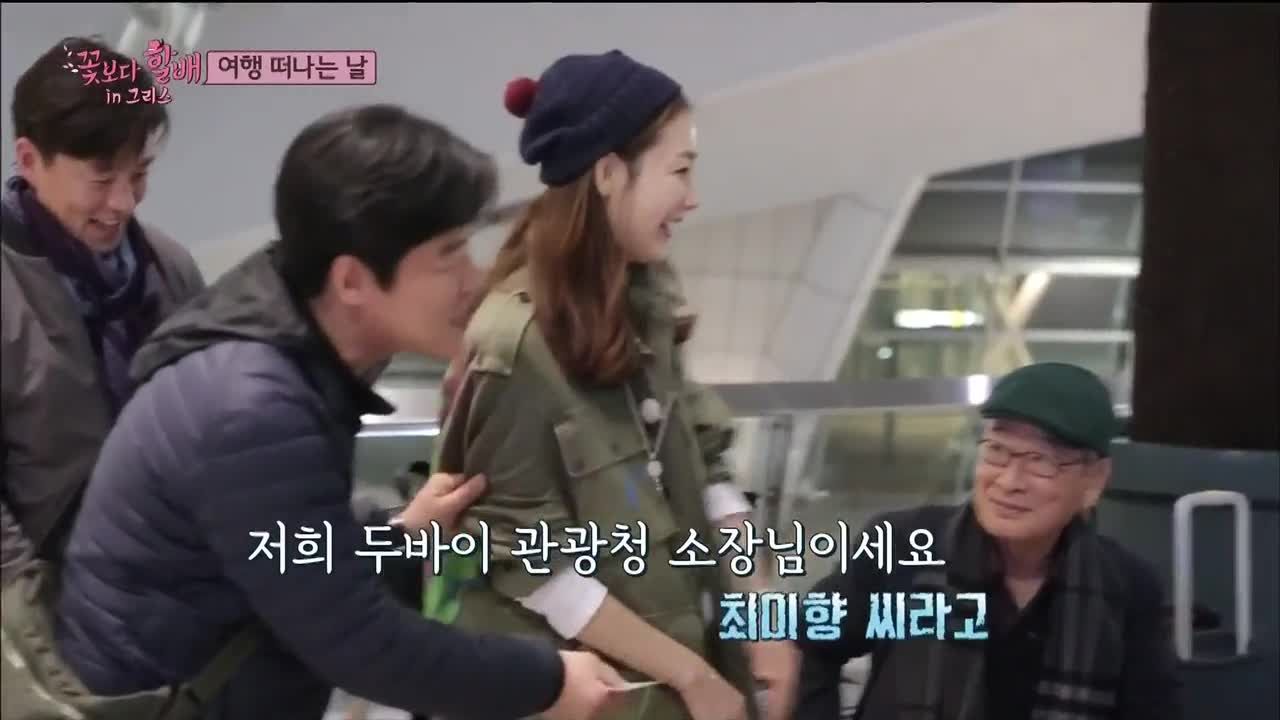 girlfriday: When he sees Ji-woo approaching, Na PD calls out loudly, "Choi Mi-hyang! Guide Choi Mi-hyang!" Seo-jin totally breaks out the dimples when he sees her coming.
javabeans: This is hilarious!! They all just think she was passing by and stopped to say hello, so their reactions are totally… non-reactions. It's great because you're expecting some big outburst and Na PD has to literally introduce her as their Dubai guide before they realize she's going with them.
girlfriday: Once they realize that she's coming with them for the whole trip, they're all smiles. Especially Il-sub halbae, who says she's better than Seo-jinnie. Then Ji-woo feels the need to repeat it loudly for everyone, hee.
javabeans: She's so cute, I love her. She's known for being a goddess-type celebrity but really, she has the aura of an innocent fifteen-year-old.
girlfriday: The tension starts right away in the airport though, when Na PD asks how much money Ji-woo needs for the Dubai portion of the trip. She hesitates and names a number, and when Seo-jinnie balks and tries to push off all the navigating on her too, she just cuts him off with a "That can't be how it is, Oppa." He immediately uncrosses his legs obediently.
javabeans: The halbaes are adorable too, interviewing about how great they feel and how much fun they think this is going to be. Geun-hyung halbae chuckles that he's not worried in the least, and all he'll have to do is follow along.
girlfriday: They board the plane and begin the long journey to Dubai. It's ten hours by air, but it looks like they have first-class seats with fancy booths, so it doesn't seem so bad.
javabeans: I'm so surprised to see that! Na PD sprung for first class? Is that the only way they got Choi Ji-woo to agree? Now I want that to be true, that she made it a condition, just to squeeze some money out of him.
girlfriday: That would be awesome. Somehow I doubt it.
javabeans: After Seojinnie's wallet-padding trick and Yoo Yeon-seok's Paypal trickery, I wonder if there are many more ways left in which to scam Na PD. I feel like Seo-jin would have spent days trying to brainstorm. (And of course, in this world "scamming" Na PD just means finding a way to spend your own money on your own trip, ha.)
girlfriday: Do you think that's the secret, that Na PD really just wants them to spend their own money and make them think they're winning the game by outsmarting him?
javabeans: Or that he just doesn't care as long as it's not coming out of his coffers? Super high ratings and minuscule production budgets? Maybe that's how he got his Midas touch.
girlfriday: I love it, the first time Seo-jinnie asks Ji-woo to go somewhere with him (to buy metro tickets), the halbaes are all, "You two go together, yeah." I can't take it! They're so cute together! They're only just taking the subway and doing mundane things, but Seo-jinnie just looks SO HAPPY.
javabeans: It's so cute. They're in such a good mood: Ji-woo because she's just a chipper person, and Seo-jin because, well, Ji-woo. At one point, Ji-woo giggles "Hee hee hee hee hee" and then Seo-jin is captioned "Ha ha ha ha ha." The scenes from the trip honestly make them look like newlyweds. You know they wouldn't stand with their faces so close if they didn't like each other. They can smell each other's breaths, I'm positive.
girlfriday: I think I'm going to be watching this whole show chanting, "Kiss her! Kiss her, you fool!" When they get off the subway, Seo-jin starts second-guessing Ji-woo's navigation skills, so then they run around in opposite directions and Ji-woo gets her first taste of luggage girl stress.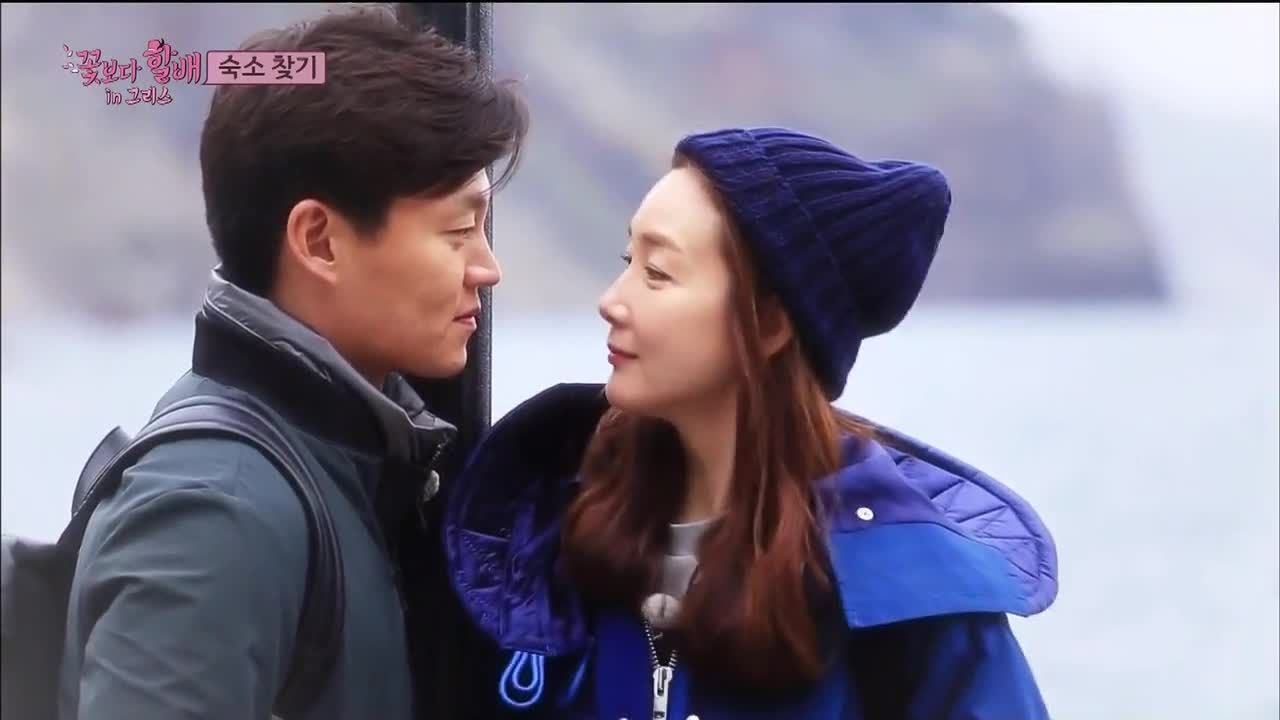 javabeans: It's funny, because Seo-jin has honed the stress-mitigation process and knows just how to handle the delicate balance, say for instance how to do everything in advance to minimize halbae walking times. But Ji-woo doesn't have the same sixth sense going, so he's sometimes trying to hint to her or steer her along, and then you get scenes like this where she's running and looking worried. She runs all the way to their lodgings and finds that she was right all along.
girlfriday: Then she finds out that the hotel wants to add a surcharge, and I think she might cry, she's so upset about it. Seo-jin tries to be calm about it and smooth things over, and he tells her that these unexpected costs arise, but she says she feels conned.
javabeans: Seo-jin totally understands why the hotel is demanding the surcharge, which makes it funny to watch him try to make Ji-woo feel better even though you know he's thinking that it was her mistake for misreading the fees. I feel like he's biting his tongue because she's so upset and embarrassed. An important husbandly skill.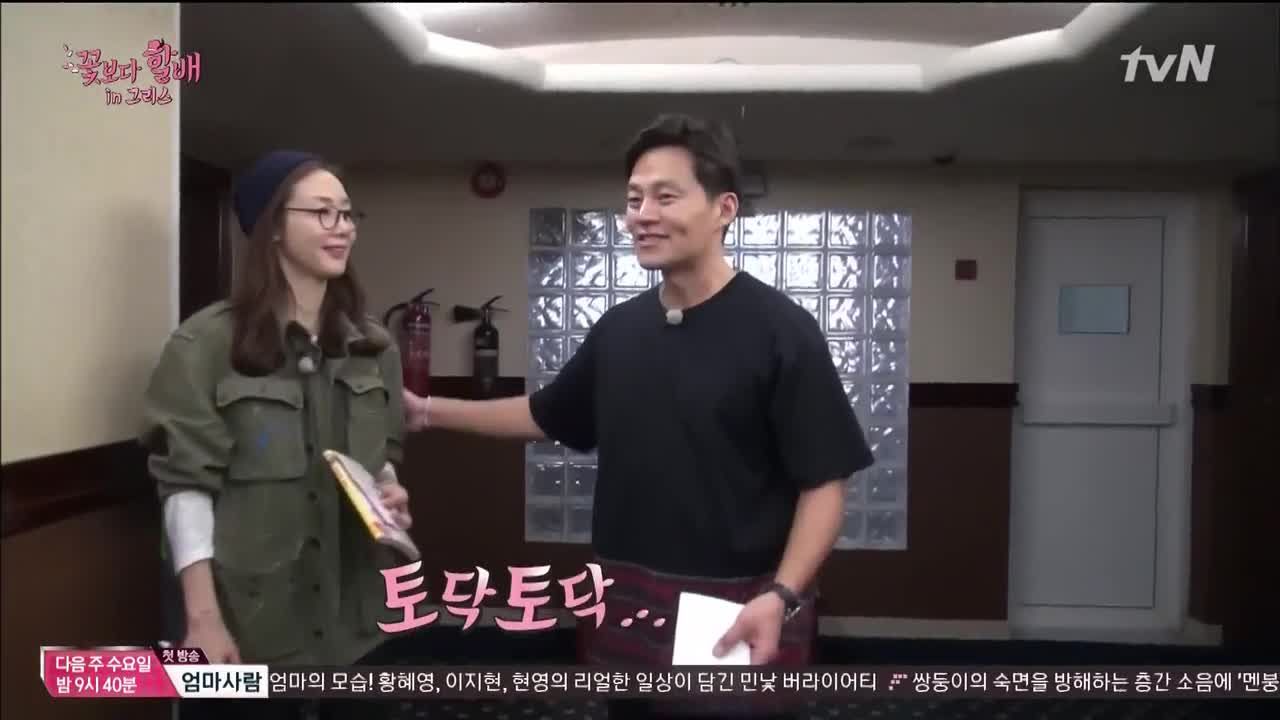 girlfriday: It does feel like this whole trip is a test of their compatibility. He's doing a fine job. In the morning, the group sets off into the center of the city to visit the mega shopping mall (why, I don't know, since all malls look the same to me). They get there, and while everyone else gapes at the size, Seo-jinnie frowns and says this is trouble. All he can think about is how far they'll have to walk to get anywhere in here.
javabeans: Seo-jin perks up to find a Chinese restaurant, which is a safe pick for the halbaes. Of course, as soon as they're done, Na PD sidles up to ask if they have the cash to pay for such a nice lunch, and Seo-jin quietly mutters that it wasn't the mood to be cheap. (Meaning, grandpas were grumpy.) Gotta pick your battles, you know!
girlfriday: Why do I have a feeling that they'll run out of money before Greece?
javabeans: They should just do that, because what is Na PD gonna do? Make them return to Korea without half their footage? Reps from the Dubai tourism department drop by to say hello and offer up their help to the cast — and Na PD hurriedly cuts him off and assures them that they need no help.
girlfriday: After he leaves the table, Na PD tells them that he's a prince, and suddenly Seo-jinnie is very interested in making friends with him. I can tell that he's already starting to stress about money, which must've been the point in having Ji-woo plan the first leg of the trip, so that she leaves Seo-jin with very little to spend later.
javabeans: Yeah, he nixes their plans to see the observation deck at the top of Burj Khalifa because it's too expensive, and Ji-woo's face falls — you can see that it's sinking in that their funds require them to limit choices, and that it's not the same as a vacation where you see all the sights you want to. Seo-jin starts to teach Ji-woo his ways, though, saying that if they can spin this observatory thing so that the crew does it for footage, they'll pay for it. Trick is, of course, getting the crew to agree rather than having it come out of the cast budget.
girlfriday: This time the crew puts their foot down, so then Seo-jinnie asks for the prince to come back so that he can try and get a free guided tour out of them. Everyone's very nervous about it, and Na PD looks like he's skeptical it'll work, but he does as asked and brings the prince back to the table.
javabeans: This is why Seo-jin is great. He can be really shameless. But also really smooth and charming. And of course the Dubai tourism board wants their tourist attraction highlighted on the Korean tourism television show watched by the whole nation, so he readily agrees.
girlfriday: It's times like this that Seo-jinnie really seems like Na PD's smarter hyung. Na PD just hovers nearby with this shocked face, all, "Really? They said yes? And we can shoot there?"
javabeans: It cracks me up because Na PD looks so intent as he listens, while you just KNOW he can't even understand all that English! And of course he's dressed just like Seojinnie today, which makes me think of the naggy kid brother copying his idol hyung.
girlfriday: It's extra adorable when they're dressed alike. They make it up to the observation deck of the big tower, and the halbaes get busy taking selcas. The PDs find Seo-jin and Ji-woo and suggest a picture, and Seo-jinnie makes a tiny show of complaint but totally doesn't hate the idea. He even leans closer for the shot.
javabeans: It's totally all, "Oh no, stop it, not me, CHEESE!"
girlfriday: One PD tries to stir up trouble and asks Gu halbae if he isn't mad that Seo-jin and Ji-woo are just hanging out with each other, but he just grins widely and says, "I hope it works out well."
javabeans: They take cute novelty photos against a green-screen, which of course are adorable and professional-looking since they're all actors who have done this a million times before.
girlfriday: They stop for a coffee break, where Seo-jin and Ji-woo split up to buy ice cream and coffee, only it turns into this whole drama because Ji-woo goes off-book and starts buying ice cream when she KNOWS that Seo-jin is off doing that very thing. It wouldn't be so bad if they were cheap street foods, but everything here is crazy tourist prices, and Seo-jin looks a shade paler when he sees that she's bought double the ice cream.
javabeans: I love that it's obvious he likes her, because if someone like Taec did that, he'd just bark at him and the mood would plummet. Instead, you just have him being dimpley half the time and green with anxiety the other half.
girlfriday: Taec would be sitting in the corner licking his wounds.
javabeans: You know, Ji-woo really does have a secret weapon in her aegyo "Oppaaaaa." He can't be mad when she does that.
girlfriday: No one could. She's almost as heodang as Seung-gi, but she's got that Oppaaaaaa and it changes everything. Ji-woo takes the halbaes to the aquarium while Seo-jin goes hunting for a dinner restaurant and Il-sub halbae takes some pictures while resting outside. The halbaes just see the entire aquarium as sushi and they're practically licking their chops.
javabeans: Well, it does look delicious. That's a great piece of editing with Soon-jae halbae, who reaches out to touch the glass or look fondly at his friends (I'm recalling he's the animal lover) and his tapping actions perfectly match the lyrics of the 10cm song. It goes on for a really long time in perfect coordination.
girlfriday: You know the editor is fist-pumping right now, Yessss, someone noticed! Meanwhile, Seo-jin goes on this loooooong trek around the massive complex looking for the perfect restaurant. His criteria: fountain view, food the halbaes would like, and alcohol. He vetoes a place that doesn't serve liquor, and the PD wonders why. Seo-jin just stares at him: "Imagine you're sitting at a table with the teachers and telling them they can't have any alcohol. What kind of atmosphere do you think it would be?" This is like Halbae Survival 101.
javabeans: It's SO much work! Then again, he is scoping out restaurants as though he's buying a home. ("Where is the table? Can I see it now?") At first I wondered why he needed all that time, but watching him pounding the pavement for appropriate dinner reservations is tiring. You know he doesn't want ANY of this stress with four halbaes in tow, so he's getting it all out now.
girlfriday: This is a very good case for bringing Ji-woo along, so that she can keep the halbaes busy while Seo-jin does this stuff. You know that's his favorite thing about it, even after the fact that he thinks she's purty. Haha, there's this really cute sequence where Gu halbae struts around looking stylish in his outfit all day, and then we cut to him later that night, complaining to Soon-jae hyung that his pants are too tight and probably made for a middle-schooler.
javabeans: You can see Seo-jin waiting in anticipation as he leads the group to dinner, and Ji-woo's mouth drops open at the awesome view. She pats him on the shoulder and congratulates him on a job well done — kind of like he's a little boy, but you know the sentiment is exactly the reaction he was hoping for.
girlfriday: He really did pick a good place, so I'm relieved for him that his hard work paid off. They toast with a beer and enjoy the fountain show as it gets dark.
javabeans: They all sit back to eat dinner after seeing the show. Ji-woo: "I ordered a beer. Can I order a beer?" And Seo-jin just laughs, because it's too late to do anything about it now that it's in front of her. And now that the halbaes have had their beers, Il-sub halbae just starts matchmaking blatantly, saying how well the two luggage people match.
girlfriday: It's a nice relaxing dinner with a show included if you count the view, though it feels very different for the halbaes, who are used to roughing it a lot more.
javabeans: It is a strangely luxe trip so far, which makes me wonder how they're getting away with it. Are they seriously going to blow their budget in the first two days? How are they going to pay for Day 2, much less Day 10?
girlfriday: Well, the preview for next week already has Seo-jinnie and Ji-woo bickering over money. Ji-woo: "What about this one?" Seo-jin: "This is the cheapest." Ji-woo: "Will you just look at this one?" Seo-jin: "But this one is the cheapest." Ji-woo: "Is it the best?" Seo-jin: "It's the cheapest."
RELATED POSTS
Tags: Baek Il-sub, Choi Ji-woo, featured, first episodes, Grandpas Over Flowers, Lee Seo-jin, Lee Soon-jae, Park Geun-hyung, Shin Gu