Grandpas Over Flowers in Greece: Episode 3
javabeans: We pick up at bedtime, and there's an extended beat showing Soon-jae halbae in bed, reading, and falling asleep in the middle of it. I swear, grandpas yawning is like animals yawning — just inexplicably cute.
girlfriday: I know, so cute. And then Seo-jinnie comes in to tuck Soon-jae halbae into bed, and it's sweet on top of cute. Ji-woo goes to sleep with a face mask on, which looks kinda scary on camera.
javabeans: Then we jump to the morning as everyone wakes up and gets ready. I recall reading an interview with Na PD where he described his variety style as finding the little funny moments in life, which is so the opposite of most variety programs, where you have so much structuring and concept building that leaves me mostly confused. (Running Man always does this to me, where there are such elaborate setups and then they all end in nametag-ripping.)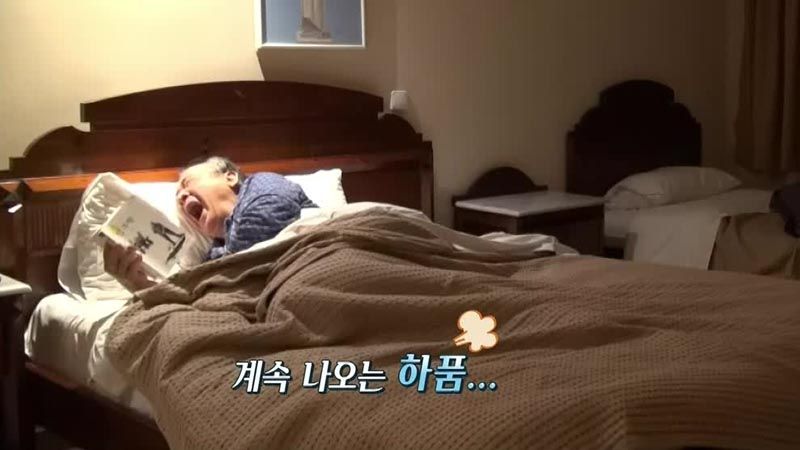 girlfriday: Yeah it's what I love about all of Na PD's shows no matter what the concept is, because it's really just about human interest — little moments found through editing that appeal to all viewers alike.
javabeans: It's what makes his shows so entertaining, but also, it makes them inimitable. Nobody else could pull it off the same way because there's no format — just narratives gently gathered together from mountains of footage.
girlfriday: Yes it's all in the writing and editing in post-production. It's the morning of Lunar New Year when they wake up, and while Gu halbae tries to call home, Ji-woo sighs to the PDs that they have to make traditional rice cake soup. She starts setting out all of the ingredients with Seo-jin nearby, and the captions turn creepy: "They couldn't know it then… that this place would become a rice cake soup battlefield!"
javabeans: Ji-woo is so adorable. Also, it's like she's Seojinnie v.2.0 — Seojinnie made do with what he had on hand, but she came armed with STUFF. So much stuff. We see her in her kitchen before the trip preparing recipes, and I love that little bit where her hand is miming cooking motions as she studies. She is being hardcore about this!
girlfriday: Ha, she starts barking orders at Seo-jinnie like, "Cut the seaweed 2cm long and 0.3mm wide!" Is she gonna be a Seung-gi with his timer?
javabeans: But we know she can actually cook, so she's already got a leg up on Seung-gi. I'm thinking she might just be Seo-jin's opposite, where he just eyeballs and figures it out, and she has to cut and measure everything because it has to be perfect.
girlfriday: She asks Seo-jin to separate the eggs and beat the whites and yolks separately, and already he's arguing with her on the first task. This is going to be a dinner-as-breakfast, isn't it?
javabeans: Seo-jin starts to gripe to Na PD about Ji-woo's incomprehensible instructions, which is a mistake because Na PD just fuels the flames by siding with Ji-woo, asking innocently, "Who doesn't even know what that is?"
girlfriday: Seo-jin heads down to the hotel's kitchen to borrow a bowl, and somehow ends up with an entire tray full of dishware to set an entire table. You can just see the lady's expression darken with every, "And… Can I also have… Um, and also…."
javabeans: She was so nice about that one spoon, and by the end it's like a sketch comedy gag.
girlfriday: He then starts in on the egg whites, and promptly burns the first one, and Ji-woo looks like she might cry.
javabeans: OH MY GOD is Ji-woo really doing all this just to make those slivers of egg you use to garnish rice cake soup?
girlfriday: Wait, seriously?? That's like mostly decorative!
javabeans: She is! Look, she's making those flat pancakey egg things that you slice into ribbons! Also, that means she's planning to prepare slivers of meat, and seaweed, and everything else too doesn't it?
girlfriday: She's trying to do artful gourmet on a hot plate in a hotel room. No wonder this ends in tears.
javabeans: She's a total rice cake soup perfectionist! Like the soup nazi. She is SO disappointed and I find it hilarious, because how on earth did she expect this to turn out perfectly? She's making egg pancake in a hot pot without a spatula!
girlfriday: I don't know. It's so comical though. She then orders Seo-jin to cut the seaweed to exact proportions, and he asks, "Can't we just crumble it with our hands?" Yunno, like normal people. But no, she must have them cut perfectly, so he heads back downstairs to the angry kitchen lady with a sigh. Na PD trails after him like a little kid, all, "Why don't you just tell her you'll crumble it by hand?" Troublemaker.
javabeans: Don't you feel like he's on thin ice with Ji-woo (because of the eggs), which is the only reason he's bothering with all this?
girlfriday: Yes, and the fact that she's the perfect combination of bossy and pretty.
javabeans: Also, it kind of feels to me like Seo-jin knows why Ji-woo's upset, like 20 percent, but the remaining 80 percent is a mystery, and he just wants to make it go away so she's happy with him again. She's so anal about that seaweed, it's cracking me up.
girlfriday: The exactness (and ensuing stress) is on her, but I feel like in general the effort of making the rice cake soup will be worth it, because when we cut away to the halbaes, they're all talking to their families and sighing about not being home for the holidays. They start to file in one by one, and they light up to hear that they'll be having a traditional new year's breakfast.
javabeans: They all sit down to eat and ask for seconds, and everyone seems super happy about it. Not only that it's tasty, but that it's New Year's and they're celebrating properly.
girlfriday: It does look delicious, and even Seo-jin is shocked at how good it tastes. After breakfast, the halbaes rest while they clean up, and suddenly Il-sub halbae comes out with a backpack on and says that he's going to get a head start to Acropolis today. Huh? It confuses everyone, but he just smiles and says that because he's slower than everyone else, he's going to start walking now.
javabeans: Aw, that's sweet and sad. He feels bad about dragging everyone else down!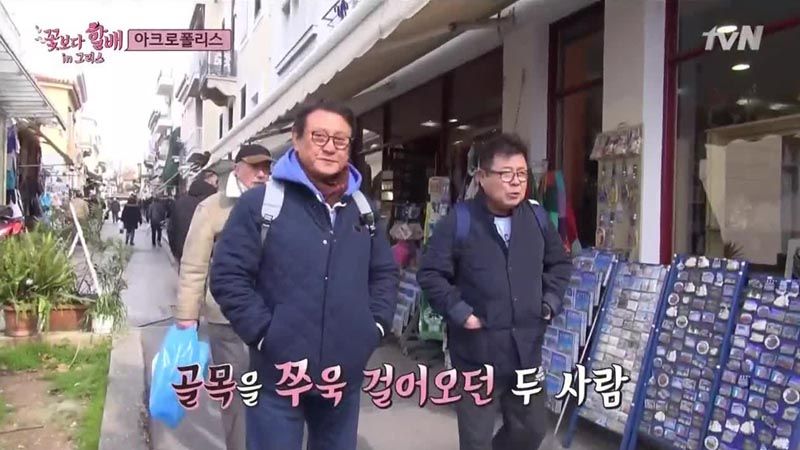 girlfriday: I hadn't realized that it stresses him out, or that he feels bad about it. But they show him looking outside his window in the morning, contemplating how he's going to make the climb and not be a burden on the others.
javabeans: We got a hint about it earlier when he said he'd been working hard to lose weight for one of their earlier trips because he has such bad knees and it would help with the pain. It must be something he's embarrassed about but tries to cover up with his gruffness, and maybe he sits out trips more because he doesn't want to be the slow one than because he doesn't want to go on the trip.
girlfriday: He is such a typical Korean dad in that way. Geun-hyung halbae walks him out to the tram and decides to hike on ahead too, to spend some time looking at the amphitheater. He certainly knows a lot about the history of theater, not that I'm surprised.
javabeans: Il-sub halbae's tram takes him to the base of Acropolis, which fortunately cuts out a lot of the trek for him. He'll still have to walk some, though, and he looks a little concerned at how far up he'll have to climb.
girlfriday: A little while later, Seo-jinnie and the rest of the crew head out and follow Il-sub halbae's path on the tram. But as soon as they get on, Seo-jin's face darkens as he realizes that they're going in the opposite direction. Oh no! And what the hell kind of tram is this? It seems to go in circles with no rhyme or reason.
javabeans: I do enjoy how everyone pretends not to notice that they're going in the wrong direction, although they all totally look worried. But if you say it out loud, you have to do something about it! Let's just be quiet and maybe it will fix itself.
girlfriday: And Seo-jin totally starts coming up with rational explanations for why they'd be taking the long way, as if he stopped to ask someone, even though he's just making shit up. Thankfully, they get dropped off where Il-sub halbae is waiting. I was worried about them finding each other. They make their way inside, and it cracks me up when Seo-jin offers to give Soon-jae halbae a guide brochure, only to have Soon-jae halbae start in on a detailed history of the theater that they're looking at.
javabeans: These halbaes know their stuff. Their approach to studying theater is as their craft and passion, and it comes across. Doesn't it make you think of youngsters these days just jumping into acting without any study about it? Get off my lawn and all that.
girlfriday: Totally. I mean, everyone knows that these halbaes are good actors, but they're serious about Acting and Theater in a way that makes most TV and film actors seem so juvenile, and not just because of age. And then on the totally opposite end of the spectrum, you have Seo-jinnie yawning as he asks, "So, this the Parthenon?"
javabeans: You know he's worrying about dinner.
girlfriday: I do enjoy the little history lessons from Na PD, like about why the Parthenon is so amazing (it has to do with math, and fancy architectural design, and other stuff I don't really know much about).
javabeans: Everyone pauses to look around and take selcas, and Ji-woo laments (repeatedly) leaving the selca pole back at the hotel. It's so funny, 'cause you do have a full film crew on hand shooting you, y'know.
girlfriday: Is Na PD photo-bombing Il-sub halbae's selca?
javabeans: It's the best thing ever. I just think of him as an imp now. Or Rumplestiltskin.
girlfriday: After a leisurely tour, they start to make their way down the long hill, and it's pretty nice to have two luggage people, since Ji-woo can walk ahead with the larger group while Seo-jin brings in the rear with Il-sub halbae. Geun-hyung halbae suggests a rest while they wait for Il-sub halbae to catch up, and when Soon-jae halbae busts out cookies, they get so excited, you'd think they were five.
javabeans: Ji-woo gets so excited to remember her snack, and then got so bummed when she can't find them in her bag, and even though Soon-jae halbae had snacks, you can see her just disappointment over her perfectly laid plans to have perfectly prepared snacks being thwarted by fate. She is so Type A about this, it's both really funny and a little sobering, because let's just say it feels familiar.
girlfriday: Like I said before, Ji-woo on this trip is just like traveling with you.
javabeans: You mock now, but nobody's laughing when we all have hot coffee in the morning and tea at night, are they? So they head down to the city to have lunch at one of the outdoor cafes.
girlfriday: After lunch Il-sub halbae declares that he suddenly needs new shoes, and explains his coffee-spilling incident early this morning, which turned one white shoe brown. Seo-jin has to go get a rental car, so he sends Ji-woo off to lead the rest of the halbaes to the Olympic stadium on her own, and she immediately panics, "But how will I get there?!"
javabeans: Don't you love how he calms her with the assurance, "They'll show you the way," without specifying who "they" is?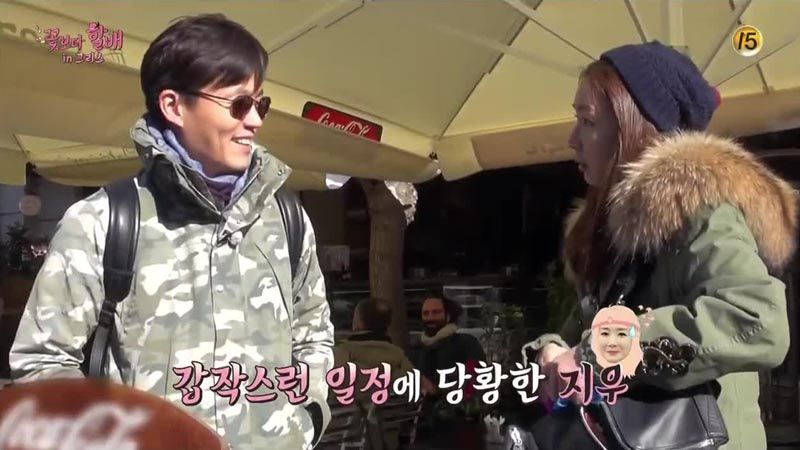 girlfriday: I hope she isn't relying on the staff to be helpful, because have you not seen the show?
javabeans: Can't you picture Na PD's orientation training session? "If they ask you anything, just say 'I don't know' to everything! You know nothing!"
girlfriday: Case in point: Na PD follows Il-sub halbae on his shoe-shopping mission, and just hangs back watching Il-sub halbae navigate his way around a train ticket machine. He fiddles around for a while and manages to buy his own metro ticket, and Na PD happily let him buy the crew's tickets too.
javabeans: He's so proud of himself: "For the first time doing Grandpas Over Flowers, I bought subway tickets with my own money!" He makes it safely on the subway, and we resume with the other group as they tour with Ji-woo and Seo-jin heads off for car rental.
girlfriday: Seo-jin seems half-worried about her and half-excited about having the afternoon to himself, doesn't he?
javabeans: Ji-woo looks progressively worried as she leads the halbaes down the street with her eyes fixated on her phone, and I feel like finally she's getting a taste of luggage girl stress, juggling the anxiety of finding a place correctly with the mounting panic of leading halbaes in circles.
girlfriday: Finally Gu halbae steps in to explain where the stadium is in relation to the mountains (since he got a good bird's-eye view from Acropolis earlier), and Ji-woo seems to get her bearings. I hope.
javabeans: They make it inside the stadium, and Ji-woo suggests a run around the track. Why are they so cute running together?
girlfriday: Kekeke, Soon-jae halbae's a cheater! He totally took a step first! This is so adorable, I don't know why.
javabeans: Then Ji-woo charges into the lead, and they all laugh at her for getting so into it. She pretends she totally didn't care but they call her on it, and she admits, "I wanted to stand in first place!"
girlfriday: She's such an unabashed little girl sometimes. I love her.
javabeans: "It really felt like I was winning the gold medal!" They pose in VIP seats (made for the emperor and royalty) and tour the rest of the facilities.
girlfriday: Then we catch up with Il-sub halbae, who goes to the city's center which is bustling with people and shops. He makes his way to a shoe store and finds a sneaker he likes, but then the trouble starts when he asks for his size (using Korean sizes), and the salesperson just repeats things in Europe sizes, and they go in circles.
javabeans: I'm surprised Na PD steps in to help by checking the shoe Il-sub halbae is wearing to get the corresponding size, but maybe he can tell this kind of confusion is fun for nobody.
girlfriday: This is a whole day of firsts for Il-sub halbae, who tells Na PD that he's never bought his own shoes before either. His wife buys all of his clothes and shoes, so buying something like this for himself is a new experience. He looks so pleased.
javabeans: Next we join Seo-jin for car rental, and he finds a minivan to reserve for tomorrow, and decides on 11am as the pickup time. Just the way the show picks that out and repeats it makes me nervous already… And sure enough, we get hints of tomorrow's chaos with the car not being ready and Seo-jin hearing that its arrival time depends on traffic.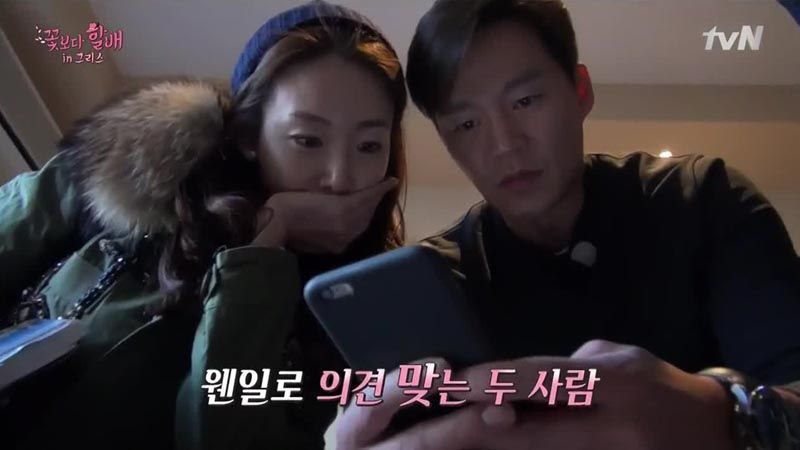 girlfriday: Ack, the flash-forward is so stressful. The halbaes are all packed up and waiting, like two hours earlier than the car pickup time. Seo-jin looks like he's going to bite his bottom lip clean off. Back in the present, Ji-woo and the halbaes walk back and she arrives to find Seo-jin researching their next hotel. For once they don't argue at all, and agree on a place with a kitchen right away.
javabeans: They sit down to have dinner, and the show points out that Soon-jae halbae hasn't drunk any liquor in all of the Grandpas shows, but tonight he agrees to have a glass when Gu halbae suggests it.
girlfriday: Omo, it's just a teeny tiny pour of soju in a shot glass, but Seo-jin and Gu halbae both do double takes. He makes a face when he drinks it, but he interviews later that he was feeling good and wanted to match the others' mood. They ask who pushes him to drink the most, and without hesitation he replies, "Shin Gu!"
javabeans: It's such a momentous occasion that we totally see it multiple times, and interviewed about later too. Then they walk home with linked arms, talking about the olden days, and it's so cute. They've been dressed similarly all day with their berets and jackets, and now they seem like twins of a sort. We even get a montage of all their BFF moments through the various seasons.
girlfriday: I love their friendship so. A preview to next week shows the return of Frazzled Seo-jinnie, who seems to be at permanent war with rental cars, if memory serves. This road trip looks no different, with malfunctioning navigation, car trouble, and a chase scene with the staff car.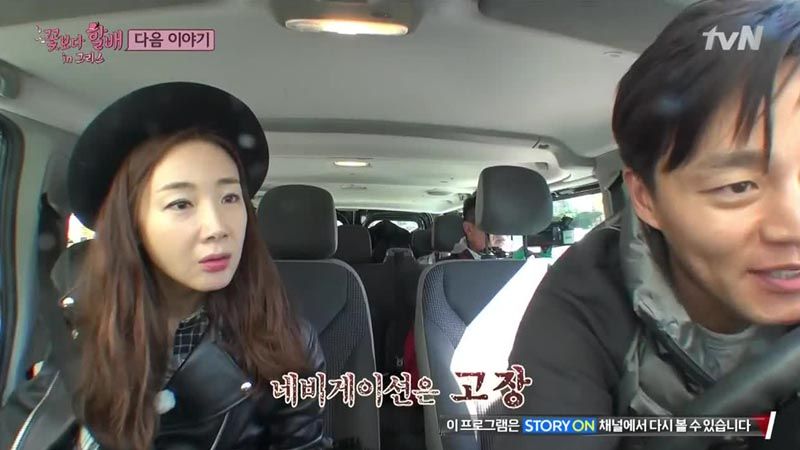 RELATED POSTS
Tags: Baek Il-sub, Choi Ji-woo, featured, Grandpas Over Flowers, Lee Seo-jin, Lee Soon-jae, Park Geun-hyung, Shin Gu