Ho-gu's Love: Episode 16 (Final)
The end is here, so we must prepare ourselves to say "good-bye" to these delightful characters that have allowed us to become a part of their world for the last eight weeks. As to be expected, there's a happy ending for just about everyone, and while there might be a few loose ends that were tied up a little too neatly, on the whole it's a satisfying final episode.
FINAL EPISODE RECAP
Sixteenth Foolish Act: "Let's all cross the red light together."
While Do-hee reads the note Ho-gu left behind, crying as she realizes that Ho-gu is her happiness, Chung-jae barges into the Kang home, demanding to know what's up with the crazy rumor about Ho-gu getting married. Kyung-ho and Tae-hee confirm that it's true — it's true that's it's a lie!
Aw, sitting on a shelf is the photo from Geum-dong's 100-day celebration. Time to back-track a few months (or more):
Ho-kyung counts out her fee for counseling, happy to report that this is her last counseling session with Kang-chul. He asks how Ho-gu is doing, and she sighs that he doesn't eat or sleep and just haunts the photo studio. In short: "He's doing fine." Ha!
Kang-chul cautiously shakes her hand as she says her farewell, and she asks if he's sad she no longer likes him. But he yanks his hand back when he feels his heart pound. Confused, he wonders if it's time to go to the karaoke bar again. Pfft.
Ho-gu sadly walks the familiar path to the photo studio only to be surprised by Kang-chul waiting for him. They go to drink soju at the squid restaurant, and Kang-chul hands over the cartoon Ho-gu drew of the angel baby. He has some connections with the webtoon world, and says that a publisher is interested in making a webtoon out of the angel baby story.
But Ho-gu doesn't seem to care, and Kang-chul asks him if he has any dreams or ambitions. Why else does he draw, if he doesn't want to be successful. Ho-gu: "It's because it makes me happy. That's all."
Kang-chul realizes that this must be why Do-hee left him. He explains that people look at Ho-gu and think he sacrificed everything for the woman he loves, but Ho-gu is just being selfish. He's the only one who got something out of the fairy-tale life of taking care of Geum-dong and being innocently in love with Do-hee.
Ho-gu leans across the table to slug Kang-chul in the face, and they take their fight outside. Hahaha! It's the most hilarious fight ever, as both spend more time flailing and crawling across the ground. OMG, Kang-chul — did you just bite Ho-gu's butt?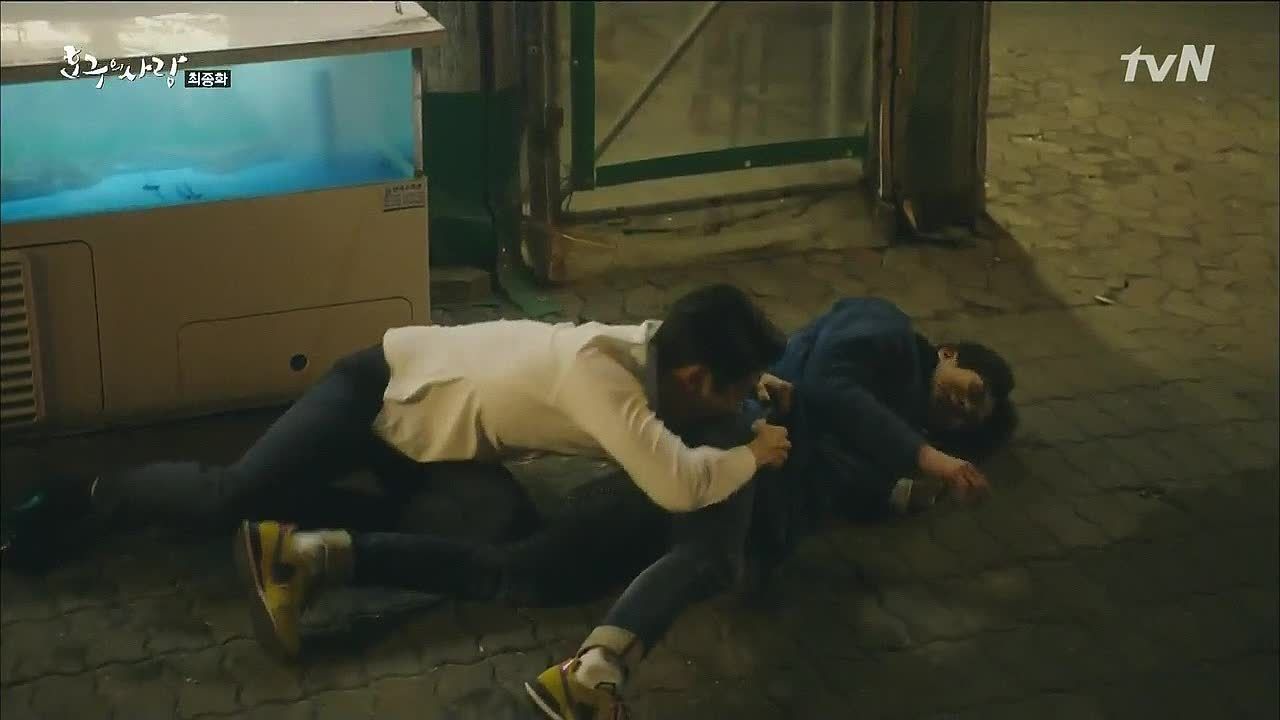 They eventually settle down and call a truce. As they sit peacefully on the steps, Kang-chul explains that leaving someone for their own good is a valid excuse in the game of love. Do-hee's burden would only become heavier if she stayed with Ho-gu, so she left to make life easier for him.
As Ho-gu goes through the comic he made about the angel baby, he realizes that he never really had a goal in life. The business card of the webtoon producer falls out, and he decides to embrace his life and start out on a new path. He turns in a resignation letter (er, resignation cartoon, to be precise) to Chung-jae and Tae-hee and packs up his desk.
That brings us to the moment where he runs into Do-hee at his book signing event, and afterwards, he collapses in a daze at home. He scrambles to pull out his phone, and Ho-kyung warns him not to call Do-hee. Especially since she said that Ho-gu was getting married.
Furious, Ho-gu jumps up, asking how she could have told her such a lie. Ho-kyung just wanted to make it seem like Ho-gu was doing well without her, and she says she'll call Do-hee and tell her the truth. But Ho-gu suddenly has a new idea: just waiting for Do-hee to return won't work — she needs to decide to want to come back on her own terms.
Ohhhhhhh. So it turns out that it was all an elaborate plan. Ho-gu got Kang-chul to leave out the school reunion invitation so Do-hee would decide to go. Tae-hee waited until she asked about Ho-gu so he could text Ho-kyung, who then gave the signal for Ho-gu to head to the restaurant. Boom! Magic meeting of fate and crosswalk kiss!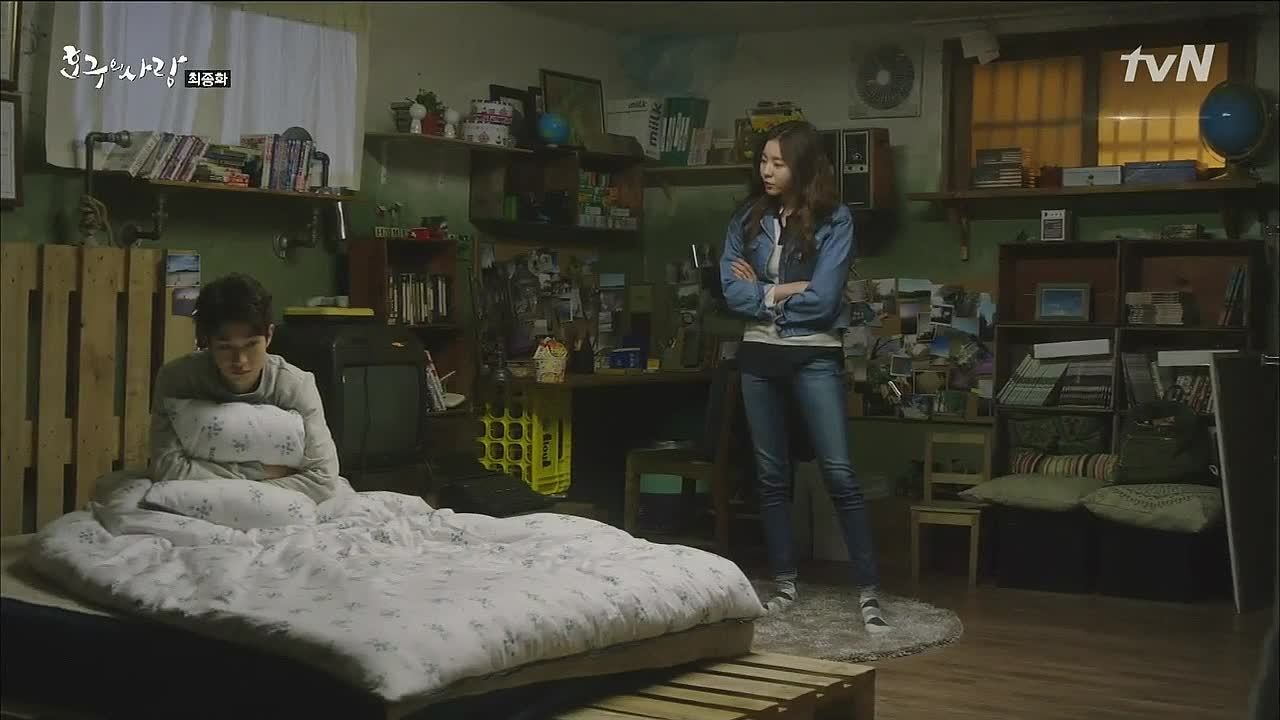 Once Do-hee finds out the truth, she paces in Ho-gu's room as he huddles on his bed. She's annoyed that she was conned by the Kang twins and she's still ready to read him the riot act, but Ho-gu gives her the puppy dog eyes and says that he just wants to hold her.
Ho-kyung gives Kang-chul a bottle of wine as a "thank you" for his help in winning back Do-hee. He eagerly asks her to stay to share a glass, but she tells him that once a flirtation is over, she doesn't drink with the guy agin. He follows her out to the elevator and asks why she stopped liking him. She explains it's because he hasn't seen her true face, nor is he curious about it — and she doesn't think she can show it to him. But as she's stepping into the elevator, her heel slips and she falls.
Kang-chul takes her shoe from her to fix the broken high-heel, and as she watches him work, Ho-kyung suddenly leans in to kiss him on the cheek, thanking him for all his help.
Taking the shoe from his hand, she tells him goodbye and gets into the elevator. Eyes wide in astonishment, he clutches at his heart, remembering the exact same scenario happening with "Ho-gu" after he had tied "Ho-gu's" shoes. The world around him starts to implode as his memories of "Ho-gu" are shattered.
Back in her room (and tracksuit), Ho-kyung gives herself a pep-talk, telling her reflection that she did the right thing by giving a "good-bye kiss" to Kang-chul. After all the years she suffered and all the plastic surgery she went through for him, it's the least she deserved.
Gong-mi calls her to let her know that Kang-chul stopped by Chung-jae's studio, asking all these weird questions pertaining to that day he spent with "Ho-gu." Kang-chul frantically speeds to Ho-kyung's house, his brain finally piecing all the details together. Pulling up next to him at a red light are his parents, and they tell their driver to follow him.
He arrives at the Kang house and pounds on the gate, shouting at Ho-kyung to come out. When a bewildered Mom and Papa Kang let him in, he apologizes for bothering them so late at night (and Dad recognizes him as the "gay lawyer," pffft). But he's desperate to know why Dad named his comic shop "Two Two." Mom laughs — it's because Ho-gu and Ho-kyung are twins. Kang-chul: "Tw-tw-twins?"
Ho-gu and Do-hee stand in the doorway, curious to know what the ruckus is about, and it's so cute how Mom and Dad are surprised but delighted to see the two of them together. Another surprise is Kang-chul's parents, who stumble through the door in hot pursuit of their son.
Ho-kyung shoves Kang-chul into her room for some privacy. As she asks him why he's there, Kang-chul looks around her room and finds a photo of her dressed as "Ho-gu." He slams it down, demanding to know why she's changed so much from then — why did she get plastic surgery? He grabs her shoulders, begging her to tell him why she ruined his life by making him think he was gay. Why did she change her true face if she was going to like him again?
Ho-kyung shoves his hands away. Does he know how much her pride hit rock-bottom that day he ignored her at the bus stop? She carved and ripped at her face for six years just to hear him tell her, just once, that she's pretty. She's lived her life hiding under a disguise of makeup. But even now, in this situation, it's his feelings that come first. She didn't expect comfort from him, but she at least expected not to get hurt again.
He stutters out that she's pretty, especially since she's had plastic surgery. But she rolls her eyes when he continues to babble on, letting her know she's ten, no, fifteen times prettier, especially since he couldn't even see her as a girl before.
To no one's surprise, she kicks him out of her room, and he stumbles out to see his father, Ho-gu, and Papa Kang sitting in the living room, staring at him. The women have taken over Ho-gu's room, and as Mom tries to ask Do-hee if she's back together with Ho-gu, Kang-chul's mother is freaking out, relieved that her son isn't gay.
Kang-chul's father is also delighted to know that his son isn't gay, and urges him to apologize to Ho-kyung. But Kang-chul pouts that he doesn't know how — since his father never apologized, how can he have learned? Papa Kang pointedly hands over an apple slice (which is a homonym for "apology"), amazed that Kang-chul's father has never apologized. As for Papa Kang, "it's practically my job [to apologize]." Aw.
Mom takes Do-hee's hand in her hers, asking if there's anything she can do for her. But Professor Mok intervenes, bluntly pointing out that the only thing they can do to help is catch the offender. After all, sexual violence isn't about sex, but violence. Why should the victim hide?
Kang-chul and Ho-gu go out for an awkward dinner, and Ho-gu hands over the old sneakers that Ho-kyung wore that day, six years ago. Kang-chul tries to give them back because they're so old and dirty, but Ho-gu tells him that because Ho-kyung couldn't forget about him, she never washed them or threw them away.
There's another reason Ho-gu wanted to meet with him — he wants Kang-chul to take Do-hee's case (at a friends-and-family discount, of course). Kang-chul leans forward, surprised that Do-hee told him who the accused was. Nope — it's still a secret, and when she's ready to say who it is, they'll contact him.
Do-hee takes Ho-gu to her apartment and he marvels at all the awards and medals on her shelf. As he peruses them, he asks if she knows why The Little Mermaid had such a sad ending — it's because the mermaid loved a prince, and guys that are princes, who are too grand and perfect, are terrible in reality. Ho-gu: "I'm not a prince. I'm a squid."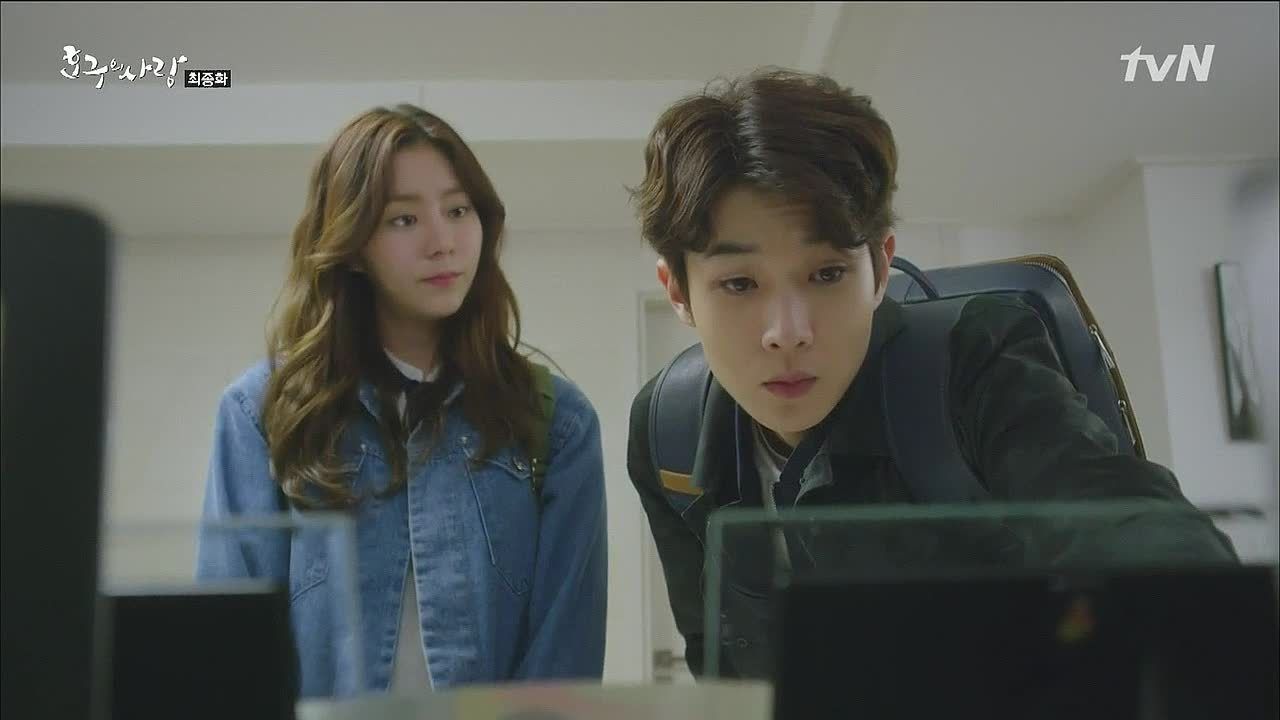 He takes her hand, asking her to press charges. Quietly, he reassures her one of the benefits of a squid is that they never get tired, and that he'll be by her side through it all. She removes her hand from his grasp, asking if he'll continue to love Geum-dong.
Her voice catching, she admits that sometimes she hates Geum-dong. As she watches him grow, she worries that he won't look like her, and that he'll remind her of the night she was raped. Even so, Geum-dong is her baby. She gave birth to him, so she can love him and hate him. But what she's most afraid of is Ho-gu, the man that she loves most, eventually hating her child.
Ho-gu pulls out a copy of the picture they took for Geum-dong's 100-day party and sets it on her trophy shelf, telling her that she's underestimating the squid. He turns to leave, but comes back to give her a quick kiss on the cheek, warning her that he's planning to slowly win her over, before he scurries out the door.
Kang-chul tries to focus on his work, but Ho-kyung's accusations are still ringing in his ears. It's probably a good thing he's distracted, because his client is Kyung-woo, who we all know is no good. As Kang-chul they walk out of the office, they run into Ho-kyung. Kang-chul is delighted to see her, but Kyung-woo steps forward, dominating the situation as he chides her for never calling him. She agrees to go out with him, but it seems like her agreement is more to annoy Kang-chul, whose face falls as they leave together.
Do-hee meets with CEO Park, who is astonished to hear that Do-hee will raise Geum-dong. She suggests that Do-hee try to get together with Kyung-woo, explaining that it's obvious he must like her since all red-blooded men make drunken mistakes like that at least once. Ugh.
But Do-hee gives her the death glare as she informs her that she's pressing charges against Kyung-woo because he's a criminal. She demands to know why CEO Park is treating her like she's the criminal when she didn't do anything wrong, but CEO Park continues to insist that if Do-hee had just behaved properly, this would never have happened.
Do-hee admits that she used to think so, too. She originally blamed herself and suffered alone, but now knows she did nothing wrong. CEO Park warns her that if she continues to behave this way, she won't be able to protect her. But Do-hee doesn't want or need her protection any more, and she stands up to leave. Contract terminated.
Kang-chul is freaking out about Ho-kyung going out with another guy, and Gong-mi orders him to go apologize to Ho-kyung and bring her back. But he doesn't understand why he needs to apologize when she's the one who left, and tries to distract himself in his work. But one of the case files is Do-hee's, which now has the "accused" section filled in: No Kyung-woo.
That's the same guy Ho-kyung is currently on a date with, and when he mentions she'd make a nice drinking friend, Ho-kyung "innocently" asks if he was drinking friends with Do-hee. A clueless Kyung-woo agrees that she was, and it looks like Ho-kyung is reaching for her drink to throw it in his face (or at least I hope she is), but someone stops her.
It's Kang-chul, who grabs her by the wrist, demanding that she get up. His words may be for Ho-kyung, but his angry eyes are focused on Kyung-woo. Before they leave, he returns to throw a punch at Kyung-woo, except he stops right before it connects and instead slams his fist against the table. In quiet rage, he tells Kyung-woo it isn't his place to hit him, so he'll wait. But Kyung-woo will need to find himself a new lawyer.
Once outside, Kang-chul's still reeling from his worry and anger. He tries to yell at Ho-kyung for going out with another guy instead of him, but he can only stutter out an apology. As he tries to explain, she quietly tells him to just shut up and kiss her already. Which he does. And she kisses him back. It's a good kiss.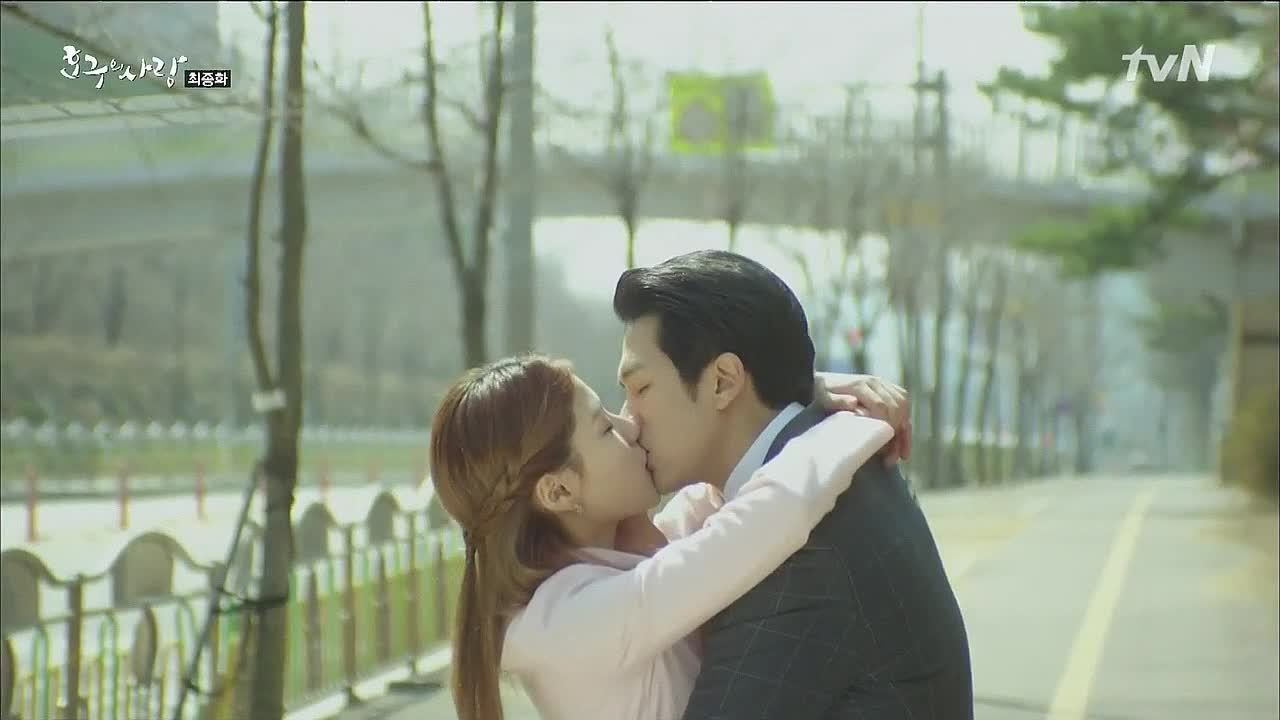 The Kang family drive Do-hee to the police station to give her statement, and we hear Ho-gu, in a voice-over, ask Ho-kyung what is dating all about. She answers that it's "timing." As they pull up at the station, Do-hee is bombarded with reporters, but she ignores them as she walks up the steps.
Ho-kyung: "You need to pay close attention to whether the other person's light is green, or whether your green light and the other person's green light are on at the same time, or else you'll get hit by a car." Ho-gu follows Do-hee to the interview room, giving her an encouraging smile and a "fighting!" gesture. In voice-over, he sighs that dating is difficult.
Do-hee gives her statement, but the policeman seems suspicious as he questions her. Weren't she and Kyung-woo colleagues? And if he did try to assault her, why didn't she try to resist more than she did? He's seen a lot of sexual assault cases, and based on her circumstances, it doesn't seem like she's a victim. Why did she decide to have the baby instead of an abortion? But Do-hee isn't cowed as she cooly asks him what it means to be a victim.
As Ho-gu waits and paces outside, Kyung-woo arrives at the police station. He stops to smirk at Ho-gu, asking him if he's Do-hee's boyfriend. Ho-gu tenses up as he gets in Kyung-woo's face, but then relaxes, asking if Kyung-woo expected to be hit.
He reassures him that he's not going to leave a mark on Kyung-woo's body since he's going to prison. Krung-woo's convinced there's no way that will happen, but it's not a prison with bars Ho-gu's talking about — it's the psychological prison that Ho-gu will create for him.
Ho-gu leans in close, warning Kyung-woo that he'll call three times a day, every day, to curse him out. He'll go to all of Kyung-woo's swim meets to tell everyone that Kyung-woo is a rapist. He'll find all of Kyung-woo's other victims and write a book about him — National Rapist: No Kyung-woo.
Scoffing, Kyung-woo says it's all ridiculous, but Ho-gu reassures him that the one thing he's good at is making ridiculous things a reality. After all, his name is Ho-gu. He pats Kyung-woo's cheek and smiles: "It's scary, isn't it?"
Later, Do-hee and Ho-kyung eat dinner at a restaurant, and one of the televisions play the news report of Do-hee's lawsuit. Kyung-Woo was judged not guilty (dammit!) but Do-hee's planning to file an appeal. A nearby couple remark that Do-hee must be doing this just to get money of Kyung-woo since her sporting career must be over, and Do-hee slams down her chopsticks.
She loudly and pointedly explains that she ordered more meat because she has a lot of money, and Ho-gu adds that it's actually being paid by her boyfriend, a successful writer. He waves around a wad of cash to prove his point. Aw, these two dorks are just so adorably perfect for each other.
Coach (aw, I've missed you!) and Ho-kyung sit in a van, surrounded by protesters all chanting for Do-hee's resignation. They start pounding on the windows, and from the backseat, Do-hee sits up and starts screaming. Most of her statements are not fit to print (or air, since they're predominately bleeped out), but suffice to say, she's not having any of it and yells that they're ruining her wedding.
Ho-gu, in a snazzy tux and holding a fussy-but-equally-snazzy Geum-dong, quietly reminds her that it's their wedding day, and she's the beautiful bride. She immediately calms down and sweetly apologizes to him and Geum-dong. Coach gets a call and tells them it's time to make a run for it.
Ho-gu carries Geum-dong and Do-hee tucks her arm in his as they start running down the sidewalk. They're joined by Coach, Ho-kyung, Kang-chul, Chung-jae, Gong-mi, Tae-hee, and all the parents. Plus, of course, the hoards of protesters. As they impatiently wait at a crosswalk for the light to change, Ho-gu says in a voice-over: "I don't know what dating or flirting is. Is the signal red or green? Can I cross the street? Is dating really like just looking at a traffic light, worrying about when it will turn green?"
Ho-kyung asks if it's not that, then what is it? Ho-gu replies that it's more like when you make eye-contact with someone, and can't look away, not even to see if the light is red or green. You just run towards each other, crossing the street without looking. She reminds him that if he runs across the street at a red light, he'll get hit by a car and die.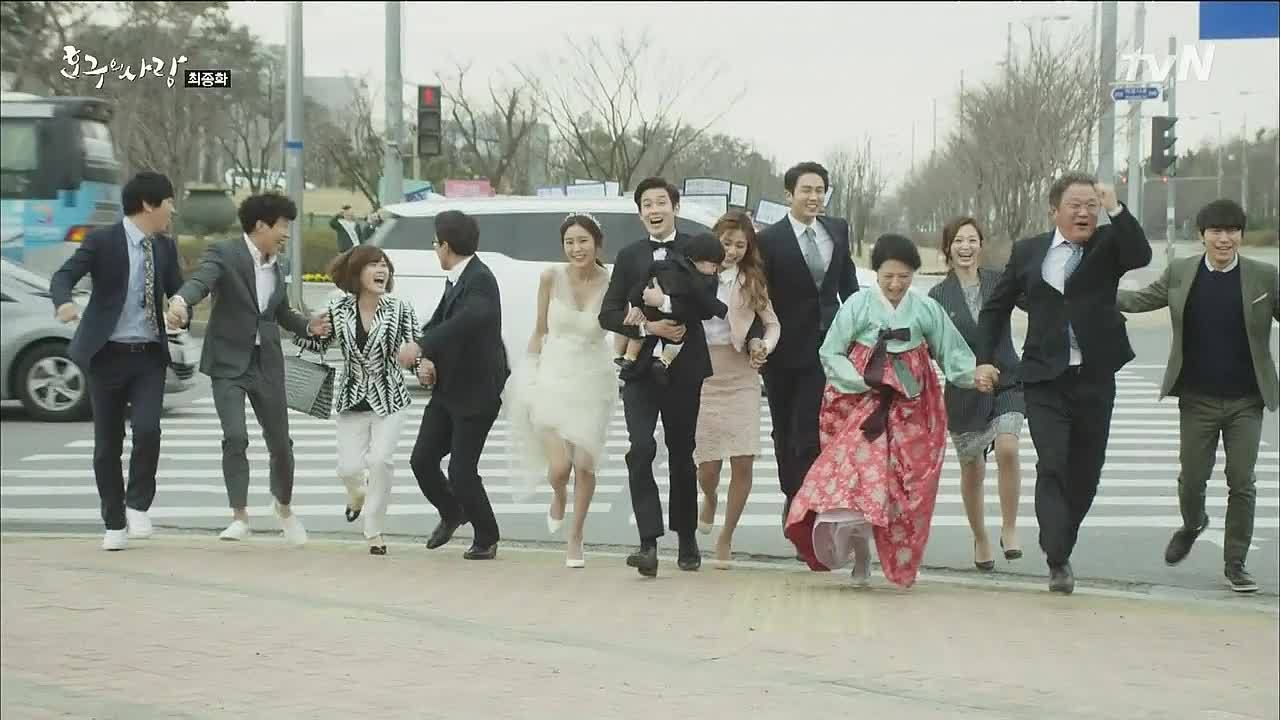 Ho-gu: "So what? We'll be crossing it together." The wedding party does just that — crossing the road against a red light, all smiles and excitement.
In a brief epilogue, Do-hee swims in another competition, and cheering her on from the stands is a happy Ho-gu with Geum-dong at his side and a new baby on his lap. Do-hee sees her name first on the leader-board, and she happily waves to her husband and children.
For the last time, we hear: "My name is Ho-gu. Kang Ho-gu."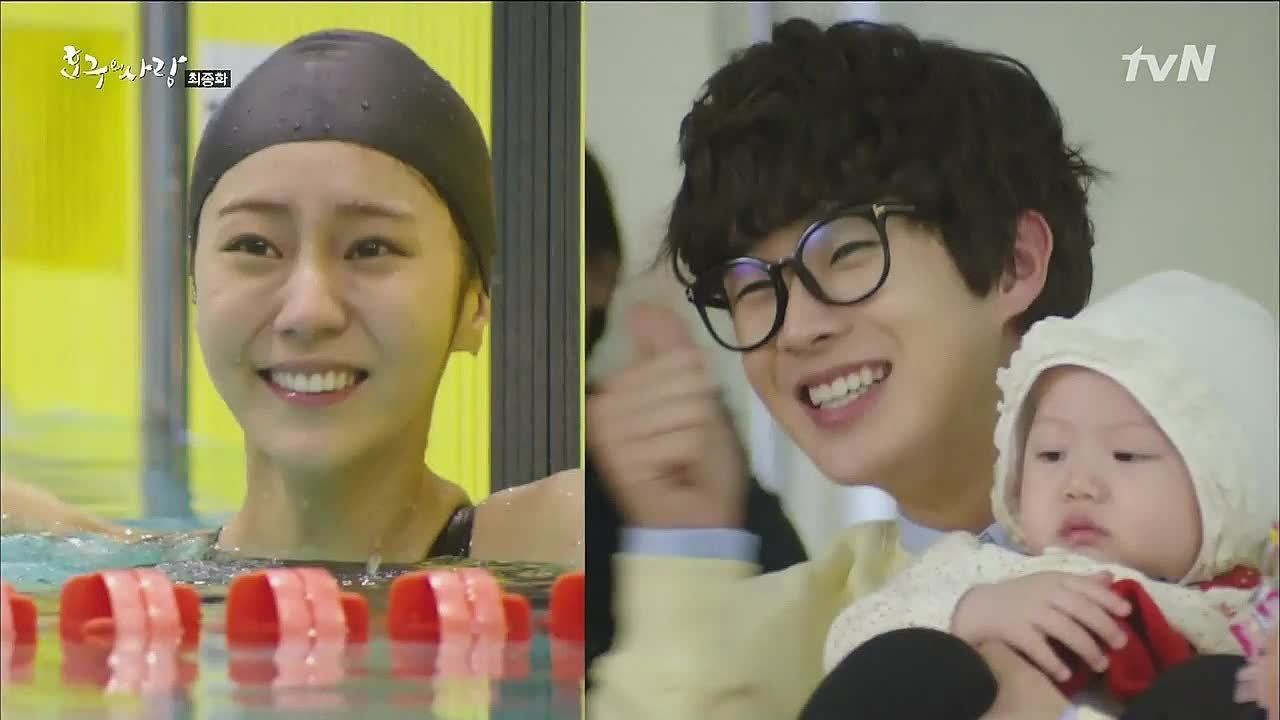 COMMENTS
Aw, what a satisfying ending. I wasn't sure how the writers would be able to wrap everything up this week, but I'm pleasantly surprised that they managed to both tackle the serious stuff and also give us some "happily-ever-after" moments. In the end, Do-hee may no longer be the "nation's mermaid" — it did seem like her last swimming meet was in a much more humble location than her previous competitions. But she's Ho-gu's mermaid. Or, rather, she's her own mermaid. She no longer lives under the weight of trying to live up to expectations or the ghost of the past. She's started her new life with Ho-gu, the loyal and loving "squid" that will forever be cheering her on.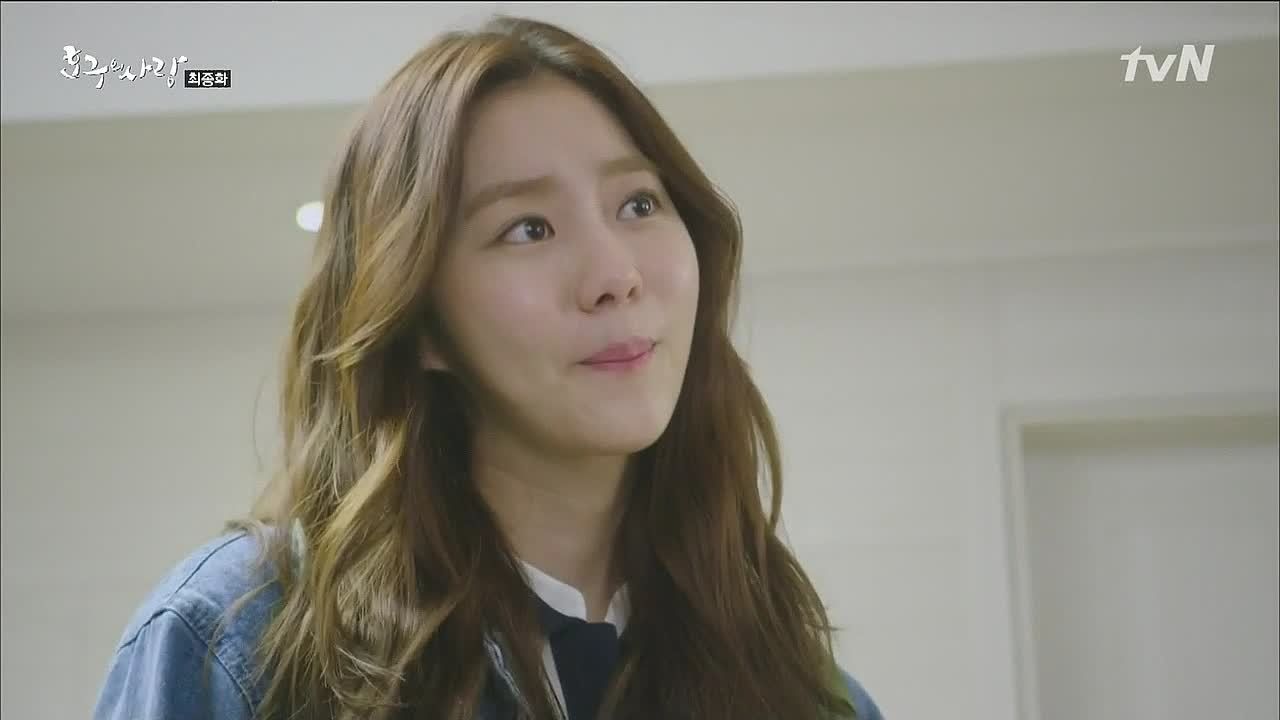 This show has always walked that fine line of being cute'n'fluffy and tackling some serious issues. Sometimes it's been successful, sometimes it hasn't, but I do appreciate that it was willing to go to the edge and confront topics like single motherhood, rape, and homosexuality. In a way, it's also the drama's downfall. Because so much of it is cute'n'fluffy, when the show tries to tackle such complicated topics, it's almost disappointing because the resolution isn't perhaps what I would like. (It's not the end of the world if you're gay! Really!)
But I am glad the show didn't shy away from making it clear how utterly against the victim the system is when it comes to sexual assault, especially when it comes to accusing a popular and beloved celebrity. Rape is too often blamed on the woman, when she's the true victim. All Do-hee did was make sure her drunken colleague got home safe, and yet it's her fault that she didn't resist even more so that Kyung-woo wouldn't rape her. Because, duh, the drunk dude who won't take "no" for an answer is clearly not at fault. Sure; whatever. So frustrating, and yet Do-hee managed to maintain her pride and composure. Well, at least her composure to a certain extent. I can't be the only one who was thrilled to see her fighting spirit back as she cursed out those protesters.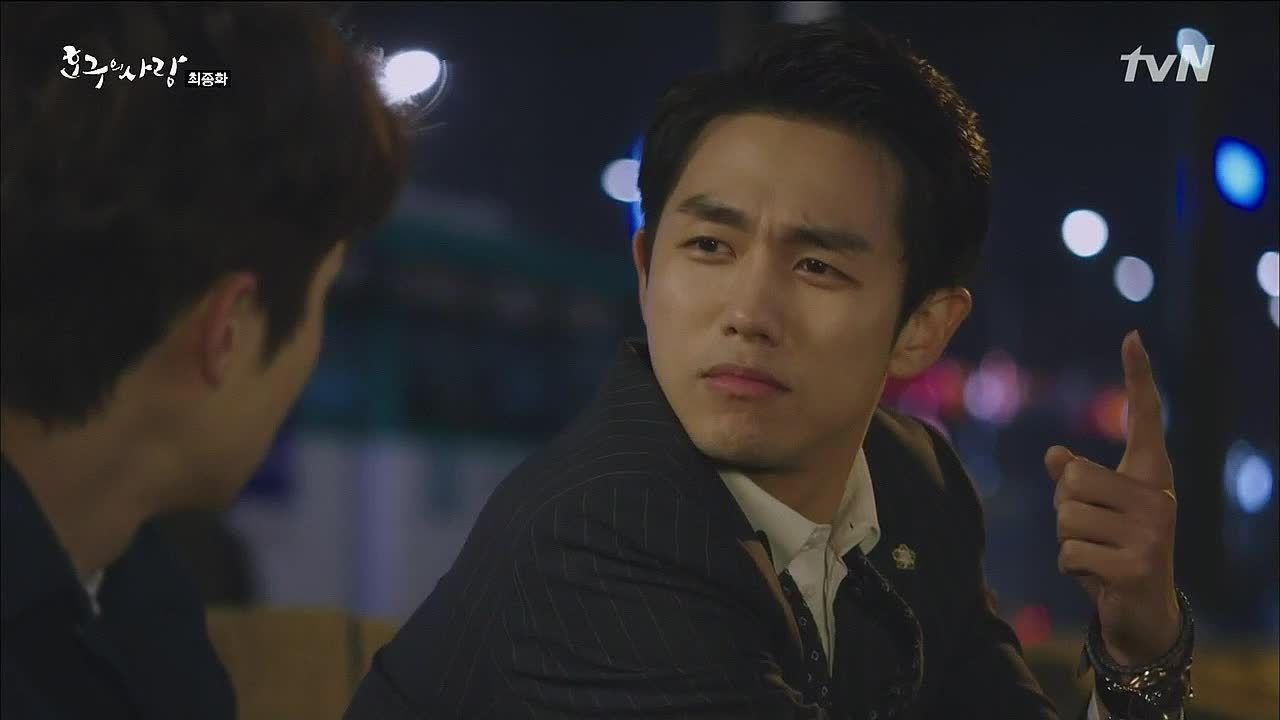 All in all, I've greatly enjoyed the time I got to spend with these characters. They felt real to me. None of them were perfect, and sometimes the situations they found themselves in were a little unbelievable, but their reactions felt true and relatable. On a more technical note, I loved all the light touches and little jokes that didn't easily fit in a recap; the teasing word-play; the ingenious little auditory and visual cues to smooth transitions between scenes; the detailed set designs that so accurately reflected each character; the way they used background music and the official soundtrack; and, of course, those ridiculously cute title cards with the animated squid.
This may not have been a perfect show, and it may have sometimes struggled to figure out how to balance the light yet dark tone it wanted to portray. But it was an immensely enjoyable show that was pleasant to spend time with each week, and I will remember it fondly. If that makes me a fool, then, so be it. I have no shame in declaring I am a "hogu" for Ho-gu's Love.
RELATED POSTS
Tags: Choi Woo-shik, featured, Ho-gu's Love, UEE